Rainbow Trout by Sidney Kennedy
A season guide for big fish
Rainbow trout
By Sidney Kennedy
When the weather is wrong for specimen hunting I always turn to rainbow trout fishing. They are a species of fish that will feed in all types of weather conditions and more so when it gets cold.
I have fished nearly all of the rainbow fisheries in the south of the country but none can claim to come close to the amount of large trout that are swimming in Ardaire Springs. You will be amazed when you look into the water and down through the layers of the water with your polarised glasses - you will see huge trout swimming beneath your rod tip. On a recent trip, the owner Ned told me that Ardaire Springs was established in March 2011, is approx. 3 acres and is stocked with rainbow and brown trout from 2 lbs up to an incredible 25lbs. The water is already well established with an abundance of natural feed, such as damsel flies, stickleback, freshwater shrimp and pond olives.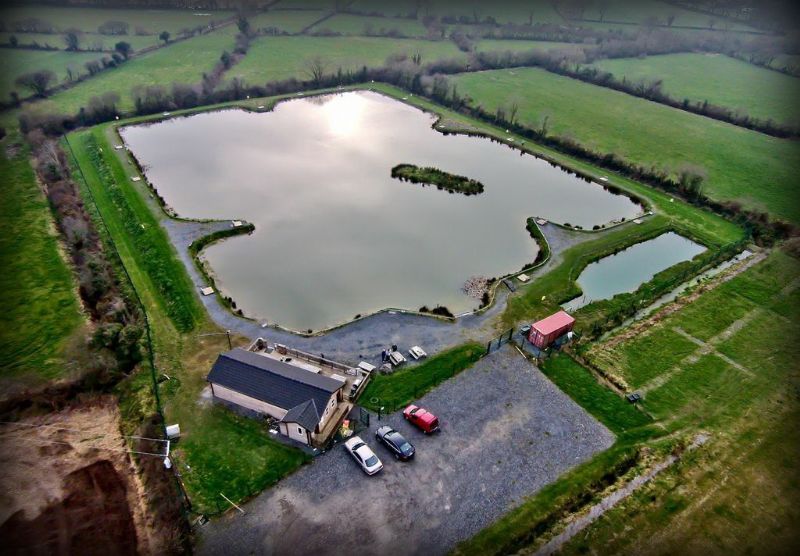 An aerial photo of Ardaire Springs. The lake's banks are built up to avoid flooding. This is quite handy especially when we get a lot of rainfall which floods the rivers and natural lakes
If you are looking for great sport on or just beneath the surface, emerging olive patterns work very well in April/May, and if you have a good knowledge of flies you will have super fun when there is a hatch on. Other flies that are a must for Ardaire Springs are black foam beetles, Diawl bach, corixa and various klinkhammers, especially black quill buzzers, green buzzers, traffic light buzzer, damsel nymphs, hares ear, Greenwell's glory etc. If you are into fishing lure type flies like myself I would recommend that you have in your fly box some woolly buggers, humongous, snake flies, boobies and blobs - they all work well for me. Onsite there are barbeque facilities available and free tea/coffee for all anglers, which is a nice touch and very welcome on a cold day. If you are a bit rusty or want to learn how to fly-cast then lessons are also available if required. They offer some of the best trout fishing in the country, but make no mistake this is not the usual stockie bashing. Be prepared to be challenged. To catch one of the monsters you have to have everything right, especially when your fly is attached to one of the big brownies.
Ardaire also cater for groups; another plus is they do special rates for schools, youth clubs, junior angling clubs etc., which includes supplying fishing rods and life jackets, which are compulsory for under 14s. Another plus is that they also have an extensive range of flies and tackle available in the shop, with Mackenzie being there main range of both double and singlehanded rods. They also stock Airflo, Sonik and Rio products and as if it seems as things couldn't get any better they run fishing trips abroad to Terrace, British Columbia (BC) for pacific salmon and from Chilliwack, BC for pacific salmon and sturgeon that I would love to catch. They also go to Iceland for Atlantic salmon, sea trout, brown trout and arctic char! For further details on their trips give Ned a call on 086 8128937.
This year my friend John o Donoghue asked me did I want to try for large rainbows and brown trout in Ardaire Springs. As he was telling me about the number of huge trout I was beginning to think he was spoofing. Then he told me to check out their website and to give him a call if I wanted to go. As I went through the gallery of what fish were being caught I could not believe my eyes. I then thought that the fish might be killed until I read that it is a catch and release water. I got back on to John and said I was definitely going!
The day we fished was calm and cold and with little knowledge of the lake or what was working we still landed over twenty fish between us. However, by the end of that day I had a good grasp of how and what to use to have a chance of catching one of the monsters that were being caught and swimming around in front of me.
My next trip was the following weekend with my nephew Kenneth, Dan, Ross and Dob. We got our flies and lures organised, then we phone Ned to book in. With the weekend upon us and the weather forecast promising only the odd shower for Sunday morning we gave it the green light. We wanted to be there for opening time and as the lake opens at 9.30am we had to leave Cork by 7.30am. As we arrived at the lake, you could see trout supping insects on or close to the surface. With the day ticket paid and after a quick chat with Ned on what worked during the week, we all headed off to find some of those monstrous trout. Dan had his rod already set up with a humongous lure so he was able to get the first few casts in before we were ready. As I took my first cast Dan lifted into the first fish of the session. With the trout hooked it took off across the lake taking the fly line down to the backing. With steady pressure, Dan was able to get the trout under control and as it came close to the bank we could see it was a very large rainbow. As Dan slipped the fish over the net he let out a sigh of relief and punched the air.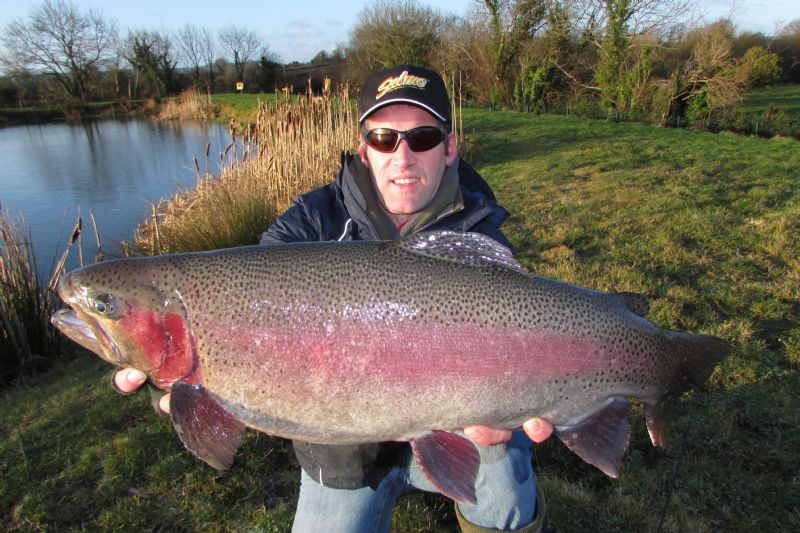 Dan with his largest rainbow that was estimated to be easily over 16lb, the fly it took was a humongous that was retrieved through the water quick with short pulls
With the fish put back to fight another day we all got a confidence buzz and with every pull on the fly line we got that exciting feeling as you do when you are fighting a large fish. With about thirty fish landed between us, Dob was next to hit a large trout and like Dan's it striped line off his reel. As he was fighting the fish, he told me that he had changed onto a green buzzer. With the fish in the net you could barely see the size of the fly in its mouth. After the photos and quick release Dob casted out the pair of buzzers and as he was showing me the speed of the figure eight retrieve his rod calved over. With the fish diving deep he knew it was another good one. It took over ten minutes to get the fish into the net. I could not believe it, two rainbows over ten pound in two casts! You can see the video of Dob fighting the trout on my blog page https://sidsfishingadventures.wordpress.com/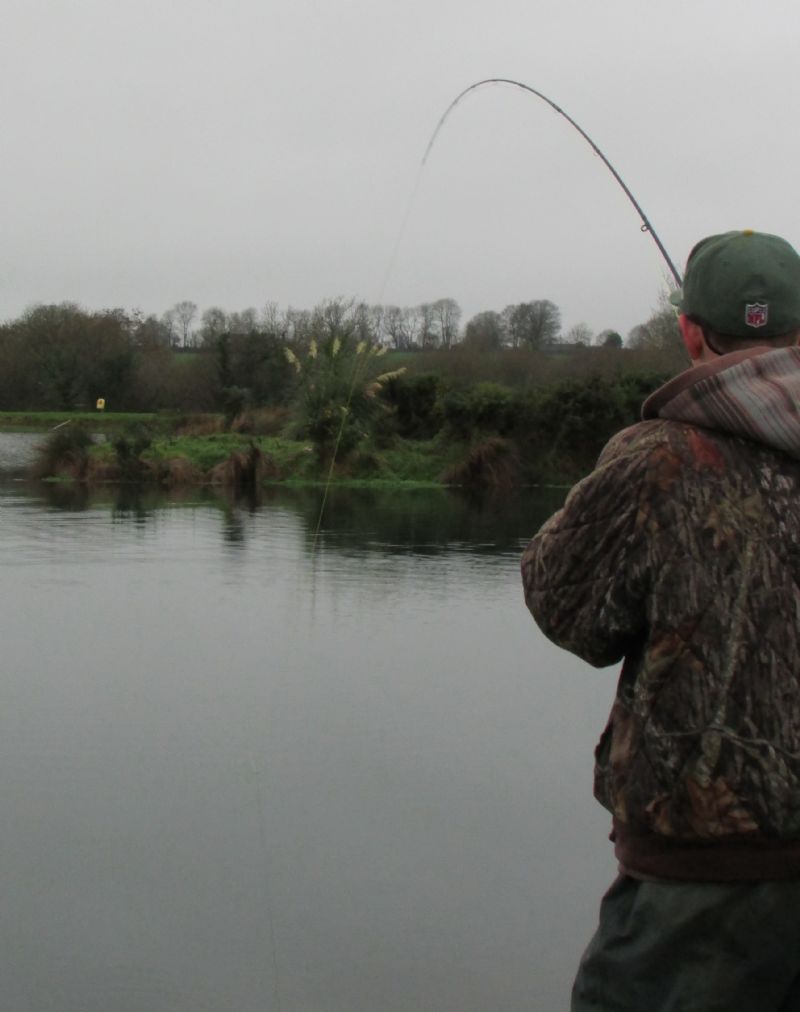 To stop the large trout getting around the island Dob had to keeping steady pressure on it and every time it dove he had no choice but to let it take line to be sure it did not throw the fly from its mouth or break him off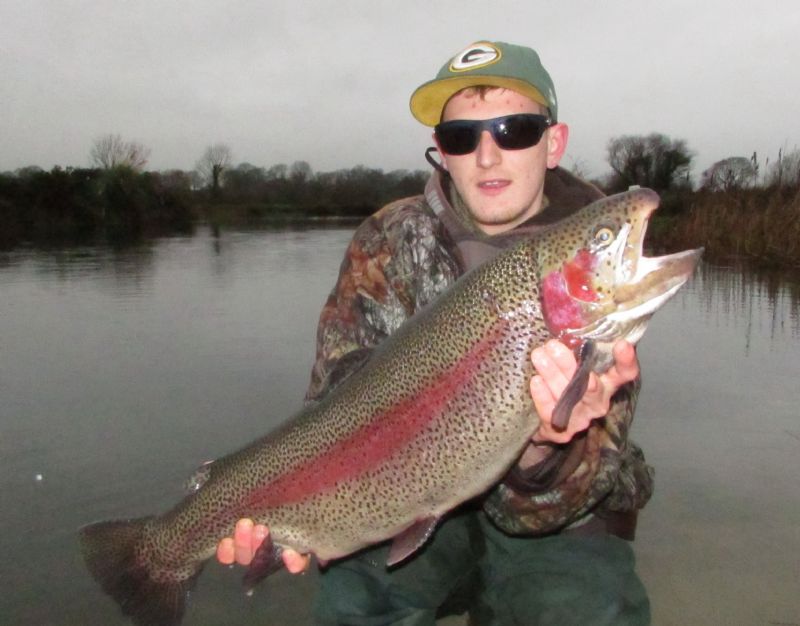 David O Brien or "Double figure Dob" as he is now known with one of his double figure rainbows that could not resist a green buzzer retrieved with a slow figure of eight
The fishing started to slow down from 1.30 to 3.30 with only a handful of fish caught between the anglers on the lake. As the lull time passed we all started to get takes. With every three to four pulls I would be into a fish. I read a bit about snake flies before I headed down to Ardaire Springs and every piece of literature I read said they are deadly when fished close to the bottom. As I was having a good day, I decided to put one on and give it a go – I had nothing to lose. I let the Hi-D5 fly line sink for about twenty seconds before I started to retrieve slowly with some short erratic jerks. As I gave it a second to sink between retrieves, it got slammed. What a run - it took me down to the backing and almost ran me behind the small island. With the rod hooped over, I was able to turn it. As it headed back to me at a rate of knots I had to reel as fast as I could until I caught up with it. With a five minute battle and the fish beginning to tire I could see it was a large brown trout. When the fish rolled over and into the net I was over the moon with joy.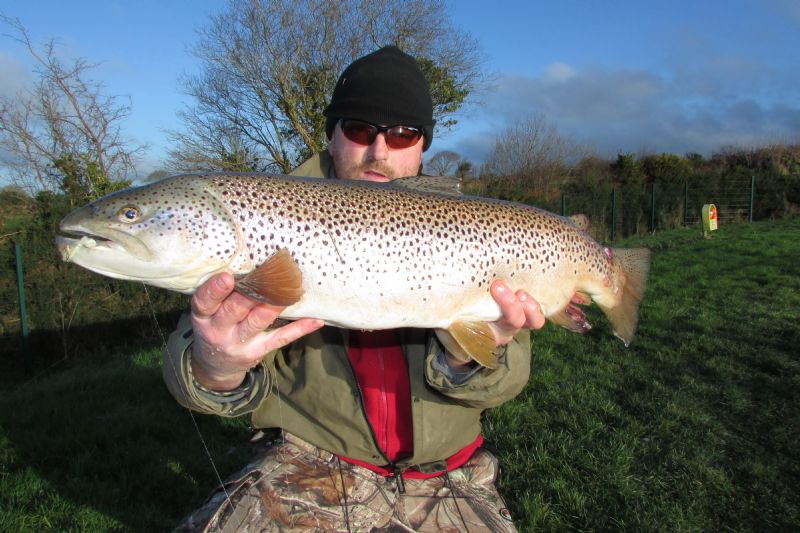 What a day and what a fish! Even when I thought it could not get any better I landed this cracking brown trout estimated to be over 13lb. It fell to a snake fly. Happy days!
As the fish went back, I could see lads landing trout all around the lake. I guess the trigger for these heavy feeding spells was probably the same times the trout were being fed in the fish farms. With fish coming out left, right and centre Ross shouted "I am into a big one!" As I made my way around to him, the trout broke the surface like a seal. I picked up the pace and grabbed the larger landing net. Like every large fish we caught that day it did not stop fighting, even after it was netted it was hard to get under control. As a rule I found out afterwards that all large fish must be un-hooked in the water, so be prepared to get a bit wet as you hold it for a picture.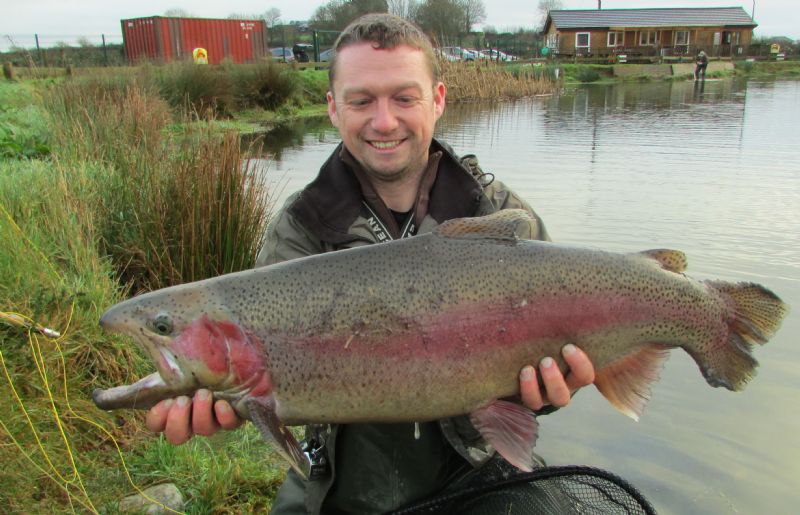 Ross Macklin with an estimated 18lb rainbow caught on a buzzer. He said that he has fished rainbow fishery's since he was a small boy and has never caught one over 10lb until this trip. What a feeling and what a fishery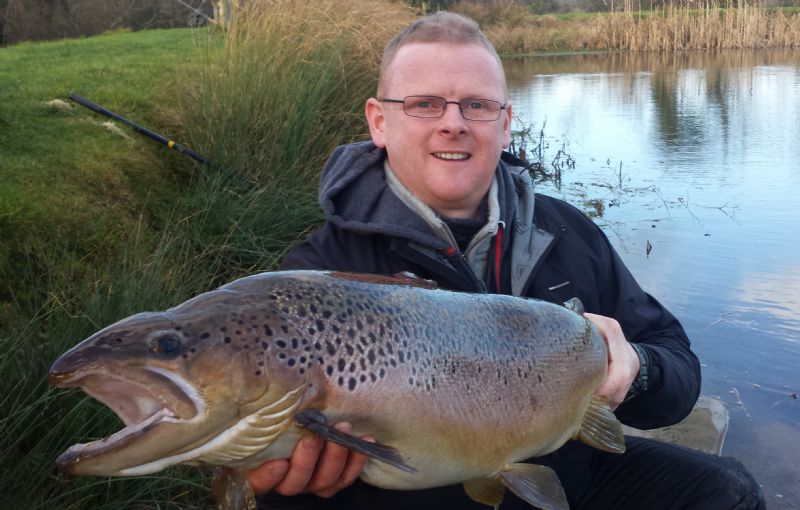 Dave Walsh with a pig of a brown trout that most if not all trout anglers would give their left arm for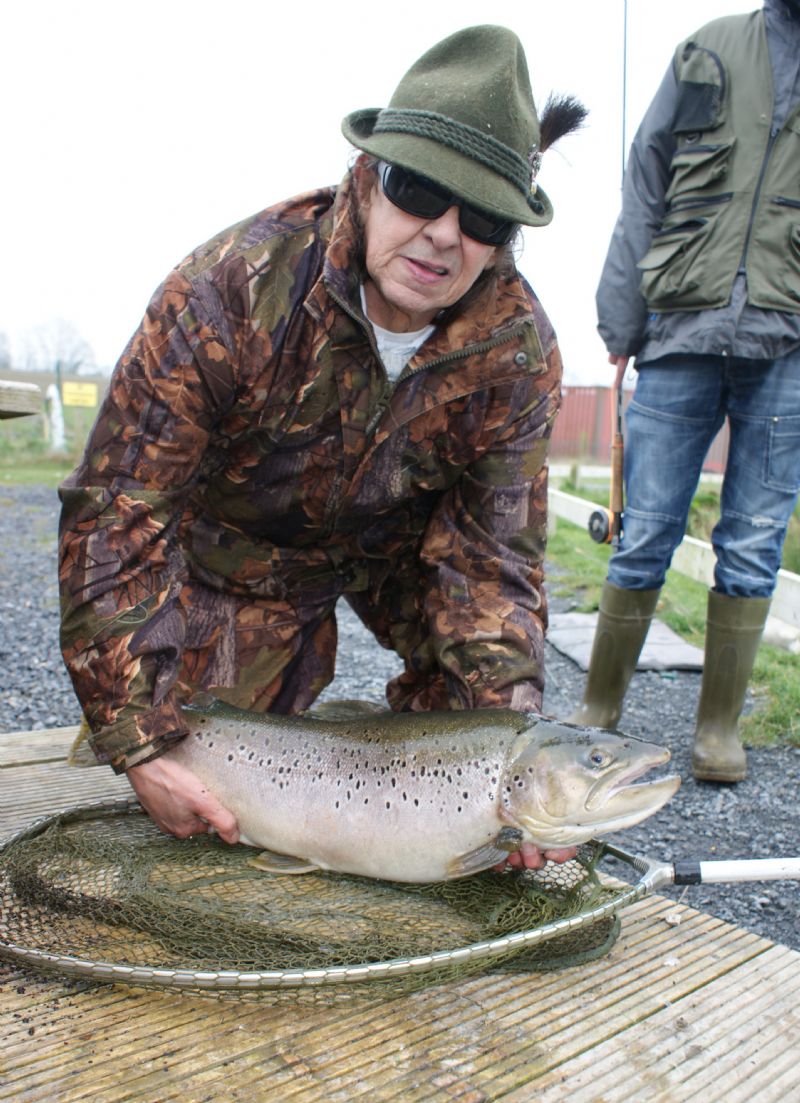 John Andrews with this cracking 20lb brown trout, another monster to fish for next time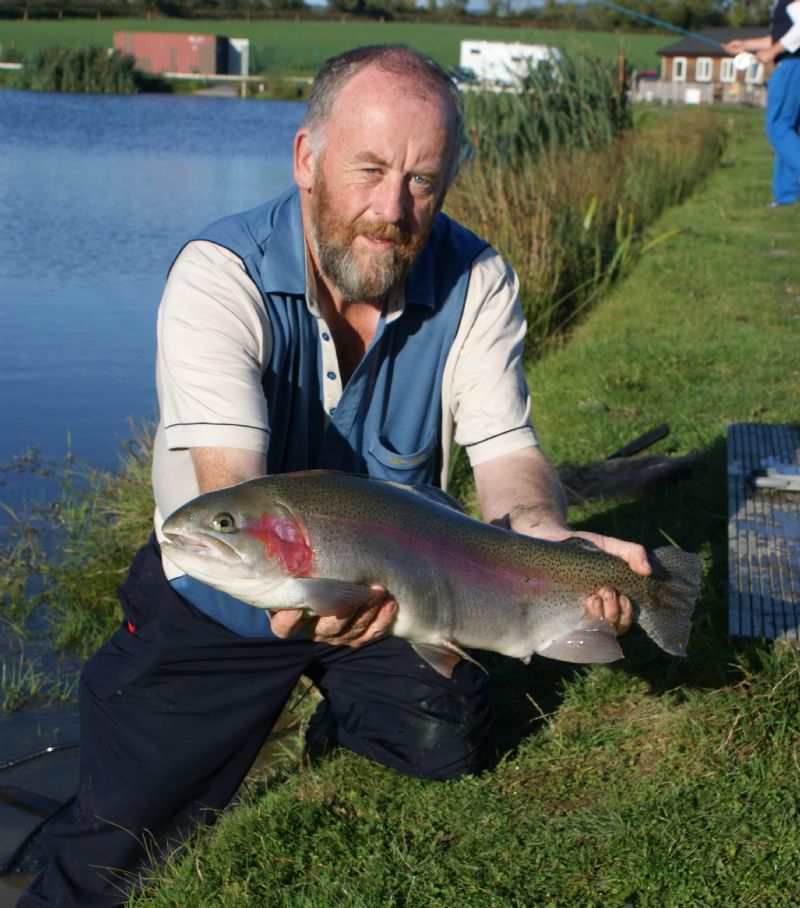 Ned with a cracking summer rainbow from his own fishery. He had a dream like me but he is living it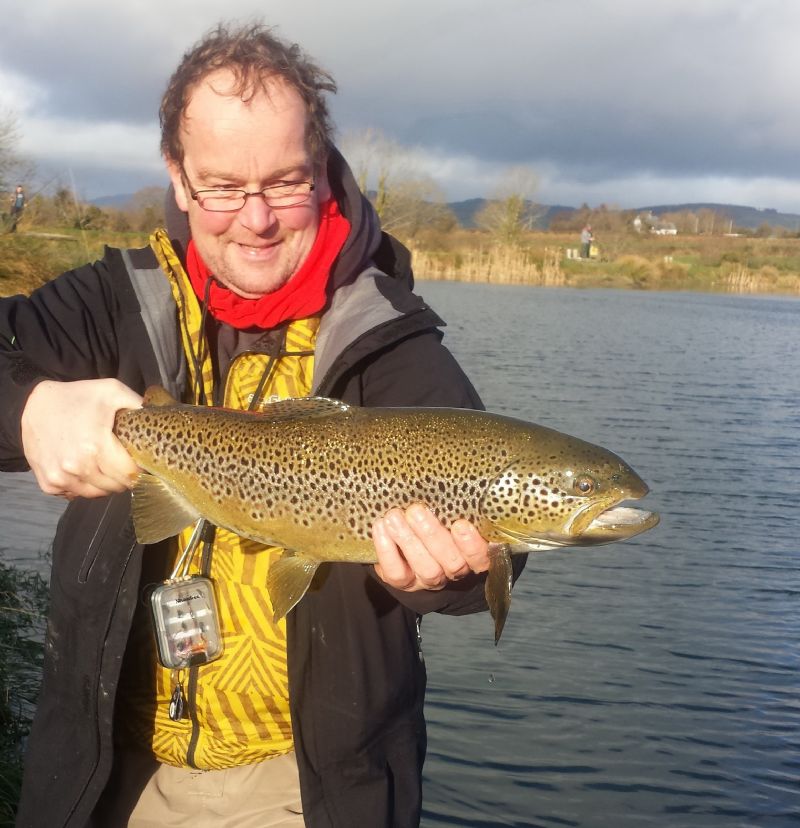 Michael Crowley with a cracking looking brown trout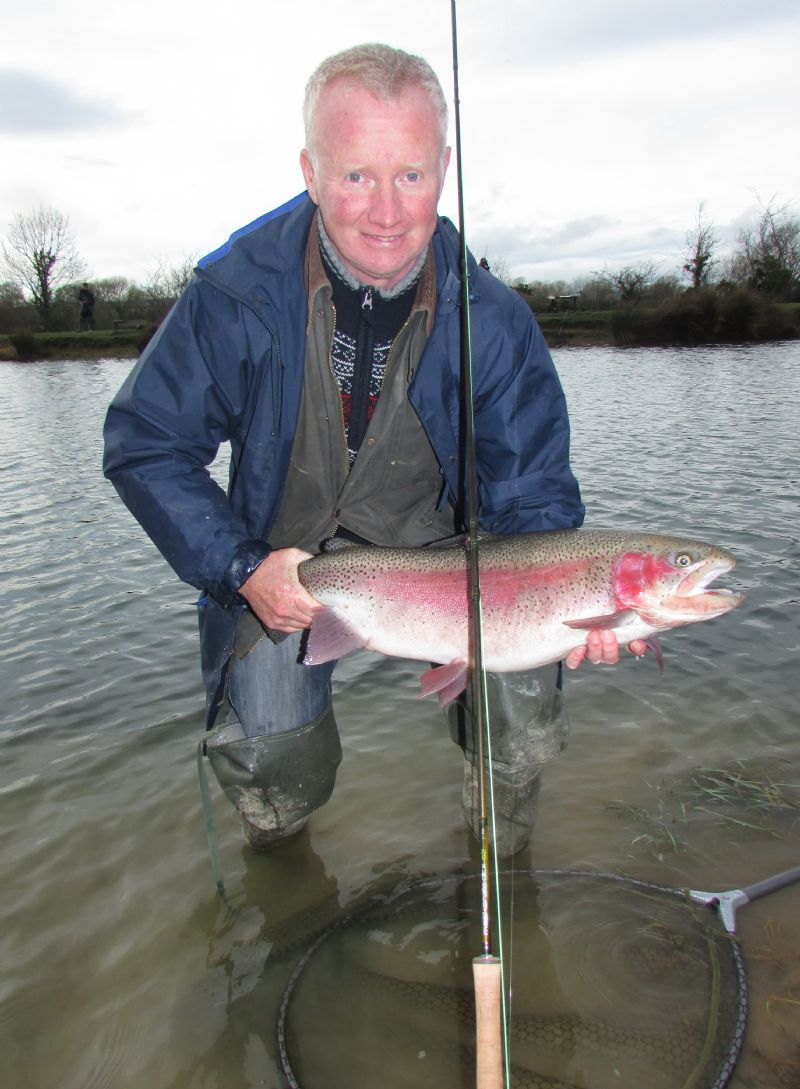 Pat Quigley with this double figured rainbow on a six weight Mackenzie fly rod
My nephew Kenneth Im with his largest rainbow of eight that he landed that day, like the rest of us he can't wait to get back down there
Back