Rainbow Trout, getting taught a lesson by Graham Smith
Rainbow Trout, getting taught a lesson
Hi everyone, hope you're all still catching as the weather gets colder and wetter.
I have been giving it a go when I can and my first winter session of the year at the Oaks Fishery in the maiden city happened the other week.
It was a lovely mild clear morning with coolness in the air that screams fishing the minute you walk out the door. You know the type; it's normally when ye have to go to work.
What a sight,
I landed at the Oaks and got my kayak ready for wheeling down to the water's edge already rigged in the car park and all I would have to do is slide it in to the lake.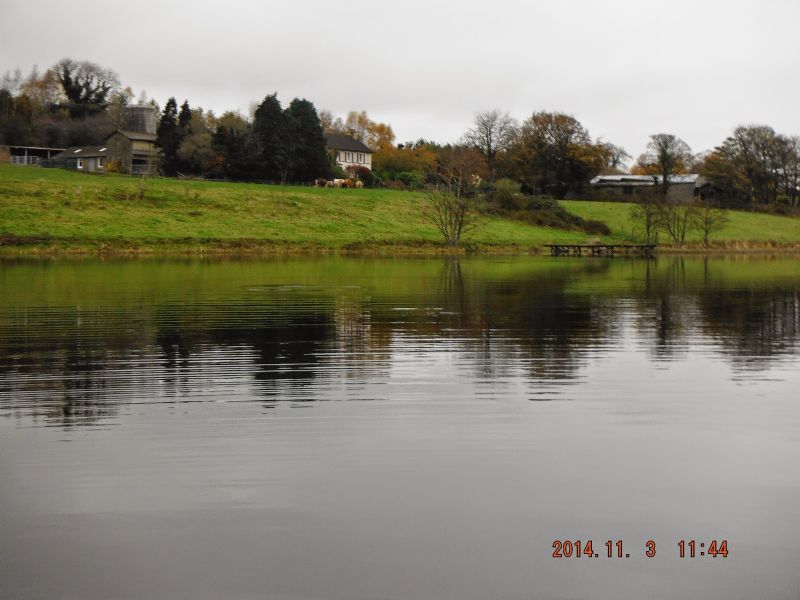 As per usual I have a cast on my rods ready to go but, as ever conditions where different and I decided a change of flies where needed. As there was a nice slow hatch of olives on the water and there were some fine trout showing.
As I re-tied my cast it was a fantastic sight hardly a ripple on the water bar the trout hitting buzzers and olives.
But as I stood there I could see what looked like a massive fish cruising up and down just under the water, I was now tying my trace at break neck speed at the sight of him. But as he slowed on one pass a bright orange bubble float appeared,
It was actually a good trout towing an orange bubble float around the place.
Out I went
Flies tied and as I was about to launch, the fishery manager [ Ian] landed for a chat and was telling me that, that trout had the float on him for a day or so and asked me to try and snag the float if the chance arose.
[Note] Ian is a top class fly casting instructor so if you need help or even a brush up on your casting he's your man. Contact details below.
So out I went hopes where I had 2 rod set, one sinking line and 1 intermediate. As it had been a tad cold for a while and it being November I didn't bring the floating line BIG mistake.
There was lots of action on the surface and I had sod all to tempt them in the floating department.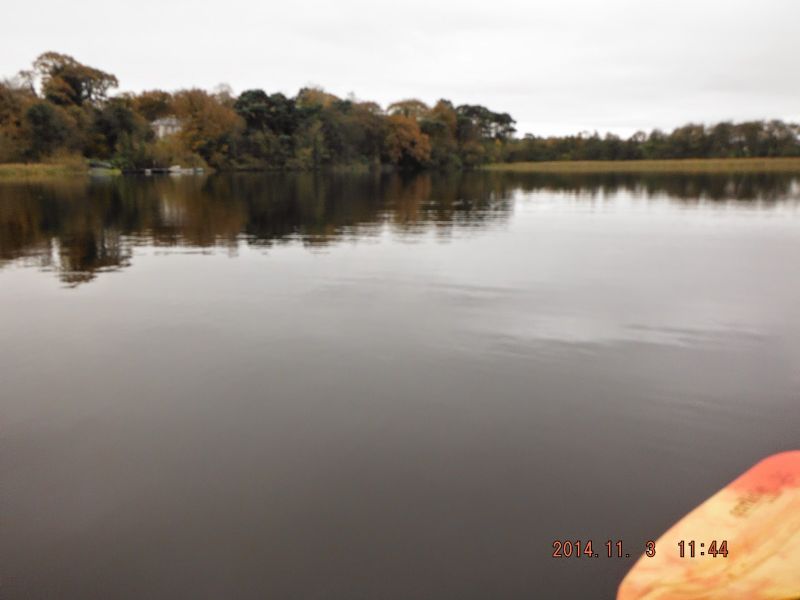 So I tried various lures and nymphs to no avail. A few pike men had landed by now and I went over for a chat as I was catching nothing not even a pull. I paddled over and as I was saying I was having no luck, BANG a nice 2lb trout nailed my fly.
I had cast behind myself away from the pike men's gear and picture it, a trout nailing my fly in the most uncomfortable position. It went mad and the lads had a good laugh at me trying to play the fish over my shoulder.
Fish in and I was a happy lad, a cracking full finned fish.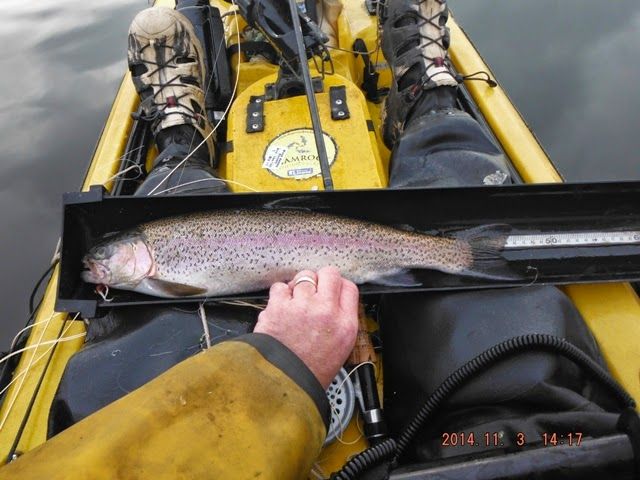 Here comes old bubbly
As I ventured back out and casting on anything that moved, what do you know here comes the old bright orange bubble waddling across the surface like jaws towing a yellow barrel.
I thought no bother I'll cast across it and hook the float off him.
Well not a chance, I cast well ahead of him so the line would sink and the hook could catch the line.
But no, he turned and dodged the fly line.
I was quite surprised as my line had settled on the water before he got to it so it was purely the line above him that spooked him. I was quiet surprised as I had assumed that they were quiet dopey and would swim under a line no bother.
I had many failed attempts to hook the float to no avail. But as I fished I thought this was quiet a unique opportunity to test a few theories, Like how close could I get to the trout, as the bright bubble float was an excellent marker. Now this is a coloured lake and visibility that day was about 6ft. So I expected to get quiet close. On a few attempts the closest I got was about 10 yards paddling to it, and about 5 yards if I sat still as he swam to me.
So that was lesson number 1.
For me was how close I could get to a nervous trout.
I didn't for a second think that rainbows could be that wily, so anytime I was near it I would cast at various distances before and past the fish to see its reaction.
It seems that he wouldn't swim under a fly line at all. He had about 5ft of line off the float and even when he had it just under the water he could still avoid the fly line above him. So over casting seems to be far more of an issue than I had first thought.
So that was lesson number 2
The lessons went on.
Well by now I had nearly forgot I was there to fish.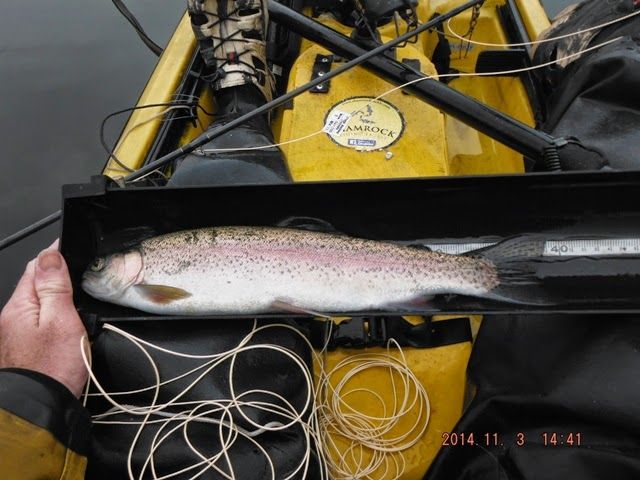 Any time I would cast in a way that put the fish with the bubble float down he would stay down for at least 30 minutes. The float he was towing was mostly full of water so it wasn't the float that was bring the trout up, it was actually still feeding and I saw it take a few flies from the surface.
Back to the fishing
Yes the trout where still rising and I was still flogging the intermediate line at them and letting it sink slowly through them to no avail. My line was sinking too quickly, I was fishing away with 2 sparse tied buzzers and a nymph on the bottom.
Then I covered a fish, and as soon as my line hit the water the fish rose again in the middle of my cast. I thought sod ye, pity he didn't hit my fly and with that bang a lively 1.25lb trout tore off giving me the run around. A great little scrapper and I was a happy lad, trout number 2 on such a tough day.
Off the hook
By now the pike lads had a few long casts out into the lake and wouldn't ye know it the trout with the bubble float appeared and swam into their line. Pike alarms squealing and one of the lads ran up to the rod and struck but nothing. He was just walking away and the alarm squealed again, another big strike and nothing I think he thought I was messing. A minute later a lone bubble float came across the lake. Thankfully the float was off the trout and he was free to go where ever he wanted.
Time for home
It was one those evenings you could have stayed there all night it was idyllic in the fantastic setting and surrounding of the oaks. But it was getting dark and I was getting cold. So home I went with a bit more appreciation for how cute rainbows can be when they want to be.
I had a great day as usual and it won't be long until I get back there.
So until next time all tight lines and stay safe by the water.
Here are the oaks fishery details,
14 Judges Road
Derry, Northern Ireland
+44 28 7186 0916
Open 24 Hours
Back