Ray, Thornback
Thornback Ray (Raja clavata)
Irish Record 37lb taken on 28.05.1961 by M.J. Fitzgerald at Ling Rocks, Kinsale.
Specimen 17.64lb, or 8 kilo
Identification
Diamond or kite shaped. Thornbacks have a long tail with several rows of spines running longitudinally. There are rows of spikes along the back-bone. The under-side is creamy white with grey outer edges. The top side is usually dark brown with lighter spots, some ringed in black and also some black and cream lines and marbling. I have caught Thornback with the whole snout area pure black. It is fair to say that Thornback colourations are the most varied of all the rays which may make identification difficult at times, but usually with some angling experience of ray fishing, identification is relatively easy.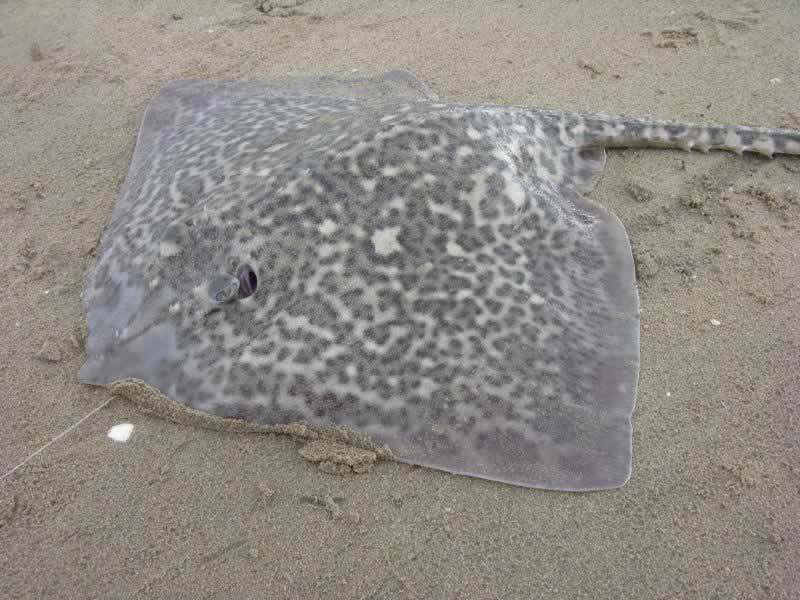 Beautiful markings on this species, and no two alike
Where to catch
Of all the Ray species available in Ireland, the Thornback Ray are the most common and can be found around most of our Irish in-shore waters. Although commercially targeted, they are still reasonably plentiful; having said that, the average size has fallen to approx 6lb and some localised venues that were once abundant with Thornback Ray are now completely barren. The Irish Specimen Fish Committee has recently reduced the qualifying specimen size due to the obvious lack of large fish. Any Thornback Ray over sixteen pounds in weight can be considered an exceptional fish by today's standards.
Lough Swilly still produces Thornbacks in fair numbers along with many other areas around the Donegal coast. The big Ray once caught in the Shannon Estuary have all but disappeared, possibly due to commercial over-fishing. It is a similar story for the specimens that once inhabited Belfast Lough and Deepwater Quay in Sligo, but reasonable sport can still be had at Clew bay in Westport and launching from harbours along the South East coast such as Wicklow, Arklow and Cahore. When exploring new areas in search of Thornback Ray, seek out sand and shingle sea beds or muddy bays, estuaries with deep channels, navigational channels or steep shelving beaches. These are all worth investigating, usually over the last part of low water and the first three hours of a flooding tide.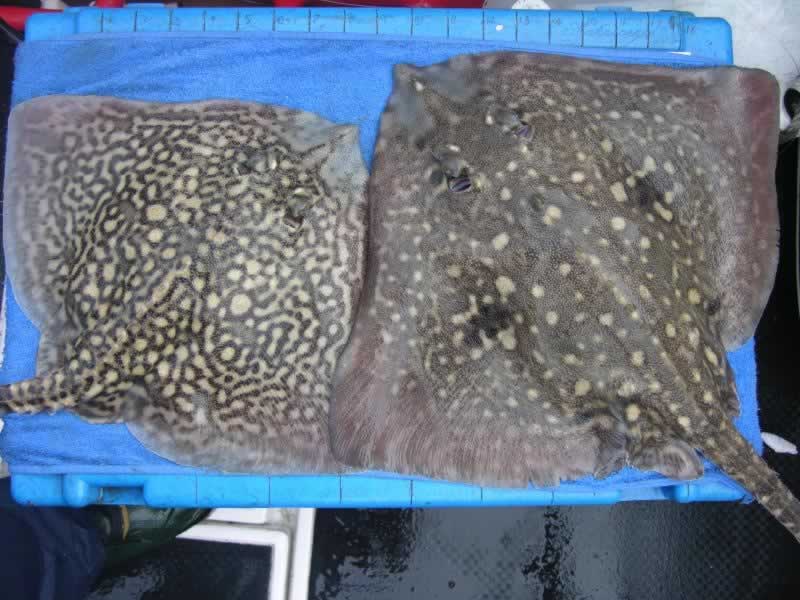 When to catch
The months of May and June mark the arrival of Thornback Ray, especially for the shore angler, and can be targeted right through to October.
Bait
The most popular bait is fresh Mackerel, a full fillet when down-tiding from a boat or a smaller strip or when targeting rays from the shore. Peeler crab is excellent bait when inshore fishing, and from the boat at times, but there are also occasions when only Sand eel will catch. As with all fishing, experimentation with various bait, and in particular, gaining some local knowledge can be the vital key to success.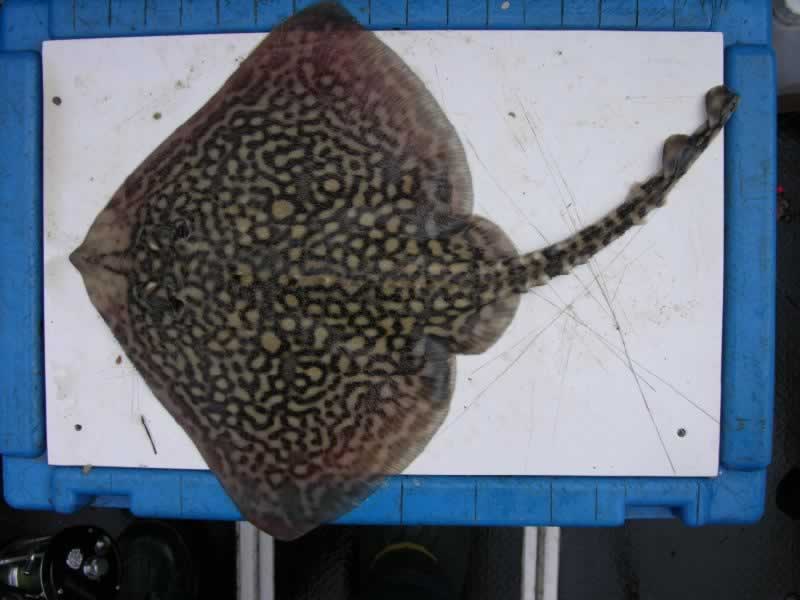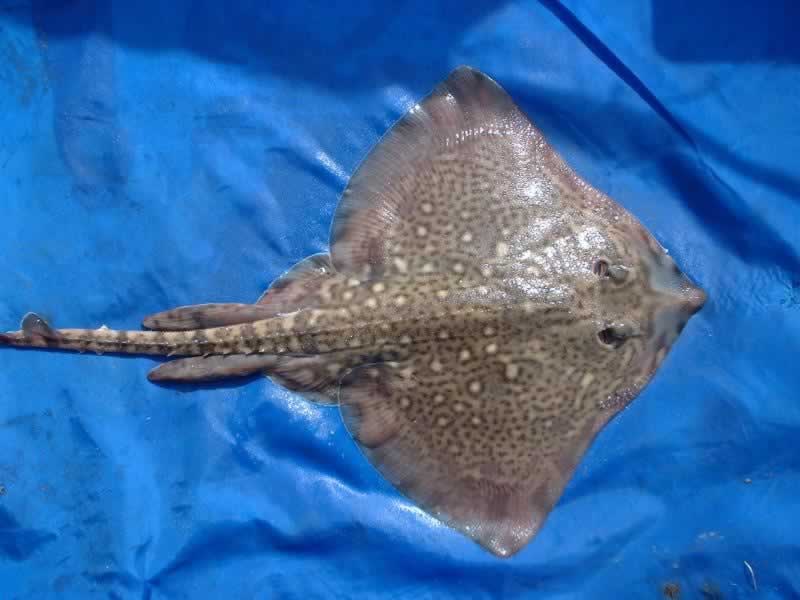 Photos show male (left) and female
Methods
When boat fishing, whether anchored or drifting, a running Ledger is the best option, keeping all hooks firmly on the seabed. At anchor, and in shallow water, up-tiding is a popular method; casting away from the boat will mean casting away from any potential disturbance that may be off-putting to wary fish. In deeper water, standard down-tide tactics will find any Thornbacks in close vicinity. From the shore, and depending on how far you are required to cast to find fish, a simple, single-hook flapper rig or clipped down Paternoster for distance is favourite.
Hook lengths should be at least 30lb breaking strain coupled with a heavy- gauge hook of size 2 to 4/0, depending on bait size, tidal strength, expected species etc.
Articles
http://www.angling-ireland.com/species_hunt_part_6
http://www.angling-ireland.com/lough_swilly