Ray, Undulate
Undulate Ray (Raja undulata)
Irish Record 18 lb taken on 11.06.1977 by Ann-Mari Liedecke at Fenit.
Specimen currently suspended from the specimen list due to conservation measures
Identification (taken from The Shark Trust identification booklet)
Maximum total length of 85cm.
One row of 20–55 thorns along midline on males, three on females.
Upper surface from light yellow to black.
Pattern of dark wavy bands lined with twin row of white spots.
Other larger white spots add to pattern.
Lower surface white with dark margins.
The leading edge of the disc undulates from the snout to the wingtips, giving the species its name. The dorsal surface, except for the rear quarters, is covered with small prickles with a dense patch on the snout region. The dorsal fins are widely spaced, normally with two dorsal spines between them. Median spines are scattered in adults, regular on young. Males have one row of 20-55 median thorns while females have three.
Colouration ranges from almost black to light yellow-brown with dark wavy bands lined by a twin row of white spots. Other white spots add to the complex pattern. The underside is white with dark margins.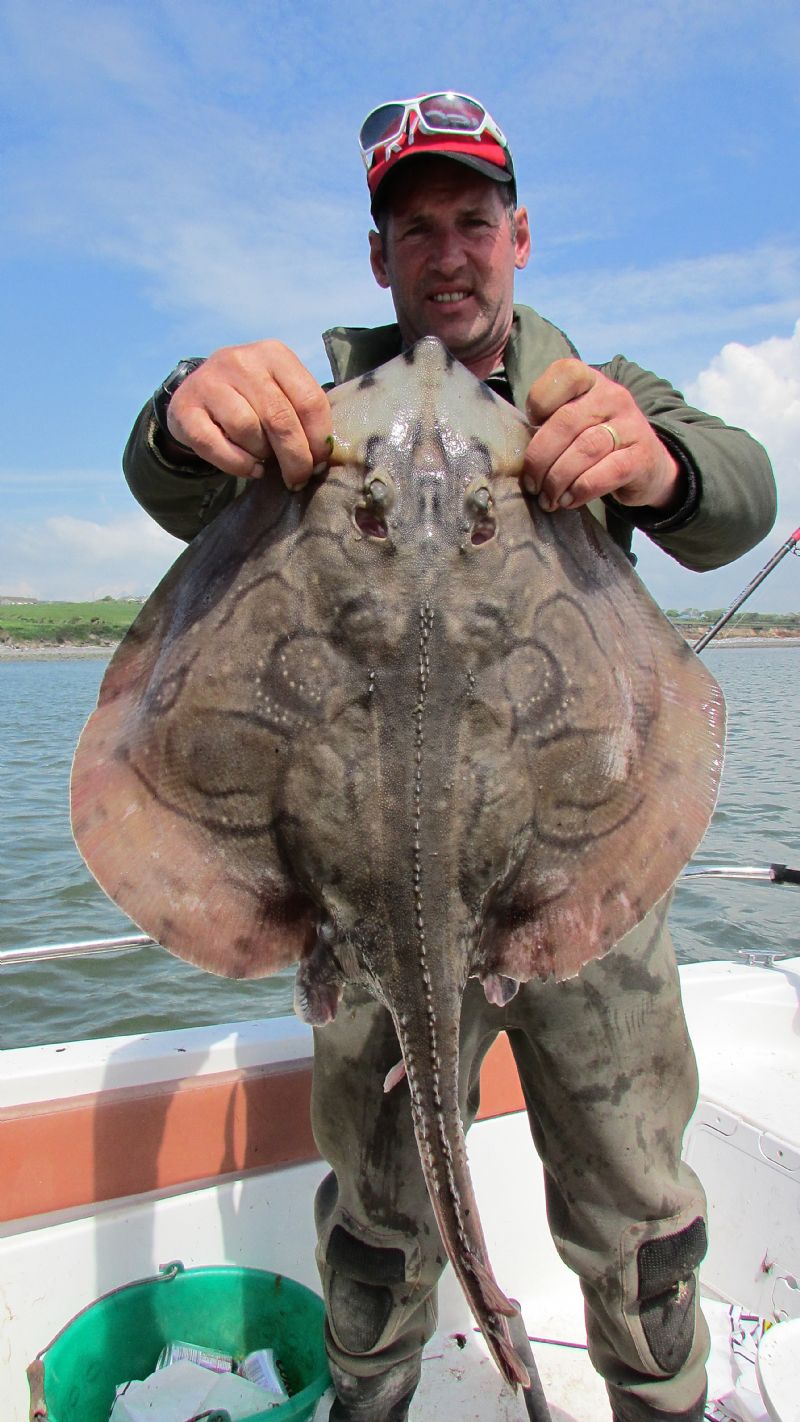 Dan Lynch with a fine example of a female Undulate Ray
Where to catch
Although Undulates have been recorded from individual venues all around the Irish Coast-line, but north of the border these captures are rare and always by accident. They generally prefer the warmer waters that the southern coast of Ireland has to offer. The primary areas mostly hail from Tralee Bay, Fenit and nearby shore and in-shore marks in that area. The occasional large fish will show out of Ballycastle on the Antrim Coast, and other in-shore sand-banks, but not frequent enough to be a viable target species.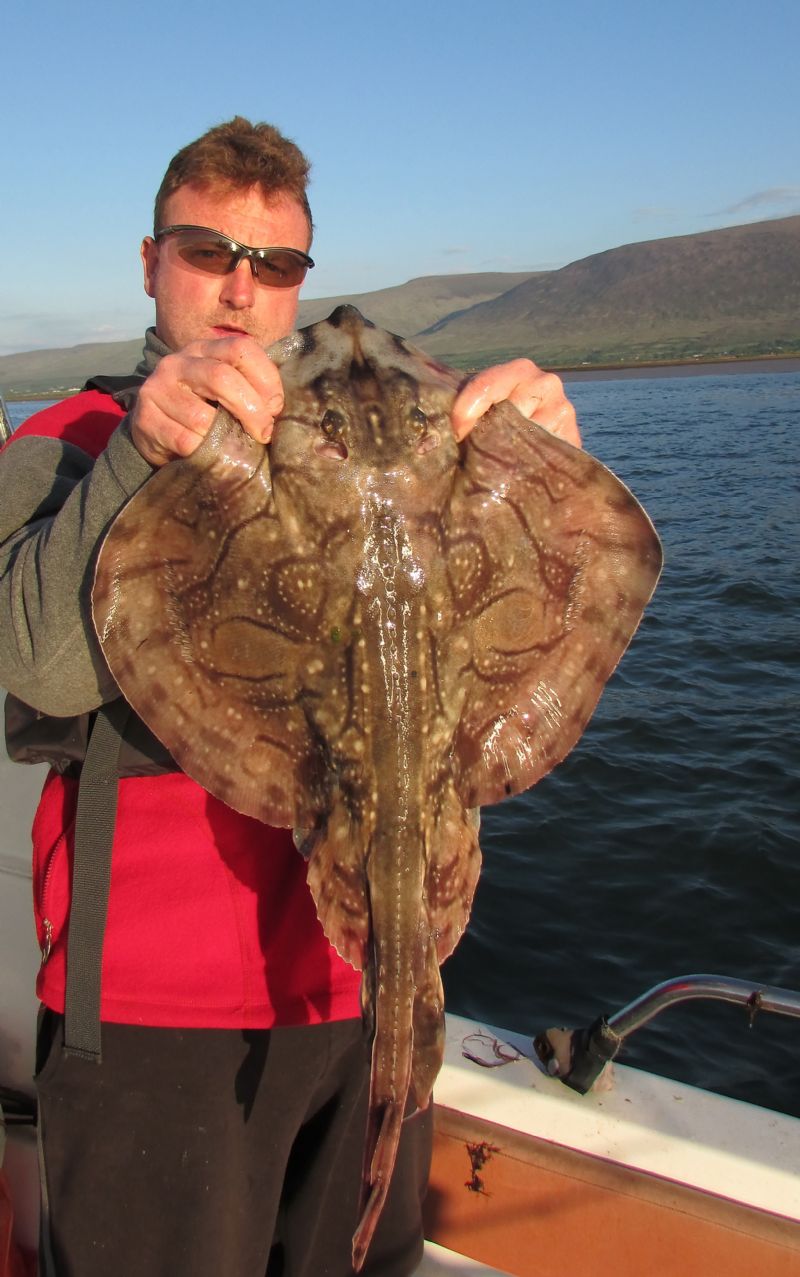 And a male Undulate for Sidney Kennedy
When to catch
Undulate Ray, similar to most Irish Rays, move close to shore and within range of shore anglers from spring and on through the summer season.
Bait
This ray species has a wide range of food items to choose from. It will target small bottom dwelling species such as small flat-fish, Dabs and Top-knots, Gobies, Rockling and Squid. It will also take Crustaceans and other marine life found on the sea-bed. With this in mind, fish-baits such as Mackerel and Squid are the main contenders, but also Ragworm and Lugworm are worth trying. Peeler crab, as usual, is responsible for many captures.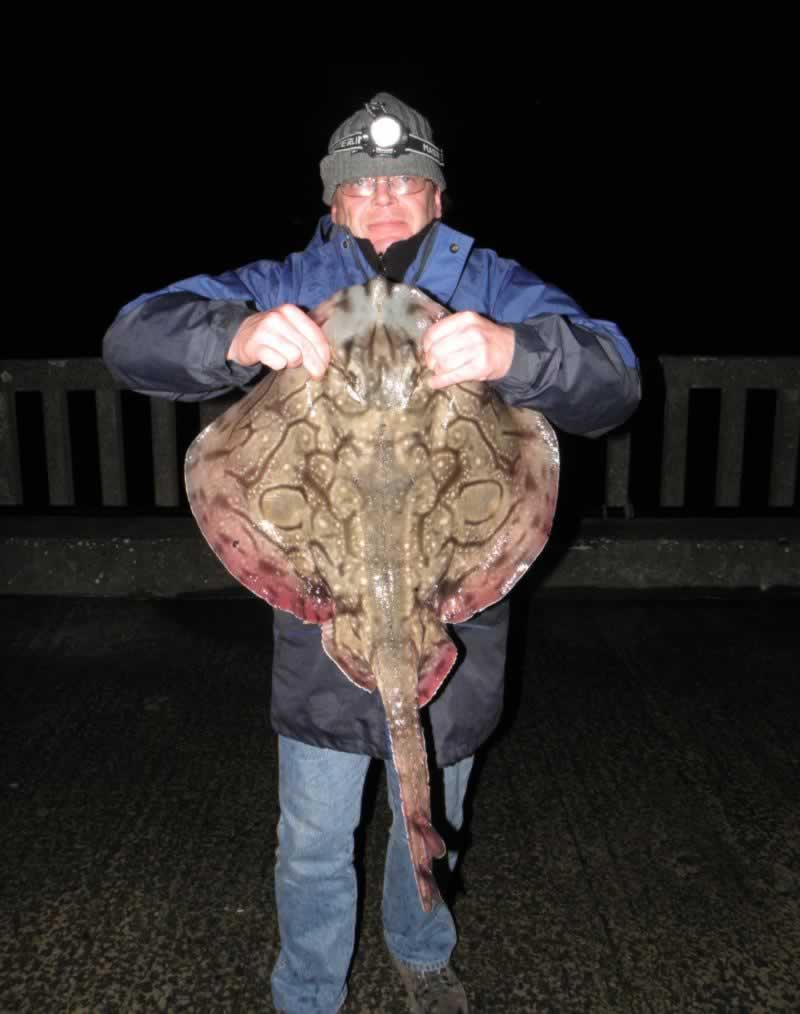 Methods
Although Undulates will venture into shallow water, they prefer deeper areas of 30-40 metres. Clipped down rigs enabling distance casting from the shore will offer greater opportunities to find and place a bait amongst this ray species.
From the boat, standard running ledger tactics are the typical method of targeting this and all other ray species.