Resuming the pursuit of Old Mossyback by Karl Bohan
Resuming the pursuit of Old Mossyback
I could feel the chill in the crisp morning air as I made my way up the mist shrouded hill towards the entry point of the forestry.
Energised by my racing imagination for what possibly lay ahead, I was oblivious to the weight of the gear I was carrying which is often the case on route to the water's edge.
Once I crossed the ditch into the forestry's Borders I was enveloped in darkness.
As I continued my ascent up the hill I could feel the spongey pine needle carpet under my feet.
Once I reached the brow of the hill I paused in my mind, momentarily to ask myself what exactly had taken me into this County Leitrim Forestry at dawn this Sunday morning?
I wasn't quite sure to be exact, other than it gave me an overwhelming feeling of contentment.
A further 200 yards downhill and veering slightly left I identified my point of exit through the foliage and out to catch my first sight of the lough. Many times in the past as I emerged from the forestry the same surge of excitement flooded my body. The familiar rocky shoreline, the continuous band of reeds lining the far bank, broken only by the inflowing river and most importantly that nostalgic feel as my senses detected that damp, earthy, almost marshy smell you only get by the water's edge. The dense fog had visibility at no more than 10ft.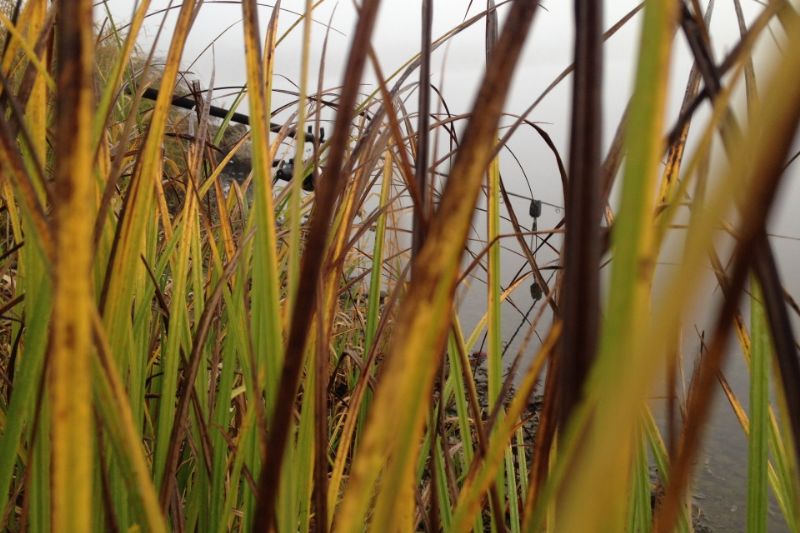 Misty and reed-fringed, a perfect late autumn setting in pursuit of Pike
It was time to resume the pursuit for old mossyback after a six month respite. I chose to use ledgered dead-bait techniques on bite alarms, two rods, one bait popped up, and the second on the bottom. Within my armoury of bait I had brought mackerel, sardine, pollan, lamprey and last but not least herring, sufficient to cover any situation. The first rod was pumped into the horizon and to the left; this was a mackerel bait on the bottom in roughly 16ft on a gravel bottom. The second rod, the popped up sardine was dispatched to the right in close proximity to a sunken tree, an area which had been successful for me on prior visits.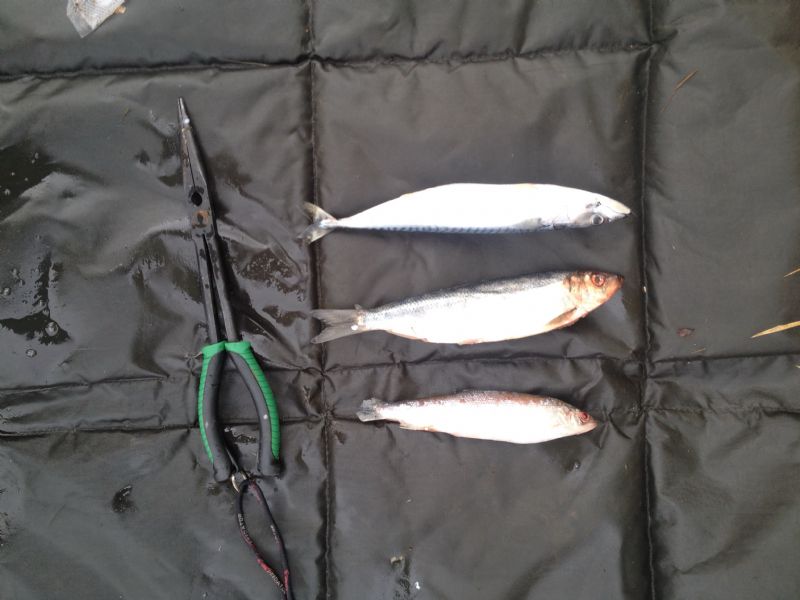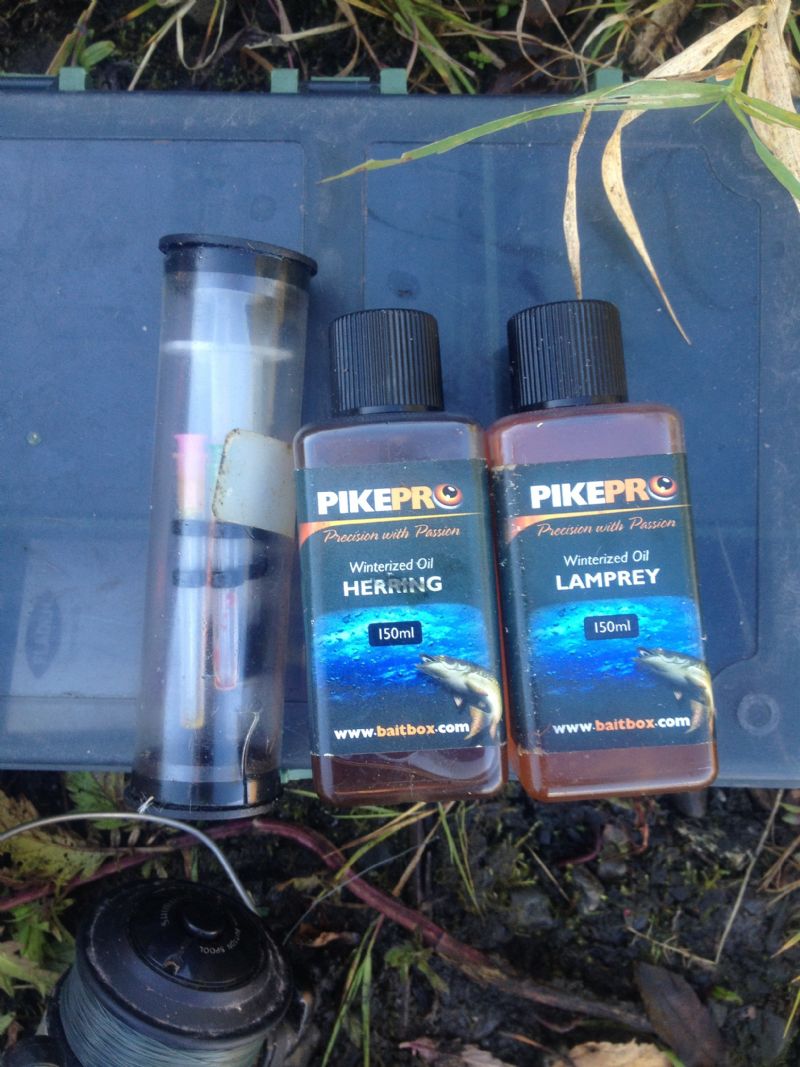 Mackerel, Herring and Pollen, a small selection of my bait armoury, plus added fish-based oil attractants
Kettle on and a quick walk along the bank for signs of anything, be it bait-fish breaking the surface or evidence of other anglers, neither could be seen. The only other thing which seemed to be active was a heron who I twice heard long before I seen. He was patrolling the thinning fog for breakfast no doubt. It was entirely possible no one had been here since my last visit two years previous; such is the isolation of some of these loughs. The initial optimism soon turned to doubt as often is the case pike fishing, especially when using static baits but sitting there watching the sun burning through the fogs heavy blanket observing the world come to life is a perfect moment that isn't experienced half enough in a lifetime.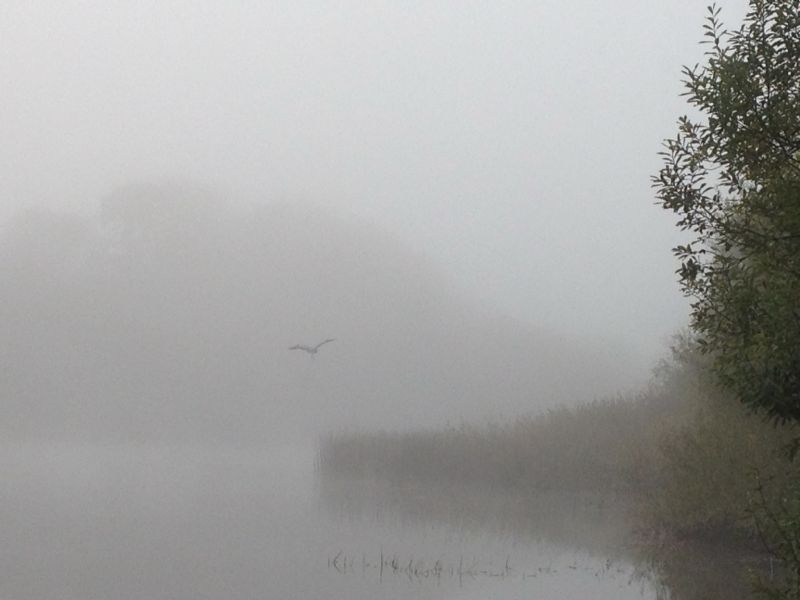 A lone Heron takes flight, the only other angler here this morning
An early morning tractor could be heard in the distance, booming noises from early morning hunters could be heard reverberating in the surrounding valleys, possibly seeking out Widgeon, Mallard or even the Canadian geese which are known to frequent these lands. The truth be known, I often tell myself in these situations how lucky I am to experience such natural beauty and in truth even if I hadn't brought any fishing gear the pleasure would not in any way be diluted. And with that my alarm signalled the first sign of interest.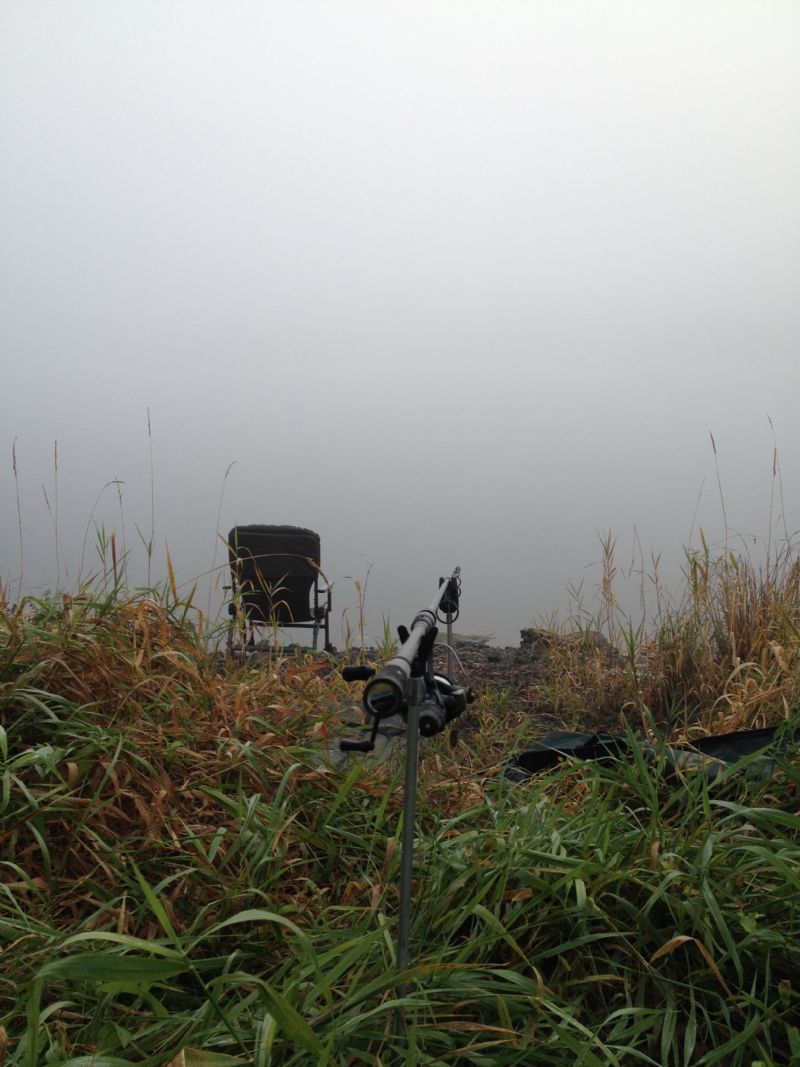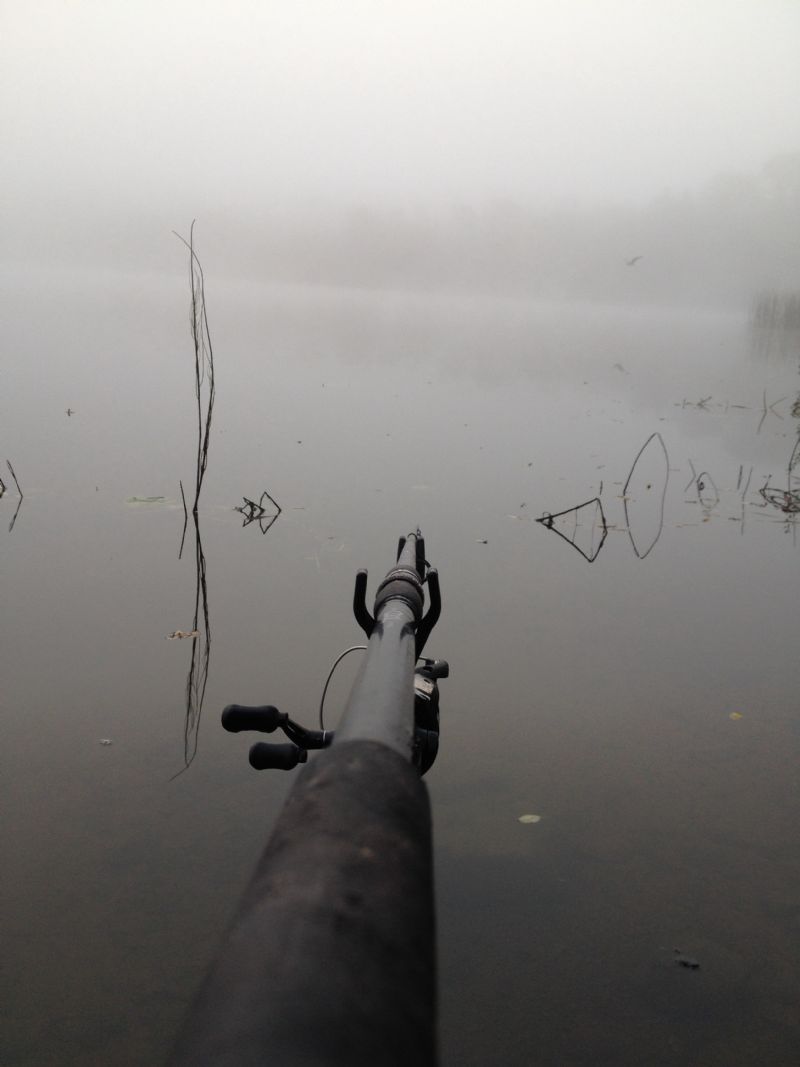 I scurried across the loose ground as I could see the dropper rise and fall in a plucking motion. As I lifted the rod from the rest the fish began to run and with one hard sweeping strike I felt that sought after connection. After not feeling the power of a pike in over 6 months adrenaline flooded my body as my heart rate surged, an almost dizzying feeling. The fish made a couple of short powerful runs before I gained full control of the situation. At twenty yards I saw my prize break the surface; I guided her over the threshold of my 42 inch net with relative comfort. Conscious of water temps still being above average for this time of year I decided to rest the fish in the net before removing the hooks which is something I generally practice unless I can see a trailing treble which is the last thing you want getting tangled up in your net.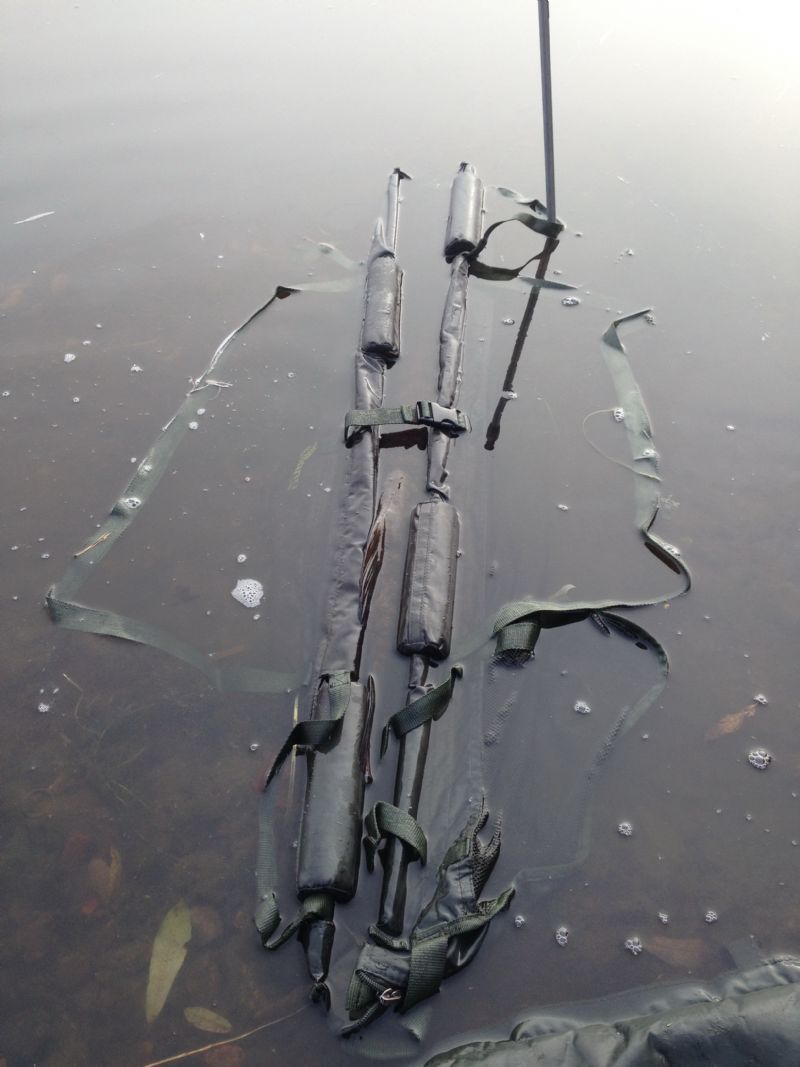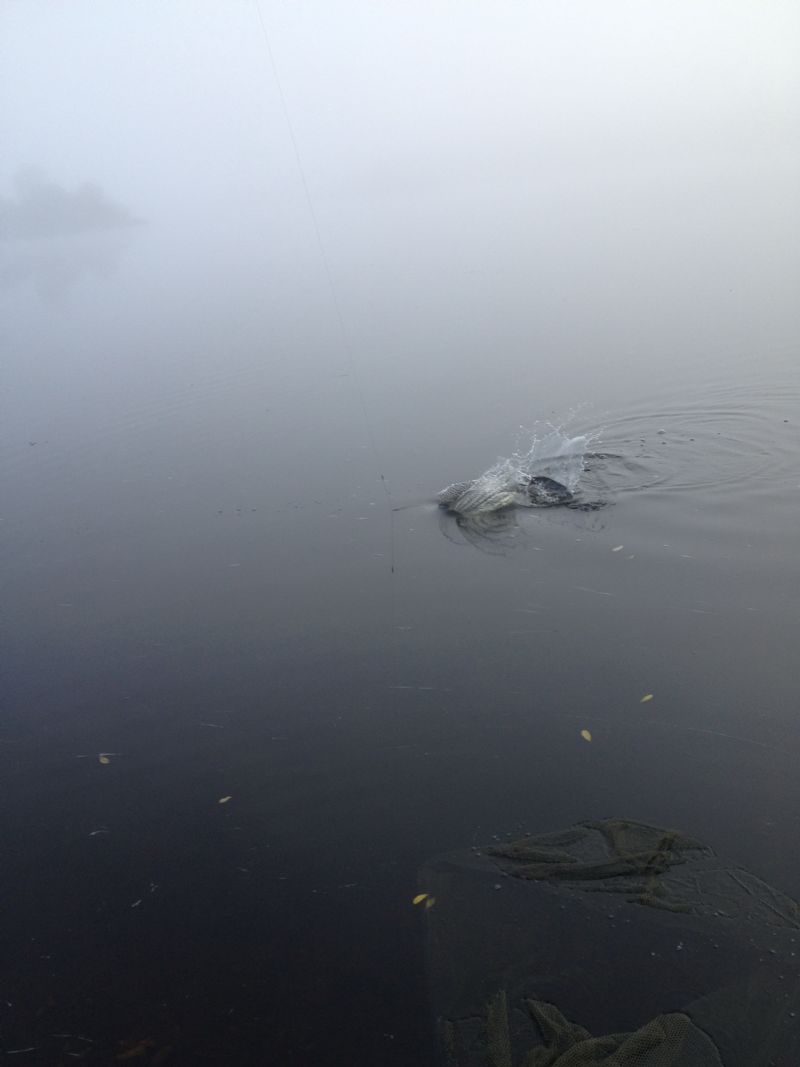 Fish on, and soon safely in the sling to recover, while I ready the camera
Once I had the fish rested I removed her from the water onto my 48 x 30 unhooking mat with the necessary tools at hand, hooks out and I popped her into the recovery sling while I set myself up for a quick snap. Not a big fish by any means, I estimated between 10-12lb but obviously very happy to be off the mark less than two hours into the new season, I wanted a snap. Camera ready so out onto the mat, a quick snap and back in the water within thirty seconds, no fuss. I held her tail and she powered away shortly after. It is worth noting that in Autumn the water temperature can still be high so the fish need longer to recover, so be sensible as to how you treat them. At this stage wispy cirrus clouds filled the sky, arranged in a formation almost replicating contours of sand on a beach and with that my time was up. Fours hours, one fish, not a mind blowing result but I was certainly going home happy to be off the mark.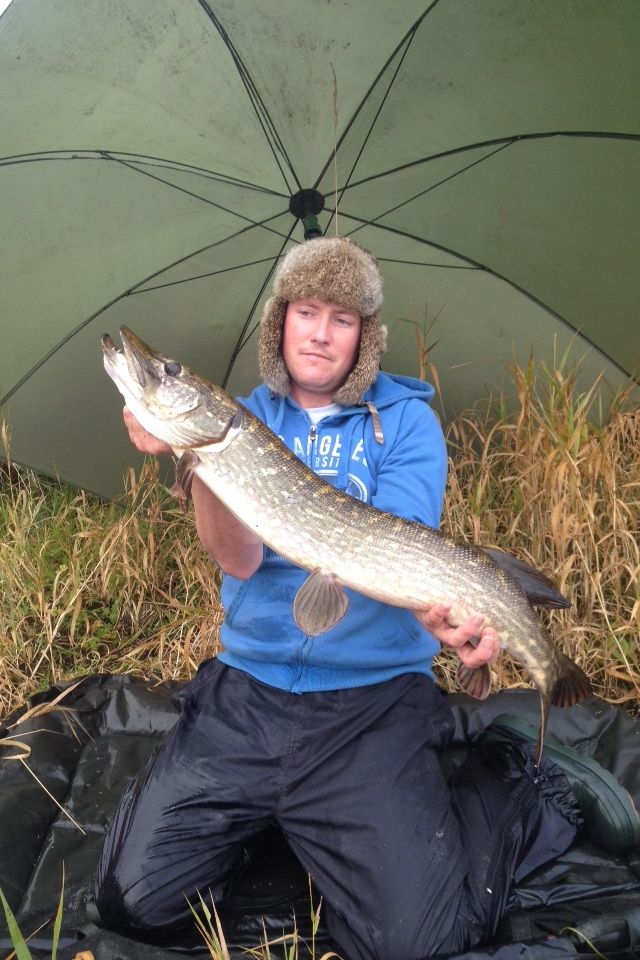 Nice to get off the mark with a small double

Safely and carefully released
Tackle and tips
For anyone unsure as to what strength tackle to be using I would suggest 2.75-3lb test curve rods with bait runner reels loaded with a minimum of 18lb B/S line. Good quality terminal tackle, there is no point skimping on the hooks/trace wire/swivels/crimps etc. as it will most likely fail you in your time of need and may result in leaving hooks/rigs in pike which is detrimental for the fish.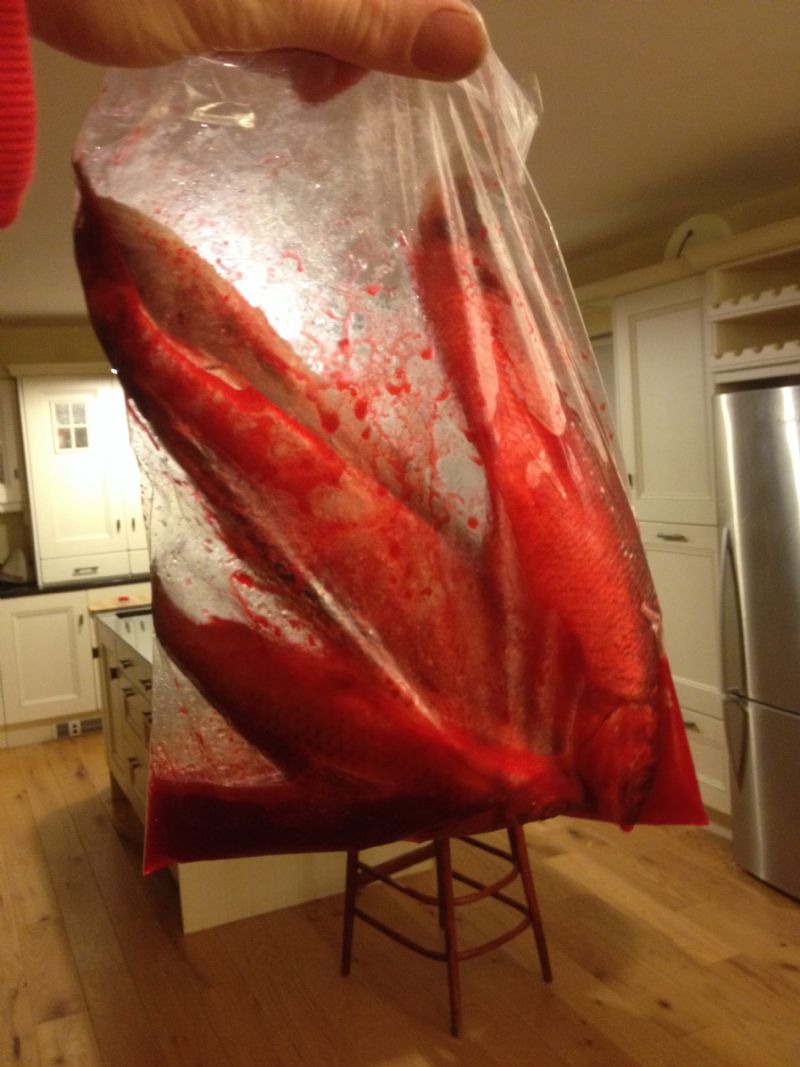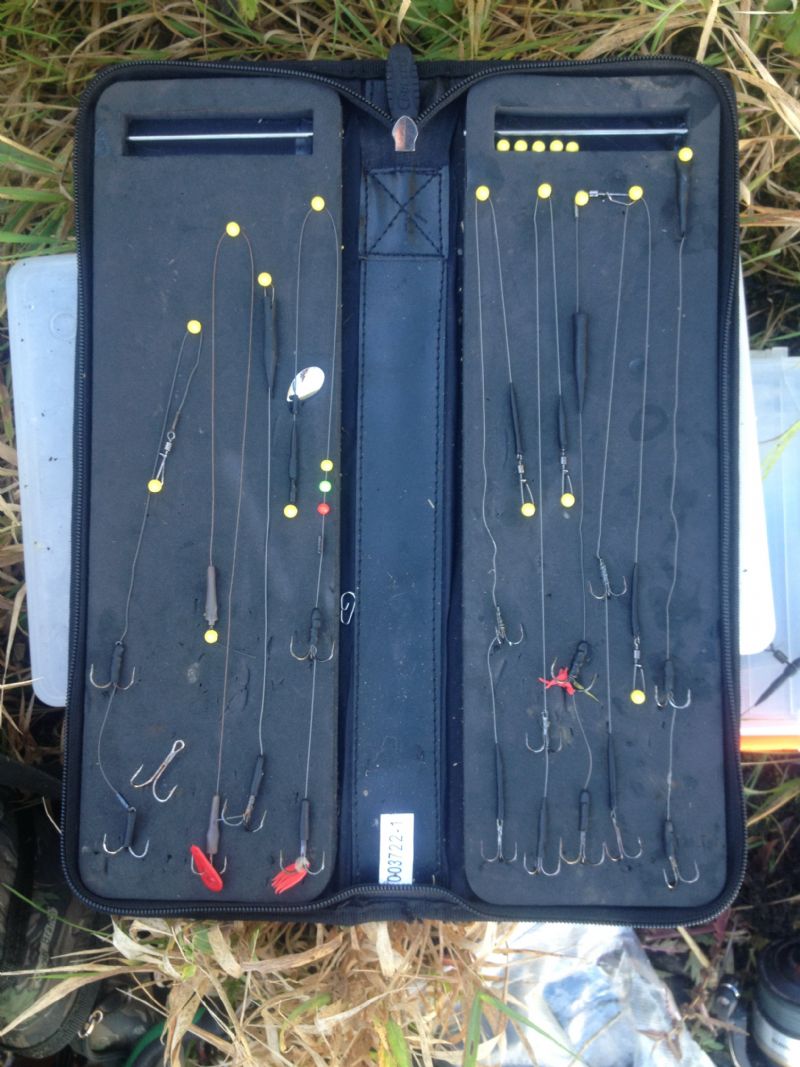 Neatly and safely stored end rigs in a wallet, and home-dyed baits, two great tips
I would also suggest storing your rigs in a suitable manner so as not to damage the integrity of the trace wire. Equally as important is that of your forceps for removing the hooks. There is no point in buying a tool incapable of removing hooks in all sized pike or ones that twist or buckle so buy a good quality pair, I would recommend the long handled Fox predator ones.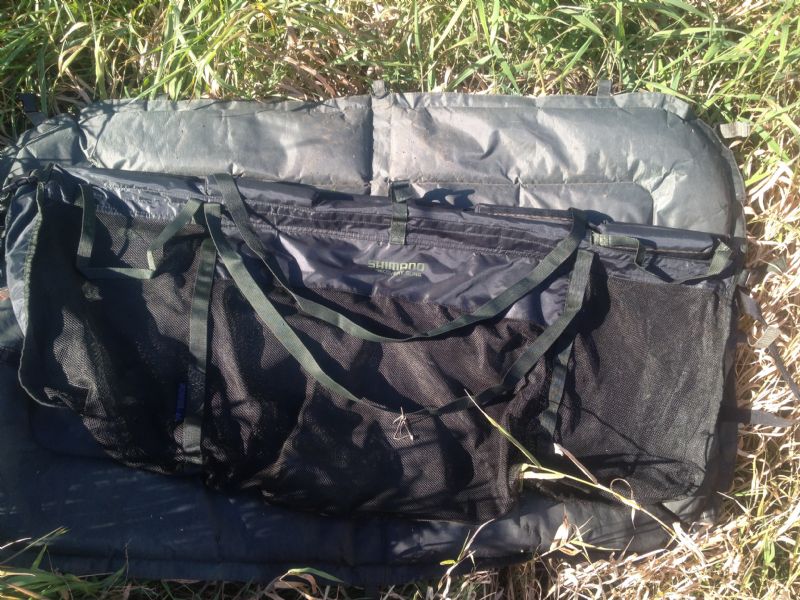 There is no excuse not to carry a quality un-hooking mat and weigh-sling
My opinion is that if you not entirely comfortable unhooking a pike then you should not be fishing alone, you should be fishing with someone experienced who can educate you on how to handle these fish. Although they are fearsome predators below the water's surface, on the bank they are very delicate and need to be handled correctly as to prevent injury to (A) The angler and (B) the pike.
On from that I would add to use a good big unhooking mat, one which is capable of seating big fish, I have seen people use ones where the fish can not fit on the mat and are dragging the ground so be generous, they are not expensive at all. Another two things I would like to add is to experiment with popped up baits and the distance they are popped up and also don't be afraid to inject oil into the fish for added scent. This is particularly recommended in flooded conditions where the pike use their other senses to hunt. I want to wish you all the best for the months ahead pursuing Old Esox and hopefully all your dreams are fulfilled. I know I'll be bankside at every opportunity in search of that elusive Mammoth pike! Tight lines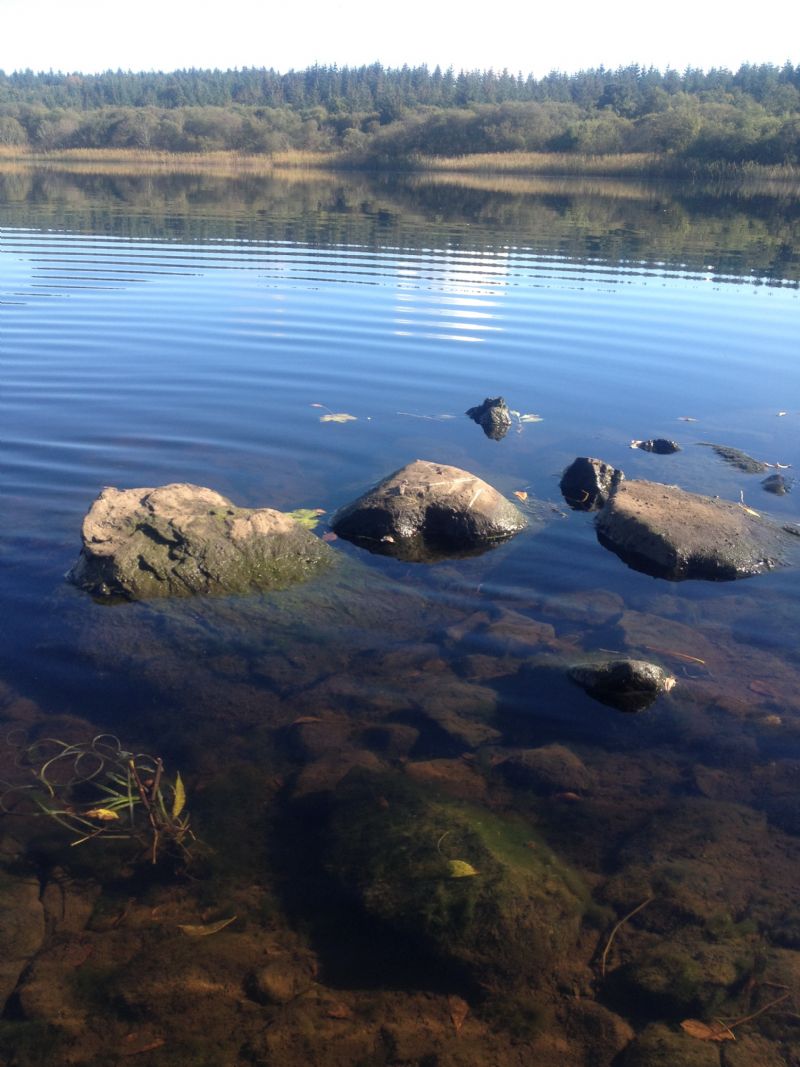 "Where the lifeblood of this planet laps over the footholds of time, it is here and only here where my soul feels truly restored"
Karl Bohan
Back