River Barrow, guiding for Shad
River Barrow, guiding for Shad
A couple of angling friends, Shad virgins shall we say, asked me to join them on the mighty River Barrow for an introduction to targeting Twaite Shad.
How could I resist the opportunity to re-visit one of my favourite Irish venues?
I missed my chance to fish for Shad on the Barrow last year, and hadn't actually planned a trip for this year, 2018. But on the years that I don't visit the Barrow Valley at St.Mullins, I always feel that I have missed out on something special, and wish that I had made the effort for an adventure. When angling pals David Craig and Gavin McNeill asked if I could guide them, I took up their offer. These lads are good anglers, but have never tried the Shad experience, and both desperately wanted an Irish Specimen, that is, a Shad over the qualifying weight of 1.2 KG. With over twenty seasons of Shad angling under my belt, I suppose I should have something to offer a newbie.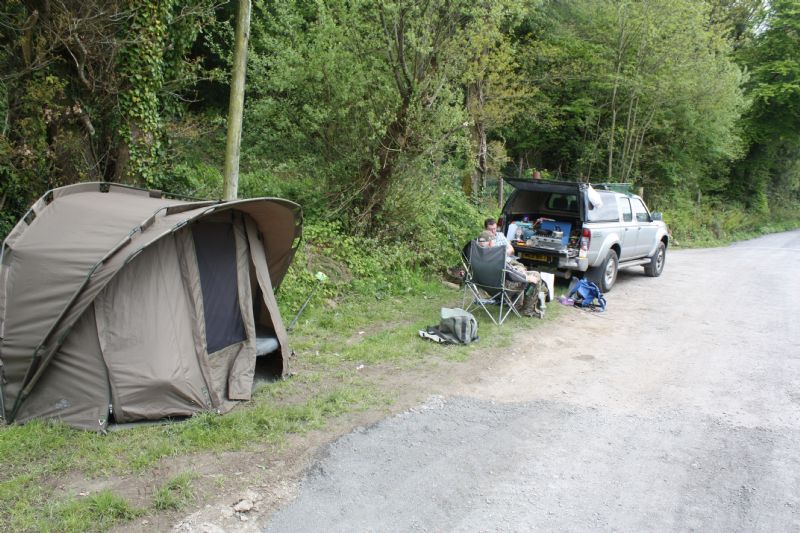 As usual, my old JRC bivvy will be my B&B for the next couple of days
We travelled together in my old wagon, and the three-hour drive saw as safely to the quaint Irish hamlet of St.Mullins, County Carlow. I always feel at home when I arrive at this venue, having spent so many years travelling here. The ancient Motte and Bailie, the old cemetery and smattering of houses, with Blanchfields Pub as the focal point. The air is fresh, there is no traffic noise or built-up areas to offend the eye, just the sound of running water, insect life, herons, crows, buzzards and the occasional pheasant cawing amid the undergrowth. A place that allows the mind to un-wind and the soul to heal itself.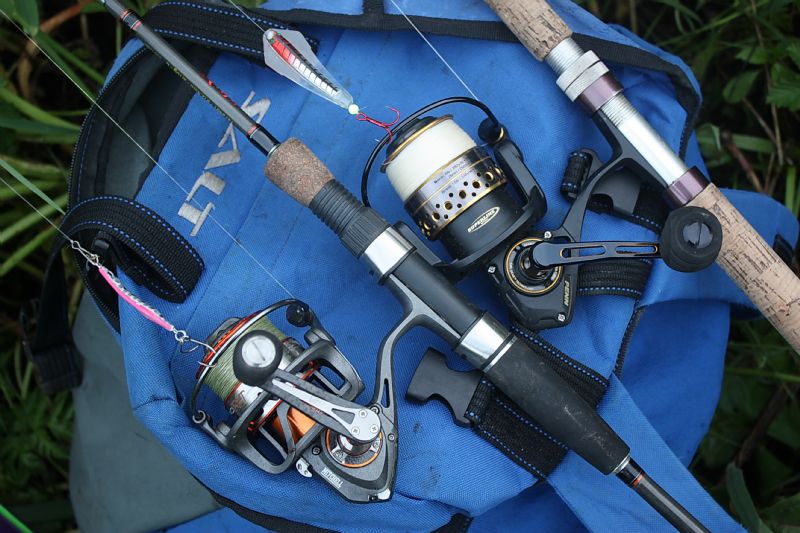 The Berkley Fireflex and Mitchell-Pro RZT were a fantastic Shad combo
More info on the Mag-Pro...click here
Prior to our adventure, I advised on tackle requirements. The lads sorted out what they had, but Twaite Shad angling is a fine-tuned discipline if you want the greatest chance of success, and I thought it sensible that I carried spare kit for the lads just in case, and as it transpired, the emergency back-ups were soon brought into use! Rods need to be soft action, around eight-nine feet long and balanced to cast small lures long distance. Shad, with their dogged fight, head-shake and ability to leap several feet in the air when hooked have an un-canny and often frustrating knack of shaking the hook free. A soft or through-action spinning rod cushions the fight giving a higher chance of actually getting the fish close to the net without a dreaded "hook-pull"!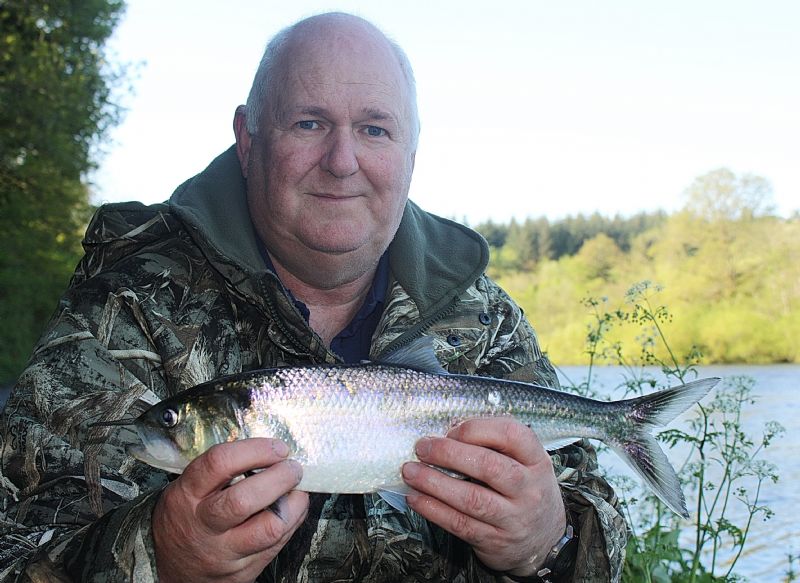 David Craig with his first Twaite Shad
With the rod sorted, the reel is next. A small spinning reel, around 3000-4000 size, correctly loaded a few millimetres from the lip, with small diameter braid or around six-pound B/S nylon for the best opportunity of casting close to the far bank for maximum coverage. The thin diameter line is important, as it allows the lure to move through the water in a natural manner, cutting through the water column, providing a higher percentage of "takes". When using braid or nylon main-line, I always add a tiny swivel to prevent potential line twist, and at least a metre of lo-vis fluorocarbon to the lure, I believe this helps.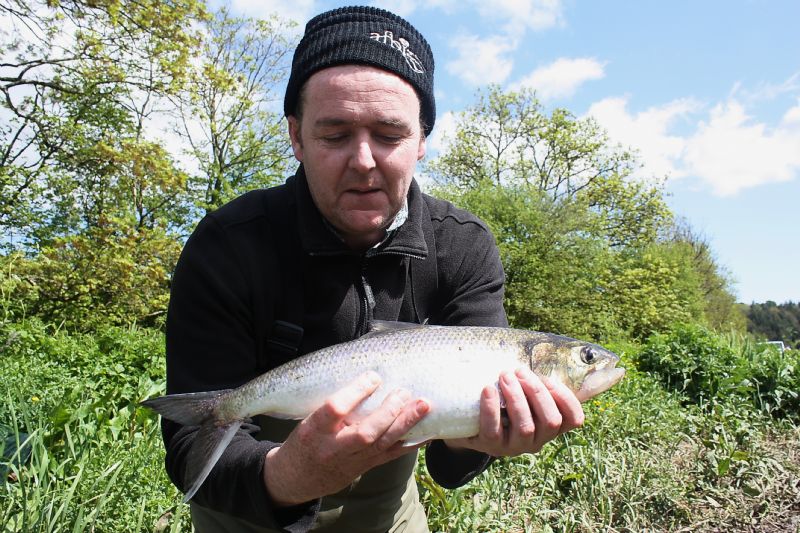 Gavin McNeill with his first Shad landed, and it's a 1.2KG Irish specimen
The lads couldn't wait to get started, and happily, we had judged the combination of tidal heights and time of day reasonably well, and were soon battling our first Shad of the year, first ever for my companions. Gavin soon learnt the frustrations of Shad angling, with his first five fish shaking the hook before he managed sight of them! I loaned him a Berkley Phazer, light, and with a suitable soft-action, and his next fish not only made it to the net, it was over the 1.2 KG Irish specimen weight. A big tick on his bucket-list, he was absolutely delighted with the achievement!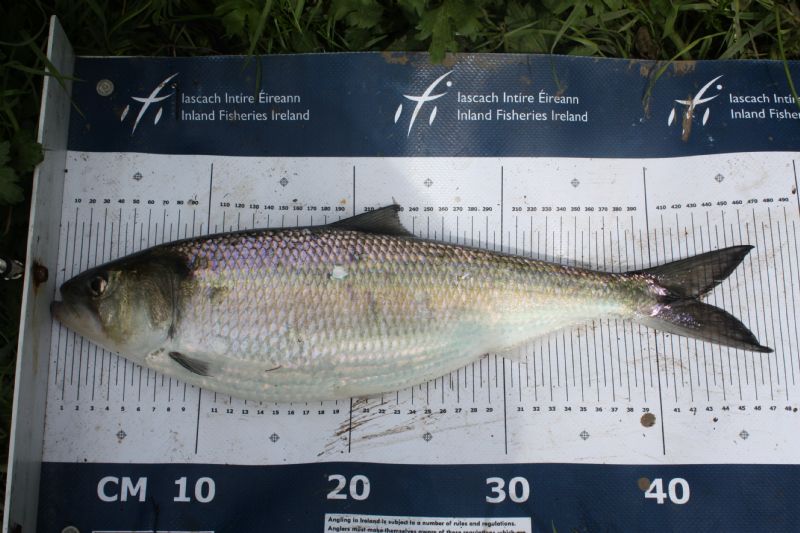 On the official IFI measure mat for ID and proof of size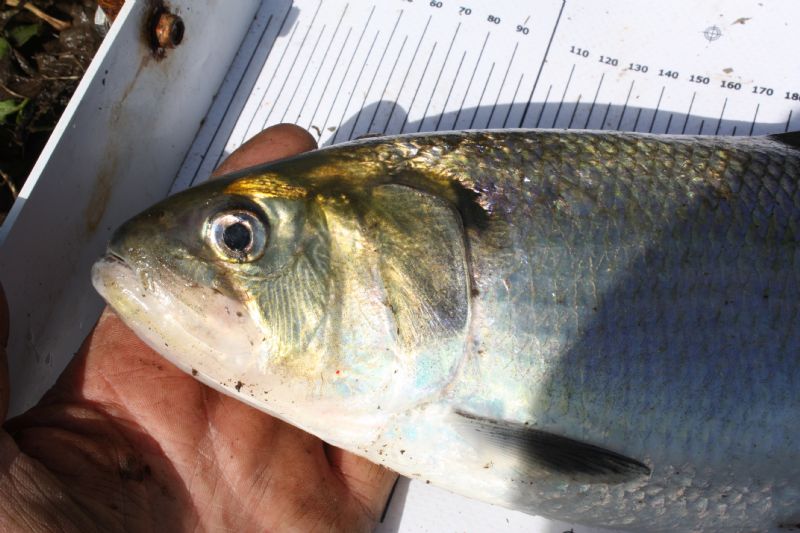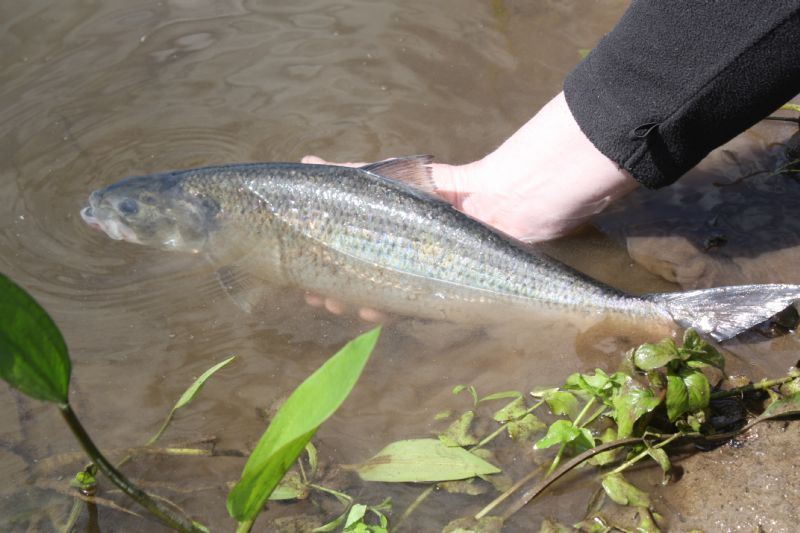 Gavin holds the fish upright until it regains composure
This next stage, and without doubt, the most important advice to anglers for the health of the fish, was to explain the importance of quick action. It is vital that Shad are returned as carefully and quickly to the water as is feasibly possible, they are quite fragile, with high water temperatures and consequent low oxygen levels at this time of year. If a fish is to be claimed as a specimen, weigh-sling and weighing scales, measuring mat and camera MUST be on standby, and it helps greatly if a companion lends a hand. A quick photograph on the measure mat if the fish is over 1.2 KG, a scale in an envelope for genetic ID purposes, and back into the water, fish held upright and facing upstream until it regains its stamina. Too many anglers, and I witnessed it on this trip, catch a fish, then leisurely wander off looking for a camera etc, the fish rarely survives the ordeal.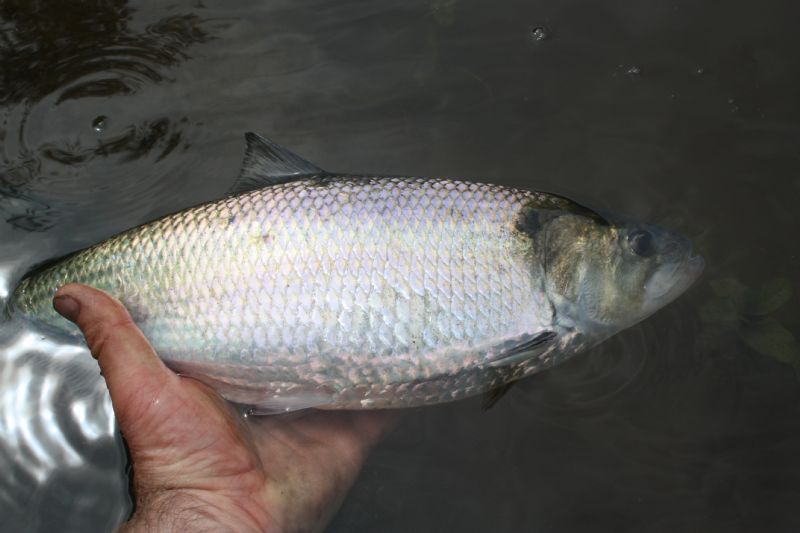 Stunning bars of silver with rainbow flickers of colour that shimmer in the sunshine
Watch this short video showing safe and quick catch and release.........click HERE
Davy soon realised his rod was also un-suitable and borrowed the remaining Berkley Phazer I had brought with me, and he too remarked on the higher catch rate. Now the lads were "in the groove" they settled in to some extremely enjoyable angling. Another tip I suggested, was if the fish is obviously below specimen size, as it nears the bank-side, keep the rod-tip high which encourages the Shad to leap, usually shaking the hook in the process. A fun, safe and fast self-unhooking procedure! Re-cast and get back into the action.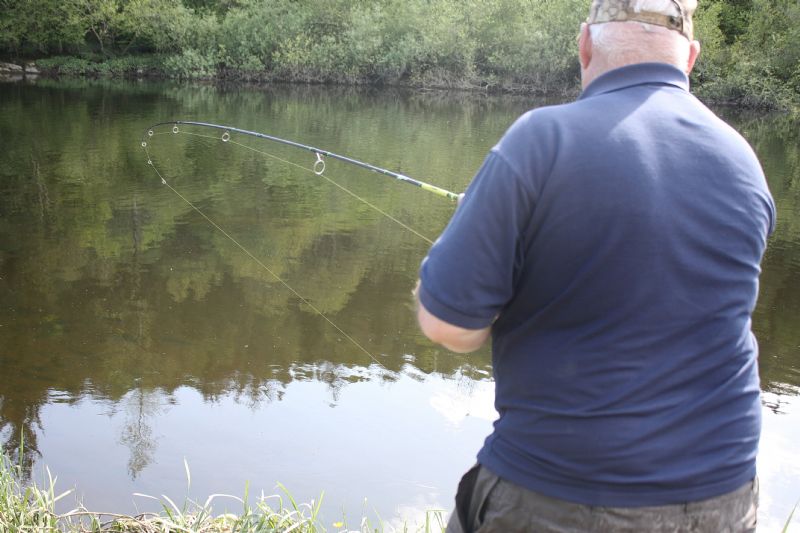 Dave finding it easier with the right tackle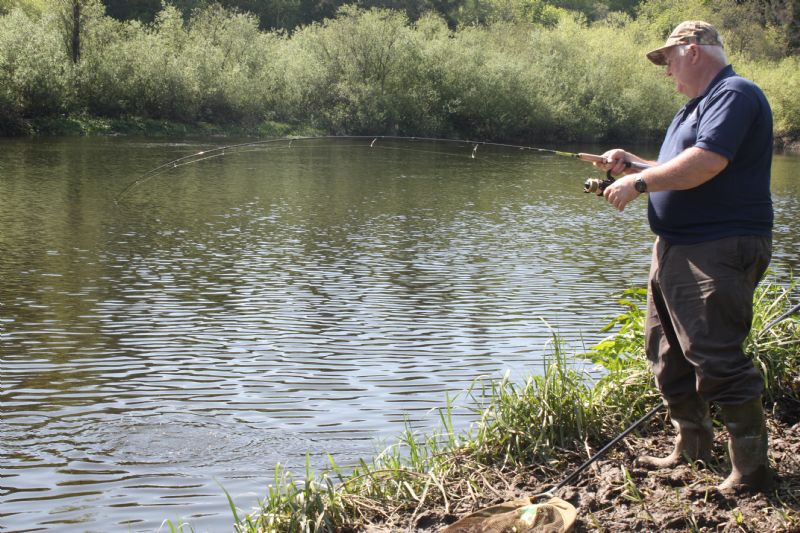 Shad MUST be treated gently with quick and careful release for their well-being
I also managed to tempt a specimen from this initial fresh run of fish before action quietened down, and with our first day over, we organised some open-air cooking, filled our stomachs and retired to our bivvies. Tomorrow would be a fresh start, and 4.30 am always comes around way too soon!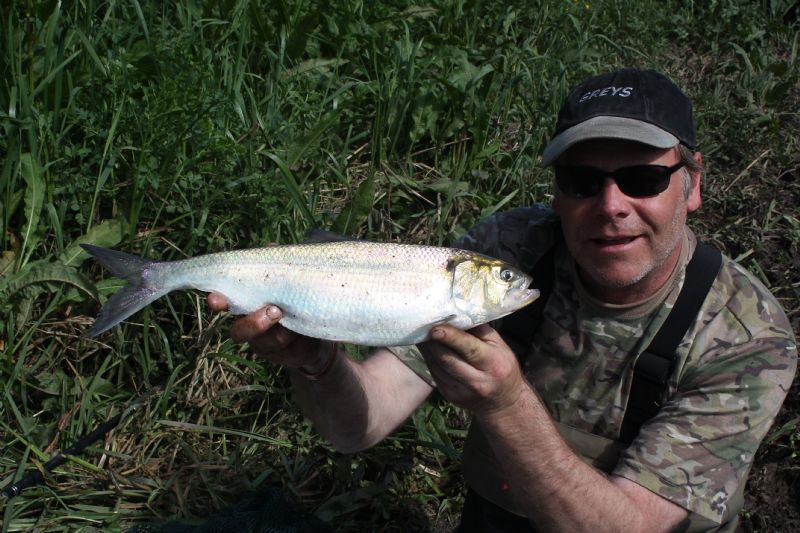 A hard-hitting specimen, just time for a trophy shot before release
No need for alarms, the open air and dawn chorus is natures alarm. Groggy, but excited, with an air of anticipation, we donned the waders and made our way to the hot spots, breakfast can wait, the fish wont! The Barrow Valley back-drop really is a beautiful venue to cast a line. The Shad obliged again, but it seemed a run of smaller males had come through, plenty of fish but no large "mamas" to satisfy the specimen hunters appetite. No matter, still very enjoyable angling for the morning session. This venue is tidal, and we fished the incoming tide until bites ceased and lunch beckoned. The beauty of this style of tide-dictated angling allows for sessions of hectic angling activity, then slow periods to relax. Ample time to get some grub and reflect on what has occurred, and to plan and hone the gear for the next wave of fish, if they show up.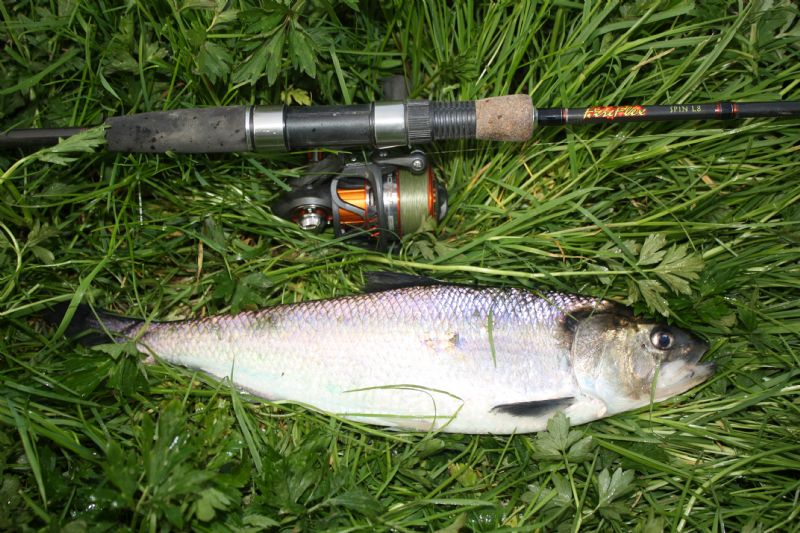 The Berkley Fireflex Spinning Rod, a great addition to the Shad-catching armoury
My itchy feet wouldn't allow me to relax for too long, and I went on a low-water hunt. I managed to find a pod of stragglers and "winkled" out another fine specimen among them. A lovely bonus fish when I could easily have been sleeping off lunch in the 24 degrees sunshine! A few fish showed that evening, and Davy lost a potential specimen at the bank-side, an inevitable side effect of Shad angling I'm afraid, it goes with the territory. I've lost count of the lunkers and possible Irish records over the years that have shaken the hook at the lip of the net, and I know most anglers that has fished St.Mullins could say the same. Join the queue Davy!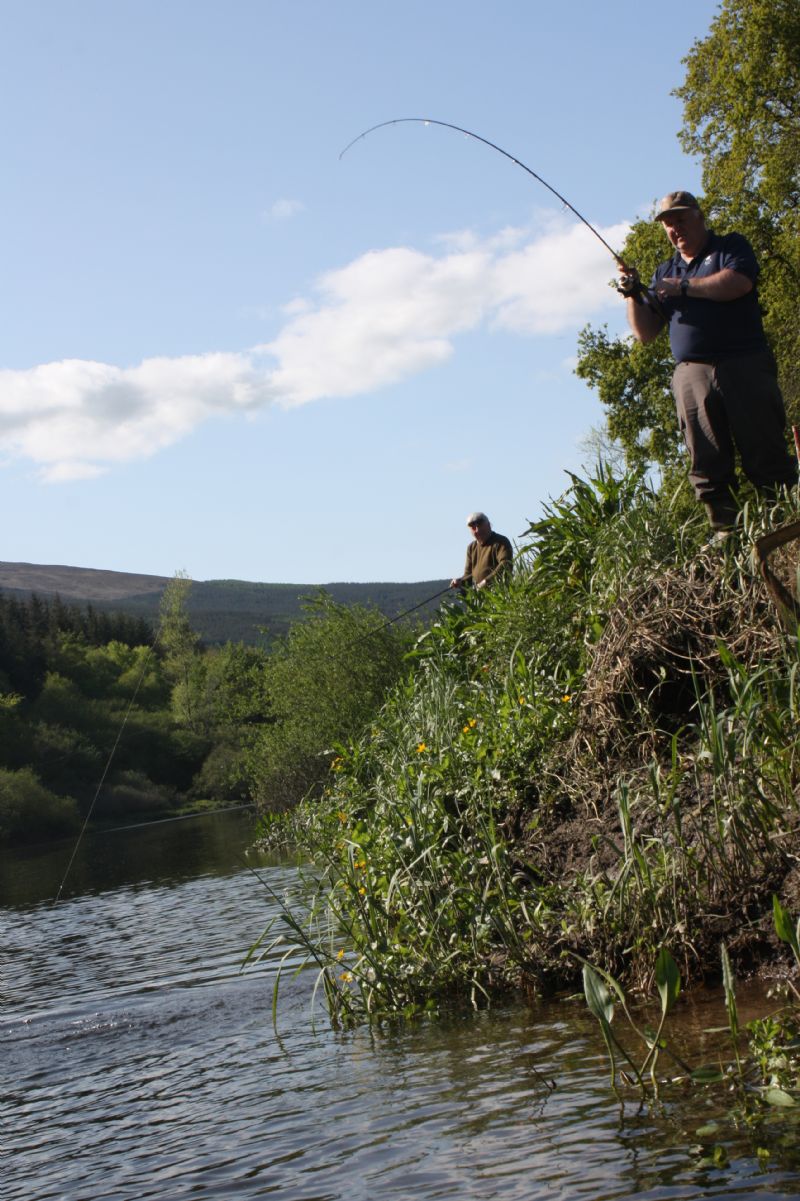 A Shads eye-view!
Our third and final day, and as the peak of the spring tides eased, the fish numbers seemed to decrease. Davy fished hard for his target specimen, and one of his last fish, this time a definite candidate for the measure mat, managed to slip the hook just at the net, foiling the chance of a perfect ending. I rubbed salt into the wounds a little, landing a smasher over 1.5 KG for a third specimen, but the lads were happy with their introduction to this exciting, stunning and often madly frustrating world of Shad angling.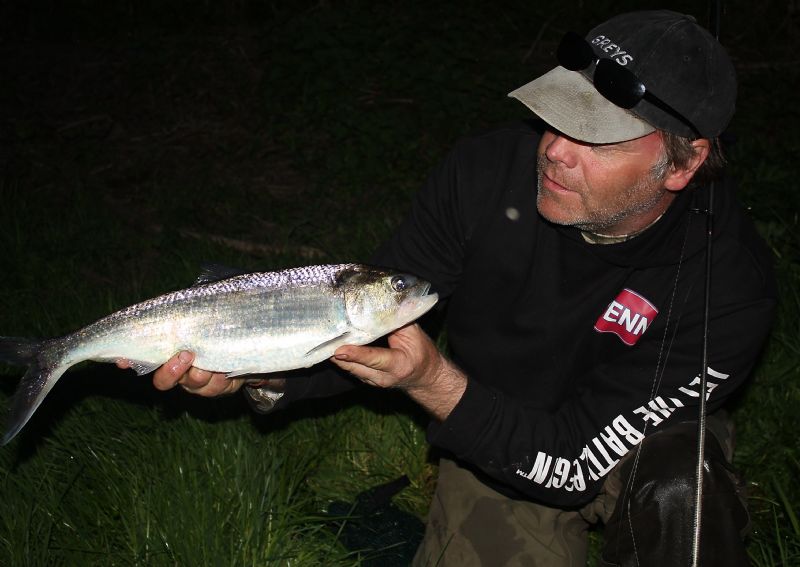 The specimens over 1.5KG really know how to peel line off the reel!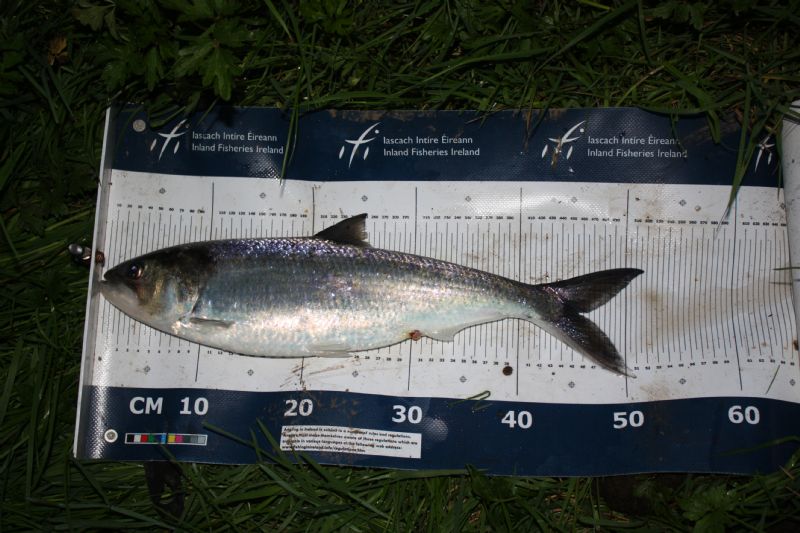 They were hooked, the Shad fever had taken hold, and they were already planning next year's adventure. I wasn't going to get my spare rods back, so they bought them off me at a "mates-rate" price. I hope this short blog is of help to any "would-be" Shad anglers that fancy a crack at this enigmatic and feisty species, but please remember, handle them quickly and with care, they are delicate animals and do fine when treated well, but suffer when treated roughly. Protect our stocks for future generations to enjoy the same experiences we have, of species and Mother Nature at her best.
Tackle Re-cap
Soft or through-action spinning rod around eight-nine feet, capable of casting small lures, perhaps a second rod suitable to cast heavier lures such as Tazmanian Devils etc.
A matching reel for balanced casting kit, usually around 3000-4000 size
Braid or mono main-line, light diameter, 6lb or equivalent, correctly loaded.
Long handled landing net to reach the water at low tidal conditions
Back-pack or tackle bag to travel light, with camera, measure mat etc if you wish to claim a potential specimen
Usual water-proof clothing, boots, etc
Selection of small lures, spoons, swivels, beads and hooks
Un-hooking forceps
Spare main-line and fluorocarbon hook links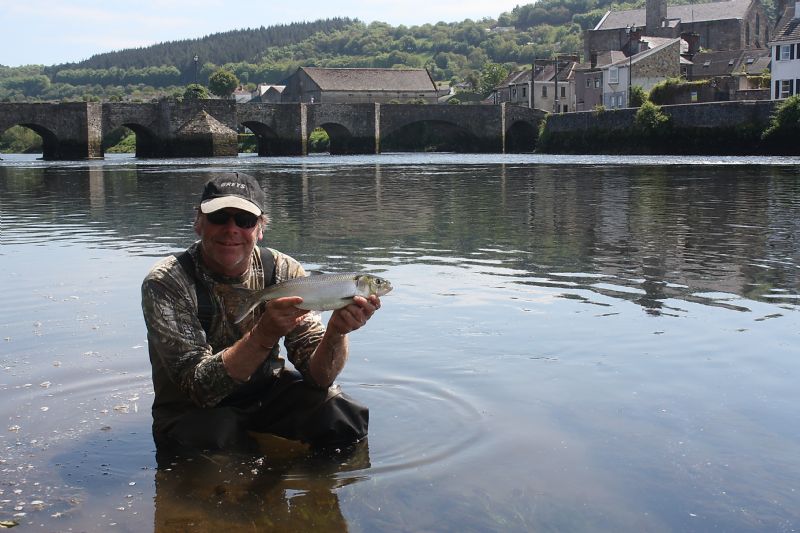 Shad don't just run the River Barrow! Taken on the same adventure, different river system
Back