Roach-Rudd Hybrids, the trials and tribulations of specimen hunting.
Roach-Rudd Hybrids.
The trials and tribulations of specimen hunting.
As a dedicated specimen hunter, every season of angling offers the realistic opportunity to increase knowledge on venues, species, temperature and weather conditions, and also moon phases in relation to targeting large, feeding fish.
This can be said of all angling disciplines. Even when a venue containing large fish has been discovered, to be consistent, the specimen hunter cannot rest on his laurels thinking this new water will remain forever. There are many reasons why great waters go off the boil, and most I am sorry to say are caused by human intervention. Pollution, whether toxic from sewage and silage spillage or over-enrichment from farm run-off, all are old, ever-present problems. However, we now have new problems to cope with. Invasive species wreak havoc on natural Irish waterways, along with over-population of predator species including cormorants, otters, mink and human fish eaters! So, the specimen hunter's world is not an easy one, ever searching for that magical water containing that fish of a life-time, and always looking for a back-up water in case the other venues lose their sparkle, as they often do.
As the day-light hours increase, and temperatures eventually climb out of the depths of winter, each year I turn my attention to the species category on the Irish specimen list. Until recently, Roach-Rudd Hybrids were not recognised as an Irish species, but they have become so common-place in Ireland, they can no longer be ignored. I played a small part in this species gaining recognition, mostly by submitting information on captures each year. Finally, in 2009, I struck lucky and was rewarded with a new Irish Record, a stunning fish of 4lbs 6oz.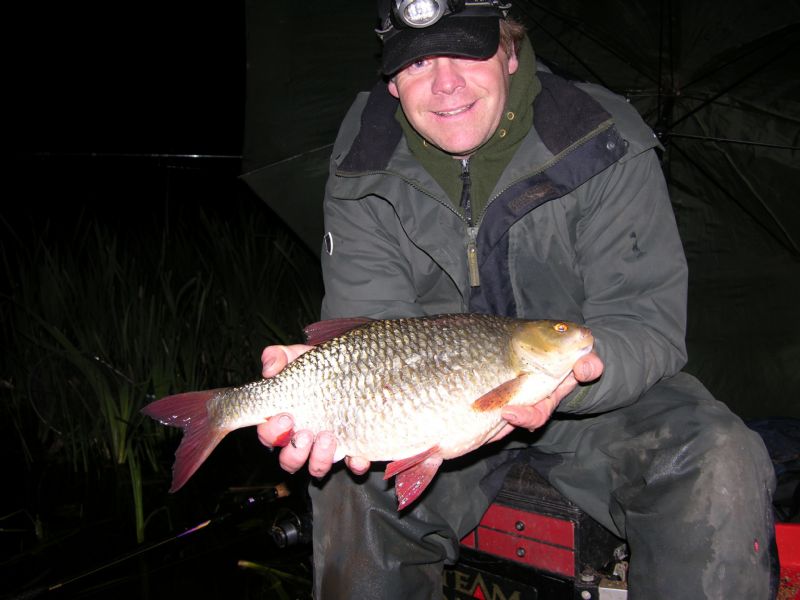 Current Irish Record Roach-Rudd Hybrid
But even record-producing waters under-go change, and after many years of success from my local venue, a well-planned trip this season produced very little. There was some decent brood-stock coming through, but no sign of the healthy range of larger specimens that are normally encountered each year. A second trip, with perfect conditions of temperature and wind direction again provided mediocre results, which was somewhat concerning to say the least. A chance chat with a local dog-walker, and some light was shed on the possible reason for these un-characteristic poor angling results. He explained how he witnessed that some "foreign guys" had a great catch of fish using inflatable boats and a large net, and described how they had segregated fish into fish boxes, small, medium and large. He was un-aware that what they were doing was illegal, as I sat with head in hands in despair!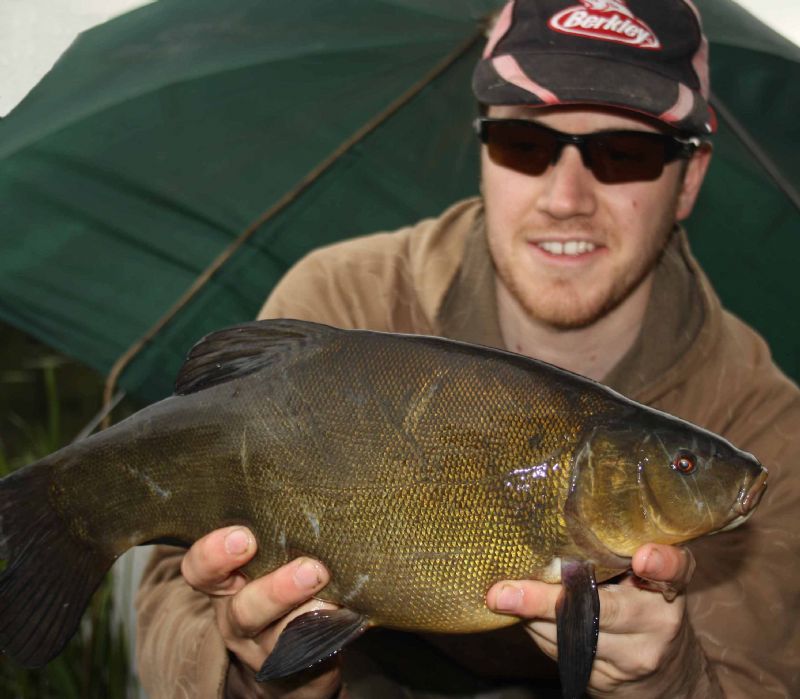 A bonus Tench for Andy, but where are the hybrids?
This story was backed-up on my third attempt in trying to find a two-pound hybrid while chatting to two local young anglers. They witnessed lads with nets being caught in the act, I am happy to say, and haven't seen them here since. Great news, but the damage appears to have been done. Certainly there were a few decent fish left in the 1-1.5 lb weight bracket, but from a specimen hunter's perspective, this water was no longer worth targeting, not for a few years at least.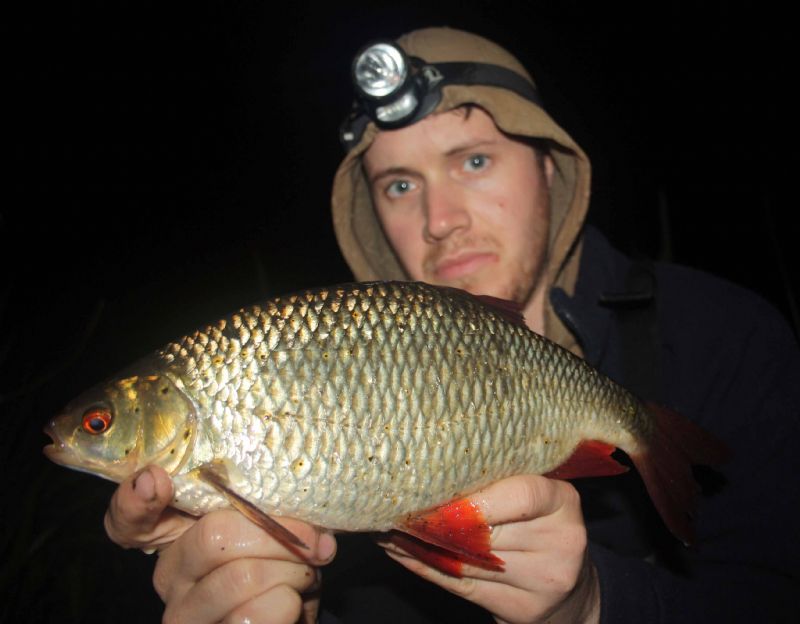 Close to the magical two-pound mark, a near miss
This is a prime example of having the need of a back-up venue in reserve, and there is such a water on the border area, a little gem I discovered many years ago. This lough produced specimen hybrids for me and my angling buddies on numerous occasions, and was next on the hit list. Once targeted regularly by fish eaters as I shall call them, which almost wiped it out, it is now offered a fair amount of protection, certainly enough to sustain a healthy population of large fish.
Ideal looking Roach-Rudd habitat
On arrival, and having obtained permission to cross the land, I was eager to drop into my familiar spot between the reeds, "plumb" the depth, set up the float rod, and drop twenty balls of feed just beyond the lilies. This feed would be backed up throughout the session with a choice of loose-fed maggots, boiled hempseed, soaked cut-corn and casters. No self-respecting cyprinid could resist a menu such as that!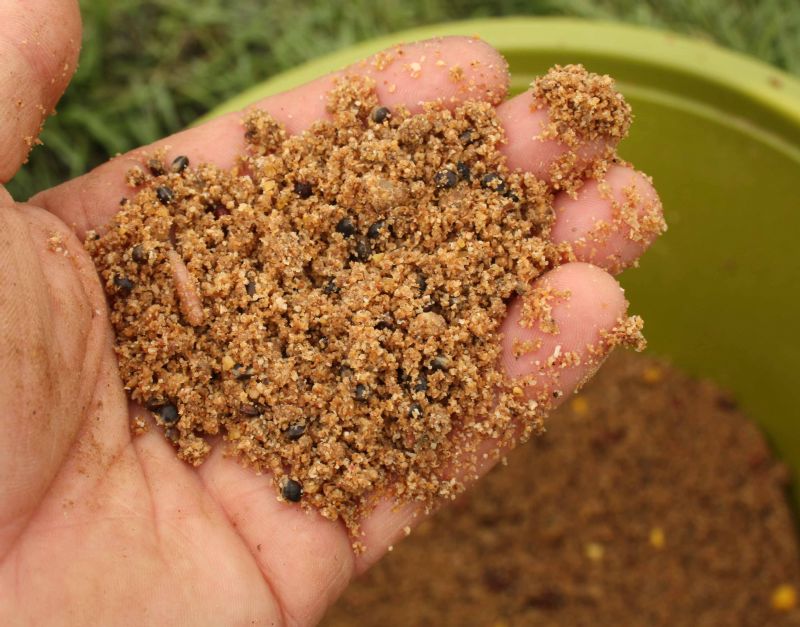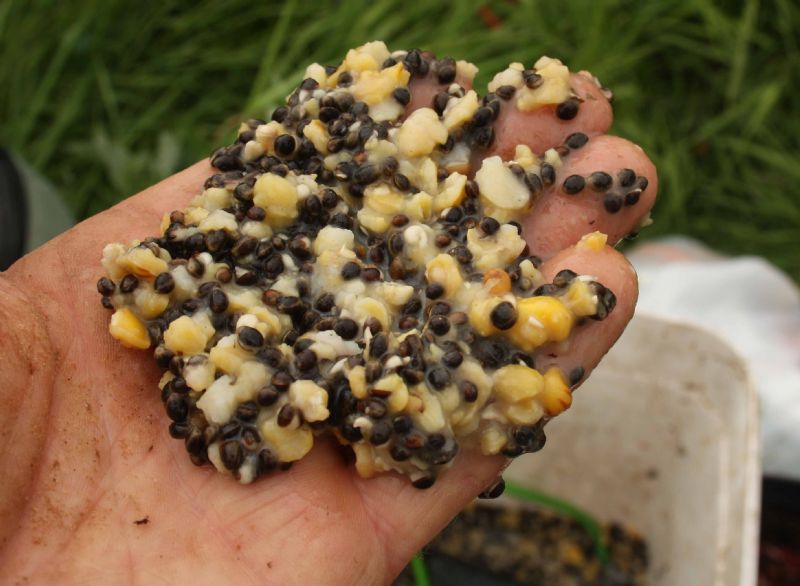 Plenty of soaked corn and boiled hemp, and the crumb is packed with particles
The fish came on a storm, and three grains of corn on a size ten was required to filter out the juveniles, leaving a good stamp of larger hybrids to target. I was convinced that a specimen was on the cards, but with several fish nudging the bar only ounces below the two pound barrier, it just wasn't to be. Knowing that this water is reasonably well looked after, I can assume that either the larger specimens managed to avoid capture or maybe the older fish have naturally died out. The lesson from this experience on this particular venue was knowing that there is a very healthy stamp of pristine hybrids growing ever closer to that magical two-pound barrier. Hopefully, a specimen hunter's stock for the future. It was none-the-less an extremely enjoyable afternoon's angling, eventually bagging 60-80 lbs of Roach and Hybrids.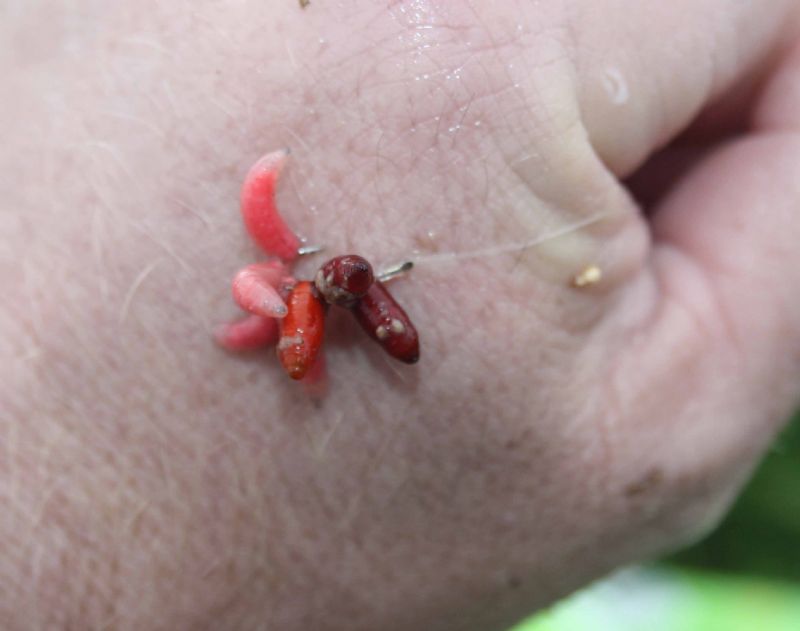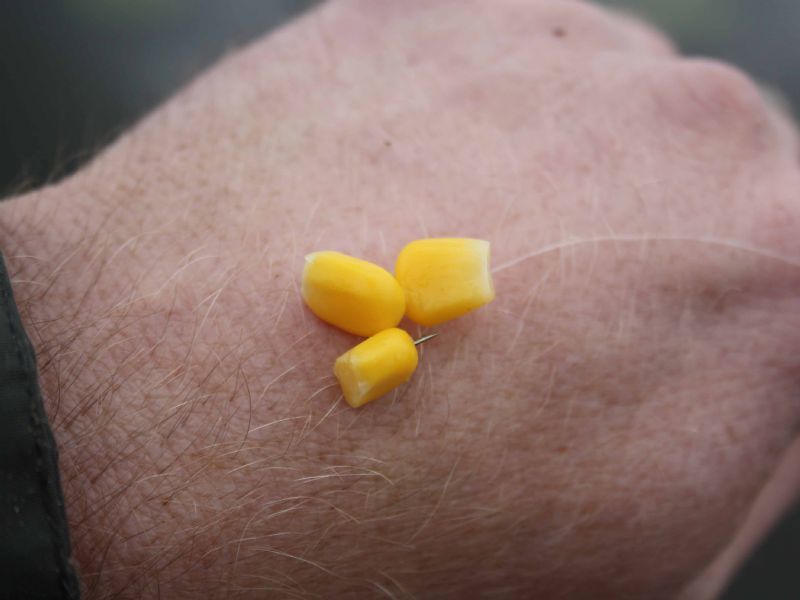 Standard hook-baits to sort out the larger hybrids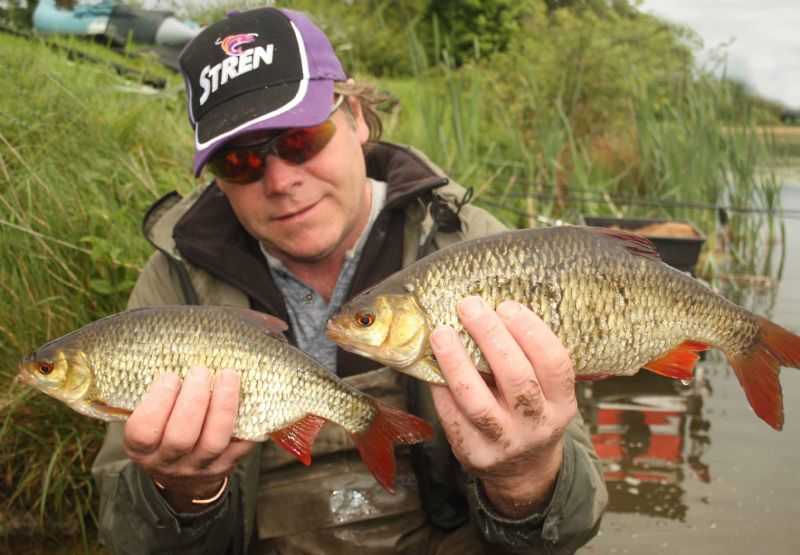 Out of 60-80lbs of fish, these were the largest I could sort out, nice but no cigar!
So, with my main venue a shadow of its former glory, and my back-up water below par, the only option left for a determined specimen hunter is to seek out a new "hot-spot", which usually means going back to the drawing board. The border areas and mid-Irish loughs offer a wealth of coarse angling, many of which still remain relatively un-fished, and it is these areas that I prefer to concentrate my efforts. One lake that I have had my eye on for some time always looked incredibly "fishy". Now more than ever, it was worth a quick survey.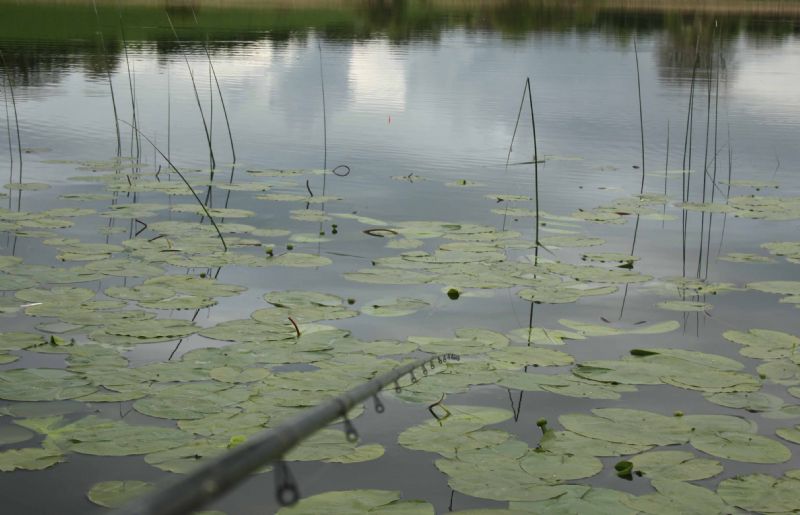 Another likely looking hybrid mark, mid-Ireland is littered with these
Andrew Wolsey joined me on this small adventure. Apart from the angling company, it is usually an advantage to have two anglers fishing a new mark to double the information. A slightly different approach can sometimes be all that is needed to produce a bonus fish. It soon became apparent that this water was absolutely teeming with small fish. Normally I would step-up the bait size and hook-size to eliminate nuisance juveniles, but unusually, grains of sweet-corn acted as a fish deterrent! Not only did it put fish completely off the hook-bait, when loose-fed it almost emptied the swim! I have never experienced this before, when in pursuit of large cyprinids.
This scenario is where two anglers are better than one. Andy stuck with the "leave it and wait" scenario, relying on a "lunker" eventually picking up the corn bait, and I opted for the numbers game, hoping a bruiser would push its way through the small fish and find my maggot and caster combination. With four casters and six maggots on a size ten spade end, I was still keeping the specimen fish in my sights. It still amazes me how a two ounce Roach manages to "impale" itself on this set-up!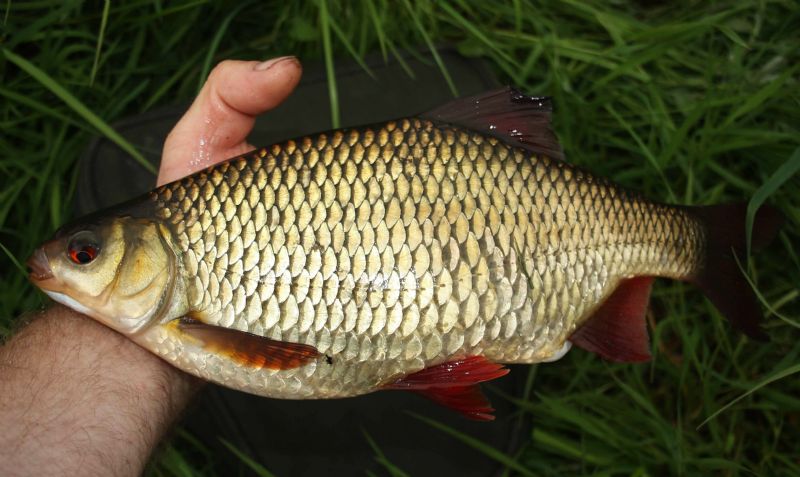 Another close-call, this beautiful fish weighed in at 1lb 14oz
An hour into the session and Andy hadn't tempted a single fish. The corn bait was certainly keeping the nuisance fish away, but also the quality specimens. I was the opposite and becoming bored with a fish every thirty seconds or so on average, "hoovering" up the loose feed. As the float buried for around the hundredth time, my rod buckled to the strain of a larger fish, "more like it" I noted. At 1lb 14oz, I hit the cross bar yet again, but still, it gave a great scrap on light tackle, and this could prove to be a promising new back-up water.
With what seemed like another hundred nuisance bites and mini-Roach, I lifted into solid resistance, this time a much more powerful fish giving the dogged fight I have grown to expect from a large hybrid. In the sunlight, this gave a flash of deep bronze just below the surface, "surely not a Tench" I said to Andy, but he had a better view and assured me it was a Roach, or Rudd, or something similar. With a few "touch and go" moments as it piled through lilies and Canadian Pondweed, I eventually coaxed it to the waiting landing net. What a stunning fish, looking every bit like a Rudd with its bronze flanks and red fins, but with the protruding top lip of a Roach, still sporting the spawning bumps and nodules on his head and flanks.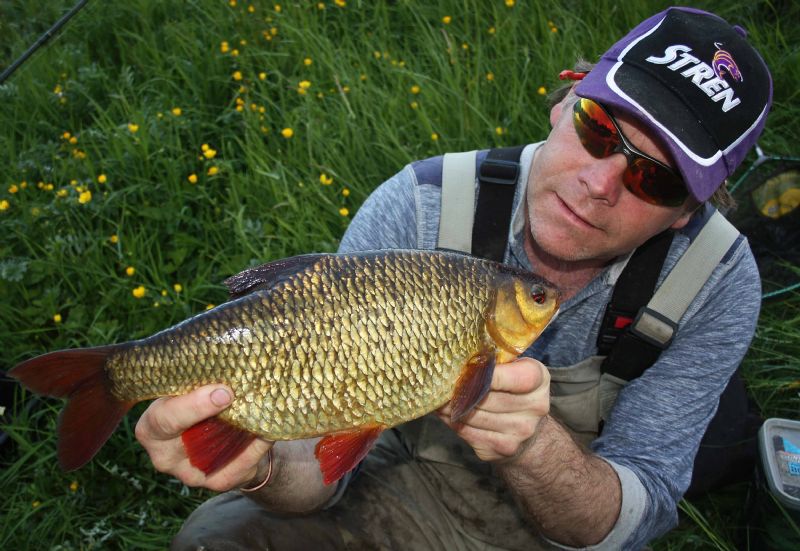 At last, this stunning hybrid cracks the 3lb barrier
The weighing scales put this fella over the three pound mark. This was the specimen I had been targeting, but to be honest, this hybrid was such a well-conditioned, hard-fighting fish, in gold-bronze livery, red fins and scales that looked like they had twenty coats of varnish, its size was almost incidental!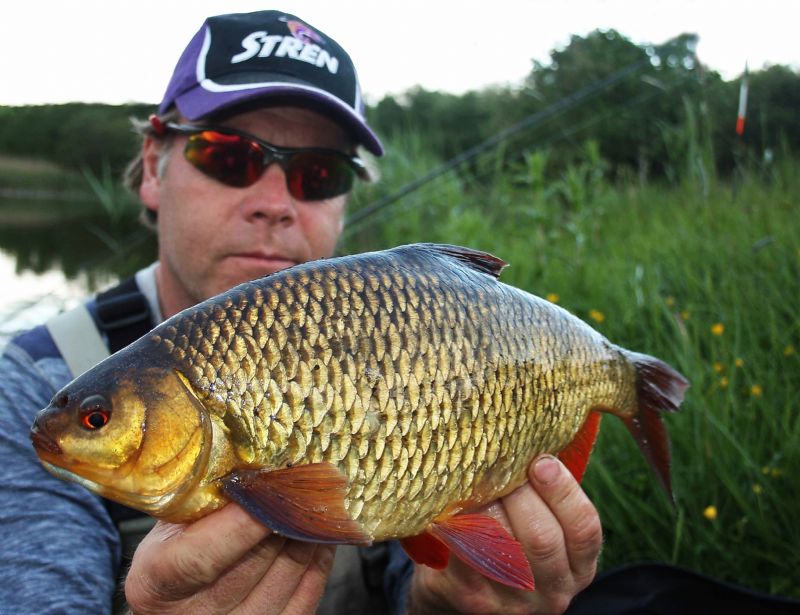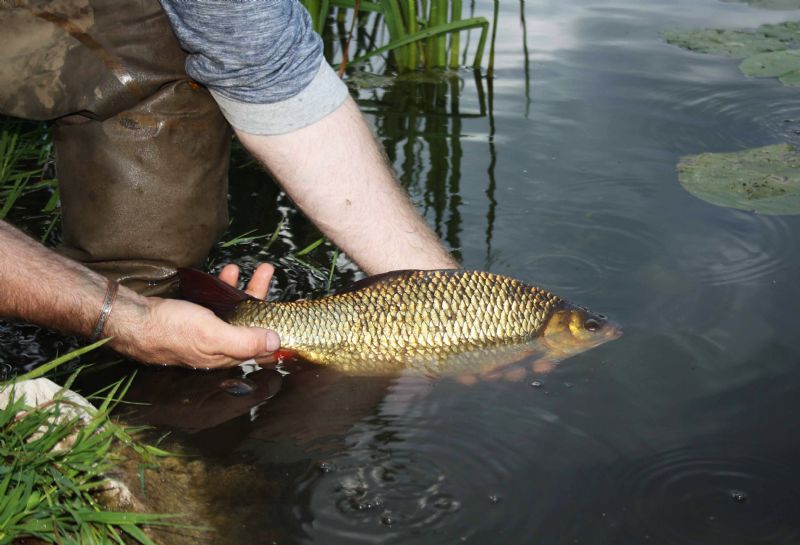 Safely and carefully returned
It breaks my heart to think of the amount of similar fish that have been killed in recent years, and I yearn for the day when either education or stiffer penalties finally encourage some sustainability to our wonderful Irish waters, where specimens such as this are offered full protection. Hopefully this short article shows that if you want to achieve an angling challenge, it is out there, and entirely possible. It just requires a little bit of ground work, some information gathering, a small helping of luck, but most importantly, active angling. You can't catch them from the living room!
Back