Rudd
Rudd (Scardinius erythrophthalmus)
Record 4.8lb taken on 5.09.1996 by Hugh Gough at Coney Lake.
Specimen 1.98lb, or 0.9 kilo
Identification
You will immediately notice with a true Rudd that the mouth is upwards pointing, opposite to that of all the other cyprinids. The dorsal fin is small and set a fair bit behind the line of the pelvic fins. It has a short anal fin with 10-13 branched fin rays and 39-44 scales along the lateral line. Adult fish are a beautiful butter-bronze colour with red pelvic and anal fins, slightly darker dorsal fin.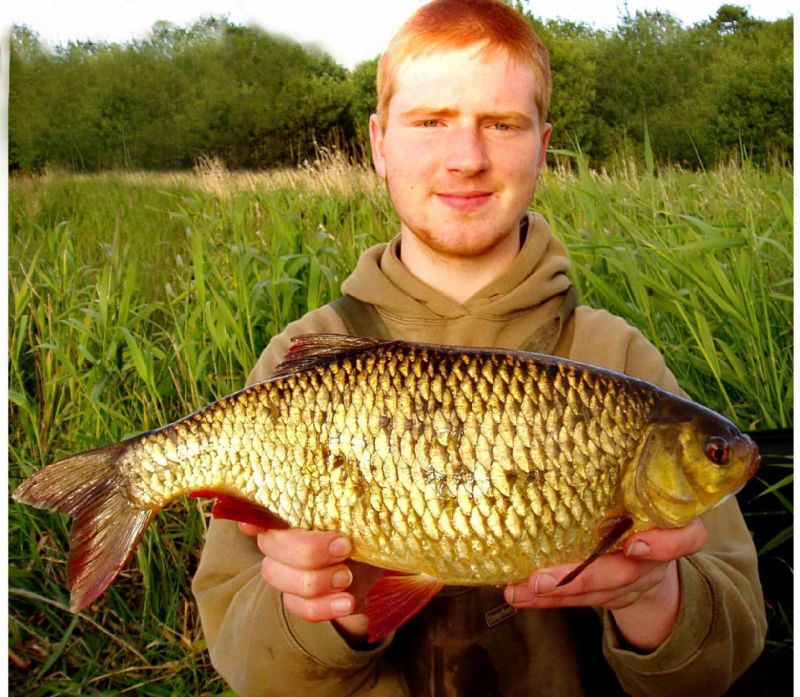 Derek O'Brien with a stunning Irish Specimen
Where to catch
Rudds were, at one time one of our most prolific Irish freshwater fish. However, with the introduction of Roach in the early part of the last century, Rudd numbers have dwindled to some extent. The aggressive nature in the population explosion of Roach has pushed out, and/or inter-bred with our native fish. It is only in those isolated loughs, quiet canals and old mill and flax ponds where pure Rudd can be reasonably expected to inhabit. These areas still exist, but I fear that the future existence of natural Rudd is somewhat of a ticking time bomb.
The Lee Reservoir produces specimen Rudd each year, however, Roach are now showing in numbers on this water. Isolated loughs around Strokestown, Longford offer fabulous opportunities; this is where the current record was captured.
Flax ponds down the Ards Peninsula, County Down, and along the opposite side of Strangford Lough towards Downpatrick hold populations of Rudd and are well worth investigation when seeking this species.
When to catch
As with all our Irish cyprinids, the season generally runs from April to September. It has to be said that this is primarily a summer fish. Warm, balmy summer evenings conjure up images of great catches of Rudd, with some very large fish appearing around dusk and into night-time. June, July and August would be the peak months to target this species.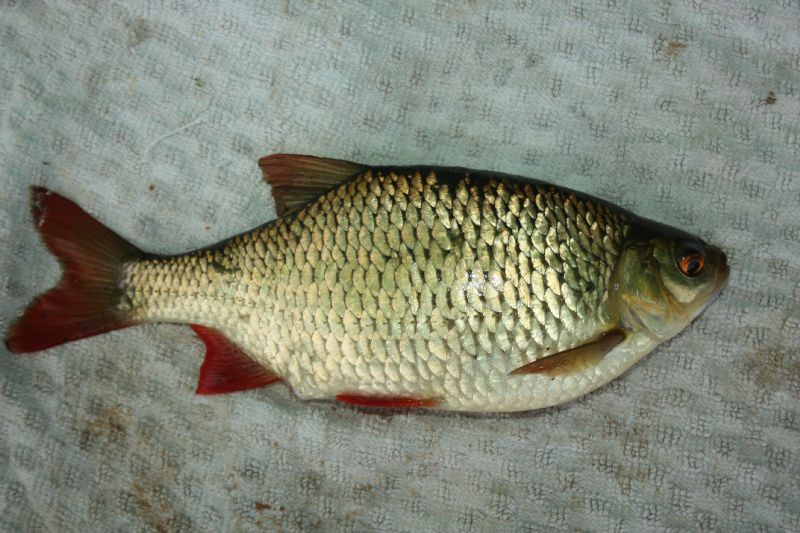 Bait
Small Rudd will willingly take maggots or casters, especially floating casters, or even small worms, but the bigger fish can be tempted on several grains of sweet corn, bread flake or a piece of floating bread crust.
Methods
Float fishing a small waggler is one of the easiest and most pleasurable ways to catch Rudd in numbers, but sometimes a more specialist approach will lift the bigger fish. Two or three grains of corn or a floating crust sorts out these beautiful, "butter- brass" coloured specimens. If fly fishing is your game then many fine Rudd have been taken using sedge or black gnat dry flies, and common nymph patterns to imitate the natural emerging flies and larvae that form a large part of the Rudd's varied diet.
Being a surface feeder Rudd are quite easily spotted and a stealthy angler can soon see them cruising in the shallows or feeding under Lilly pads. They tend to move constantly from one area to another but can be persuaded to stay over a ground-baited swim for a while or kept interested by loose feeding a few maggots, little but often style.