Ryan's Carp
The quest for Ryan's fish
My name is Ryan Creighton and I have been an avid carp angler since I was fourteen years of age. In the past few years I have started to get a real good feel for Carp-angling, and catching good fish on a regular basis.
By this stage in my angling, I was now looking for a real challenge and I knew of such a place that just might produce the goods.
The Plan
I arrived home from a two-week holiday in Benidorm and no sooner was the bags in the door than I was round to talk to Jack Day who is also carp crazy and has been a lifelong friend of mine. If I'm out carping, it's almost always with him. We discussed the plan in depth, and our location of choice was to be Lough Gall Country Park.
Lough Gall hosts a stunning and wild 38-acre park lake with depths to over 40ft. It is crystal clear and full of humps, bars, lilies, islands and huge marginal shelves. To make things even tougher, although extremely well-stocked, there are only a small number of really big Carp present, the A-team as we have started to call them. We knew they were there; it was just up to us to work out how to catch them!
We headed down to the lake to have a look around, and were quickly drawn to a nice-looking double peg right at the start of the lake. It was late April at this stage, with temperatures still quite fresh but the south winds were blowing into our face on this mark. The water was well-coloured and we were reasonably confident that the wind would help bring fish towards us. The pegs we picked were close to the car park but that's not why we chose them. Our reasoning was this; most Carp anglers on the lake run away up to a quiet corner which is all well and good but these spots never see regular feed. Sometimes they see no feed at all the whole year! The nearer pegs are where most of the anglers settle and every angler at the end of the day has some left-over bait. Whether its corn, maggots, crumb or boilies, it all usually goes in off the end of the jetties.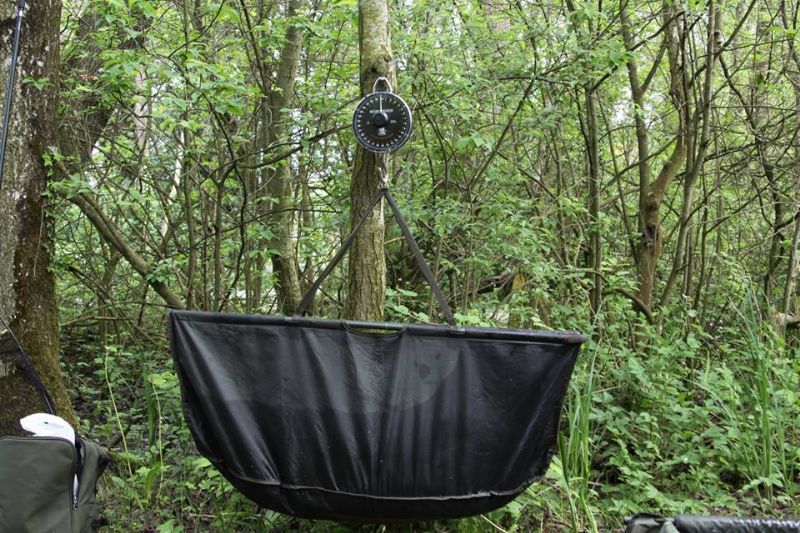 Important, accurate, calibrated weighing scales and quality weigh sling
The whole lake has a huge marginal drop and directly in front of our swims it averaged fifteen feet deep, only a rod length out. Our plan was to fish two rods each, both at the bottom of the marginal shelf on both pegs; me on the left and Jack on the right. However, before actually fishing, we would spend several weeks simply pre-baiting the swim. We began by baiting the whole marginal shelf which covered a length of about sixty feet; this gave a good spread of bait in front of us. All pre-baiting was done by hand due to the short distance we were fishing.
The bait we were using was Hybrid from Mainline in 18mm, and CC.Moore Equinox in 15mm, two excellent companies which I have great faith in. Both types are a nice dull-orange colour with a fruity, meaty flavour so they pair well together. We put bait in every chance we could get, and as it was an eighty-mile trip there and back, it wasn't always easy. A few times I ended up late for work trying to get back in time! After approximately two weeks had passed, and the swim had now seen a good eight kilos of boilies, we reckoned it was time to give it a go!
The Killer Rig
The rig I would be using was a nine-inch bottom bait rig tied with semi-stiff Korda n-trap whipped onto a size 6 Korda Kaptor wide-gape hook. Spaced five mm from the bottom of the hook was an 18 mm Hybrid tipped with a piece of pink buoyant corn, a favourite of mine. I tied the semi-stiff material right through with only the hair length stripped back and a small break about 5mm up from the eye to act as a kicker to help the rig flip and catch hold. This is super effective and very easy to tie.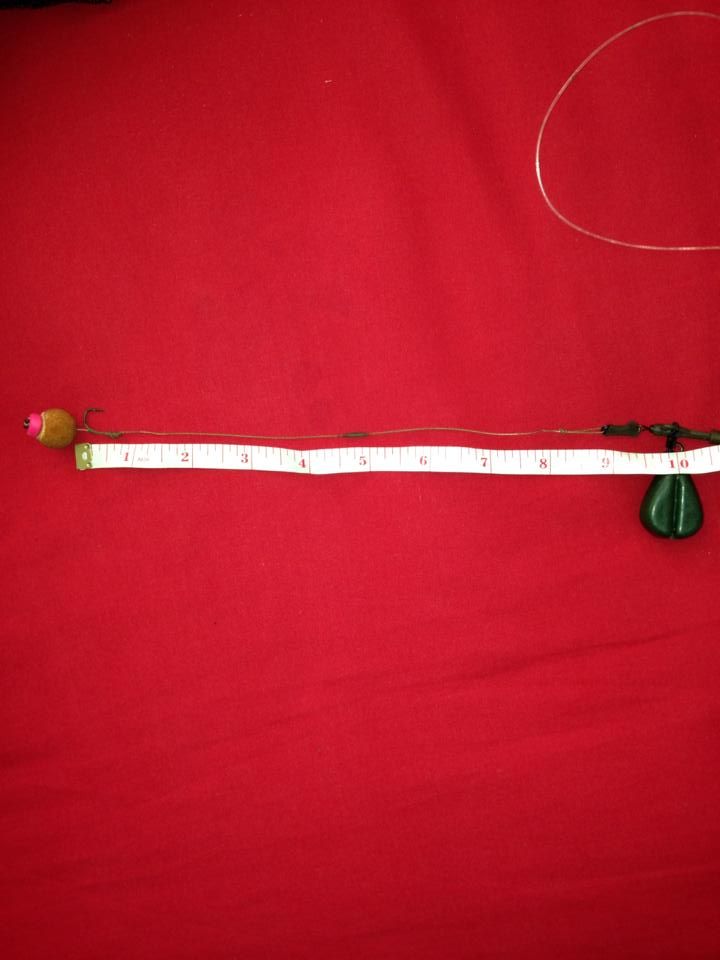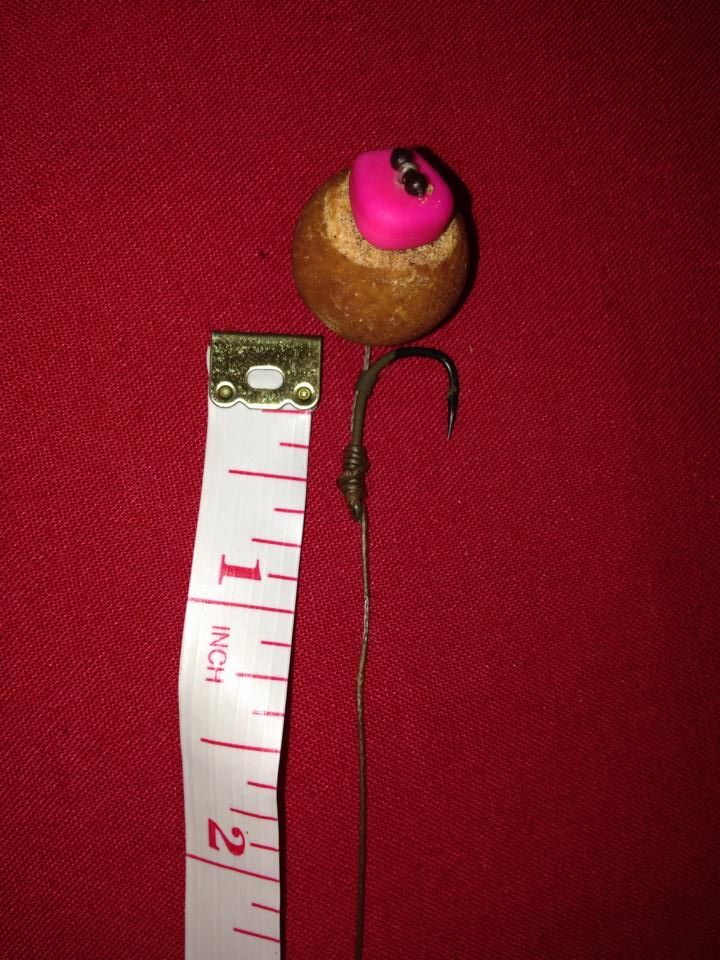 The First Session
The first session was around the 25th of April and it was great to finally get the rods in. There was a good and confident buzz about the spot. The first session went well with a hand-full of large Bream up to 6lb. We knew the Bream were present which is why heavy pre-baiting is a must. No Carp showed unfortunately, but from past experiences, you're lucky to find one or two of the "big-uns" in a season so we were not too worried and were reasonably prepared for a blank session or two.
A few days passed, and by this stage the swim has seen around another three kilos of boilies. With some time off work, I decided to go up for a day by myself and arrived as the lake opened, and rushed down to get to our pre-baited pegs. I set my stall out and put about half a kilo of feed over each rod. It was now early May and the flora and fauna of the lake was really starting to flourish. Plenty of Bream were showing on the mark but not a single pick-up all day!
At around 5 pm, as I was just chatting on my phone, the left-hand alarm gave an almighty scream and I was into my first Lough Gall Carp. The take was so violent the lead ejected and the fish instantly rolled on the surface. The fish put up a good spirited fight, a smashing 11lb 2oz Mirror Carp. I was over the moon to have landed a Carp on my second ever session. I went home straight away and told Jack the news; we were now more excited than ever to get back.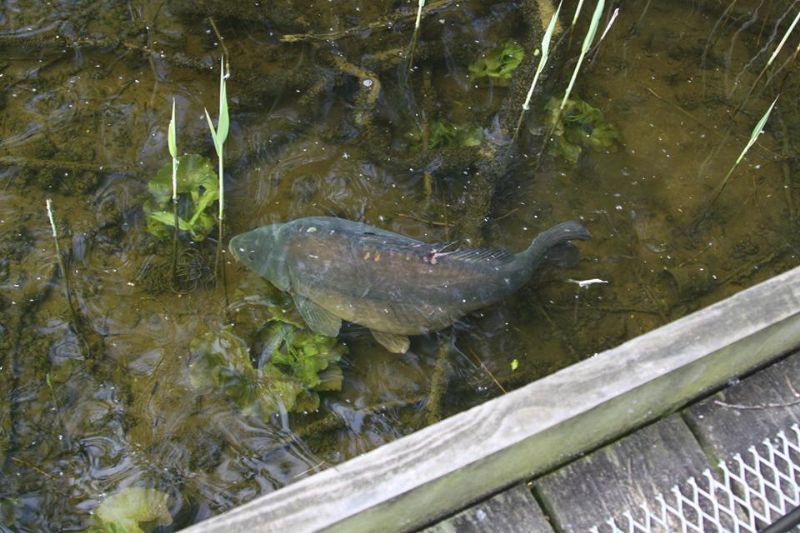 What Irish Carp angling dreams are made of!
More pre-baiting followed, and another two sessions with no Carp showing, although there were plenty of Bream about. I also had a Tench at slightly below 4lbs which are quite rare in Lough Gall. During this period, I had brought another angling friend along and unfortunately, he hooked and lost one of the A team, but we won't speak about that, he's still having flashbacks!
It was now the fifth session on our swim, and by now had seen over twenty kilos of boilies in the space of a month. Jack and I were back again and we set out as normal, waiting for the gate to open (there is no all-night fishing permitted here). As it was a Saturday, they were open early and we were in and set up for about eight in the morning.
We repeated the process, putting half a kilo of bait over each rod and sat back and waited, but could never have predicted what followed! The run came at quarter past ten and completely out of the blue as the rods had only been in a few hours. Again, it was my left hand rod, and as I ran towards it I could hear the tight clutch screaming over the alarm!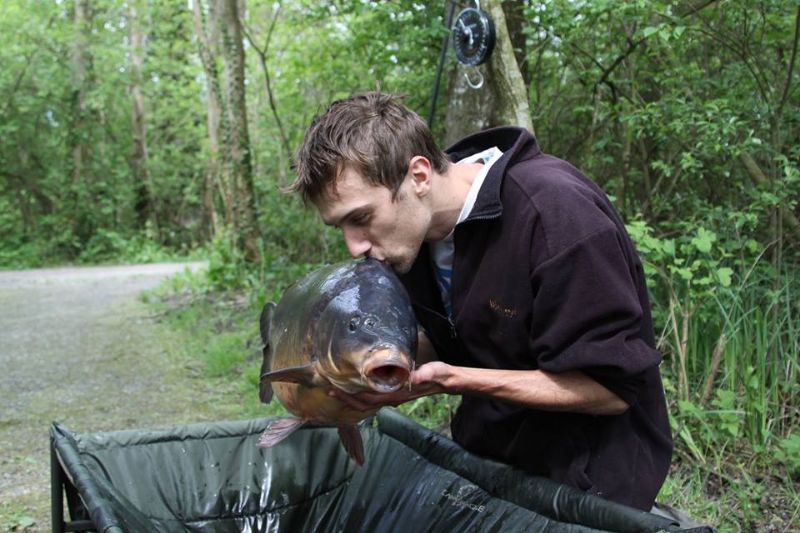 This was the fastest run I had ever experienced, and as I picked up the rod and slowly teased around the drag, the fish just kept ripping line flat-out for sixty yards or more. By this stage I knew it was one of the A-Team, the ones we were hoping for. As the fish eventually began to slow on the clutch I began to feel the true weight of what I was attached to.
I was using the Daiwa DF Longbows in 3lb T/C matched with the new XTC 14000 Ultegra loaded with 15lb Ultegra Invisitec Mono, and this fish was testing every bit of it. Each time she neared the margins, she took another fifty-sixty yard run out into the middle of the lough. There was absolutely no rushing this beast!
An ambition realised, potential new Irish Record
The fish repeated this several times and after a good ten-minute battle, she finally graced the landing net. I gave out an almighty roar as it was one of the sought-after big girls. At first glance in the net, I thought it was around twenty pounds but then, as it lay flat, I near fell off the jetty! We knew of two fish in this venue that were just off the record, one at its largest recorded weight of 28lb 9oz and called "The Mug" with a distinctive cut on its tail, but this wasn't it. The other fish which was one caught at its biggest weight of 29lb 10oz, but this wasn't it either. My hands were shaking and my head was all over the place as I sat and composed myself for a while and allowed the fish time to recover.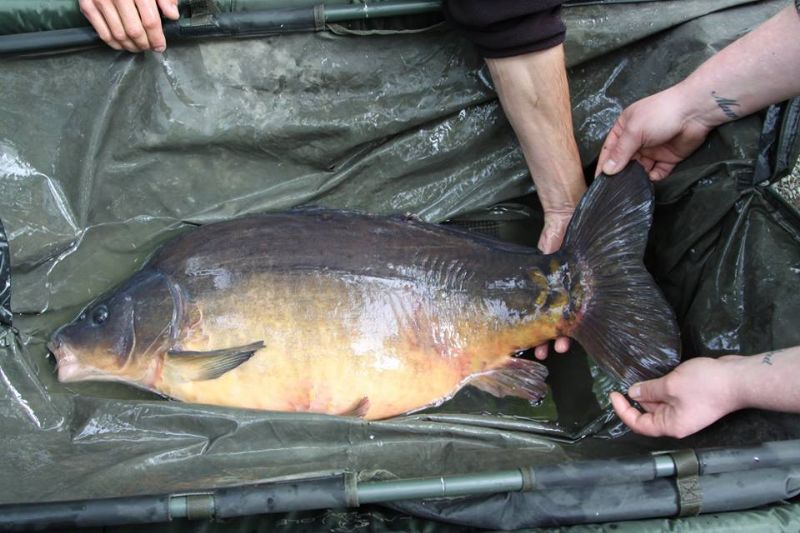 Eventually Jack and I slid the fish from the net in the water into the floating sling and when we lifted her up, could not believe the weight. Using a Nash Carp Cradle, one of the best pieces of kit I own, we stuck a nail in a tree and hung the scales up to get a perfect weight. She weighed in at 30lb 0oz, taken on the 17th of May, 2014. I named her Ryan's fish and she was the nicest looking Carp I have ever caught. She just had so much character, you could just see the age in her.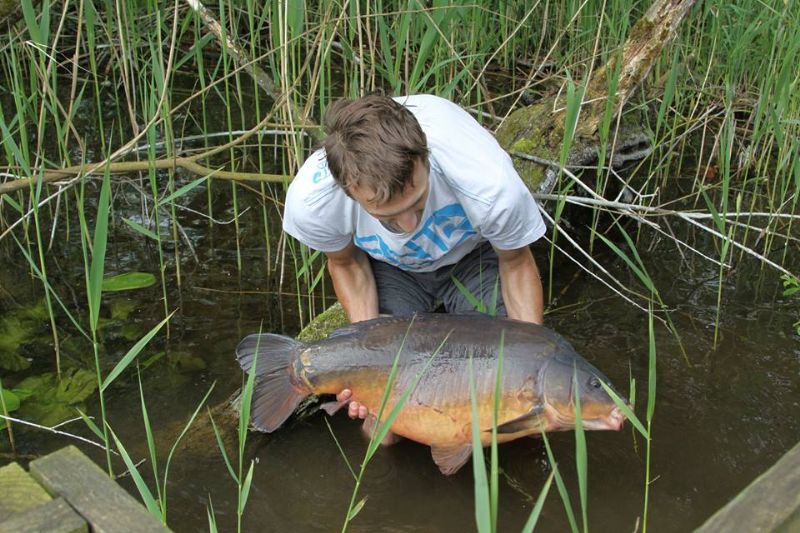 My main hopes are to see these fish grow even bigger to prove Carp can thrive in Northern Ireland, and to see further stocks of fish for the future, with this potential record beaten time and time again. These fish are there for everyone to catch and cradle as I did, so go out and catch yourself a lump and I might just see you on the bank sometime. From all of us at NI Carp Crew, tight lines.
See a short video blog below
Back