Shad Fishing in Ireland
Twaite Shad on the River Barrow
County Carlow
I was un-able to make it to the Shad fest last year, and I really found myself missing those few days spent casting a lure across the Barrow River, down in County Carlow.
The stunning scenery, like-minded anglers and of course, the adrenaline rush when a hard-fighting Shad succumbs to the lure of a lure, it's an extremely addictive date on the specimen hunter's calendar.
With the offer of a week's work down in Cork City, and falling smack-bang in the middle of Shad season, I couldn't resist leaving home a few days early and stopping off at the picturesque village of St. Mullins, Ireland's Mecca for Shad angling. Unfortunately, commitments were such that I missed last year's run of fish. I have been coming back to this venue almost every spring for the past fifteen years, and on my recent arrival, I am happy to say that little has changed in all this time. The tranquil and friendly atmosphere, the abundance of wild life, flora and fauna, even the sunken boats and barges in the canal up towards Bahana Wood are still there! All just as I recall from my original trip to this idyllic part of Ireland so many years ago.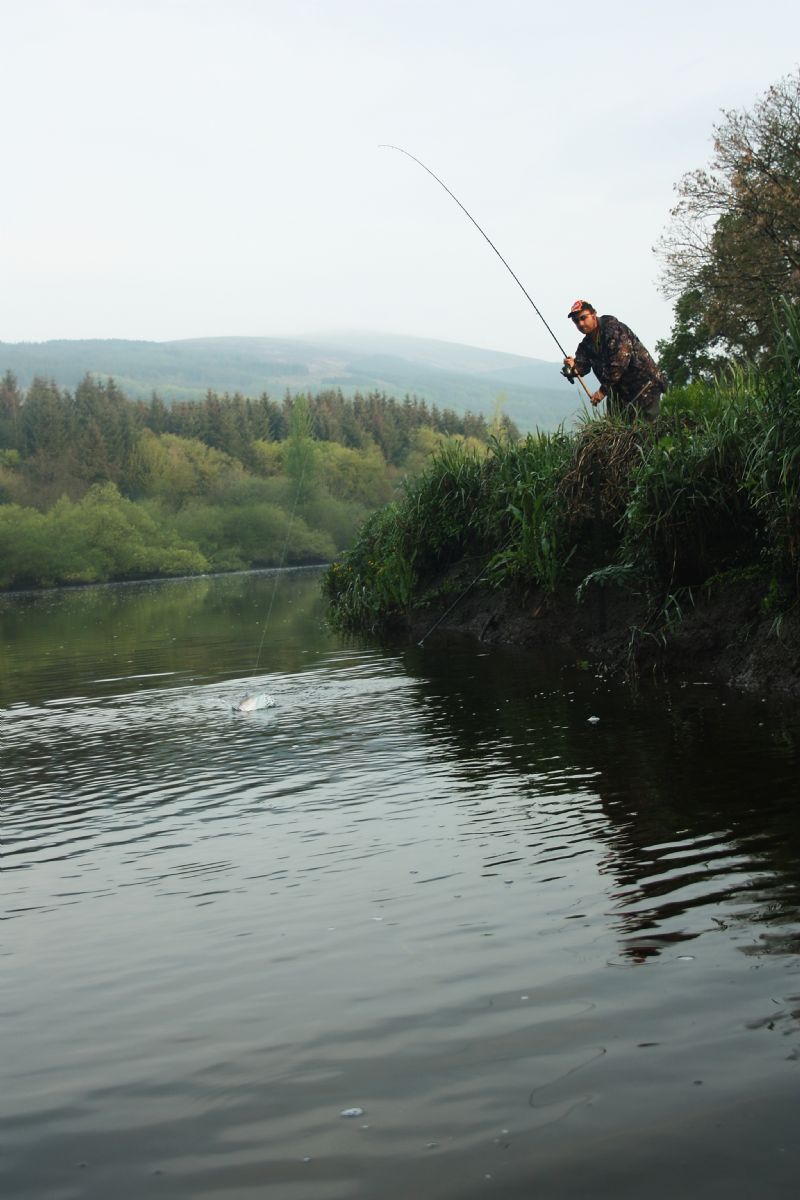 Sid Kennedy finds some early action
My evening arrival at the river-side left just enough daylight to set-up camp, with a bite of grub and mug of tea before the sleeping bag and bed-chair beckoned. I always get a great night's sleep in the bivvy, which was most welcome considering the long drive and "crack of dawn" start the following morning. I had the companionship of my old mate Sid Kennedy bivvied alongside. As I had travelled down the country, he had travelled up, and we met in the middle, both on the scent of a specimen Shad.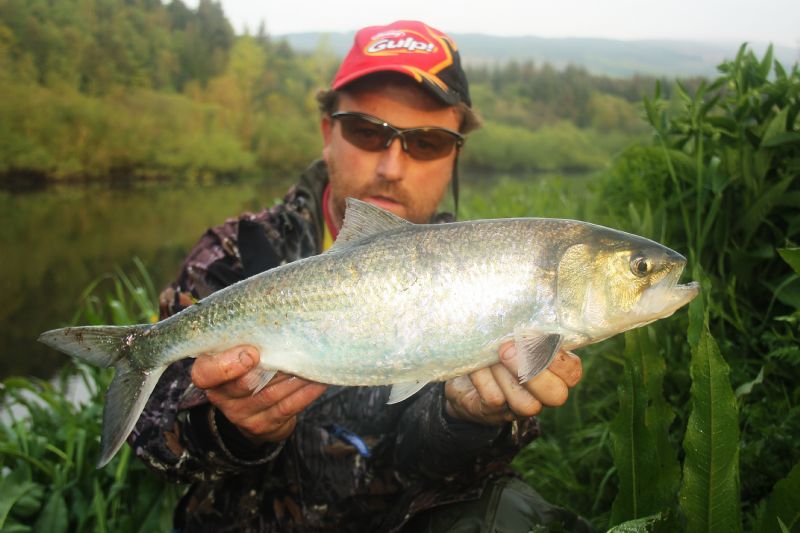 A fabulous start to the session with this specimen
5 AM never takes long to arrive when you are in a sound sleep! Angling anticipation and the dawn chorus means I rarely have need to set the alarm. The bird chatter at first light in the Barrow Valley is louder than my phone alarm can achieve, and a much sweeter tune to wake up to besides! Cups of tea can wait until later, there are Shad to be caught, and once suited and booted, we were on our way along the well-worn path to our respected "hot-spots".
The fresh run of fish had passed by during high-water the night before and had now settled back into the deeper pools. These were easy-picking for Sid and I. We were into fish almost immediately, and being the only two anglers on this stretch, enjoyed the tranquil angling atmosphere immensely. After numerous fish were caught, quickly photographed and released, several larger specimens made an appearance, with both of us fortunate to find Shad over the hallowed specimen weight barrier of 1.2 kilos. Fish of this size generally fight a great deal harder, and as line rips against the clutch, the angler knows instantly when that magical weight barrier has been broken. It is during these tentative moments, as the fish comes into view and close to the net that many are lost. A leap and shake of the head is usually all that is required for our quarry to regain its freedom, achieved frustratingly all too often I hasten to add! I speak from bitter experience, and know all anglers that have targeted this species can say the same.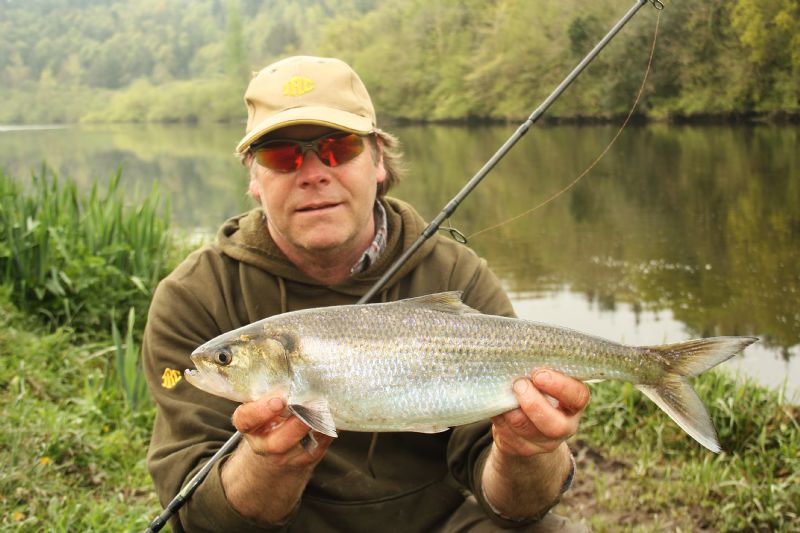 One that didn't get away, not until weighed and photographed at least!
The smaller specimens can be played with abandon, keeping the rod high to encourage some aerial and spectacular acrobatic displays. When they leap and eventually shake the hook, so much the better, they really are a fantastic and sporting mini-species. When a larger specimen hits hard and peels line off the reel, and you really want to get that trophy shot, it pays to keep the rod tip low. The last thing you want is the freedom jump that all Shad are capable of! With a through-action spinning rod and gentle clutch, most large fish will make it to the safety of the landing net.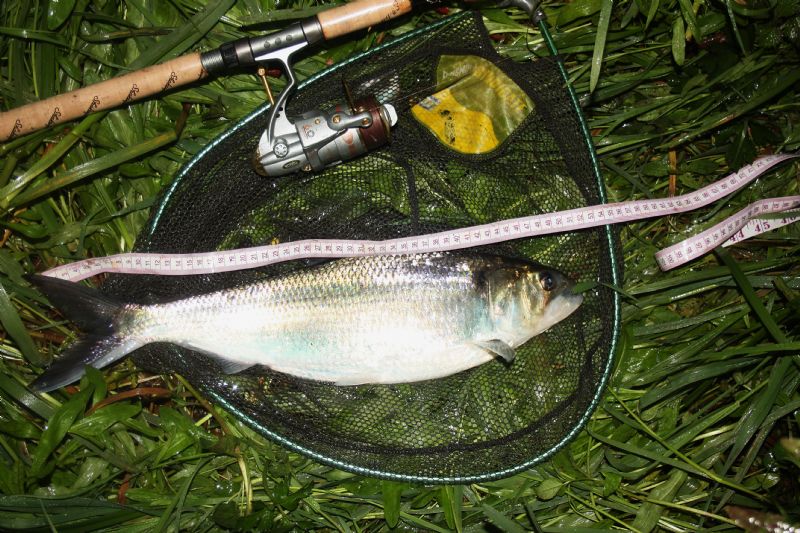 Photo, measure, weigh and back into the water, speed is of the essence with this species
Handling
It is at this point, with a spectacular catch in the net, that the angler must work fast to return the fish back to the water. I know of no other species that suffers so badly when mishandled, or left too long out of water and as such, all equipment must be ready and waiting. With scales at the ready, a specimen can be weighed in seconds, and any decent angling pal will have stopped fishing and be ready with the camera if you require a photo. Once out of the weigh-sling, a couple of shots for posterity and back in the water; all well-within two minutes. The fish MUST then be held upright and facing upstream until fully recovered, enough to swim away strongly of its own accord. It is not good enough to simply toss the fish back in the water when in reality, it needs to recuperate. By carrying out these simple steps, all Shad will return practically un-harmed. Of course, if you do not wish to photograph the catch, it usually takes a couple of seconds to un-hook and release, on most occasions the Shad will vanish in an explosion of water, non-the-worse for the encounter.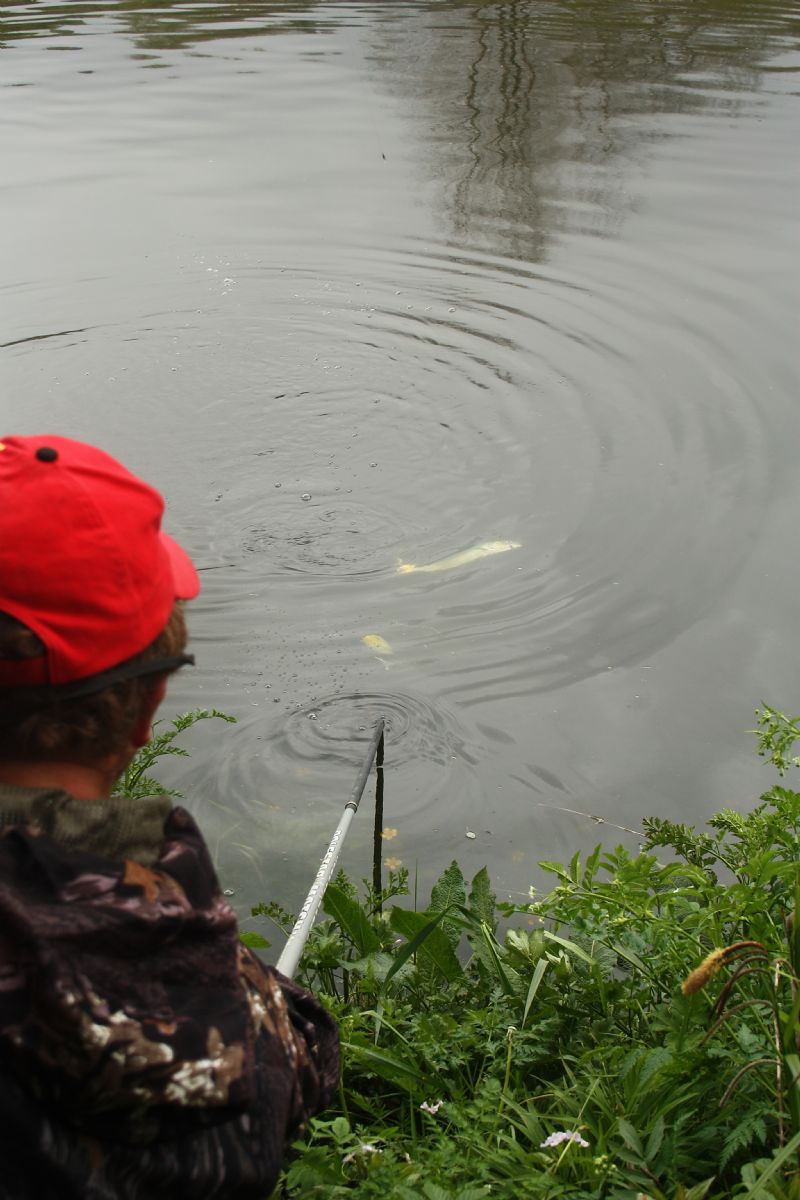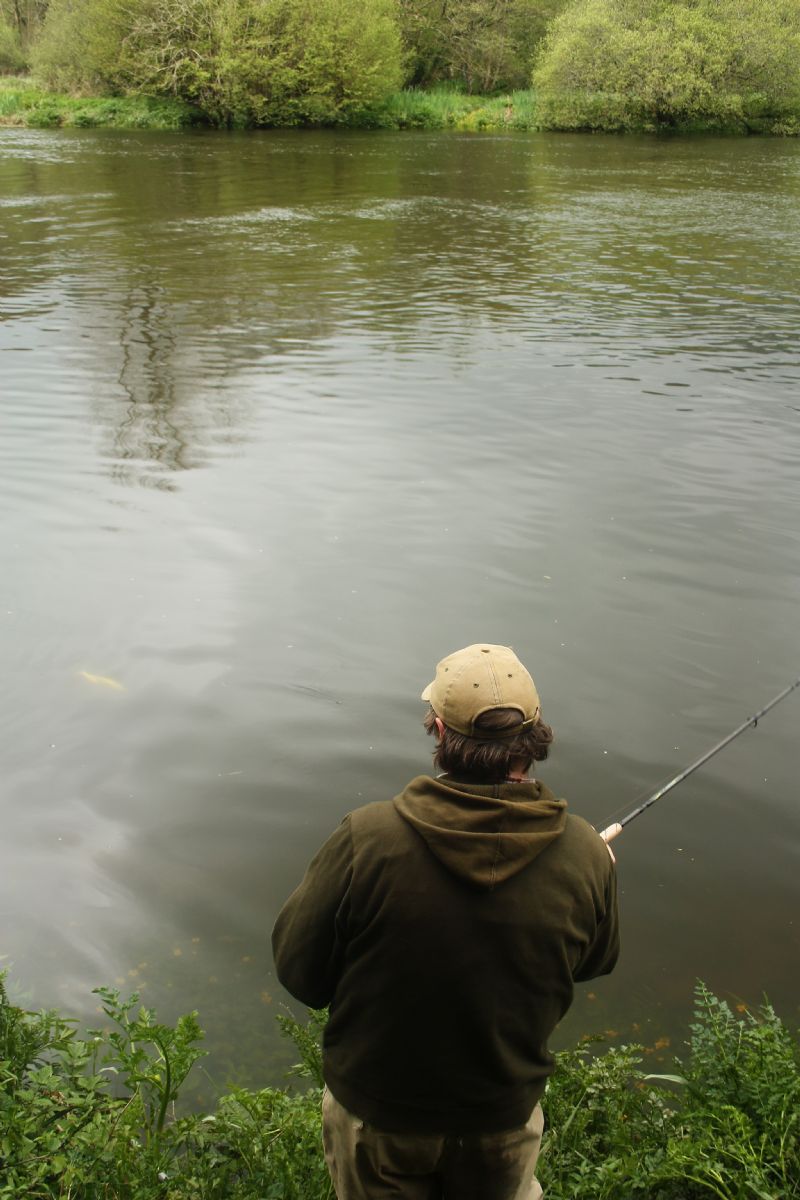 Tackle
On this particular Shad session, I had been given the opportunity to play with one of the new Agility spinning rods from Shakespeare. I chose the nine foot version, casting 12-30gm. No better way to test its casting and fish-subduing qualities than against a hard fighting Irish Shad. I coupled this with a Mitchell spinning reel that balanced the rod perfectly. Loaded with 8lb braid and filled to the lip, casting was a delight, clipping the far bank on most occasions. I have what can only be described as a "mutated" pendulum cast when spinning, that I never see anyone else try. It really loads the rod and easily drops a lure maximum distance.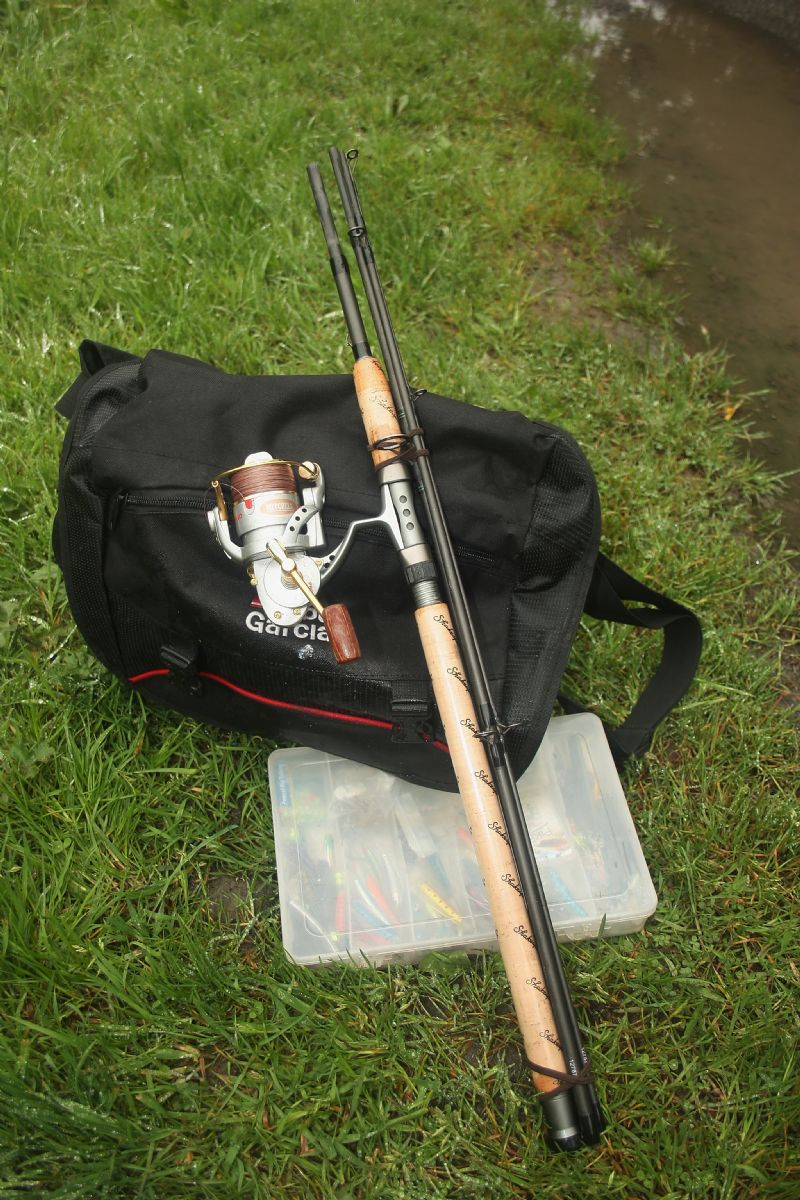 Shakespeare Agility Exp 15-35gm Spin Rod - Black, 10 Ft
The Agility spin has a medium-through action, ideal to cushion the erratic, almost electric lunges that larger Shad are capable of. This was proven when I drastically reduced my Shad-loss percentages, landing fifteen fish out of eighteen hook-ups. For a four-piece travel rod, the action is excellent and the build quality belies the fifty quid price tag!
The most popular lures on this venue are the Tazmanian Devil and Lofty's Cobra, in Blue-silver or blue-gold, but Shad will take most colour schemes I have found. Other excellent lures are the small metal bar patterns and Tobies but they are often strangely over-looked. I had the pleasure of fishing with a great angling buddy, Mark Corps a few seasons ago, and enjoyed watching him target and catch Shad on the fly, at a time when they refused the cruder, larger lures. As hunter-predators, Shad will be caught on most fish imitations.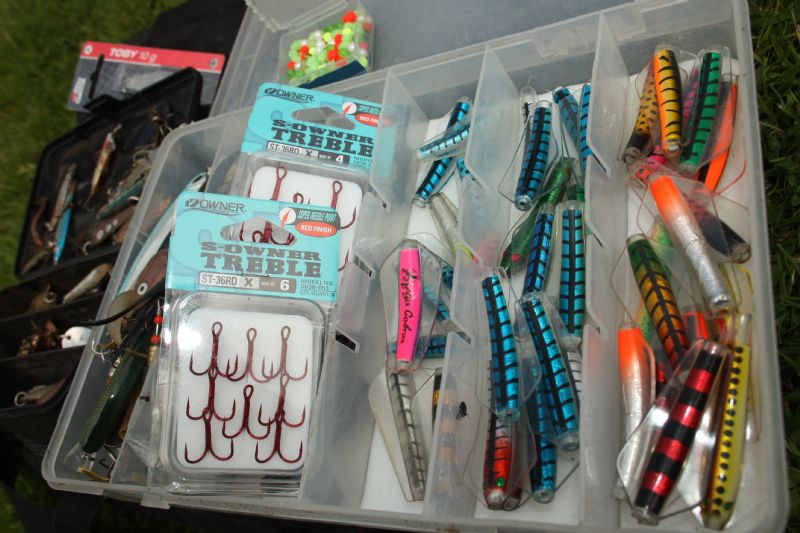 The fine diameter, strength and casting abilities of braid make it the first choice for main-line when spinning for Shad. For a little added finesse, attach a metre of 8-10lbs b/s clear nylon or fluorocarbon to the main-line. Shad have great eyesight and I personally believe that hook-ups are increased when using a short length of fluorocarbon leader. If your lure choice is a "tazzie", discard the wire insert and treble hook, thread the lure onto the fluorocarbon, add a buffer-bead and quality treble hook. It often pays to move up a hook size from the original that is supplied with the lure. Strong but lighter-gauge Owner Hooks are a superb choice. Different colour beads such as chartreuse, orange, black, red or white seem to work, but this is vague and probably more down to angler's confidence or coincidence, but worth mentioning.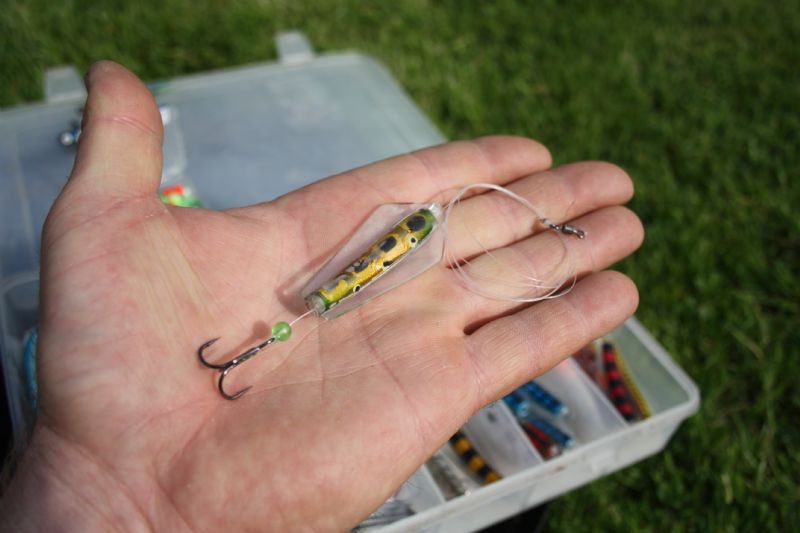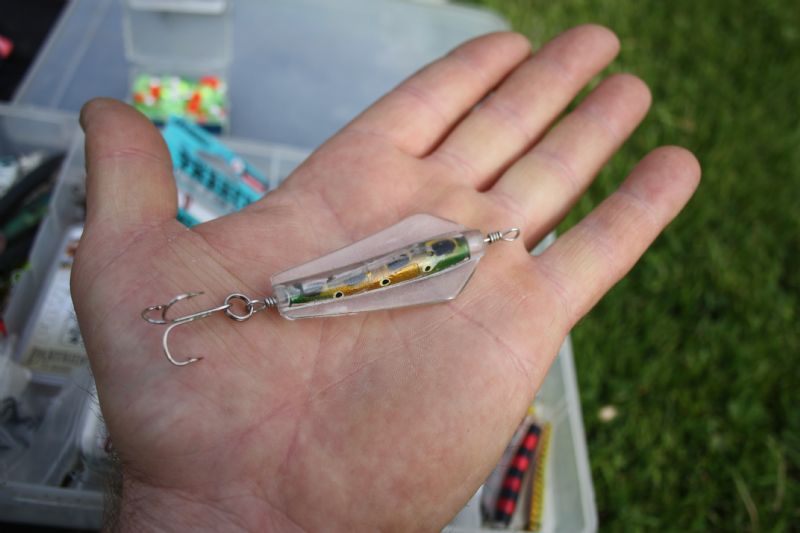 Standard lure and re-rigged lure with fluorocarbon, bead and high-quality Owner Treble Hook
Hopefully this has given you an insight into the attraction of targeting Twaite Shad in Ireland. They are only present for a short period each year, and in a handful of Irish river systems. They are also an endangered species, so treat them with care, gently return all Shad that you catch, and hopefully there is no reason why they shouldn't continue to be on the specimen hunter's calendar for many years to come.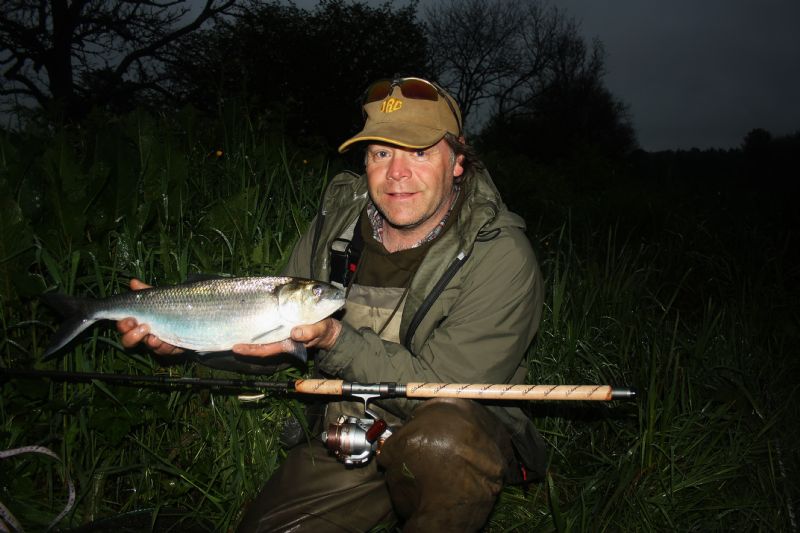 A cracking specimen taken on the Agility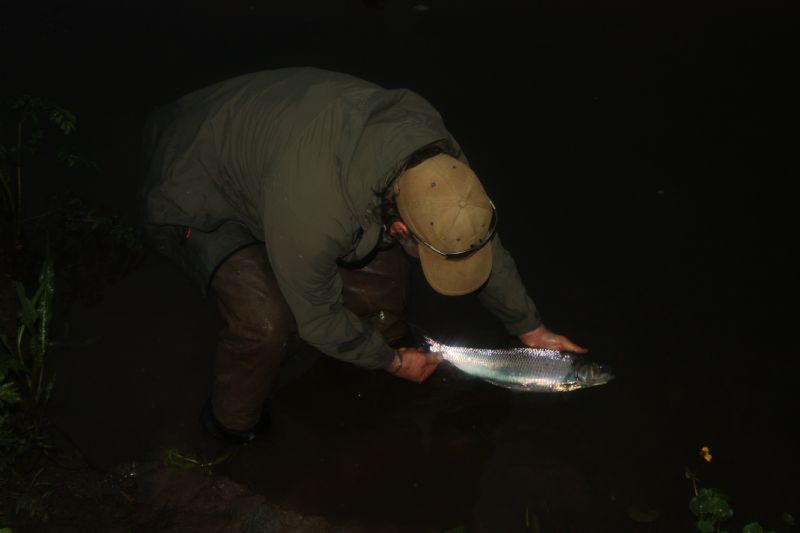 And quickly and safely returned, head facing up-stream
Back