Shakespeare Agility 9'6
Shakespeare Agility XPS 9'6" 10 wt
What the supplier says;
XPS stands for Extra Power Special and as the name suggests these rods are designed with a fast and powerful blank action required when casting heavy lines and big flies. This power is also essential when targeting hard fighting predators in both fresh and saltwater.
Features;
Slim carbon blank
Zirconium Oxide stripper guides (ZOG)
Stainless steel single leg guides
Powerful and strong blank
Oversized guides
Full Wells Handle
My opinion;
My first impression was this rod is extremely light, and initially felt a little under-powered compared to the 12 weight brutes I normally use. On arrival at the venue, I chose a ten-weight floating line to see how the rod performed, keeping an open mind, as many fly line weights seem to be so in-consistent.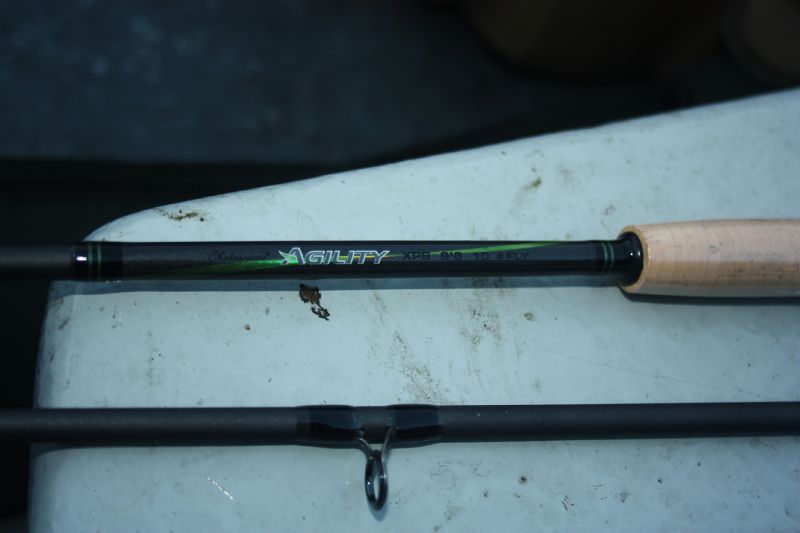 Shakespeare Agility XPS 10 WT Fly Rod - Black, 9.6 Ft
With "budgie" attached, this particular ten-weight was in-capable of fully loading the rod, leaving me pleasantly surprised to say the least. I stepped up to a twelve weight floating line which worked a treat, although I had definitely reached the rod's maximum casting capabilities. Switching to an 11 weight intermediate, and with my style of casting, the Agility began to perform the way she should.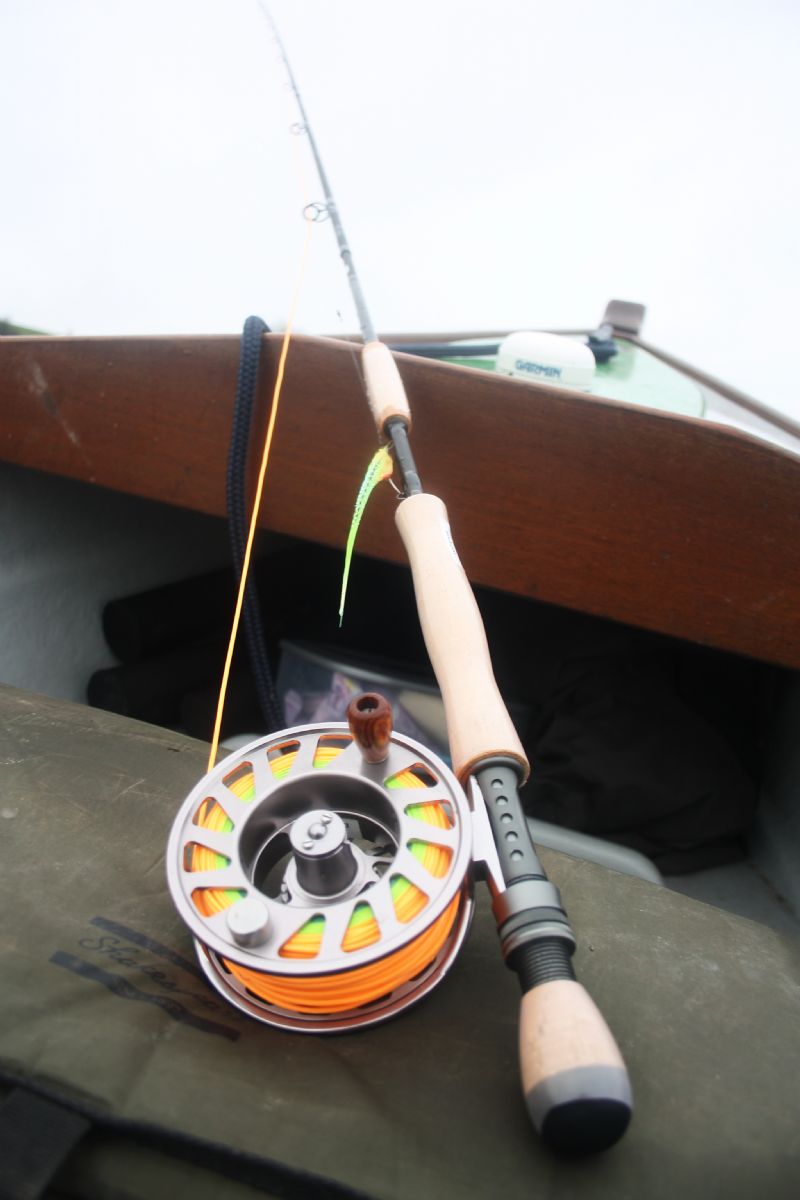 Casting and double hauling put the pike fly out with only two false casts, but the slightly softer feel meant I had to slow my false casts right down to find the best in the rod.
By this stage I had built up the confidence and thoroughly enjoying the light, easy manner of the XPS. Every cast matched Glenn's in distance and accuracy, and his kit was in the £250-£300 price range.
Next step was to see how it performed subduing a hard hitting croc.
It has to be said that Glenn and I struggled to find fish, and for a while it seemed that stage two of my product test would be a failure.
However, an accurately placed fly between some reed stems saw me lifting into a super-fast "take" and we were in.
As Glenn grabbed the camera for some action shots, my prize soon gave up, as a tiny "Jack" was swung to hand!
Last year I removed a larger catch from a pikes jaw that had also taken my jerk bait!!
Ah well, at least it saved a blank, but I was "busting" to put the new rod through its paces with a half-decent fish attached.
By mid-afternoon, having used the rod relentlessly all morning, I could feel how much easier this blank had been on the body, with none of the normal aches and pains in my wrist and arms that I usually suffer from after relentless casting.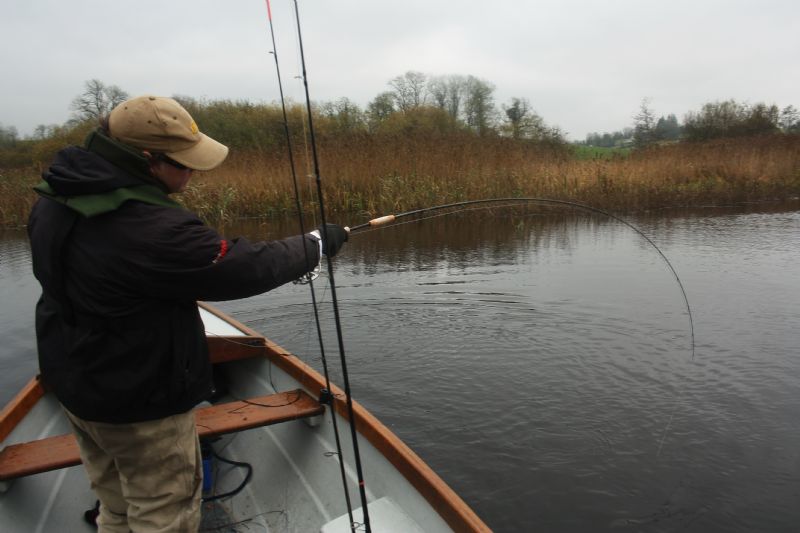 Finally, after quite a few mini-jacks, a super-sonic hit and I struck into something a little meatier.
Although the rod feels slightly softer than what I am used to, it sets the hook without bother, and just keeps bending!
I put as much force as possible into the fish, basically to see if I could snap the blank, but the rod refused to give up and soon brought the feisty fish under control, despite running through several banks of weeds in its bid to escape.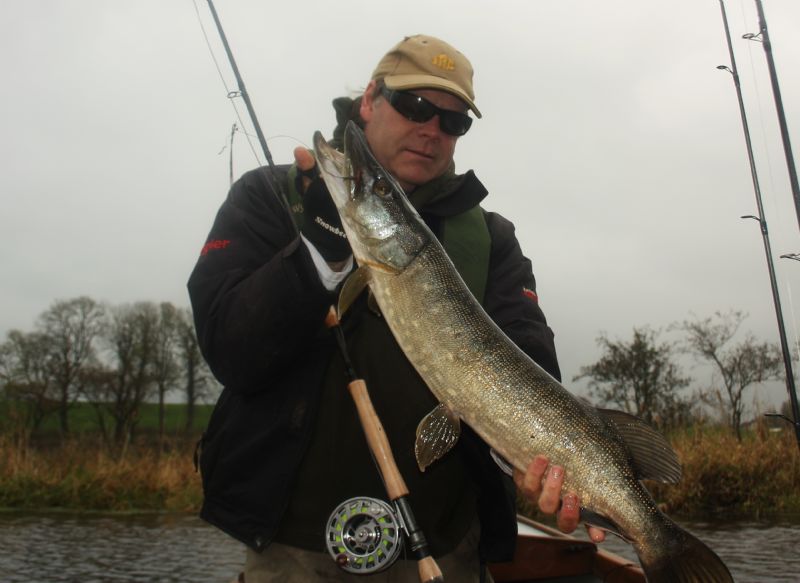 Shakespeare XPS Agility Predator Rods 9'6" 10#
In all honesty, for a budget rod from the Agility range, this is a very impressive piece of kit. I would have no problem whatsoever leaving my £450 pound rods at home and using the Agility all season. At under £60, this is a very useful fly rod, and I am not talking about a beginner's rod, although no better equipment for the new-comer to pike-fly angling. By choosing the XPS, you could be fully kitted out for under £100! It is well finished, casts well and handles pike without problem, so there are no excuses not to give this exciting discipline a try, top tackle at a budget price.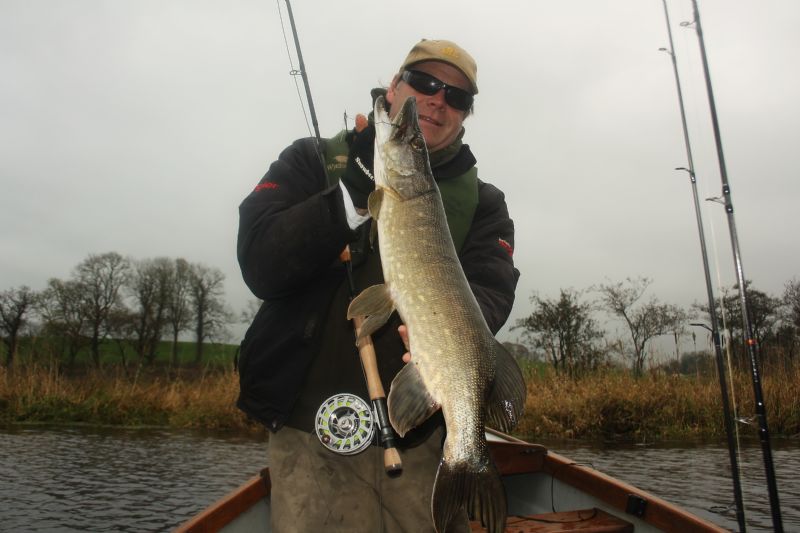 Not huge, but fabulous fun all the same, thumbs up for the XPS
I am offering this actual rod up as "reader's prize" for November. Send in your story to www.angling-ireland.com for your chance to win this Agility XPS. I ordered a pair to be donated as prizes, but I reckon I will definitely keep one for myself now, so only one up for grabs. Tight Lines, Tel.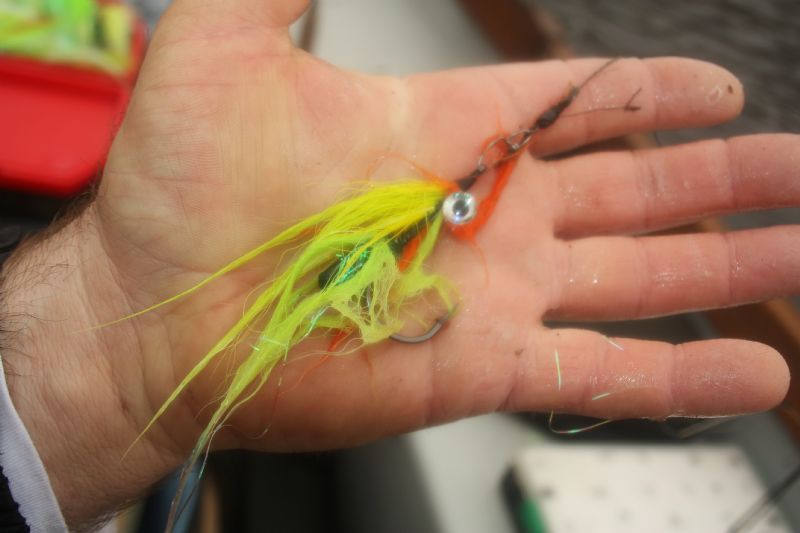 After a day's fishing, my home-tied fly finally gave up!
Back