Shakespeare Agility Drop Shot Rod
Shakespeare Agility Drop Shot Rod
James Robbins of Shakespeare UK kindly sent over the new Agility Drop Shot Rod for a product review. This particular rod falls within the Agility Predator range.
The Agility range of products have taken the UK by storm with their high quality-low cost range that covers almost all angling disciplines found in UK and Irish waters.
Over the past few seasons I have been lucky enough to have the opportunity to use many of the Agility products from Shakespeare and for low cost tackle, the quality is exceptional. I knew that the new Agility Drop Shot Rod would be no different.
What the manufacturer says.
This new series of lure rods cover a range of casting weights for fishing a variety of different tactics and types of lures. With a sensitive, crisp action and light in the hand, these rods are great fun to use, and perform in both fresh and saltwater. Drop-shotting is rapidly rising in popularity in the UK and Ireland, and if you've never tried it, now is your chance!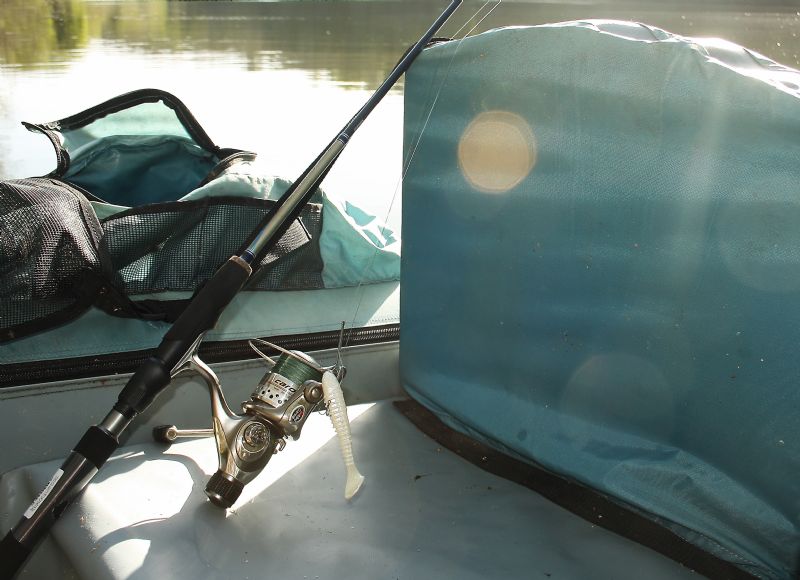 A nice, balanced outfit
Specifically designed for this finesse lure fishing tactic, the white tip on our new Drop Shot Rod is a handy feature, helping you detect bites in low light levels. Drop-shot fishing is also becoming popular in saltwater and this rod will also be used by sea anglers targeting Bass from boats using the drop shot technique.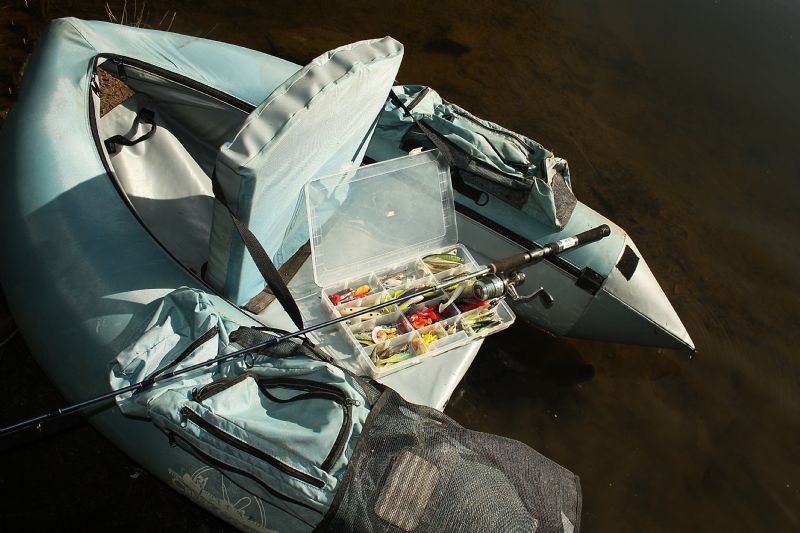 You can travel light with this kit
My review.
Teamed up with an old Abu Cardinal, and loaded with 10lb B/S braid made for a perfectly balanced set up. The braid at 10lbs would stand a chance of dealing with the odd pike should I run into one, usually hooked in the scissors when drop-shotting. I added a couple of feet of 10lbs Berkley fluorocarbon via a small swivel. Large, wary Perch have extremely good eyesight and I needed every advantage on the tough water I planned to fish!
The rod weighs almost nothing in the hand, and I could instantly see that drop shotting all day long would be no hardship whatsoever. Putting a bend into the rod, there is a reasonably through action, quite a nice soft tip action for casting and playing fish, but locks up well in the lower half of the rod, when required.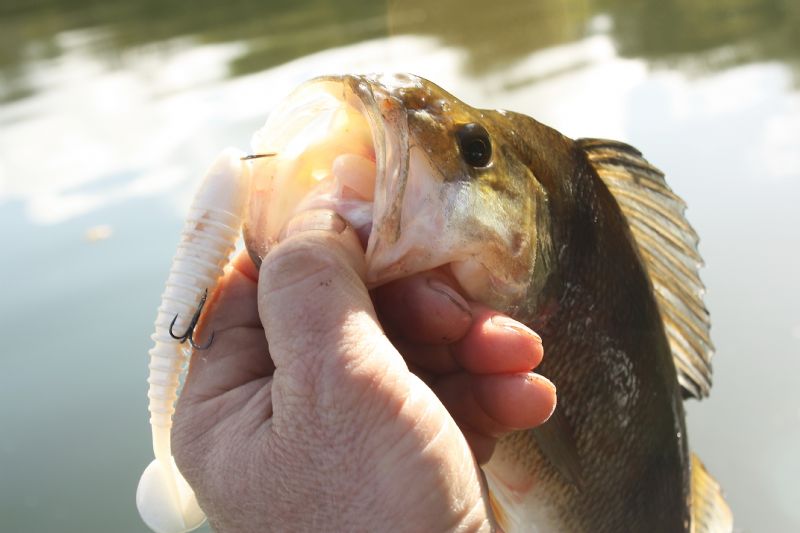 Adding an Owner Treble as a "stinger" to the Berkley Flex soft bait aided hook ups
I chose to drop shot from a float tube, as the venue in mind required further exploration. David Wilson, top angling rep for Pure Fishing in Ireland donated a selection of Berkley Powerbait Flex Slim to try, and with my own small selection, I had plenty of soft baits to try.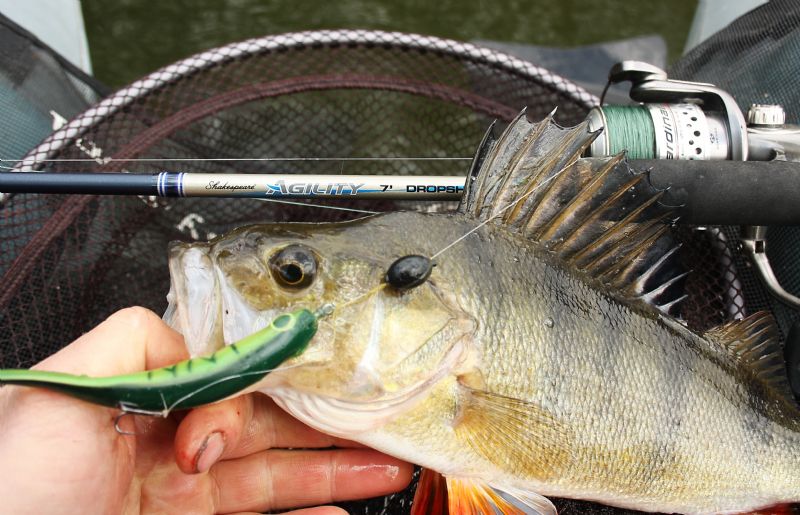 Tempted with a Berkley Split Tail (fire tiger)
Joined by good friend Andrew Wolsey, we weren't long out on the water before I missed my first fish on a white Flex bait. Using a single hook and a sliding weight above, I hastily added a size 12 Owner treble as a "stinger" in a bid to fool the next fish, should it happen along!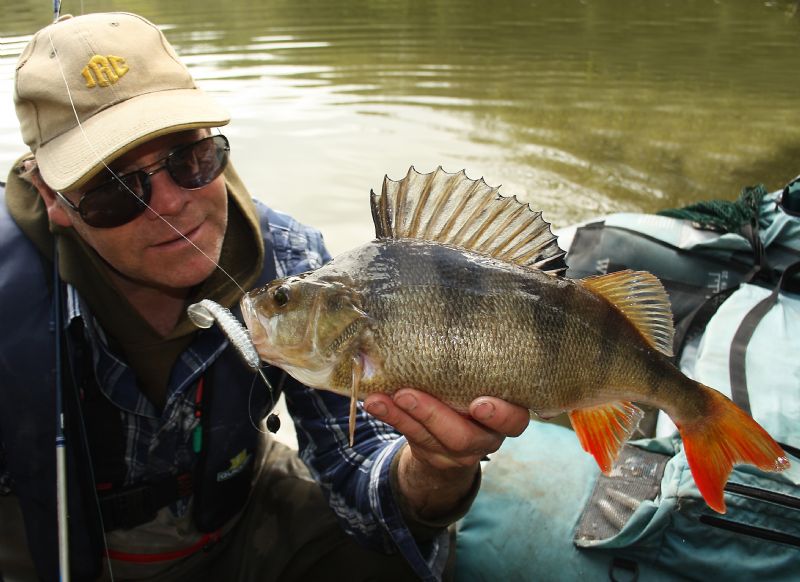 This three pounder was fantastic sport on the Agility
Andrew found a brace of decent Perch before I manage to land my first, around a pound in weight. Three fish in half an hour was a great result on a hard water. The Agility performed well, plenty there to set a hook into the tough mouth of a Perch, but still bags of fun when playing the fish. Can't ask more than that!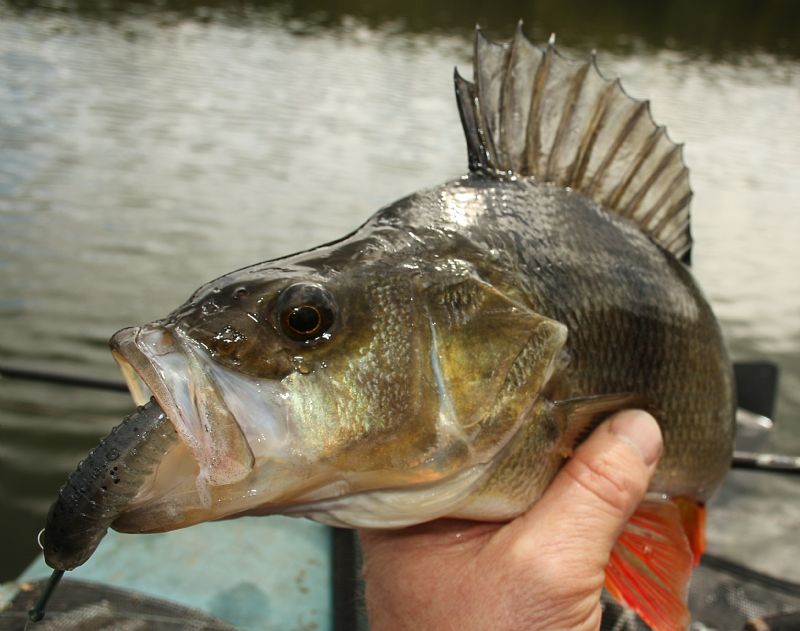 We persevered throughout the day, with over twenty Perch between 1-2 lbs culminating with three crackers at 2lbs 6oz, 2lbs 9oz and a specimen busting three-pounder! Andrew had the 2lbs 6oz and the two larger ones came on the Agility, the biggest Perch of the day actually ripping line off the Cardinal, couldn't beat it!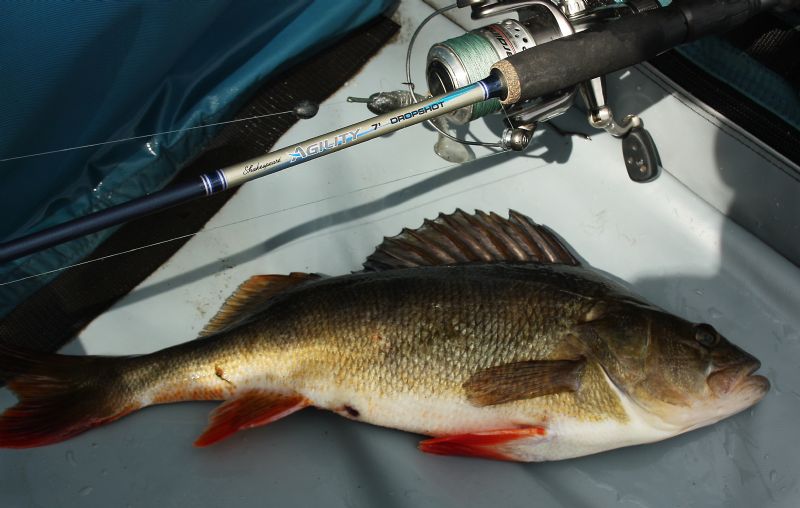 As you will see from all my reviews, I don't believe in just looking at a rod for a product review, I insist on actually casting with it and catching fish to get a true feel. The new Agility Drop-Shot Rod from Shakespeare, as a budget rod, is a fabulous piece of kit achieving high quality and a huge amount of fun for your money. I really enjoyed my Perch session and can't wait to get another crack at the "stripeys" with the Agility gear. A thumbs up from me.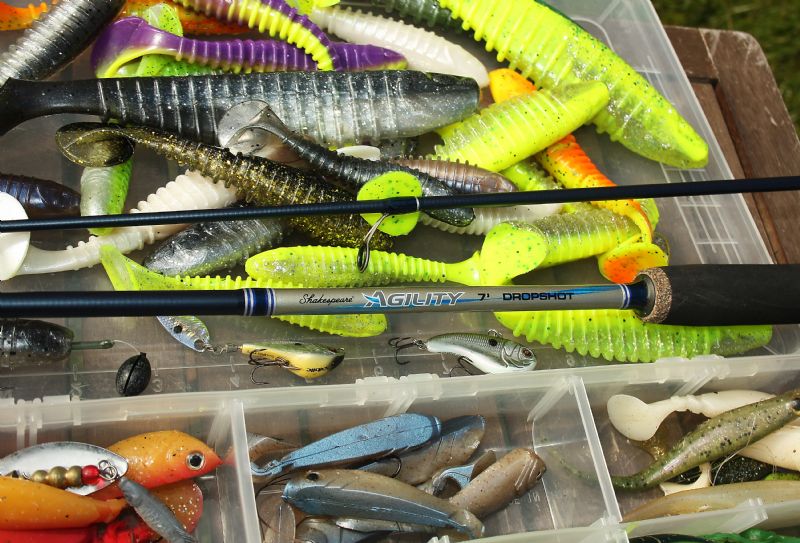 Shakespeare Agility Drop Shot Rod and Berkley Powerbait Flex Softbaits
Available from all good tackle shops
Shakespeare Agility Drop Shot Rod RRP…. £34.99
Berkley Powerbait Flex, available in 5", 6" and 7" and eight different colours
Great deals below if un-available locally….
Shakespeare Agility Drop Shot Rod (2 Piece) - Black, 7 ft
Owner Treble Black. ST-36BC Hook 10
Berkley Drop Shot Lures, check these out..
POWERBAIT DROP SHOT MINNOW NATURAL 3" 7.5cm
Berkley Powerbait Drop Shot Minnow 2" - 5cm Perch
Berkley Powerbait Drop Shot Kit - Assorted -10 Pk
Back