Shakespeare Agility Med-Heavy 8ft Spin
Shakespeare Agility Med-Heavy 8' Spin
Taking this year's new Agility Spinning Rod from Shakespeare out for a test!
Throughout this year, I have been lucky enough to have the opportunity to product test many rods from the Agility range. Yes, they are a budget range, but so far, every rod I have played with has proven beyond doubt to exceed its low price tag by far. Shakespeare have found a formula in the 2015 Agility range that produces high quality tackle at extremely low prices.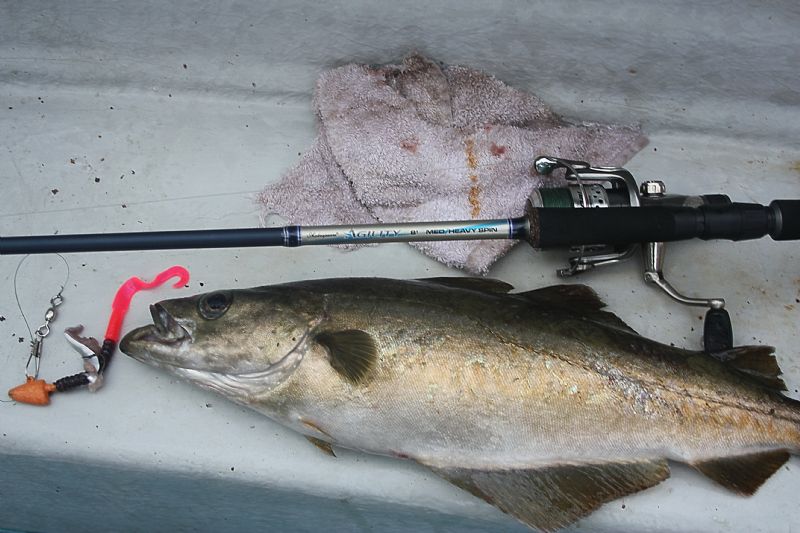 The "Predator"Agility 8' Spin from Shakespeare, available from all good tackle shops
more info....Shakespeare Agility Medium/Heavy Power Spinning Rod (2 Piece) - Black, 8 ft
Every rod sampled has landed specimens and hard fighting species from Pike and Perch through to Ballan Wrasse and Twaite Shad, and each a pleasure to use.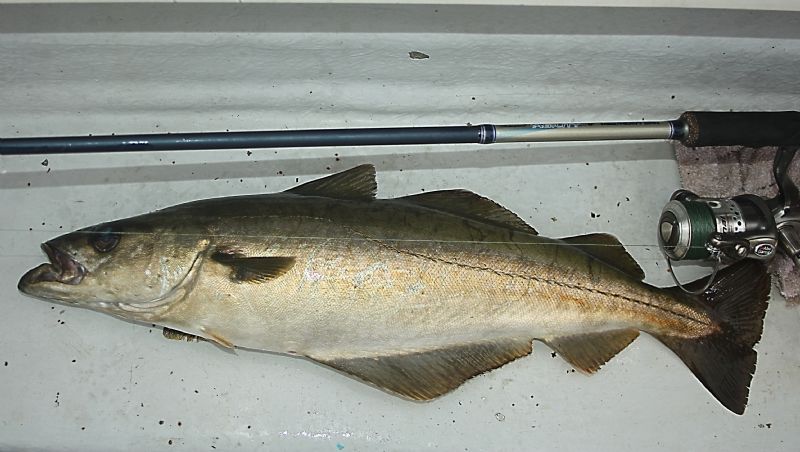 Pollack are fantastic fun on balanced tackle
My latest test is with a "beefier" spinning rod, the Medium-Heavy 8' version with a recommended casting weight of 30-80g. This is from the "Agility Predator" range, which includes the 7' Drop Shot Rod, 7' Light-Medium, 7' Medium-Heavy, 8' Power and the 9' Medium action. All rods have modern, fast and progressive actions, and come equipped with a comfortable DPS reel seat, quality EVA and shaped handles, Zirconium Oxide (ZOG) guides and finished in a Satin-Matt blank. Also all rods amazingly fall below the £40 price tag.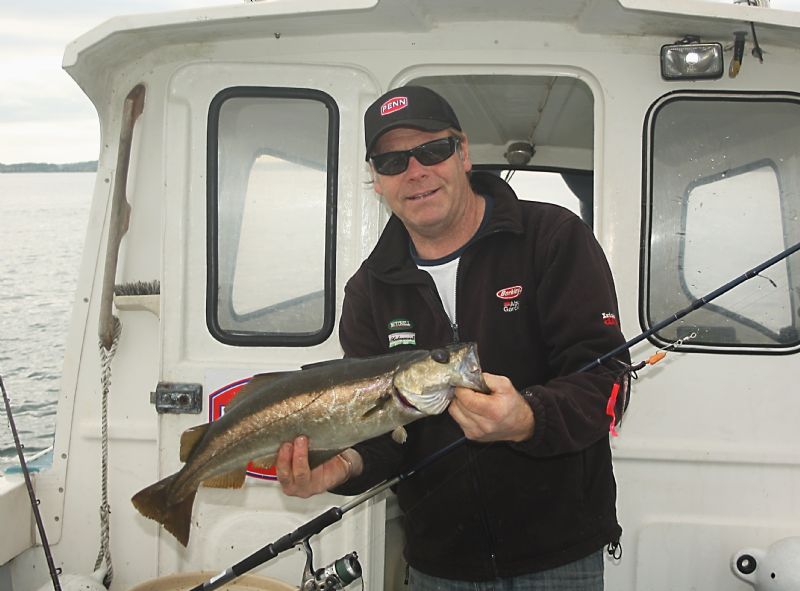 Absolutely loving the scrap from these fish, the Agility is a winner
Apart from heavy freshwater applications, the 8' Medium-Heavy Spin makes an excellent salt-water rod, and what better species to put it through its paces than the mighty Pollack! A recent window of opportunity during the poor weather we have been experiencing saw me back out and afloat aboard my Red Bay Fast-Fisher, this time with a good friend to spend a couple of hours in search of Pollack.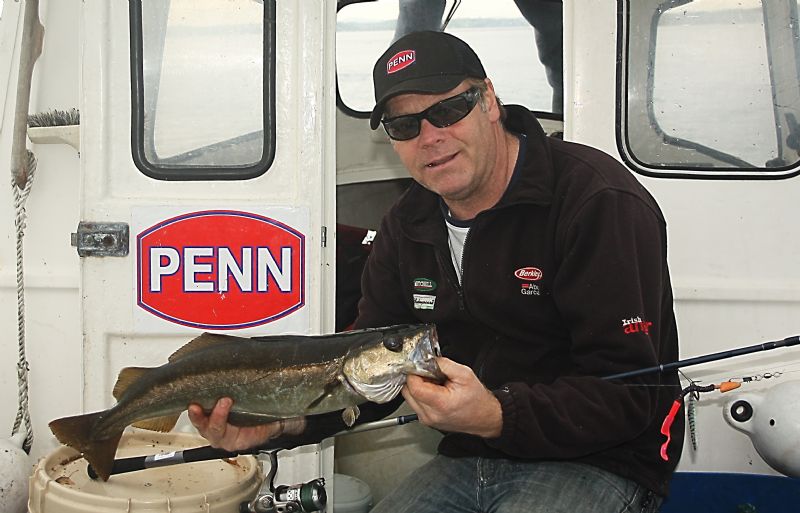 Each equipped with only a spinning rod and selection of Berkley Powerbaits, (in my opinion you cannot beat the blue-fleck fire-tail version) we hunted the inshore shallow reefs to try our luck, and importantly for me, to put a decent bend in the Agility Rod. It didn't take long before the tell-tale "tap-tap" of an interested Pollack came knocking on the rod tip. Do not strike! Simply keep reeling slow and steady, the rod tip buckles and we're in! So good to feel the awesome power of the humble Pollack again, as it violently hits the lure and heads for safety in an instant.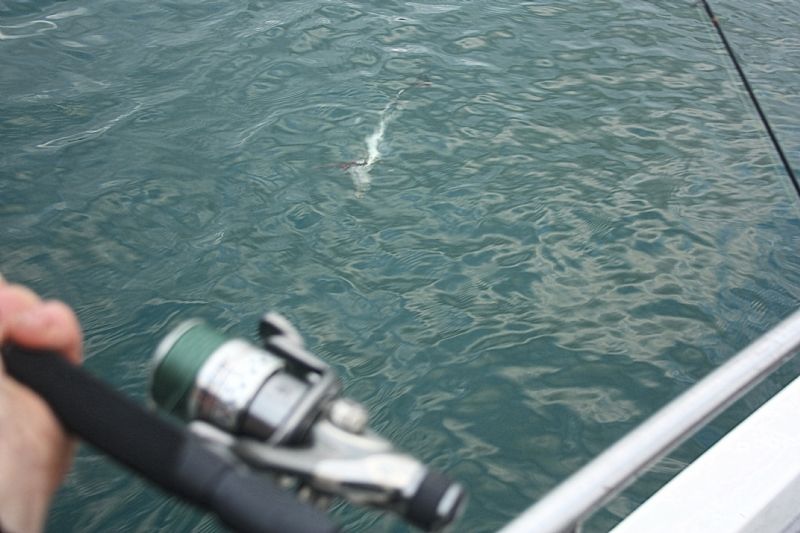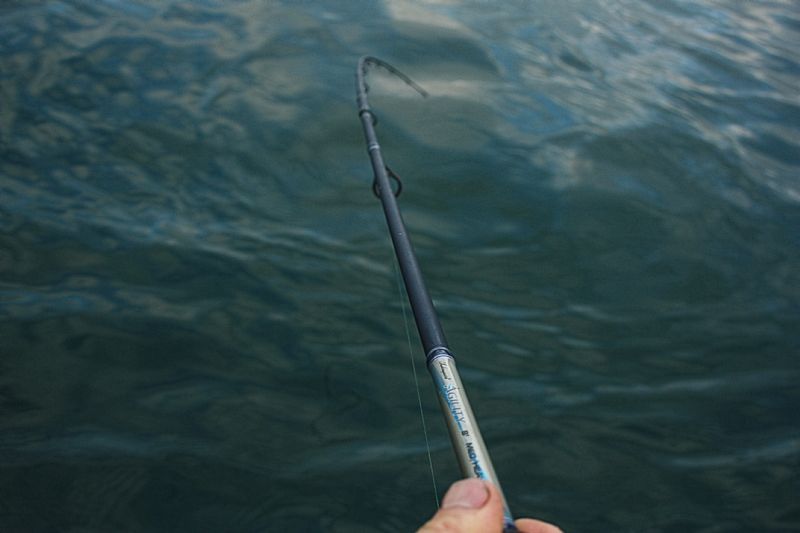 Plenty of power in reserve, another Pollack beaten and on the surface
This is where the back-bone of this particular Agility rod comes into its own, slowing down and eventually bringing a halt to the run of such a powerful fish, yet managing to transmit every second of the thrill of the fight back to the angler. What a quality rod from such a reasonably priced range. We continued to tempt twenty-thirty fish between us over the ebb of the tide, safe catch and release being possible over shallow reefs.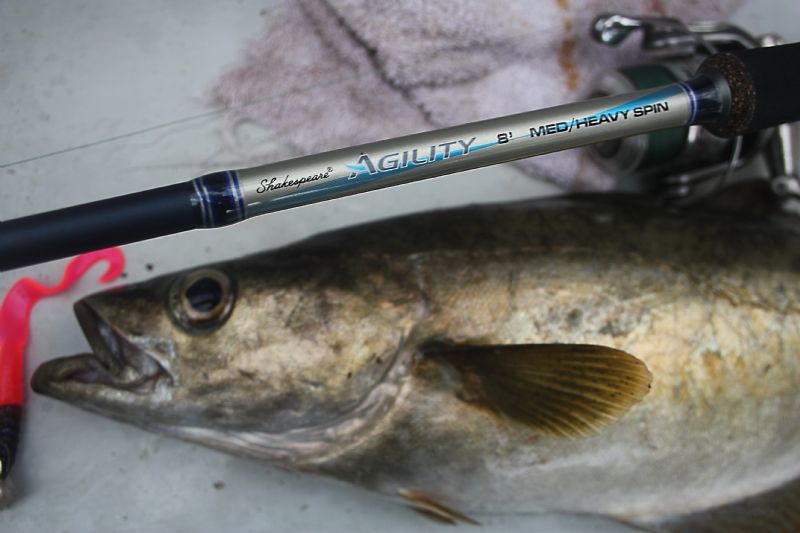 Berkley Blue-Fleck Fire Tails, deadly for Pollack
more info....Berkley Powerbait Power Worms 7inch Blue Fleck Firetail
Jig-heads, more info....Berkley Deep Jig 17.5g Olive Pearl
It has been a while since I fished lead-heads and soft plastics for Pollack; it brought back many memories from by-gone days out of Killybegs on the West Coast of Ireland with famed skipper Pat O-Callaghan. This latest experience with good company, quality tackle and hard-hitting Pollack has given me another great memory to cherish. You simply can't beat it!
Back