Shakespeare Sigma Electric Outboard
Shakespeare Sigma electric outboard
Sigma Electric Motor Thrust
There is quite a selection of electric outboards on the market these days, and making the right choice can be a daunting task to say the least.
Obvious criteria in making that choice are reliability, silent running, looks, price tag (bearing in mind that we are still suffering the effects of the recession!) and of course, back-up service should something go wrong.
With this in mind, I had recent opportunity to test an outboard from the up-graded range of electric motors from Shakespeare. I opted to try the salt-water version because it offers 54lbs of thrust, the highest in the range, which would give me a chance to compare it to my own 55lbs Minn kota Endura Pro.
Speaking with David Wilson, the agent for Pure Fishing in Ireland, he assured me that having sold countless Shakespeare outboards over the years, he has only received a couple of returns, and these were easily repaired with new parts. This ticked the reliability and back-up service boxes in one sentence!
Smart-looking motor
Finished in gleaming white with a stainless steel shaft, the package looks well, although there is a 44lb thrust JRC green version available for anglers that prefer to blend into the surroundings. On closer inspection, the clamp is cast from robust alloy rather than plastic and at 85 mm wide, it offers capacity for the widest of transoms. The positioning pin easily adjusts the engine tilt, with shaft clamps for depth adjustment and steering tension. The handle has a comfortable grip and built in retractable extension, which is silky smooth, giving a feeling of quality, un-like similar examples available. There are five forward and two reverse settings.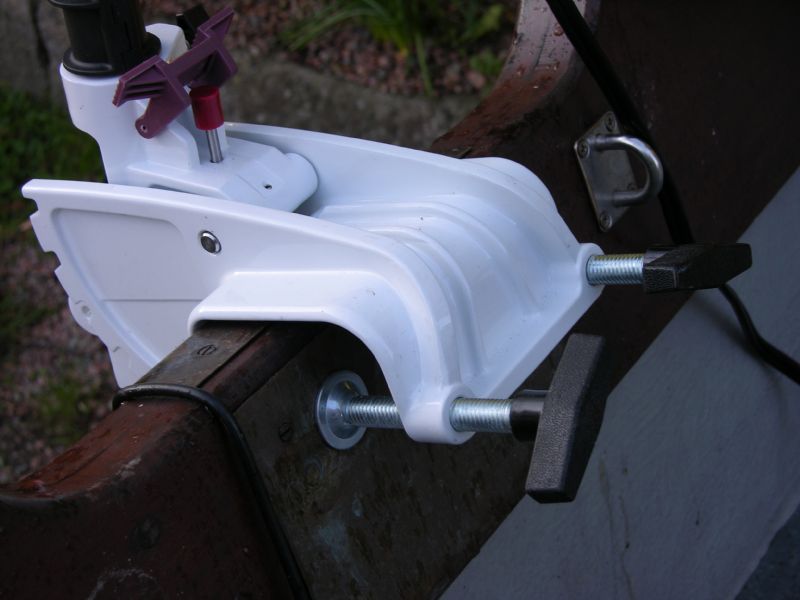 To give the engine a thorough test, I spent the day in good company with a couple of angling pals. Deciding on leaving the petrol engine in the jeep, we relied upon electric power and oars should the battery fail. Initially, we trolled silently around the outskirts of the twenty acre lake to gain some knowledge on depths and features, picking up a couple of small pike in the process. The engine performed well and was easy to control. With the aid of a hand held GPS, I accurately determined that my 19 ft Lough boat, carrying three anglers and an array of tackle reached an impressive maximum speed of 5 knots.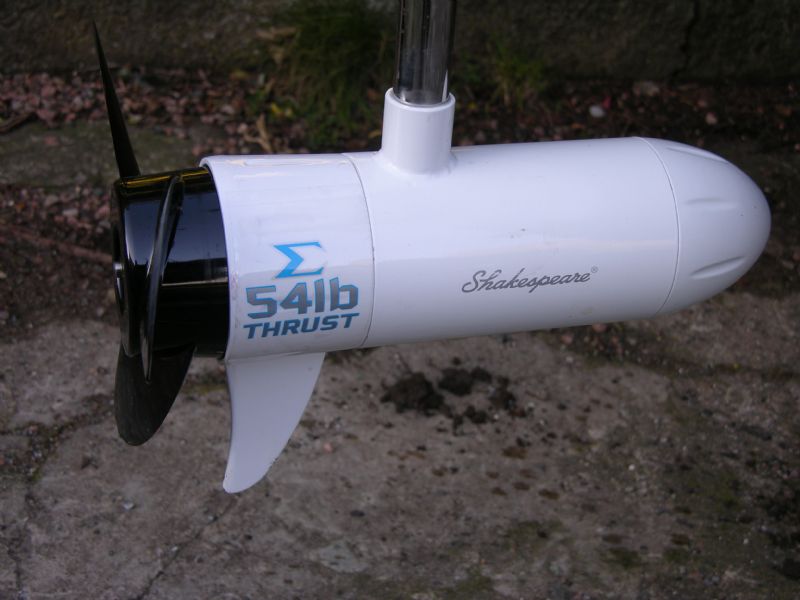 The biggest surprise however, was after a full day of use, there was surprisingly little drain on the battery. David informed me that these new versions have a developed technology that maximises thrust using less power and a stronger engine. So, after a full days thorough use, it was definitely thumbs up for the new Sigma. This only leaves the price, and at £199 with a full year's warranty, up to £400 cheaper than similar versions, you get a heck of a lot for your money.
Shakespeare Sigma Electric Motor
28 lb thrust £149.99 – 175 euro
34 lb thrust £159.99 – 187 euro
44 lb thrust £169.99 – 198 euro
54 lb thrust £199.99 – 234 euro
More information.... Sigma Electric Motor Thrust
Available from: any good stockist
Trade enquiries: Pure Fishing
Tel: 00 44 (0) 1527 405410
Email: contactus-uk.purefishing.com
Back