Shakespeare Superteam Match Combo
Shakespeare Superteam Match
A second product test
I enjoyed fishing the waggler with the Superteam Combo so much recently, I had the strong urge to get out again and track down these elusive Roach and Roach/Rudd specimens.
This time I tried another lake that has produced big fish for me in the past, with the pleasing company of Andrew Wolsey and Simon Gibson to join in on the hunt.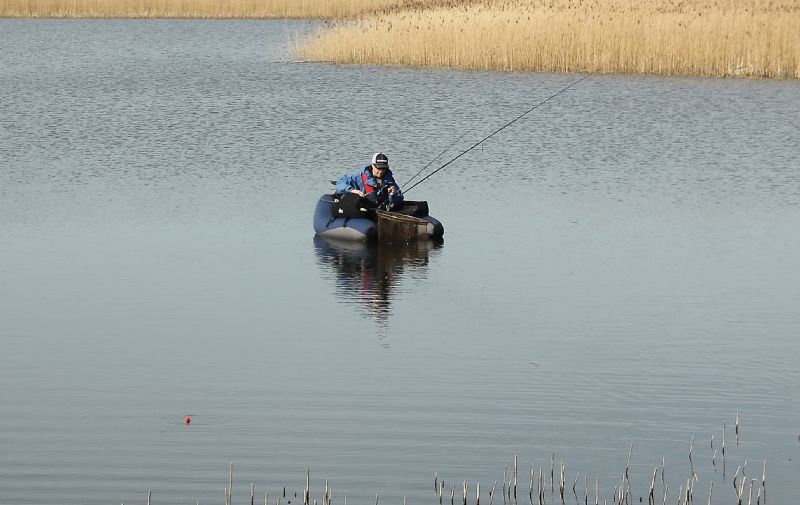 Andrew off in search of large Perch
Although Simon was keen to find his first specimen Roach or hybrid, Andrew was more concerned with finding a large Perch and happily paddled off on the float tube on his own specimen mission. Simon and I carved out our pegs from the shore, and with a few balls of ground-bait introduced to kick start the action, we were soon swinging in small fish, as they queued to be caught.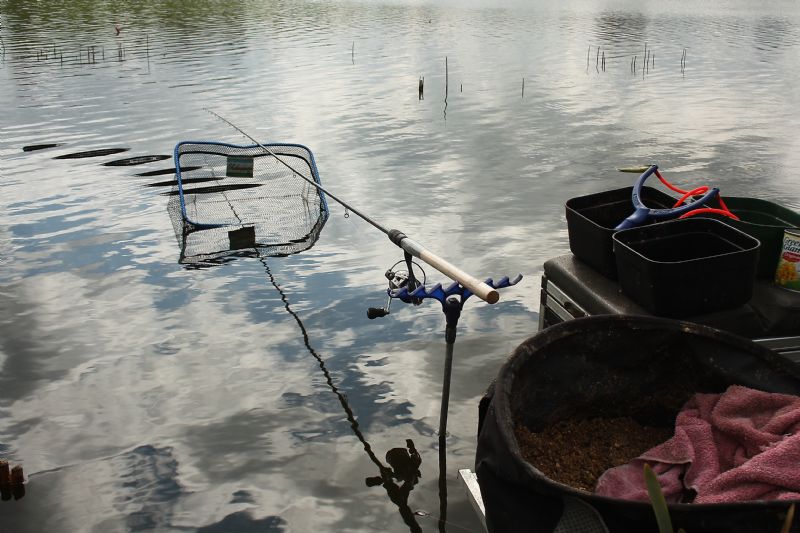 It is important to be comfortable, with all kit to hand
This venue will happily produce throughout the session if you are content in "bagging up" but the art of specimen hunting is learning how to avoid the small fish. With excessively large hook baits such as two grains of sweetcorn or three casters and four maggots on a size ten, I managed to slow the catch rate down significantly, but despite this, juvenile roach still managed to hook themselves. Even a size 8 hook could not deter them!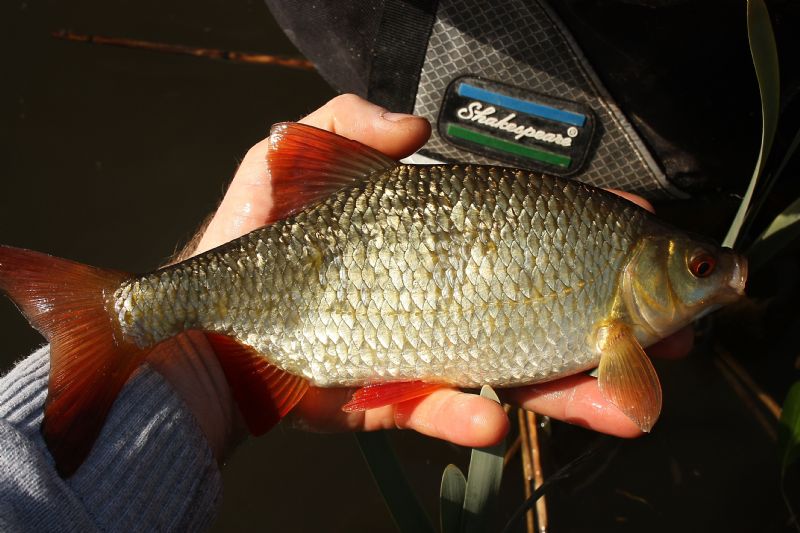 Fabulous conditioned fish, but the two pounders eluded me
I decided to stick with this method and work the numbers game, catching whatever tried to take on the hook bait in the hope that a larger specimen would show. We still had the curse of esox to deal with as well, with the active swim switching off every now and then as Pike smashed into the confidently feeding shoals. We know of this problem, and drop a dead-bait rod in to the right and one to the left in a bid to intercept our predators.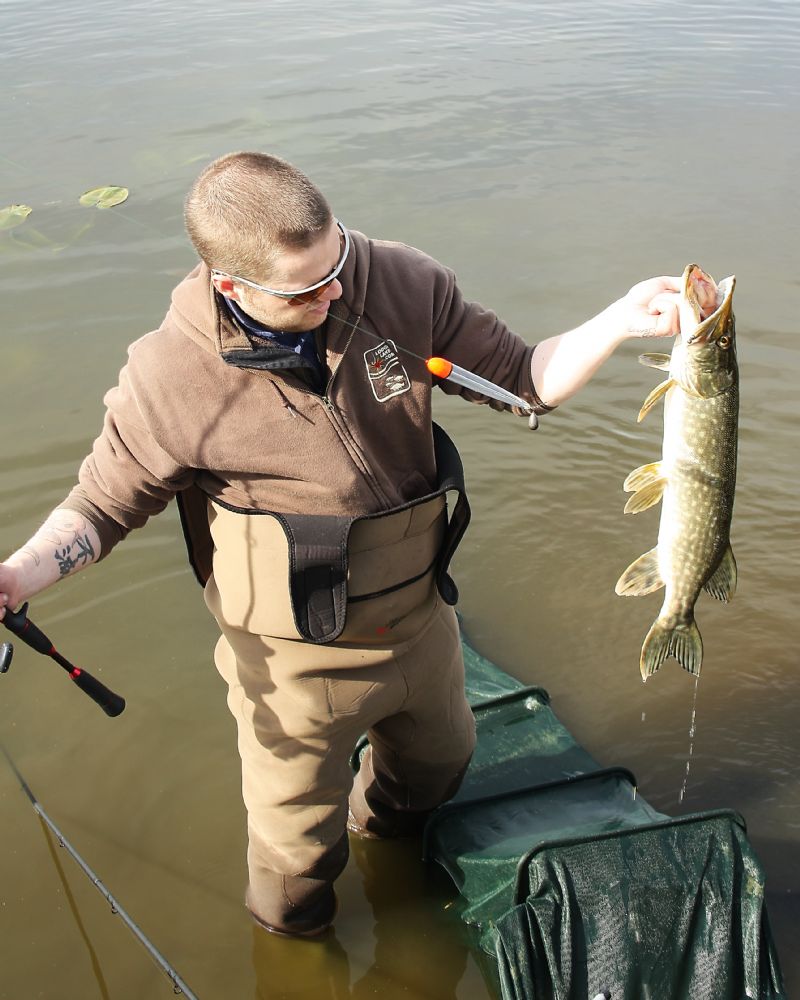 Simon helping to temporarily remove the predators
This works quite well as usual, with Simon taking so much Pike action it was distracting from his Roach hunt! All Pike were carefully released a short distance from the swim, hopefully annoying them sufficiently to leave us alone!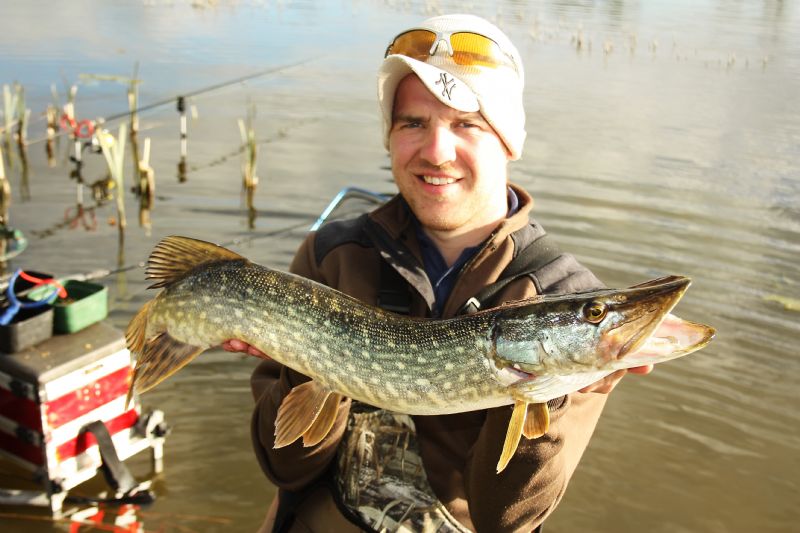 Another small "Jack" for Simon
Apart from the occasional Pike threat, the Roach stayed with us throughout the session, but try as I might, I simply could not find any big girls breaking the two pound barrier. This is why specimens of any species are considered a fish of a lifetime, if they were easy to catch then it wouldn't be a challenge!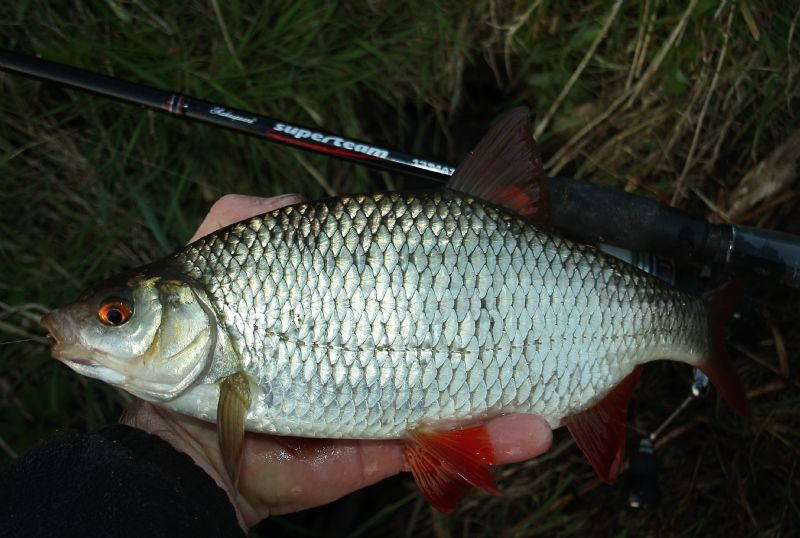 Getting closer at a pound and a quarter, see you in a couple of years!
Halfway through the session, Simon had to pack and go due to other responsibilities. A quick check in my keep-net showed around twenty pounds of fish, not too bad considering I was actively avoiding the smaller ones, without a great deal of success I might add! I later finished the session with 30-40lbs of small Roach and hybrids. Although I failed to find the two pounders, it was still a thoroughly enjoyable session fishing the waggler with the Superteam combo.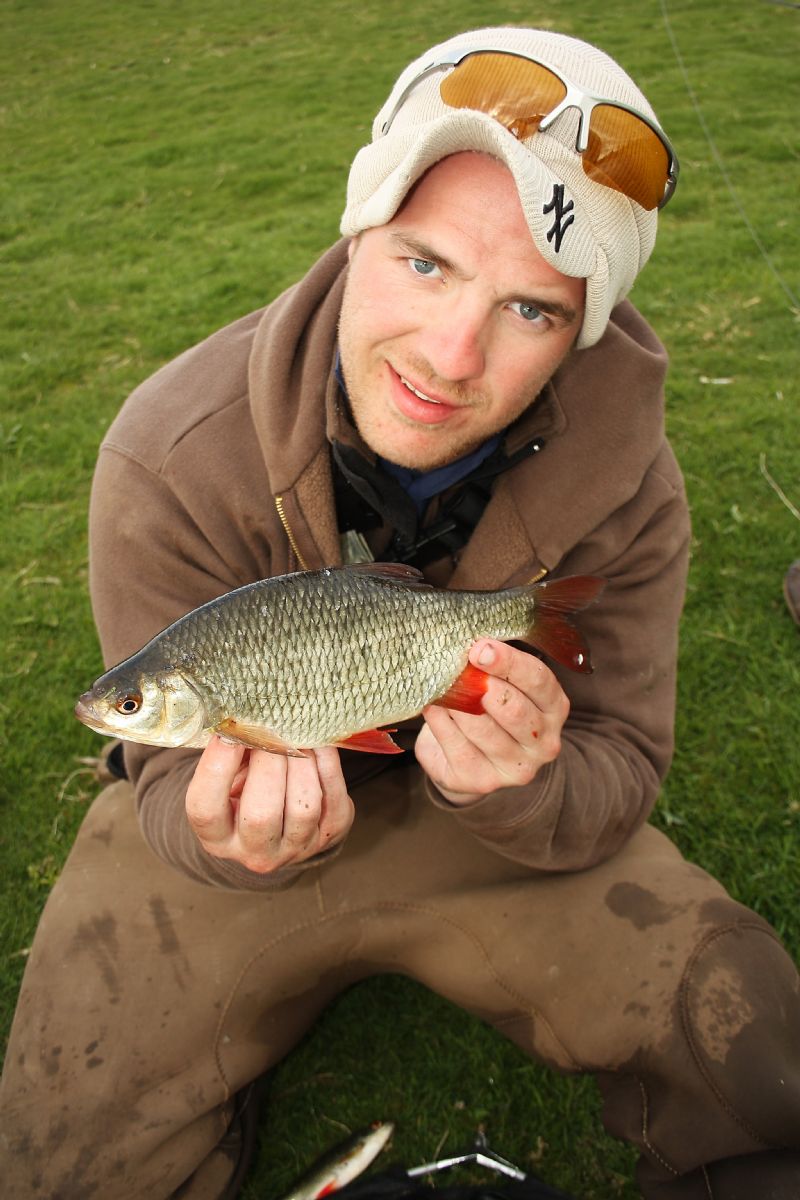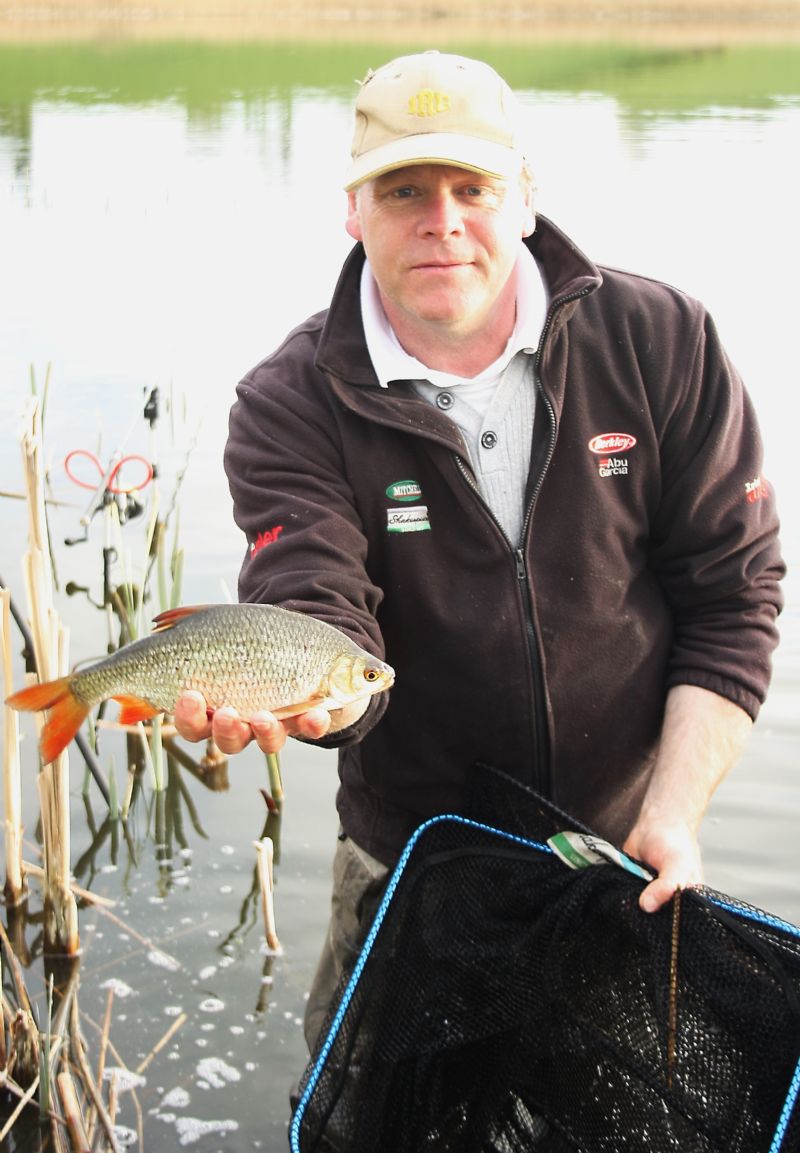 Andrew finally paddled in as the sun slipped over the horizon. His Perch hunt was disappointing with only small fish showing to drop-shot tactics, and a few Pike also annoying his mission. As he had one final drop outside my swim, he struck into a powerful take and you've guessed it, yet another toothy critter to deal with, which brough our combined Pike total to fifteen fish. There is definitely a surplus of Pike in this water. Ah well, how can you complain about a double-figure fish on light tackle, still great fun none-the-less.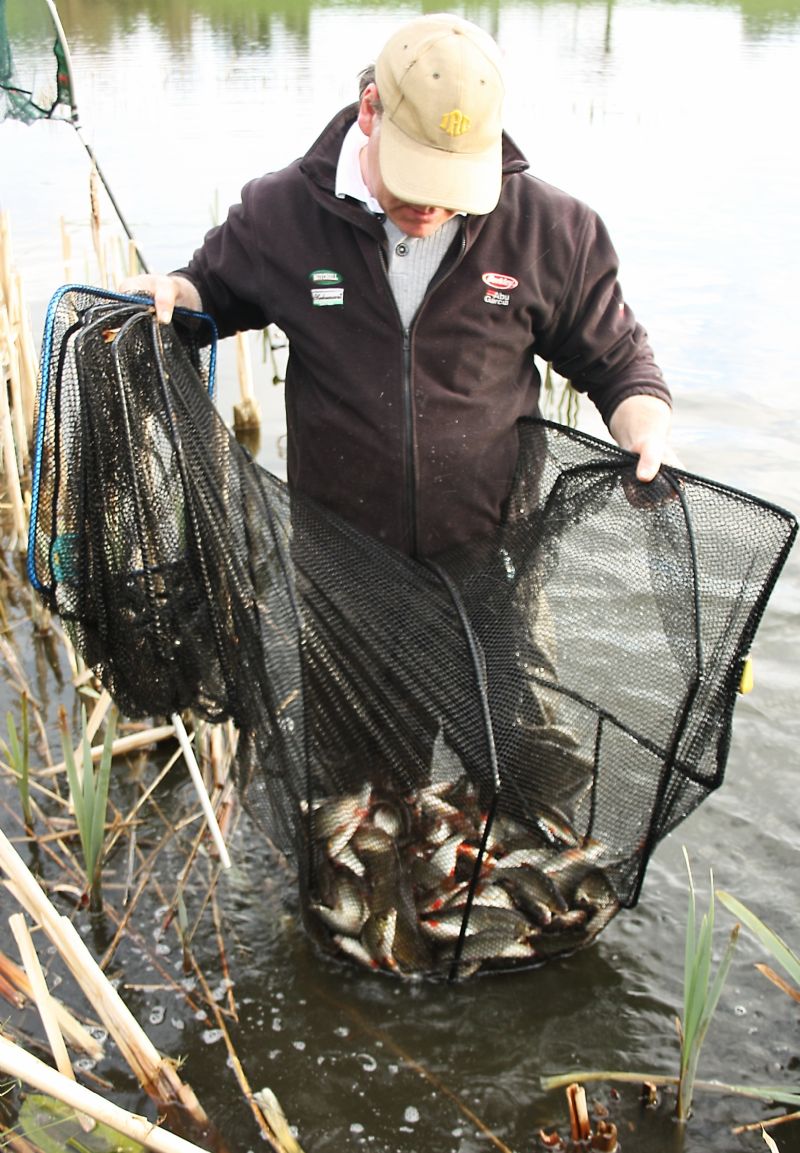 Aproximately 20lbs of Roach at the halfway mark of the session
If you are looking for a new float rod set-up, I cannot recommend this kit enough. The price won't break the bank, but you will be very well impressed with the finish and action of the rod, and the smooth and easy feel of the reel, definitely a thumbs up from me.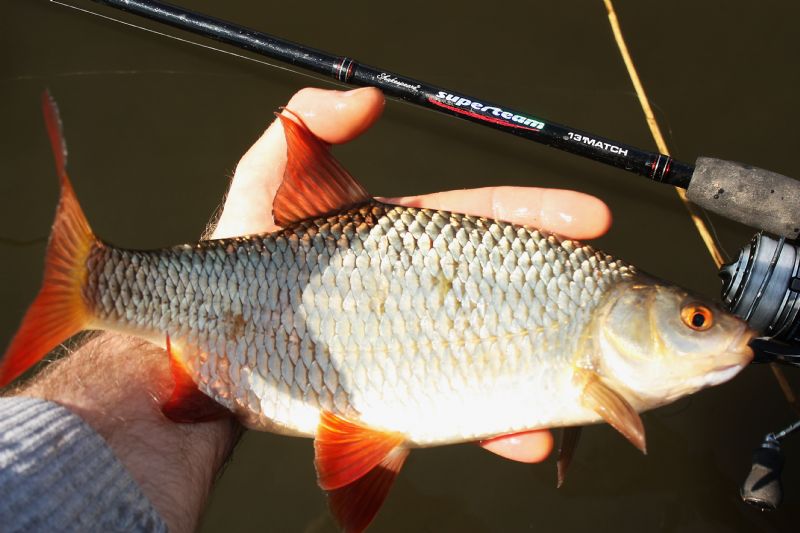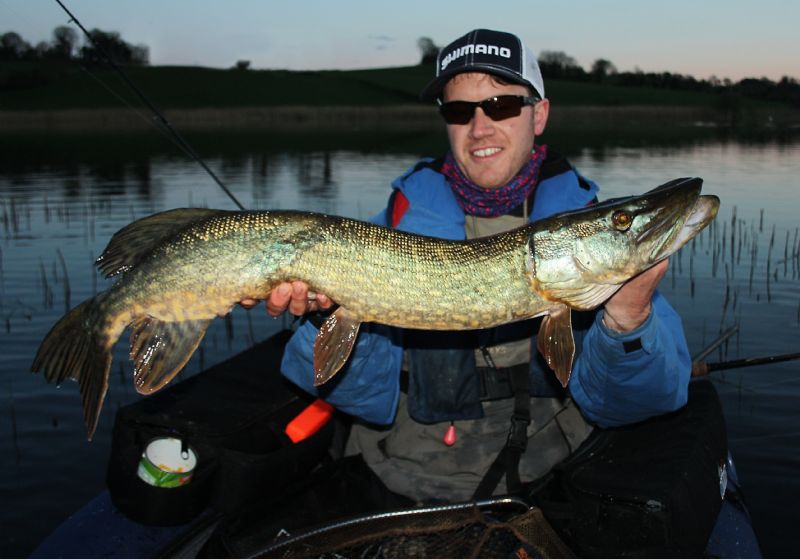 Last fish of the session, a small double for Andrew, great fun on drop-shot gear
What the manufacturer says
Superteam Match Rod
These rods have extremely versatile progressive actions that blend the fine hollow tip section into a powerful middle and butt section. This offers a rod that is equally good when hooking and playing fish on finer hook lengths and hooks as well as more powerful fish on heavier gear. All blanks in the range are amazingly slim and balanced.
Features
High modulus carbon blank
Zirconium oxide guides
Top quality slim cork handle
Ergonomically designed reel seat
Hook keeper ring
Supplied in oval tube
Superteam Reel
Two reels that represent the highest quality and spec within the Shakespeare price point. These reels have been developed specifically for the demanding competition angler. FD reels are proving more fashionable at this price point and these powerful reels are perfect for modern competition tactics.
The reel looks stunning with its matt black finish and aluminium/carbon hybrid spool. The shallow capacity spool has two line clips, one with a round spring-loaded design making it safe and easy to use.
Features
6+1 Bearing
Supplied with spare deep aluminium spool
EVA handle knob
2 x line clip
Large diameter bail wire
Large diameter line roller
Available through all good tackle shops
Great deals at these links
Superteam Match 13ft...RRP £89.99......Shakespeare Super Team Match Rod - Black, 13 Ft
Superteam Match 15ft...RRP £109.99.....Shakespeare Super Team Match Rod - Black, 15 Ft
Superteam Pellet Waggler...RRP £79.99..Shakespeare Super Team Pellett Waggler Rod - Black, 11 Ft
Superteam Reel 35FD ...RRP £59.99.......Shakespeare Super Team 35 FD Reel - Black
Superteam Reel 40FD...RRP £59.99........Shakespeare Super Team 40 FD Reel - Black
Back