Shark Fishing, The Shine Way by Peter Foster
The legend of Jack Shine
The greater majority of anglers can generally be summed up in just a few ways.
There are those who have their favourite marks and stick to them religiously whatever the season or state of the tide, generally fishing with the same bait week in week out and then there are those who chase around following ghosts to fish the current in-form hot spot on the back of some angler who has had a red letter day.
Then comes the serious angler who will put in a fair bit of time and effort to study the tide state and weather patterns before he heads off to a chosen mark, and then once every so often, there emerges an angler who throws convention to the four winds. One who has a burning desire to do what no other has, a true pathfinder in every sense of the word, blazing a trail and setting the standard for others to follow. One such angler was the legendary Irishman, Jack Shine.
Jack's burning desire was to hook and land a 100lb plus fish from the shore with conventional beach casting gear. He knew of course that in neighbouring County Kerry, a few random skate in excess of the magical ton had been taken from the pier at Fenit, but then they had been caught by others and it wasn't in Jack's nature to play follow the leader.
It was no secret that the deep-water rock marks emerging from the Atlantic all around the Coastline of County Clare were the home to some big fish, indeed Jack himself had been the victim on a couple of occasions when an unseen assailant savaged his pollack on the way in leaving him with just a head and around 5lb of prime fish steaks missing. Porbeagle shark had been seen on several occasions as they smashed into the mackerel shoals usually from mid May onwards throughout the summer months, but none had ever seriously figured on the agenda of the local anglers who for some reason regarded them as the impossible dream. For Jack, this was exactly the challenge he was looking for.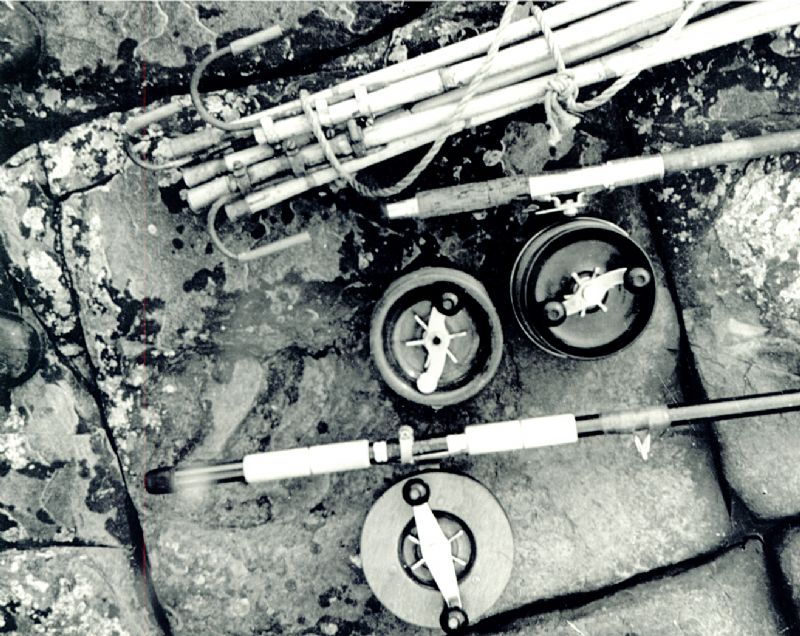 Jack Shine's shore tackle!
Tail End of A Mackerel
Forsaking the outstanding bass and pollack fishing on offer, Jack focused all his attention on locating and then fishing the marks that he thought would produce his first shark from the shore. The gear he used for these first forays into the unknown was by modern standards pretty basic but in the early 60's, there wasn't a lot available. The rod was an 8 foot medium weight solid glass affair with a massive fixed spool reel strapped to it loaded with 400 yards of 19lb breaking strain monofilament ending with a 90lb b/strain 7 foot wire trace and a "large" hook. The bait was the tail end of a mackerel weighing around 7 ounces or so, and nothing else. In the grand scheme of things, hooking the fish would prove to be the easy part, the problems would arise when trying to land them. For this, a long gaff was essential and as there were no suitable ones available commercially, Jack set about converting a set of drainage rods each 3 feet long that could be joined together as and when needed to form any desired length. Accompanying him on these expeditions were his two sons Gerald and Noel, they were to prove invaluable in helping to land the fish and during the quiet times, they were quick to show dad that they were no mugs themselves when it came to fishing, together taking some memorable bass catches. The tactics that Jack adopted would be to see a shark in the vicinity and cast to it, slowly retrieving in the hope that it would home in and take the offering. Distance was a critical point and a major factor in the many blank days. About 50 yards was the best Jack could hope for and many's the time he saw fish cruising just out of range. It was a fruitless start to the endeavour in 1962 and he soon found that he was the target for endless jokes and micky taking from his fellow anglers as they continued to catch enormous amounts of fish while he sat for days at a time waiting - but the tables were about to be turned.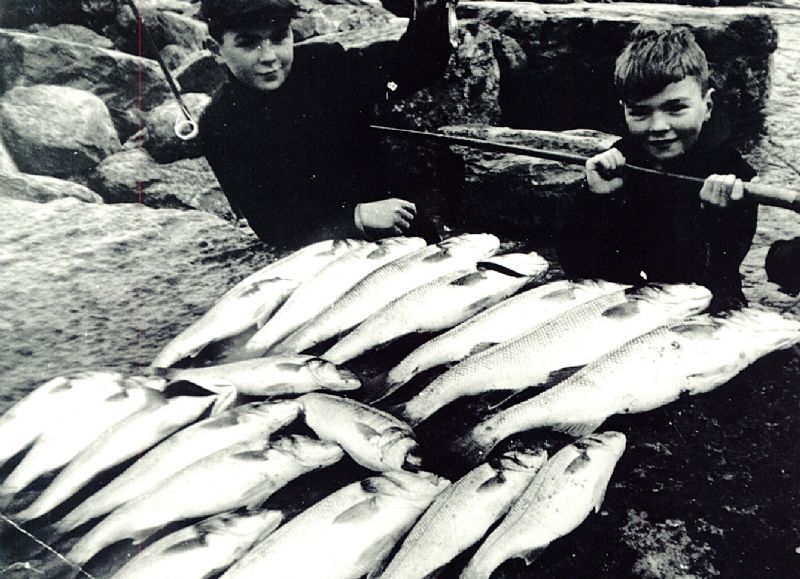 Sons, Gerald and Noel were no strangers to exceptional catches
Fully Vindicated
Starting with the arrival of the first mackerel in May, Jack concentrated his efforts from the deep-water marks around Green Island near Lahinch. For almost two months and with a lot of fishing hours under his belt, he was still to break his duck when he set out again towards the end of June, a day when shore fishing history would be made with the first ever capture of a shore caught shark from European waters. At 77lb, it wasn't a monster as far as Porbeagle go, but Jack was now fully vindicated and so the stage was set for the next ten years when he would go on to fulfil his dreams of a 100lb plus fish – and more.
That first flush of success was quickly followed in August with a pair in the same day at 75lb and 91lb. Shortly after this, the shark disappeared – and the micky taking stopped.
Out again the following May, Jack soon contacted with and lost a shark estimated at over 120lb. This fish was to make the Irishman think hard about his choice of tackle. After a 45-minute battle, the shark was lost when the wire trace frayed and parted just yards from the gaff. Out went the old solid glass kit and in came a 12 foot 6lb test rod with an Australian Alvey 6.5 inch side casting reel fitted with a star drag and two spools, one loaded with 400 yards of 31lb mono, the other with 60lb. The trace wire went up to a 12-foot length of 175 b/s. and the hook pattern was a Hardy's forged steel Misheer treble, intended originally to deal with Nile Perch. The lighter line was to be used when fishing relatively clear water, the heavier stuff for the more snaggy spots. The new set up enabled casts to be almost doubled, Jack was now getting on average 75-80 yards which in turn was massively increased when he started to use balloons as a flotation device when the wind was off his back, to blow the bait seawards.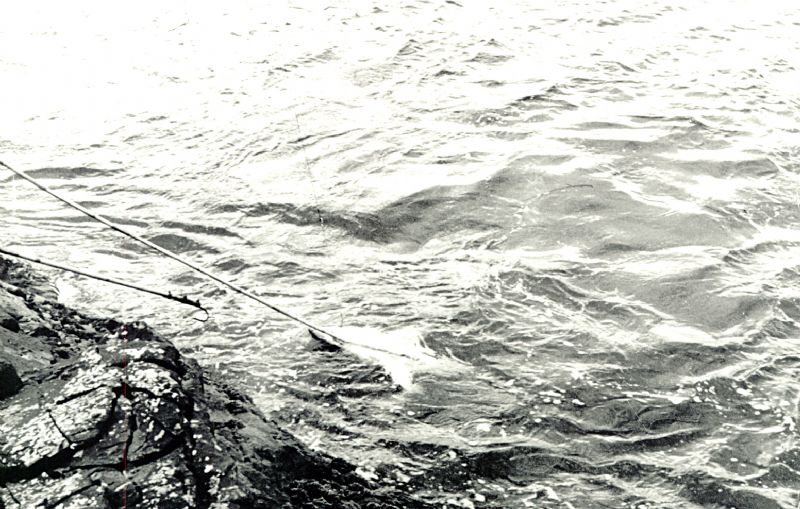 At the gaff!
Inevitable Wrench
During the second year, he set the shark scene alight with not one but four fish over 100lb with the best two weighing in at 130 and 138lb's.
Jack continued to catch as the years went by with his all time best banging the scales round to 145lb. He was also witnessing big shark strikes at his baits that smashed him up frequently but his most memorable hook up came in August '67 when he hit into a shark that set off and didn't stop. With the 60lb line disappearing at a fast rate of knots and the star drag getting some serious attention, the fish kept on going and going. Jack could do nothing except brace himself for the inevitable wrench when the reel empted, he could feel the 400 yards of mono stretching then the line parted at the spool knot - and the fish was away.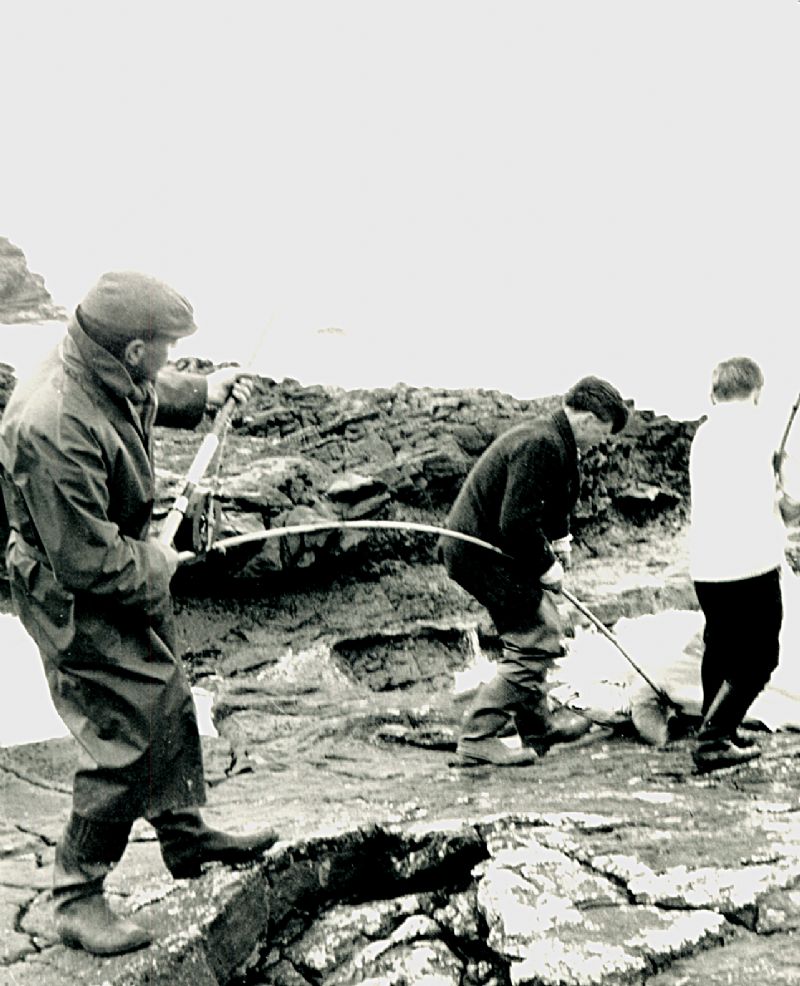 Shark landed
During the ten years that he fished exclusively for Porbeagle, and taking over 30 fish along the way, Jack made several observations.
It became obvious that the shark appeared at precisely the same time that the mackerel arrived in May. If the shoaling mackerel were seen close in, the chance of a hook-up was greatly improved and a moving bait would outscore a static any day of the week. It became evident early on in the sharking experience that patience was needed in abundance, the fish, although known to be around, would desert a mark for no reason for days and weeks on end. At these times, Jack would move around the area and he went on to catch shark from two other locations along the Clare coastline, Ballyreen being one. With advancing years, Jack hung up his rods in 1972 to give more time to his second love, amateur dramatics where he excelled in playwriting.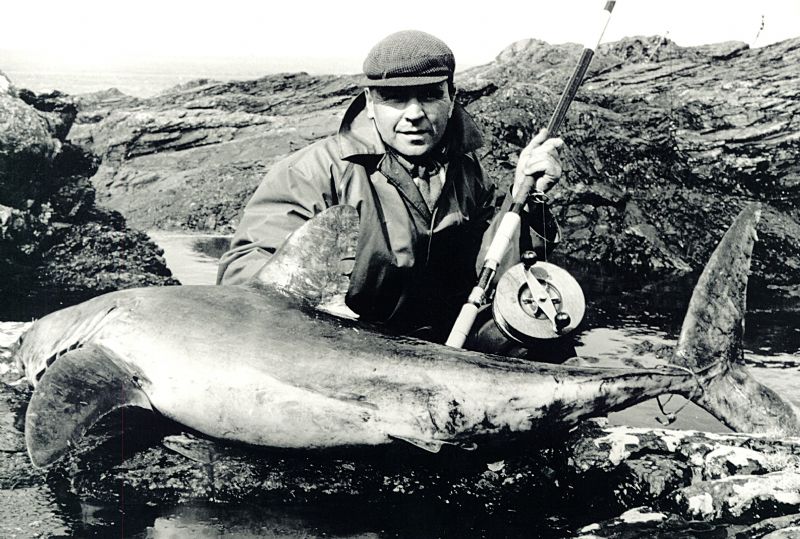 Jack Shine, a legend in Irish shore-angling
With his shark fishing days behind him, Jack Shine receded into angling history and his passing in early 1998 at the age of 75 closed a unique chapter in Irish shore angling history. It may be that his exploits will never be repeated, some say that the shark no longer visit the Clare coastline. What is certain is the mackerel return every May and as recently as the late 90's, an angler was playing a sizeable Pollack from the rocks at Ballyreen - and landed its head minus the body…
Peter Foster
Back