Shore Trip To Kerry (and a back-up plan!)
Trip to Kerry
With the shore-angling season (what season?) in the North slowing down dramatically, it was with high hopes that Big Phil, Andy Jones, Neil Thompson and myself met in Belfast, packed the jeeps with every piece of tackle we owned, and pointed our wagons south-wards.

The pre-arranged angling holiday had been planned months in advance by the lads. Due to other commitments, it was only at the very last minute that I knew I could join them on this adventure, and arriving two hours late that morning didn't go down too well! I guess they were all too eager to get on the road to Waterville and sample the angling delights that Kevin Brain's guided trips usually have to offer.
We would be staying with Kevin and his wife Christine in their fully equipped B&B for a full week, and hopefully see a few fish after our disappointing forays on the north coast. With the way things have been going for me recently, I was taking no chances, and packed the fresh-water gear, shore gear, boat gear and carp tackle. If it swam, I wanted to catch it!

The seven hour journey is tough enough, made easier by several tea-stops to break the monotony. On arrival at Kevin's B&B in Waterville, having revived old friendships and introduced new ones, we were too tired to set up rods and opted instead for a meal and a pint down at the "Lobster" Bar. Fed and watered and back at the B&B, slumber beckoned and I drifted into a deep sleep dreaming of double figure Bass bending my new Conoflex beach rod in two. Well maybe not, in reality after that long drive and a couple of pints, I closed my eyes and "flaked out", oblivious to my surroundings!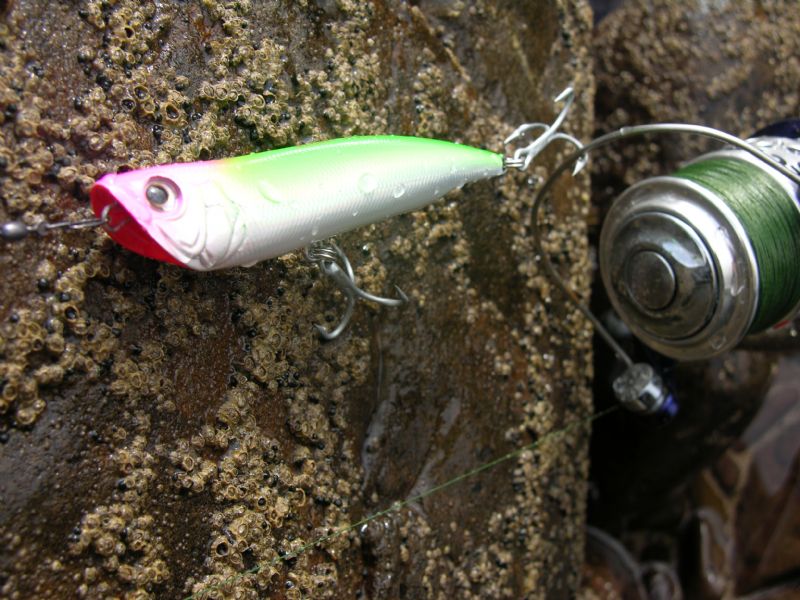 The following morning, and chatting with Kevin about the days that lay ahead, all was not well. His experience of this area gives him a kind of sixth sense, and he felt that the Bass may not want to come out and play. He had been down to the shore for a quick survey while we were still tucked up in bed, and the sea-state appeared to be caught in limbo. There was no decent surf to be seen anywhere, and the water was too coloured to use plugs or fly fish. Kevin was not happy and this was a bad sign. On previous occasions, I normally see him practically running to a beach mark, but not today.

After weighing up the odds, he decided that our best chance was a near-by sheltered cove that only a few days previous had produced twenty two Bass on surface lures for himself and a client in one short session. It looked great, and we "plugged" the life out of it without a touch! It is amazing how one week can make so much difference to a venue. The added colour seemed to put the fish totally off the feed. Big Phil and Andy tried fresh peeler crab, but apart from a solitary Ballan Wrasse, there was not a sniff of our target species. Back at home-base over lunch, we discussed the disappointment and decided to relax, tie some pulley rigs and hit a local beach mark for an evening session. Night time on a flooding tide with fresh peeler crab rarely fails!

As the Kerry sun settled behind the mountains, we were tackling up amidst beautiful surroundings, minus Andy I'm afraid; he fell asleep back at the digs and couldn't be wakened. The air temperature was mild and although there was no real surf to speak of, we were quietly confident. By 1am, our confidence was beginning to show cracks, with only one small schoolie taken by Neil, and one Dogfish for me. Normally there should have been several Bass apiece, and even the Flounder had failed to make an appearance!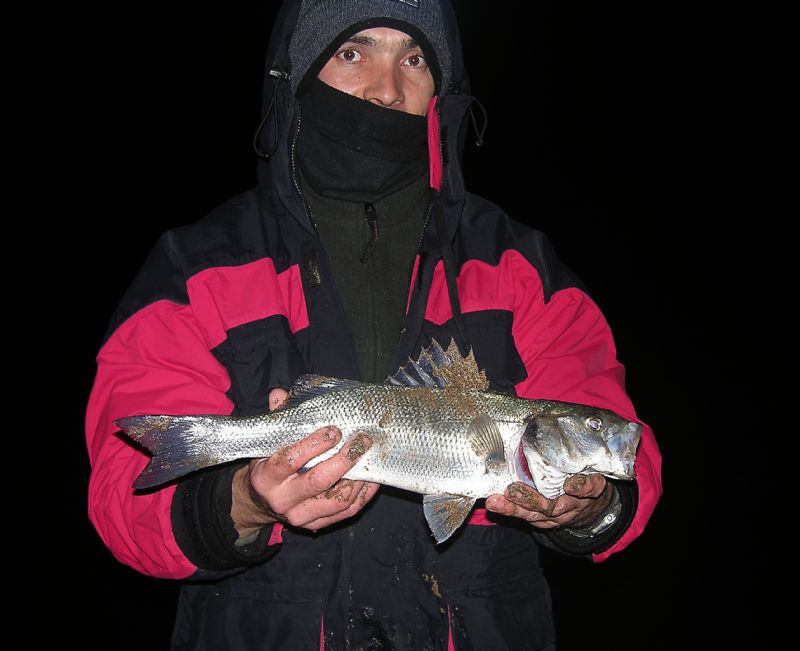 Meagre reward for an evenings shore angling!
Big Phil alleviated the tension in true Big Phil style by doing a "Billy Connolly" and ran down to the sea, jumping about stark naked in the surf! Readers will be relieved to know that I had put my camera away by this stage. It was a startling view in the beam of my headlamp but hilarious to say the least.

Day two followed a similar pattern, without the streaking I hasten to add. By day three, Kevin decided we needed a change of scene, and had organised a charter boat trip aboard "L'Oursin" owned and skippered by John O'Shea. Former owners were French, hence the name, which roughly translated into English means "sea urchin" I am told. John is an experienced skipper and earns his money taking tourists on day trips around the coastline and offshore islands. He is venturing into the angling charter world, and rightly so, there is a huge wealth of boat angling yet to be discovered in this area.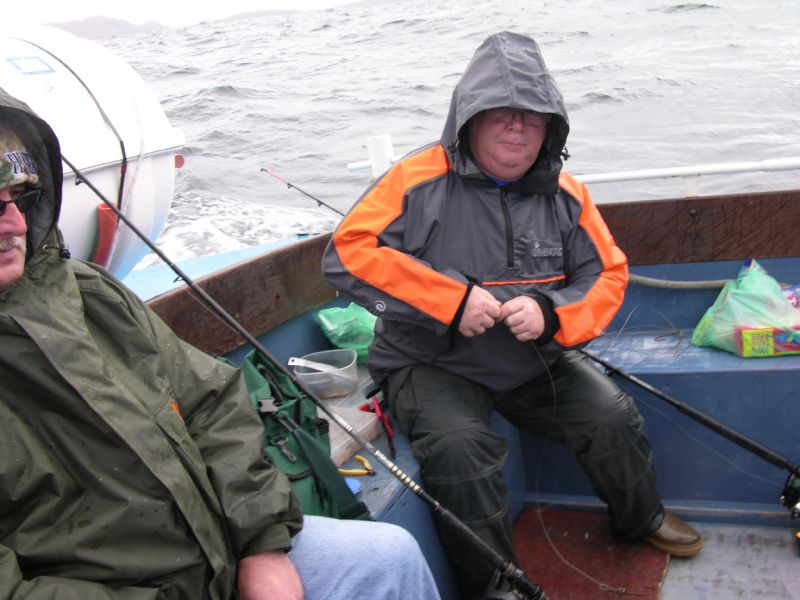 As the sea-state worsened, we had to cut the trip short!
We met at Bunavalla Pier and steamed out beyond the islands to a mark that recently produced blue shark to 100 lbs. The sea state was beyond my comfort zone but the boat and skipper handled the conditions well and we soon had balloons trailing in a chum slick. After a couple of hours, it became apparent that wind against tide gave us no movement at all, useless for sharking, and as the sea state worsened, along with my stomach, we made the decision to move inshore to calmer waters. Our luck was certainly holding, unfortunately it was all bad luck!

Poor weather prevented us from fishing the marks that John preferred, but we whiled away the time landing massive Whiting well over two pounds, along with shoals of Coalies, Pollack, Gurnard, Wrasse, Scad and Mackerel. John tried so hard to give us decent sport, and it would have been lovely to have a spectacular boat trip but it seems the weather and the gods were against us the entire week.
Large, whole peeler crab is certainly heavy enough to cast, free-lined, using a light carp rod
Day four and we needed fish! Kevin suggested we try "the hot-spot". We would wait until the tide is perfect, make sure our rigs are perfect, the bait is perfect, and then we hit it. The last time Kevin took me here I had six Bass in an hour, my best result ever. Surely this will give us the fish we were so desperately looking for. Down at the "hot spot", I opted for free-lined peeler crab tactics, and the rest of the lads fished beach caster style.
By the end of the three hour session, I had one stunning Ballan Wrasse, the only fish between us.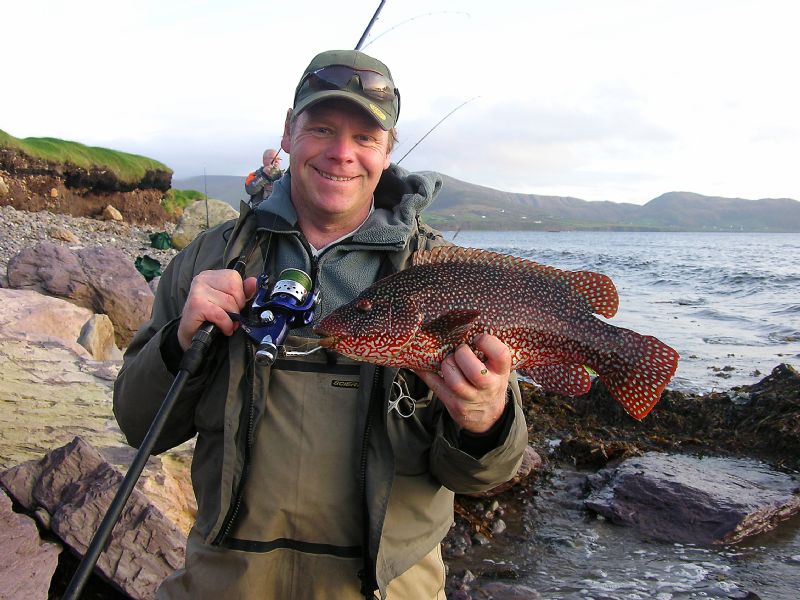 Beautifully marked Ballan taken in three feet of water on light carp gear
When the hot spot fails to fish, there is definitely something amiss. Don't get me wrong, a four-pound plus Wrasse in three feet of water, on a beach, with light carp tackle was amazing, but it should have produced so much more. In desperation, Kev contacted a marine researcher that he knew, looking for reasoning behind such poor angling results. He received some interesting yet disturbing news. The five days prior to our arrival had seen the water temperatures fall in this area by three degrees, a massive drop in such a short time. This may go some way to explain our lack of success. These unusually high fluctuations in water temperature could also explain why sea angling has generally been so erratic throughout the year.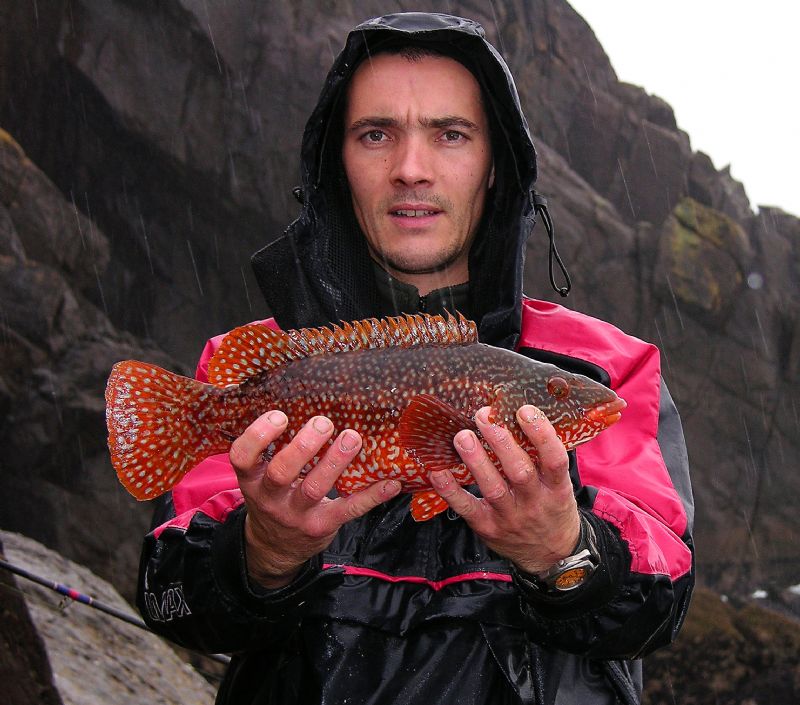 Neil finds the first Ballan on this new mark
Whatever the reasons, this was enough for me, and Neil and I embarked on the ninety mile journey to the Dingle Peninsula in search of Wrasse. These seemed to be the only species un-affected by the conditions and may give us a chance to land a few fish in typical Kerry fashion.
We tried a mark on the road to Slea Head that my good buddy Ross Macklin from Cork had let me into. It was a daunting climb down to the waters edge, but hopefully, a worth-while hike. The Wrasse queued to be caught, landing over sixty fish to three and a half pounds, on razor fish, ragworm and hard back crabs. At last Neil had a tiny glimpse of Kerry angling, and hopefully our luck was changing at this late stage of the game.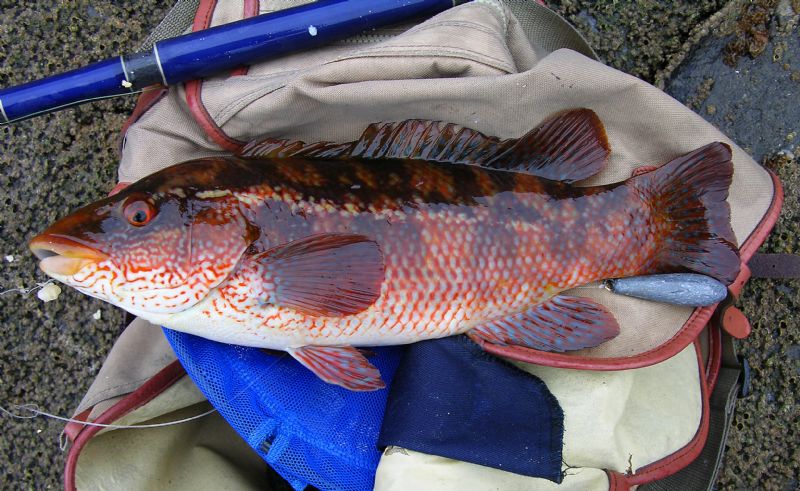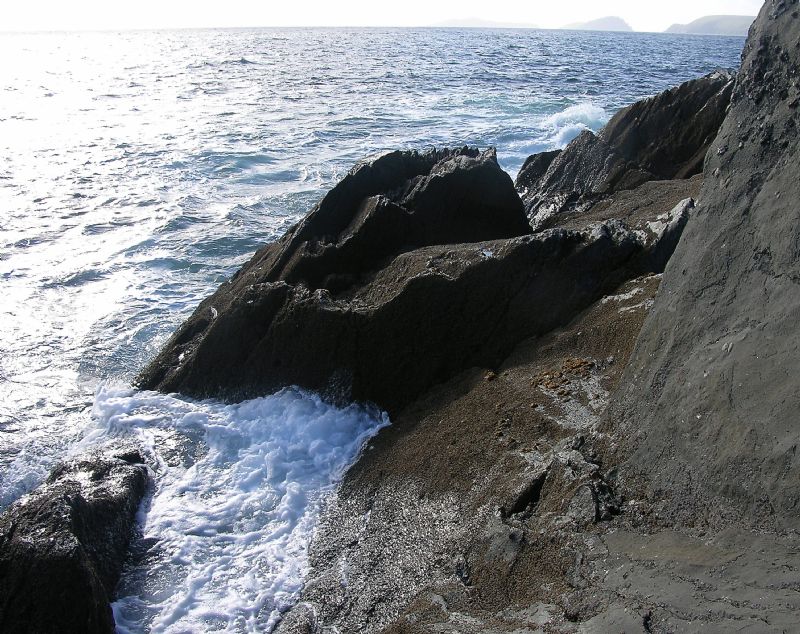 By day five my confidence was growing and we opted to fish a local, isolated harbour. Kevin has had many fine Bass to double figures from this mark over the last couple of years, but I had done enough Bass hunting for one week and asked if there was anything else we could target. Triggerfish were an option, and if we fed enough "chum", there was a reasonable chance of Mullet, Mackerel and Garfish on light tackle.
This was all I needed to hear, and with a bucket of mashed up Mackerel, old Sand eels and anything else we could find, Kev and I left the lads Bass fishing and ventured around the headland to a rocky outcrop known to produce Triggers from time to time. The slick was amazing, drifting several hundred yards along the coastline. In this area, I half expected to see a shark fin cutting through the slick towards us!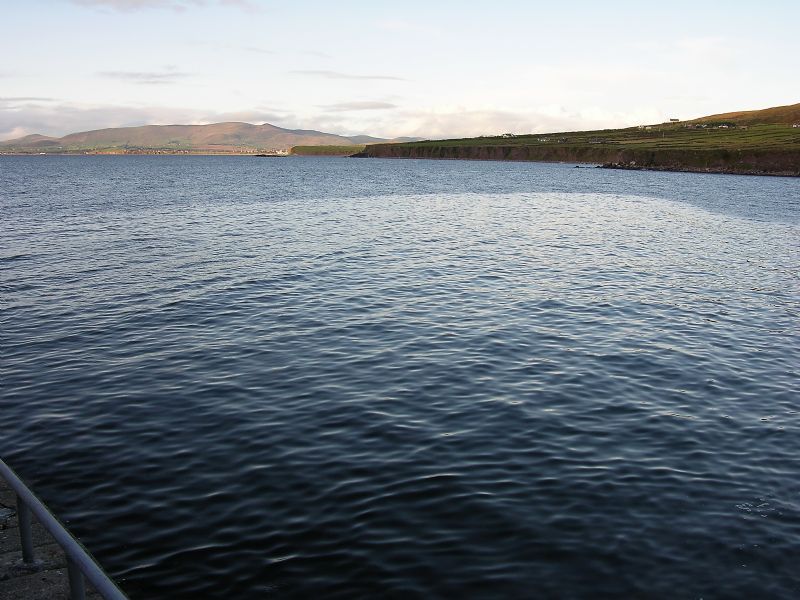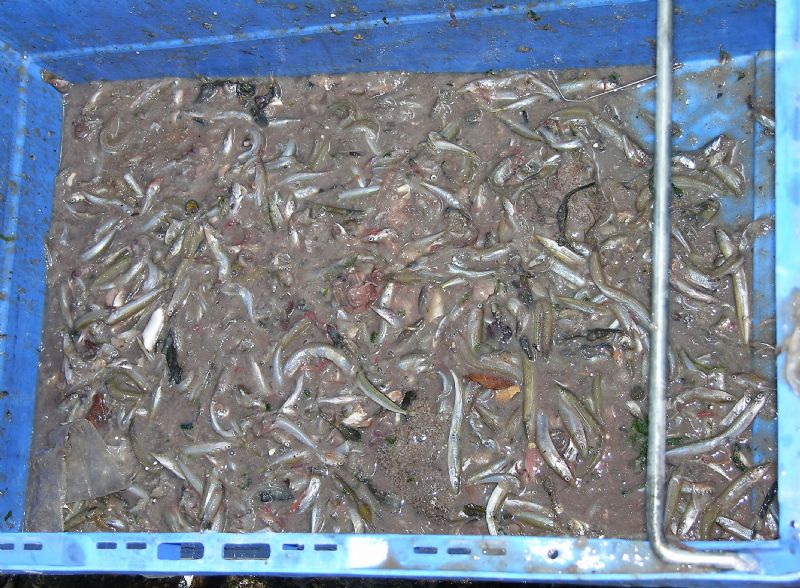 Once these sandeels were mashed up and scattered, the oil slick was amazing
The Triggers failed to show, but after witnessing fish breaking the surface, we "shallowed up" and immediately hit hard fighting Garfish. They danced and leapt across the surface like mini marlins. This was fabulous fun on light tackle, and tested my 13 ft match rod and four pound line to its limits! Between Garfish, Mackerel and Ballan Wrasse, along with smashed hook lengths when larger Pollack made an appearance, Kev and I caught until the light faded to the point where we were unable to see the floats. This was an extremely memorable end to frustrating and un-typically difficult week in Kerry.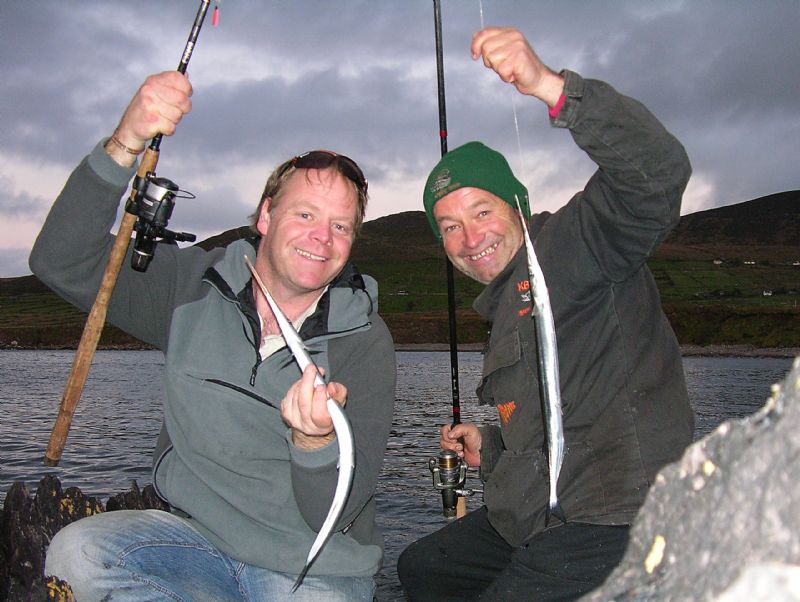 Garfish are fantastic fun on light gear, on this occasion, fresh-water match rods
The lads stayed another day to relax before the run home, but I had one more challenge to attempt before my trip was over. I hadnt caught enough to satisfy my angling appetite! Saying my good-byes to Kevin and Christine, and the lads, I loaded the jeep and took the shortest route possible from Waterville to "The Lough" in Cork city. After all, I had my full compliment of Carp gear with me and hadn't had a chance to use it yet!
A quick call to my mate Ross, and he and Sydney Kennedy met me lakeside for advice. These guys know this water inside out, and a wise angler listens to local, current knowledge. They picked a suitable hot spot and supplied me with enough boilies and pellets for an over-night session. Sydney's home-made boilies are second to none, and whatever Ross' killer additive is on the maize is superb, and a well kept secret! The end rigs were left to me, and so, to hedge my bets, I opted for the method feeder with one rod, and longer hook-lengths and light leads on the other two.
This worked extremely well, resulting in one Common Carp of ten pounds, and three stunning Mirrors between thirteen and sixteen pounds. Thanks guys, I could not have managed it without your valuable advice.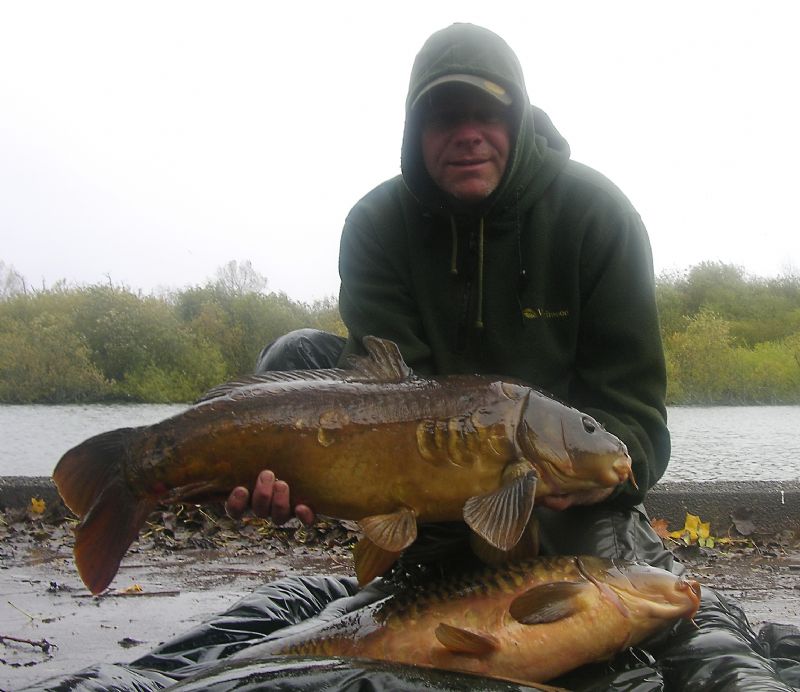 Miserable weather, brightened by three specimen Carp
To sum up, this was a disappointing trip but it still had small quantities of decent fishing to keep us interested, despite conditions being well off the boil! There is nothing you can do to stop Mother Nature going about her business, but with enough back-up tackle and a contingency plan, there are still ways of finding success when original plans go awry. I would just like to stress that this was totally un-typical of my experiences over the years in this part of Ireland. Even sea-angling paradises, it seems, can have an off-peak period.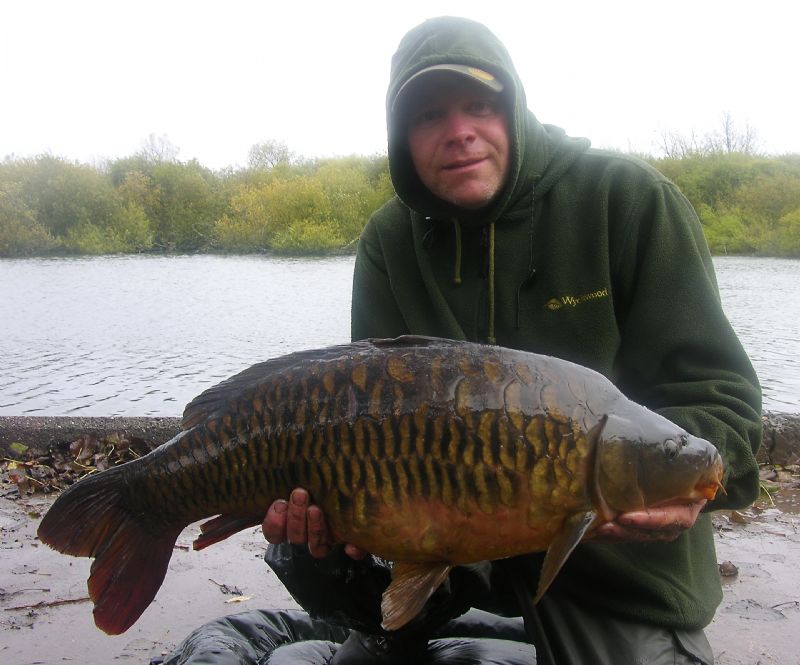 Reccomended Tackle To Think About
Beach Rods....Shakespeare Agility MX Surf Rod - Blue, 4-8 oz, 12.9 Feet
Or....Penn Rampage Surf Beach Rod-4-6oz - Black, 13 Ft
Beach Reels....Penn Surfblaster 8000 Spinning Reel-30lb/330yds - Silver
Match Rod (Gars)....Shakespeare Agility Power Match Rod - Black, 13 Ft
or....Shakespeare Agility Barbel Rod - Black, 12 Ft
Reel....Penn Battle II 1000
Carp Rods....JRC Extreme 2.75lb Rod - Black, 12 Ft
Carp Reels....Penn Affinity LC Limited Edition 7000
Extra information
For B&B, guided angling, year-round bait supply or a tackle shop, call Kevin and Christine on Waterville 00353669474942
Mob 00353(0)876766986
Shop Waterville 9474433
Email. info@kbfishingireland.com
Website www.kbfishingireland.com
To charter John O'Shea's boat, call him on Mob. 0876898431
33 ft Ocean Tramp, built in Wexford
Based in Derrynane, Waterville
Bunavalla, Caherdaniel, Co. Kerry
Email. johnoshea33@hotmail.com
Compared to the rest of Ireland, this area is definitely un-explored.
Back