Species hunt part 12 Blue Shark
Blue shark
Fact file
Name Blue Shark
Latin name Prionace glauca
Irish record 206 lbs
Specimen weight 100 lbs
The Trip
As a fitting end to this year's series, I decided on a Donegal Blue Shark adventure. This would give me the opportunity not only to target one of our most stunning, visiting predators, but also to get friend and game angler, Mark Patterson out for some real angling! Mark is an excellent game angler, but served his angling apprenticeship some time last century, aboard charter boats in Belfast Lough.
These were the by-gone days of large Cod and Haddock, along with Spur dog and specimen sized Thornback Rays, species that are now, through commercial over-fishing, only distant memories. Factory ships were just too efficient! As a result, Mark put away the sea gear and honed his angling skills on wild Irish trout waters instead. As most sea anglers know, game anglers are "big girl's blouses" and I could not wait to see my old mate out on the open sea again, especially with an angry Blue on the other end of the rod.
The weekend was planned and Mark and I towed my Fast-Fisher north on Saturday morning, meeting George Hill and Andy Galloway at the harbour of Downings. Heading out into open water, the sea was oily calm, but had a huge swell running. With light southerly winds, this was unusual and some locals I spoke to put the conditions down to the tail end of America's recent hurricanes. Whatever the reason, the sea state was safe, although I wasn't sure if my boat partner would get his sea legs quick enough to keep the breakfast down!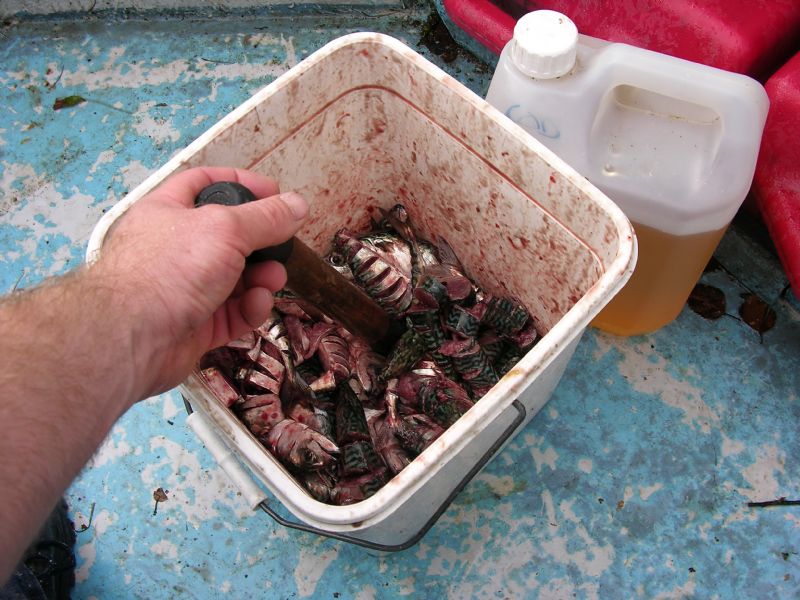 Chopped and mashed Mackerel plus bran and cod oil to create an attractive scent trail
Mackerel are so important to a successful day sharking, and to be honest, there were plenty around the boat. In no time at all we had two cooler boxes over-flowing, more than enough to keep the chum bags working, with a constant supply of fresh ones for hook bait as and when we needed them. In fact, once the onion sacks filled with mashed Mackerel, bran and oil were in place at water level, and tied to the gunnels, shoals of Mackerel could be seen below the boat feeding off the particles, amazing stuff. With a superb oily slick meandering behind the boat, each of the three shark rods were set up in turn, and the Mackerel-baited hooks followed the same pattern, suspended at various depths below coloured balloons in the oily slick.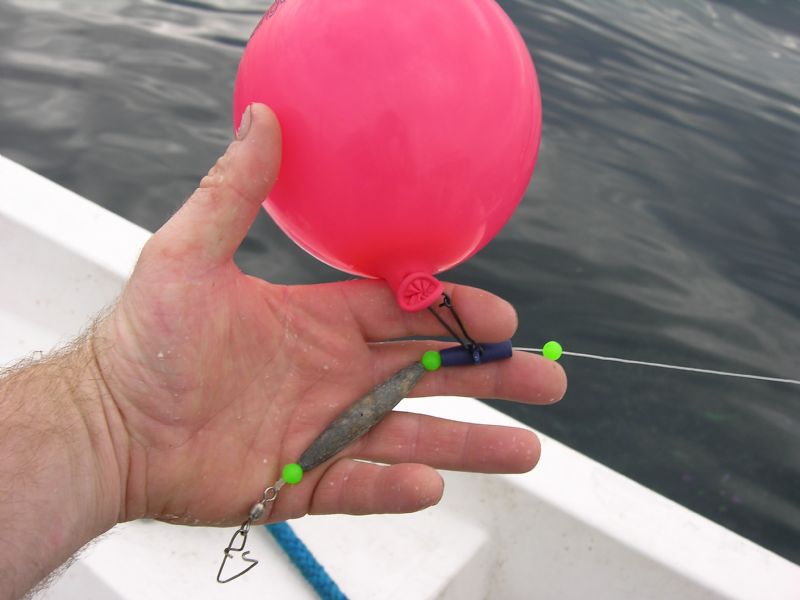 This is my float set-up, just add a wire trace and set a sliding knot for depth control
The game plan was for Mark to lift any rod that may take a run, as I really wanted him to experience the sheer power these beasts have to offer. I'm not the world's most experienced shark hunter, but I have done it enough times now that I can enjoy a back seat and watch someone else struggle! Besides, with only the pair of us aboard, it would allow me the opportunity to snap a few action shots if we managed to tempt a fish. Rods in rests, free spools engaged and ratchets flicked on, there are now two options. Fish the bottom with lighter rods for smaller species, or relax in the sunshine and wait for an adrenaline pumping "run" to occur. We chose the latter, and Mark took the chance to dig out some of the gear he used over twenty years ago. The old brand names were a walk down memory lane, including a box of original Eddystone Eels that were in pristine condition, and probably worth more as antiques!
A couple of hours into the drift and a ratchet screamed with a reply of "what do I do?" from Mark. A shark had lifted the further-most bait, and the balloon indicated that the fish was heading well away from the other two baits. This was good, as it meant I could leave the remaining rods in position without fear of tangling. Under instruction, he carefully took the rod from its rest, tightened the lever drag and lifted with controlled pressure to set the hook. Winding down to take up slack line and lifting again set the shark off on a blistering run.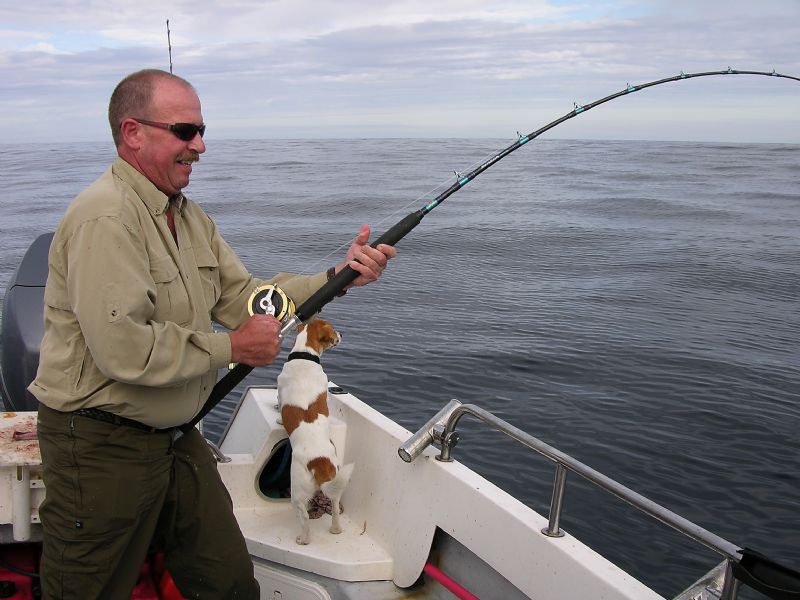 Mark getting to grips with the power of a large shark, only to lose it soon after
It was hilarious to hear the grunts and groans from Mark as he was obviously shocked at the power these fish can exert. After ten minutes, we reached stalemate, with the shark about thirty feet down. This was obviously a large fish. It rolled on the line and bit through the 250lb rubbing trace in a micro second. Mark was devastated, and I missed my photo opportunity. However, there is no point crying over spilt milk, but simply reel in, attach another pre-made trace and try again.
My boat partner had to take a seat, hands literally shaking from the encounter, while I baited the hook and dropped the double flapper down through the depths. This is when I experienced something I had never seen before. Another Blue cruised up from below the rod tip and tried to bite the balloon! I yelled in excitement more than anything and Mark and I watched it turn and follow the Mackerel down where it promptly took the hook bait. Lifting into the shark, I shoved the rod into Marks hands and told him to make sure he got this one in while I ran for the camera.
As luck would have it, another rod lurched in the rest as line ripped from the reel! In the interest of trying to get shots for the article, I had to ignore this rod and concentrate on Marks battle. The shark dropped the second bait and did not return, whilst Mark continued grunting, groaning and swearing at me for putting him through this a second time. Told you game anglers were "big girl's blouses".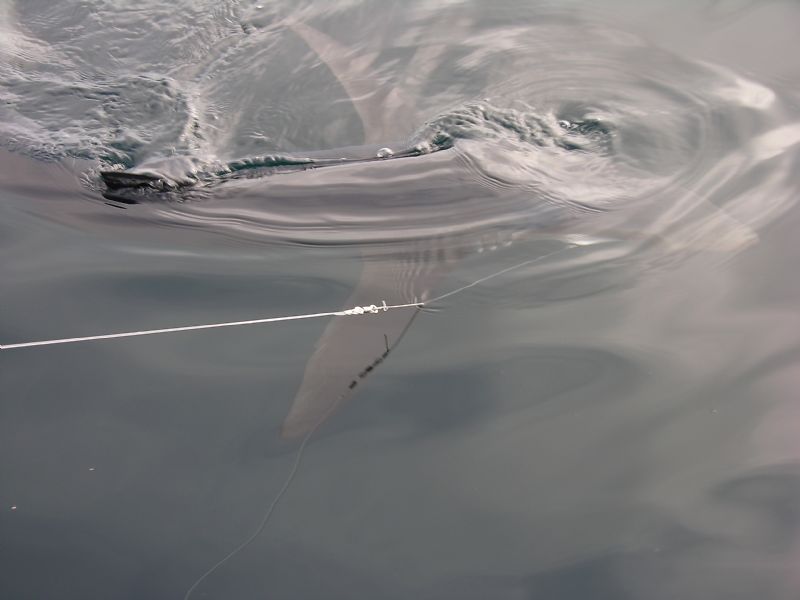 Our first glimpse as the shark came alongside
After five minutes or so, the shark came alongside. "There you go Terry, lift it in". "Aye right! I don't think so" came my reply, "neither you nor the fish are tired enough yet", and with that, the fish shot off ripping another thirty yards of line against a tightened clutch. Several minutes later, she was alongside again, and this time looked ready for lifting. With the tail wrist gripped firmly, and the belly cradled for support, (the sharks belly, not mine) she was aboard and for a moment, all was serene. Mark sat back, dazed and exhausted! I had to quickly begin the well-rehearsed routine of measuring and tagging the fish, followed by weighing in the purpose built sling. At eighty pounds, this was a nice first fish, and Mark nearly wet himself when I sat her on his lap for a quick photograph before slipping her back over the side. As it transpired, this was our only fish landed, with one previously lost and another that had to be ignored, but with plenty of photographs, all was well. As this was an over-night stay, we headed for harbour to set up the bivvies and fire up the barbeque. Meeting George and Andy back at the harbour, they also had three runs and happily managed to land all three sharks.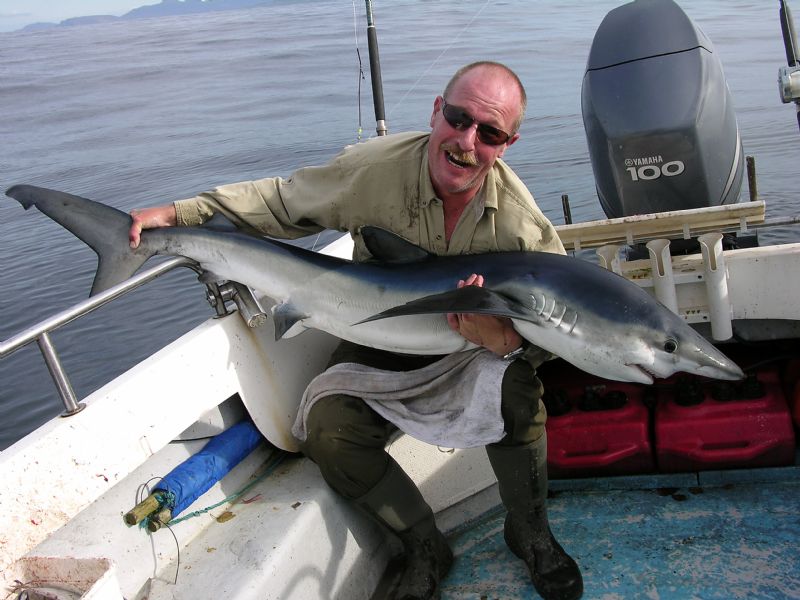 Not a huge fish at eighty pounds, but most welcome all the same

DAY TWO
As pre-arranged, Dave Craig turned up early Sunday morning for tea and sausage and bacon baps and we set off again, hopefully for a repeat performance of the previous day. Unfortunately the sunshine and blue skies were replaced by drizzle and stronger winds, but it was worth another look further out. The swell was just as bad, but the sea had "roughened up" quite a bit. On the positive side, the Mackerel were still about in dense shoals and our cooler boxes were soon replenished. There was no messing about today, as forecasts gave the weather to deteriorate, which meant there was a good chance our day may be cut short. With the chum bags attached over the gunnels, the new drift began, along with the process of feeding out the baited balloon rigs.
At almost the same time as on Saturday, we took our first run, and Mark was happy for me to have a play this time. Before he could take a photograph, his balloon buried too, with the reels ratchet screaming in unison with mine. The job of chief photographer was now in Dave's hands, as both Mark and I struggled to keep the sharks away from each others lines. Two fish at the same time, now that had to be a great photo opportunity. Neither were huge by shark standards, both coming in at forty pounds, but easily handled at this size.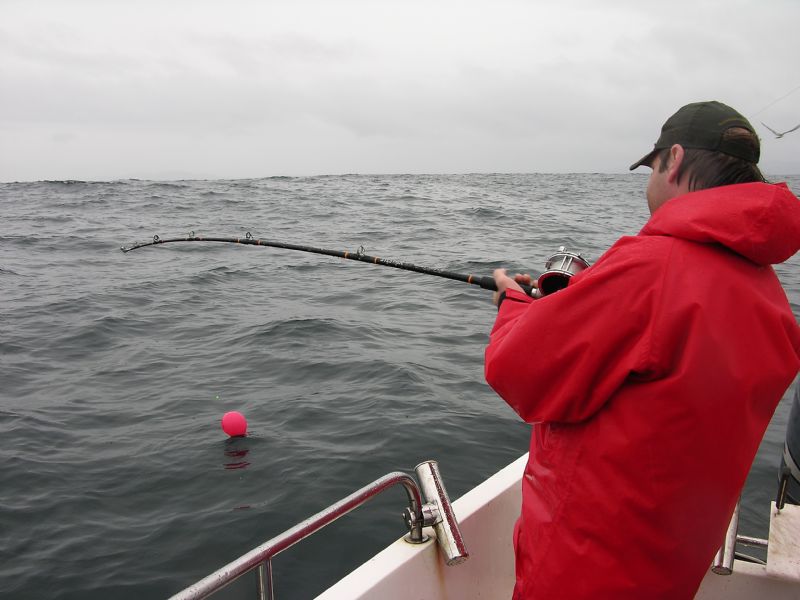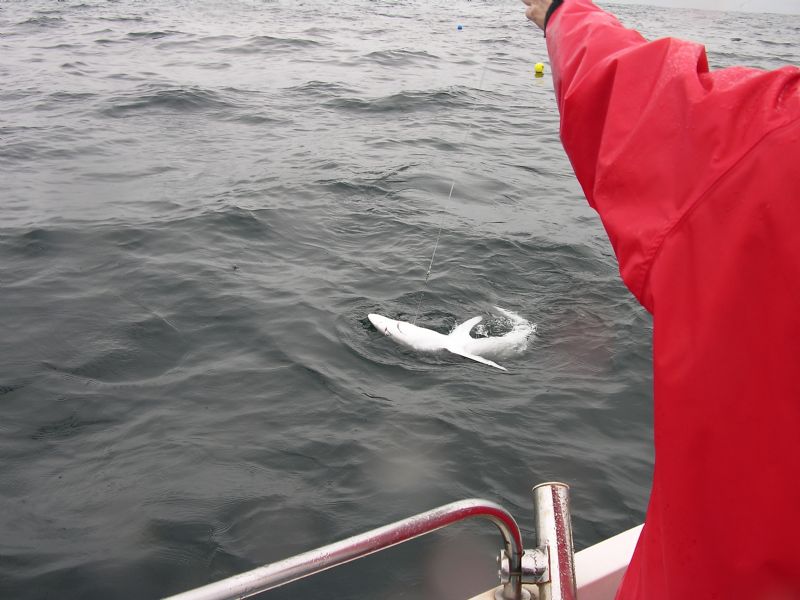 After details were taken and tags fitted, both fish were quickly and safely released. During the action, Dave's rod took a dropped run, but unfortunately did not develop further. The sea state worsened dramatically, and it was time to think about moving in to safer waters. Just before we left, I lifted into another, more powerful fish. After a ten minute struggle, the shark simply let go of the bait, or the hook hold failed. This is always frustrating, but simply part and parcel of shark fishing. Just to see one of these fabulous creatures in a day makes the adventure worthwhile. We spent the last part of the day drifting an isolated bay in sheltered water, and had great fun targeting small Thornback Rays on light tackle. I don't know if I managed to draw Mark away from casting fur, fluff and feathers at wary Trout, but I do know that he had a weekend's memory that will stick with him the rest of his life!
Bait
What can I say, that hasn't already been said when it comes to Blue Sharks? The one and only bait to be considered is Mackerel. Yes, they have been known to take other fresh baits, lures and even a fly on occasion, but for your maximum shot at landing a Blue in Ireland, rig up with a large, FRESH Mackerel.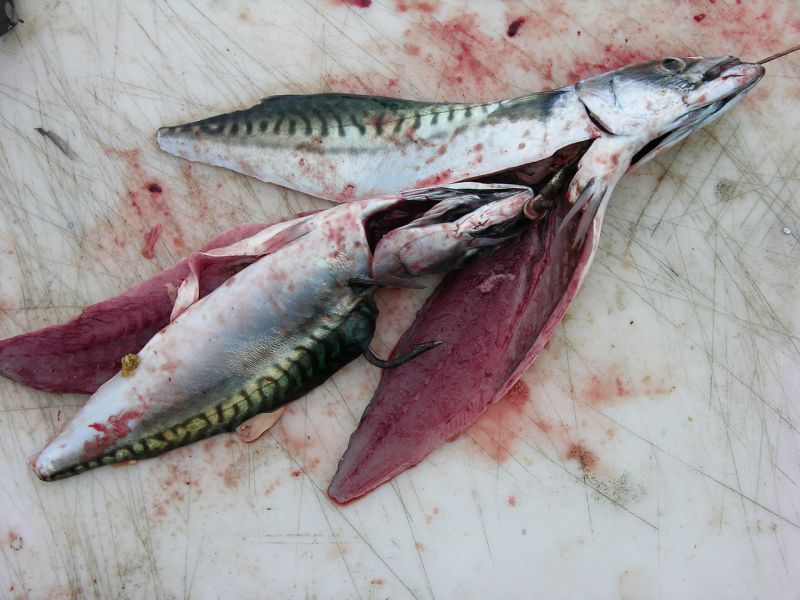 A double-flapper for optimum scent trail and visual attraction
Tackle
Rod and reel set-up need not be excessive, and 30 lbs class gear with a 4/0 sized reel is, in my opinion, perfectly balanced tackle. Make sure it is quality tackle in full working order, with a decent drag system. Some anglers opt for braid as main line when sharking, but personally I prefer the cushioning effect of 50 lbs nylon. Certainly, there is no need for the braids tide-cutting properties in this case as depth in fast tides is not a factor. Anglers will also have preferred methods of suspending a bait under a float. I have seen toilet cistern floats used, shaped polystyrene or lemonade bottles, which can be handy if sea gulls keep bursting balloons!
Zip slider....Red Zip Sliders/booms for Boat/Sea Fishing x20 Per Pack
Recommended rod....REGIMENT 7ft 9in 30lbs Boat Rod
Recommended reel....Reel Penn Squall SQ / LW : SQ-50-LW 697gr 4.0:1 320-50
Also, bits of tubing and matchsticks for stop knots. I find this too complicated and just use a zip slider, some beads and a simple sliding stop knot. The balloon can be quickly tied to the link swivel on the zip slider for a neat and tidy system, as shown in photograph. The trace should be made with ten feet of 250-300lb rubbing trace, with at least three feet of 300lb wire biting trace. Having lost several fish when they rolled on the line and bit through the mono, I am considering using four or five feet of biting wire and a longer rubbing trace in future. Hooks must ALWAYS be bronze. Standard shark pattern is a 10/0 bronze O'Shaugnessy, which must be crimped to the wire trace. For extra security, feed the wire twice through the eye of the hook and then crimp to avoid potential slippage.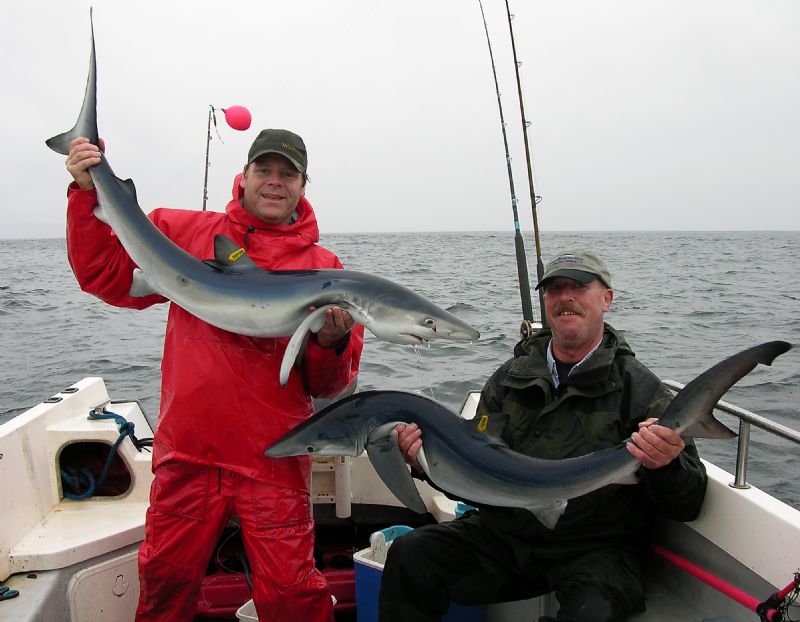 Double-shots should only be taken if your un-hooking routine is well rehearsed
Tactics / tips
As mentioned, Mackerel should be fresh, not only as hook bait but also for the chum scent trail. I usually bring freshly frozen chum with me as a back up, but always add fresh stuff too it on the day. Whole Mackerel are standard bait, but I prefer a Mackerel flapper, or sometimes two flappers for maximum scent trail.
When starting a drift, look for an area with a constant depth of at least 200 feet. I know sharks will come into shallower waters, but generally, this is a good depth to start with. Standard practice is too fish bait depths ranging from 20-70 feet, with the nearest rod set shallow, and the next slightly deeper and so on. This will, in theory, cover the wedge shaped feeding zone as particles from the scent trail descend through the water. Make sure your routine is well rehearsed when a shark is hooked. Other rods may need to be manoeuvred or reeled in to avoid tangles.
The ideal scenario is to un-hook a shark at the side of the boat. If it needs to come aboard for weighing or a photo opportunity, make ample deck space before hand and have un-hooking tools to hand such as pliers and side cutters etc to chop large hooks or cut wire should it be necessary. Do not poke about to remove a deep hook, as this will stress or kill a shark. If needs be, simply cut the hook or wire as near to the source as possible. The bronze hook will eventually rust in salt water. Always support a shark's belly. This occurs naturally in the water, but out of water vital internal organs can be put under stress causing long term damage.
Once aboard, I straddle the shark just ahead of the dorsal and wedge it without putting weight on the fish. It helps if a friend holds the tail preventing it from thrashing. The nose of the shark can then be safely lifted for quick un-hooking. NEVER put your hands near the shark's teeth. Sounds obvious I know, but they are scalpel sharp and will slice flesh in a heartbeat.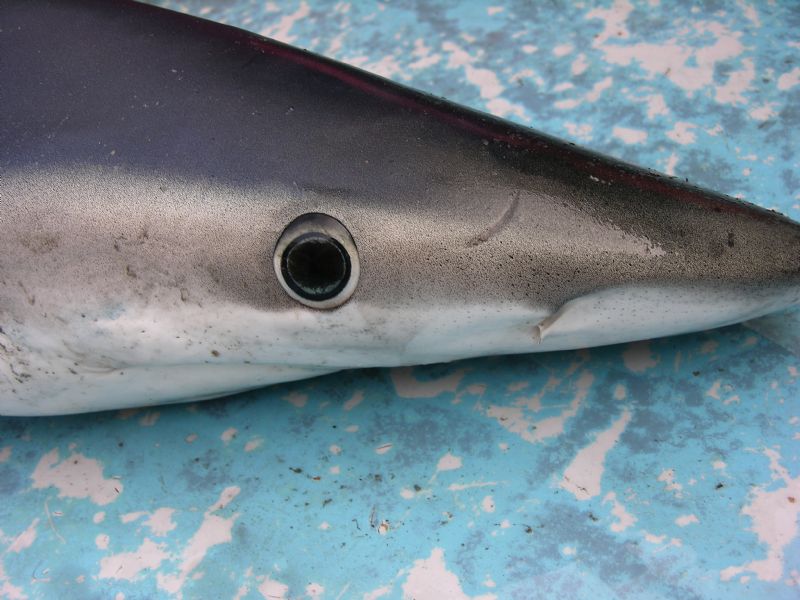 Interesting facts
Easily recognised by the stunning, electric blue-cobalt colouration and large scythe-like pectoral fins, the Blue Shark is one of our most awesome visiting predators. Unlike the "stocky" Porbeagle, the Blue is a long, slender shark reaching lengths of approximately 13 feet. Worldwide, it is one of the most prolific shark species in its range. Feeding mostly on pelagic species, for Irish waters this will be mainly Mackerel, Herring and Scad.
Blue sharks are a viviparous species, nourishing the young in the uterus, and giving birth to live, tiny adult replicas. Litters range from 25-50 and the pups average 16-20 inches in length. Females reach sexual maturity at 7-11 feet in length while males are smaller at 6-9 feet. Fertilised eggs have a gestation period of 9-12 months. In temperate waters such as ours, Blues will be found near the surface, whereas in tropical waters, they will be found in deeper, cooler depths. In Ireland, Blues are found from June to October, from Malin Head in Donegal, down the West and South coast, sometimes as far round as Wexford. By 1998, 15,037 Blue sharks have been tagged by and for the Central Fisheries Board, with 490 re-captures.
A handy tip to "guestimate" a shark's weight is to use a simple formula which works out quite accurate in general. Multiply the shark's girth by itself, then multiply that by the length and divide by 800. For example, a shark with a girth of 32 inches and a length of 82 inches can be worked out thus;
Example: Girth = 32", and Length = 82"
32x32x82 = 83968 divided by 800= 104.96 lbs



Back