Species hunt part 3 Roach
Roach
Fact file
Name Roach (fish ID info click here)
Latin name Rutilus rutilus
Irish record 1.425 kilos caught on 6.10.2002 at Drumacritten Lake by T.Jackson
Specimen weight 2 lbs or 0.907 kilos
The trip
When it comes to Roach fishing in Ireland, anglers are quite literally spoilt for choice. Roach are present in almost every wild, natural system; such is the versatility of this fresh water species. The biggest problem is actually differentiating between Roach and their hybrids.
For this article, I decided to try a small, rarely fished water that previously produced a good stamp of fish for me, in the hope of finding one or two larger specimens. The attraction of this lake was that it responds well to waggler fishing, a method that I enjoy so much over standard ledger tactics.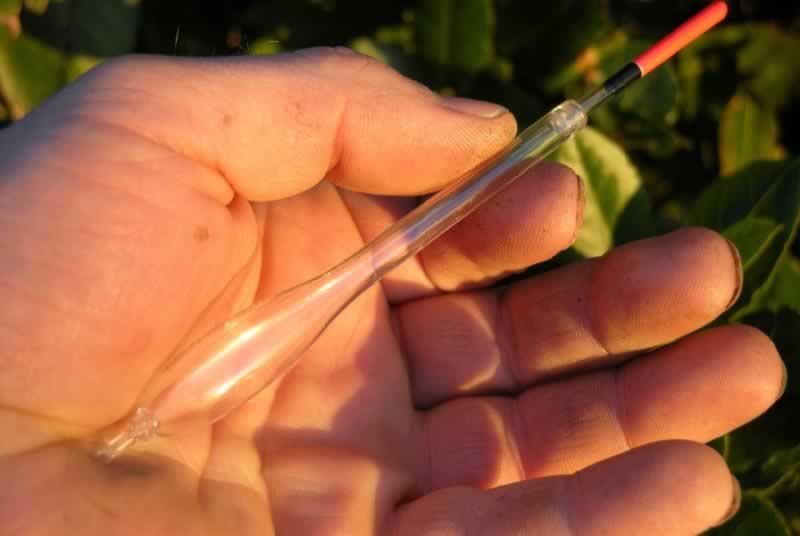 Drennan Puddle Chucker Coarse Fishing Floats
I would have preferred to pre-bait the water, but did not have the luxury of time in this case, so nothing else for it but to turn up and see how it goes. With the depth plumbed at a comfortable eight feet, and a sprinkle of maggots catapulted into the swim every few minutes, it did not take long for the float to nudge once or twice before slipping below the surface. A firm but controlled strike soon had an eight ounce Roach swinging through the air, un-hooked and quickly slipped into the keep net.
An over-head speed cast, a habit left over from my match angling days, sent the float well beyond the feed zone, allowing the line to be buried with a quick retrieve back into the area. This prevents surface drag on the main line and also helps to keep the swim undisturbed, whilst picking off Roach from the edge of the shoal. By "nursing" the swim in this way, and keeping the main shoal occupied with a dozen or so maggots catapulted over the float every cast, it is possible to build up quite a reasonable weight of fish. After several hours of extremely enjoyable float fishing, the shoal disappeared. This could have been a case of fish simply switching off the feed, or possibly a predatory Pike may have entered the scene as so often happens, scattering the shoal. More than likely it was my ineptitude at keeping the fish feeding! Either way, I didn't mind. On inspection, there was a respectable forty pounds plus of Roach in the net, that were promptly and safely returned to the water after a quick photograph.
It didn't look like any huge fish were going to show today in this small lough.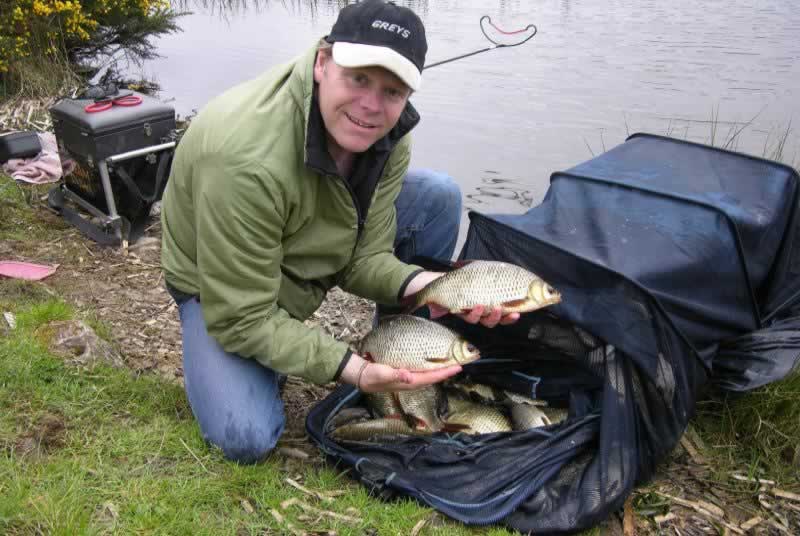 These were quite possibly hybrids, it is extremely difficult to find pure Roach in Ireland
There was just enough time to try a quick move to another water a few miles further on. The second venue was one I had fished many times before, one which had the reputation of turning up less numbers of fish, but generally much larger specimens. With only an hour before nightfall, the decision was made to travel light, and, as I would probably have to cut my way through over grown reeds, the chest waders would be a necessity in this case.
Once a small clearing had been quickly and carefully trampled, and bank sticks in place to protect and support the rod and reel, a few maggots were catapulted a couple of rod lengths out. Plumbing the depth meant a slight adjustment of the float and I was back in business, with an air of urgency as the light was fading rapidly. Tiny Roach showed, eagerly snapping up the maggot-baited hook so I chanced a change to a whole worm to see if this would sort out something larger. There are big Perch here too, and a bonus predator would be well appreciated. This did the trick all right, with a fabulous Roach of over a pound sliding over the lip of the landing net. A worm-maggot cocktail next and I lifted into a very large fish that stayed deep and headed for every piece of decaying weed it could find.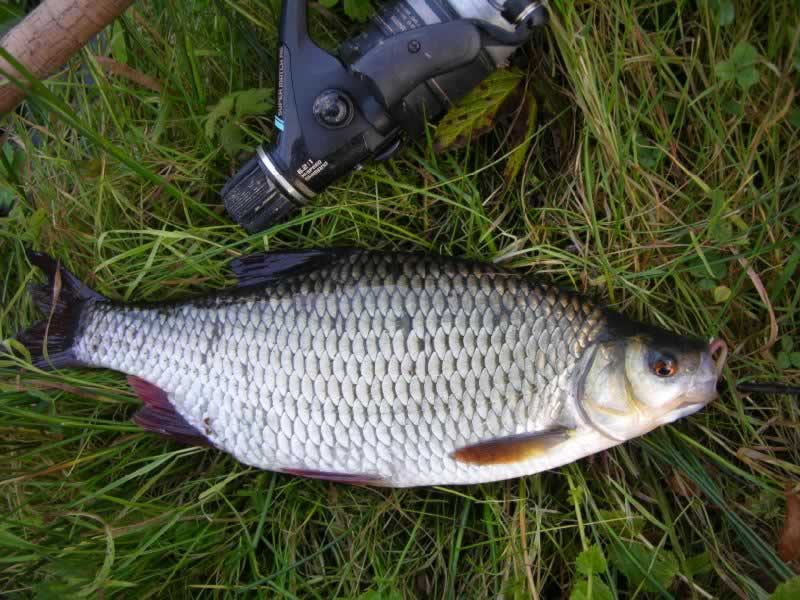 Well below specimen weight, but at over a pound, still a respectable fish
With the clutch slackened off, and my heart in my mouth, I carefully guided the fish around and away from potential disasters, and finally over the edge of the landing net. These larger, dogged-fighting Roach really know how to scrap! Quickly to the weighing scales, she registered bang on 2 lbs and 14 oz, just three ounces under the current record. I remember thinking "why couldn't I have done that for the specimen hunt series last year?" Photographed and released, I was satisfied enough to pack up. By now, the sun had gone completely. I could have switched floats and used a night-light as this has worked before, but to be honest, I was freezing cold and a newly discovered hole in my chest waders wasn't helping matters!
Cold and soaking wet, but well pleased as I marched the long trek back to my jeep. This is how angling affects people. To outsiders we are probably lunatics, standing up to your armpits in water, and smiling happily, but when angling is in your blood, there is simply no choice in the matter, and as far as I'm concerned, long may it stay.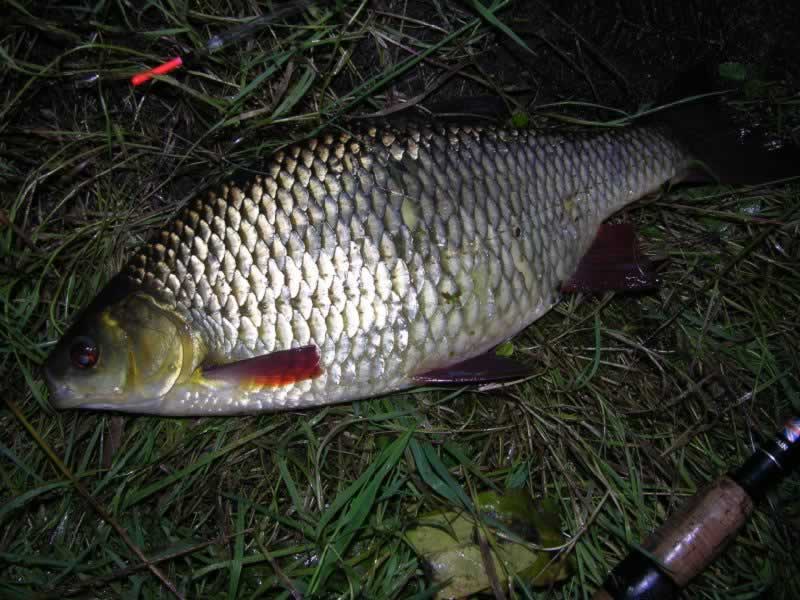 The reward for pesistance, a fine specimen Roach
Bait
Roach have such a varied diet that they will readily accept a huge variety of bait presented by the angler. Maggots are the first choice, especially red or bronze-dyed versions. Hard fished waters respond to bloodworm, but in my opinion, this is really only for the match man. Pleasure angling should be un-complicated. Casters are excellent, both in the feed and as hook bait and can sort out the bigger fish at times. Larger specimen fish may be targeted with bulkier bait such as sweet corn, bread flake, worms or bunches of maggots and caster. This will fend off the smaller mouthed juveniles, giving time for the bigger bruisers to pick up the bait.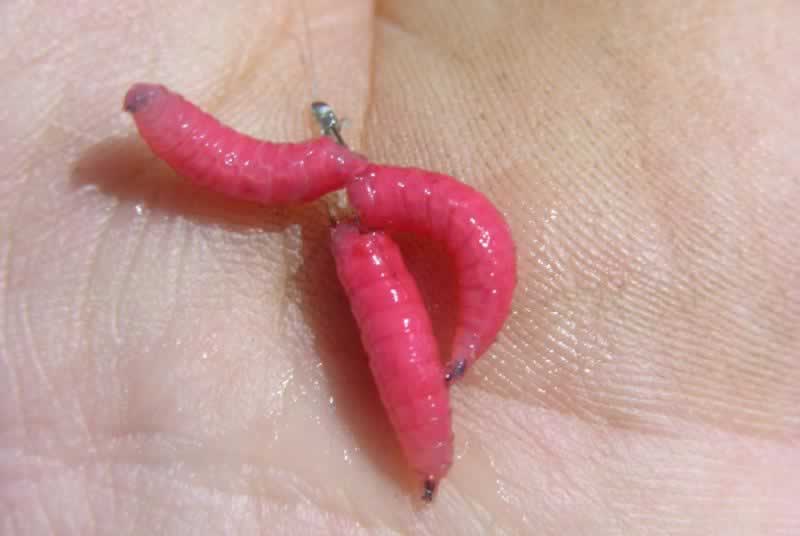 Standard Roach bait, three maggots well-presented on a size fourteen hook!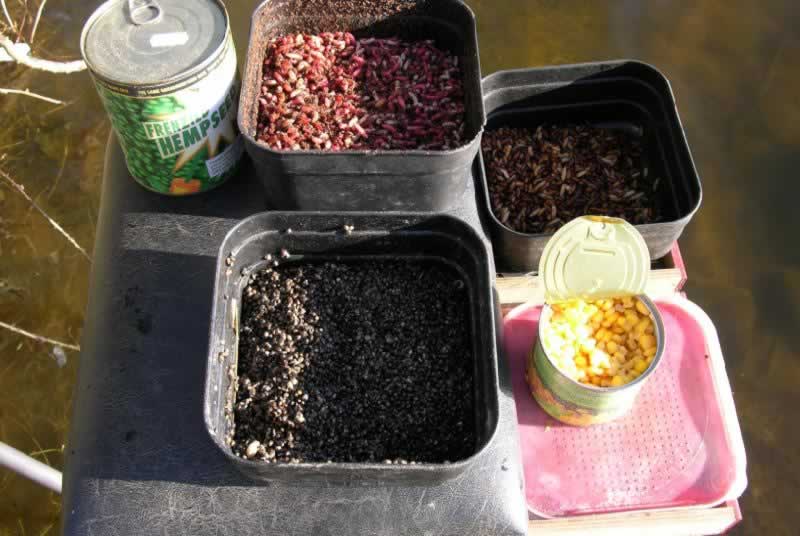 Enough bait for a short session

Roach, as a shoaling fish, respond well to the "little but often" routine of loose feed or ground bait, using boiled hemp, caster, maggots or all of the above introduced every so often by catapult or in a small ball of bread crumb.
Despite this, do not let anyone tell you that a heavy pre-baiting regime, through the warmer months, will not work on waters that contain large shoals of Roach. I have done this so many times now that I have literally lost count of the fabulous bag up sessions after several days of bait bombardment! Likewise, heavy feeding can temporarily wreck a potentially good swim. Experience gained by several trips to a venue will sort out the correct approach, but if there are numbers of fish present, steady temperatures and you can stay for a few days, put the feed in!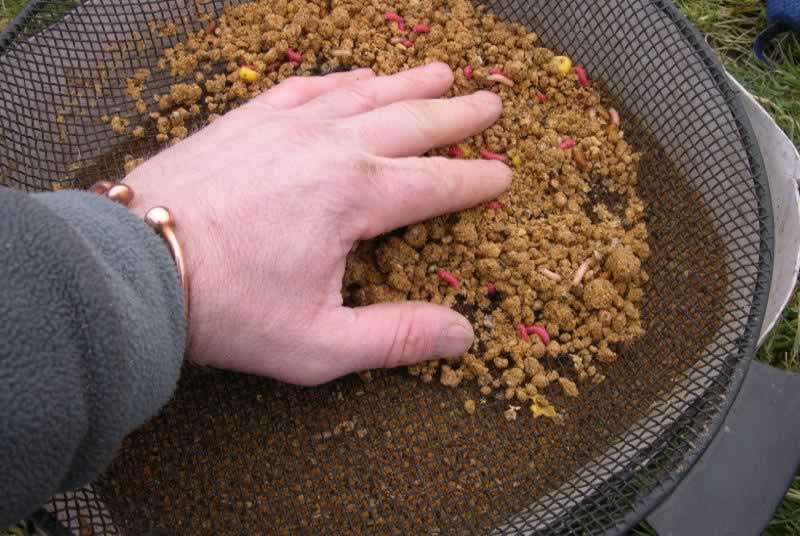 Roach like "active" ground-bait so sieve it to remove lumps and add crushed hempseed
Tackle
Roach fight very well for their size, but the lightest of coarse fishing tackle is more than enough for any Roach. For ledgering, a standard quiver tip set up is ideal, with a range of inter changeable tips to suit situations encountered, such as flood waters or different weights of swim-feeders to be used etc. At the moment I use a versatile thirteen foot Daiwa Amorphous Whisker that is superb for distance fishing and line pick up on the strike, but can be shortened to eleven feet for closer work over ledges or in smaller rivers. Modern braid is fabulous for tip fishing, but due to its non-stretch properties, requires some kind of shock absorber to keep the fish on during the fight. Attaching twenty feet of standard nylon to the business end to allow some stretch can do this, or try incorporating two feet of 20 lbs b/s power gum. I use the latter method and have had no problems at all, but this is down to personal choice and confidence.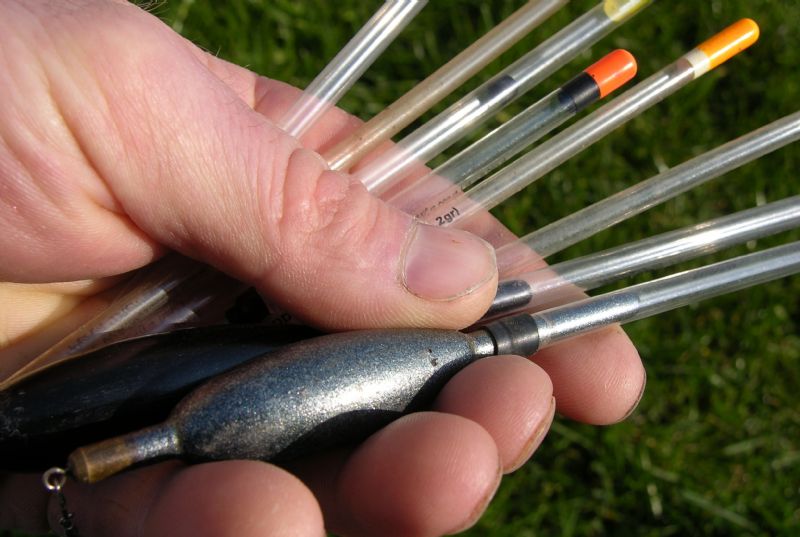 Always carry a selection of wagglers and bodied wagglers to suit most conditions encountered
For float fishing, a quality thirteen-foot match rod, balanced with a light match reel and 4 lbs b/s main line is the desired set up. Again this is personal choice, and although, over the years, most of my larger specimens have come to ledger methods, float fishing remains close to my heart as the ideal and most enjoyable way to target, hook and land most course fish in Irish waters. A rod that comes well-reccomended is the Shakespeare Agility Power Match, ideal for targeting specimen Roach on the float. Superb value for money retailing at £64.99.
Shakespeare Agility Power Match Rod - Black, 13 Ft
The other obvious method is pole angling, using the aptly named "roach pole". Used by pleasure anglers and match men alike, it is an extremely successful way to target and "bag-up" large numbers of fish. Its main advantages over rod and reel are superb bait presentation, and speed, and in the right hands can be devastating. However, to give this method any sort of justice would require an article of its own!
Tactics
If you plan to stay on a venue for several days, it usually pays to put in quite a lot of feed. If it takes twenty-four hours for the fish to move on to the feed, then nothing is lost. For a short stay, it would be more advisable to approach a swim with caution, using the little and often method.
As with all angling, plumb the depth in front of you, looking in particular for fish holding features such as ledges, weed banks and gullies, and also "snags" that would need to be avoided for tackle and fish retrieval.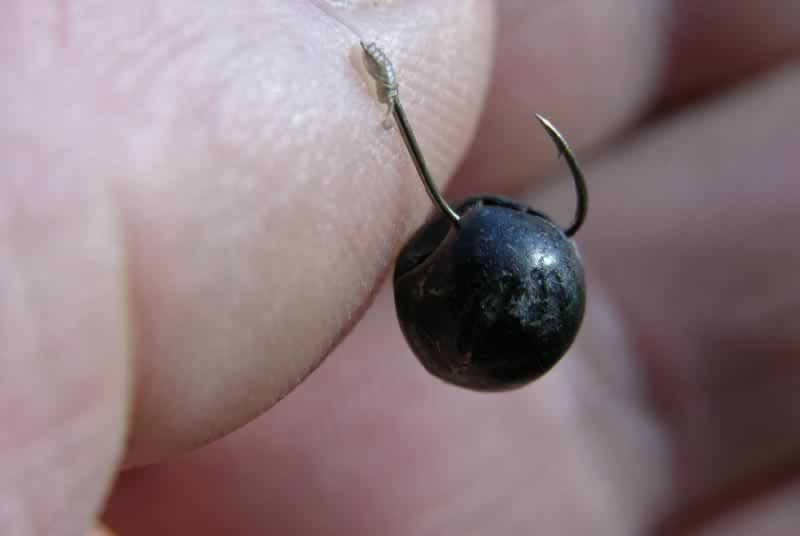 Using a Swan-shot as a plumb weight will give an accurate, stealthy depth reading
Over-cast the shoal area, especially in shallow water. When float fishing, bury the rod tip below the surface and give a few quick turns of the reel. This will keep a tight line to the float and also keep the main line below any potential surface drift.
Although maggots are the main choice of bait for Roach, experiment with bulkier baits if you wish to sort out the bigger fish.
Try fishing well into the night, when you can. Some venues seem devoid of fish during the day but come to life through the hours of darkness. Make sure you are well equipped, such as warm clothing, headlight, and spare batteries. Check the weather forecast before you venture out.
Interesting facts
With regards to Roach in Ireland, they were originally confined to the Munster Blackwater, where they were almost certainly introduced by Pike anglers, along with Dace, another UK species. Later stocked in Galbally Lake, Fermanagh by Captain Grosslen in 1931, they escaped into the Erne system during the 1960's. The rest, as they say, is history.
Rarely exceeding 3 lbs or 1.4 kilos in weight, roach are believed to live to a maximum age of 18 years. They are extremely adaptable and can withstand reasonably poor water quality. Lowland rivers, lakes, ponds, canals and drains are ideal venues, especially slow moving waters rich in dense weed and plant life.
Roach have the ability to feed throughout the year, although this peaks from April to October, with "hot" times at dawn and dusk for larger fish. Juvenile fish feed mainly on zooplankton, bloodworm and filamentous algae but the larger fish will also target snails and pea mussels.
Spawning takes place around May-June coinciding with a water temperature of 13-15 degrees, preferably over gravel amongst dense weed growth. One single female of 14 oz may contain 136,000 eggs, which work out at 350,000 eggs per kilo! Little wonder these breeding machines are so successful.
They will hybridise readily with Rudd and Bream, which can lead to quite a bit of confusion regarding identification of adult fish, especially as it is now known that some hybrids can also inter-breed, diluting or confusing the species further still.
Back