Species hunt part 4 Sea Trout
Sea trout
Fact file

Name Sea trout (fish ID info click here)
Latin name Salmo trutta
Irish record 16 lbs 6oz taken on 29.10.1983, Shimna River, Co.Down by Thomas McManus
Specimen weight 6 lbs or 2.722 kilos
The trip
As a self confessed and struggling all-rounder, my passion lies with all fish, in and around our Irish countryside and inshore coastal waters. However, if asked to choose a particular weakness in my approach, my "Achilles heel" would have to be the discipline of game angling. I have spent most of my life in pursuit of coarse and sea fish, and consequently neglected to sample some of the finest game angling in Europe.
Rainbow Trout have failed to whet my appetite over the years. Personally I prefer the wilds that nature offers. I am certainly not "knocking" the Rainbow Trout fraternity, it is just a discipline that has failed to attract me. Also, I have never created the opportunity to target Salmon, unless you include the brief encounter I had with a decent fish on the River Barrow in Carlow. It picked up two red maggots on a size 14 hook and 2lb hook-length whilst Dace fishing. Needless to say, after sprinting along the riverbank like an "eejit" trying to keep up with it, desperately trying to un-do my line clip, I was left in tatters when my line snapped like cotton!
Despite these minor draw-backs, there is one area of game angling that is close to my heart, and that is salt-water angling for Sea Trout. Sixteen years of experience, hunting these superb silver torpedoes, watching them feed, memorising their lies and patterns of movement regarding tides and weather conditions has taught me a great deal. Against all odds, some of it had to sink in!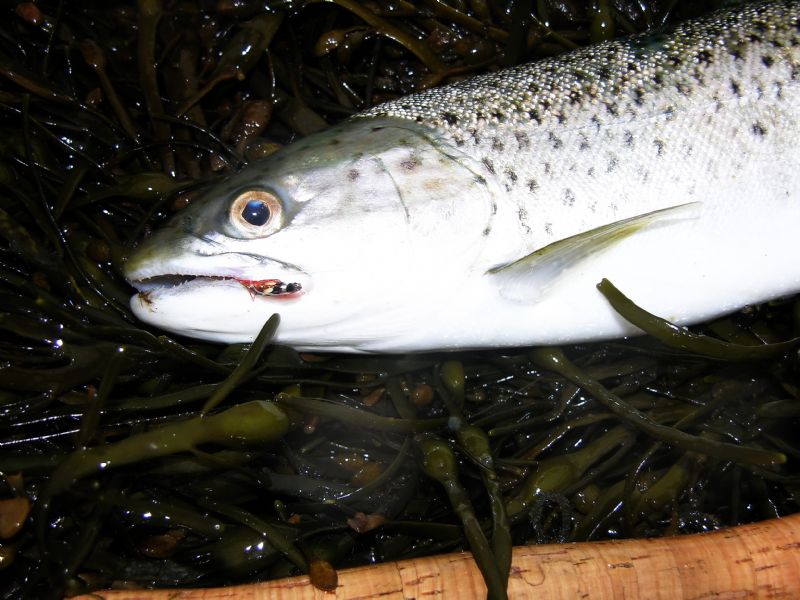 Fly-caught wild Irish Seatrout, on a home-tied fly, it really is hard to beat

It is in this setting of rugged coastline and isolated, weedy shores that I am happiest. Sea birds cry out, over a back-ground music of breezes and waves lapping the shore, whilst I am in pursuit of hard fighting, fin perfect Sea Trout. This is my drug that briefly eliminates the worries of modern life and brings one back to nature. It all sounds quite poetic, but this truly is the perfect environment to stalk and target wild, wary fish, satisfying that age-old hunter instinct that is present in all anglers.
With this in mind, I chose Sea Trout as this month's species with an air of confidence, knowing that there was a very good chance of finding one or two for the camera. Weather conditions and the state of tide are extremely important at my local haunts, and these are given priority on all occasions. I would have loved a clear sunny day for superb photo opportunities, but unfortunately, overcast, breezy and preferably wet days are usually a safe bet to produce a fish.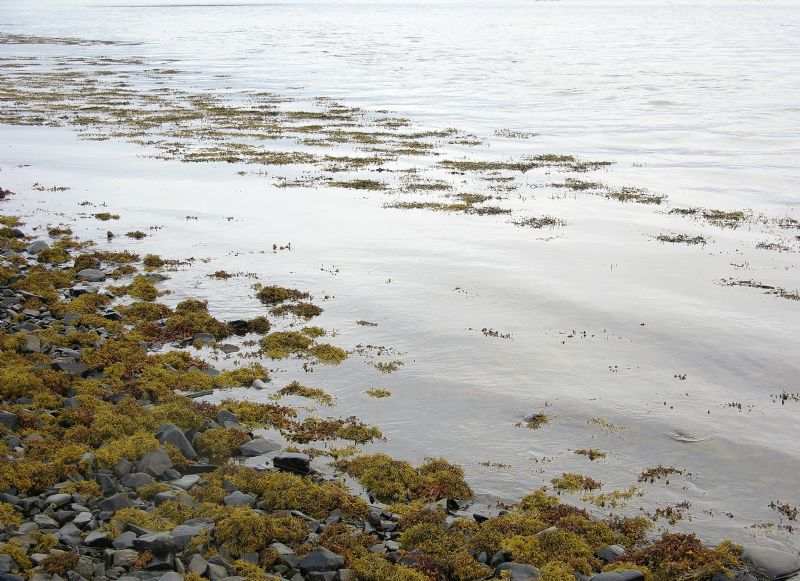 Perfect environment. As the tide creeps over the bladder-wrack, predators hunt the margins
Living in Northern Ireland, I didn't have long to wait before a suitably damp day arrived, and coinciding with the correct tide, I stole the opportunity to try and "winkle" out a decent fish on the fly. Certainly, other methods are popular, and I have caught and released many trout on silver tobies, german sprat and green-fish lures. Float fished and free lined Sandeel can be devastating too, but there is nothing quite like the heart stopping "take" on a fly, especially when it's a home tied attempt of a traditional pattern!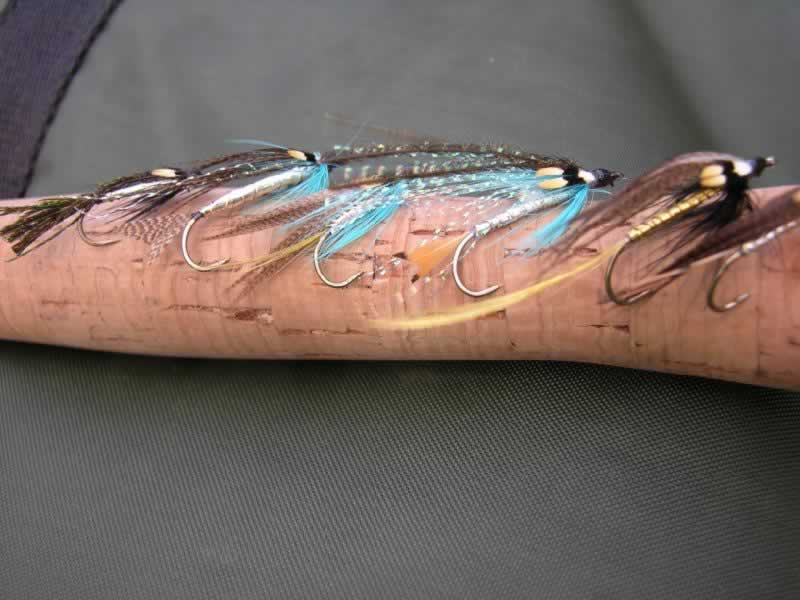 Some rare concoctions by a non-tyer (me) but who cares if they catch fish!
My approach, as always, is one of stealth. With no outside disturbance or movement at the water's edge, Sea Trout will literally feed in inches of water, hunting out Mysis Shrimps, fry, Sandeel and Sand Gobies amongst the bladder wrack. Many times in the past I have nearly stepped on large trout, almost giving me a heart attack as it swirls and tears off at tremendous speed to the safety of deeper water. I am unsure whether it's the fish or me that has the greater shock during such an encounter!
With a gentle footstep, and low profile in a bid to remain below the trout's field of vision, it pays to try these shallow areas first, and better still, to sit and watch from a distance for signs of activity. By observing these common-sense rules, and casting the line over the stones with just the leader landing on the water, my first cast produced a fish of around twelve ounces. Small by normal standards, but a very encouraging start. It was another fifteen minutes before a second fish took my Dunkeld pattern, this time slightly larger at about a pound.
A quick photo and the trout was safely released to fight again. It is worth noting, before any readers write in, that none of my fish will show a blue tag. My personal opinion is that I prefer to see most fish returned alive, especially species that I believe to be non- sustainable due to commercial exploitation, which is most species I hasten to add. I am certainly not against taking a fish for the table, but get a greater "buzz" supporting my prize capture in the current and watching it dart away, hopefully none the worse for its encounter with me.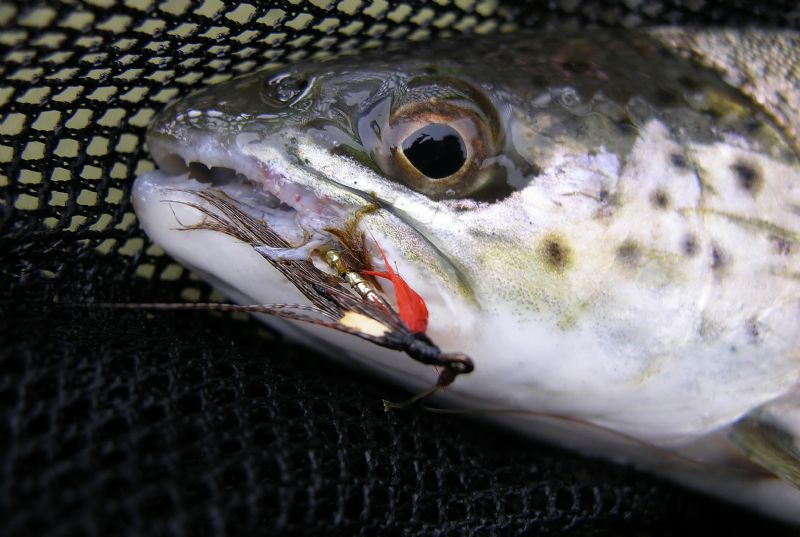 With two fish notched up, a larger trout gave away its position thirty yards to my right, and I could feel the adrenaline pumping as I crept towards the surface disturbance it had left behind it. Another swirl and I flicked my single fly several feet upstream, where the current carried it towards the waiting trout. A gentle, confident take, the line tightened and I was in again. An acrobatic display followed, with the fish heading for every weed and obstruction it could find.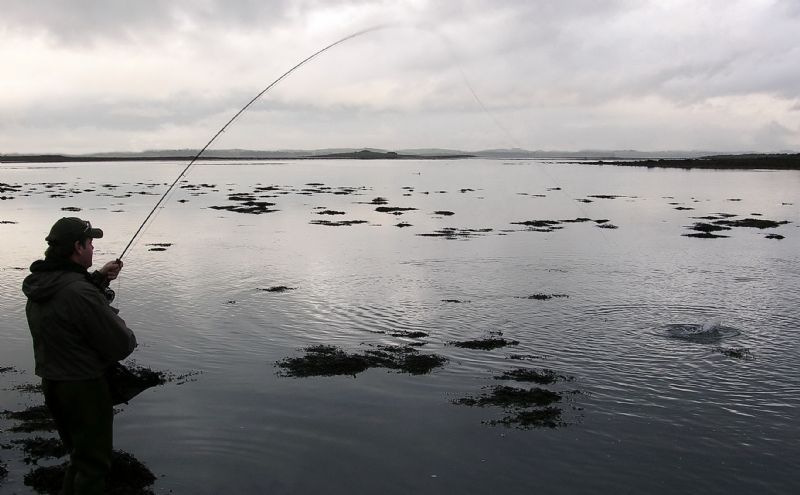 Fish on, now to guide it through the maze of bladderwrack!
This is the reason for using one fly rather than a team of two or three! Some gentle persuasion guided the trout into the relative safety of shallow water for a quick photograph, and gentle release. Three trout in a session is quite good by today's standards, especially, rounding it off with a two and a half pounder. Sufficiently satisfied, it was time for the trek back to the jeep and home.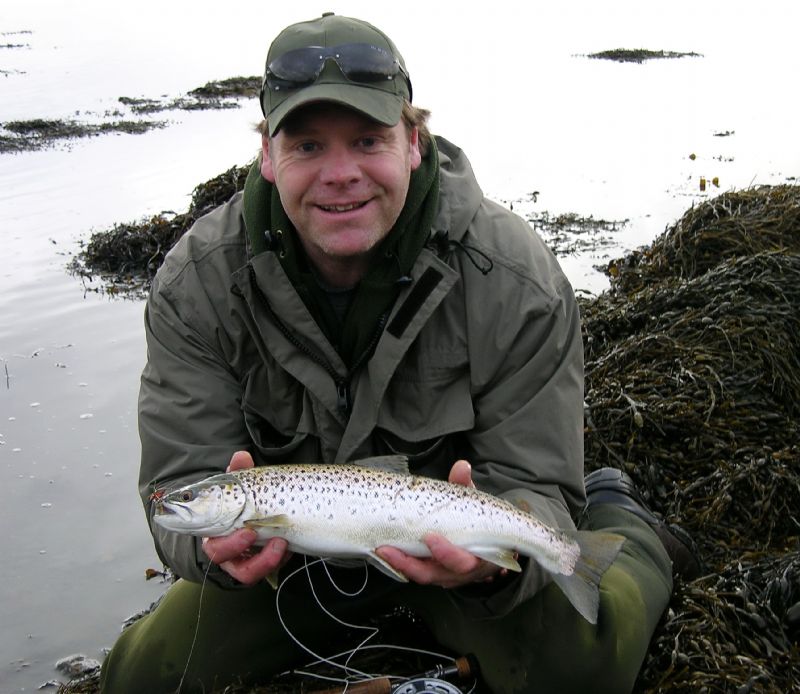 Rewarded with a hard-hitting target species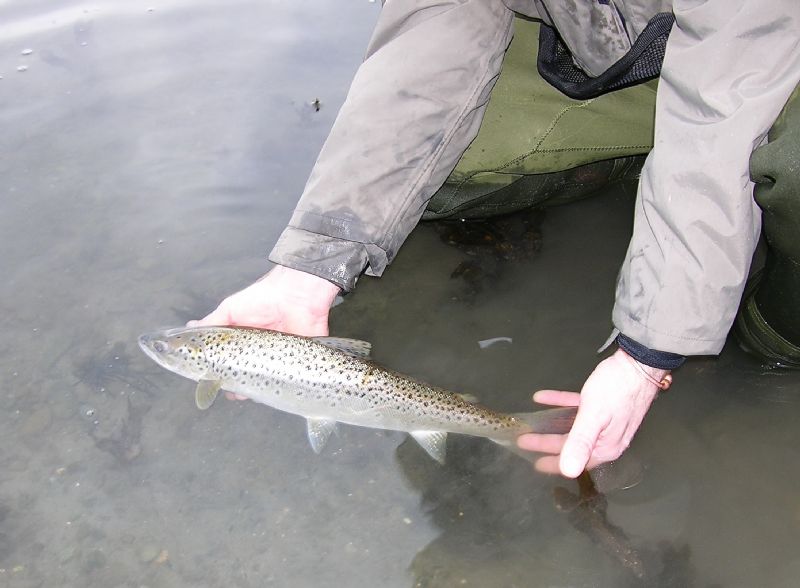 Returning game fish is becoming sociably acceptable, honest
I was quite prepared to end my article at this point, having captured my target species for this month. However, I received a call from our local Leeda Tackle rep asking if I wanted to try the new Wychwood Truefly rod recently introduced on the market. Being a ten feet, eight-weight, it is ideally suited to target salt-water Sea Trout. Of course, I agreed, and the delivery of the rod was matched with a stunning Wychwood Ionica reel and the revolutionary Sharkskin fly line. The line interested me, as it had recently won "best new product" at the Denver Fly Show. Its surface is similar to a scale effect, where only the tips of the scales touch the rod rings, reducing friction. I was now under pressure to put it through its paces and see how it cast a line and handled a hard hitting sea trout!
Wychwood Truefly SLA 10 #8 4pce rod
My only window of opportunity that suited the tides was a cold, blustery morning with squally showers. Not pleasant, and under normal circumstances I would have opted for spinning gear or float fished Sand eel to combat the wind, or better still, stayed in bed! The kit looked so good, I had to give it a try and ventured out for a couple of hours, I know, what a hero.
Arrival at the hot spot, the wind had increased in strength, blowing almost straight at me. I assumed casting would need to be low and powerful to combat it, but was amazed at how well the line travelled, easily dropping the fly over the usual lies. Weather conditions became increasingly difficult, making it necessary to cast over my left shoulder, but still, the tackle performed remarkably well. Working round to my left, and covering more ground, I lifted into a vicious take that pulled the line back through my fingers. A silver bar leapt twice in succession, then a third time in a desperate attempt to shake the hook, but the hook hold was solid and a minute or so later, I had won the battle. At a guess, it was slightly less than three pounds and in perfect condition, and better still, had taken another one of my own clumsy attempts of a traditional pattern.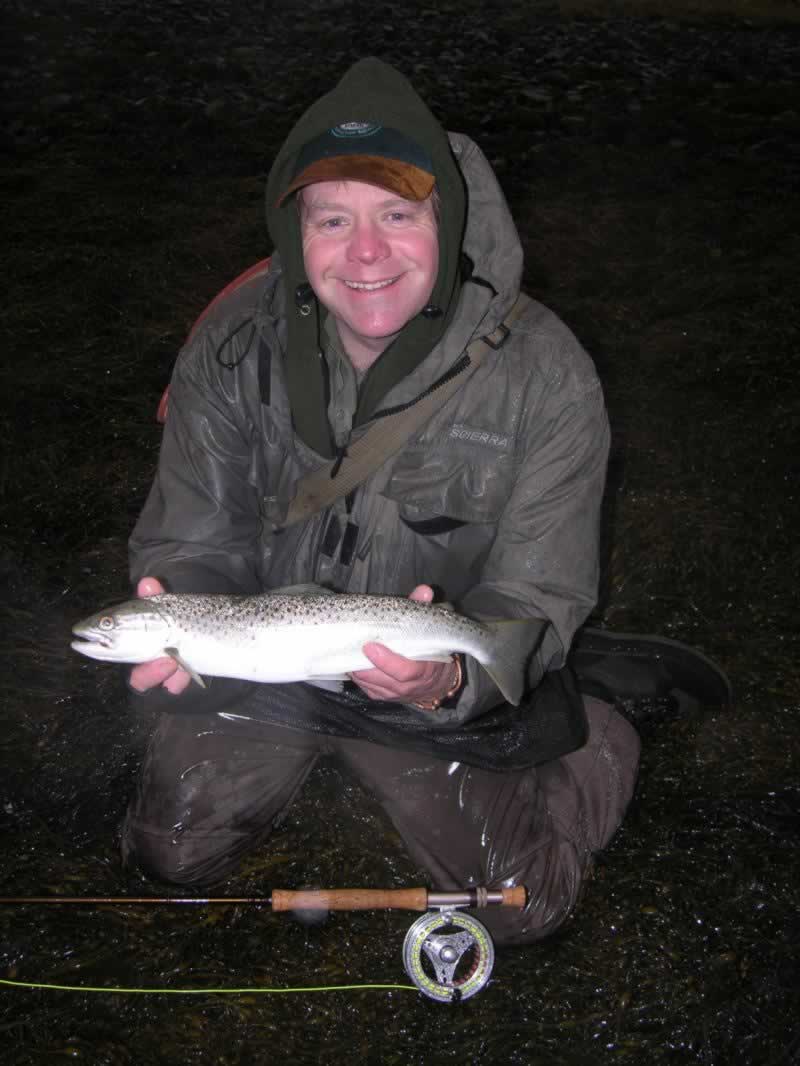 Windswept and interesting, and obviously delighted
Bait
Sea Trout, when targeted in salt water are active feeders and hunter predators, a different beast to the Sea Trout that has ventured into fresh water. They will take terrestrial surface insects blown off land, along with a myriad of salt-water creatures, namely Sand eel, Herring Fry, Gobies, Shrimps and Prawns, juvenile Pollack and Whiting, Rock Hoppers, and even small crabs.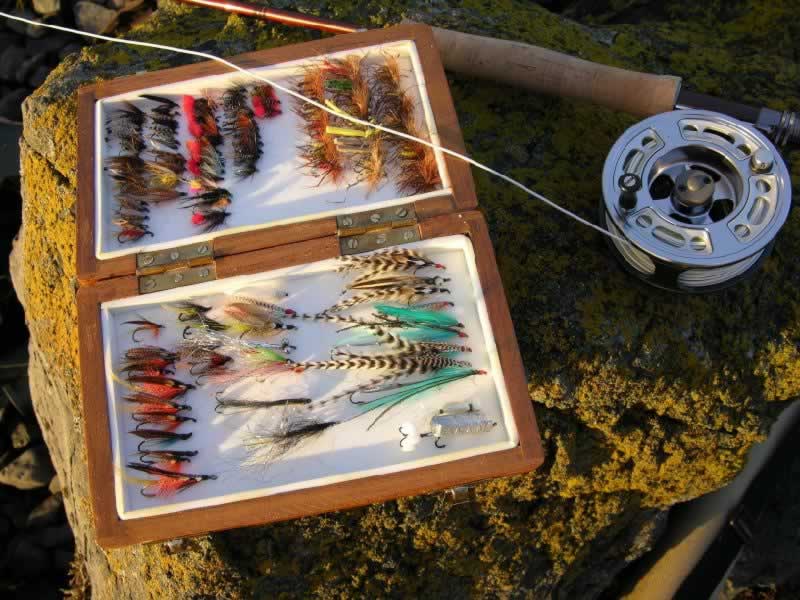 A small selection to suit most situations on this mark
Obviously this is reflected with artificial lures, plugs, spinners and float fished Sand eel, but is also matched with choice of fly. Standard patterns such as Teal Blue and Silver, Alexandra, Peter Ross and Medicine Fly all have that fish like presence that proves so effective. Shrimp patterns are useful, along with some dry flies, especially muddler types that create a "wake" on the surface. My favourite fly would be the Dunkeld. I believe this not only represents tiny fry that live amongst the kelp such as young Pollack and Gobies, but also matches the mysis shrimp that Sea Trout regularly gorge themselves on.
Tackle
When float fishing, choose a 10-12 feet medium taper rod to present and control soft bait such as Sand eel. The soft action of the rod will absorb the mad antics and acrobatics of a large Sea Trout. A shorter rod is fine for spinning, but again, personally I would recommend something with a medium action. To cut down on amount of tackle, I normally carry a tiny spinning reel and fit it to my fly rod if weather conditions dictate that I can only spin. It pays to travel light and keep on the move.
Fly-fishing tackle, as with all tackle is about personal choice. A ten feet eight-weight set up is probably a good all rounder as it will cope with most conditions encountered, such as on-shore breezes and having the ability to bully fish out of snags and hold in strong currents. Remember, there isn't much shelter on the coast, and its a rare occasion when the sea is flat calm. Floating or sink tip varieties of fly line would be the common choice as most Sea Trout are found in shallow water in, around or over kelp, bladder wrack, sand and broken ground.
Waders are a necessity, along with a wading jacket and tackle bag to carry all the usual bit and bobs. A landing net if required, I say if required because I choose not to carry one. If I lose a fish I don't mind, if I play it out and win the battle, I simply release it at the waters edge.
Think about flotation vests, wading sticks etc if you feel unsafe or do not know the area. A line tray will keep coils of line away from floating bladder-wrack.
Tactics
Look for runs, eddies and currents where trout will lie. It takes less energy, and is therefore more suitable for a trout to sit in a point of ambush, waiting for food to come along, rather than actively chasing it. Also, be prepared to simply sit and observe. Sea Trout will reveal themselves on regular occasions, giving away their favourite holding areas. I spent three years on my Sea Trout marks before I began to fully appreciate the casket of treasures that were available, once un-locked.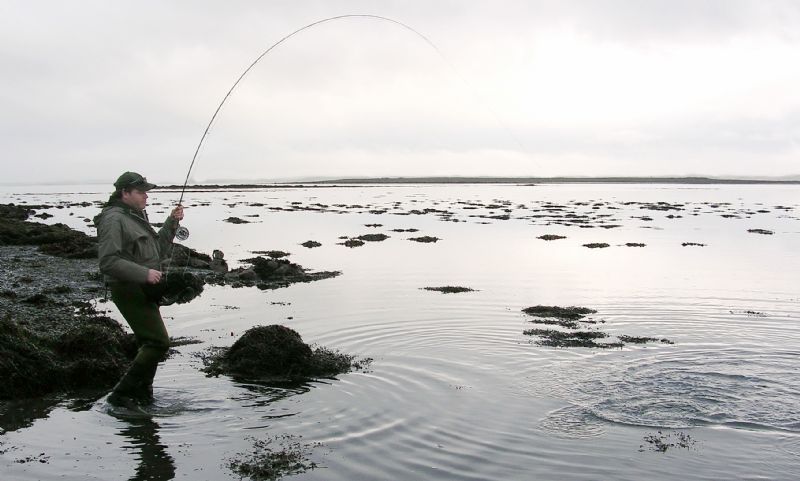 Seatrout hunt in and around weed-strewn areas of bladderwrack and kelp, over sand and gravel
Take a regular look at the sea-bed at low water; pick a low water spring tide for maximum effect. This will reveal a huge amount of information for future visits, not to mention where, and where not to wade regarding health and safety. Also be extremely aware of being cut off by in-coming tides, or walking across soft mud flats. I am speaking from experience. Lastly, do not be afraid to experiment. If you are not a fly tier, have a go anyway. I believe that traditional patterns should be upheld, and tied in the correct manner, and there are some fly tiers that are truly genius. However, not all of us can tie such wonderful creations and it is my opinion that it doesn't matter a jot. Half the fun is making a creation that may or may not look like a creature, living or dead, but if it works, so what! Mine are awful, and would never sell in a shop, but they catch fish and that is what counts. Some of my better shop bought patterns work greatest after they have been used a dozen times and look like they've been pulled through a hedge backwards!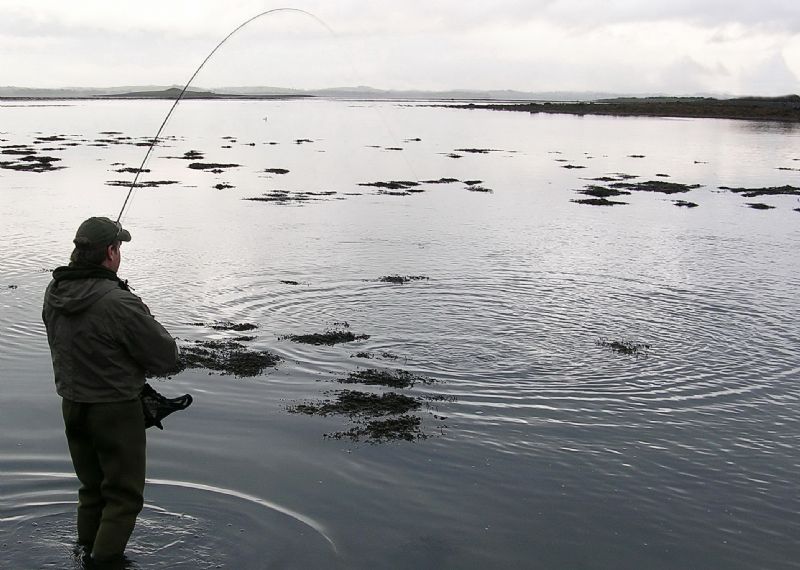 Interesting facts
Sea Trout come under an amazing variety of titles, but are commonly known in Ireland as white trout. They are a member of the salmonid family that consists (in this country) of Salmon, Brown Trout and Arctic Char.
Sea Trout (salmo trutta) are considered the same species as Brown Trout (salmo trutta) as they have no difference at all in physical form. However, the Brown Trout will spend its entire life in freshwater, whereas the Sea Trout will migrate to salt water, in much the same way as a Salmon. It is in this salt-water environment that the trout have the opportunity to grow much larger than its freshwater siblings.
Adult Sea Trout may be difficult to distinguish from Salmon at times, but usually the wrist of the tail is thicker in the Sea Trout, with a squarer tail and rounded points. The Salmon has a slimmer wrist and the tail is deeper forked. The most accurate form of identification is through examination of the scales. Counting the concentric rings and spaces, known as circuli on an individual scale, can also offer a wealth of information regarding age and life cycles at sea and freshwater, something similar to the growth rings on a tree. Sea Trout are present in coastal waters of northern and western Europe, notably Scandinavia, Iceland and the British Isles.
By November, spawning is in full swing in gravel "nests" known as redds in the upper reaches of feeder streams, with incubation through the winter months. Eggs will hatch in spring where the young, with yolk sac still attached, known as alevins, feed and continue to grow for two or three years. As Smolts, they will head for sea and feed until they are ready to return to freshwater to spawn as adults. Larger females may lay as many as ten thousand eggs.
Back