Species hunt part 5 Pollack
Pollack
Fact file
Name Pollack (fish ID info click here)
Latin name Pollachius pollachius
Irish record 19 lbs 3 oz taken in 1904 in Ballycotton by J.N.Hearne
Specimen weight 12 lbs or 5.443 kilos
The trip
My plan for this month's article was to launch my trusty old Red Bay 21 on the north coast, and drift alongside the wealth of headlands and rocky outcrops, lead-heading and spinning for Pollack on light tackle. The weather forecast gave light south-westerlies, perfect for the Antrim coast, but on arrival at the harbour, the sea state was absolutely flat calm.
It has to be said, that flat seas in this area of fast tides and un-predictable weather systems is somewhat of a rarity. With this un-expected window of opportunity, Dave and I quickly put our heads together for plan B. Plan B involved a journey some considerable distance offshore, in a bid to locate a series of reefs that we knew existed but, until now, never had the chance to investigate. This sounded like a proper adventure. With all the safety checks carried out and the decision made, we were soon on our way. Half a mile out, Dave asked if I had remembered to lift the camera, and so, we switched to plan C. Back to the harbour for the camera and start over again!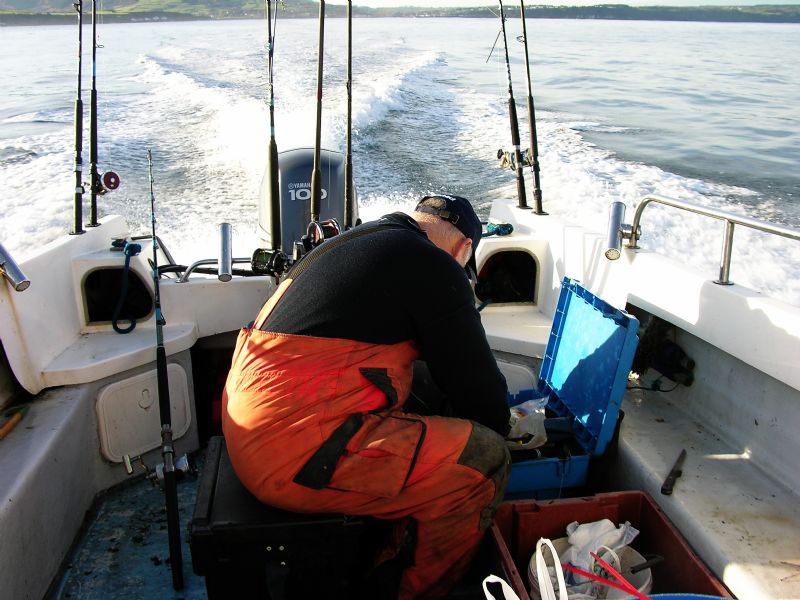 Second attempt! Definately on our way this time.
This time, with all the boxes ticked, we were definitely on our way. Cruising at 22 knots in favourable seas quickly spans the distance between shore and destination and it was not long before the plotter showed we were approaching the deepwater mark. The sounder backed up the plotter's information showing a very interesting, sub-terrain mass of pinnacles, ledges and severe drop offs. Classic Pollack territory it has to be said! It is always worth trying a few initial drifts to work out the speed and direction the boat will travel to get a "feel" on how the boat will operate.
Drifting at slightly over one knot, conditions were perfect, and we were able to identify some likely looking hotspots. In this scenario, the chart plotter is a very useful tool, making life extremely easy when it comes to repeat drifts or working the boat along the reef. Deciding on lures rather than bait fishing, as I wished to fish as light as possible for maximum sport, I set the boat on course to run over a plateau sitting at 120 feet below the surface. This dropped off steeply to 350 feet, allowing us to work artificial Redgills down the side of the ledge. Redgills or similar artificial lures on a flowing trace, known, as a "flying collar" is an excellent, tried and tested method when targeting Pollack.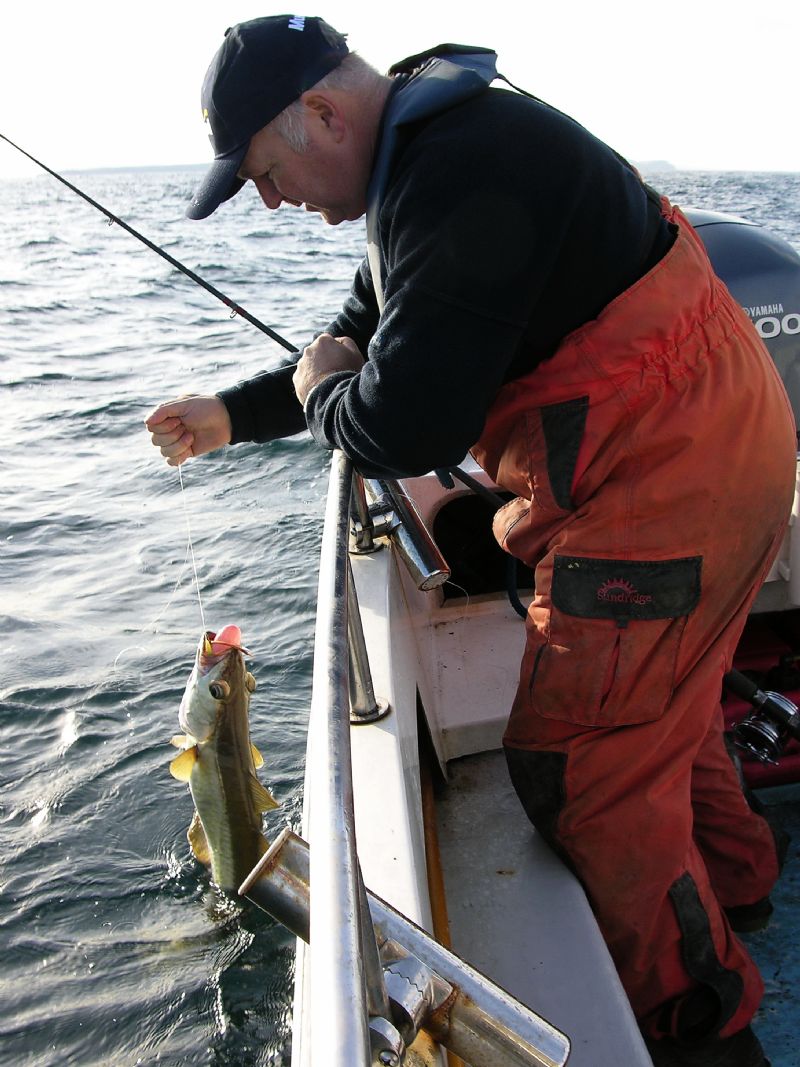 The protruding swimbladder shows just how deep we were finding these pollack
It wasn't until the fourth drift, working along the reef, that we made contact with a shoal of Pollack and soon had our work cut out for us! These superb, rod-bending species really know how to "pull your string", especially when they appear two at a time. With the first pair of sizeable Pollack safely landed, it was immediately obvious as to what had them in a feeding frenzy, as bunches of Pipefish were regurgitated onto the deck. Some were still alive, and believe it or not, swam away when I released them!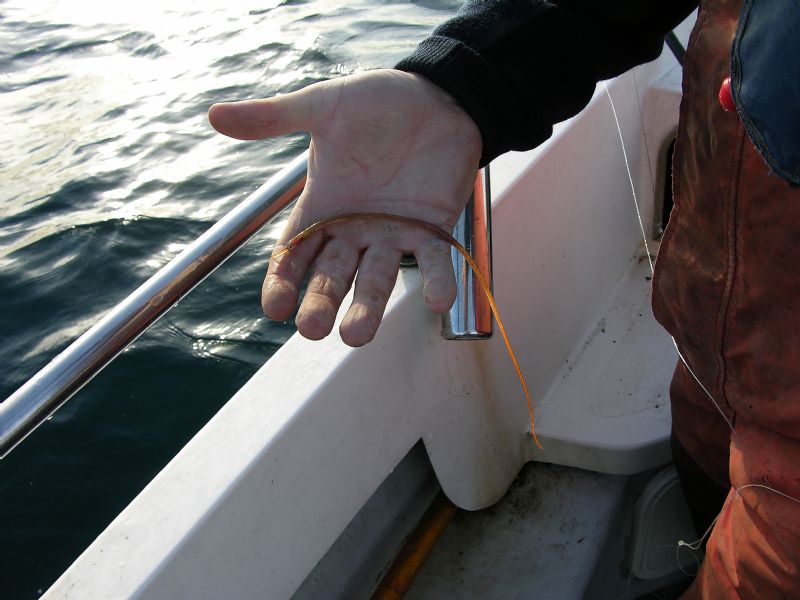 Many of the Pipe-fish regurgitated by the Pollack were incredibly still alive and able to be released!
Although the Redgills were working fine, I could not resist the temptation to find something in my lure box that resembled the Pipefish they were actively targeting. The nearest match was a packet of Berkley "gulp baits" designed to imitate lugworm. With nothing-ventured etc, the Redgills were hastily removed and the artificial lugworm threaded on to each of the two hooks, in preparation for another drift over the hotspot.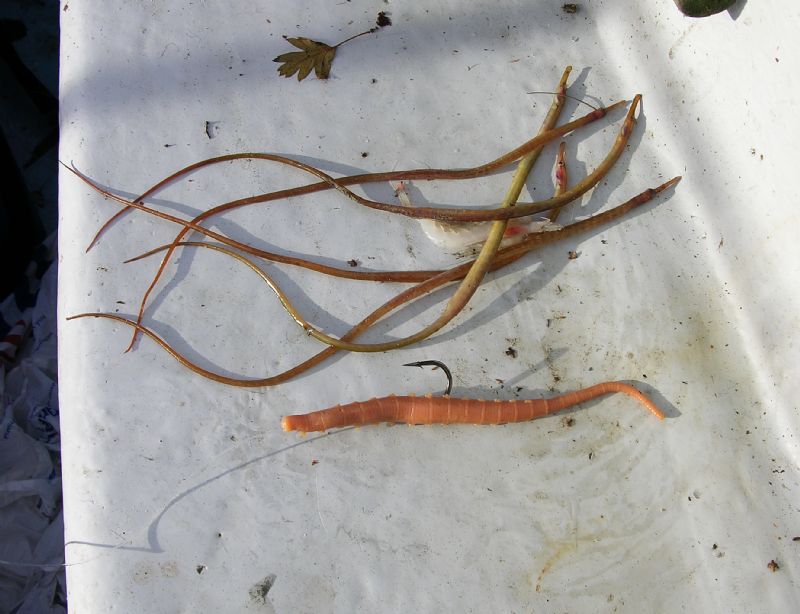 Berkley Gulp Saltwater Bait 4" Arenicola/Lugworm Natural
Halfway down the ledge and in approximately 240 feet of water, my twelve-pound class Shakespeare Ugly Stick bent double as another pair of fish, each approaching double figures, latched onto the Gulp Baits. Meanwhile Dave was having equal sport, having landed a double shot, both weighing over ten pounds. The Pollack were simply throwing themselves at the lures, and as none could be returned due to the enormous pressure differences from such depths, we sportingly decided to drop down to one hook each.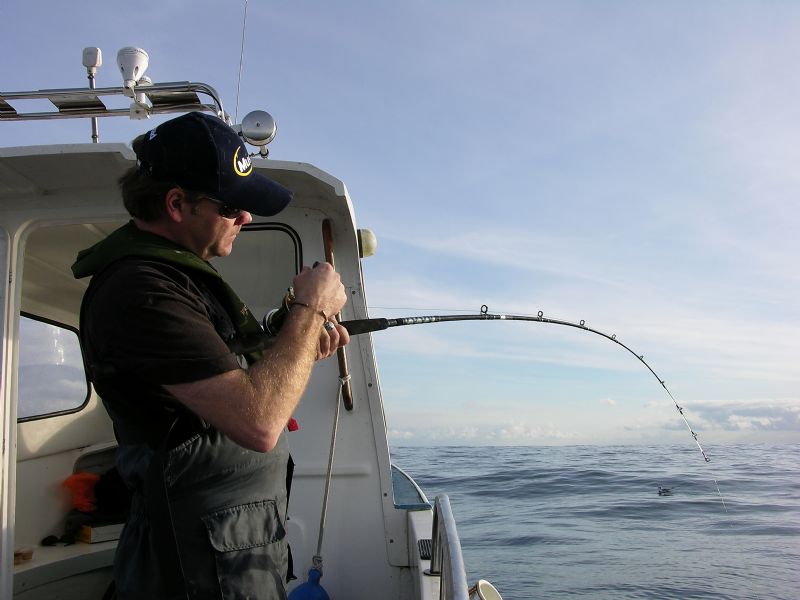 Shakespeare Ugly Stik GX2 12-20lb Boat Rod - Black, 2.33 m
The action continued fast and furious on every successive drift, but we both knew a decision had to be made to change tactics. Neither of us believes in senseless over-fishing, but it was so difficult to leave this fabulous mark that continued to produce such a large stamp of hard-fighting fish. I have know doubt had we continued, we would have found our specimen fish over the magical twelve pound barrier. Dave landed the biggest fish of the day at slightly under twelve pounds.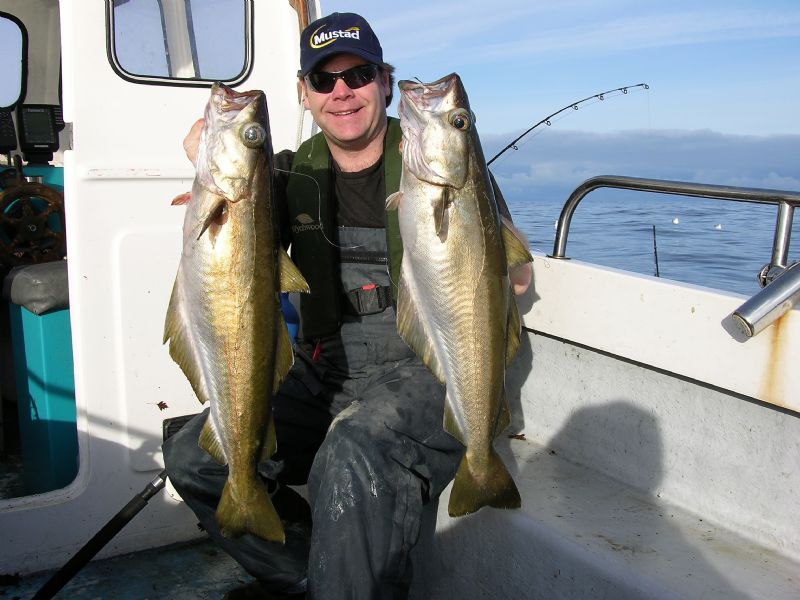 To keep the interest alive, I suggested that we try some of the shallow marks on the top of the reef that we previously passed over, in an attempt to find other species. The flying collar rigs were packed away, and some very sexy looking paternoster set-ups were produced from the depths of the tackle boxes. These incorporated luminous beads and colourful flicker spoons.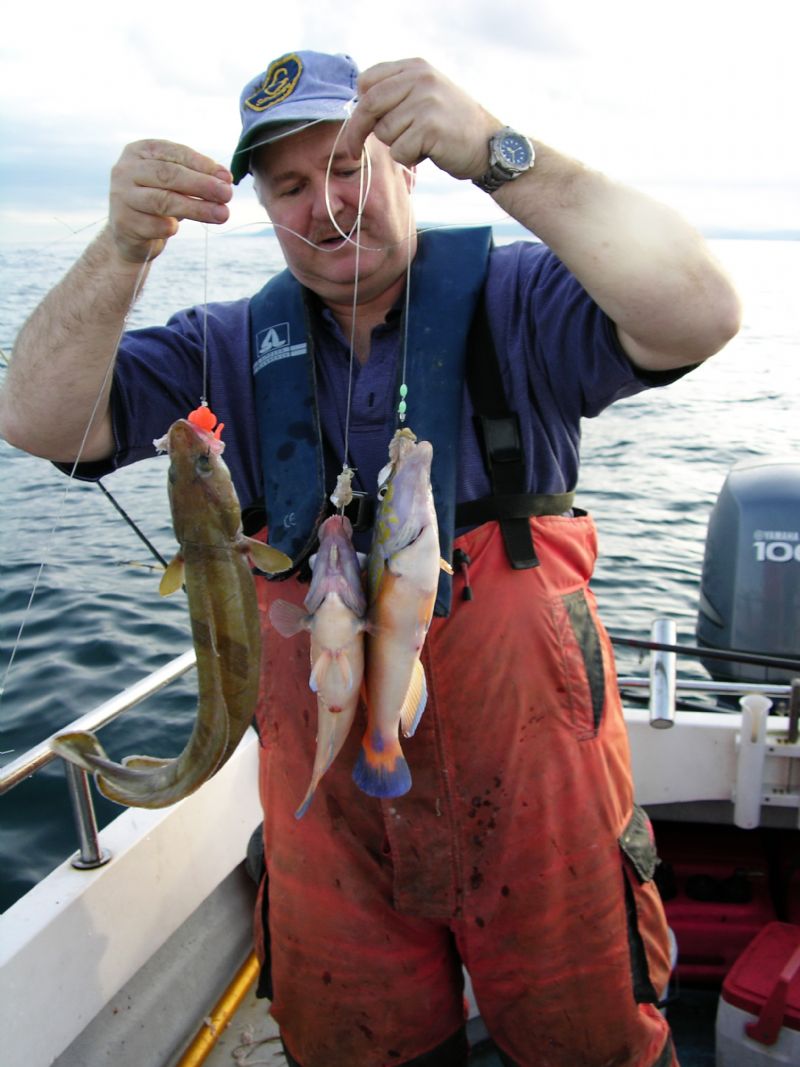 It was obvious we both had the same idea in mind, a search for Cuckoo Wrasse. These offshore reefs on the north coast have a habit of turning up large specimen Cuckoos, including the current Irish record, so it is always worth having a try when a change is called for. After an hour or so of fruitless searches, we eventually stumbled upon a small Wrasse inhabited area and "winkled" out several Cuckoos each, with Dave managing a double shot of Cuckoos on one occasion, joined by a bonus Ling. The extra species were a welcome sight, and better still, the shallow water offered the ability to quickly return the fish. All in all, this was a thoroughly enjoyable and relaxing day, as angling should be, and probably my best Pollack action since the glory days of lead-heading over the reefs of Killybegs with charter skipper, Pat O'Callaghan many years ago.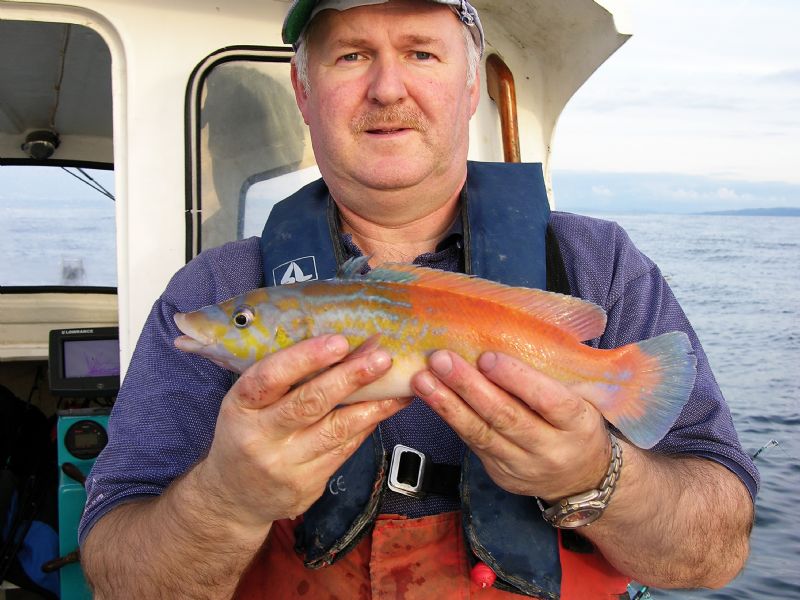 Just under specimen size, un-lucky, but nice to see the fish returned
Bait
It is difficult to know where to begin! Primarily an active hunter, this species regularly predates on shoaling baitfish such as Sand eel, Mackerel, Herring fry and most juvenile fish, including their own species. However, Pollack are opportunists, feeding on almost anything that moves or looks edible, even prawns, crab and pipefish.
They are suckers for artificial bait that incorporate vibrating, wiggly tails such as Redgills, shads and jellyworms, of which there are a multitude of shapes, sizes and colours to choose from. Mackerel fillets, particularly long, thin belly strips that imitate Sand eels are deadly, as are Sand eels themselves. Whole prawns have been productive, especially from rock marks. Probably the best all-rounder are the blue-fleck firetails from Berkley. I reckon I have taken 100's of Pollack on these over the years.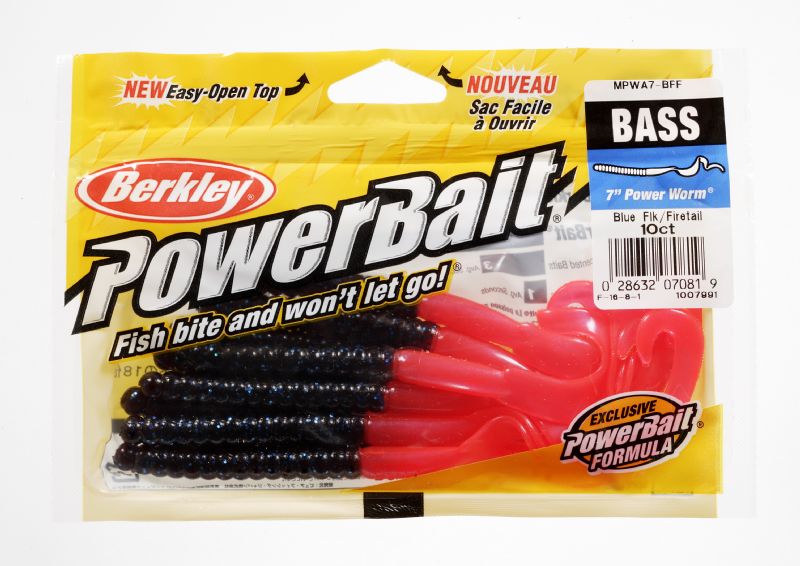 Berkley Powerbait Power Worms 7inch Blue Fleck Firetail
Tackle
Pollack are one of our true sport fish and are regularly taken on light tackle. The main reason against the use of light gear is due to the habitat of weed-covered reefs and headlands that Pollack love to hunt around. Once a fish has been hooked, and on its way back to the safety of a kelp forest, it is anyone's guess whether or not it can be extracted on light tackle. Having said that, I am quite prepared to sacrifice the occasional fish in a bid to sample such fabulous sport.
Typical light tackle would be standard spinning gear, using one of a number of spinners from the vast selection available. Try well known varieties such as Tobies, Costers, Shakespeare Slither Spoons, Flying C's, German Sprats, and my favourite, lead heads that have a staggering range of jelly worms to choose from. A Carp rod makes an ideal float fishing set up. Use a sliding float and set the depth slightly above the kelp. Use Sand eel or long thin strips of Mackerel belly strip for maximum effect.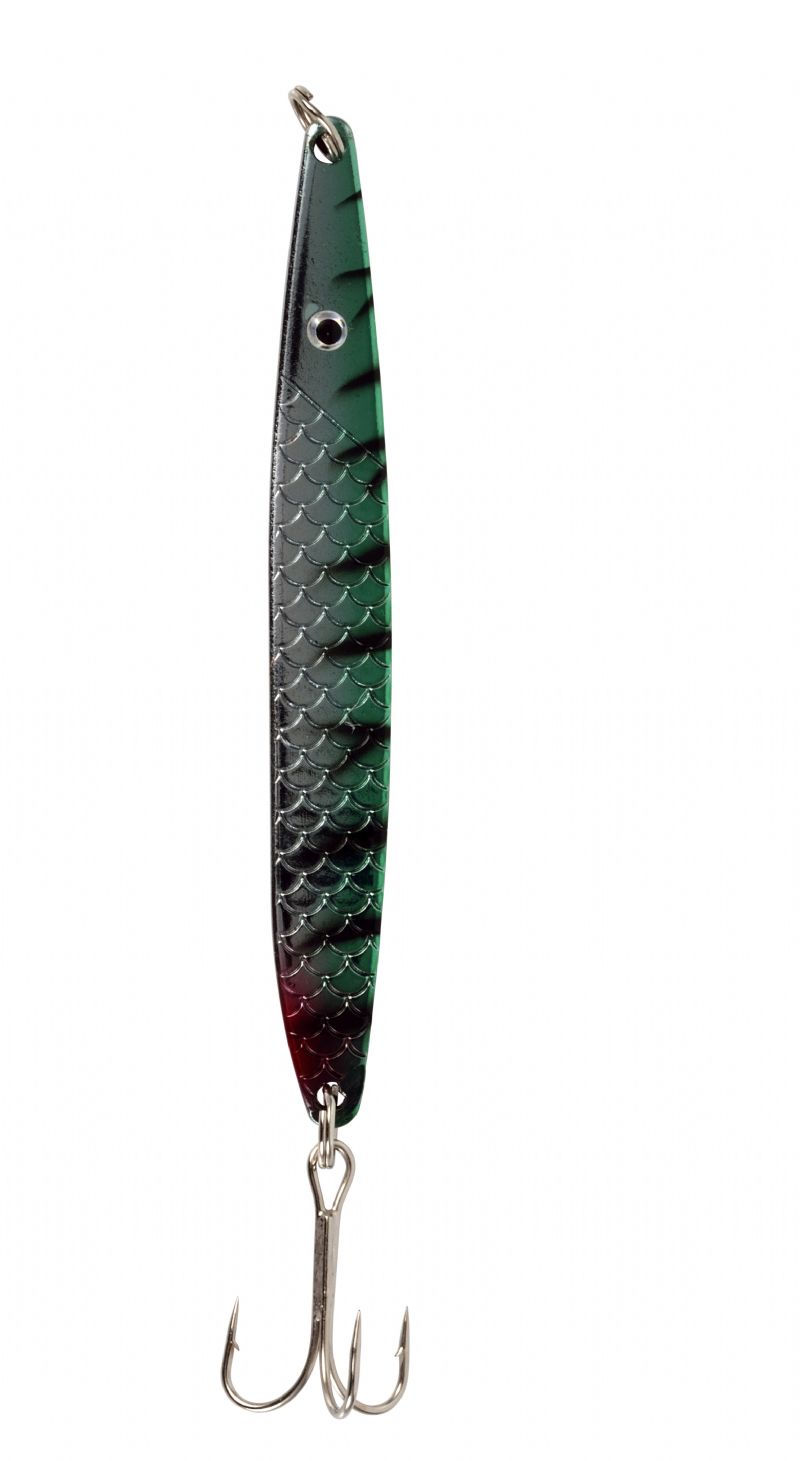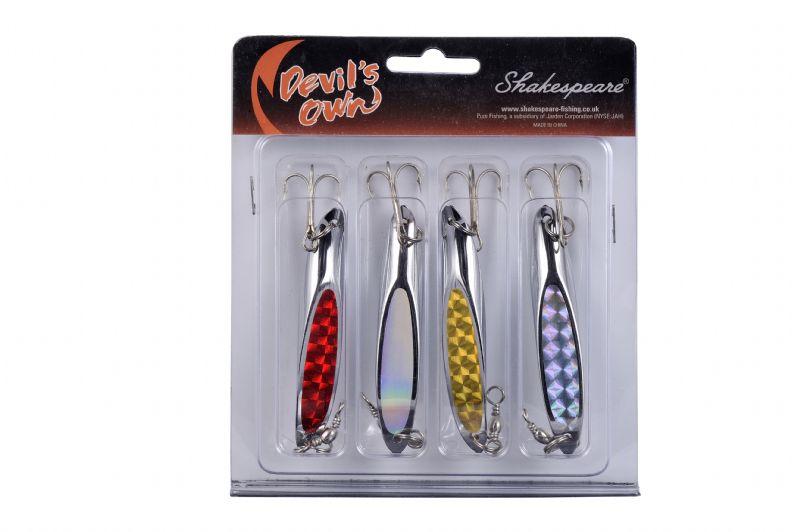 Shakespeare Devil Own 4 Piece Slither Lure Selection - Black, 28gr
Ragworm is another fabulous bait, float fished or simply free lined. Fly-fishing when conditions are suitable can be breath taking! Use standard salt water set up, ten weight rod and fast sinking line. Make sure you have plenty of backing line! Try clouser or deceiver style lures, preferably weighted to get through the depths, or even a small Redgill. It is more fun to tie your own creations. My largest fly caught Pollack was just under six pounds. I have definitely hooked larger but been un-able to stop that initial, powerful run to the safety of kelp beds. Choice in deep-water boat gear will depend on whether you are bait or lure fishing. A twelve-class rod is perfect whilst drifting, using flying collar tactics and an eight or ten ounce lead, but bait fishing will usually necessitate the use of a twenty or thirty class rod and heavier leads. Pirking will pick up the occasional fish, but my personal opinion is that this is a tedious, un-exciting style of angling.
Shakespeare Devil Own Slim Jim Chrome Spoon - 28g
Tactics
Think of a Pollack's preferred habitat. Rocky outcrops dropping off into deep water and fast tides that force food sources such as Sand eels and Mackerel into the ambush zones. Ideally, these are headlands that reach out into deeper water, and offshore reefs. Wrecks are fabulous marks to target. To Pollack, sunken wrecks are simply an offshore reef to hide behind. Avoiding strong currents in the lee of the wreck enables fish to use less energy and utilise a very handy point of ambush. Pollack are hunter-predators. They use the lateral line to pick up tiny vibrations from potential prey and home in with tremendous eyesight. Clear water is always preferable so avoid fishing after a heavy storm has churned up the shoreline, causing murky water. Pollack are seasonal, and usually head out to deeper water through the winter months. Although many areas are different around our coast, May through to September are generally the peak months.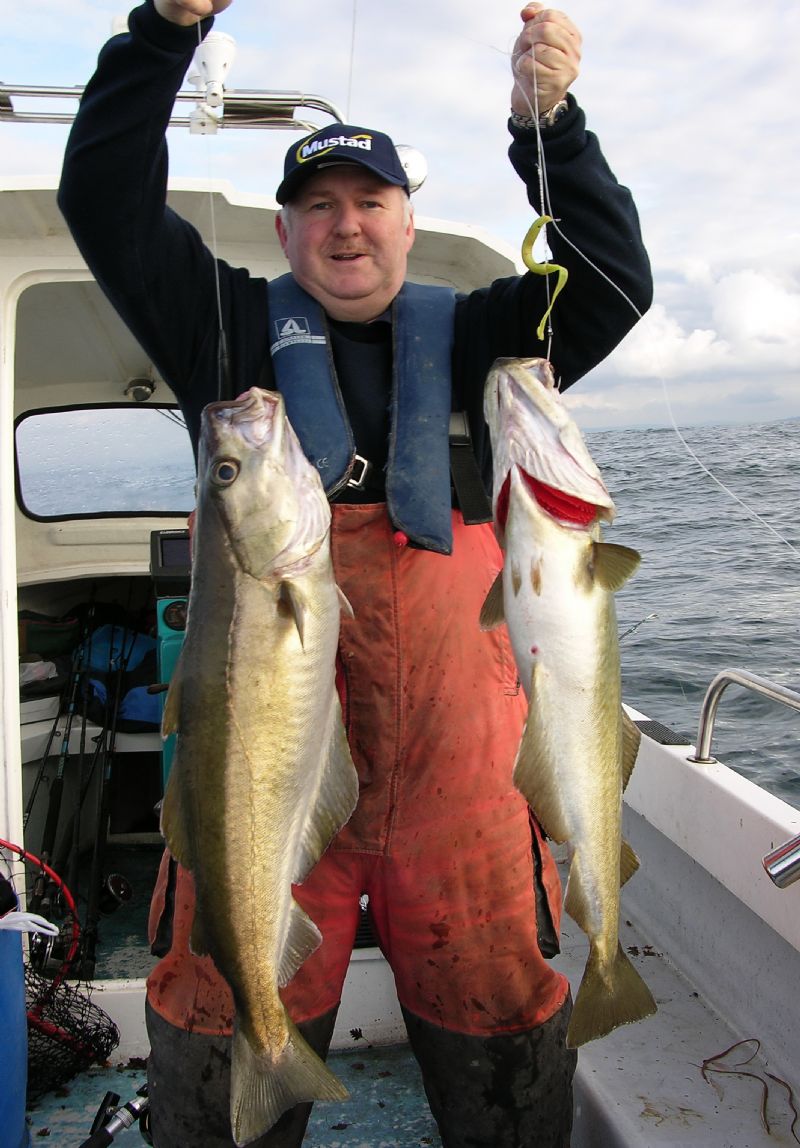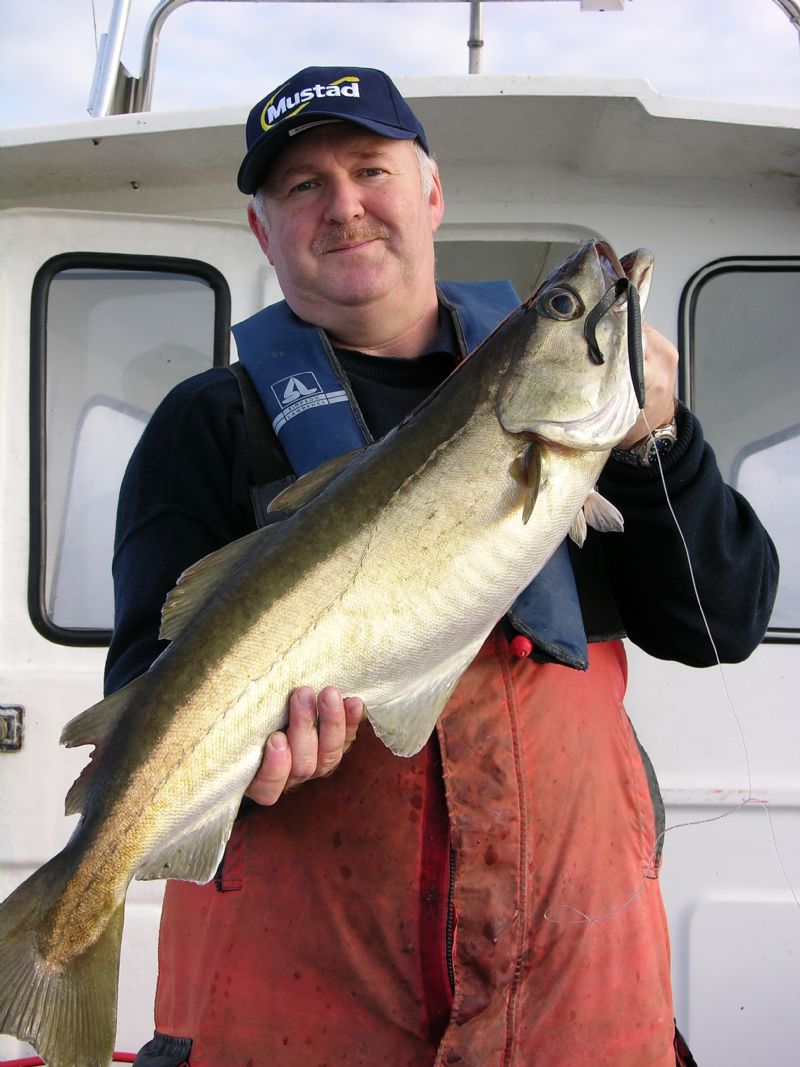 Interesting facts
Pollack are a member of the Cod family. Although easily recognised, they can be confused with Coalfish. Apart from the colour difference, i.e. Pollack are usually golden bronze whereas Coalfish are green-black; the lower jaw of the Pollack protrudes beyond the upper jaw. Coalfish have equal length jaws. The lateral line of a Pollack will curve over the pectoral fins, whereas the Coalfish has a straight lateral line. Pollack are quite well distributed, ranging from the Mediterranean, the coast of Russia and as far north as Iceland. They can be found around the entire British and Irish coastline, but prefer the rugged, wave-beaten western shorelines. They move offshore into deeper water to spawn, between February and March, so obviously, the larger females can be targeted around January.
Back