Species hunt part 8 Cuckoo Wrasse
Cuckoo Wrasse
Fact file
Name Cuckoo Wrasse (ID info, click here)
Latin name Labrus mixtus
Irish record 2lbs 7ozs caught on 15.09.1998 at Causeway coast by Brian McLoughlin
Specimen weight 1.25 lbs or 0.567 kilos
The trip
Over the past two months, I have felt as if the angling gods were conspiring against me. Never mind the relentless easterly winds that seem to kill all chances of catching fish, other forces were also at work. My dreams of catching a forty-pound Pike were thwarted when a friend and I were thrown off a water by members of the Eastern Regional Fisheries, despite the fact that we both held permits to fish it. Officials proceeded to net most, if not all of the monsters from the lough. Apparently the stock trout are more important! We suggested forming a professional syndicate of twenty anglers paying £200 each and only fishing throughout the closed season, raising £4000 per year to balance any loss in fish stocks. Unfortunately this fell on deaf ears. Another paradise lost.
I then planned my annual pilgrimage to the River Barrow with thoughts of Shad, Dace, Beam and Hybrids only to suffer mechanical failure half way through the journey. The drive shaft on my jeep snapped, taking out a brake pipe as it did so, leaving me stranded 150 miles from home, and more importantly, 100 miles from the river!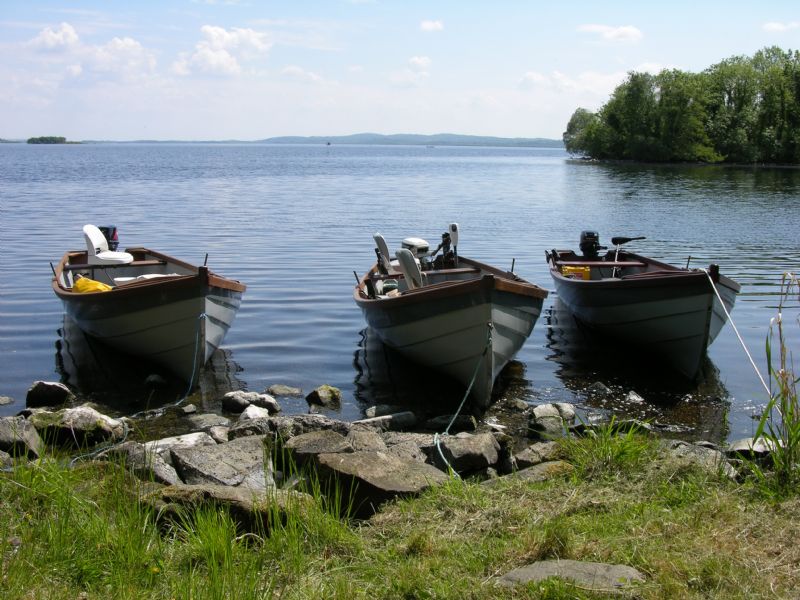 At Lusty Beg on the Erne, scorching sunshine and flat calm conditions were not appreciated!
"Duffers" fortnight on the Erne, where trout gorge themselves on Mayfly practically assured me of a Brown Trout article. However, blistering heat and mirror-like water conditions put paid to that idea. No one caught a single fish the whole weekend, and I was in the company of some of the highest qualified game angling guides in the country, unless you include the 4lb jack pike that took my spent gnat imitation!
Well folks, I promise that's the whining done and the lame excuses aired. With little to write about, I needed to pull a species trip out of the bag. I decided on a local venue in the hope of targeting one of our most stunningly marked and brightly coloured fish from Irish inshore marks, namely the Cuckoo Wrasse. This was a risky venture, as, although the winds had eased somewhat, they were still easterly in direction, leaving the sea state on the delicate edge between uncomfortable and downright dangerous! My angling friends, Michael Mcgimpsey and Dave Craig joined me aboard my Fast fisher, whilst Andy Jones teamed up with Big Phil on his Icelander.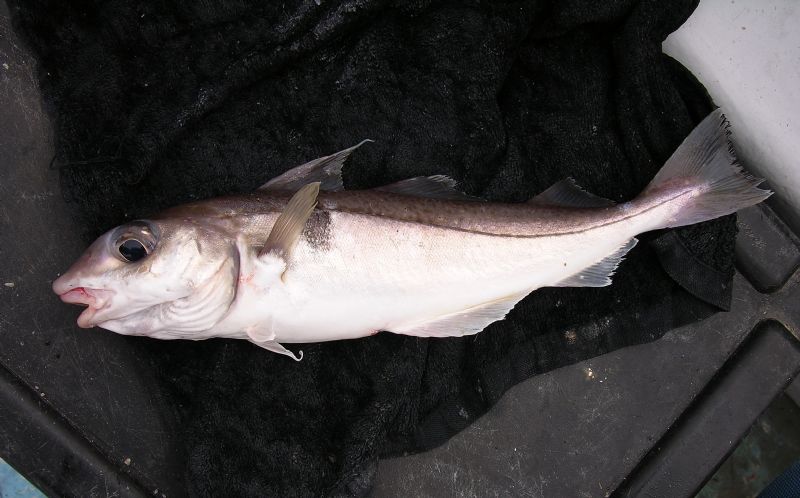 Haddock. A species rarity these days on a venue that once teemed with them.
Surely between the five of us, a Cuckoo Wrasse could be found for the camera! On arrival at the harbour, the in-shore waters were flat calm. This was encouraging, but it was the off-shore reefs we needed to target. These reefs suffer a little less from angling and commercial pressure, and offer the greatest chance of producing a reasonable days sport. Heading out, after targeting a few fresh Mackerel for bait, the horizon looked "lumpy" and did not bode well, and true to current form, less than two miles from the mark, the sea state was positively threatening. The rush of a spring tide over the scattered reefs, combined with an east wind simply "lifts" the sea to dangerous proportions. I have been at this game long enough now to know where to draw the line.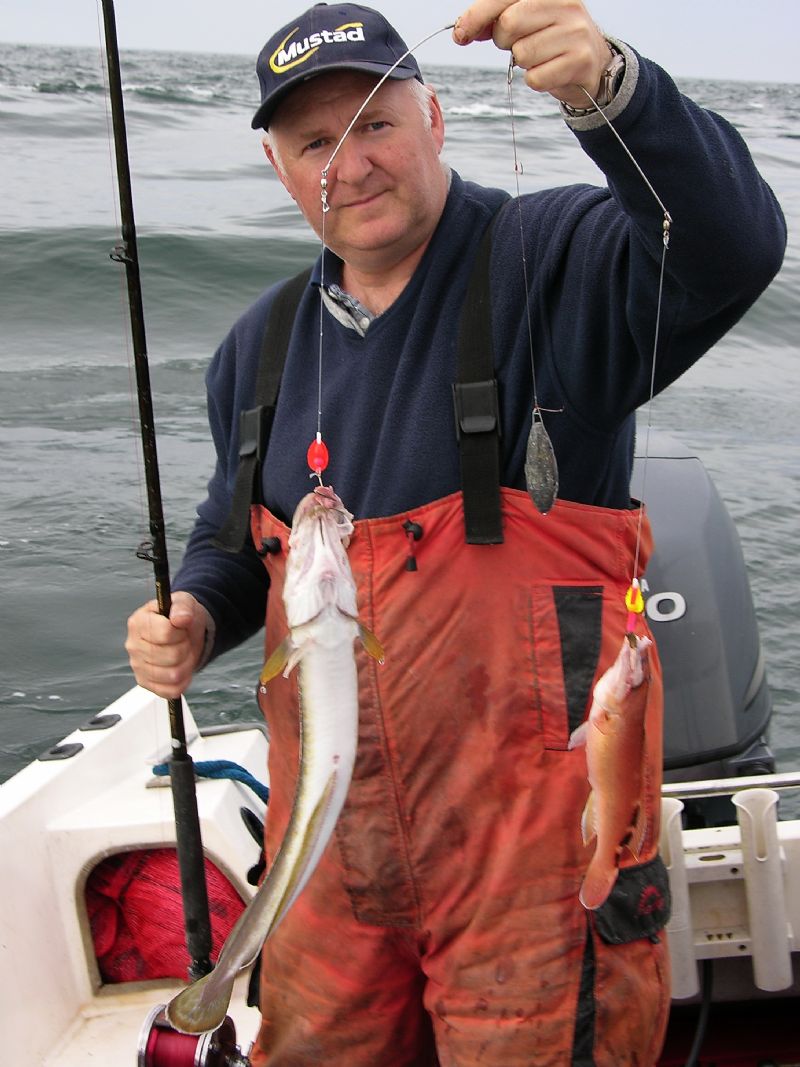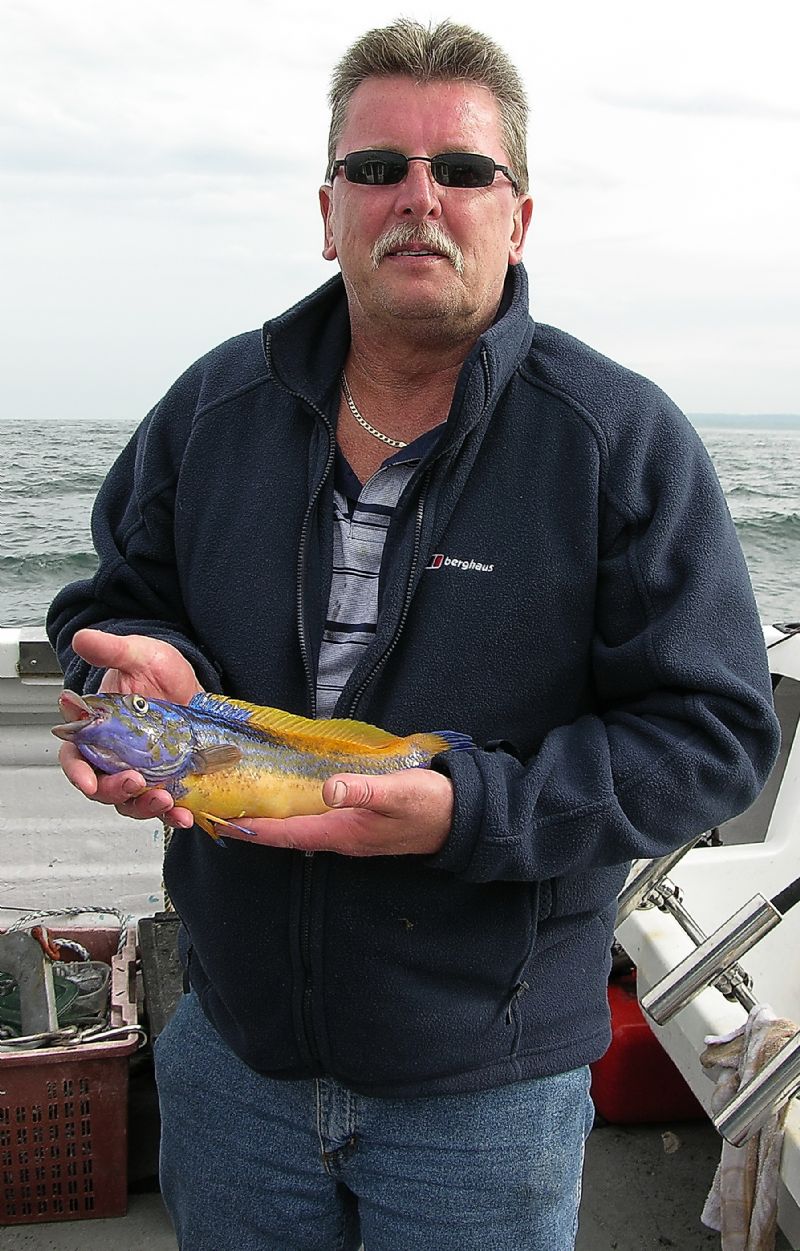 Andy Jones finds a brightly coloured male Wrasse and David takes a Ling and a female Cuckoo on a spreader rig.
It seemed this was yet another wasted journey, but there were still a few well-known reefs in the calmer inshore waters that may not have been plundered this season. Anything was worth a try, and the chart plotter and sounder were closely scrutinised for likely looking under water features such as cliffs, gullies, and drop-offs on the leeward side of the flooding tide. My first drop to the depths over a suitable looking mark produced a small Haddock, which was totally un-expected having not seen one for two years. Small Coalfish were next, one species that remain abundant in these areas, along with the odd small Pollack up to three pounds or so. Nothing spectacular, but good fun on light tackle, and it passed the time whilst in pursuit of our target species.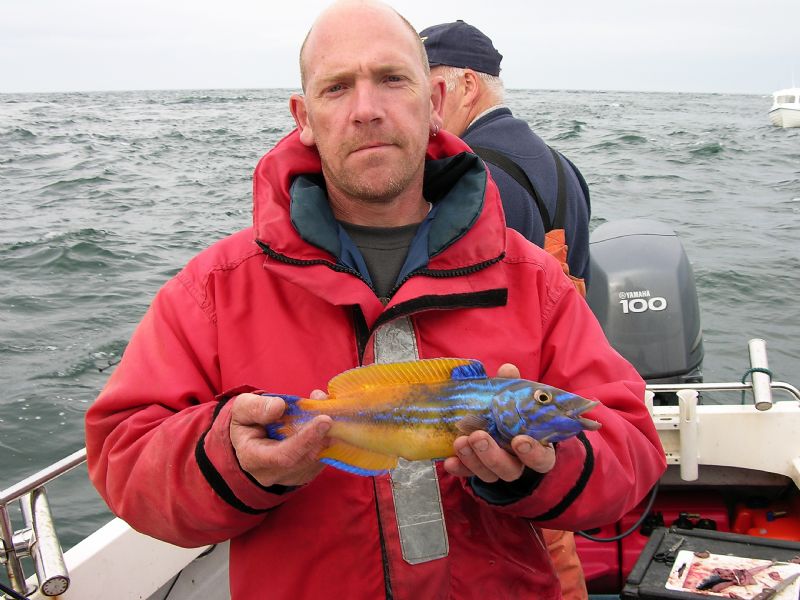 A male Cuckoo Wrasse for Michael Mcgimpsey, carefully and slowly reeled in for safe release
Cuckoo Wrasse are extremely territorial, and this can make them difficult to locate. The flip side to this is that once they are located, many can be tempted from the same mark. It is fair to say, on this occasion, that they were proving to be quite elusive. Both boats had split up, searching the numerous features and after an hour or so, big Phil hailed me on the VHF to say he may have something of interest. Pulling alongside, Andy produced a beautiful male Wrasse that was not only worth a photograph, but also worth weighing. It looked very close to the magical specimen weight. A quick check on the scales revealed it to be an ounce under!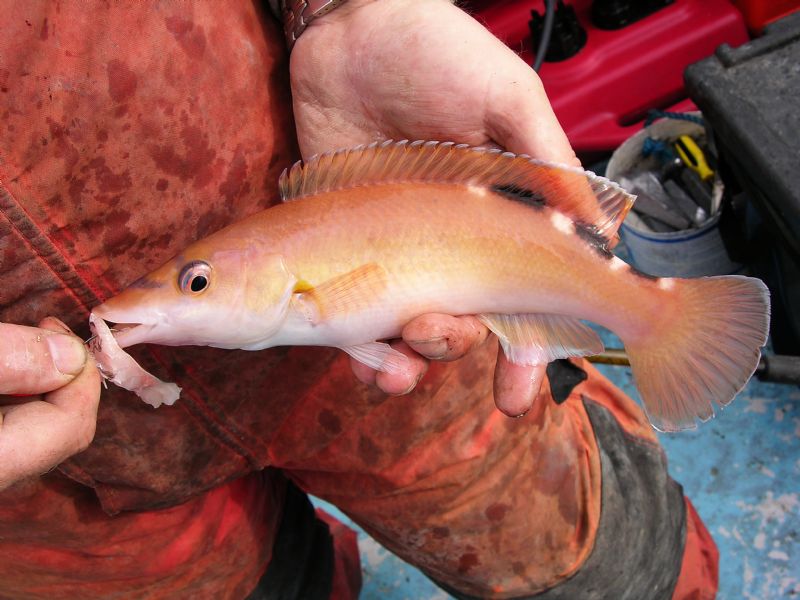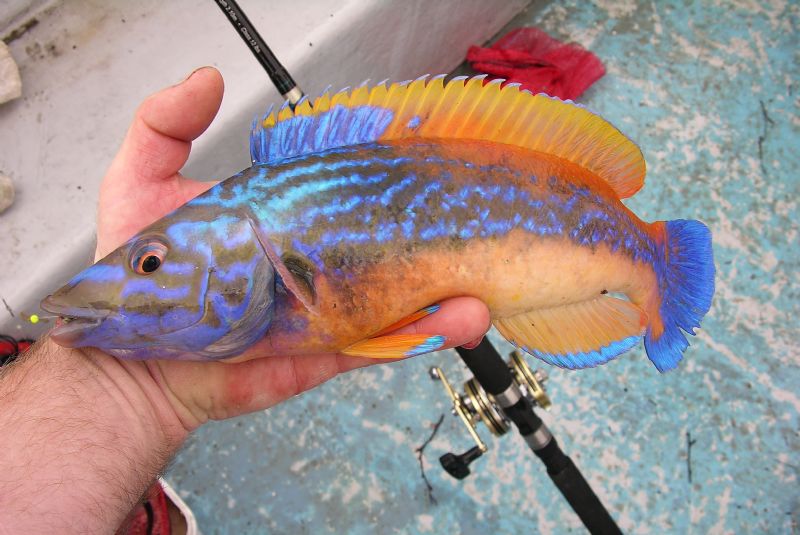 A stunning and brightly coloured male and a peach-pink female
The sounder showed a long gully, dropping from sixty feet to over two hundred feet, with the tide pushing us along and over the edge of it. With this mark promptly noted on the GPS, we set up for short, repetitive drifts, with the Wrasse obliging on every occasion. Soon, there were more than enough photo shots taken for the article, and, to avoid over-fishing, we decided to move away from the mark and chase some Pollack instead. Cuckoo Wrasse are simply stunning creatures to look at, and are always welcome to see, but they suffer from depth changes and are difficult to return alive. Reeling them up to the surface as slowly as possible helps, as does stopping at intervals to allow them a chance to de-compress, but they are quite fragile. Their fighting qualities are relatively non-existent, and I wouldn't relish eating one, but it is interesting to target a species once in a while, whose colouration would be more at home around the gin-clear waters of Australian coral reefs or the Red Sea. It always amazes me why they display such vivid colours and patterns in our murky seas. Perhaps it has something to do with mating colours, as the patterns seem to be quite vivid during the spring mating season.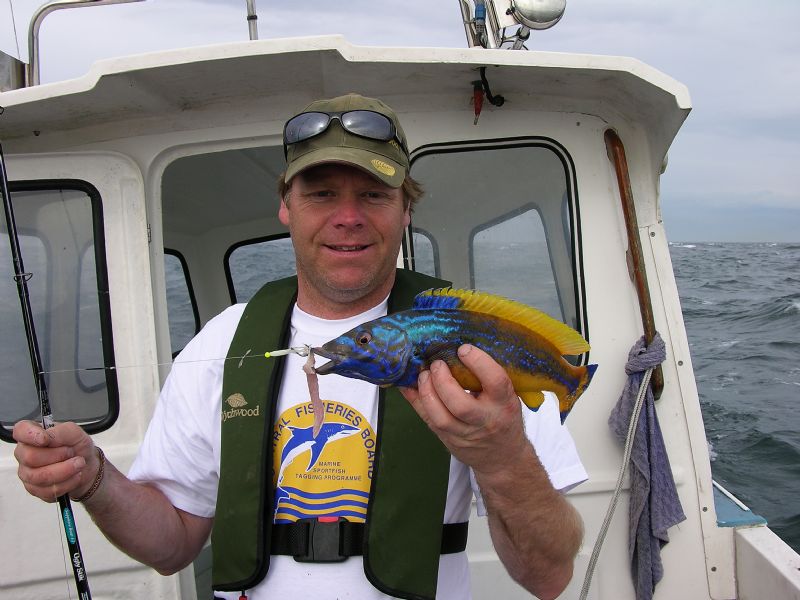 One for the skipper, just under specimen size
Bait
There is one bait choice that out shines all else when targeting Cuckoo Wrasse and that is fresh Mackerel strip. Yes, you will catch them on portions of peeler crab, ragworm, lugworm, sandeel, strips of squid and shellfish etc, but freshly caught Mackerel is superior by far. If necessary, frozen Mackerel will suffice but it is a poor second choice.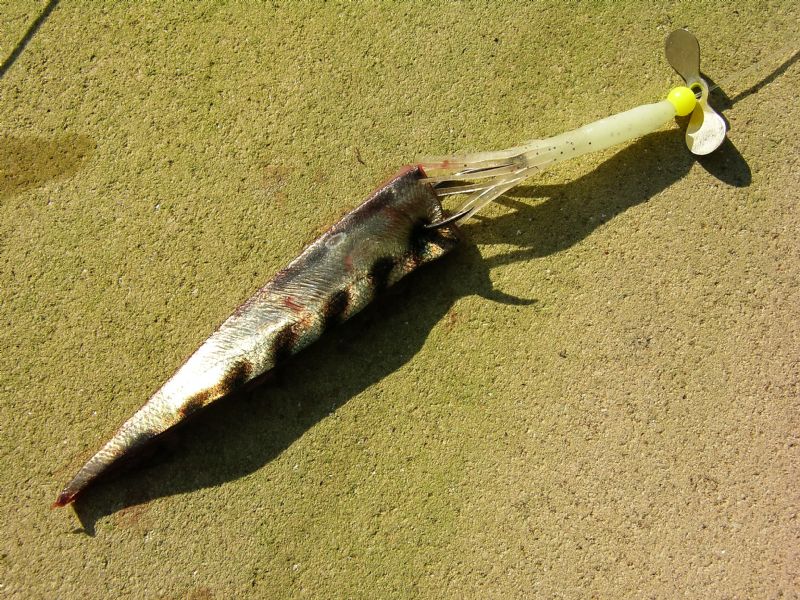 The Cuckoo wrasse in previous photo was taken on this strange, home-made rig
Tackle
This Wrasse species rarely grows larger than two pounds in weight, and as such, the lightest of boat tackle is all that is required. However, there are occasions, such as deep water and fast tides where a step-up in rod and reel size are necessary, but this is to accommodate the size of the lead weight more than anything else. Something to bear in mind is the other potential species present around offshore reefs. Larger fish will readily accept a small morsel intended for Wrasse, so heavier tackle may be necessary if you wish to land a bonus fish. Pollack, Conger, and large Ballan Wrasse will push light tackle to its limit, so some thought towards a balanced set up would be sensible.
Recommended rod Penn Regiment Boat rod 212-20 lb
Recommended reel Penn Fathom Non Level Wind Drag Reel-25lb - Black
I remember a charter trip out of Bangor with skipper, Tommy Martin aboard the famous "Missy Moo" fishing the Klondyke reef some years ago. Dropping down the edge of an underwater cliff, I was hoping for a specimen Cuckoo Wrasse. At the base, and in 397 feet of water, I lifted into a gentle bite and discovered I had hooked something a great deal larger than a Wrasse. With only 20lbs hook length and size 2 hooks, luck was on my side and I landed a Ling of almost 26 lbs!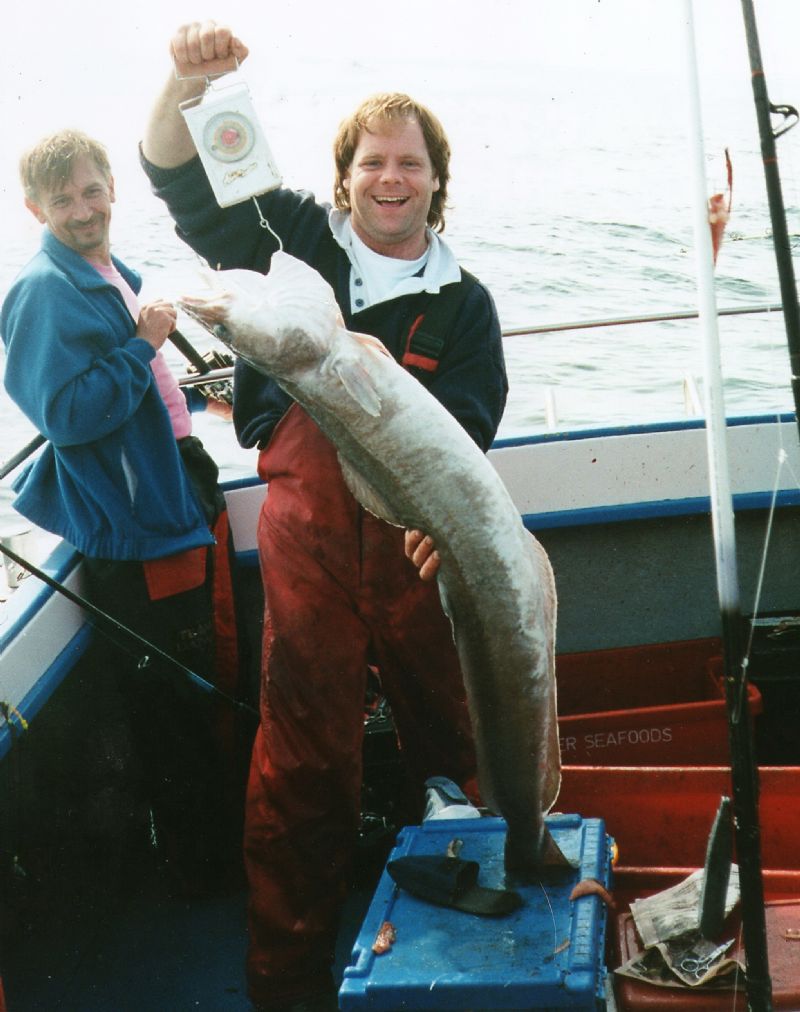 You can never be sure what will turn up, even on small baits and hooks! A specimen Ling in this case
Unfortunately, I have many similar tales where the fish won the battle, and I can only imagine what species or size of fish they may have been! Generally, I will fish a two or three hook paternoster rig. Baited Mackerel traces can be excellent, such as most of the small hook patterns from the Shakespeare Salt range (shown below) or if preferred, use wire booms on paternoster rigs.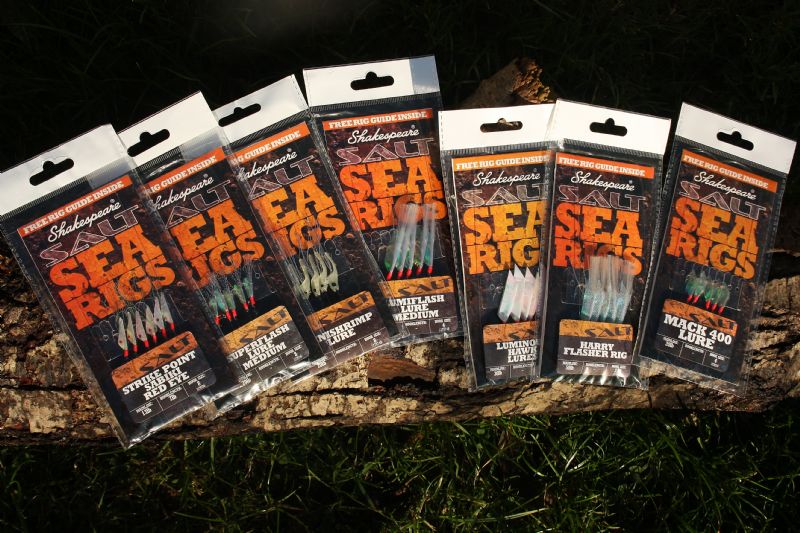 Recommended Cuckoo Wrasse rig Shakespeare Super Flash Lure Rig
Wire booms will give the bait a little more movement, and allow room to attach small attractor blades etc. Cuckoos respond well to colour, shine and vibration. They are miniature predators as well as grazers; a quick examination of their dentures is evidence enough! When constructing a typical rig, my main trace line is 50lbs b/s, with a 20lbs weak link or "rotten bottom" as it is known, to lose the lead weight should it catch on the seabed. Better this, than the whole trace! Hook snoods are 30 lbs. This will allow the chance of landing a bonus species. Hook sizes are 2's and 1's Aberdeen patterns such as Mustad BLN's or Kamasan. These usually bend under pressure when "snagged" to the sea bed but also stand a good chance of landing larger species.
Tactics
Cuckoo Wrasse can be targeted from the shore where rock marks drop off quite steeply into deep water. Boat angling is undoubtedly more successful, over reefs and pinnacles that plunge sharply into deep water. The offshore reefs have the advantage that they are usually rarely fished, allowing larger communities to develop. The down side of these deep-water marks is that Cuckoos are un-able to cope with the rapid change in water pressure and suffer losses.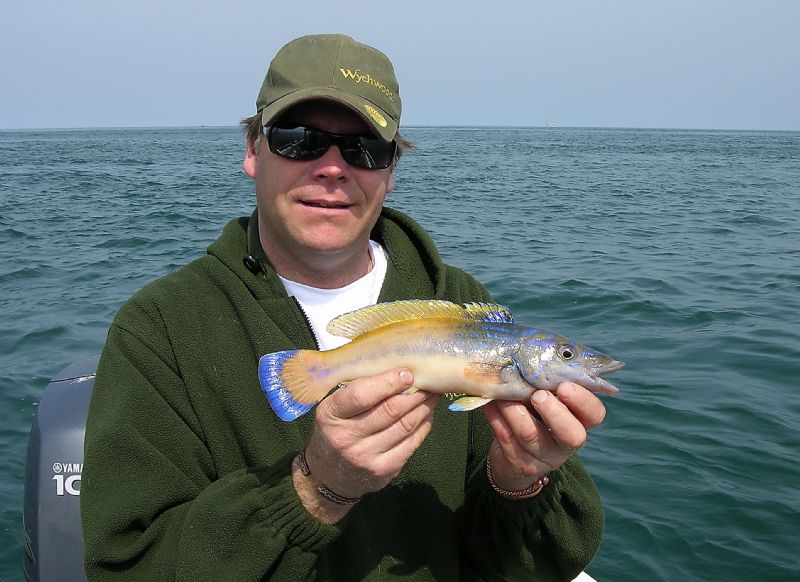 Interesting facts
Although Cuckoo Wrasse can be found in depths between 10 and 200 metres, they prefer 20-80 metres. The females range in colour from rose pink to orange-red with two or three dark spots, interspersed with white patches at the rear of the dorsal. Immature males can be similarly coloured, without the spots. Mature males are vividly coloured, with electric blue around the head and tail, and bright orange or yellow flanks. A mature male will have a harem of several females, and if he should die, over time one of the senior females will be able to change sex and colouration to take his place! Males will reach an average length of 35cms, while females tend to be slightly smaller, reaching 30cms. Wrasse will mature by the sixth year, and live upwards of twenty years.
Back