Specimen Flounder
Specimen Flounder
Featuring the Abu Atlantic and Penn Mag
(Archive article, originally for Irish Angler Magazine)
Regular readers will have noticed that my articles this year are based around various new tackle items on the market.
My intentions are to hand-pick top quality gear each month, and give it a thorough test in pursuit of whatever species or task it is designed to target.
For this month's article, I wished to hit some shore marks in search of large Flounder, and the Abu Garcia Atlantic range of beach rods looked particularly desirable. From the three options available, I chose the longer 484 model at 15ft 4 inches, casting 3-6oz. This would give me an opportunity to feel how a longer rod casts. It would also allow the use of 12 ft traces and 4 ft snoods if desired, which adds extra movement to a baited hook, and can work well when Flounder fishing. I matched the rod with a Penn Mag multiplier, loaded with Spider wire Invisi-braid for a perfectly balanced set-up.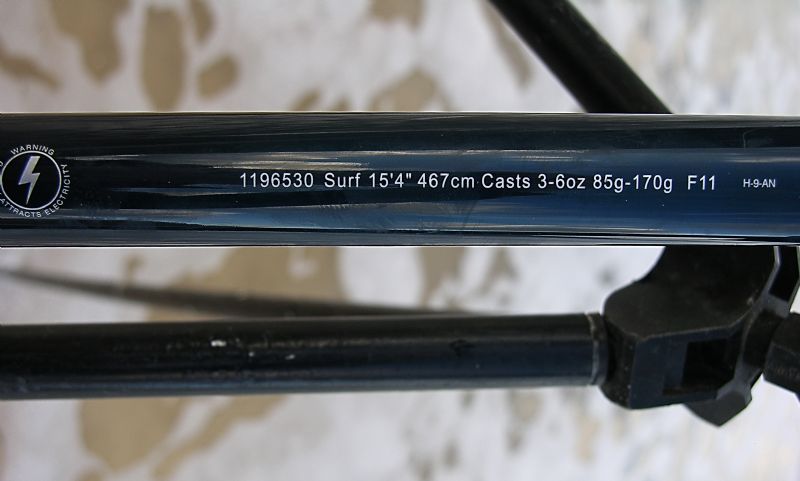 All I needed was a decent Flounder to bend it which, as it transpired, was a great deal easier said than done. After four fruitless attempts on Benone Strand, catching "blazer badges", I moved further a field and tried some of the stunning surf beaches of North Donegal. Again, all I could tempt were tiny Flounder and hand-sized Turbot. However, what I did discover was how well this kit casts, literally straight off the shelf. From short lobs into the surf tables, to blasting towards the horizon, this combo casts so smoothly, it's idiot proof, yes, even for me! Bite detection was superb, letting me know that palm sized flatties had hung them selves. However, catching under-sized fish doesn't make good reading, and certainly did not test the rod the way I had envisaged. I needed to come up with a better plan.
Not what you would call ideal conditions!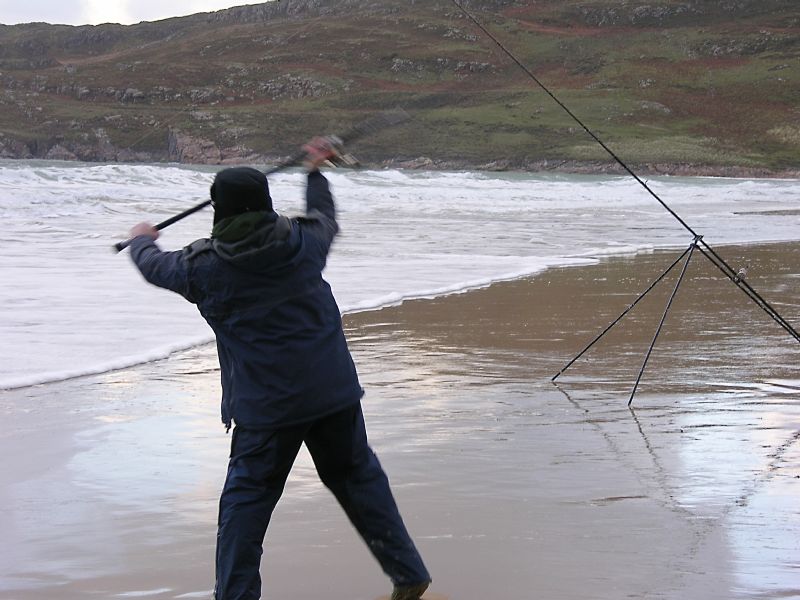 "Blasting" one out, as little showed in the surf table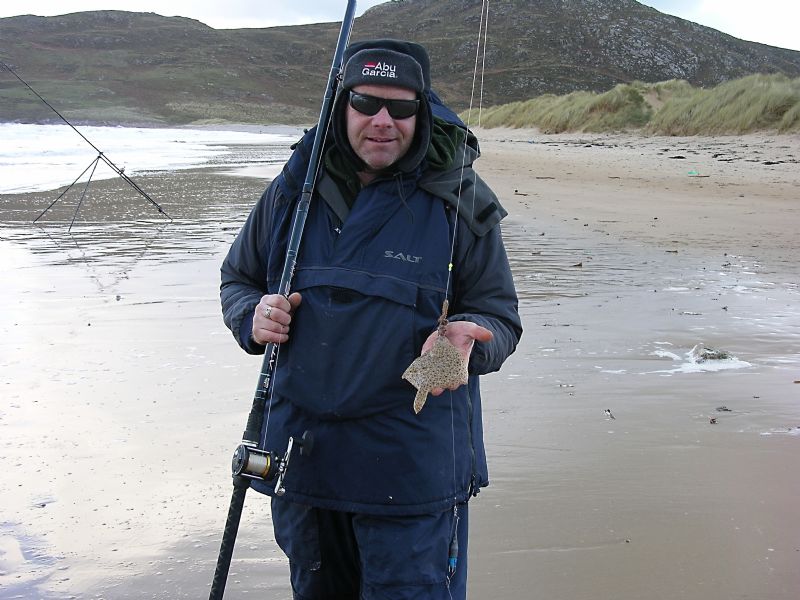 Scant reward for my efforts on this occasion!
As if by divine intervention, Des Chew of the Eastern Regional Fisheries Board rang me totally out of the blue. We had never met, but I had heard about Des through his excellent work running the Dublin Angling Initiative, a project that introduces youngsters to angling. To cut to the chase, he needed a favour that I was able to sort out, but made the fatal error of saying "I owe you one"! I immediately cashed it in, and asked if he could set me up on a decent Flounder mark. "Leave it with me" he replied.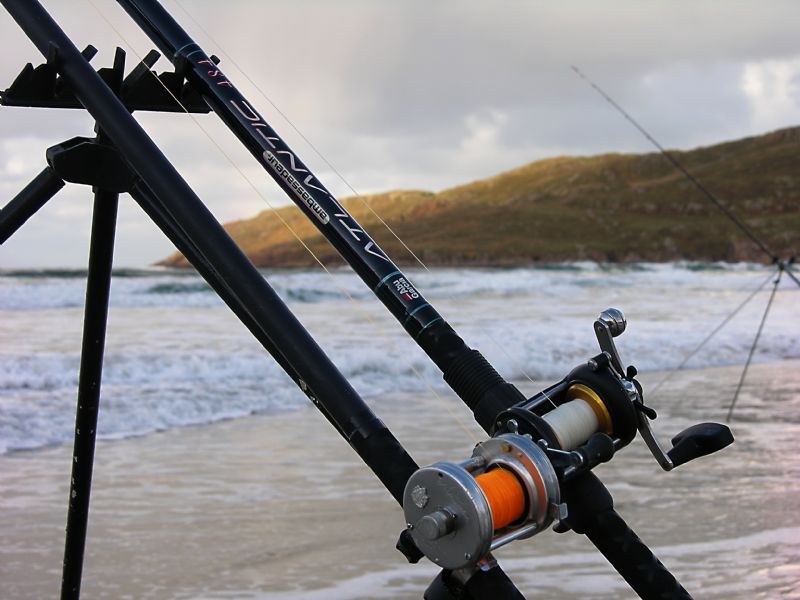 A few days later, Des rang to say he had organised a trip with top specimen hunter, Ian Mulligan and when the tides were favourable, the three of us would head to Wexford. Ian has a great deal of experience in this area, and none better to put us amongst some decent shore angling.
True to his word, two weeks later I found myself heading to Des' house in Dublin for an over-night stay, leaving a refreshed run to Wexford at 6am the following morning. I would like to thank Des and his wife Caroline for a fabulous meal and buckets of hospitality. We met Ian at a pre-arranged petrol station for tea and bacon rolls, and after a bit of chat, headed for the hot-spot. Although the guys decided not to blind-fold me, there were so many twists, turns and back roads that I had no idea where the hell I was anyway!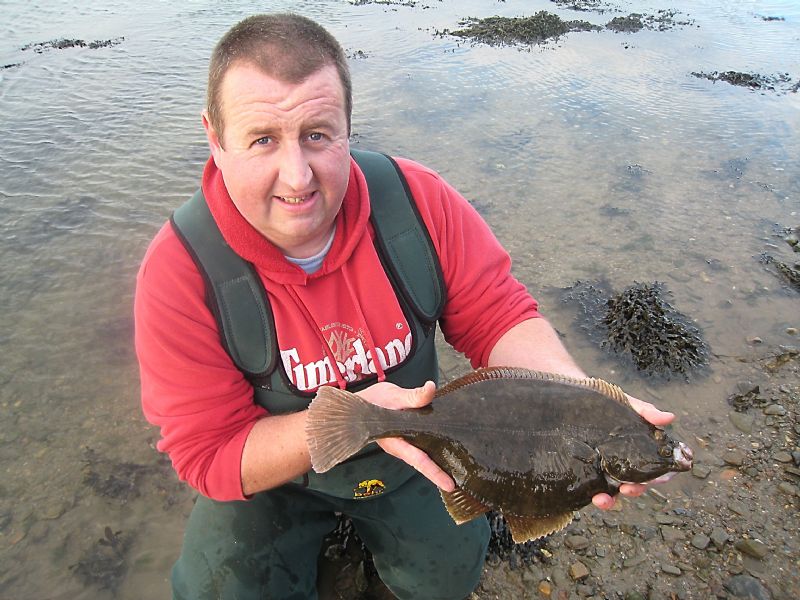 Ian Mulligan with a decent Flounder
The mark looked and felt just how a Flounder mark should, and I could hardly wait to drop a fresh crab and lugworm bait into the middle of it. There was a little tide running, and a couple of practice casts with the Atlantic showed that a three ounce lead held nicely, inching its way downstream to hopefully entice a wary Flounder. Sometimes nailing a bait to the sea-bed works well, but if you can get the balance right, a little movement can be a killer method in slowly searching the area in front of you. I used to do this with great success at Benone, cutting the grip lead wires back with sharp pliers until the lead barely held, sometimes as short as 10 mm to control the speed that baits travelled through the swim.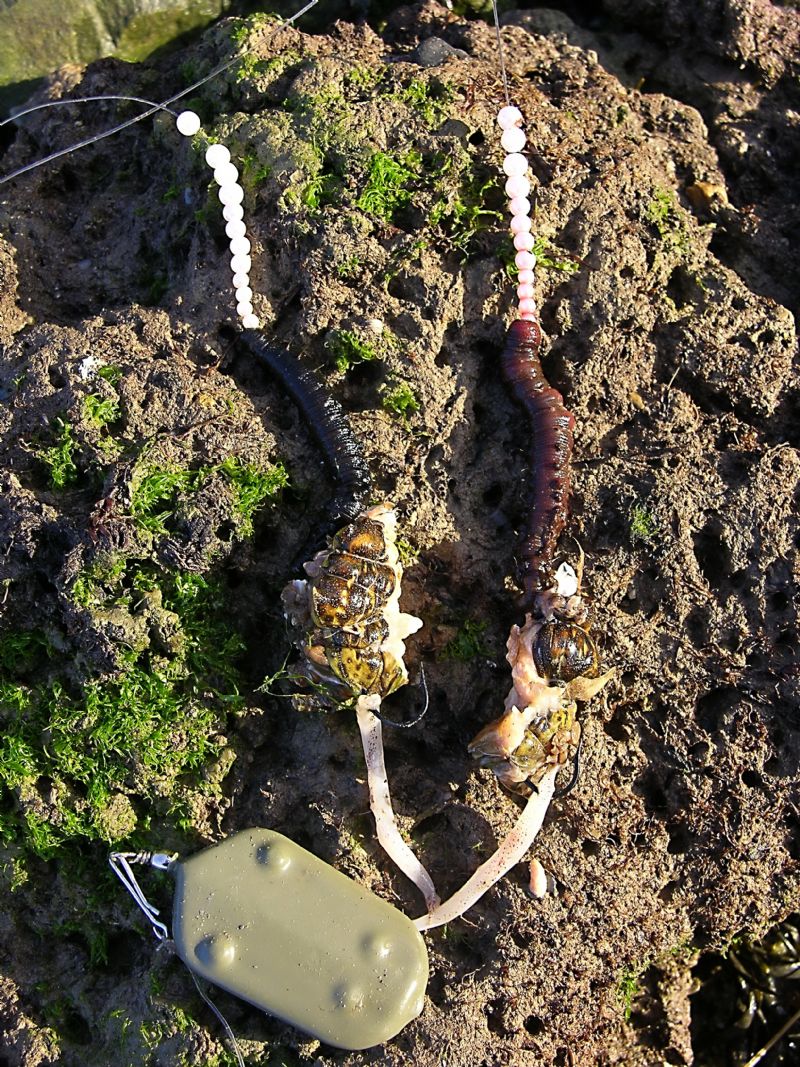 A juicy crab and lugworm cocktail, tipped with squid found the specimens
With two rods each, baited-up and resting on tripods, it was time to relax and hope that something worthwhile would show up. It wasn't long before Ian responded to a couple of positive "taps" on the rod tip and soon reeled in a plump flounder. Not making specimen size but a worthy fish all the same and bigger than I have seen in a long time on my shore exploits on the north coast. First blood to Ian, I had been pre-warned about this guy and his fish catching abilities!
Des was next to see some action and his obviously large "flattie" unfortunately shook the hook before it broke the surface. He was gutted, but it showed a promising start to the session. With no bites for me, I was wondering if I had done something wrong, and Ian diplomatically handed me one of his tried and tested traces to try. I was delighted to see that it was almost identical to mine, even down to the white attractor beads above the hooks! Promising to give it a try on the next cast, I looked up to see the Atlantic give a deep "nod", quickly followed by a second nod and then a slack line. All typical text book Flounder fishing. "Just one more pull", as I willed the rod tip to move again, and it promptly obliged. There is rarely a need for vicious "strikes" when Flounder fishing at short range, especially when using braid, and as I carefully reeled the fish towards the shore, I could tell this was larger than most Flounder I have taken in my lifetime.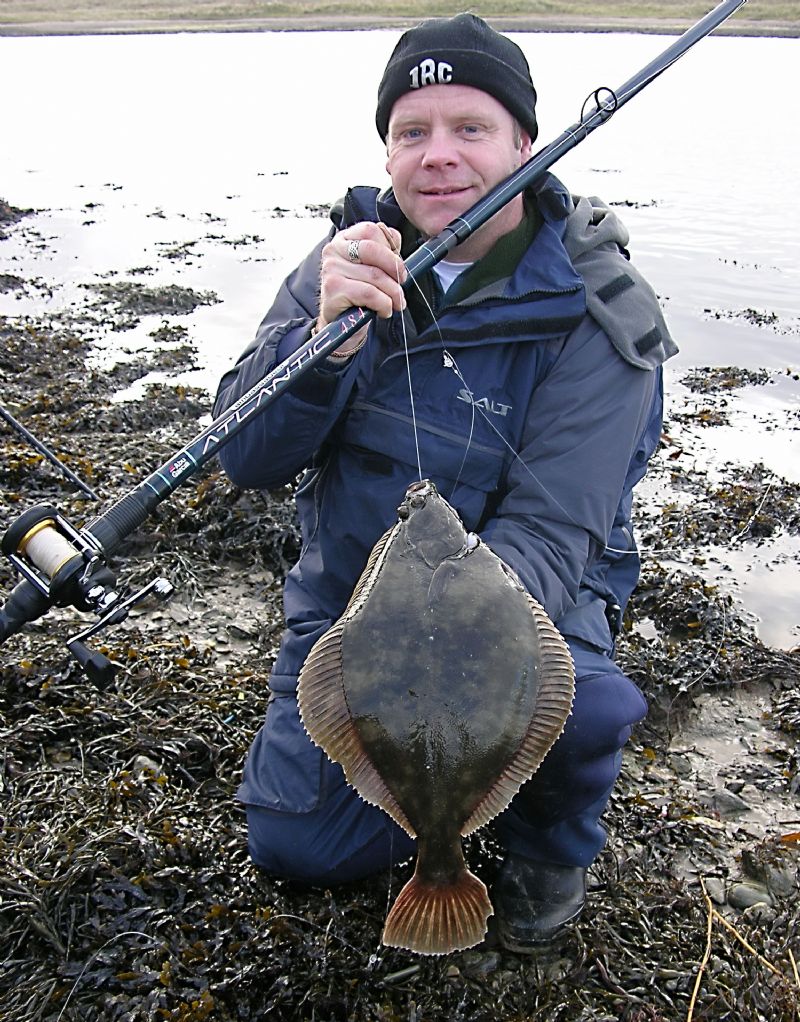 As it broke the surface, I lifted it to safety, knowing immediately that it was over the magical 2.45 pound specimen barrier. Weighing in just shy of 3lbs a cheer went up and the lads were genuinely almost as pleased as I was. It occurred to me that having caught literally hundreds of Flounder up north, I had never seen a fish that size, but managed a specimen on my first cast down here in Wexford!
I knew that a fishing session with two anglers of Ian and Des' quality wouldn't see me ahead of the game for too long and I was right. Within minutes, Ian lifted into his second fish that pushed the scales round to 3lbs. Two specimens in ten minutes is excellent shore angling by anyone's standards, and un-heard of on my local coast line. I felt sorry for Des, having missed out on his large fish, but he was totally delighted at seeing two fine fish in one session. We continued fishing through the run of the tide, landing quite a few decent fish, and to round off a perfect day, Des finally slipped a huge looking flounder across the surface. Matching Ian's' previous specimen, it too hit the 3lb mark. How good was that? Not only three specimens in the one session, but completely balanced out at one apiece.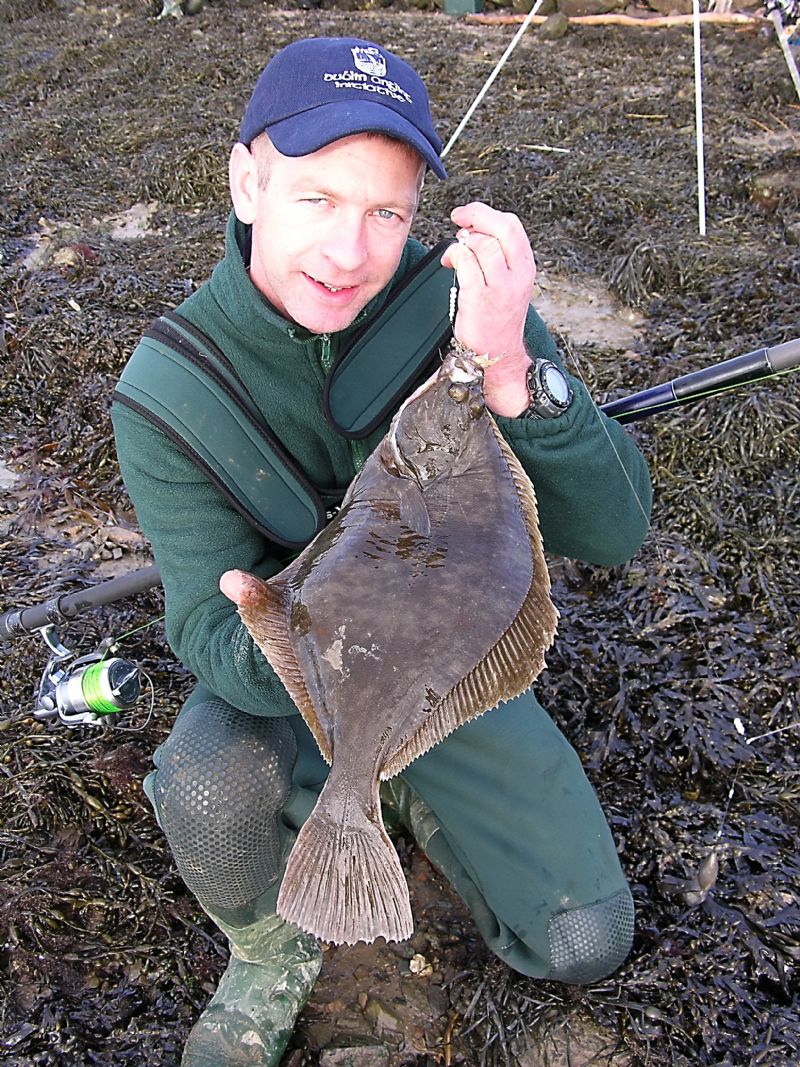 Des makes it a specimen trio!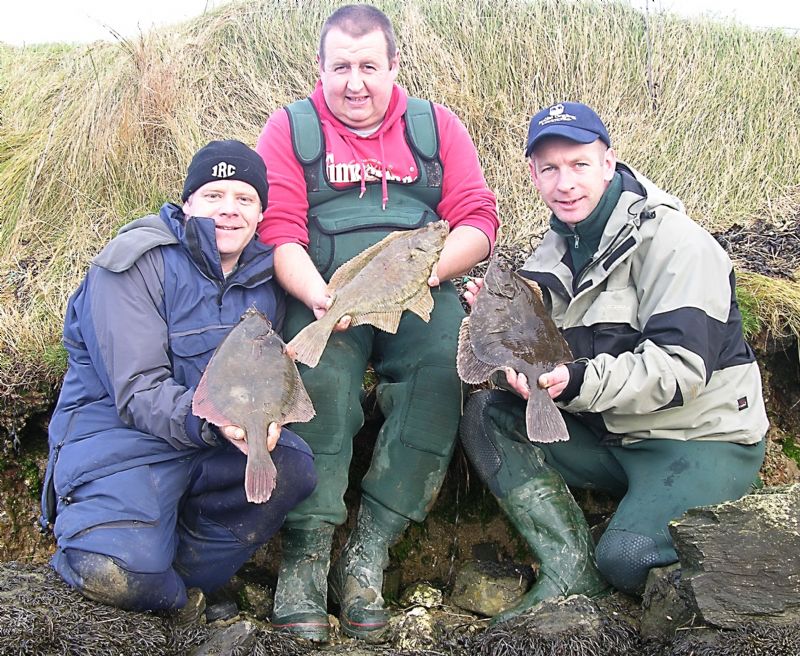 Not common sight, three specimen Flounder in one session!
As this was a two day affair, and with the feeding tide now gone, we headed back to the digs for a clean up and one or two celebratory pints that turned into a great evening. Des showed some hidden talents, singing Irish songs to a bar full of pensioners over from the UK, receiving one or two kisses from the blue rinse brigade!
The following morning, we headed for the same stretch of shore-line. With the tide granting us an extra hour, we had high hopes of a repeat performance. We enjoyed another fine session, although not as fruitful as the previous day regarding specimen fish. Ian of course managed another fine fish to bring the tally up to four specimens over two sessions, rounding off a superb and extremely memorable shore adventure.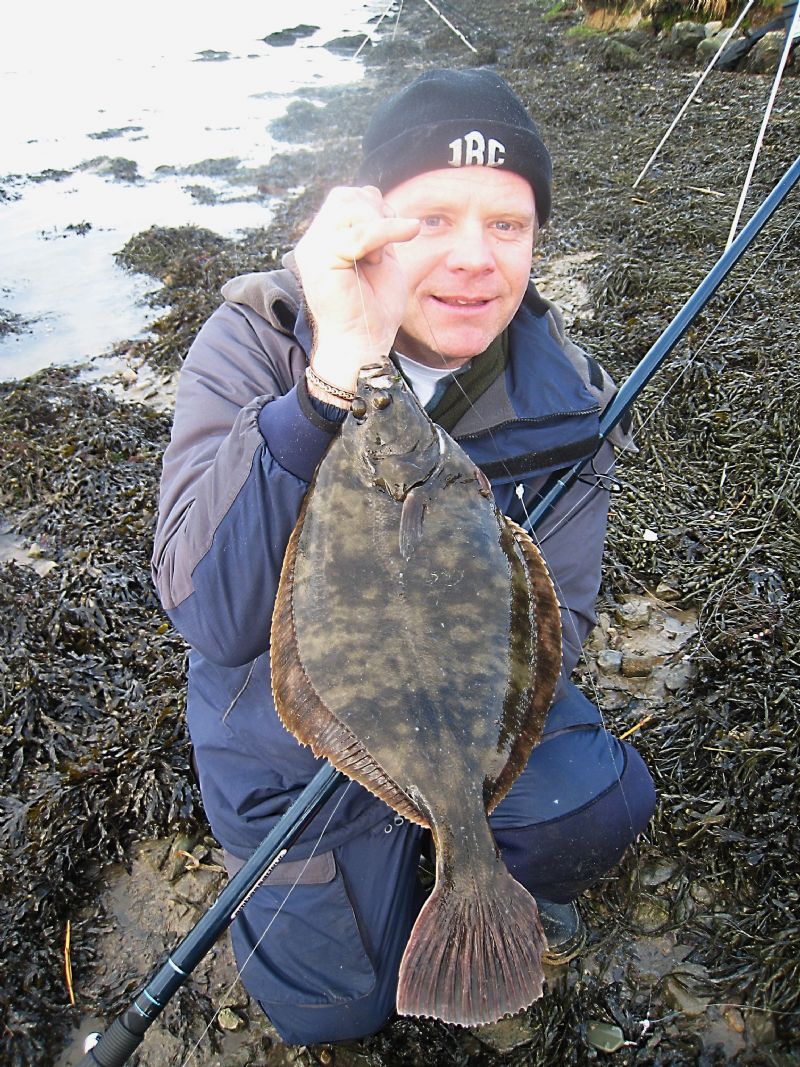 Similar to the previous day, as the tide eased, so too did the flounder. Although we persisted for a while, the turn in tide brought with it rafts of weed that made angling almost impossible, and the decision was made to pack up early. With a four hour drive ahead, it was a sensible decision, especially as my jeeps wiper motor had burnt out on the way down to Dublin! On our way along the coast, Ian stopped at numerous intervals and showed me some superb marks for Flounder and specimen Bass; I can't wait to head down to Wexford again later in the year. Obviously I cannot betray a trust and reveal hotspots that anglers work so hard and spend years developing. What I can say is if you are fed up catching under-sized fish or taking too many blank sessions on the chin, get yourself down to the Eastern Region for some of the finest angling in Ireland, I know for a fact, that I will be back.
For further information on where to fish in this area, do not hesitate to call Josie Mahon's office at the Eastern Regional Fisheries Board on (0) 278 7022. If you are prepared to hire the service of a shore angling guide, Jim Hendricks is the man to call on 00353(0)53 23351, mob 00353(0)87 905 5245.
About the tackle
I asked Mike Thrussel to explain the 484 to me, as he had a major part in its design and production. I quote;
"The Atlantic rod name is historical as the original 484, circa late 60's, was the first rod to cast 200yds in the hands of Peter Bagnall. This was the rod that set the pace with the hundredweight catches of cod per angler in a single night off Dungeness Beach in Kent in the late 60's/ early 70's. The rod was the first of the modern concept rods we use today, fast taper, stiff butt, built for maximum range and powerful casting styles.
The equivalent rod in the new Atlantic range is actually the 464 which is a multiplier rod with a reducer. You have the long 484 "Euro" rod at 15'. This is a hybrid rod for both fixed spool and multiplier. The current 484 is designed with a stiffer butt and lower mid section to create greater casting performance and improve the overall feel of the rod to better suit the UK/Irish market. True European rods tend to be a more all through parabolic action bending right in to the butt, the 484 is not the same and is built to load then store power better as the cast reaches its climax to give an after burn effect to increase lead speed on release. You will find it gives its best performance with 5/5.25ozs and bait, but you need to hit the rod and get the power down in to the stiff butt section to get the maximum from the rod. It casts well though, with an easy overhead cast, but flies when cast off the ground"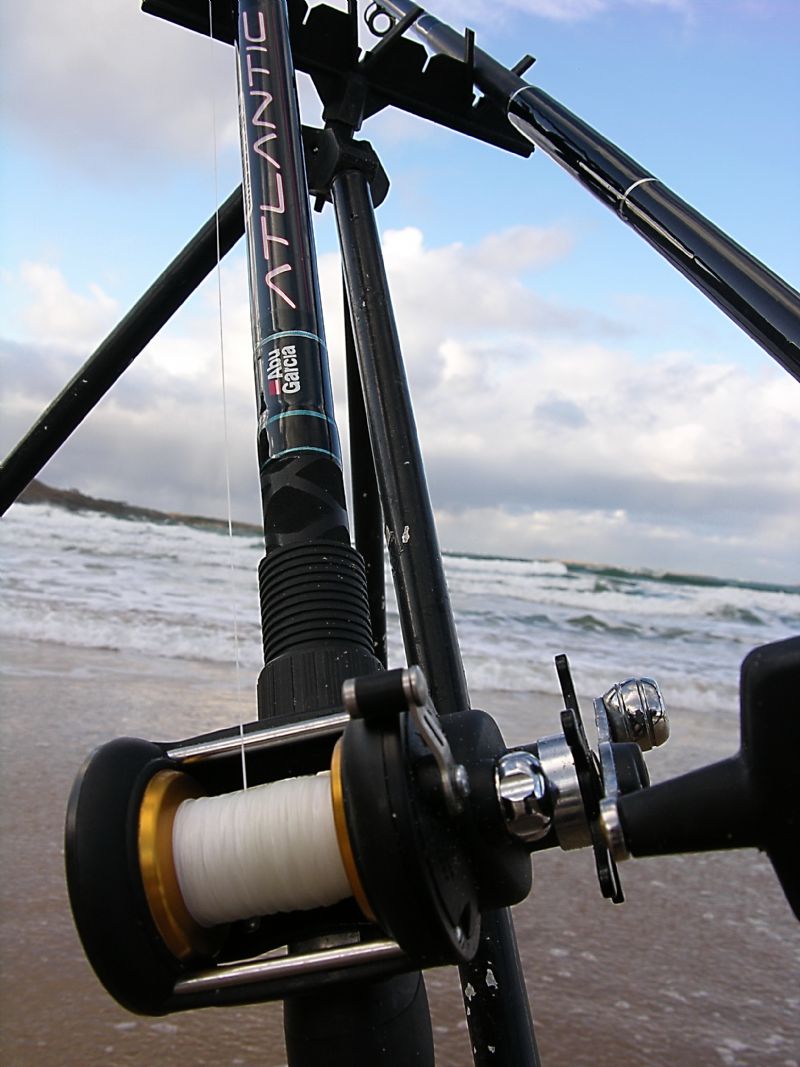 Abu Atlantic and Penn Mag, top combo
What I can say about the new Atlantic is that it is a superb shore- angling rod, well finished with original Fuji guides, shrink tube and sliding reel seat that can be changed to coasters if preferred. There are three models to choose from, a 12ft 4 inch, a 13ft 8 inch and the model I tried at 15ft 4 inches. With a casting weight range of 3-6 oz and adaptable for multiplier or fixed spool, the 484 is a very versatile piece of kit.
What can I say about the Penn Mag that hasn't been said? It is Penn engineering at its best, offering years of trouble free service. Robust yet extremely light weight with a powerful drag system and refined "tune-able" braking system. It cast beautifully, straight out of the box, I love this reel!
Update
Latest Penn Mags
Penn 515 MAG2 Series Reel - 230yrds, 18 lb
Penn 525GS MAG2 Series Reel - 240yds, 18 lb
Penn 535 Mag 2 Reel - Black
Latest Abu Beach caster
Abu Garcia Espirt Beachcaster Multiplier Series Rod - 13 ft
Latest Braid from Spiderwire
Spiderwire Ultracast SU20IB-300 Invisi Braid 300 Yd 0.33mm - Transparent, 20 lb
Back