Specimen Hunting Series Part 11 Bull Huss
The Bull Huss Challenge
Name: Greater spotted dogfish, also known as Bull Huss.
Latin name: Scyliorhinus stellaris

Irish record: 23lbs 13ozs, taken at Kenmare Bay by Perry Dumay on 17.09.2003
Specimen weight: 16lbs or 7.257 kilos
The trip
After last month's successful Tope adventure, I opted to stay on the predator theme and seek out another big hitter in the "toothy critter" line up. For this month's article, I have decided on the challenge of a specimen Greater Spotted Dogfish, or Bull Huss, as it is commonly known. To describe this awesome looking creature, simply imagine the small, Lesser-Spotted Dogfish. The Huss could be its extremely powerful, larger and a great deal more evil looking bigger brother.
On this specimen hunt, the area I wished to try was a local venue, and thankfully, no long distance drive involved. It is a new mark, only discovered several months ago, but on every occasion that I have fished, Bull Huss have made an appearance. Interestingly, what makes this area special is that many of these fish weighed in over the double figure barrier. Although none were anywhere near the seemingly un-reachable mark of sixteen pounds, my gut feeling was that there had to be a big girl down there somewhere. Dave Craig joined me on this trip. Apart from the welcome company, and sharing the expenses, it is always useful to have an extra hand aboard when anchoring in deep water. We met at the harbour early Sunday morning and were soon afloat and tackled up in search of Mackerel. These are usually quite easy to locate but typically, when you really need them they refuse to show. After wasting too much time, the decision was made to take a chance with the emergency back-up frozen bait in the cooler box. This consisted of Calamari Squid, Mackerel, and a couple of Rainbow Trout. Normally I would persist to find Mackerel, fresh bait is always preferable, but as this mark is dependant on tidal flow and direction, we were fast running out of time.
A couple of drifts over the mark gave me a reasonable idea of exactly where to drop the anchor. It is vitally important to get this part right. If you miss the mark, do not just leave the boat at anchor and hope for the best. My advice is to lift the anchor and try again, taking tidal strength and wind direction into consideration. This sounds like hard work but it could mean the difference between a poor days angling or an exceptional day to remember!
Luckily, we ended up bang on the mark, with the customary, pre-frozen bag of rubby dubby tied to the anchor chain. Hopefully this will work its magic by drawing in any nearby predators that happened to be sniffing around for a free meal, while Dave and I sorted out the necessary terminal tackle.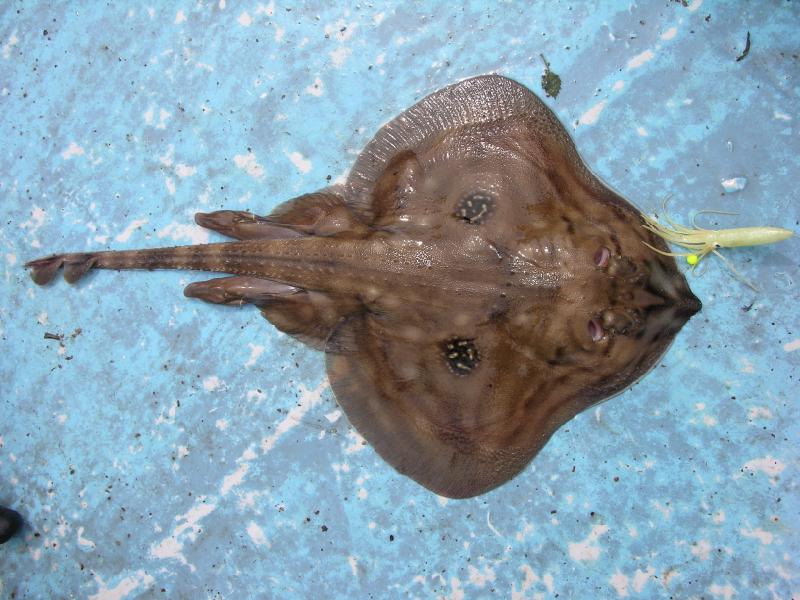 A surprise male Cuckoo Ray
The lesser-spotted variety of dogs soon showed up, grabbing each bait offered. Unfortunately these are an occupational hazard when a bag of "chum" is introduced. There is little that can be done except keep catching them in the hope that a few larger Huss will barge their way in and bully the smaller dogs out of the way. Larger baits such as whole Squid, Whiting or Pouting will put the odds in your favour. A switch to whole Calamari managed to tempt something a little larger. If it was a Huss, I thought, it didn't feel large enough to make double figures. I was pleasantly surprised to slip the landing net under a decent Cuckoo Ray. Now there's a species I did not think would be here, and one that has been duly noted for the future.
Dave continued to lift dogs in "twos" and sometimes "threes" while I experimented with other baits in the cooler box. Fillets of Rainbow Trout were worth a try next. We normally keep whole trout as Skate baits, but found out through past experiences that they can also be excellent for Spur dogs. This soon produced a twelve- pound Conger and surprisingly, two decent Codling. Could this be the new secret wonder bait? Possibly, but the elusive Bull Huss still managed to evade capture.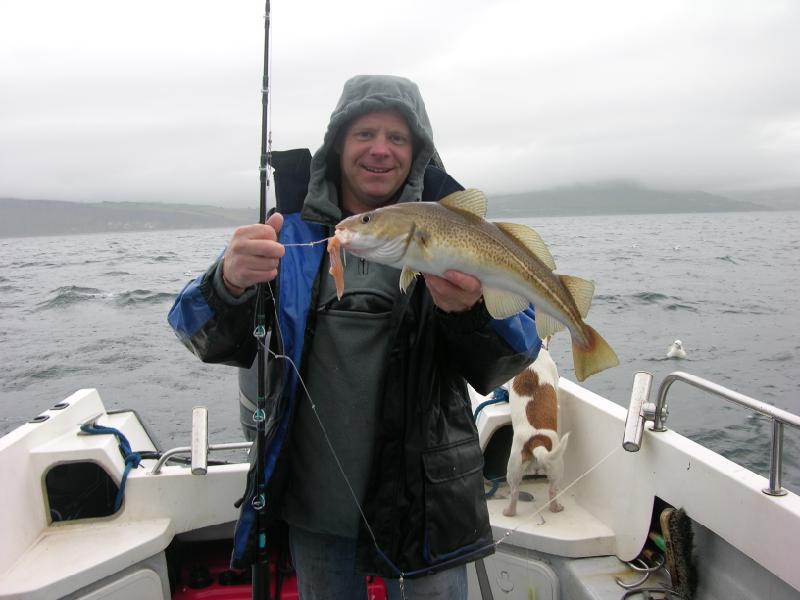 Codling were partial to fillets of rainbow Trout, there's no accounting for taste!
A small Whiting was the next species to appear from the depths. This was despatched and promptly returned, attached to an 8/0 O'Shaugnessy. At last, this did the trick and a Huss soon thrashed angrily about the deck. At approximately five pounds it wasn't worth weighing, but it was a welcome start none the less. Intermittent Dogs and Huss fed well, most taking whole Whiting baits. With none breaking into double figures, it seemed our specimen trip was going to fail. To top it all, a heavy drizzle moved in which further dampened our spirits!
We decided to give it another half an hour, and, as is usually the case, when someone mentions packing up for the day, the biggest fish turns up. To Dave's disappointment, it picked my bait, and I soon had a beautifully marked, double figure "doggie" safely in the landing net. Unfortunately, the scales showed it to be somewhere between eleven and twelve pounds. A fine fish, but the specimen had eluded us on this occasion. I decided to give this fine fellow a tag in its dorsal before returning it, and agreed on one last drop before heading to the harbour.
Within fifteen minutes I lifted into another powerful fish, and once in the net, was stunned to see that it was the same fish we had just returned, tag and all! It just goes to prove that with careful and quick handling, this particular species suffers no ill effects at all. Heading for harbour, Dave totalled our catch at one hundred and fifteen Dogfish, two Congers, two Codling, several Whiting, one Grey Gurnard; one small Spur dog, one Cuckoo Ray and nine Bull Huss. Bloody hell, not bad for a failed trip!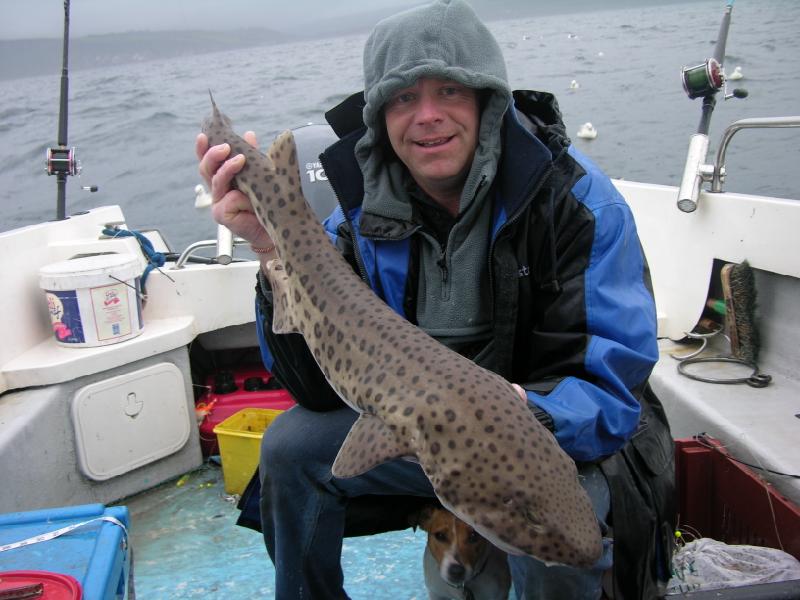 Spot the dog! Skip shelters from the drizzle! Leopard spotted Huss.
As this venue was local, and not wishing to admit defeat, I decided on a return trip. The thought of those large Huss was eating me up inside. Where there are eleven pounders, there must be bigger specimens present. Dave was up for a re-match the following Sunday, and plans were soon worked out to suit the tide. We found Mackerel straight away, always a positive start to the day. Our first mark at anchor was over very deep water, which gave me a nice Ling of eight pounds and a twenty- pound Conger. Dave landed a double shot of a small Conger and the largest Blackmouthed dogfish yet. This beat my personal best, which I was not too happy about!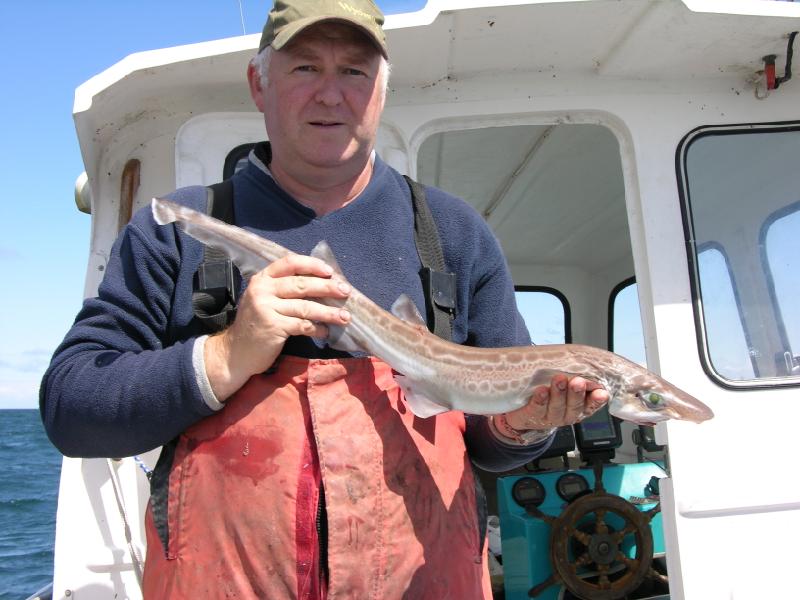 A specimen Black-Mouthed Dogfish for Dave
After a few hours, the tide began to push too hard. There was no alternative but to lift anchor and try an inshore reef that was known to produce Huss. This was alive with small "doggies" and we managed to find six Huss, unfortunately nothing over three pounds in weight. As the tide began to slacken again, it was time for the "hotspot". Everything was right, wind direction, tidal flow, and plenty of fresh bait to feed the ravenous dogs. Quietly gloating, Dave asked if I had forgiven him yet, for the huge Back-mouth he had caught earlier. "A specimen Huss is the only thing that will pacify me now" I replied. The dogs queued up to be caught when my rod buckled under the thump of an obviously large fish. Lifting into it, to set the hook, it ripped off several yards of line before the lever drag brought it under control. It must be a Conger, I thought, but Dave bet me a pound it was the Huss I'd set my heart on.
After a five-minute struggle, a huge fish surfaced from under the boat. Magnified in the water, she looked enormous, like a sand coloured shark. It was two heart-stopping attempts before she slipped into the landing net (thanks Davy!) and safely onto the deck. An angry female Huss that took extreme exception to being caught! At this size, they are truly awesome looking creatures, so powerful and tough, ideally suited for roughing it amongst the rocks, boulders and kelp beds of an in-hospitable environment.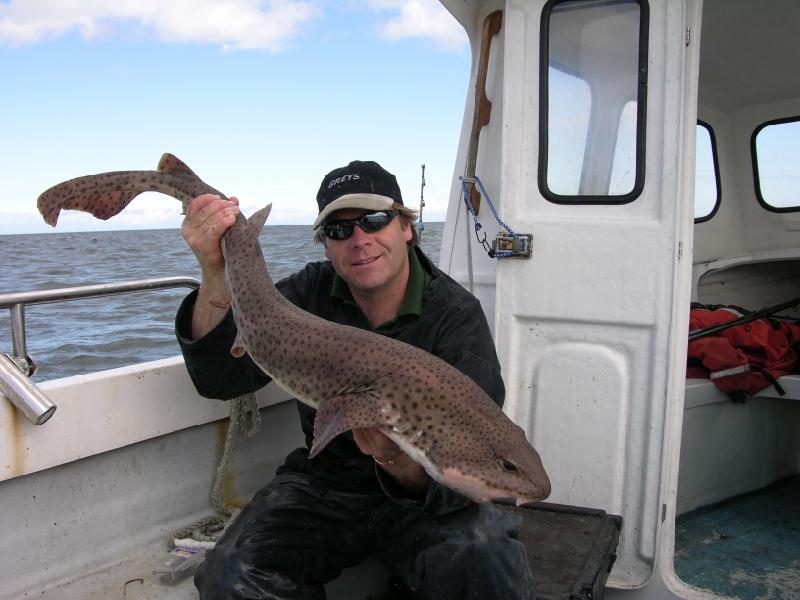 Cracks the magical specimen barrier at sixteen pounds and two ounces
The big question was, exactly what size is she? Davy zeroed the scales on the sling as I waited with baited-breath. At Sixteen pounds and two ounces, it was just over specimen size. I could have kissed him! Well no, I couldn't, more chance of kissing the Huss, but I gladly gave him the pound bet once we landed ashore. I'm happy to say that I still get that fabulous rush of adrenaline when I land a new species over specimen size. What an end to the day, and nothing like finishing on a high note. The buzz, apart from playing and landing such a fine fish, was persisting with that gut feeling and proving myself right. If there is something to be learnt from this trip, it is to trust your instincts and see them through. So many specimens that I have caught over the years have come from a return trip, or simply staying that extra hour after convincing myself that the target species is there, in front of me. If you do the homework and have confidence in your approach, you will be half way towards catching that fish of a lifetime.
Savage beauty, with a fieresome set of teeth hidden below, talking about the Huss!
Bait
Peeler crab works but is not really necessary if you have plenty of fresh fish bait. Mackerel is the top all rounder, either cut into fillets, as a flapper or whole if it is not too large. Calamari squid can be superb, or small octopus as these are their natural quarry, along with whole Whiting, Pouting and Poor Cod. Do not be afraid to use quite a large bait, a Huss's mouth is cavernous.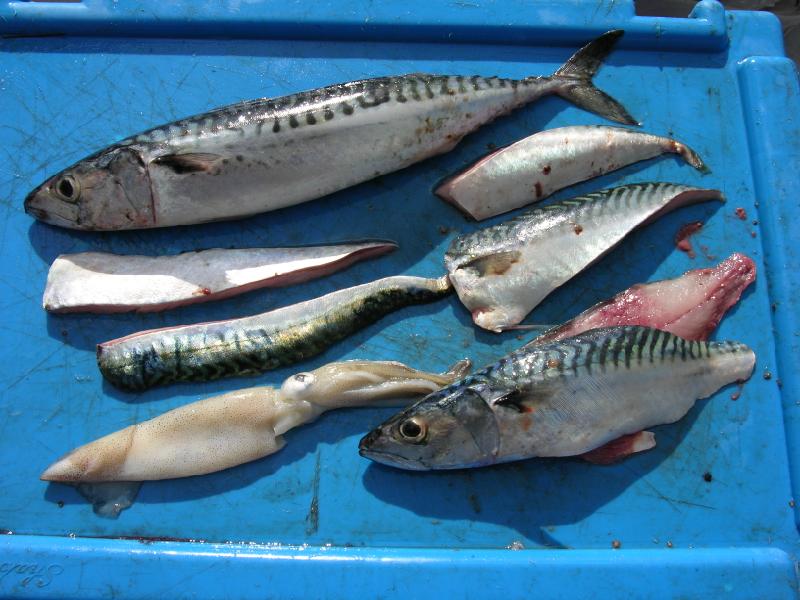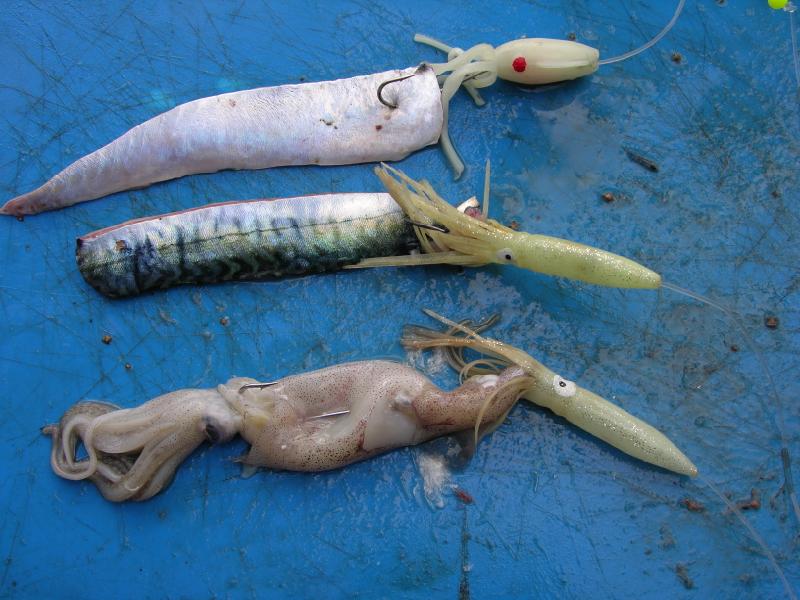 Fresh Mackerel or Calamari Squid can be superb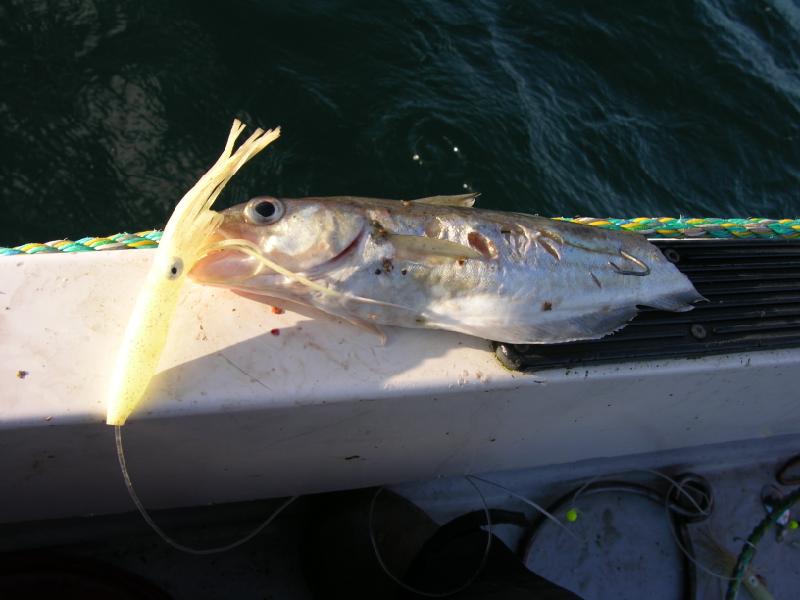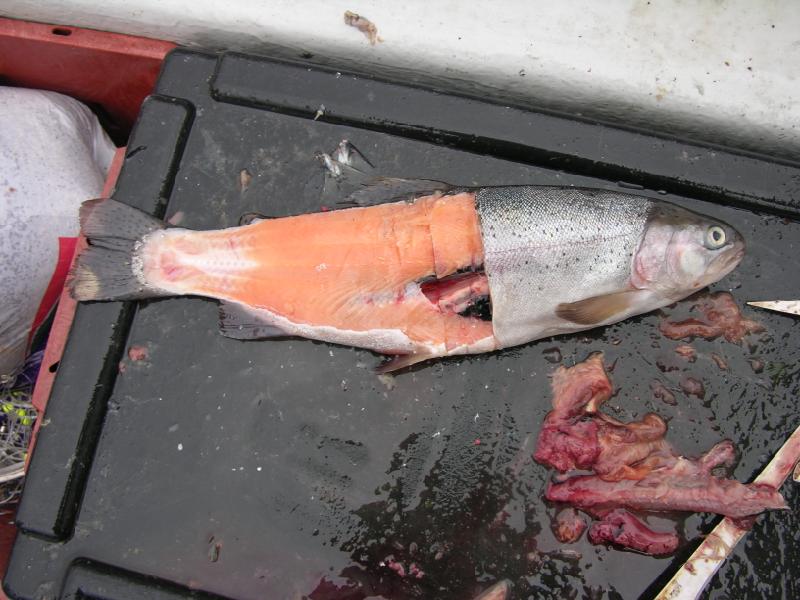 Whiting, and even oily trout fillets are well-worth trying
Tackle
A twenty class boat rod is ample if tidal conditions allow a light rod, coupled with a 7500 reel or Penn 3/0 or similar. Load these with 50lb b/s braid. Large Huss put up a strong, persistent fight but do not really test tackle to its limits, the test comes when you try to hold one for a photograph! Habitat is usually what I call "grabby". This means there could be tackle losses so keep hooks to a minimum unless the seabed is relatively clean. Do not forget the rotten bottom weak link on the lead sinker. I prefer a two-hook paternoster, or sometimes a running ledger with a second hook above the boom. Luminous muppets and beads above each hook work well as attractors. Personally, I prefer large baits to sort out the bigger fish, and hook sizes reflect this. At least 6/0, but more often 8/0 O'Shaughnessy's, and, as with all shark angling, make sure they are bronze patterns to quickly rust should a fish take a hook deep. Huss have teeth, and quite a mean set too. Wire hook lengths are not necessary, but I use at least 100lb b/s and sometimes 200lb in case Conger, Spur dog or Tope are about. The heavy nylon does not seem to affect presentation or put the fish off.
Tactics
A bag of finely chopped rubby dubby is always recommended as Huss have a keen sense of smell and will home in on the scent trail. Strength of tidal flow can be important, but each area is different and will need to be worked out. Just spend a whole day on your chosen mark and note exactly which tidal state is productive. Then implement this on the next trip. Make sure hook points are not obscured by the bait, and keep the hooks razor sharp. Huss are renowned for spitting or ejecting a baited hook just as they reach the surface, which, as you can imagine, can be extremely frustrating. Fish for Pouting and Whiting with a second rod using small hooks and Mackerel strip, as a fresh dead bait can make all the difference if bites are slow!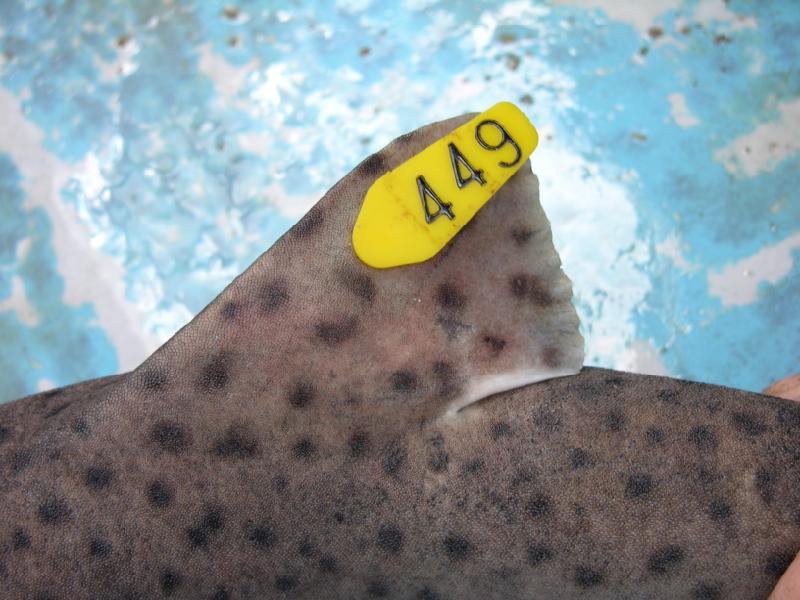 If you land a Huss with this tag number, you have found yourself a cracking specimen!
Interesting facts
Bull Huss are common inshore and offshore sharks. They are found on the continental shelf over rough, rocky or coralline ground, and algal covered sea beds. Inshore, they will frequent depths as shallow as 1-2 metres and up to depths of 125 metres. They feed on bottom dwelling invertebrates such as molluscs and crustaceans, e.g. squid, octopus, hermit and velvet crabs, and also small fish, and are known for nocturnal foraging. Huss are oviparous, with a single egg per oviduct. The egg cases are 10-13 centimetres long and are attached to algae or stones during spring-summer. These are left un-guarded to develop over 7-9 months. The embryos feed solely on the yolk sac and hatchlings are approximately 16 centimetres in length. Distribution ranges from Northeast Atlantic, the Shetlands, Southern Scandinavia and the British Isles to Morocco and the Mediterranean. Huss belong to the family Sclyiorhinidae (cat sharks) in the order Carcharhiniformes (ground sharks) and the Class Elasmobranchii (sharks and rays).
Back