Specimen Hunting Series Part 12 Black-mouthed Dogfish
Black-Mouthed Dogfish
(aka Black-mouthed catshark)
Fact file
Name BlackMouth Dogfish

Latin name Galeus melastomus

Irish record Not applicable as yet
Specimen weight Not applicable as yet
The trip
As this is the last article of my specimen hunting series, I decided to finish with a fish that is little known in the sea-angling world, and furthermore, has yet to be acknowledged by the Irish Specimen Fish Committee as a viable target species in Ireland. So, what is the procedure when a new species begins to establish itself, or is newly discovered and captures on rod and line become commonplace? Black-mouthed Dogfish are not exactly a new species to our shores. They have always been present, but regular captures of this beautiful creature through angling is relatively recent. In fact, until four years ago, this species was considered extremely rare.
My first encounter was almost five years ago, whilst targeting Spur dog on the Antrim coast. We were checking out deep-water marks in the hope of finding areas un-disturbed by anglers, and more importantly, areas away from commercial pressure. Not an easy task some might say! On one particular mark, the ever-present Dogfish were showing, when a "doggie" with a difference broke the surface and was swiftly swung aboard. At first glance, I was at a loss to identify the species, as it was obviously not the common, lesser-spotted variety. By keeping it alive and well in a bucket of water, I studied the fish and worked through the options using a logical process of elimination. With all options exhausted, I happened to look again at the mouth cavity and there I found the answer. The roof of the mouth was predominantly black in colour, and I remembered hearing of a species caught some time ago that fitted this description. A quick call to Dave Craig had him scanning the Internet, and with all the information tallying, we had identified our first Black-mouthed dogfish species.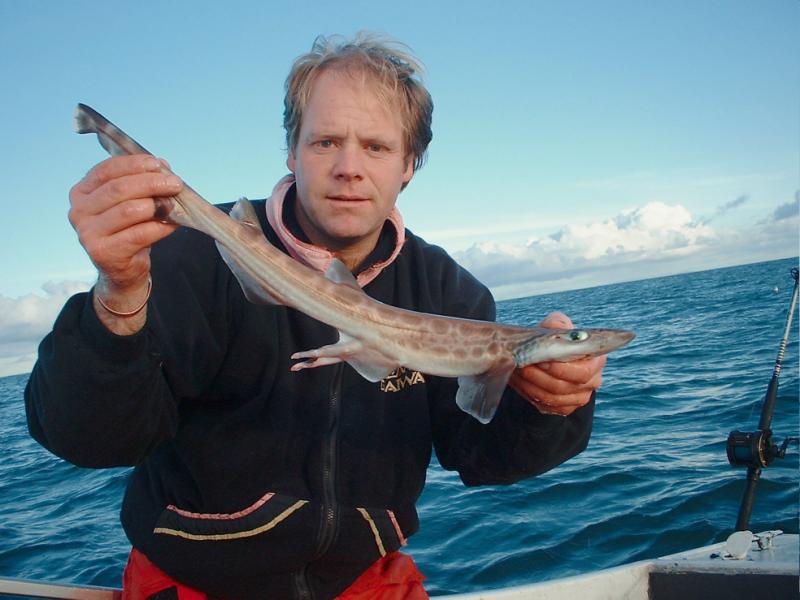 My first ever Black-mouthed dogfish, claspers below denotes a male
This was the only Blackmouth of the day, but further trips to the area using similar tactics and tackle began to produce reasonable numbers. After a chat with Dr. Willie Roche of the specimen fish committee, his advice was to submit any captures to the committee in order to build data on the species. If enough information was forthcoming, it may be possible to introduce the Black-mouth as a new Irish category. From memory, I submitted three fish that year, and a further nine the following year. At the time of writing this article, I have eighteen forms filled in and ready to send to the committee. This is how new species are added to the list, and will hopefully follow equally interesting discoveries such as Triggerfish and Gilthead Bream.
For the purposes of this article, Big Phil and I arranged a trip to another deep-water mark that has recently produced Black-mouths in healthy numbers. Picking neap tides allowed for smaller lead weights and also, more time over the mark, not to mention easier fishing. Working in over three hundred and fifty feet of water can be hard work! On arrival at our destination, it was obvious that the tide was still too fast. Never mind, plenty of time for a sandwich and a cup of tea. Mackerel are impossible to find here at this time of year (winter season), and frozen reserves from the abundant summer months were called upon, along with a box or two of Calamari Squid. These little squid are superb for Black-mouths, and can be used whole, as strips or simply as an attractive cocktail tipped on the end of a Mackerel fillet bait.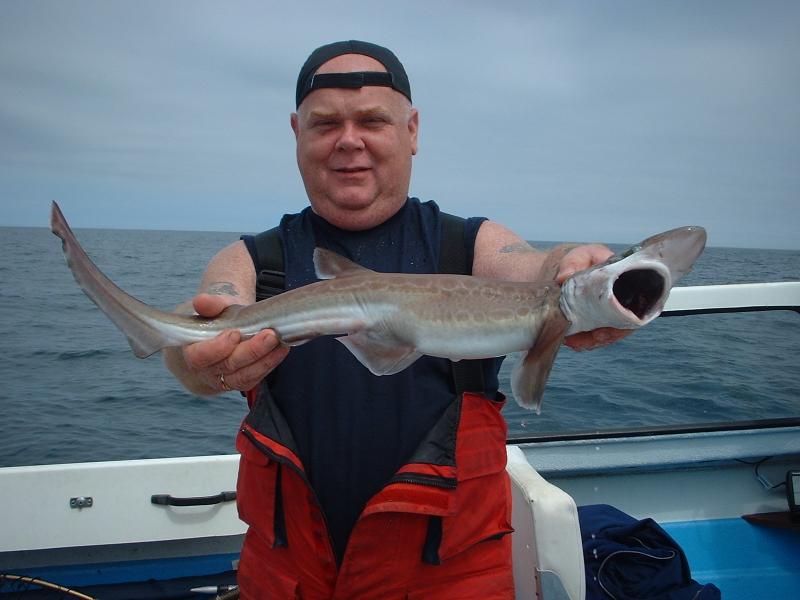 Phil with a female Black-mouth. This fish delivered six egg cases over-night
As the tidal strength eased, bites began, and it was no surprise to see our old friends, the Lesser-Spotted doggies, showing in single and double shots. A small Spur dog and a couple of tiny Congers broke the monotony before Phil connected into the typical Blackmouth bite. They really know how to rattle a rod tip; fooling an angler into thinking he has something much larger showing an interest in the bait. Through experience, we know to reel these fish in as slow as possible, to minimise the damage caused by decompression. They seem to be a little more fragile than their common cousins.
Sure enough, a beautifully marked Black-mouth was lifted aboard and one nil to Big Phil. I know the Black-mouth can never be noted for its fighting capabilities, but the un-mistakable, boa constrictor markings, delicate fins and green eyes make this species a worthy target. Admire its beauty for a minute, and then return it to the depths. As the tide died away through slack-water, Phil landed another, in between countless dogs, and I began to think I had lost my touch. A resounding thump on my rod put me back in the running, and to Phil's disgust, I managed my first double shot of Black-mouths, one male and one female. Just in time too, as the turn in tide pushed us slowly in the opposite direction and away from the feeding zone. It may sound strange to many anglers why I should target a species with no fighting capabilities, and there was a time when I would have thought the same. I have been lucky enough to catch many different species in Irish waters, experienced superb battles, caught some huge fish and lost many more, and enjoyed some of the best times and memories of my life.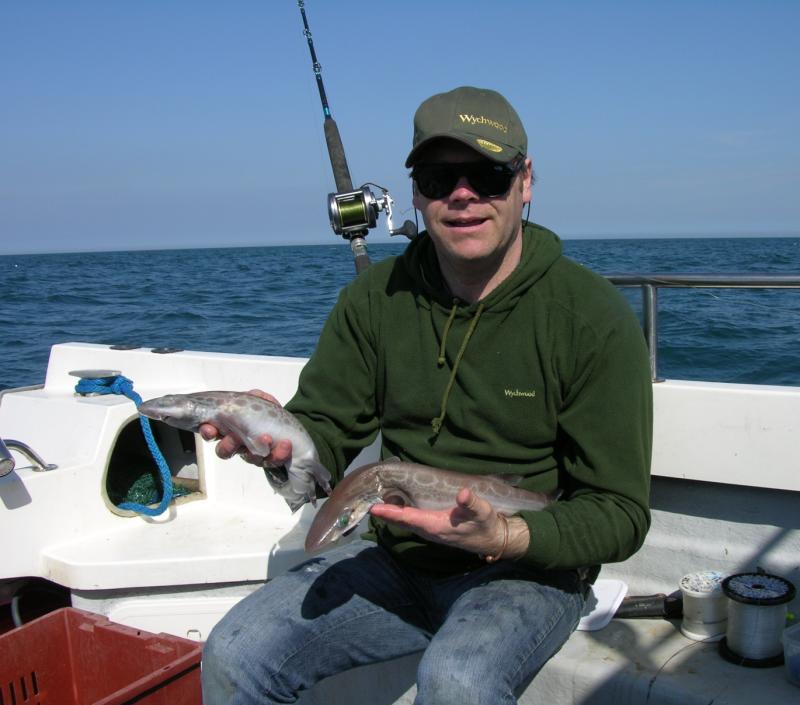 A double-shot, one male, one female
However, I still feel that "buzz" when I catch a new species. It is interesting to find out about its life cycle and its natural position in the food chain. I get bored all too easy and need this challenge and change of tactics to keep the angling interest alive. I certainly admire those anglers that specialise in one species such as Carp, Salmon or Pike, but personally, if that were my case, I would have given up long ago.
To me, this is the essence of specimen hunting. I have heard small-minded anglers calling me a badge collector or glory hunter but it isn't about that. The data collected over the last fifty years by the Central Fisheries Board can, and must be used to protect our stocks. As an example, if Common Skate or Spur dog become officially and properly protected, then information collected over the years will determine how and where marine protected areas will be implemented. It is down to all anglers to put pressure on the powers that be, that they may eventually waken up to the devastating destruction occurring all around us and protect what nature has given us. Let us hope that it does not come too late.
Bait
Basically fish baits but definitely mackerel strip and or calamari squid. I haven't tried peeler crab yet and it may work fine, but to date, have had no need. Do not be afraid to use large bait such as a whole Mackerel fillet. Some of the largest Black-mouths have been taken on baits intended for Spur dog and even Common Skate!
Tackle
As with most deep-water angling, choice of tackle depends on the conditions encountered rather than the species sought. Strong tidal current will mean large lead weights, and a rod and reel to cope. This can be minimised over slack water, where a twenty class rod and Penn 3/0 reel, or similar can be used. A fine weave braid of thirty to fifty pounds b/s will also help to cut through the tide. O'Shaugnessy style hooks as small as 2/0 will do fine, but use 4/0 to 6/0 if Spur dog and Conger are about. It would also benefit to "beef" up the hook lengths. 150 lb nylon will keep a Spur dog on, should it appear, and does not seem to effect the presentation for smaller fish in these depths. Paternoster rigs work well, as do spreaders. These drop through the depths quickly and do not tangle. If a small amount of tide is running, try a running ledger. These also work well but require some tidal current to avoid tangling in such deep water.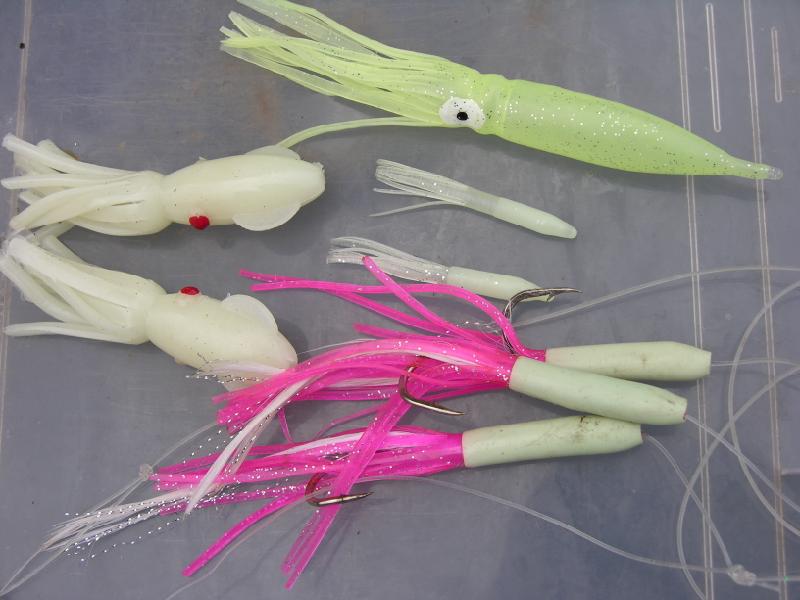 Tactics
Anchoring is most successful using rubby dubby attached to the anchor chain. Blackmouths, like most small shark species seem attracted to luminous beads and muppets. The brighter the better from my experiences, so attach day-glo squids or beads above each hook for maximum attraction. Standard Hokais work well, and Shakespeare's "pink goblins" can be extremely effective.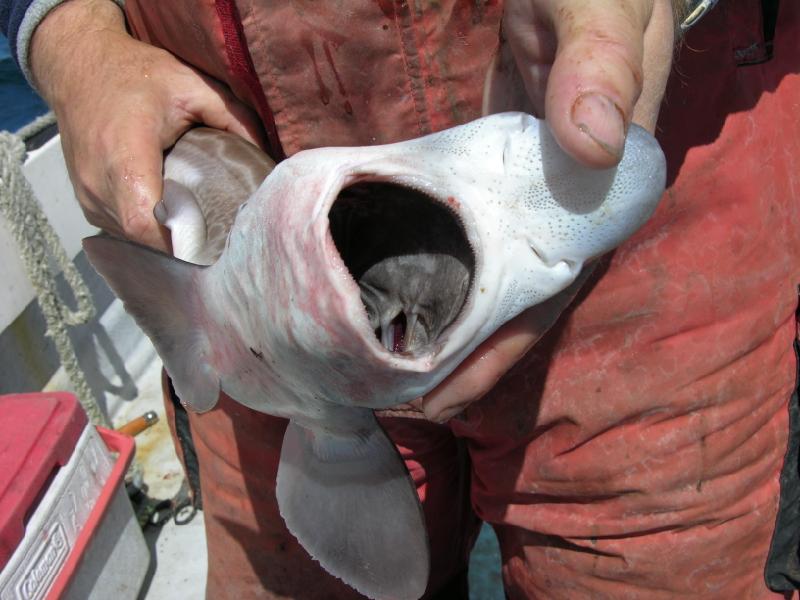 The mouth cavity is indeed black, as its name suggests
Interesting facts
From the family Scyliorhinidae, meaning cat sharks and the order Carcharhiniformes (ground sharks) the Black-mouth is from the Elasmobranchii class (sharks and rays). Thankfully, it has very little commercial value although probably suffers as by catch. It prefers deep water and can be found in depths ranging from fifty-five metres to a staggering twelve hundred metres. Most species will be less than 70 centimetres in length although they have been recorded to 90 centimetres. Black-mouths feed predominantly on invertebrates and crustaceans but will also take small fish and other elasmobranches. They are oviparous, laying up to thirteen egg cases at a time. Each egg case measures approximately 6cm x3cm. The egg cases are pointed at one end and lack the tendrils common with other species, suggesting that they could be buried in the seabed for protection. One of the first Black-mouths taken by Phil produced six eggs. We delivered these to Exploris Public Aquarium where they were kept in quarantine for nine months. These hatched into tiny replicas of the parent fish.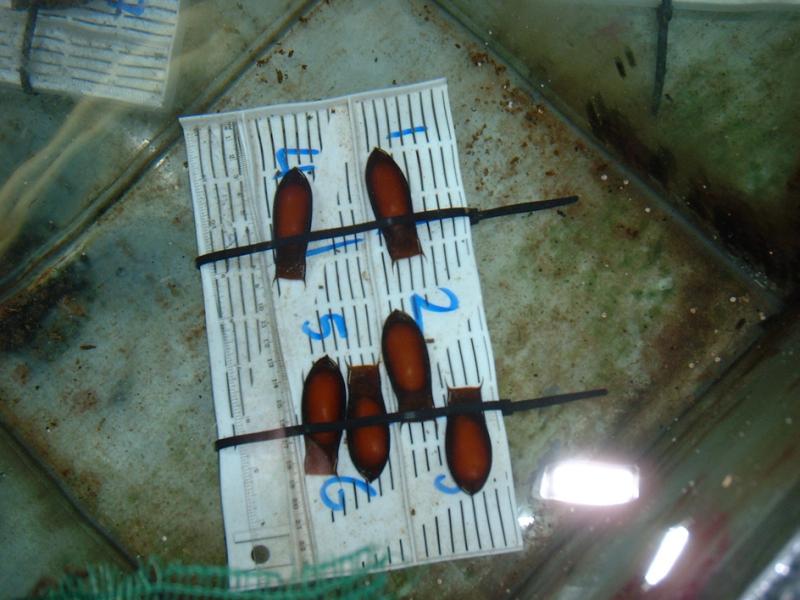 Bullet-shaped egg cases
Back