Specimen Hunting Series Part 4 Carp
The Carp Challenge
Latin name
Cyprinus carpio

Irish record
29lbs 13oz taken at The Lough, Cork by Sidney Kennedy on 5.7.1998

Specimen weight
12lbs or 5.443 Kilos
Article 4 of a twelve part series, originally written for Irish Angler magazine several years ago
The trip
I had several specimen options to target this month, and, after a great deal of thought, narrowed my list down to three species, namely Perch, Roach or Carp. A welcome break in the chilly weather brought on by strong, south-westerly gales put the choice strongly in favour of Carp. Mark McGivern had the same idea and, coincidentally rang to see if I had a couple of days free (he had also seen the weather forecast).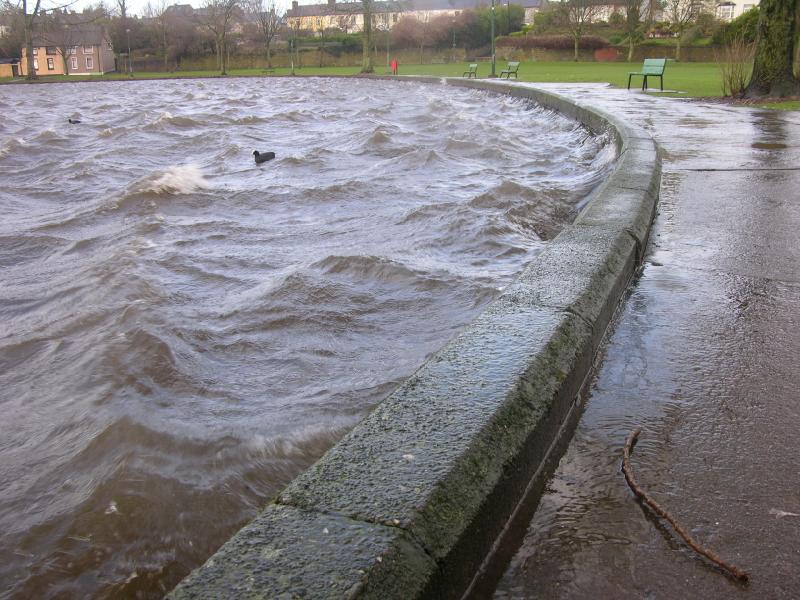 Difficult conditions, but ideal if you want to guarantee a fish on the un-hooking mat!
I have only fished with Mark twice in recent years, and both occasions brought me a specimen Carp, so maybe third time lucky as they say. With the deal sealed, I sorted out the Carp gear and packed the jeep for the long journey south of the border. We headed for our usual destination of Cork city, and to the famous "Lough" in the hope of finding a couple of double figure fish for the camera. When I mentioned my choice to Mr.Dinsmore, the magazine editor, he accused me of going for the easy option. I doubt if he would have said that had he been with us, as, after a three hundred mile drive, our arrival coincided with torrential rain and gale force winds of over seventy miles an hour. Try erecting a bivvy in that Dave!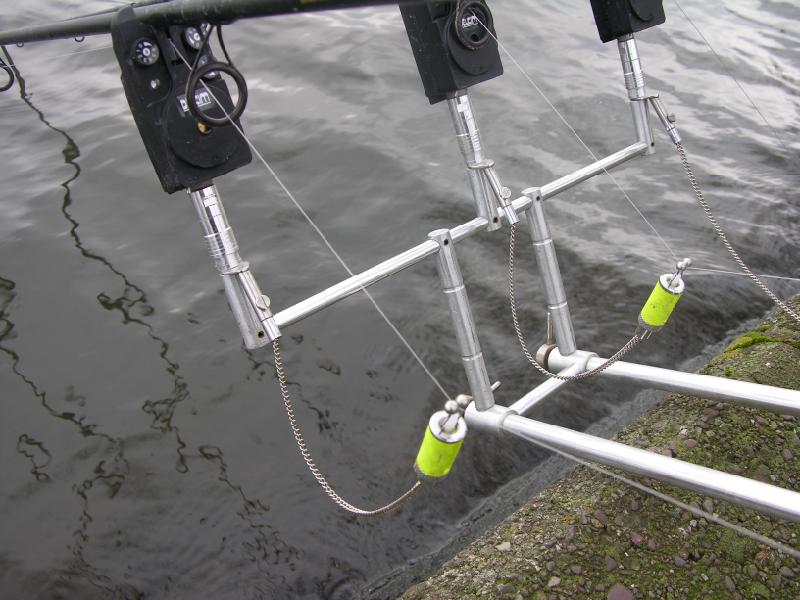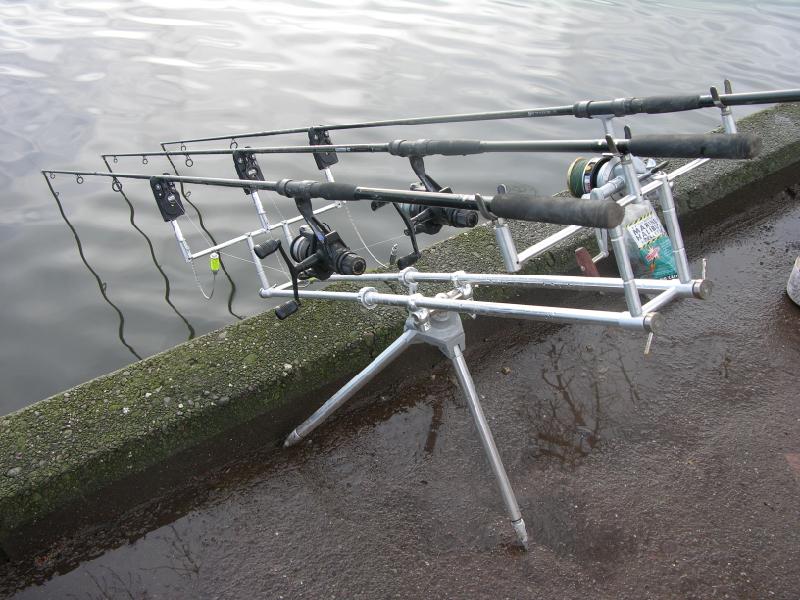 Four local lads were already set up along the area we intended to fish, Tom and Paul were carp anglers I had met the previous year, and whose knowledge and advice, along with Mark's, were instrumental in catching my first specimen fish at this venue. They had already landed some impressive "doubles" that day, and had no objection to us joining them fifty yards along the bank side. "They're only taking small hook baits", said Paul as I headed back to the jeep. Under extreme weather conditions, we shared the task of setting up camp and all that entails surviving in the wilds of a large, city housing estate! With rods on pods, it was time to retire to bed, and hopefully only to be woken by the scream of a bite alarm and a large fish ripping line off the bait-runner. Unfortunately this was not the case. My first night on "The Lough" turned out to be a nightmare as the wind strength and torrential rain increased; I seriously doubted that my Titan bivvy could survive the onslaught. Every seam of the over sheet was fit to burst and I made the decision to sit up all night, hanging on to the tubing that held the bivvy together! By three in the morning, I had to double peg the Titan to keep it down, and feeling cold, wet, tired and thoroughly miserable, looked across the lake to see another unfortunate angler's bivvy hanging in tatters as he desperately tried to hold on. Feeling extremely guilty that I could not do much to help, I wound in my rods before climbing into bed and soon fell into unconsciousness.
Although fishless, we survived the night intact, and the following morning called to see how Tom and the lads were doing. Tom, sitting in his bivvy wearing nothing but his underwear and sipping a cup of tea, had just commented on how well his bivvy had done when the wind instantly turned it inside out. This was the final straw for the lads and they packed up. Apologies for laughing Tom but it was a comical vision that I know will stick with me for years to come. Later that day, I had my first run of the trip that produced a fin perfect Common Carp. It was going to be very close to the magical twelve-pound mark, and after calibrating the scales; I was relieved to see it hit twelve pounds and eight ounces. This fish took a single trout pellet, hair rigged with a small PVA bag of halibut pellets attached. Jim and Tom were right about small baits as the other rods with boilies and corn baits remained un-touched. That was the only fish between us despite dropping the bait sizes on all rods.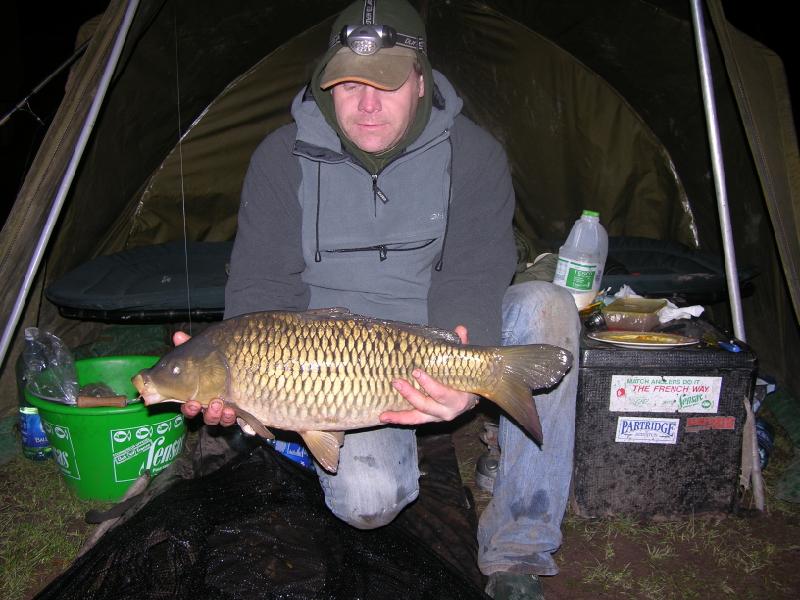 The high light of the evening was when a lady from a near-by house invited us over for a cup of tea and a toasted sandwich. Turns out she was an expert in tarot cards and offered Mark a free reading! As two sceptics, he agreed and I looked on, hoping she might mention something about a new Carp record. First card out was a picture of a bloke surrounded by daggers, "nothing new there" I said as it wouldn't be the first time someone had the knives out for Mark! We finished the reading with nothing strange or startling for the future but were thankful for the hospitality and headed back to the waters' edge. The night session produced a six pound fish for Mark and a fabulous fifteen pound Mirror Carp for myself, which I carefully sacked up for the night in the hope of a decent photograph early next morning. Again, it had taken a small bait, this time one of Tom's spice flavoured boilies that I had cut down to pellet size with a pair of scissors.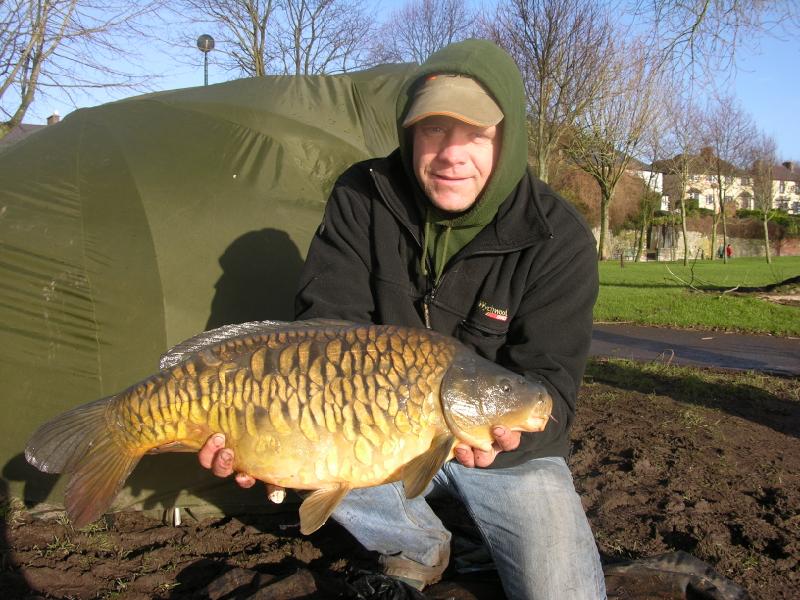 A superb mid-double to achieve this month's challenge
The following morning after photographing and releasing the Mirror, we decided to shift camp to the other side of the Lough. Although delighted with my results thus far, I agreed with Mark that fishing was quite slow and a move might help. This is a tedious task but sometimes worth the effort as we had one more day and night to go before heading home. To cut the story short, the move produced one more fish, another fine Common, again on a trimmed down Halibut boilie, This fish just about managed nine pounds, but still a welcome arrival on an otherwise un-productive night. Jim made an appearance in the early hours of the following and final day of our session, and showed us how to do it when he promptly landed two specimens of thirteen and sixteen pounds respectively. However, I really enjoyed the Carp session, especially as I managed to achieve my goal on this occasion, although it did feel less like an angling trip and more a test of endurance, but a great deal of specimen hunting can be like that. Local Carp anglers such as Sydney Kennedy, Paul, Tom and Ross have really turned this water around and have a huge amount of knowledge on Carp angling and Carp husbandry on this water. They have even tagged a large number of fish for future studies. I apologise for omitting other such anglers that I have not had the pleasure to meet yet. Through hard work and determination, they have also managed to introduce by-laws to protect these fish from being removed or killed as a food source. In time, some of these anglers may become bailiffs on this water, which would, in my opinion be ideal, as they all have a strong passion in protecting their local venue. Other councils should take note of this, as a possible test case in protecting other, superb venues throughout this fine, angling country.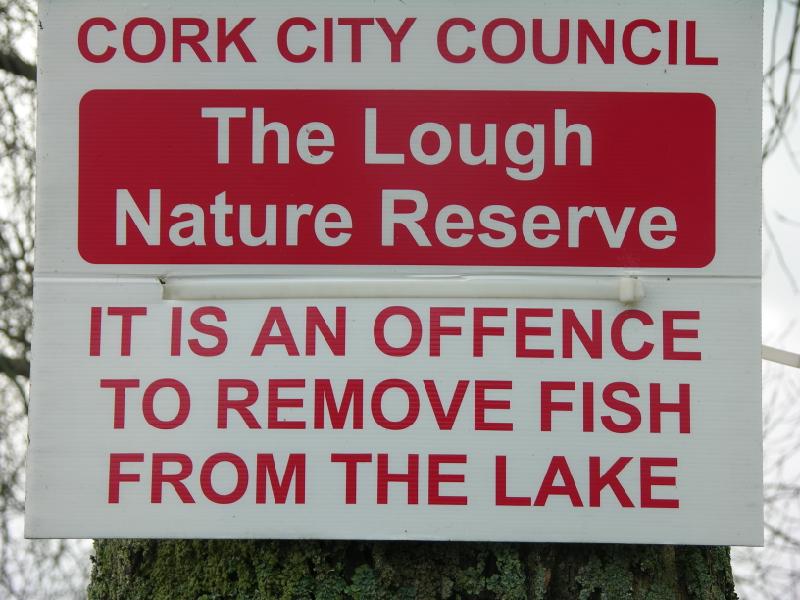 Bait
The list of bait that a Carp will take is almost endless. From bread flake and crust, sweet corn, maggots, worms, bloodworm, and an array of vegetables, to a massive range of man-made substitutes such as pellets, boilies and dog biscuits, again in an endless list of colours and flavours.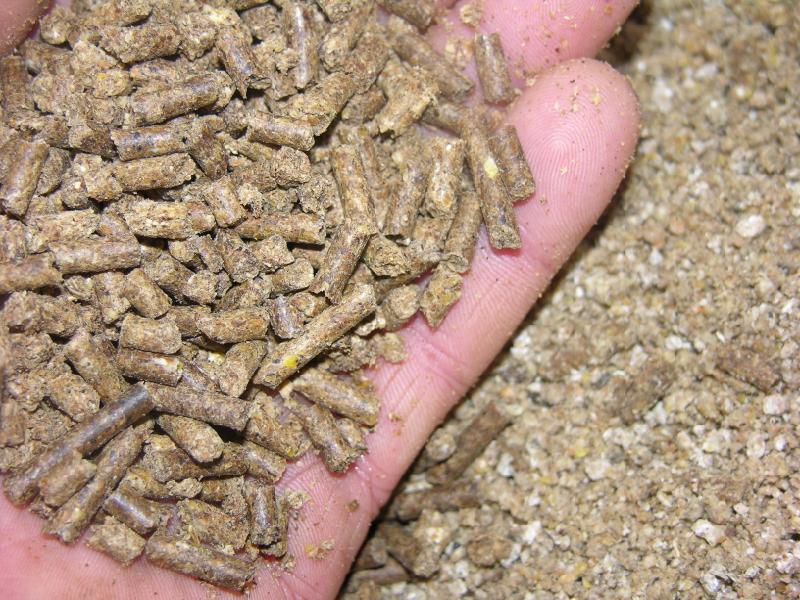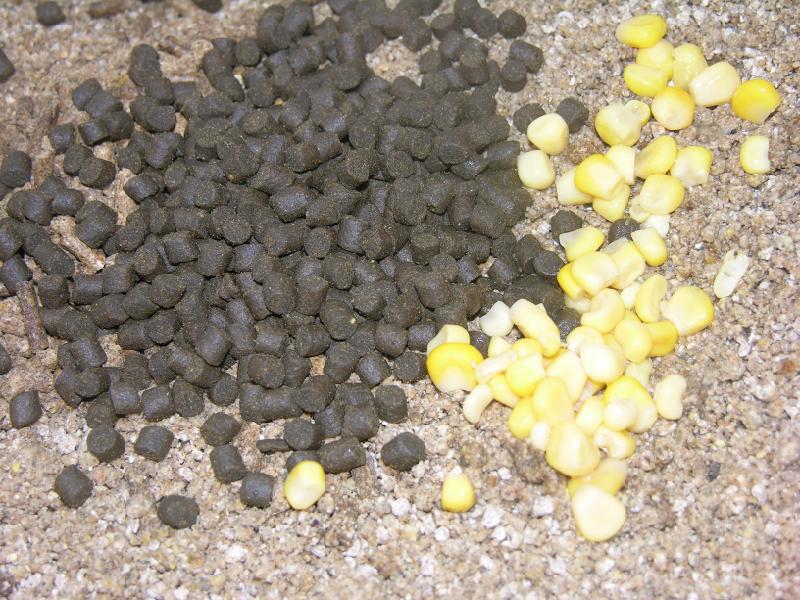 Typical particle baits, halibut pellets, sweet-corn and layers crumb
Tackle
Typical, standard Carp tackle is all that is required on this venue. Two and a half pounds test curve rod balanced with a quality bait-runner type reel and a minimum of twelve pounds breaking strain nylon. A rod pod is a must on this venue as there is nowhere to fix a standard bank stick. Combine this with bite alarms and drop off indicators for instant bite detection. It is imperative to use a fine mesh, specimen landing net, along with an un-hooking mat to protect any fish encountered. A carp sack staked in the water's edge for a few hours will keep a fish in perfect health until such times as weighing or photographing, if necessary. The standard Carp method on this water is ledgering using either plain leads with a PVA bag attached containing particle baits, or the method feeder that uses various breadcrumb mixes to carry particle baits. The PVA bag is designed to dissolve on contact with water, leaving free samples around the hook bait. The hook bait is attached on a hair-rig rather than the hook itself, and held in place with a bait stop. The idea is to provide superior bait presentation in movement and feel when a Carp brushes past or picks up the bait, and a greater degree of success in actual "hook-ups". Stalking individual fish during calmer conditions can be an exciting way to sort out larger specimens. I neither have the space nor the experience to elaborate on this subject but there are dozens of generic books and articles written on the subject that expertly cover all aspects of carp tackle, bait and presentation, that would suit or adapt to fishing "The Lough".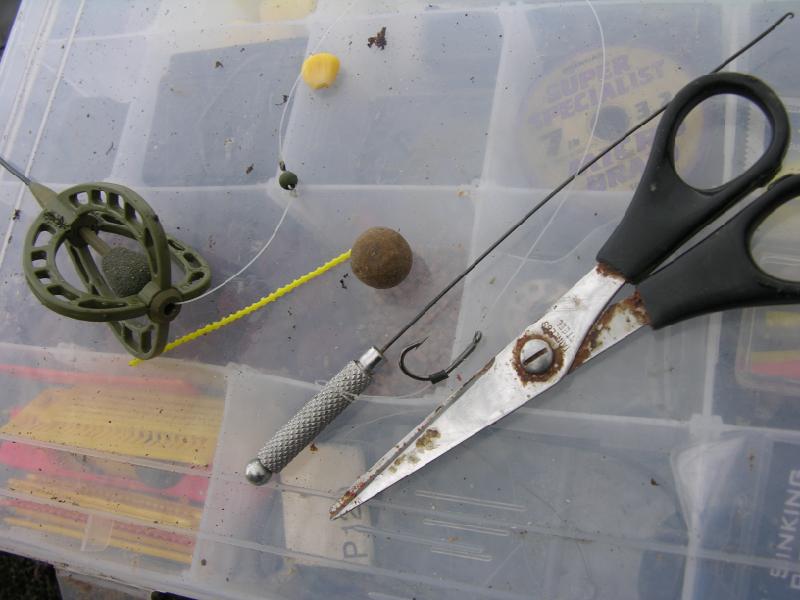 Simple hair-rig and method feeder set-up
Tactics
Local knowledge is invaluable. If possible, have a chat with any of the resident carp men; they have always been friendly and extremely helpful to me. Take a good look around the venue as Carp can be spotted at times and this will be an advantage before setting up camp. Also, watch the water surface further out as Carp will often show their whereabouts or sometimes-even leap clear of the water. Experiment with bait choice, size and flavour, but also vary hook lengths and alternate between static baits and pop-up baits, hook sizes and gauge, standard bread and butter Carp tactics really, if and when bites are slow to develop.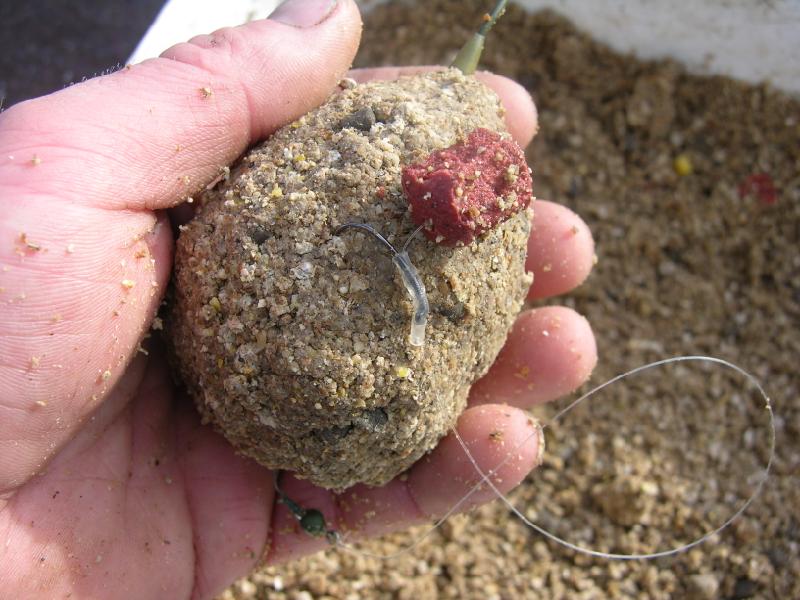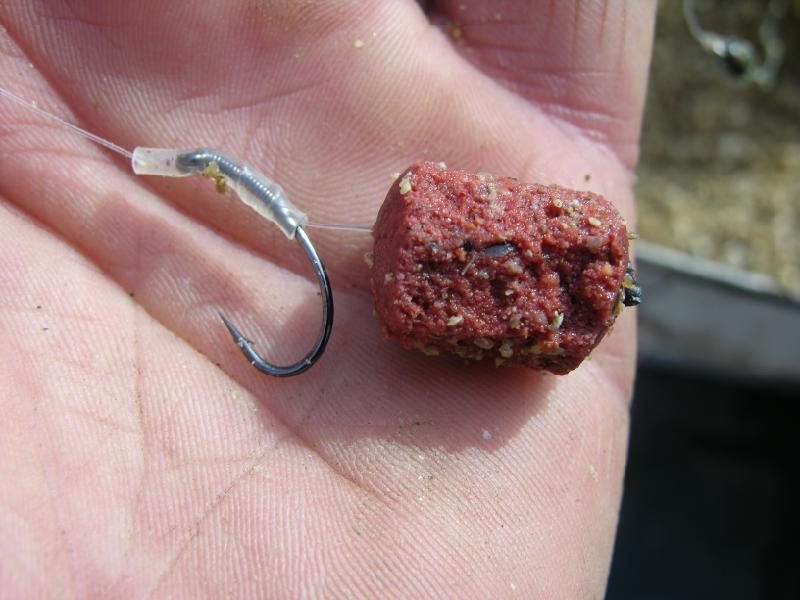 Interesting facts
It is generally believed that Carp were introduced to the British Isles during the fourteenth century by monks, and raised in stock ponds as a source of food. Their amazing ability to feed and adapt, along with their fast growth rate and reproduction allowed them to spread throughout the country. Although Carp can exceed upwards of forty pounds in weight in temperate zones, they rarely reach thirty pounds in Ireland's cool climate. They have a life expectancy of around thirty years; however some fish have been recorded at over sixty years old! Carp are predominantly lake dwellers but also adapt well to slow moving rivers and canals, feeding on natural food sources such as worms, invertebrates, molluscs, plant life, and even fish fry.
Males become sexually mature between three and four years old, with females averaging four to five years, laying up to two hundred thousand eggs per kilo of body weight. This is a huge number of eggs but most fall prey to predators, including the Carp themselves. The optimum water temperature for spawning ranges from sixteen to twenty two degrees Centigrade, usually May to July.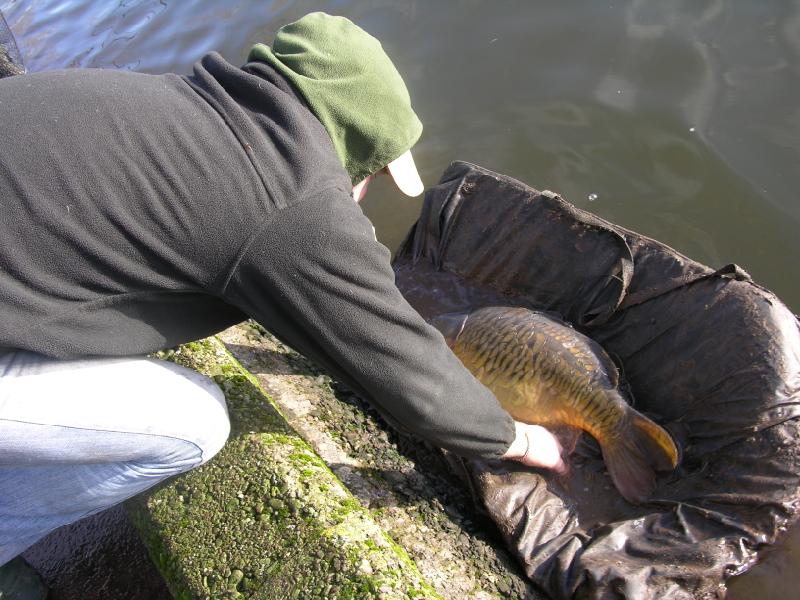 Back