Specimen Hunting Series Part 6 Tench
The Tench Challenge
Latin name
Tinca tinca

Irish record, 8.15 pounds taken at Ballyeighter Lake by Nick Parry on 20.06.95

Specimen weight, 6 pounds
The trip
After last month's "near miss" with the Plaice specimen, I needed an ego boost and decided on the relative safety of a coarse angling species. I say safety, but in reality, no specimens are a certainty! June heralds the arrival of the Tench season in the North, lagging behind the warmer climate of Southern Ireland and border lakes. Personally speaking, as this is my favourite fresh water species, there is no better fish to target at this time of year.
The large, spoon like fins, bulky body and powerful tail allow Tench to put up one hell of a fight on balanced tackle. Fish of five pounds plus will keep going until you have them safely in the landing net. After a battle of five to ten minutes with a sizeable specimen, an aching arm is testimony to the strength of these beautiful, olive coloured creatures. My favourite hotspot has the potential of turning up very large fish, but they are extremely few and far between.
To complicate matters, it is full of tiny Roach and Perch that "snaffle" most bait intended for larger fish. For best results, a long, pre-baiting regime is most effective. I believe this serves two purposes. Firstly, it obviously attracts any nearby Tench to "home" in for a free meal, allowing them to build up confidence in both the area and the food particles, but there is also the added bonus in "feeding off" the smaller, nuisance fish. With this in mind, I set about the business of mixing a full bowl of ground bait, equivalent to approximately eighty, orange sized balls, laced with sweet corn, castors, maggots, trout pellets and boiled hempseed. Beginning on Sunday night, this process was repeated over five nights in the same area of the lake. The main reason for starting Sunday evening, and continuing until Thursday was to be able to fish the water on Friday morning. There is nothing worse than pre-baiting an area all week to find a stranger sitting on the mark when you arrive Sunday morning! Also, baiting a swim last thing at night is usually a time when there are no prying eyes. This all sounds a bit drastic, but unfortunately, it is sometimes necessary when targeting large fish.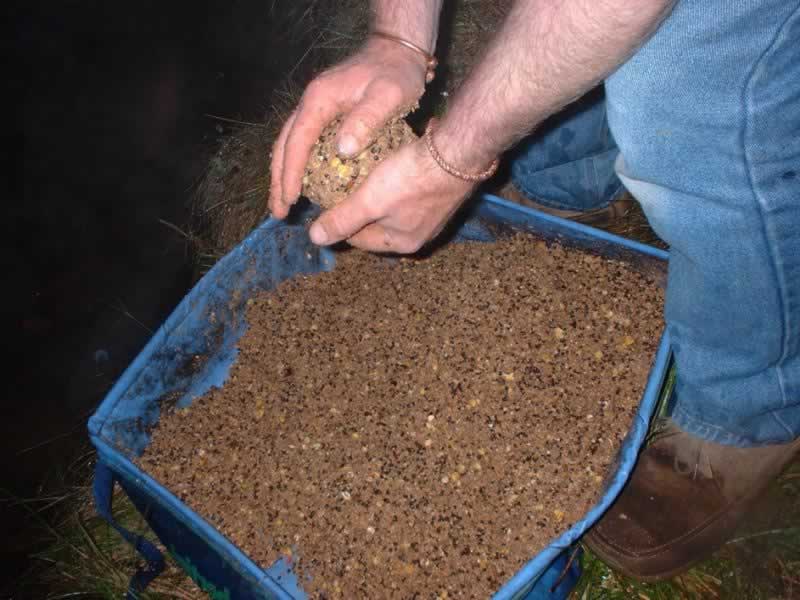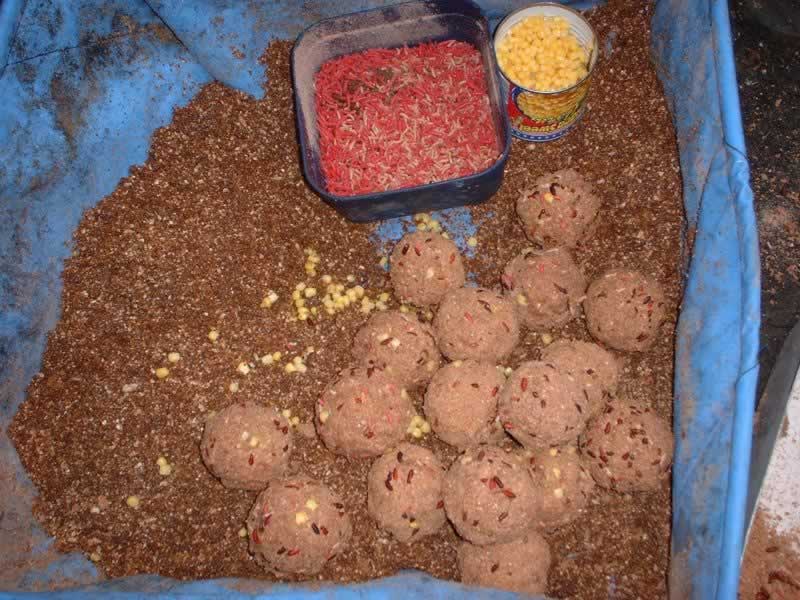 Groundbait, coloured with liquid mollasses and laced with corn, maggots and casters
After five nights of heavy bombardment, the weather report for Friday looked favourable, fingers crossed! Gentle southerly winds and overcast skies would keep the temperature at a high constant. It is also advantageous to get an early night. 4am starts are difficult to achieve, especially the older I get! However, it's a sad but honest fact that anticipation rarely allows me a night's sleep prior to a Tench session, and this occasion was no different. Having sat through late night television and too many cups of coffee, I headed out to the venue and settled in by first light.
This particular mark is unlike most typical shallow Tench waters. In fact, it is extremely deep and requires a slider float and careful adjustment in depth to allow two number four shot to sit on the lakebed, three inches from the hook. Not the easiest of tasks in over thirty feet of water, but worth the time and effort to get it spot on.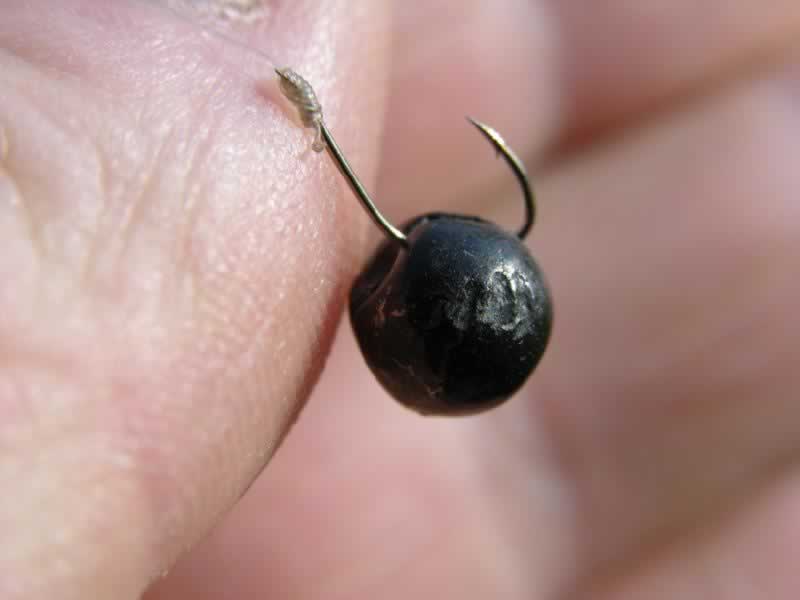 A swan-shot pinched on the hook, for accurate and quiet plumbing of depth
With everything ready, I fished over the baited area, catapulting small amounts of boiled hemp and fresh castors as loose feed around the float every few minutes. It wasn't long before the small Roach and Perch appeared; so much for the "feeding off" theory on this occasion! Stepping up the hook size from a twelve to a large-gaped ten and adding a grain of sweet corn to the four maggots kept the Roach at bay, but greedy Perch persisted in attacking the bait. On previous occasions, I have tried using pellets or boilies. They work in keeping the smaller fish away, but just don't seem to appeal to Tench on this particular water, obviously because they are not used to feeding on them. However, I do not wish to go down the road of weaning them onto high protein baits at this stage. I enjoy the un-touched, natural "wild-ness" of the place to much.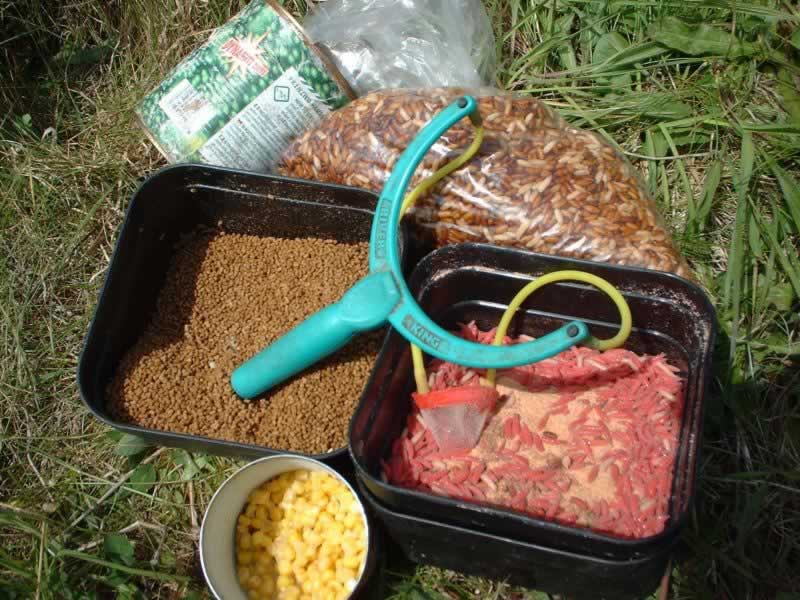 Plenty of loose-feed, catapulted over the float
Thirty or so Perch later, and with my baited hook now consisting of a grain of sweet corn, three castors and six maggots, the float dithered and dipped twice before settling again. Resisting the urge to strike, it dipped a third time and slowly slid below the surface. The solid, "brick wall" of resistance when lifting into a large Tench has to be experienced first-hand to appreciate the power this species possess. There was no mistaking what I had hooked into, and as it powered away into the deeper water, I knew that this was a possible specimen and a guaranteed tough battle ahead.
Six minutes into the fight, tantalising glimpses of gold and olive green left me praying that the hook would hold. Another four minutes passed before the fish finally sunk into the safety of the landing net. As I gazed in admiration at this beautiful fish, and the pain in my right arm eased, I was well aware that this fish easily beat the six-pound specimen barrier. My scales are adjusted to allow for the weight of the landing net, and quickly removing the handle and clipping on the scales, showed the fish to be well over the six pound target. A truly awesome, fin and scale perfect example of my favourite fresh water species, that fought with the typical power and tenacity that has made this fish legendary amongst coarse anglers throughout Ireland.
This was the only Tench to show-up that morning, from almost a week's planning, but a solitary specimen is typical from this particular water. Quite frankly, I came away from the venue absolutely delighted, and would happily fish all week just to experience the adrenaline rush that always results from an encounter with a huge tinca, my favourite of all coarse fish.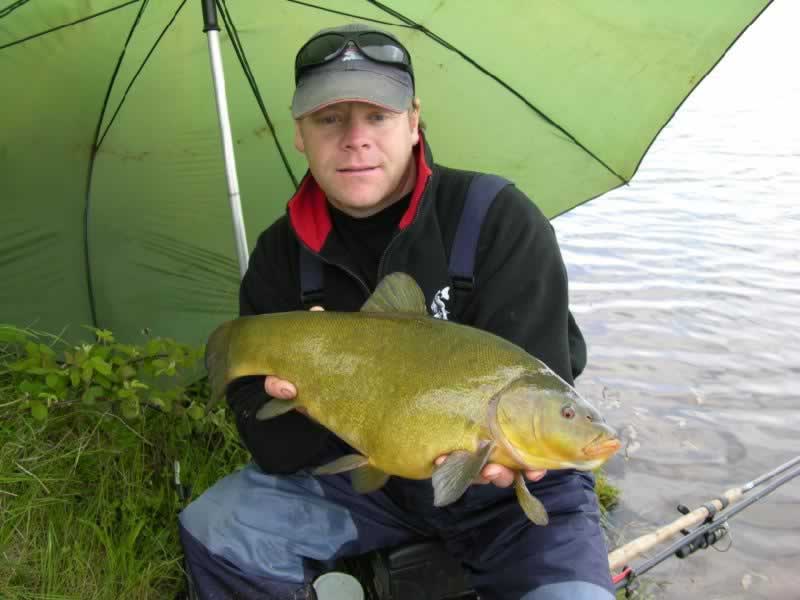 Challenge met, a pleasantly plump female specimen
Bait
Similar to Carp, a wide variety of baits will tempt Tench. Popular choices are small, red worms, red maggots, bread flake, castors, sweet corn, or cocktails of the above. Pieces of fresh-water mussel, cockles, luncheon meat, and kidney beans have all produced sizeable specimens, along with standard Carp baits such as boilies and pellets.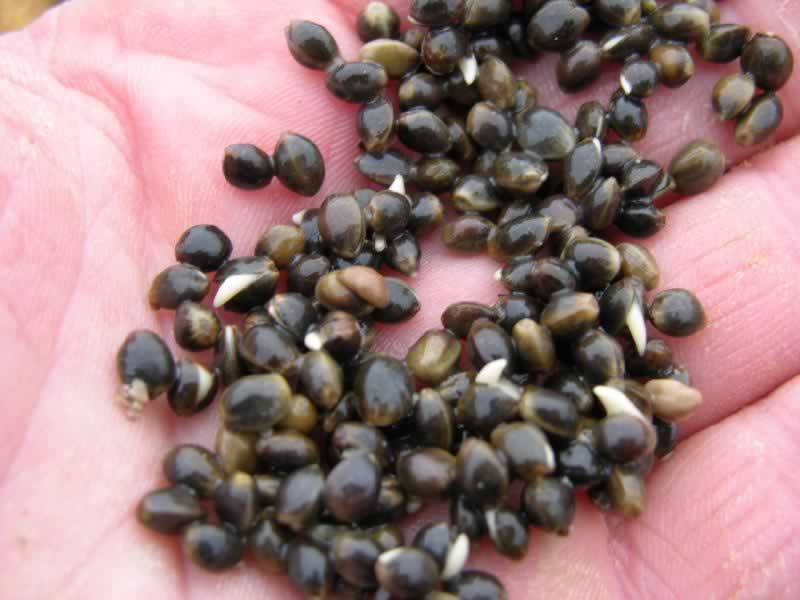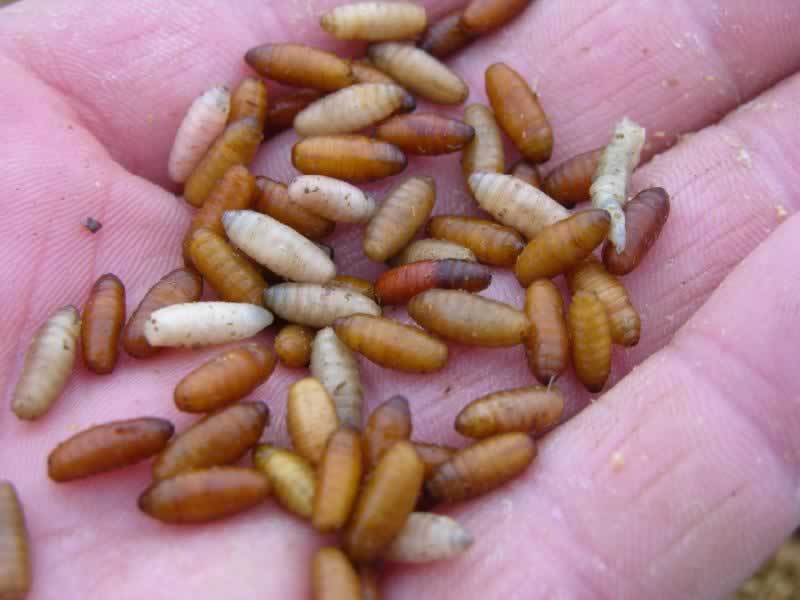 Fresh casters and boiled hempseed are readily accepted by Tench
Tackle
Basic, match-angling tackle is sufficient for most occasions. Although I have a purpose built Tench out-fit, I find a simple thirteen-foot float rod for waggler or slider fishing and a standard quiver tip or swing tip leger rod, teamed with six pound main line is all that is required to land any Tench in Irish waters. An exception may be with heavily weeded areas where a little bullying is required to keep large fish out of potential hazards. Tackle may need to be "beefed up" slightly to compensate in these conditions. The other exception would be long-stay sessions, where light Carp rods, pods and alarms are better suited for night fishing. Pole fishing works fine for smaller specimens but personally, I prefer to play large Tench on rod and line.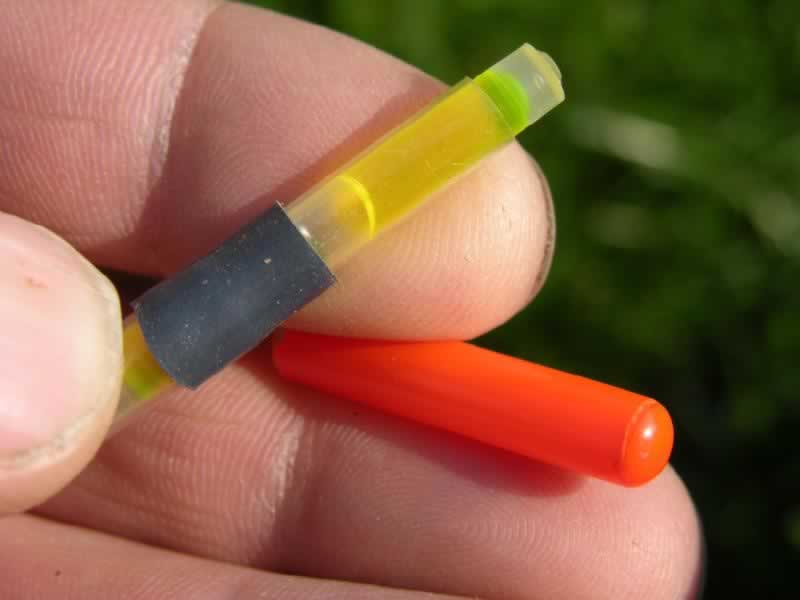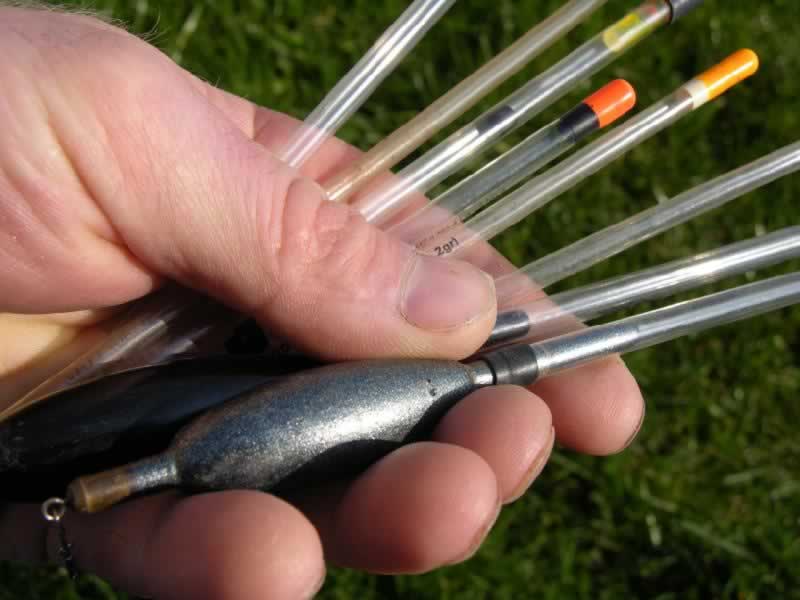 Bodied Wagglers with inserts for star-lites can be extremely useful
Tactics
Tench will feed during the day on occasion, but generally, prime times are through the night, dawn or dusk.
They will respond well, on most Irish venues to heavy pre-baiting tactics with plenty of added particle feed such as sweet corn, boiled hempseed, castors and chopped worms.
Feeding fish can be located at times, by looking for groups of small bubbles on the surface, or discoloured water where the lake-bed has been disturbed.
Large baits such as sweet corn, pellets or bunches of maggots will help discourage un-wanted nuisance fish such as small Roach, Rudd and Perch.
Tench are primarily bottom feeders. Make sure your bait is presented well on the lake or riverbed, with up to 10 cms of hook length on the bottom. This is known as "laying-on" and offers the best chance of locating this species.
Use a swan shot attached to the hook to plumb the depth rather than a heavy plummet lead. It will give an accurate reading over silt and cause fewer disturbances in the "swim".
Avoid striking during initial float movements. Tench tend to "play with" or mouth the bait and early striking may lead to missed fish. Wait for the float to positively slide below the surface before lifting into the fish.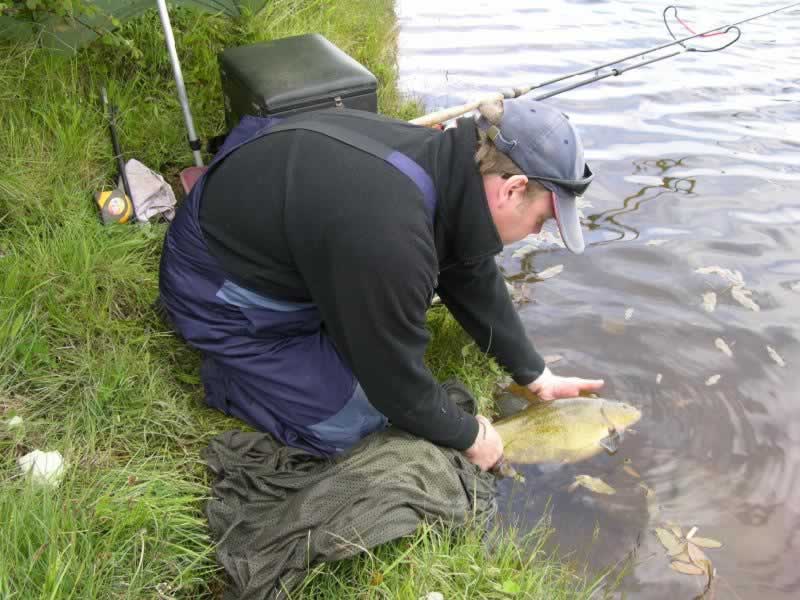 Safe and careful release
Interesting facts
It is widely known that Tench were originally introduced to Ireland as a food source. They prefer shallow, muddy waters but manage equally well in slow moving rivers and canals. The vast majority of Tench populations are found south of the border and, in past times, anglers from Northern Ireland would travel large distances to fish hotspots such as Lanesborough and Ballyhoe. Rightly or wrongly, depending on your point of view, fish were covertly transported north resulting in many local venues containing decent Tench numbers. The theory is sound as Tench are reasonably harmless, but the possibility of spreading disease or invasive species to other areas is simply not worth the risk. It is also illegal!
Tench are able to survive poorly oxygenated water where other species would perish. They feed mainly on insect larvae, crustaceans, bloodworm and invertebrates by sifting through the silt substrate. They also find food with the help of two sensitive barbules located on each corner of the mouth.
Rarely exceeding ten pounds in weight under normal circumstances, Tench may live to a maximum age of fifteen years, reaching sexual maturity at three-five years. Spawning takes place around June coinciding with a temperature of 18-20 degrees centigrade. Eggs are small, approximately 1.3 mm and are attached to dense weed in shallow water. They are laid in batches of 125,000 per kilo of body weight, but due to predation from other species, they have a poor survival rate.
By the age of three, Tench will be anything between 10cms and 30cms in length, although the introduction of Carp, and the resulting competition for food, will eventually lead to stunted growth. Warmer summers and the use of high protein baits on popular venues have been instrumental in creating larger specimens.
Although a member of the cyprinid family, there are no examples of Tench cross breeding with any other cyprinids.
Back