Spurred on with another boat adventure
Spur'red on with another boat adventure
On this adventure, I was lucky enough to have a couple of items of tackle to play with.
Shakespeare had kindly sent over two of the new Ugly Stik Kayak rods to have a look at, and Shamrock Tackle had generously donated a selection of boat rigs to try out.
With neap tides currently running, the deep inshore waters of the Antrim Coast beckoned, and all we needed was a drop in wind speed to get us off the starting blocks! There were strong north-westerlies for Friday, similar Saturday and again for Sunday. Tuesday was looking good and was duly pencilled in, but the forecasted drop in wind speed decided to arrive a day earlier on Monday! A bit of a panic, but with understanding bosses, both Andy Wolsey and I managed to "wangle" a day off and head to sea.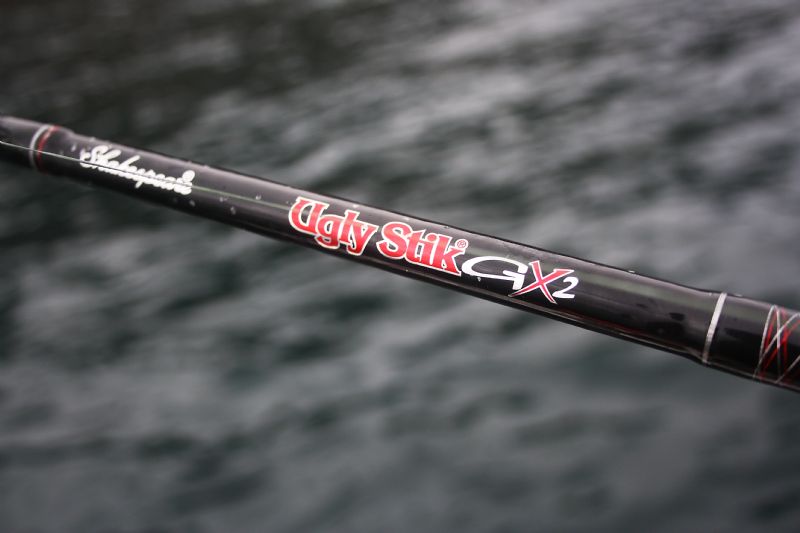 The new GX2 Ugly Stik Kayak rod from Shakespeare, great value for money
The wind had indeed dropped, but the previous north-westerlies had kicked up an uncomfortable swell, always a winner for knocking me off my feet. I can stand any amount of wild seas, but those big, undulating swells can be a killer, especially when boat trips are so few and far between these days, it can be difficult finding your sea legs!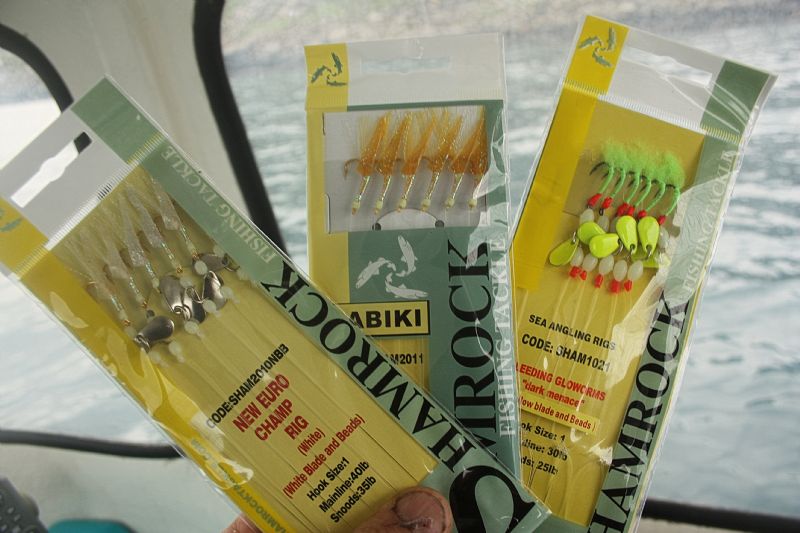 Just a couple from the large selection of high-quality rigs from Shamrock Tackle
Having launched, the shoals of Mackerel for fresh bait still proved elusive. We targeted the usual haunts to no avail, and had to rely on previously frozen bait in the cooler box. Plans for today were to target smaller species for half the day, as this would give me the chance to use some of the Shamrock Tackle rigs and also see how the new Ugly Stik rods would perform, and then hopefully, anchor for the larger predators later.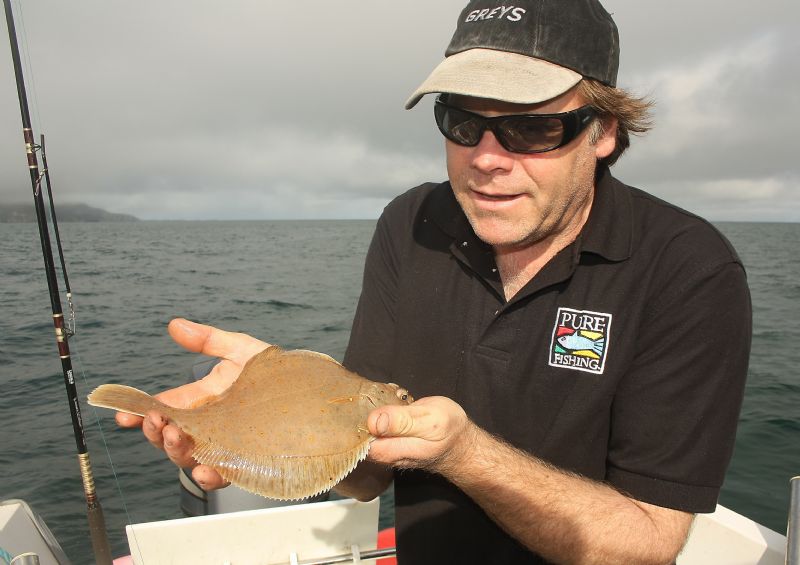 Scaling down to scratching tactics sorted out the smaller species over the sand banks
Drifting the sandbanks, it was plain to see there was little about. I scaled down to the Shamrock Sabikis baited with tiny strips of Calamari Squid. These worked very well, picking up sizeable Dabs, Gurnard, Whiting, Sandeel and one or two Mackerel. Scaling down to these small hooks obviously made a huge difference when it comes to "scratching" for species, as Andy struggled for a bite on the cruder mackerel rigs.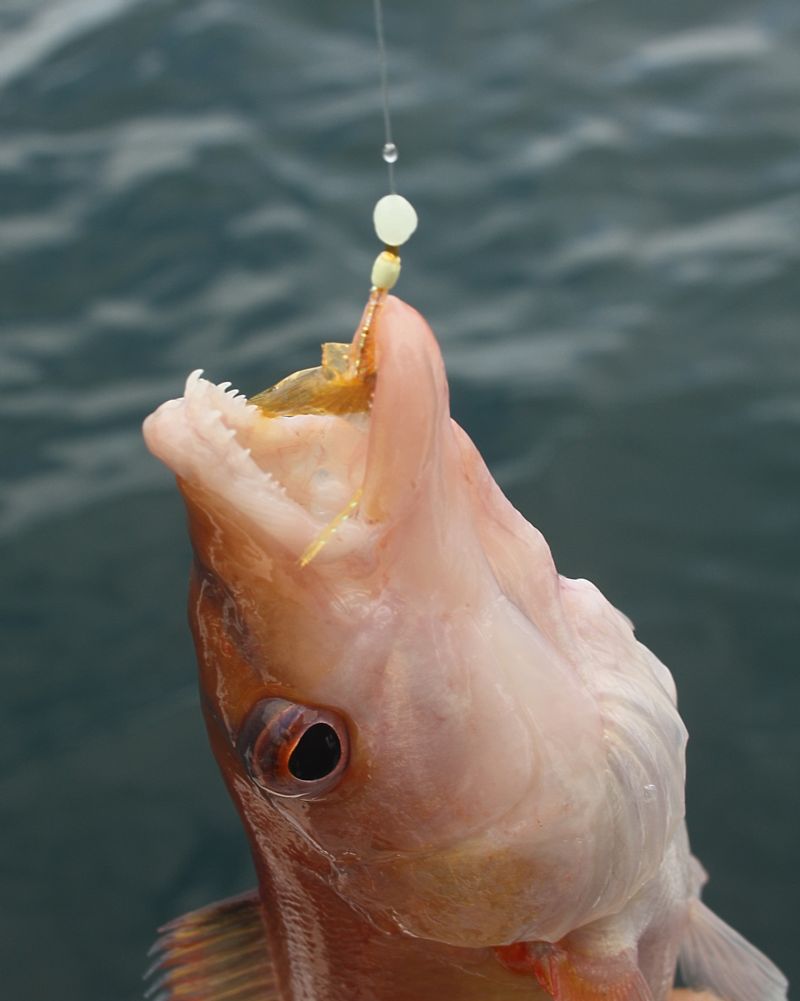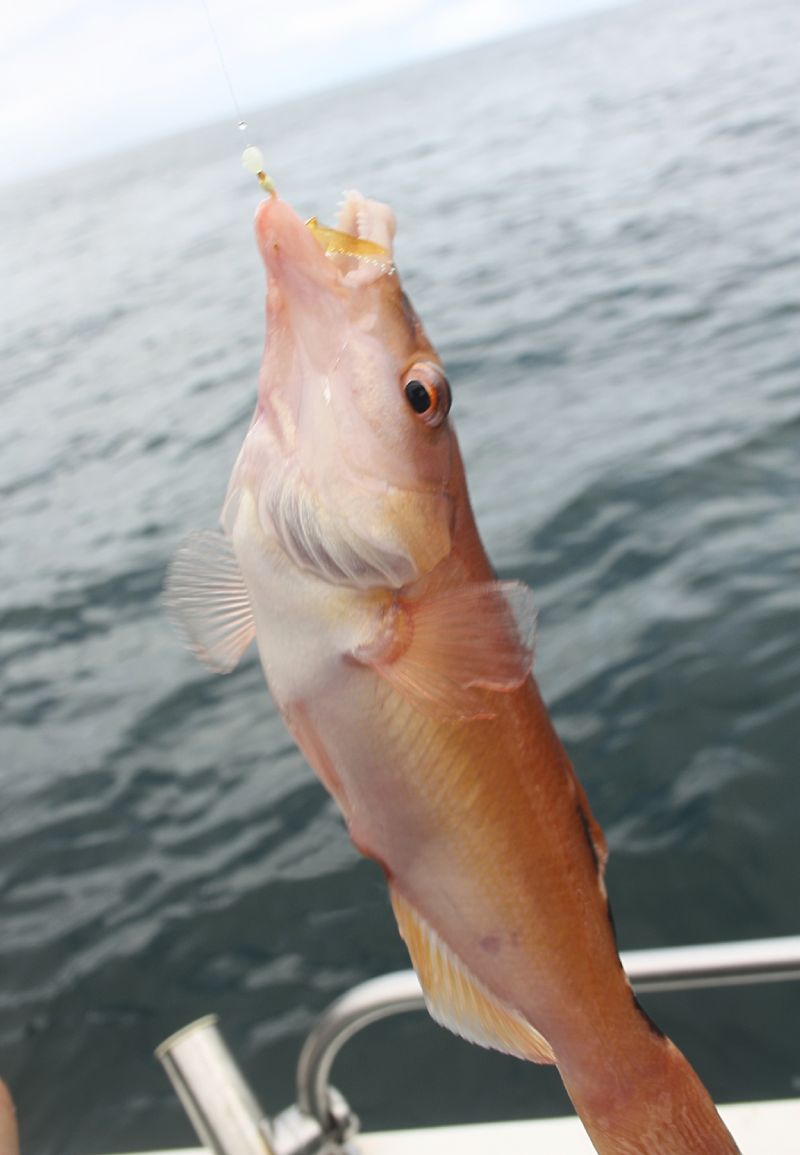 Baited Sabikis were deadly for Cuckoo Wrasse
Once the tides suited, we targeted some nearby headlands in search of Pollack and Cuckoo Wrasse; again, the Sabikis were deadly. With some luck on our side, we ran into a pod of Mackerel and managed a couple of full strings before they vanished as fast as they had arrived. It seems like any Mackerel about just now are in small shoals and always on the move, un-willing to hang about, and who would blame them.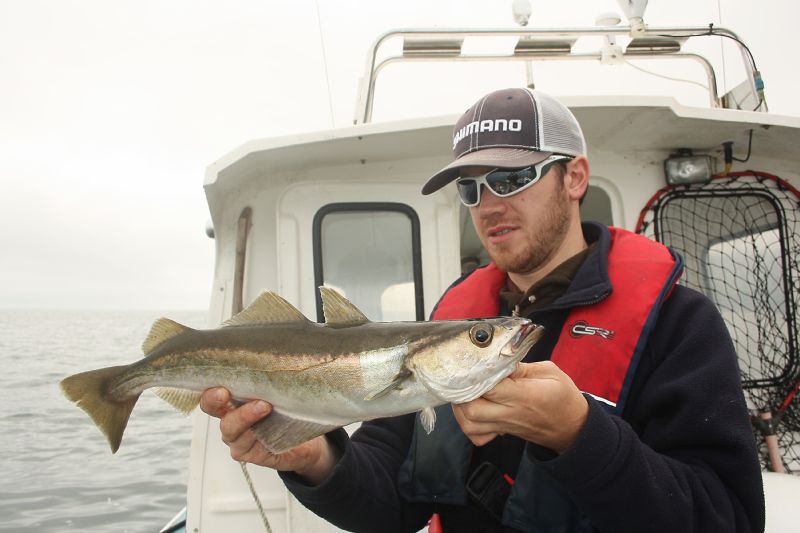 Andy with a typical sized Pollack on this occasion
Playing with the GX2 Kayak rods from Shakespeare, it is amazing how versatile these wee rods are. Superb for the smaller species with excellent bite indication, even letting me know when launce had impaled themselves on the hooks. The GX2's are perfect for Cuckoo Wrasse and similar and brilliant fun when any Pollock showed up. I can't believe they are knocking these out for under £60. There is definitely plenty of back-bone to handle Spurdogs and Tope under the right conditions.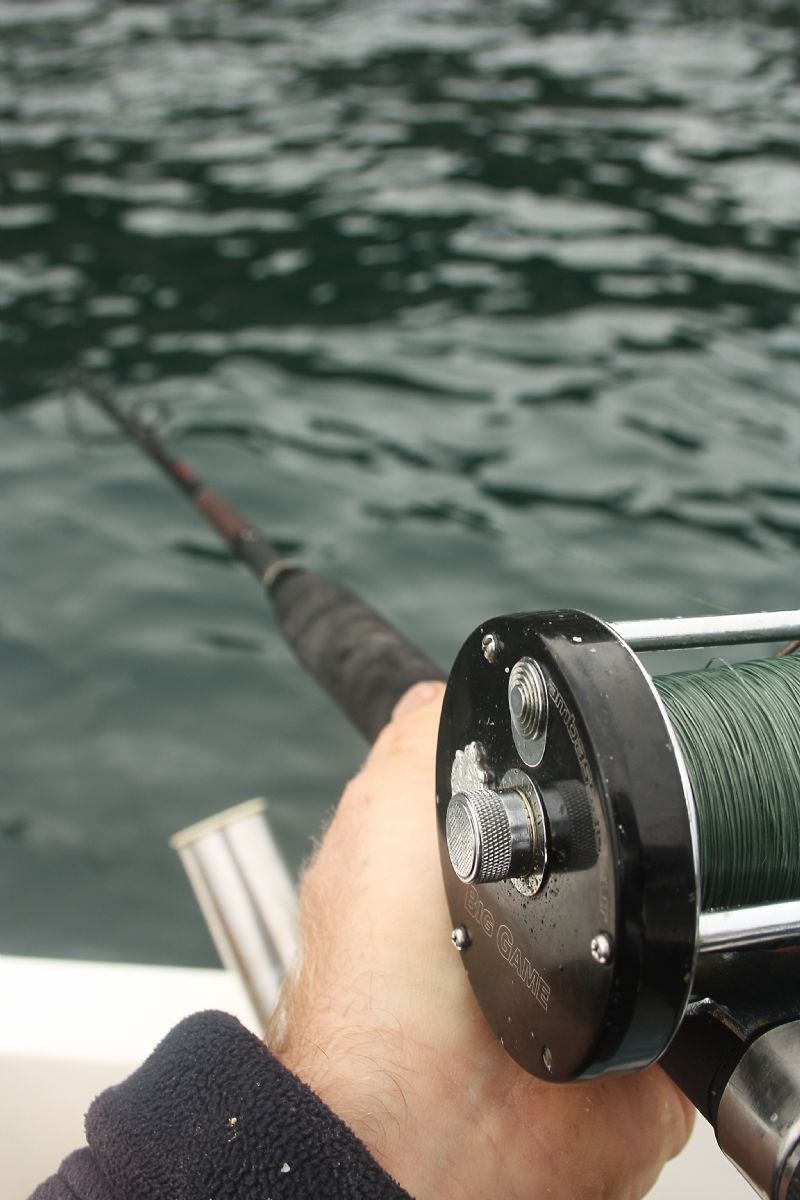 These Ugly Stik Kayak rods are a pleasure to use for general all-round sea angling tactics
With half the day behind us, it was time to hit the deep water marks in search of larger quarry. With the boat anchored and tide slightly easing, our initial drops revealed the ever-present dogfish were waiting below; always keen to annihilate any bait presented in front of them. This is usually only a problem for a short while, when larger species force them out of the way, but on this occasion they were in plague proportions! With two pennel rigs, they were coming up in three's and four's, sometimes hooked in the tail or pectoral fins, the sea bed must have been crawling with them. Even Pollack flappers dropped down in search of Skate were ripped to shreds within minutes. This was going to be a tough session!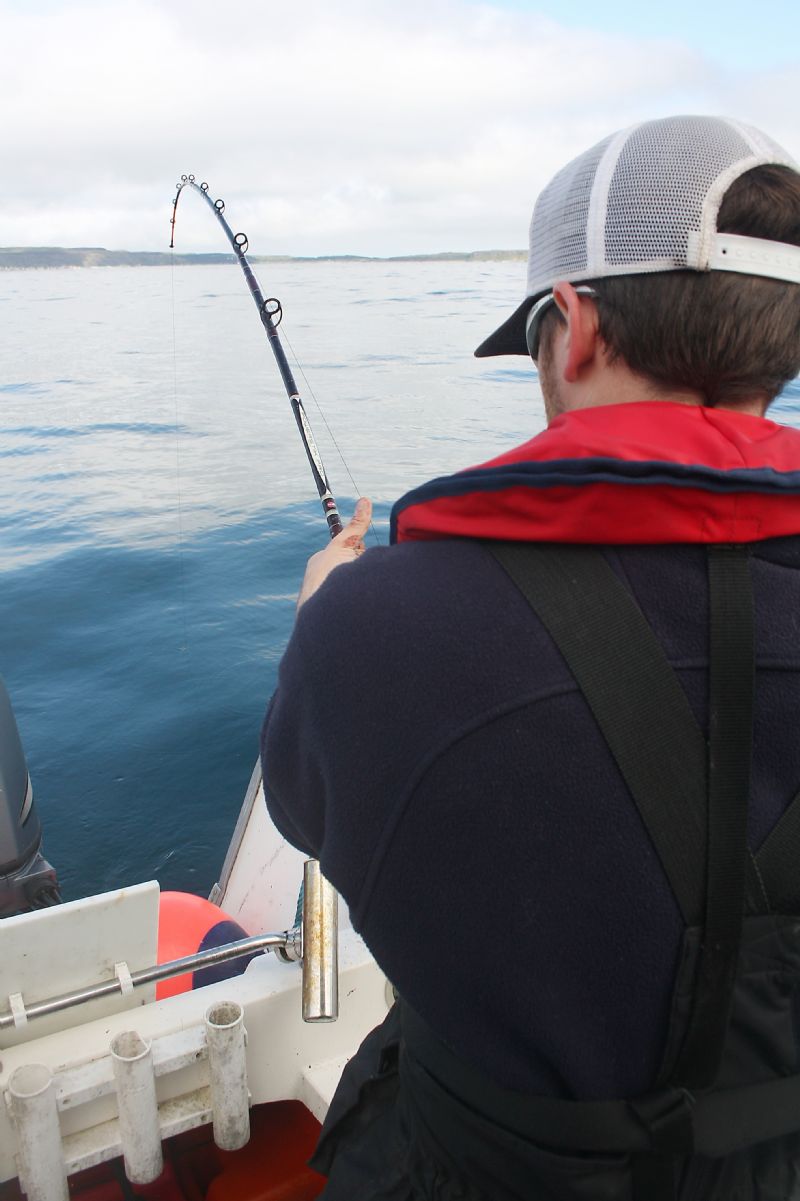 Andy lifts into something a little bit feistier!
Thankfully, a small Spurdog for me broke through the barricade of dogs and no bother for the GX2 Ugly Stik. Andy lifted into a positive thump on the rod-tip and set the hook into something a little feistier. Some tense moments ensued as we imagined a sizeable Spurdog on the line, although the possibility of a Tope was mentioned sometime during the fight. As colour appeared below the surface, our hearts raced at the magnified size of the fish, which proved indeed to be a small male Tope in immaculate condition and fighting fit.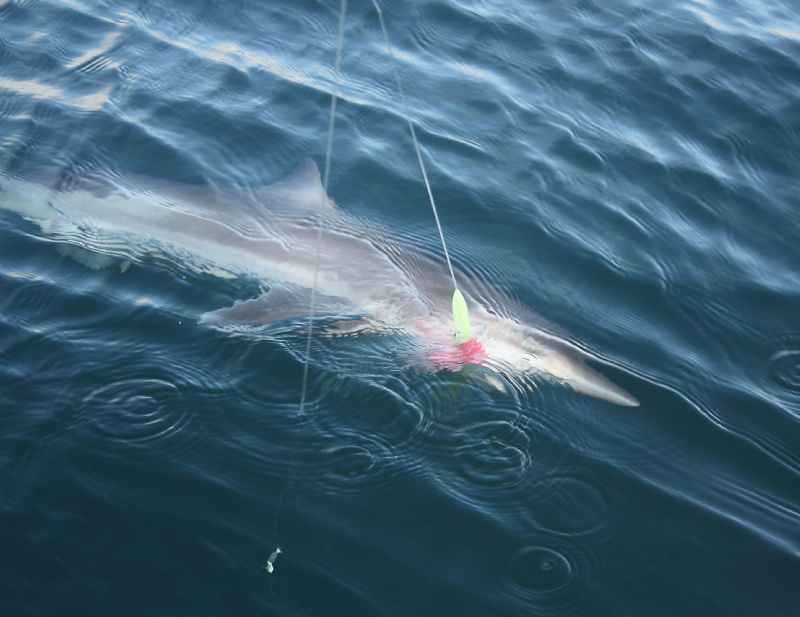 Clocking in at twenty five pounds, he was also measured and presented with a fisheries tag, smiled for the camera followed by quick and safe release. We have picked up the occasional Tope over this mark in the past, always a welcome bonus and enjoyable battle in deep water.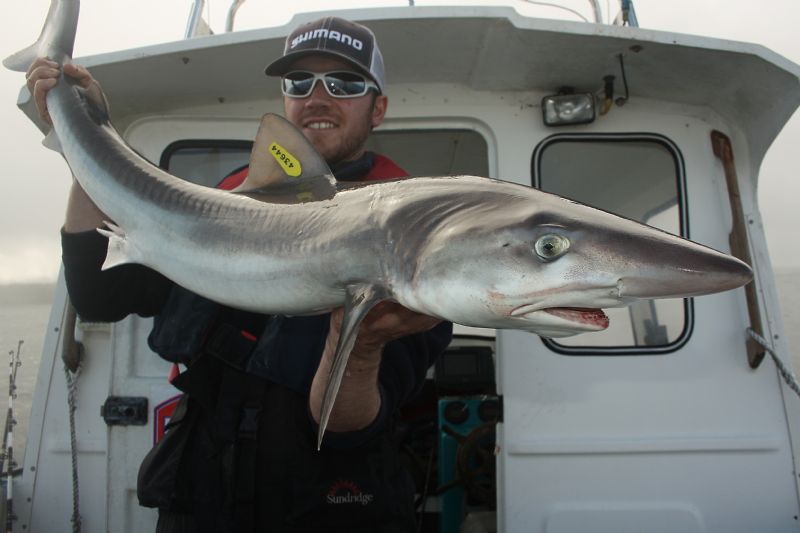 When Tope show up unexpectedly, it is always a pleasant surprise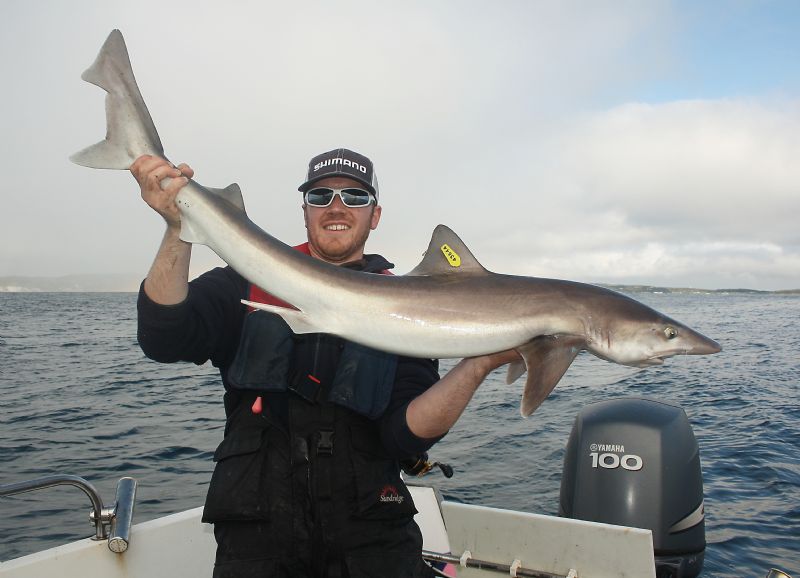 Persevering through the dogfish, the GX2 nodded fiercely, and I was into a slightly better Spurdog, superb fun on this balanced and sporting gear. This female had an un-mistaking beauty spot on her snout, but even better, she was podgy enough to push the scales beyond the twelve pound specimen barrier, and also over the qualifying length of 105 cms.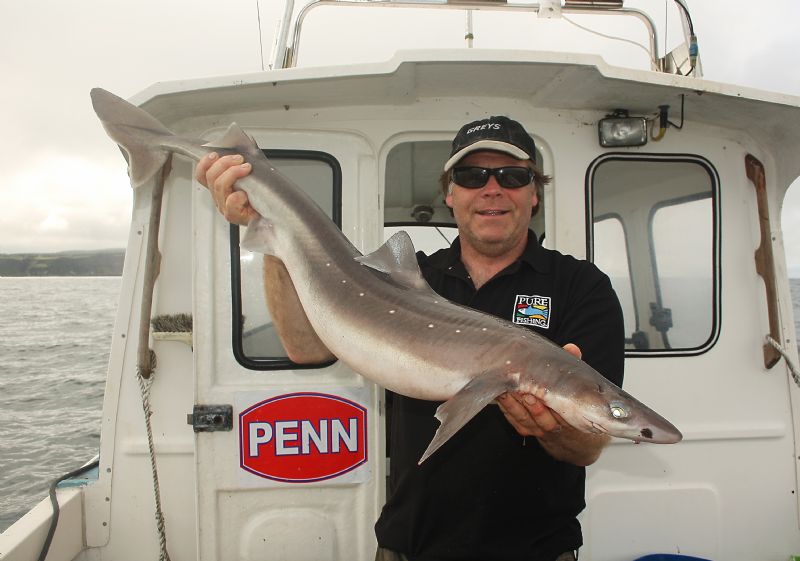 Another specimen to this year's tally
As the day drew to a close, and the sun nestled over the horizon, the bites diminished over slack water and the turn of the tide. As we tidied the boat in preparation for the run back to harbour, she gently swung on the anchor to the new and relentless tidal race. Rods immediately began to nod yet again. This time double shots of Conger eel made an appearance, not huge but up to mid-doubles. I am sure and certain that another angling adventure was beginning to open up before us, but we had to reluctantly leave this session for another day.
It had been a long day, and it would be another three hours before I would be home, so lines up, anchor up and head for port. The selection of Shamrock Tackle Rigs I played with are superb, well made and well thought out for targeting Irish and UK species. I need to get in amongst the Cuckoo Wrasse with those Sabiki Rigs; they are perfect for sorting out the larger specimens, and also have a play with the "Champ Rigs" over clean and broken ground, obvious winners for a wide variety of species. Shamrock range is available from most local tackle shops.
The Ugly Stik GX2 Kayak rods are amazing value and superb fun. Although designed primarily for the nature of Kayak angling, I found them to be superb as standard boat rods with a broad spectrum of angling versatility. The soft tip, great bite detection combination allows the angler to target almost all Irish species, except of course for the really big stuff, and the power from middle to butt then handles any larger bonus species, a fantastic all-rounder. There are three weight classes in the range, 12lb, 6-12lb and 12-20lb, all are light yet powerful, a pleasure to fish with. Check them out in your local tackle shops.
More info....Shakespeare New Sea Fishing Ugly Stik 7'6" 12/20lb GX2 Kayak Rod.
Back