St.Mullins, County Carlow
St.Mullins
Back in 2010, I wrote this article for Irish Angler magazine, and reading through it, I feel it is still very much relevant now, six years later.
Take a wee read and enjoy the magic that is the River Barrow.
The Trip
As I began my four and a half hour journey from Kircubbin, County Down to the quiet village of St.Mullins, County Carlow, I found myself wondering why an angler should go to all this effort, time and expense to target Twaite Shad, a species that is basically, and very similar to, a two pound herring!
On many occasions over the past fourteen years, I have experienced the beauty and solace that St.Mullins and its in-habitants have to offer, and of course, already knew the answer to my question. The excitement of hooking a shad on light tackle is only part of the attraction, and just a tiny piece of the angling jig-saw in this area. St.Mullins and the mighty River Barrow have so much to offer.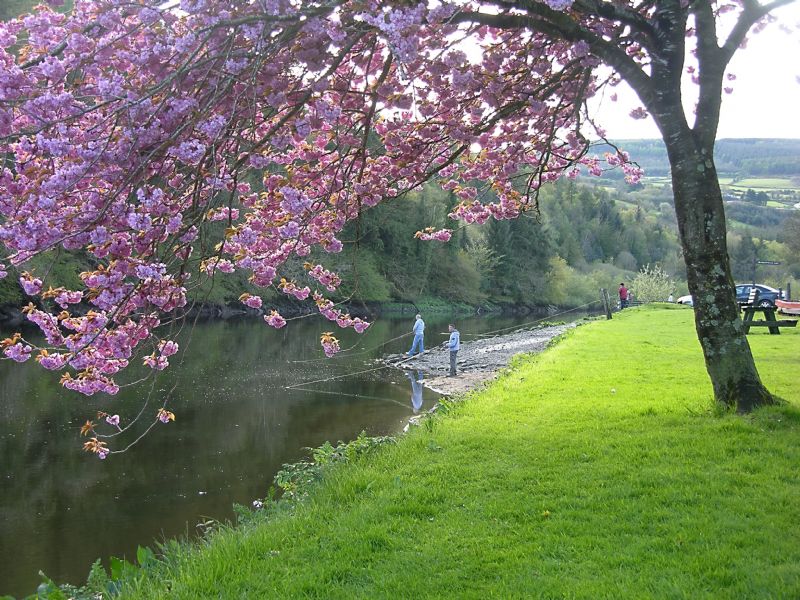 Stunning surroundings are just a part of the River Barrow attraction
It has been four years now since my last visit, due to vehicle problems, and various other commitments, and I desperately hoped that nothing had altered during my absence. As I approached the Mote and Bailie, the medieval hill-fort central to the village, I was relieved to discover that all was how it should be. The ancient cemetery, the handful of cottages dotted around and of course, Blanchfields' pub, the centre of activity and hub of angling information in these parts.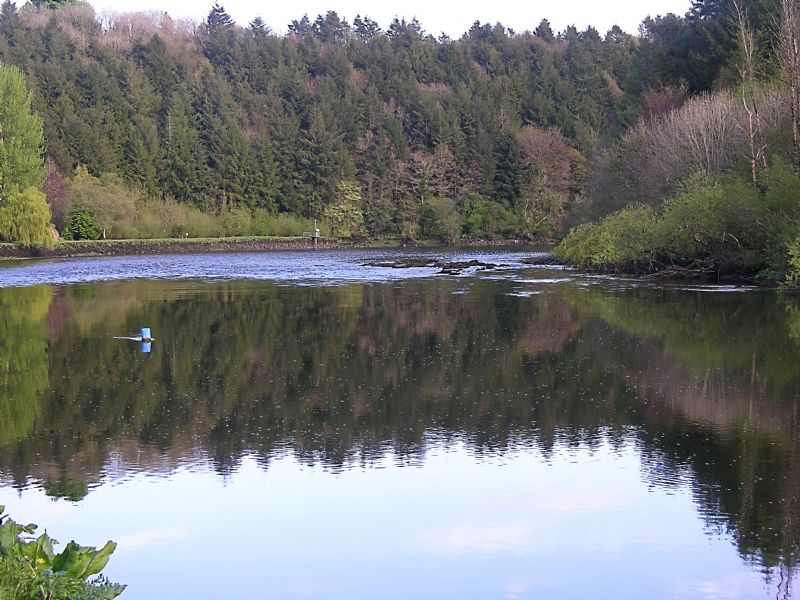 Looking downstream from the river-side car park, St.Mullins
Although I travelled alone on this occasion, the plan was to meet up with angling buddies Sid and Ross from Cork, and in addition, there would also be the usual community of like-minded anglers and specimen hunters from the four corners of Ireland to chat with and catch up on what's been happening around the country. Most are familiar friendly faces, with a few new-comers hoping to catch their first Shad and perhaps, with a little luck, manage to winkle out a specimen fish or two! Sid and Ross were there, along with "Mossy", Derick and Keith. "Dobbs" was a new acquaintance, a salmon guide on the Cork Blackwater, and was keen to see what all the fuss was about.
Standing, now, on the river-bank, I felt like I had come home again. The serenity of this place, for me, offers healing powers beyond that of any drug! Problems and worries of every day life fade with the morning mist. A couple of casts later, dropping the infamous blue and silver Tasmanian Devil lure under the over-hanging branches of far-bank trees, I was back in the driving seat as a hard fighting shad "slammed" into the spinner, putting an impressive bend into the light spinning rod. Fighting like a Mackerel and leaping like a Trout, these spirited little fish never fail to put an ear to ear grin on your face.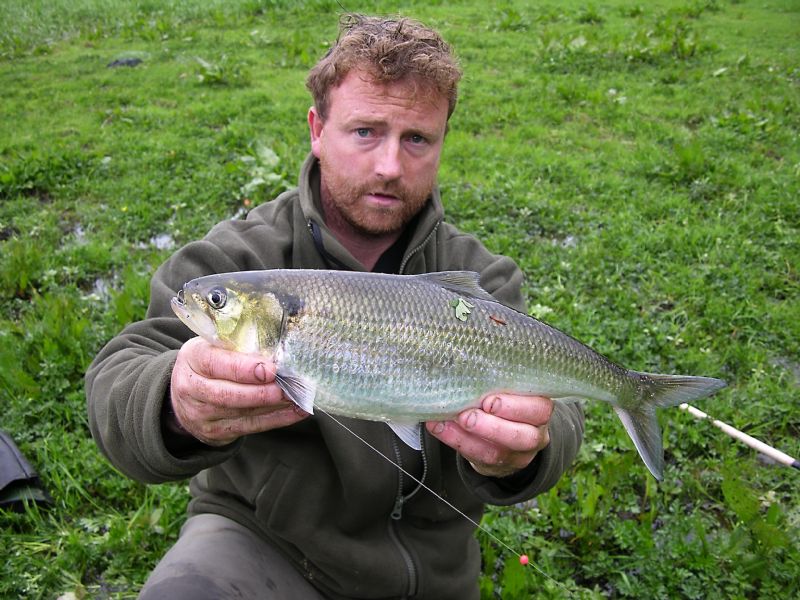 My old mate Sidney Kennedy with his first specimen of the trip
The steady pull and odd glimpse of silver told me that this fish was below specimen size. I could enjoy the fight and lift the rod high enticing the shad to spectacularly leap clear of the surface, usually resulting in shaking the hooks free, which it promptly obliged! Several fish later, with a severe take and yards of line ripping from my Mach 2, I knew I had tempted a larger fish, and from past experience, most likely a specimen. This now leads to a different approach altogether. As if walking on egg-shells, every move is carried out with baited breath. With clutch slackened and rod tip held low to minimise the risk of the fish leaping, the heart thumping and nerves on edge. At best, there is probably a 50/50 chance of landing a larger fish, and it's amazing just how effective this species is at hitting the adrenaline button!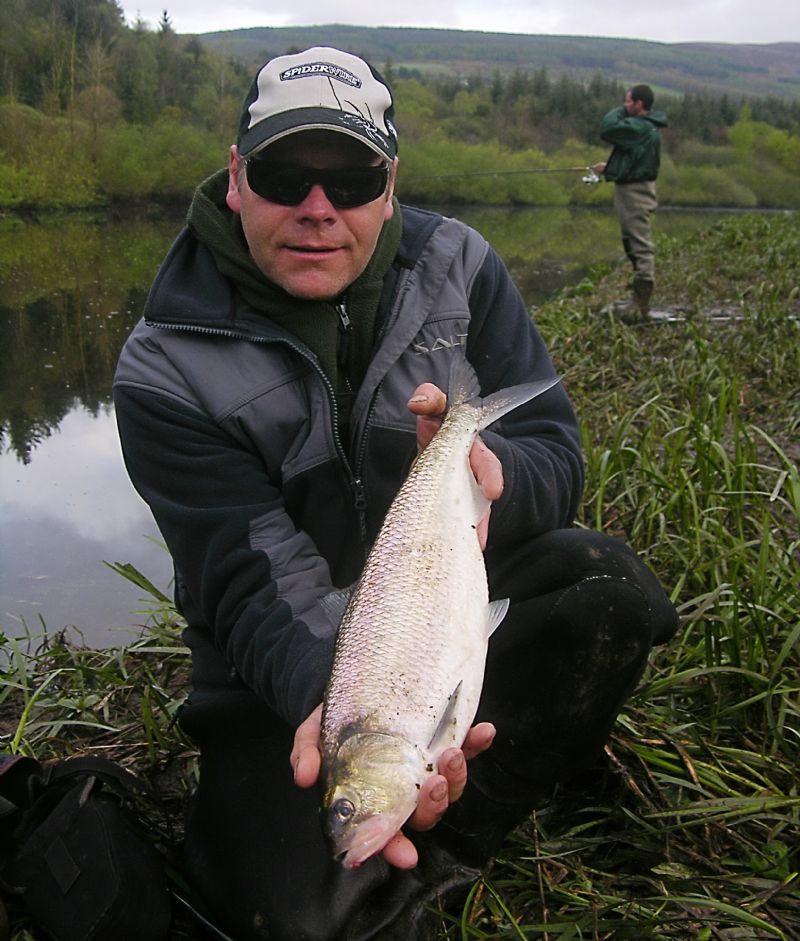 A quick photo-shoot before gentle release. Face fish upstream until in recovers
Safely in the landing net, and the hook removed, you can take in the awesome beauty of these fish, an image that cannot be captured on camera. The stunning lilacs, blues and crimson hues that flicker along the silver flanks are awesome, but remember to view this while it is in the safety of the landing net, immersed in water, head facing into the flow. A minute or so out of water and this delicate species will rarely recover! A quick test on the scales and it passed the magical specimen weight barrier. Recent introduction of DNA testing by the Irish Specimen Fish Committee means that a couple of body scales and a clear photograph are all that is needed for fish identification (It is now known that Twaite Shad can readily breed with the larger Allis Shad variety that could lead to in-accurate specimen information).
With one in the bag as they say, the pressure was off for the specimen hunt, but the run of fish only lasts a short spell. Fourteen landed in about two hours, then very little to show for the rest of the day. This is typical, and usually the next peak period will be on the following tide, with a fresh run of fish passing through. Derick took off to a flying start with three specimens out of four fish on the first morning and we were all playing catch-up over the following days. This is how it tends to work. I was present when Michael O'Leary broke the record eleven years ago. He pulled up to the river, took a pre-assembled rod out of the boot, did one cast, broke the Shad record and packed up for the day!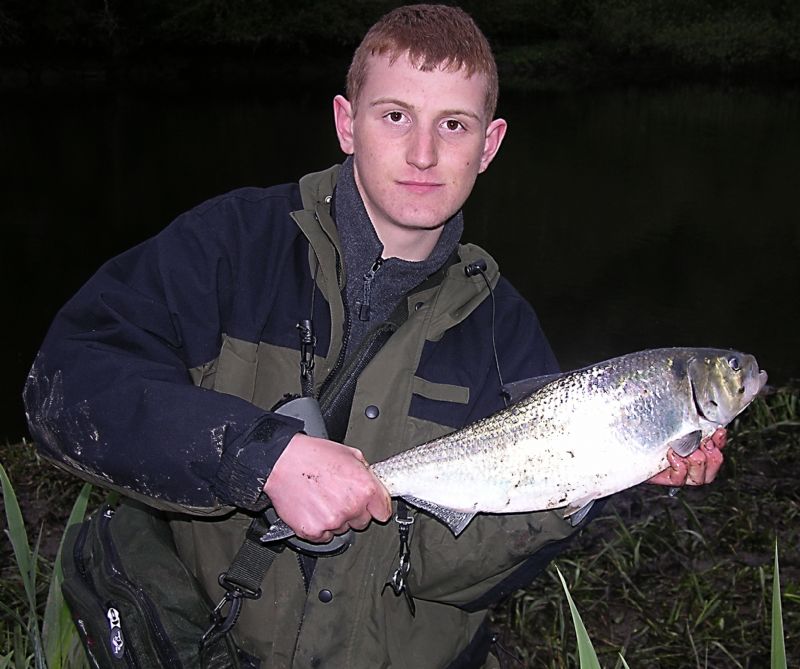 Dobbs, with his first ever hard-fighting Shad
During the quiet spells, all is not lost however. For the angler wishing to target other species, the coarse angling can be superb. Knowing that the Shad run can be short-lived each day; Sid and I took the liberty of pre-baiting an area up-river with the usual mix of ground-bait and particles including sweet-corn and boiled hempseed. Derick and Keith fished over this area with swim-feeder ledger tactics picking out the usual run of Bream, Dace and Roach. The Bream aren't huge, falling into the 3-5lb bracket, but fight exceptionally well, no doubt due to life in a fast flowing river. Sid and I took over for a while, and it would not have been difficult to notch up ton-up bags in a short session. Indeed, the last time I fished this stretch four years ago with some degree of seriousness, I managed 230lbs of Bream and Hybrids in a five hour stint! (For that article, click here)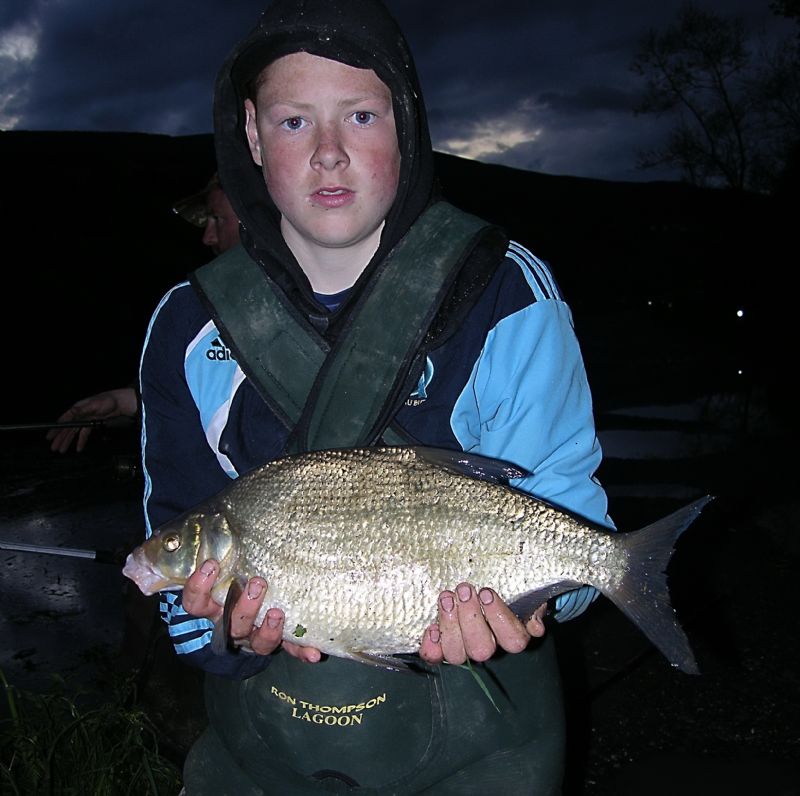 Keith with a typical River Barrow Bream
The once huge shoals of Dace seem dramatically reduced in numbers; they were excellent for honing the stick float skills, knocking together bags in excess of 40lbs. I was told that the area had been illegally netted and the catches packed and frozen for Pike baits. If this is true, it is a crying shame and has had a notable effect on bags of fish this year!
Over the three days that I bivvied on the banks of the Barrow, I managed to land forty seven Shad, four specimens, with one nudging the current Irish record, along with a very relaxing Bream bash. It was great to actually get sitting down to catch fish after casting lures all day! "Mossy" managed his first shad, as did "Dobbs" whose specimen fish of 3lbs+ put up a cracking fight! We were starting to think he had hooked a Salmon.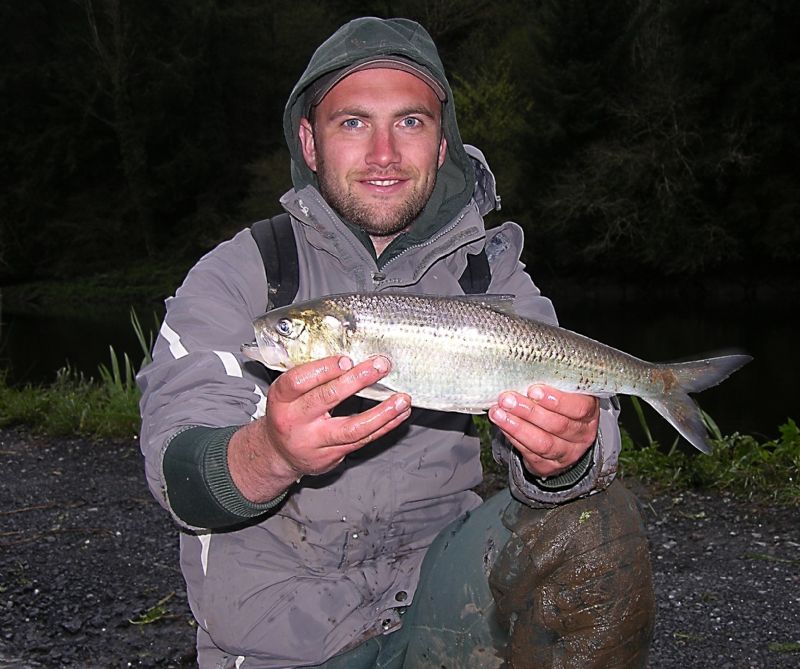 Mossy also lands his first Shad, another tick in the species box
Another high-light at this time of the year is the ever- popular "shad festival", organised by the local angling club and hosted by Nick Blanchfield, with grub provided afterwards in his pub. The competition was held earlier than usual this year, coinciding with my trip, and won by a Polish lad called Dawid Kopczynski, (yes, I had to ask him to write that down), second place went to Andy Ralph and third to Martin Ffrench. The junior winner was a young lad by the name of James Kelly.
I had a great chat with Dawid and we talked candidly about the protection of fish in this country. It was heartening to hear his concerns and he strongly believed, as I do, that our laws are far too lenient to be completely successful in fish protection. His mate even suggested that deportation of law breakers was the only answer! Ignorance of the law is no excuse. Even during this adventure, local lads had to prevent foreign guys from taking away carrier bags full of shad!
Going back to my first paragraph, the reason I love heading to St.Mullins and other similar angling destinations is that they offer the very essence of what Irish angling is all about. Soaking up the stunning locations, renewing friendships, meetings and partings, superb angling (if it can be protected), re-enforced with Irish warmth and hospitality. It's all there, just about, but most importantly, it needs to be protected.
About Shad
Shad are salt-water fish that run the River Barrow to spawn in the weedy shallows below the weir in St.Mullins. They enter the river at its source in New Ross, corresponding with a spring tide, and run the fourteen-mile gauntlet to their destination, seasonally around the end of April and into the middle of May. The gauntlet being illegal Salmon nets, seals, and human fish killers!
They also run some of the tributaries such as the Nore. Whether they feed whilst in fresh-water or simply attack lures out of aggression is open to debate, but they readily hit all manner of lures such as Tobies, Mepps, Devon Minnows and of course, the erratic movements of a "tazzie". Presented on light line, 6lbs maximum or the equivalent in braid, and a light spinning rod, Shad are a pleasure to catch. It is important to realise that Shad are a threatened species, and also quite delicate. If caught and released quickly and handled with "kid gloves", they respond very well.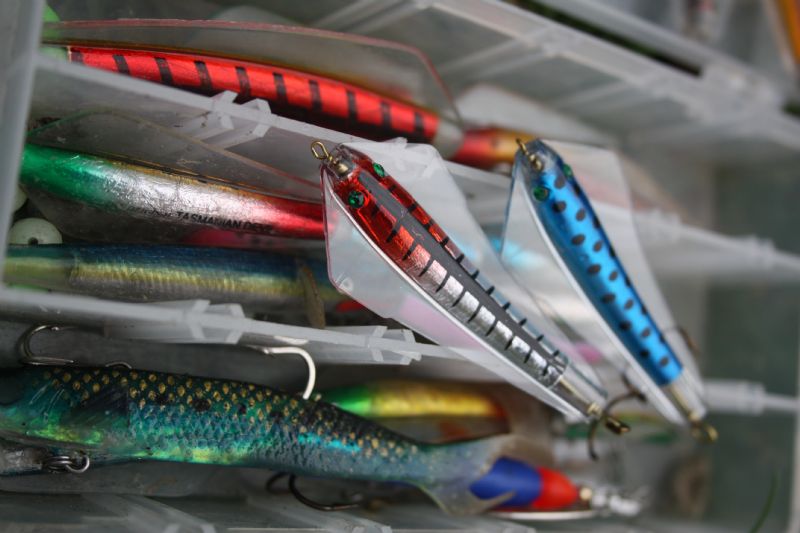 Typical lures for tempting Twaite Shad
The coarse angling couldn't be simpler, with swim feeder tactics guaranteeing great results, or if preferred, excellent fun on the float rod. Stick float fishing for Dace and Roach when the river is moving through, especially with an upstream wind, or the waggler when the flow backs up can be exceptional. If you have the luxury of time, the Bream and Hybrids respond very well to pre-baiting the night before.
Back