Tackle Test, Greys Prodigy TXL 13ft Specialist Float Rod
Tackle Test, Greys Prodigy TXL 13' Specialist Float Rod
On a recent and reasonably successful Mullet hunt down in West Cork, there was one incident that threatened to spoil our adventure. On our way from one fished-out hot spot to the next, we had a bungee failure on the roof rack!
A gust of wind lifted our pre-assembled rods and rattled them down the road amongst busy traffic. My beloved Greys Prodigy VX float rod, Abu Cardinal Reel and Andrew's Amorphous Whisker float rod and bait-runner were instant casualties, smashed to smithereens by passing traffic. Not a pleasant experience!!
Luckily we had spare equipment with us to complete the angling trip, but once home, I had to re-group as it were, and see about replacements. Now, the great thing about buying a rod from the Greys stable is that it comes with an unconditional lifetime guarantee. Not only are you buying a rod of the highest build quality and design, you are also making a purchase safe in the knowledge that sections can be replaced.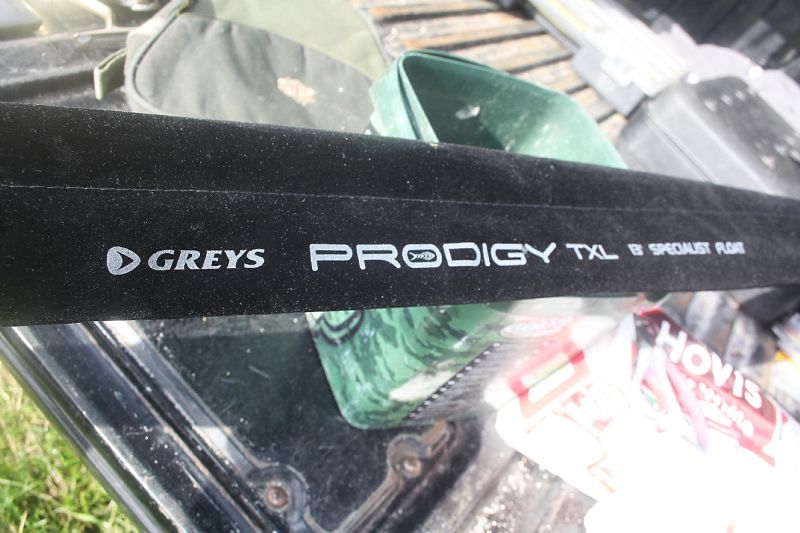 Time to try out the new Greys TXL Specialist Float Rod
After making enquiries to Greys through the help of David Wilson, local agent for Pure Fishing, I was stunned to hear the VX is no longer in production, but delighted when they offered to supply the new TX, an upgraded version of the same rod. It was a pity to lose such a great rod through a stupid mistake on my behalf, but I couldn't wait to see the latest version and better still, bend it into a hard-hitting Irish Mullet.
As we are now well into September, with temperatures dropping, my Mullet time is running out. The Prodigy TX promptly arrived by post a week later. With the new toy packed into the jeep, on the way home from work I stopped off at a local mark to see if I could find a few stragglers. It was too breezy to stalk and spot fish, so I set myself up in an ambush mark I know well, and fed a steady stream of small bread offerings in the tide, pre-soaked so that most would sink avoiding any seagull activity.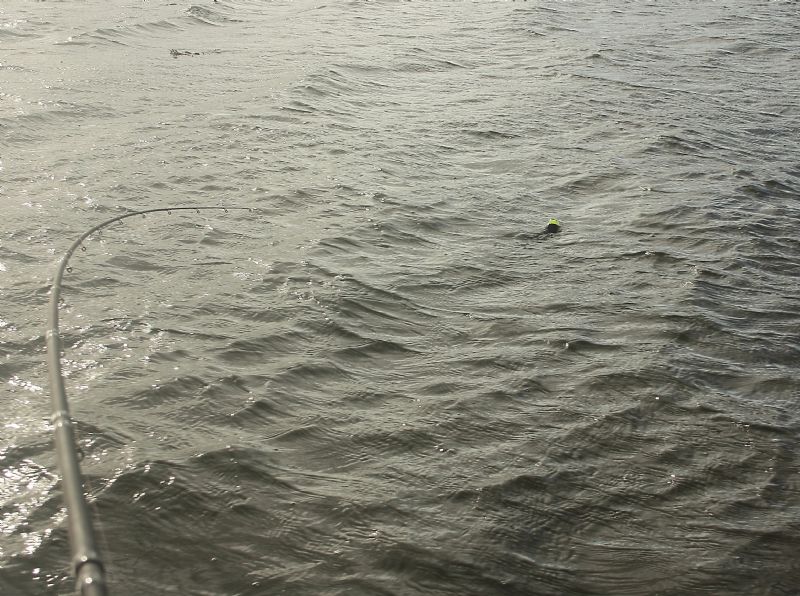 Patience wins out, with a fish on the first cast, rod feels perfect
After about fifteen minutes or so, a break in the wave pattern revealed a small pod of feeding fish, and dropping my baited carp controller into the tidal run for the first time, the bread flake trotted quietly and naturally down-tide towards the small shoal. The rod felt great, very similar to the VX and well-balanced with my spare Abu Cardinal attached.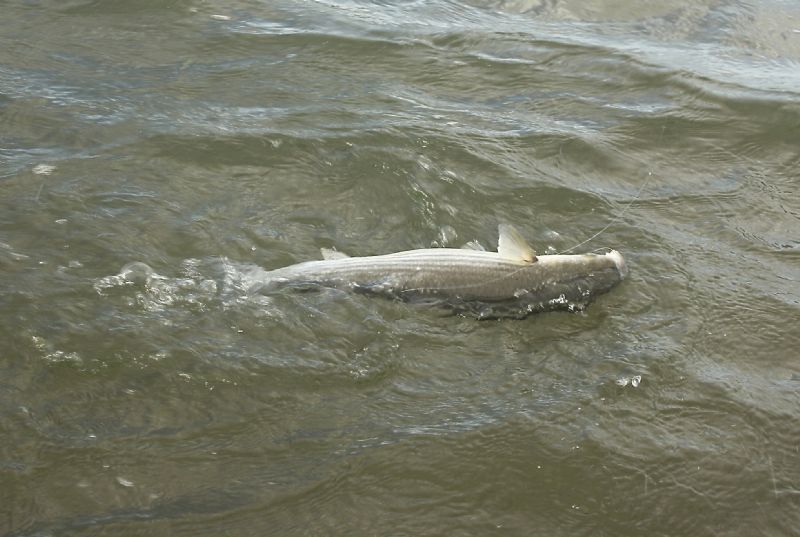 A great start to this short session
I didn't even see the ensuing take, just heard the crash on the surface followed by line ripping against the clutch. So nice to feel the power of a hard-hitting fish once again, especially on a rod you would feel is almost designed for Mullet angling. The forgiving tip section, necessary for casting delicate baits and absorbing fierce lunges on light line, blends seamlessly with the back-up power in the lower section that lets the fish know who's boss.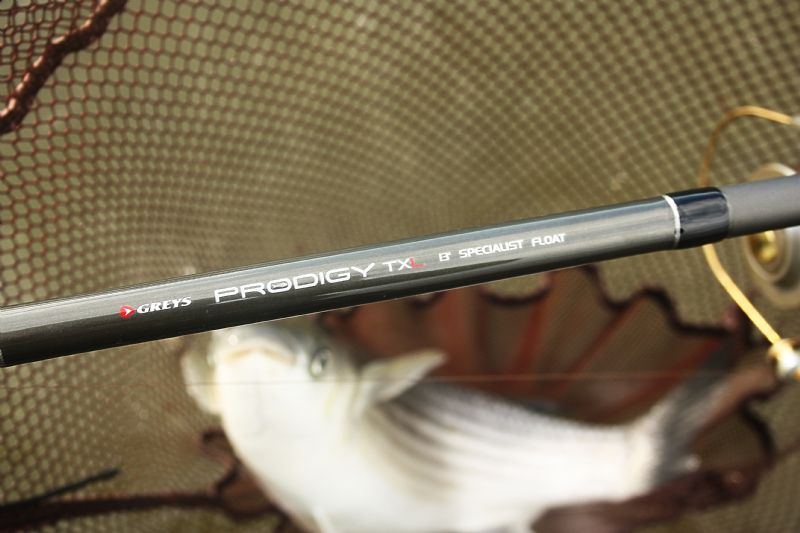 Only around 4.5lbs, but fabulous sport on balanced tackle
Having fought the Mullet in a full circle, its dogged determination finally subdued by the TX and giving way to the landing net, I knew this rod was another winner. I couldn't wait to tempt another silver torpedo, unfortunately the disturbance had scattered the feeding shoal, a normal result on this quiet water.
There are now two options. Stand quietly and wait for another pod to come along, or try another hot-spot. I went for option two and moved along the shore several hundred yards to another ambush point I have taken many specimens from. Continued strong breezes making fish-spotting almost impossible.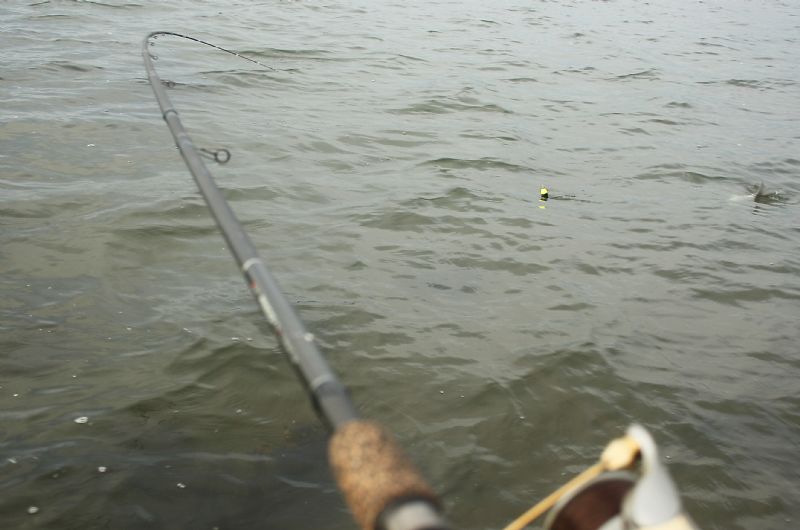 In again, and applying a little side-strain to keep the fish away from weed beds
Again, my second mark has a tidal flow that will carry free samples forty yards or so down-tide, and works extremely well when fooling wary prey. Same set-up, same procedure. Simply feed little and often, without fishing until a confidently feeding fish gives away its position and the battle is half won. With time running out and light fading, this was my last few minutes to find another if I'm lucky enough.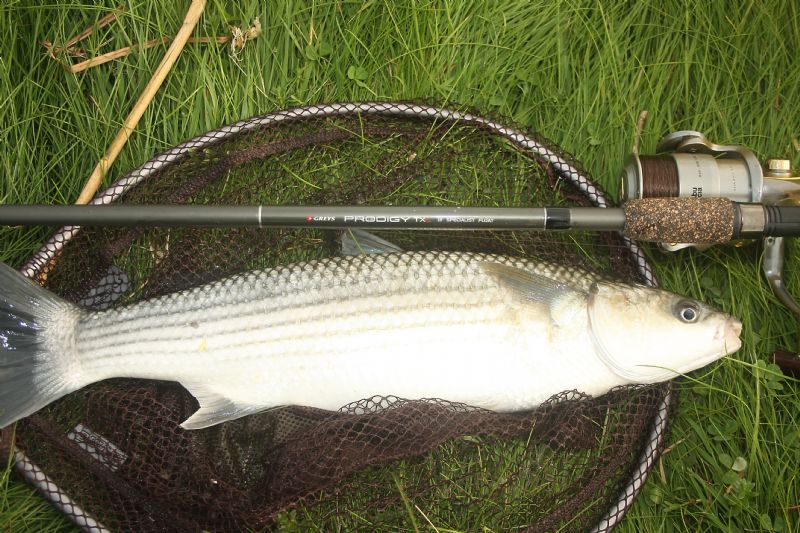 A five-pound specimen in pristine condition
A gentle cast, mend the line, and allow the float controller to naturally trot down-tide and alongside some free samples. A small ripple on the surface, bread-flake gone and "crash", we're in again. I can fully understand how easily anglers become fixated when targeting Mullet, such is the adrenaline rush, but that won't happen with me, I get that rush with all species I am happy to admit.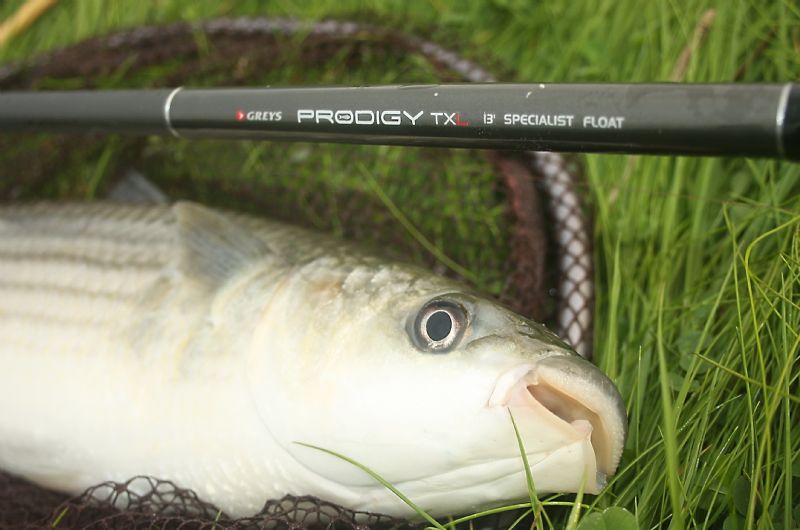 Yet again, line peeling from the reel in long bursts, then gaining it back bit by bit, such powerful sporting creatures. Why more anglers won't target them amazes me. Finally, safely in the net, this fish looked a little larger and pushed the scales round to the magical specimen barrier of five pounds. What a fabulous way to christen my new favourite rod.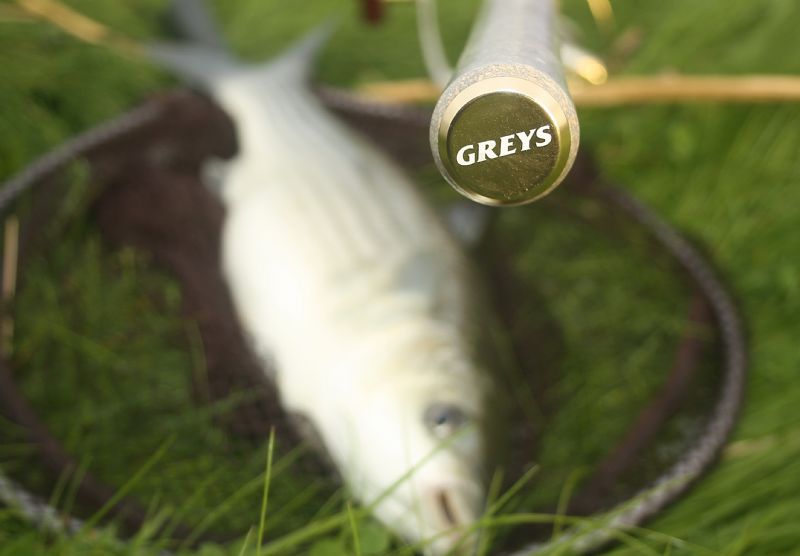 When I tackle tested the Prodigy VX, I suggested that the VX stood for Very Exceptional, if that is the case, the Prodigy TX must stand for Truly Exquisite!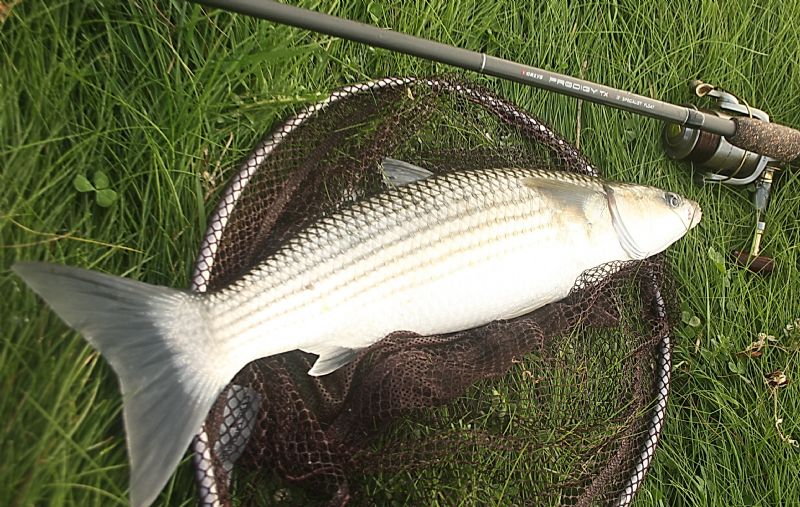 Greys Prodigy TX 13' Specialist Float Rod
Available through all good local tackle shops
Similar product, amazing value deal...GREYS 11ft Prodigy TX SL Float 2pc Rod and Greys GFS Reel
Price. RRP under £100
Action…Progressive power
High Modulus Carbon
Quality cork handle
SIC line guides
Back