Targeting Ray from the shore
Targeting Painted Ray from the shore
This winter season must be my leanest angling period of my adult angling career! Fair enough some missed trips can be blamed on the weather, but the rest lies simply with not having time.
As I plan to sell my house this year, a complete re-decorating schedule (by me) has unfortunately had to take priority and angling has definitely been placed temporarily on the back-burner!
As temperatures plummeted towards the end of the year, I longed to get out after winter Pike and also a specimen Three-Bearded Rockling was high on the list but it just wasn't to be. So, for the purposes of this article, I would like to recount an extremely successful and enjoyable shore trip I had the fortune to partake in, leading up to the winter months of 2014.
For the past three seasons I have been lucky enough to target and land specimen Painted Ray from the Cork Coastline. They can be quite "hit or miss" at times but we have always managed to tempt a couple of specimens over a weekend session. This is in no small way due to local knowledge generously shared by my good friends Sid Kennedy and Ross Macklin.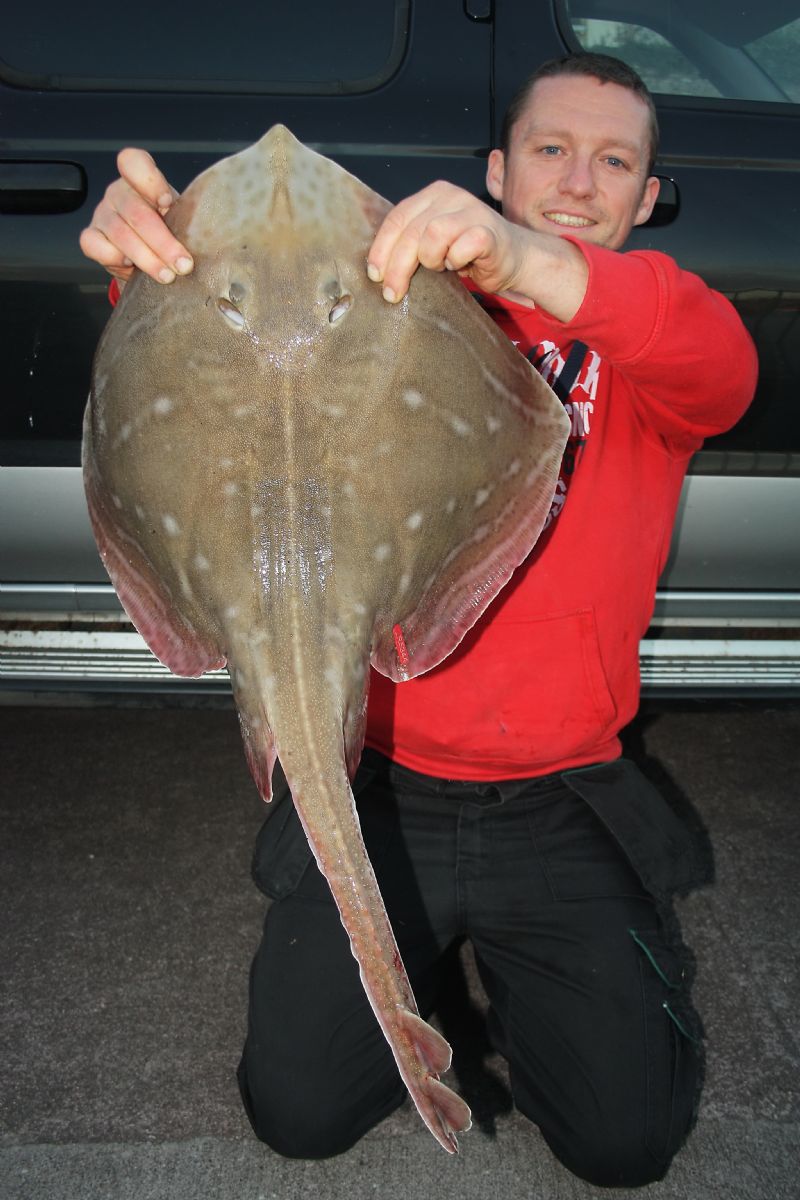 Ross Macklin finds the first ray, note, Rota Tag in wing extremity
Towards the end of last year, a call from Sid let me know that rays were making an appearance and a hastily organised plan was soon hatched. Andrew Wolsey would join me as usual and with everything "good to go" we found ourselves enroute to southern shores. We arrived late afternoon but the squally showers and strong gusts made angling difficult on the usual beach marks. The heavy weather had churned up quite a lot of weed which also made angling almost impossible.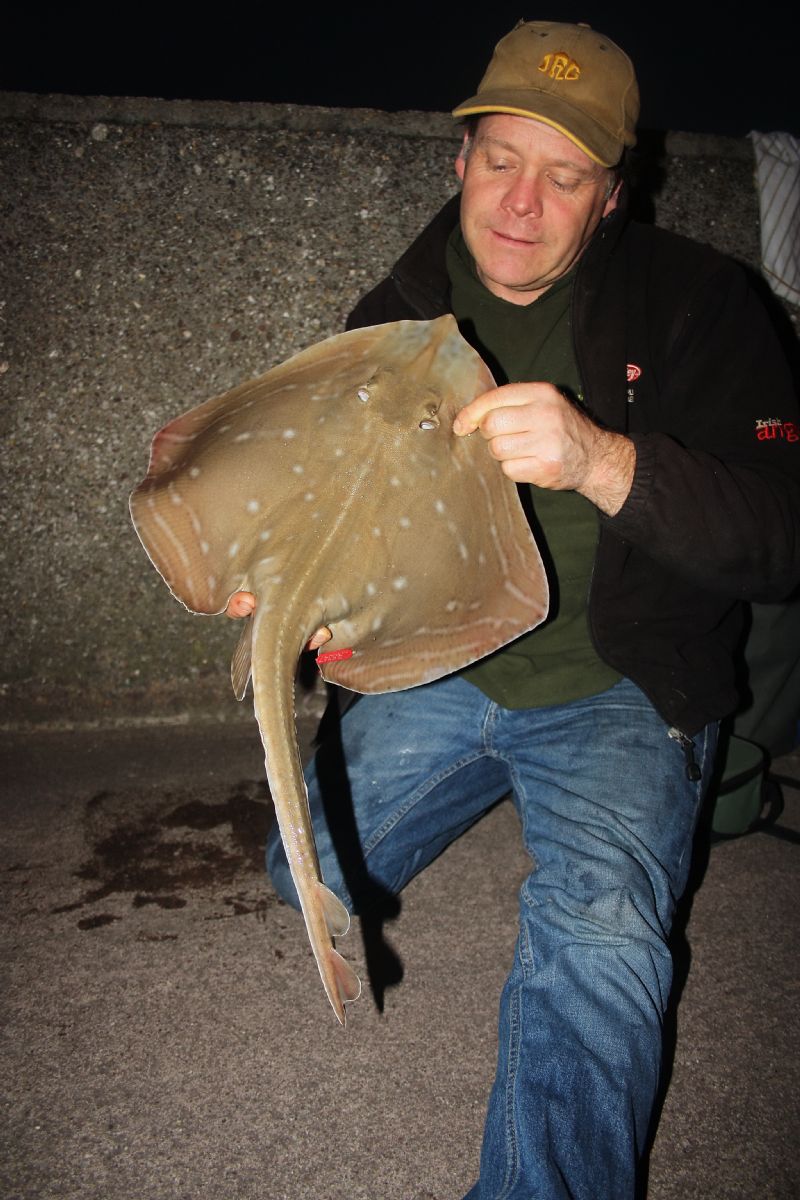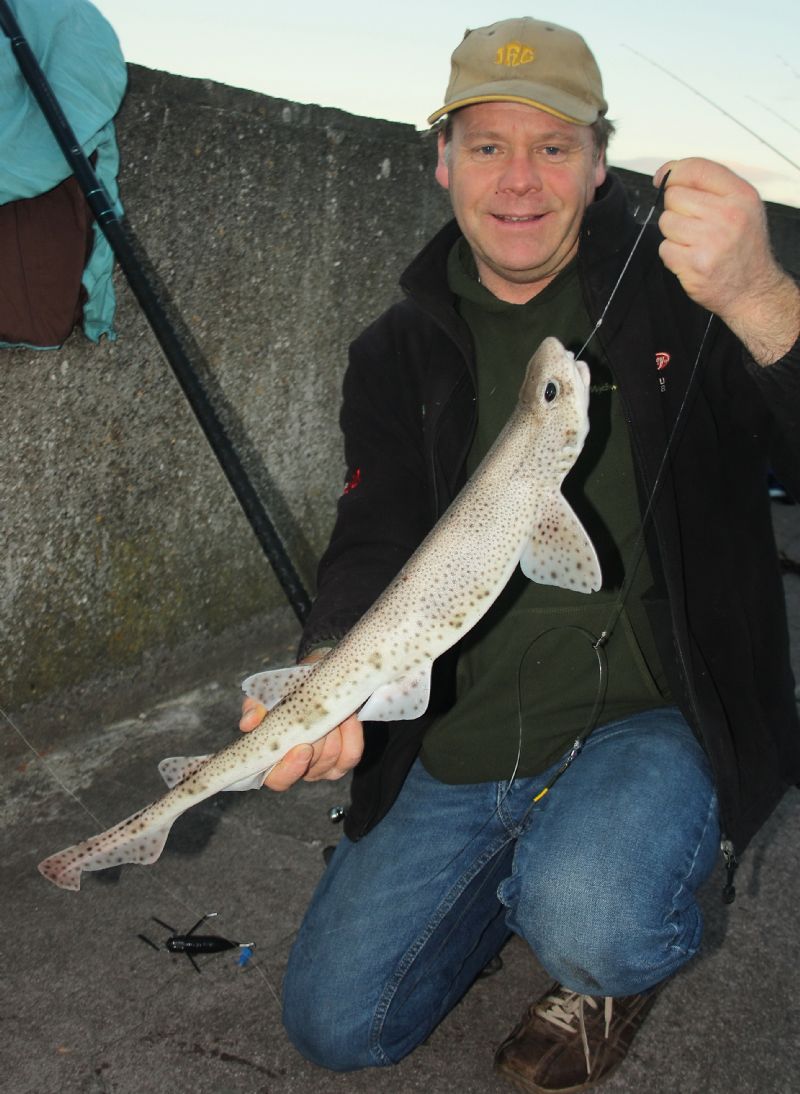 Both Sid and local tackle dealer Dan Lynch (Halfway Angling) had been experimenting on new, sheltered marks and had found a few fish, and just as important, little or no dislodged weed. They kindly invited us to join them. In the lee of the headland, conditions were superb, with temperatures pleasant enough that simply jeans and a sweatshirt were enough to remain warm throughout the night and into the early hours!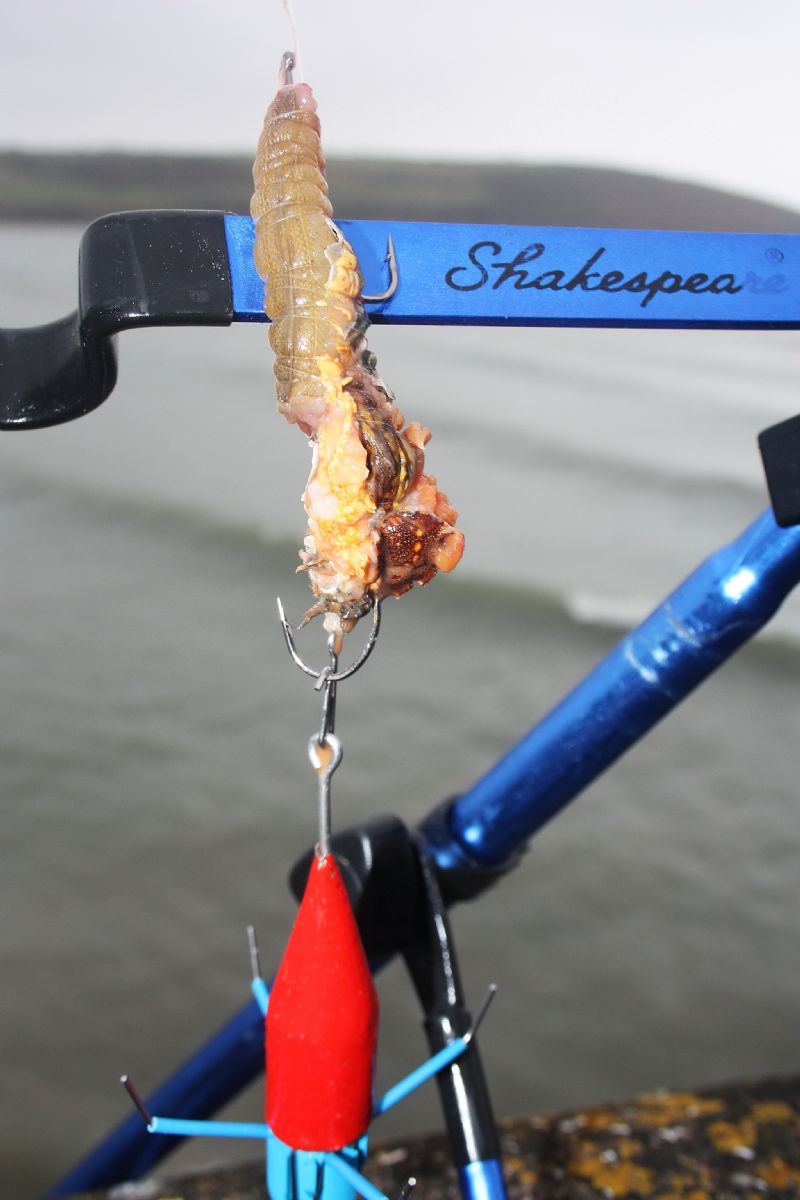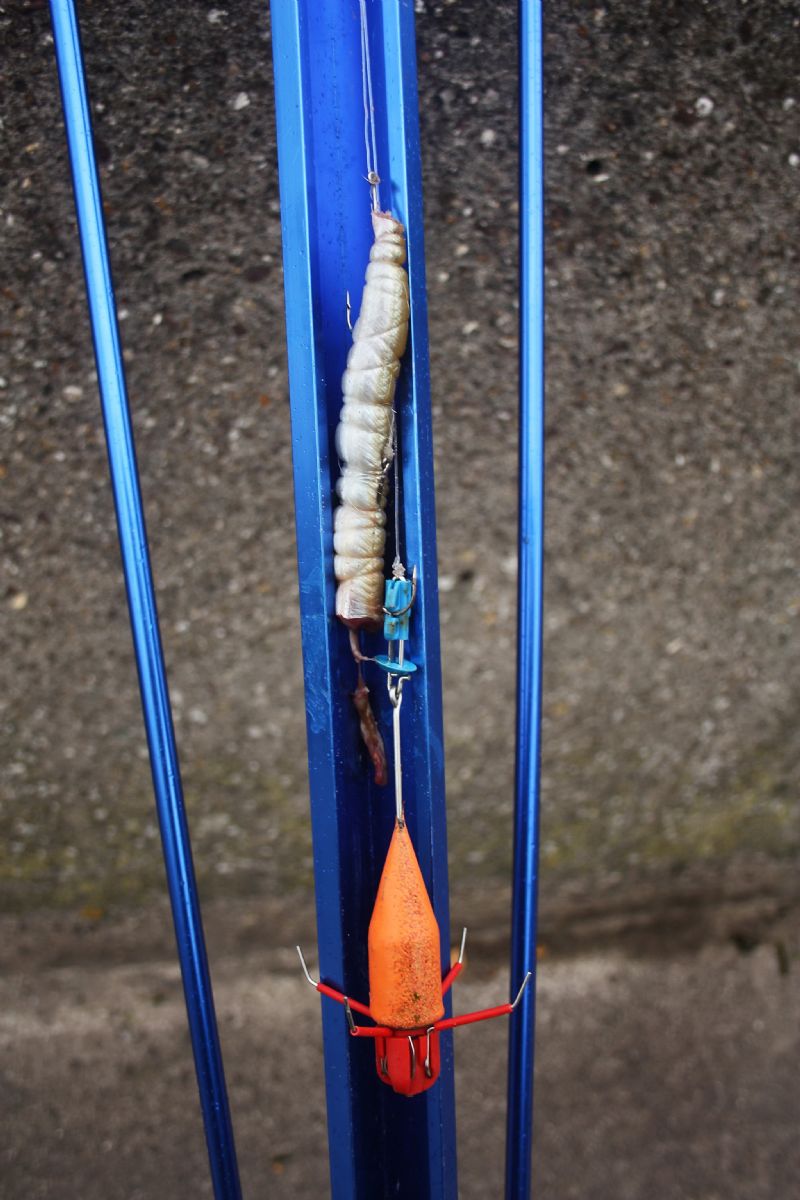 Showing sandeel and sandeel-crab cocktail, hook points MUST NOT be obscured
Gemini Genie Glow In The Dark Splash Down Solo Bait Clips
Casting clipped-down sandeel and eel-crab cocktails one hundred yards plus, rod-tips soon nodded accordingly and we were into our first fish of the session. I managed some sizeable Dogfish but the lads cruised ahead, landing not only our target species we sought but some rays easily managing to break the Irish specimen barrier of ten pounds. Maybe I was trying too hard on our first night, but landed Dogfish, Coalfish and Codling and three perfect little Painted Rays, unfortunately all very small. By this stage Andy had three specimens and quite justifiably looked pretty smug!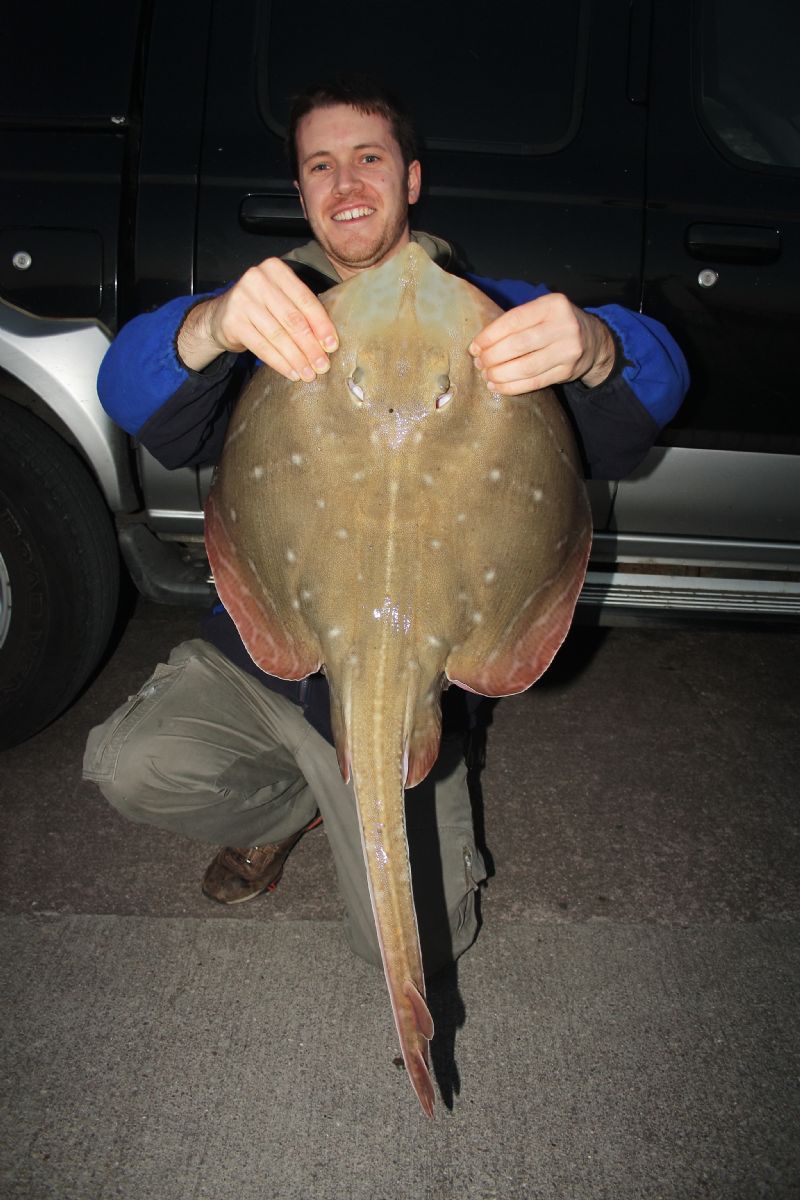 Andrew Wolsey with a double-figure female
With the bivvy erected on a well-manicured green, nicely positioned behind some New Zealand Flax for shelter from the gales, my sleeping bag and bed-chair beckoned, and we soon crashed out into an un-consciousness state. A seven hour drive followed by eight hours of shore angling into the early hours of the morning tends to do that to a body! Besides, as the rays were tidal specific, we had plenty of time to relax and re-boot before the next in-coming tide and shore session.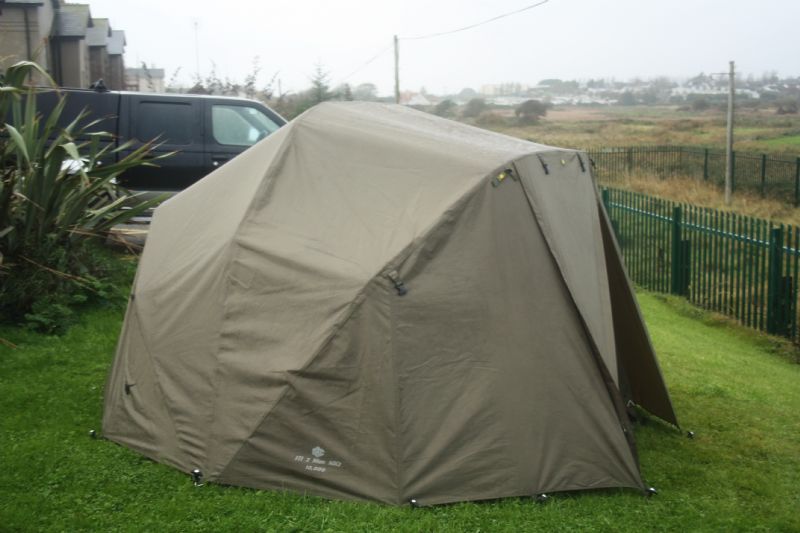 Bed and breakfast facilities for the duration!
JRC STI Twin Skin MK2 Bivvy-2 Man - Green
The inclement weather during daylight hours would make angling almost impossible, but with a fair forecast for the afternoon ahead, winds began to ease and we decided to venture onto the beach. Whiting and Coalfish showed, along with an immaculate "schoolie" Bass that was quickly photographed and released. By half tide (dropping) and just as I began to imagine the scenario of not finding a specimen on this particular trip, my rod-tip nodded and held over with steady pressure. This is the text book bite indication of a sizeable ray, making off with my peeler crab-sandeel cocktail.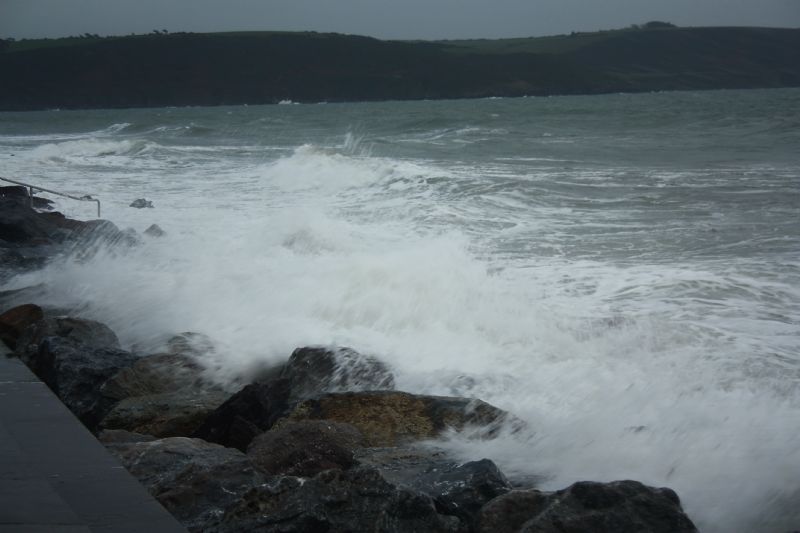 Seas were heavy with too much weed on this occasion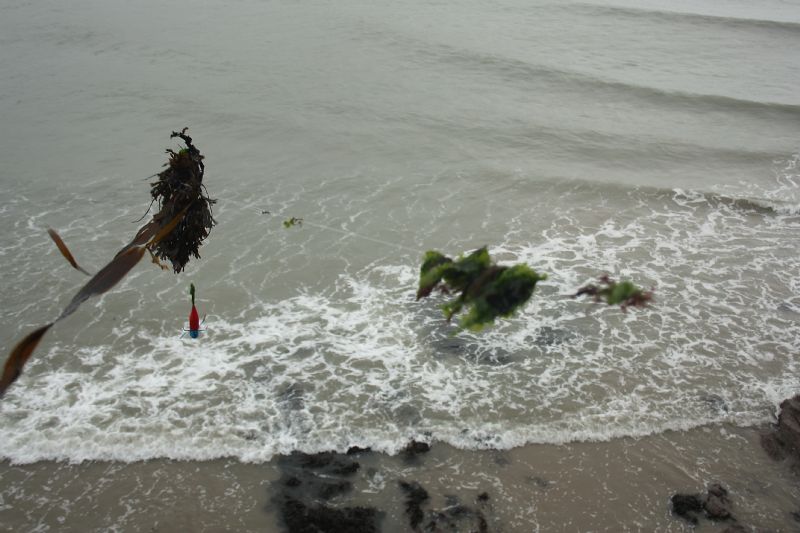 Weed dislodged by heavy seas can make an angling session impossible
Setting the hooks, and using braid as mainline, I could feel the ray scurrying across the sea bed, using the tide to work its way along the shoreline. I love targeting this exciting species from the shore, one of our few species that give a great account on balanced beach gear, sometimes even taking line off the reel. Eventually this large female broke the surface through the surf's water table, and in the light of the headlamp, I guided it into the safety of shallow water. At well over twelve pounds, she was easily a specimen, and with a quick measurement, photograph and fisheries tag in the wing extremity, I guided her out into deep-water to run the gauntlet of the commercial nets.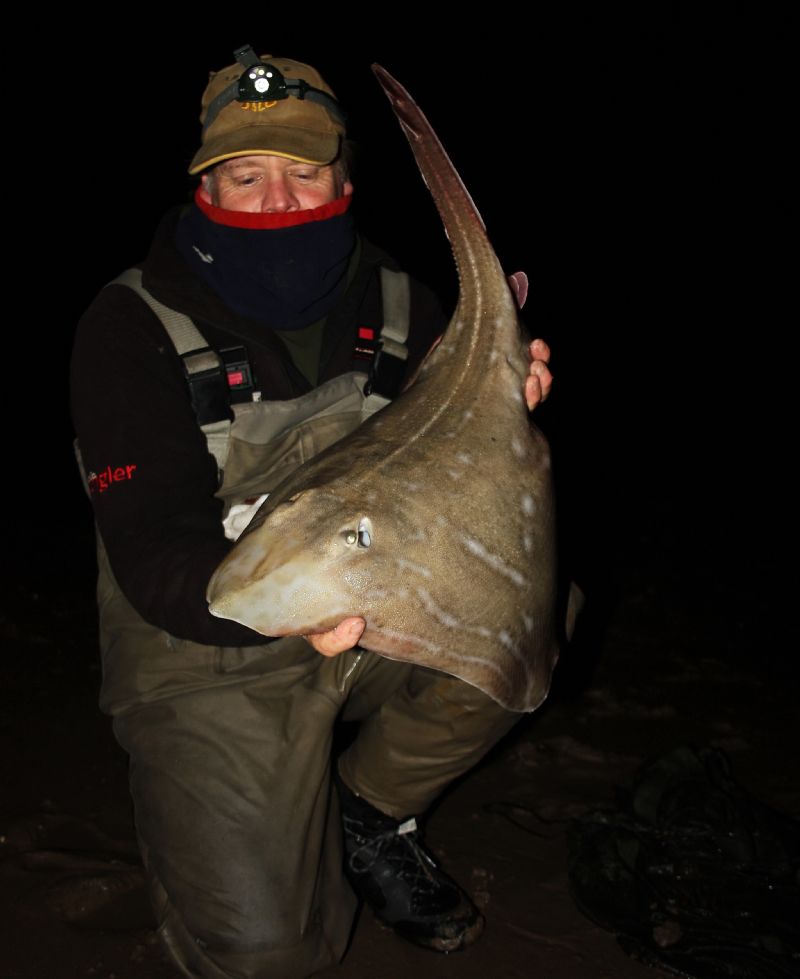 At over twelve pounds, my first specimen of the session
As the evening continued, and the tide ebbed, our beach session grew extremely busy, and Sid, Andrew and I easily managed our specimen quota, landing over twenty rays between us, many in the double-figure bracket. Over past seasons, I managed to tag half a dozen rays over a weekend period, but on this occasion, I had only brought seventeen tags with me, and had already used them all by now! Most of my tagged rays turn up in commercial nets within weeks of release, destined for the fishmonger's slab I am sorry to say. At the time of writing, I have not heard of any captures of this year's group so far. Here's hoping they manage to evade the gill nets and get the chance to drop their egg cases for future generations of rays, and anglers to sustainably target them.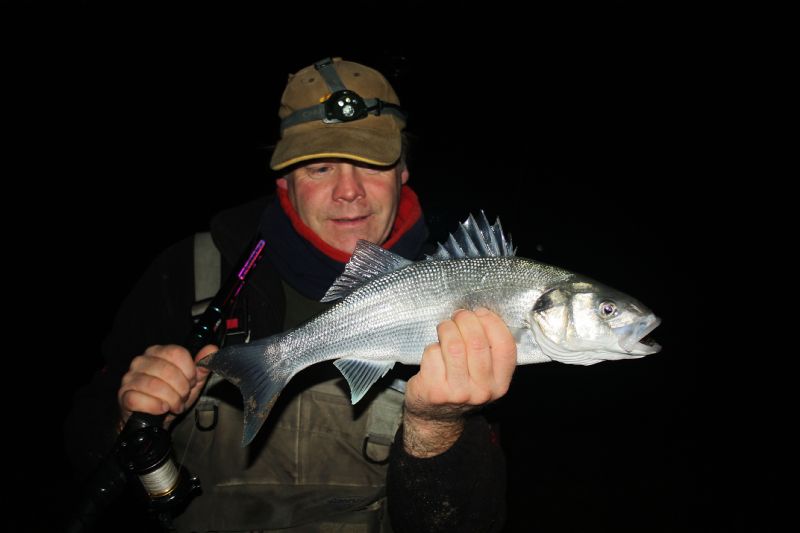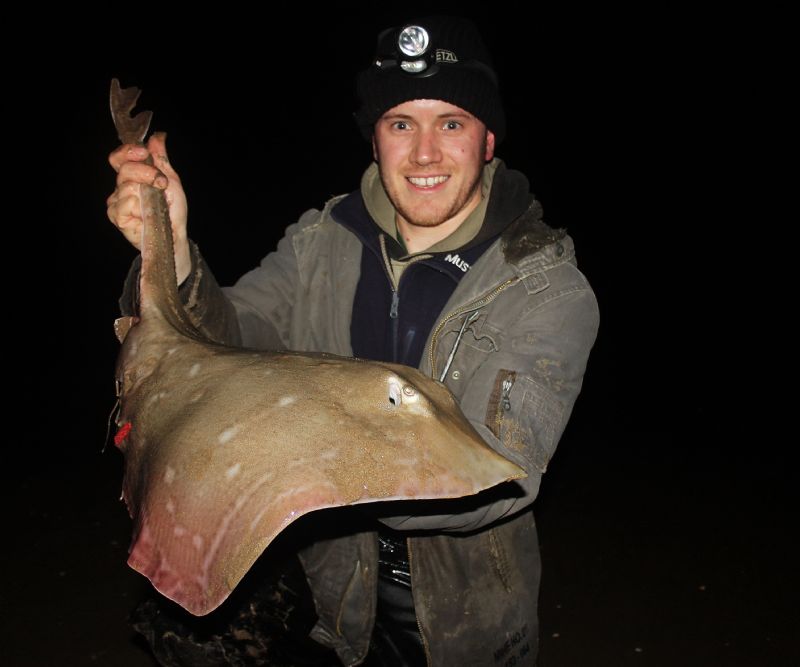 With two sessions from three fulfilled, we climbed back into our bivvies' for some much-needed kip. Andrew declined the early morning tide on the final day, needing his beauty sleep it has to be said. Sid and I are both beyond that stage now, being older and much uglier, we tend not worry about such things, and agreed to grab only three hours shut eye before hitting the dawn tide. Leaving Andy snoring away, we made our way to another one of Sid's hotspots for my final beach session of the year.
As it transpired, this was the best session of the three, with plenty of ray action, and most fish showing over the magical ten pound specimen barrier. I was kicking myself for not bringing more tags with me. Best fish of the session was a female of slightly below fourteen pounds to one of my sandeel baited Abu Atlantics, and a personal best for me. Bearing in mind the Irish record is a tad over seventeen pounds, these were quality fish indeed. The larger females really kick back and certainly get the adrenaline pumping.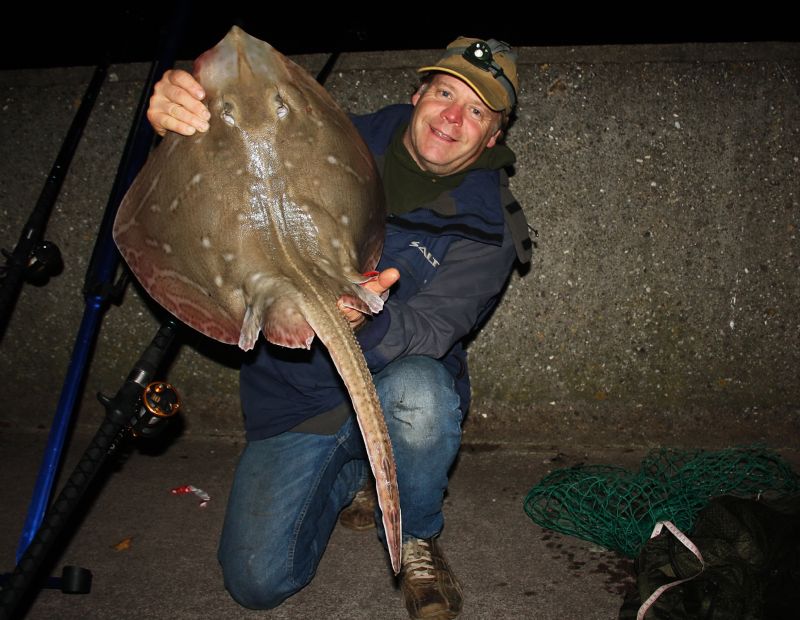 Andrew missed this fabulous last session, but he had more than enough enjoyment up until then and didn't mind catching up with lost sleep. A quick tally-up showed that between three anglers, over three tides, we managed more than sixty rays landed, twenty of which were specimens and seventeen having received a fisheries tag for posterity! All fish were released. What an amazing session.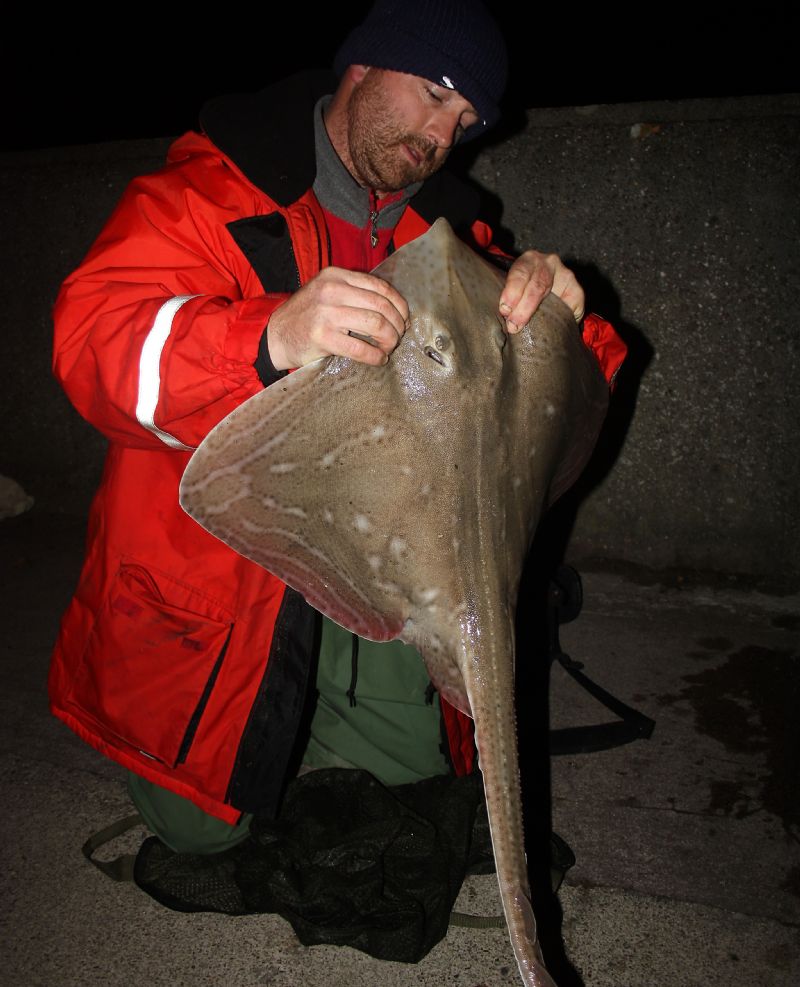 Sid Kennedy with another specimen
I am not sure exactly why the venue fished so well on this occasion, but the cynic in me thinks that due to excessive weed in the area, nets were unable to operate, giving the rays a chance to make it into the relatively shallow water and within range of the shore angler. Maybe this theory is right, possibly it isn't, but what I can say is this. The arrival of the rays was kept reasonably quiet, and yet I counted around forty to sixty anglers targeting them over three evenings. This included many anglers from outside of the Cork area. I know that Andy and I locally spent around £200 between us.
Imagine the angling tourism that could be generated if this was the "norm". By protecting areas such as Cork Harbour from commercial over-fishing, the shore and boat angling would be naturally enhanced. These areas could be promoted to the full and angling-based tourist revenue would hit the roof!
Not only would local business' benefit, including charter boats, angling guides, eating houses, bed and breakfast and self-catering facilities, but it would be in a completely sustainable and environmentally friendly manner. Please wake up, the powers that be, before Cork and district suffers the destruction we have witnessed in the north. There is little shore angling tourism where I live and I rarely pick up a beach rod in Northern Ireland; I save that experience for the now unique and wonderful angling the south coast has to offer. Please implement protection before it suffers the same fate.
Tackle Required.
Standard beach gear is sufficient, although the rod and reel must be capable of taking the pressure of controlling a decent ray, prising it off the sea bed and "bullying" if needs be in the tidal flow. I use a pair of Abu Atlantics 15' teamed up with the rugged Penn Mag 525's for a perfectly balanced set up.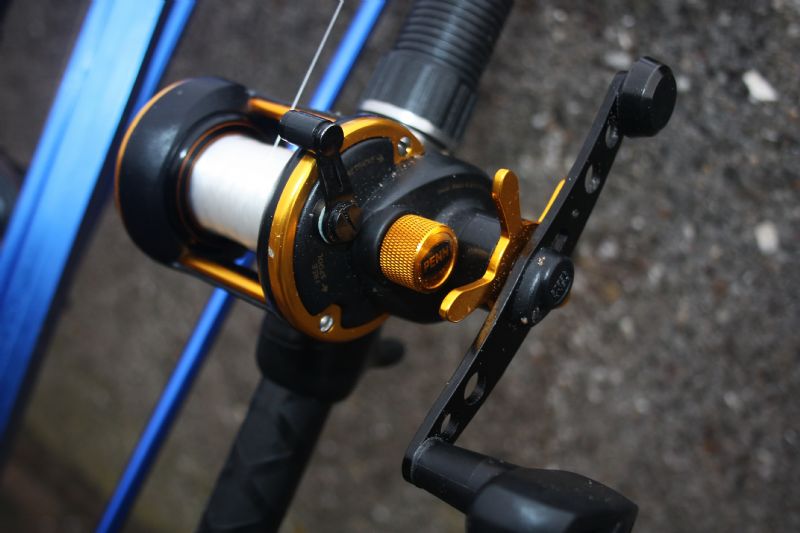 I find it hard to beat the build and casting quality of the Penn Mag range
Penn 525GS MAG2 Series Reel - 240yds, 18 lb
65lb B/S Berkley Crystal braid as mainline, although not entirely necessary, eliminates the need for a shock-leader and knot. I find this handy when there is weed about, as fragments of weed will normally collect on the shock-leader knot and pull the grip lead free. With the non-stretch properties of braid, any bite indication is also extremely dramatic leaving the shore angler under no illusion that a decent fish has attached itself to the hook! Failing that, a good quality mono of 18lb-20lb will easily suffice, coupled with a 60-80lb shock leader.
Berkley Whiplash Crystal Translucent Line - Clear, 50 lb
A robust beach rest will keep the rods in position and protect them from falling onto the sand. One with adjustable legs will lift the rod tips high over the surf tables or help to keep the mainline away from any nuisance surface weed. Don't forget a headlamp for night fishing.
One other item of tackle that we found invaluable when fishing from a height was a drop net. It saved an awful lot of trouble "walking" a fish down and within reach. One of us would operate the drop net while the other guided the ray into it. It could also be released in the same way.
Shakespeare Salt Drop Net - Black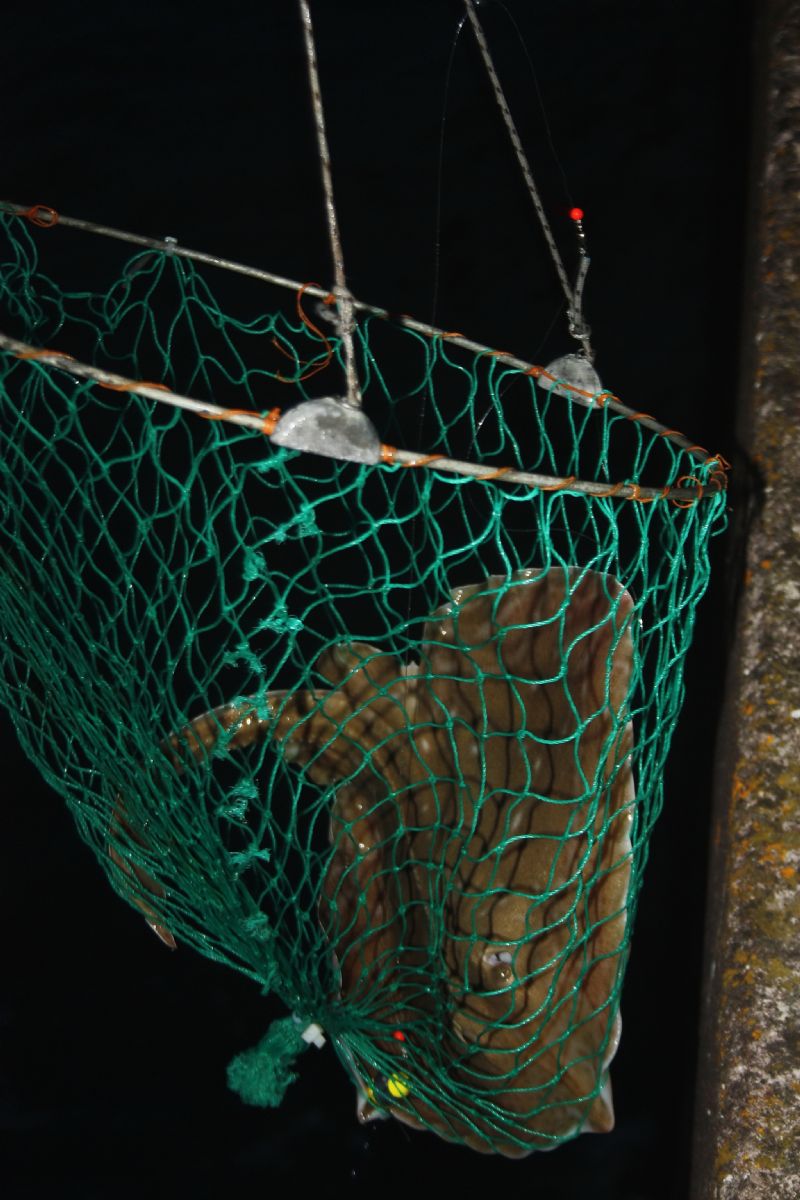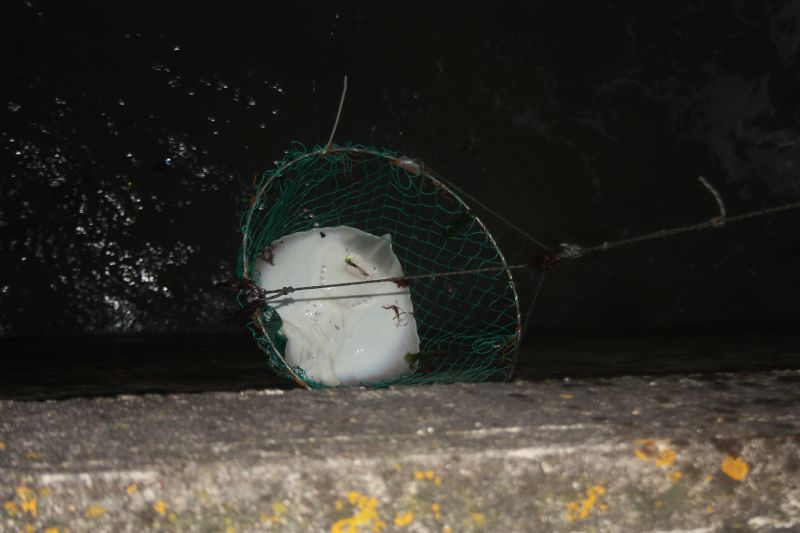 Bait
Although Painted Ray will take standard fish baits, the main choice is good quality large sandeel and or peeler crab. Nip off the head and tail of the sandeel prior to threading on the hook. This will make life easier but also allow attractive scent and juices to escape down tide. Once the eel or cocktail is "hooked", whip with fine elastic thread to hold the bait in position during a powerful cast, and also for longevity once in the water, as shrimp, crabs and small Whiting will attempt to tear it to shreds!
With such a large bait, I prefer to use a Pulley Rig tied with a Pennell set-up, two hooks, one each end of the bait. It is important that the point of each hook is sharp, and not obscured by the bait. Gemini "splash downs" are amazing for holding a baited hook perfectly until it hits the water.
Gemini Splash Down Solo Bait Clips 5 Pk
Don't forget long-handled pliers for the odd deep hook, you do not want to get any fingers caught in a rays mouth parts, I speak from experience! A set of quality weighing scales and weigh sling if you want to record your catch accurately, calibrated with a certificate of proof and a camera for photographs if you wish to claim a specimen. Details and extra information for specimen fish claims and all that goes with it can be found at www.irish-trophy-fish.com
Back