Targeting Specimen Roach
Targeting Specimen Roach
or
"Get your waggler out"
(Written in 2012)
Throughout the month of March I concentrated my efforts almost entirely on the pursuit of Perch, in an attempt to find the elusive three-pounder. Unfortunately I failed to hit this target, but with my angling mate Glenn Drennan joining me in the challenge, we caught so many Perch and bonus Pike in the process that our exploits were far from disappointing. We both learnt a great deal in the art of drop-shotting, an extremely effective predator-catching method. The Berkley Skeletor drop-shot rods are amazing bits of kit and great fun to use. Although sensitive and "tippy", essential to make the small lures perform their deadly dance, they pack plenty of back-bone to quieten the odd stray Pike that came our way, and there were more than enough of those!
Having covered several hundred miles on our travels, and over a dozen different venues, the elusive three-pound Perch remained just that, although I lost a "lunker" at the rim of the landing net that would have been extremely close to the mark. The ones that slip the hook are always the largest it seems! However, as sometimes happens when sampling relatively un-explored waters, a bonus species can make an appearance that sends you off on an entirely different mission altogether.
The species on this occasion happened to be Roach, a fish very close to my heart. I realise that there is nothing strange in running into shoals of Roach, they are present in almost every puddle in Ireland, but these were a particularly large stamp of fish. This was dramatically proven when Glenn landed a beauty weighing in at two pounds and six ounces. Although he took this fish on quiver-tip methods, the swim was crying out for float tactics, which presented an excellent opportunity to offer Glenn a crash course in fishing the "waggler".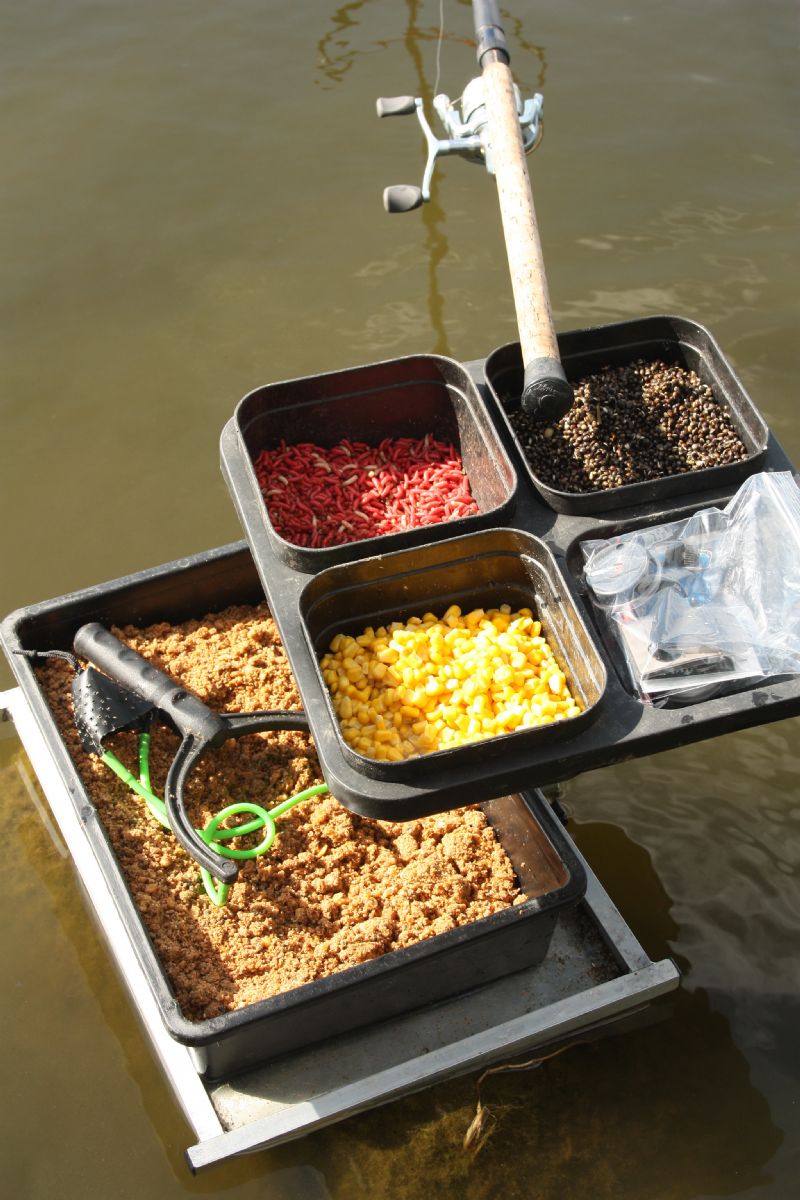 It is important to have everything close to hand, and comfortable, especially if you have to wade all day.
During my match-angling days, in what seems like a past life-time, fishing the waggler was bread and butter stuff to most of us, especially before pole angling hit the scene. Serving an apprenticeship in trotting a float down-stream, along with various shotting patterns and in particular, practising how to slow a hook-bait down to the point of perfect presentation was all part of the learning curve towards winning your first match. This experience can only be gained over years of practice and learning from other anglers who are knowledgeable in the discipline. Hopefully I could use some of my experience to show Glenn a few tricks of the trade for a successful day hunting these large Roach.
Tackle
Starting with the rod, ideally it needs to be thirteen feet, light and fast tapered. A great deal of float fishing involves holding the rod most of the day, and it is important that this is comfortable and enjoyable. Don't panic too much about costs! For example, the Mach XT range from Shakespeare are superb and at ridiculously low prices to suit any angling budget. Team this with a shallow spool match reel, designed to hold at least 100 yards of six pound breaking strain nylon, and you have a float fishing kit for less than eighty quid! Six pound B/S main line may seem a little excessive for Roach angling, but on this occasion, we are after large Roach in the two-three pound range. They are dogged fighters at this size, the extra few pounds of B/S are often necessary to coax a specimen through and around Lillie pads and rushes. This set-up should feel light and balanced, the fast taper rod having the power to cast a loaded waggler some distance with total accuracy, and the forgiving tip section to absorb the erratic bursts of energy that large Roach possess.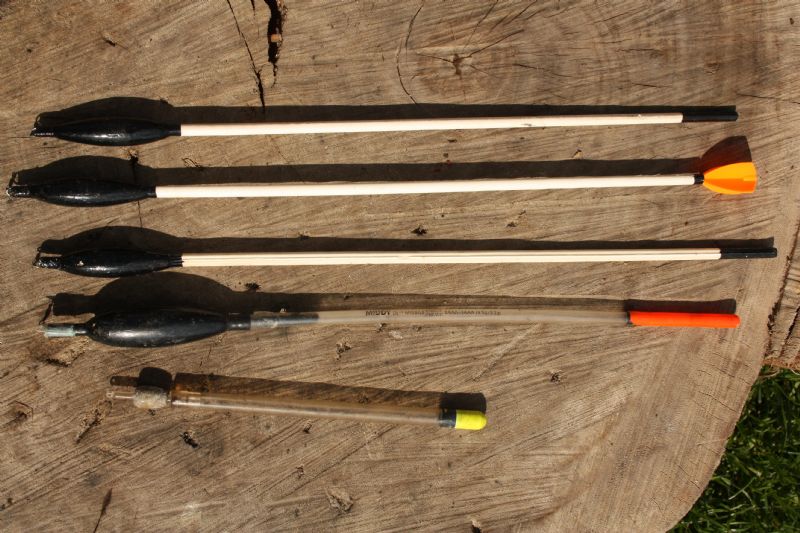 A handful of typical wagglers I use during roach float fishing sessions. The fourth float from the left allows a night-light to be fitted, for night sessions.
The next step is the float. They can be works of art mostly designed to catch anglers rather than fish, but in reality, they are simply a sight indicator with a weight carrying capacity to put a baited hook where the fish are! What they look like is irrelevant; it's their ability to perform a task that is important. On this occasion, we will be fishing in twelve feet of water, with most of the weight locked around the float, allowing a baited hook to drop through the water column as naturally as possible. A loaded, bodied waggler is ideal, carrying the bulk of the weight inside the body to avoid the need to lock the float at depth with numerous split shot.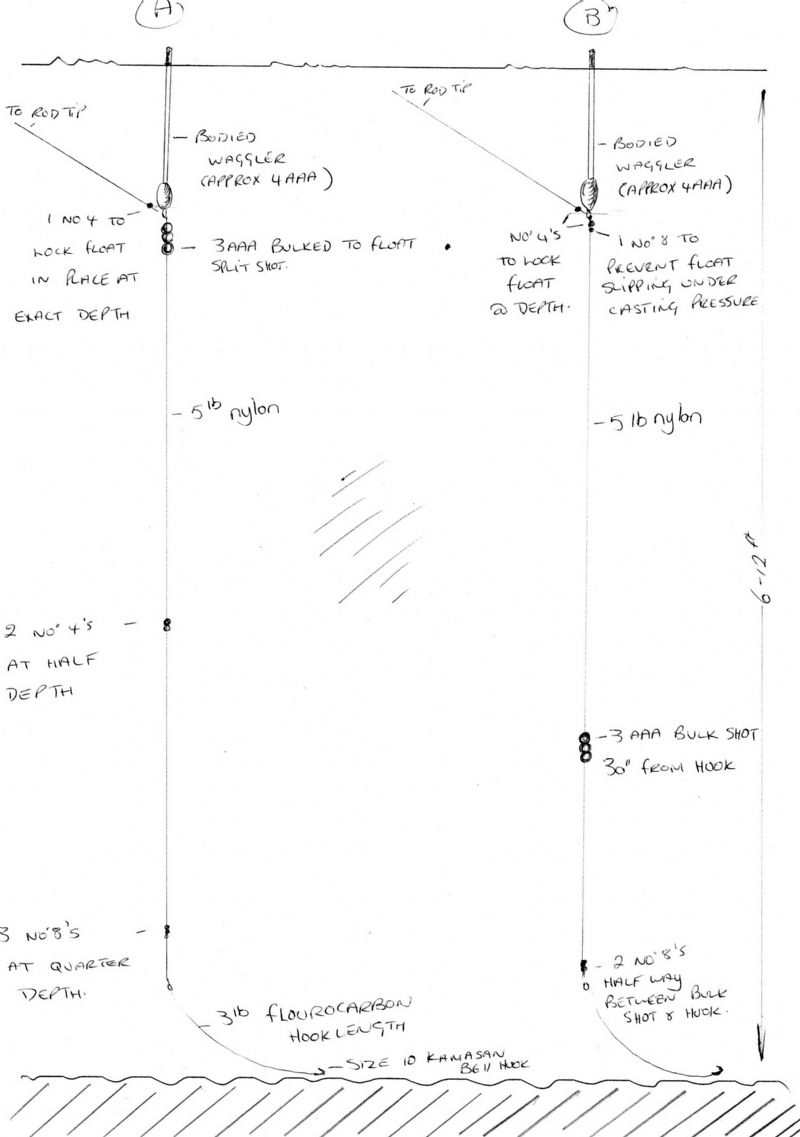 A rough drawing of two float options. Drawing A shows set-up to fish "on the drop". This allows a hook-bait to fall slowly through the water column, seeking out fish feeding mid-water. Drawing B shows set-up where the bulk shot is set low to drop the bait down quicker when the main shoal are feeding close to the lake bed.
Halfway between float and hook, I add three number four split shot. Halfway between the number four's and the hook, I add three number six split shot. As the float "cocks" and the tell-tale split shot reach their depths, the float tip will settle to within half an inch of the surface. Any delay in this "timed" settling will mean a fish has intercepted the bait. Lift into the fish immediately. This is known as fishing "on the drop", particularly effective when loose feeding maggots with the fish feeding throughout the water column. The reason for bulking the smaller split shot together is to over-come another problem. We will be loose-feeding boiled hempseed, a Roach delicacy, and the split shot are often mistaken for grains of hemp, leading to false bites. Bulking the shot will help prevent this.
If the main shoal of Roach, or the larger specimens are feeding deep, or relatively close to the lake bed, then the float and shot pattern may be altered to drop the hook bait down through the water column much quicker. It will also help speed a baited hook past the smaller fish if the larger specimens are feeding near the lake bed. Rather than using a loaded waggler, use a bodied waggler locked at depth by a couple of number four split shot or small rubber float stops. This allows the bulk of the shot to be placed thirty inches from the hook, effectively placing the hook-bait quickly amongst the feeding fish.
A size ten hook seems excessive, but is perfect to hold a large bait required to tempt specimen Roach and avoid smaller fish. I use Kamasan pattern B611 spade ends, wide-gape, strong and extremely reliable, tied on 3lb fluorocarbon hook lengths. Use smaller hook patterns and you will spend your day catching an endless supply of two-eight ounce juveniles! Bulk out the hook with one or two grains of corn, six maggots, casters, or try a cocktail of all three. As long as the hook-bait remains large enough to keep it out of the mouths of the smaller fish, you will increase the odds in finding a specimen.
Bait
Roach will eat almost anything. However, my successful baits over the years have always been red or bronze maggots, casters, sweet-corn, worms and on some occasions, bread flake. Boiled hemp-seed and casters in the feed are almost mandatory, and ground or crushed hemp is highly recommended, mixed into the ground-bait for that oily, explosive effect that roach find so irresistible. The important rule that sorts out the specimens is to keep the hook-bait large enough to filter out the smaller, nuisance fish.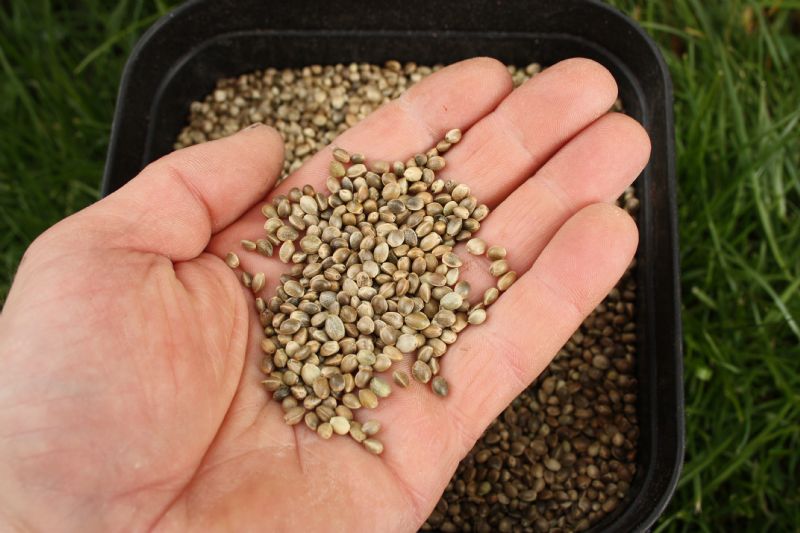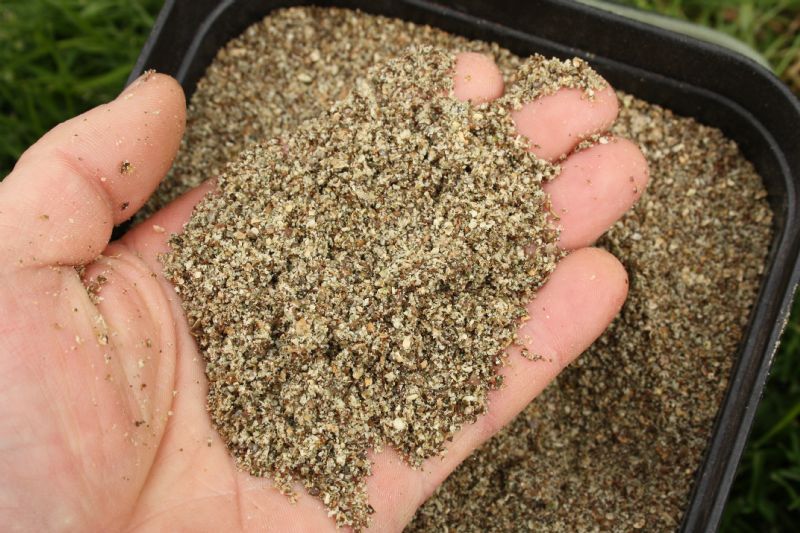 Natural hempseed on the left and ground hempseed. One pint of hempseed will equate to approximately two pints when ground. This releases plenty of oil and explosive particles that roach find so attractive.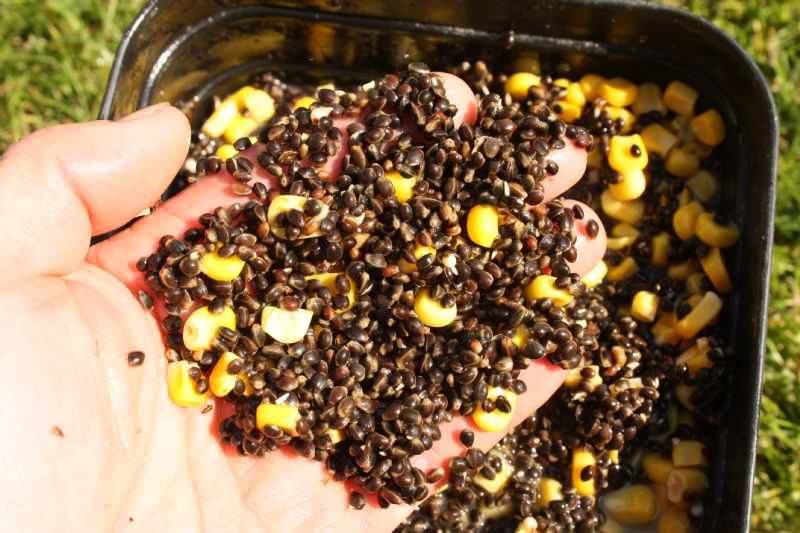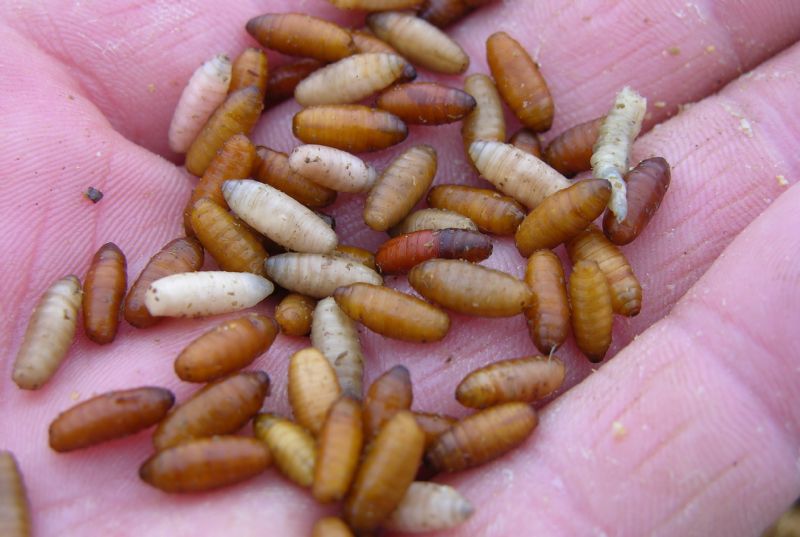 Casters, no good roach session should be without these! And boiled hempseed with corn, another deadly Roach bait.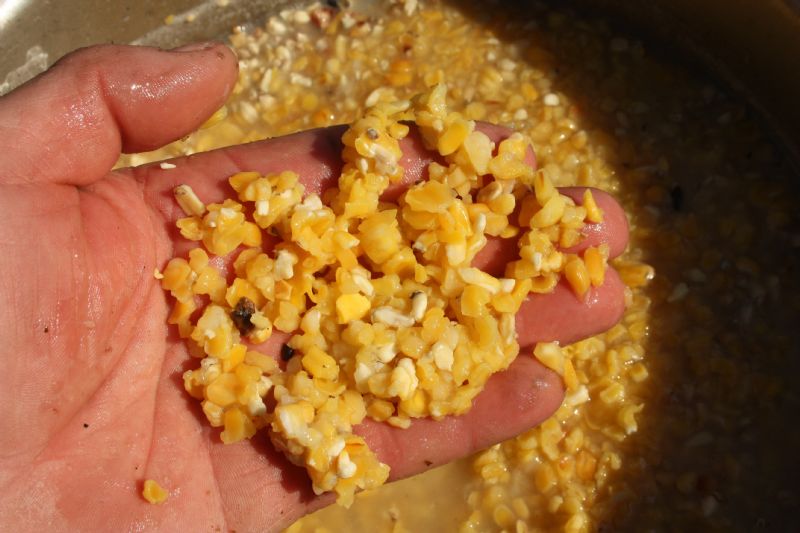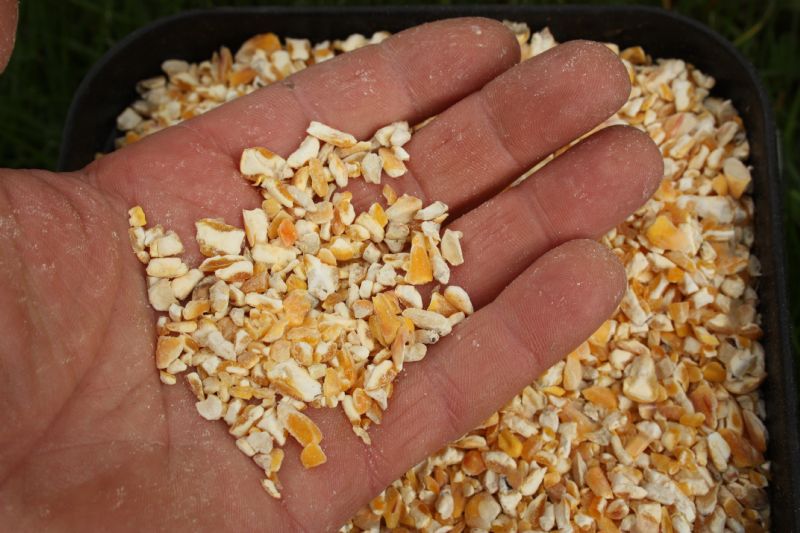 Cut maize before and after a few hours soaking. Soft and ready to go in the ground-bait.
The Trip
We decided to share the same "swim" so that I might demonstrate feeding techniques and tackle set-up etc. This is not usually ideal for optimum catch results as too much disturbance can put the fish off, but on this occasion, it would be a laid-back approach, a bit of fun, maybe a few tips to pass on, and more importantly, a few decent Roach for the camera with any luck.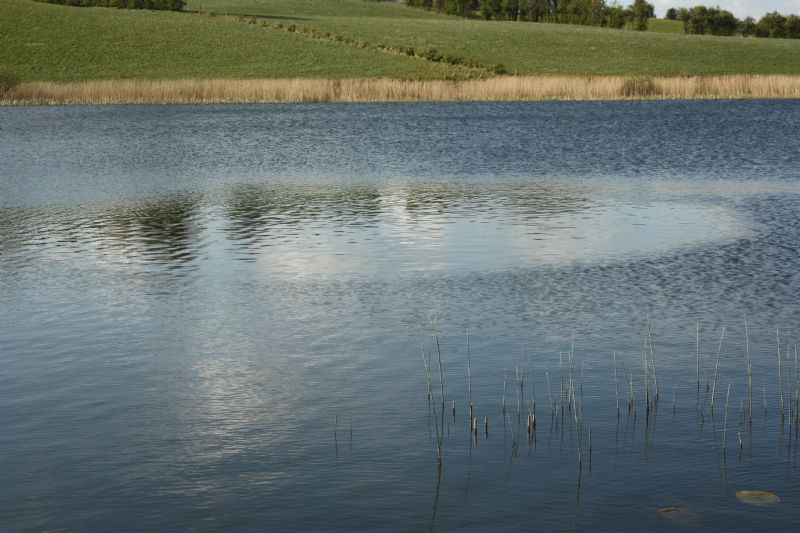 The fish attracting oil can be seen on the surface, from the ground hempseed, as it breaks up the groundbait and sends particles through the water column.
To "kick-start" the swim into action, I opted for an initial introduction of ten, orange-sized balls of ground-bait. This consisted of standard crumb, a small amount of continental mix, a large amount of crushed hemp-seed, laced with boiled hemp, casters, sweet-corn and a few maggots. Maggots would be loose fed, little and often style over the initial feed throughout the day. Hopefully this would generate some action from the smaller fish, with the ensuing chaos attracting a few larger specimens into the area to see what the commotion is!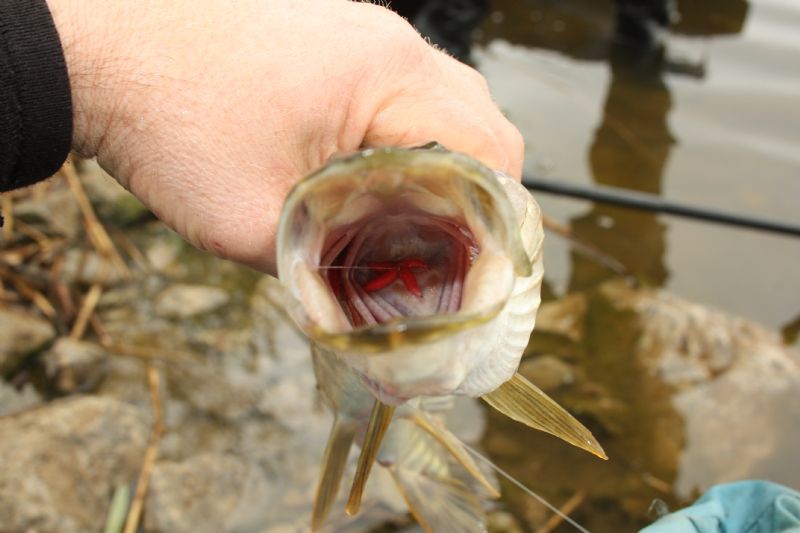 A small pike took my maggot bait. They can be a nuisance at times, but working out how to over-come obstacles such as this is part of the joys of angling.
A venue such as this, with a broad range of Roach generations will always have the problem of sorting out the larger fish. Unfortunately, it is a numbers game, but with Roach so obliging on most occasions, you are rarely left twiddling your thumbs! Large hook-baits are the only option, but there will always be a few small Roach that manage to engulf two grains of corn and four maggots in one mouthful! You need to work your way through these until the specimens enter the arena. A clue to their arrival is when the smaller fish disappear for a while. They are intimidated by the larger specimens and back off for a short while. On many occasions, bites will cease, the float will remain motionless for five minutes or so, slowly dip and you're into something a great deal more substantial than a four ounce Roach!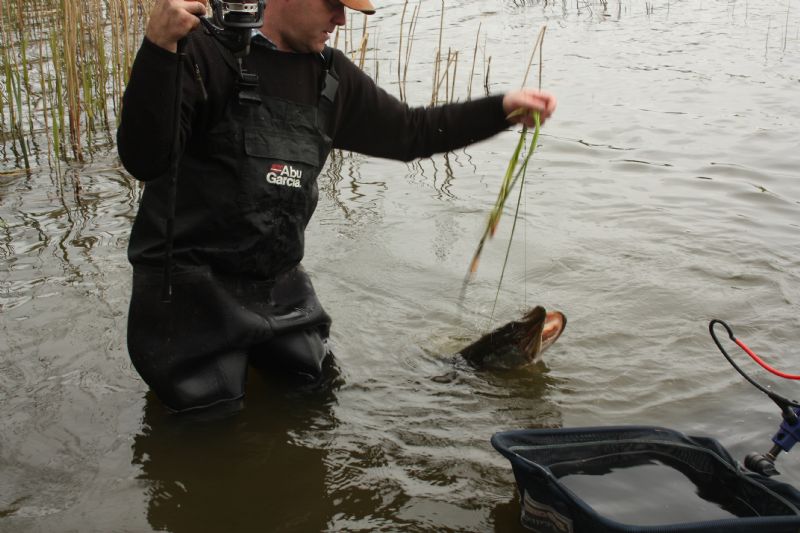 I intercepted this double-figure pike, most likely en-route to my swim. I carefully released it away from the feeding Roach.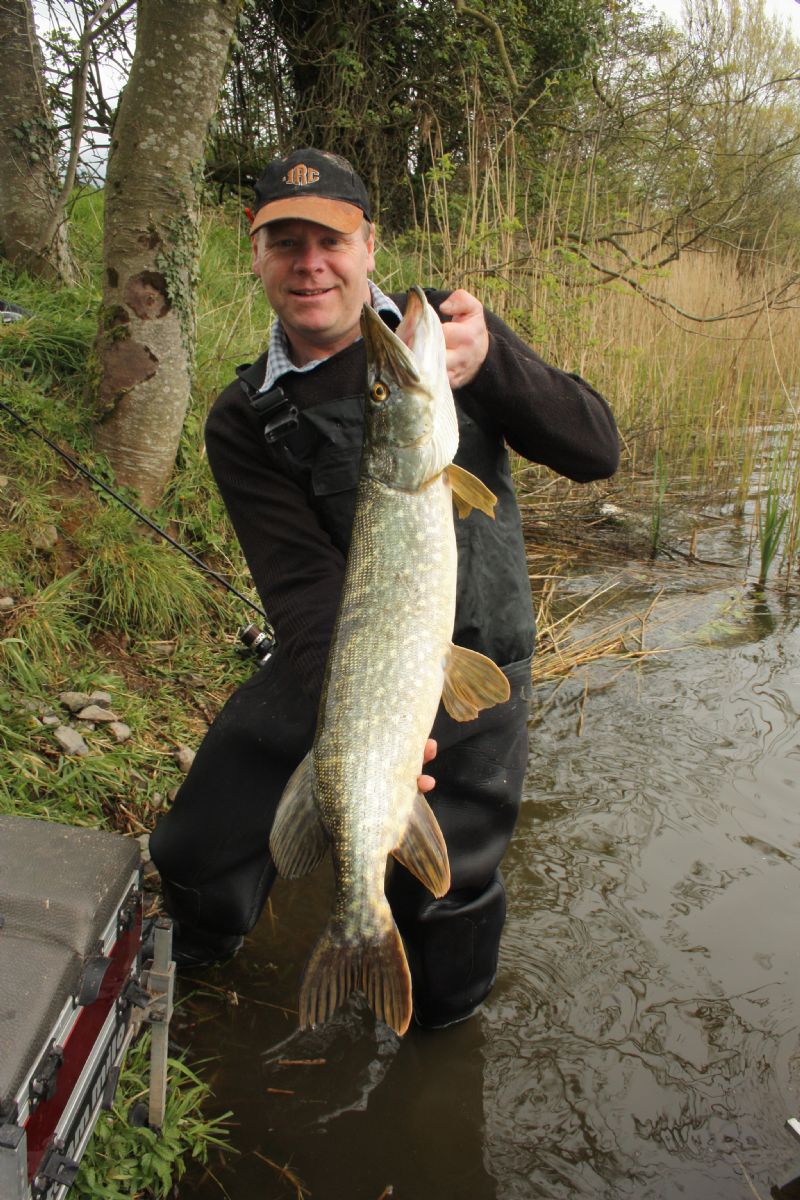 Another pike after my Roach, but stopped in its tracks by my dead-bait rod!
However, usually when the Roach shoal vanishes, it is due to something slightly more sinister. Our old friend, Esox lucius is rarely far away from a shoal of bait fish and for this reason, I normally drop a dead-bait rod out close to the pre-baited swim. Today was no exception, with Glenn fishing an extra Pike rod to his right, and mine out to my left; we had both flanks covered in an attempt to ambush un-wanted predators.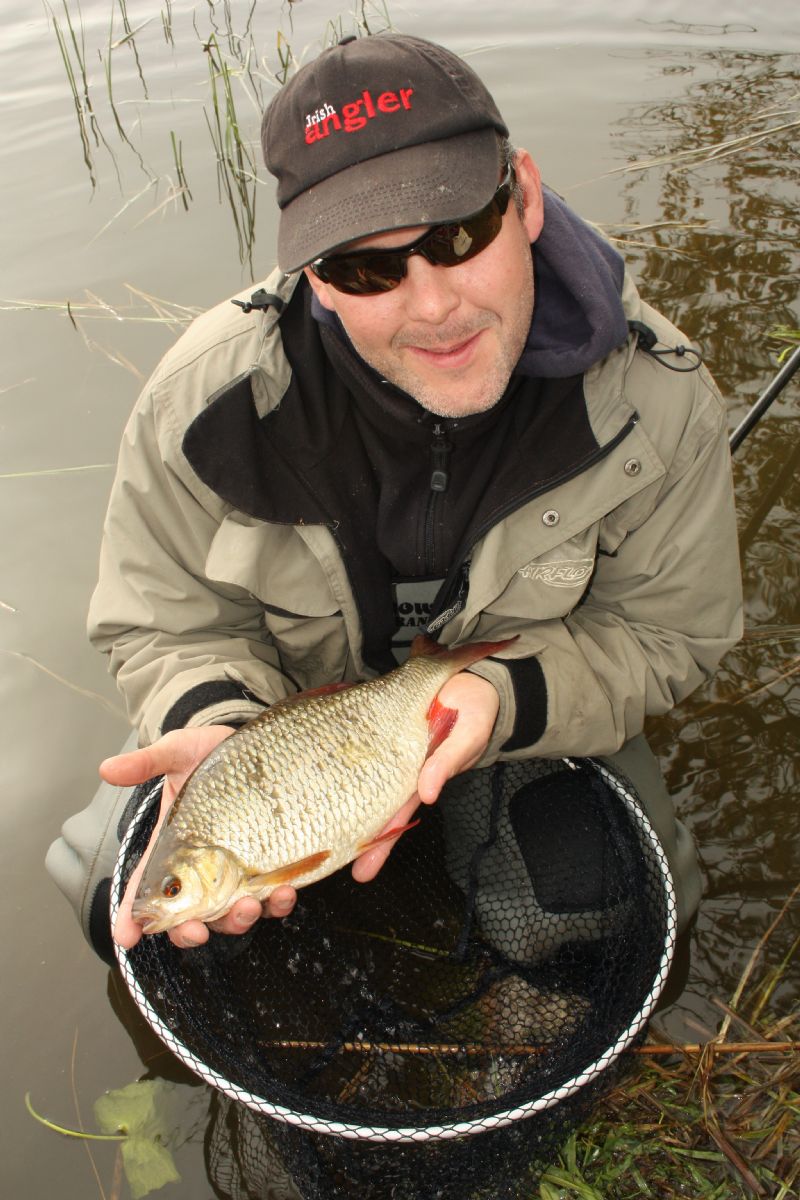 Glenn Drennan, delighted with his two pound specimen
Small Roach queued to be caught, and for most of the day we just worked our way through the huge shoal mopping up the free-bees. The Pike rods did the trick, with seven fish between us during the session, averaging double figures! Each Pike was un-hooked and carefully released a hundred yards further along the bank-side. They probably headed straight back to our swim, but on the positive side, they broke the small fish monotony every now and then. There's no doubt that we intercepted the Pike en-route to our feeding Roach shoal.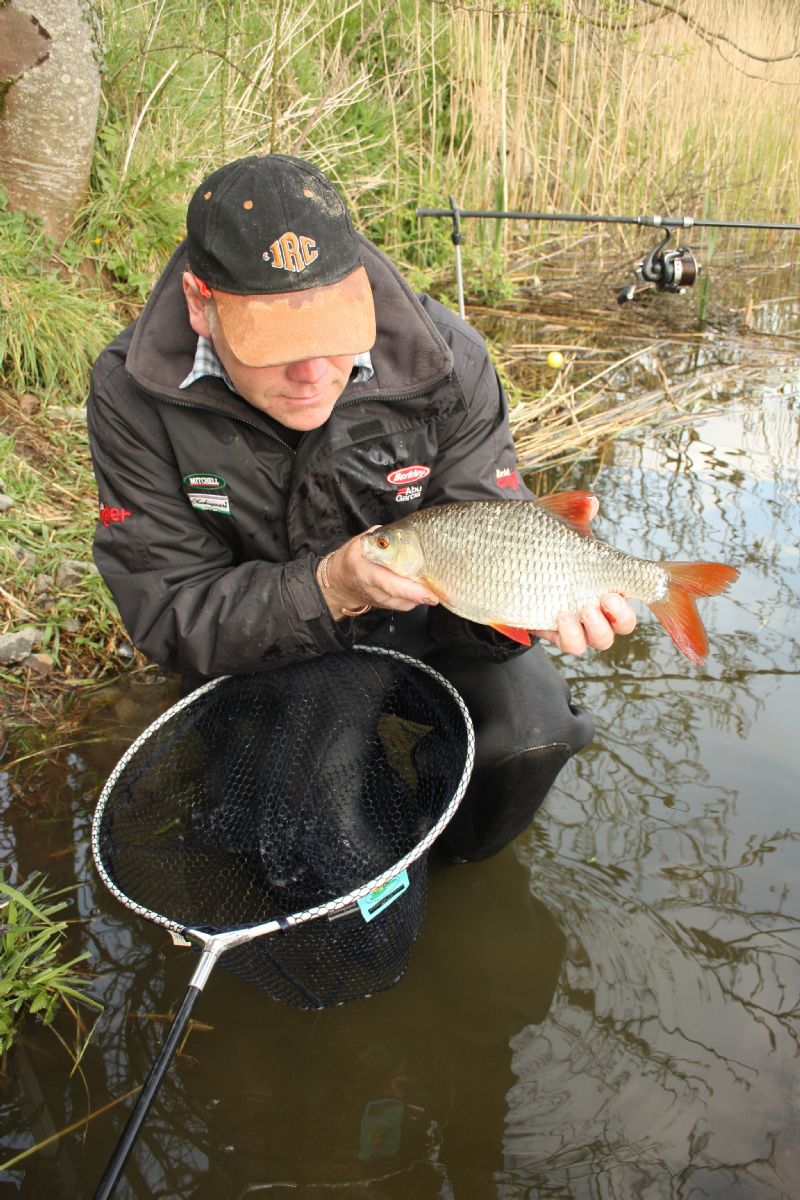 An absolutely stunning, scale perfect roach. At 1lbs 14oz, just shy of a specimen, but who cares? What a beautiful fish.
By mid-afternoon, we had run into a few "lumps" around the pound to pound-and-a-half size, before Glenn landed a "cracker" for the camera, just over the two pound mark. This is what we were looking for with Glenn delighted at finding his second specimen Roach in two trips, but his first on float tactics. Fin-perfect, these beautiful fish really are a sight to behold when they reach this size, and not too shabby at kicking back on balanced tackle either!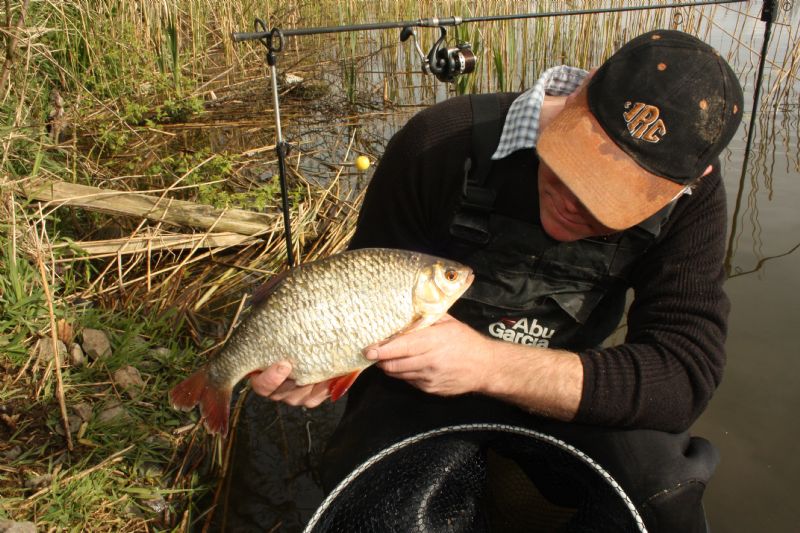 At last, Jacko gets his two pound plus. A beauty at 2lbs 10 oz.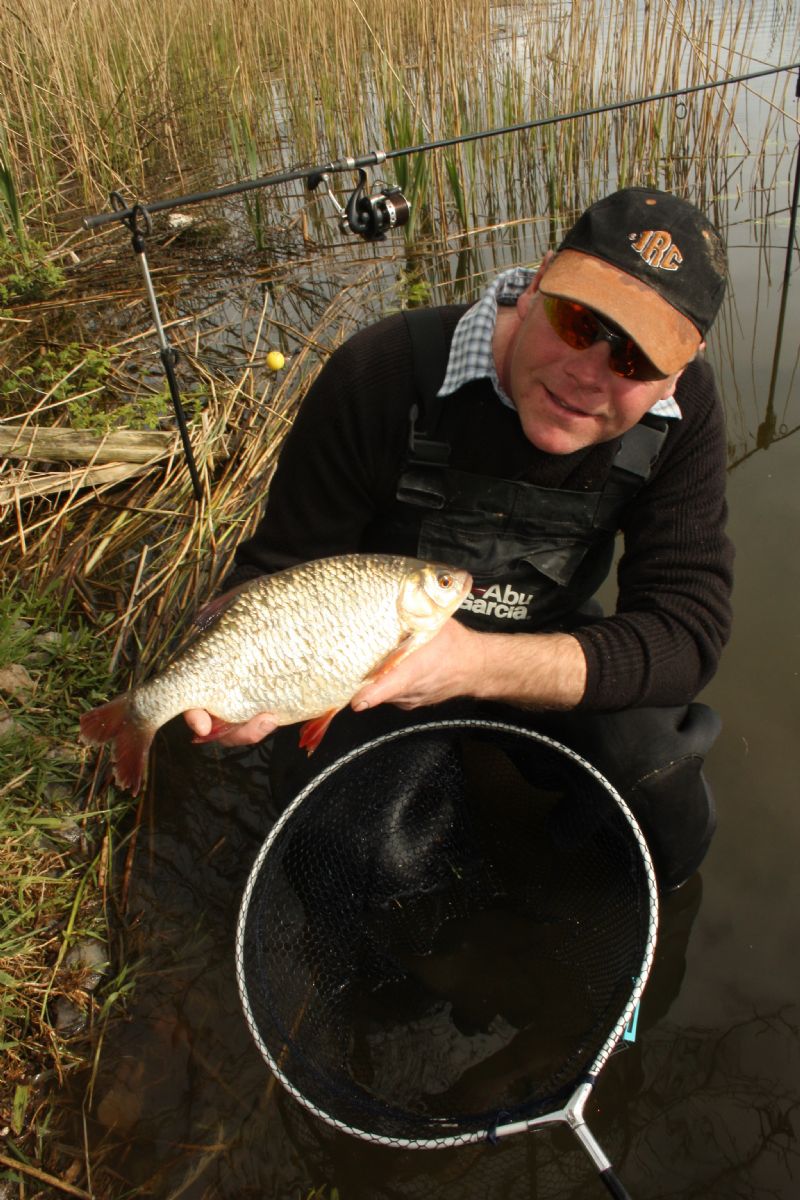 After a few near misses, it was another hour before I found my specimen Roach, but at two pounds ten ounces, it was well worth the wait! A little ragged around the tail fin, but I certainly wasn't complaining, after all, she had run the rigors of the spawning season so could be forgiven for looking a little out of sorts! All in all, this was a fantastic Roach session, and I reckon Glenn is well and truly hooked on fishing the waggler. If you haven't tried float fishing, get out and give it a go. The more disciplines that you are able to master, the wider range of methods can be adapted for successful angling of all species. For those anglers that have mastered the waggler, you already know the secret to extremely enjoyable angling!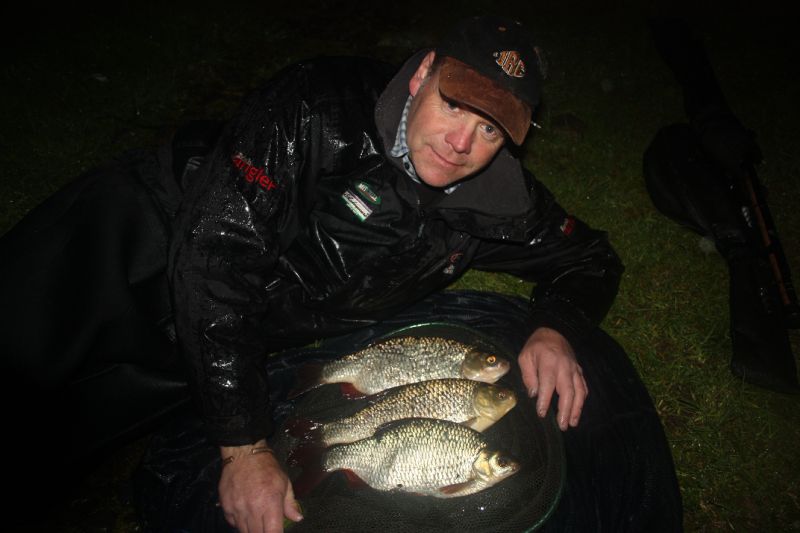 Three specimen sized Roach, or possibly some Roach-rudd hybrids. It doesn't matter; they were well worth the effort, whatever they turn out to be.
Back