Targeting Specimen Roach
Targeting Specimen Roach
With consistent north and easterly winds pounding our shoreline, sea angling ventures have so far this year been somewhat limited for my angling pals and I.
The threat of yet further strong winds and potential last minute cancellations prompted me to purchase a few pints of maggots and casters, and think about heading inland for a go at some freshwater species. The boat rods were put away, temporarily I hope, and the coarse angling gear sorted out, checked over, and loaded into the car for an early morning departure the following day.
My angling pal, Davy Craig agreed to join me, and after a chat, we decided to try a local lough that had shown reasonable potential for Roach, Perch and Pike the year previous.

On arrival at the lakeside the following morning, I could see that a gentle breeze had created a small ripple on the surface of the water, a far cry from the reception we would have received on the north east coast. If only the sea could be as calm as this on every trip I thought to myself, but living in Ireland with its un-settled weather patterns, you either take the rough with the smooth and wait it out, or simply adjust and adapt your angling skills to suit the weather, species and venues. This is my option as it allows me to fish every week somewhere in Ireland for one kind of species or another.
As soon as we had cleared away a few brambles and reeds, and settled into our swims, the serious business of tackling up began. I always begin with bait preparation. By mixing some ground bait first, it allows time to sit and soak while the rods are set up. After ten minutes or so, the ground bait can be riddled through a sieve to remove any unwanted lumps, but more importantly, it imparts a "fluffy" air filled texture to the breadcrumbs that tends to be more active when fed into a swim. It almost fizzes in the water, especially when mixed with oily particles such as crushed hempseed. Roach find this irresistible at times and home in on the cloud effect created, looking for tasty offerings.
The intention was to target Roach, so I set up two rods. One light-float rod to use the waggler, and a feeder rod to fish a swim-feeder slightly further out. For accuracy on the feeder rod I catapulted several balls of ground bait laced with casters to the desired distance, and cast the swim-feeder out, over the top of it. By using the line clip, it is possible to hit the exact distance on every subsequent cast. It also helps to line the mark up with an object on the far bank, such as a tree, building or fence post etc.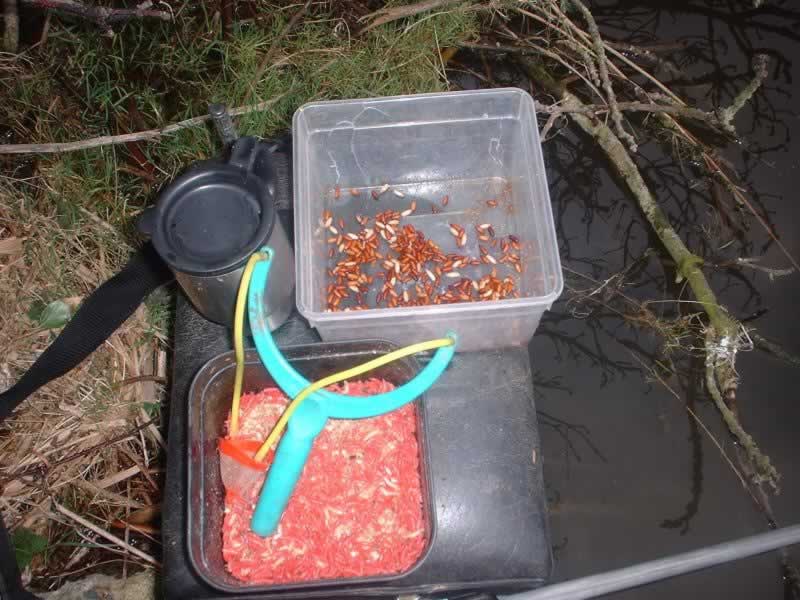 Loose feeding fresh maggots and casters can be deadly for Roach, tea optional

While the feeder rod was in place, I turned my attention to the float rod. Deciding on a four AAA crystal type waggler, four pounds b/s main line, two pounds hook length and a size fourteen hook, the next step was to plumb the swim for depth and any fish holding features. I was pleasantly surprised to find that at only twelve yards out the lakebed shelved steeply to ten feet in depth. With this drop off so close to the bank, there was no need to cast beyond this. I wanted to fish "on the drop", a method that allows the bait to sink slowly through the depth of the swim with a chance of picking up a fish or two in mid-water. If this fails, the bait will continue to the bottom, but it does optimise the potential of hooking bonus fish. To do this, most of the split shot are bulked around the float, locking it in place, with a number five split shot placed midway, and a number eight split shot about twelve inches from the hook. This is known as a telltale shot and aids bite detection.
I used the catapult to trickle feed maggots and casters alternatively, about a dozen at a time, without any success at all. This carried on all day, and it can be extremely difficult to persevere when bites are not forthcoming. Davy had a couple of decent Roach by now and I began to wonder if I was doing something wrong. I broke the monotony by cooking up a bit of grub, and whilst chatting over a cup of tea I decided I had nothing to lose but to attack the swim a bit more aggressively.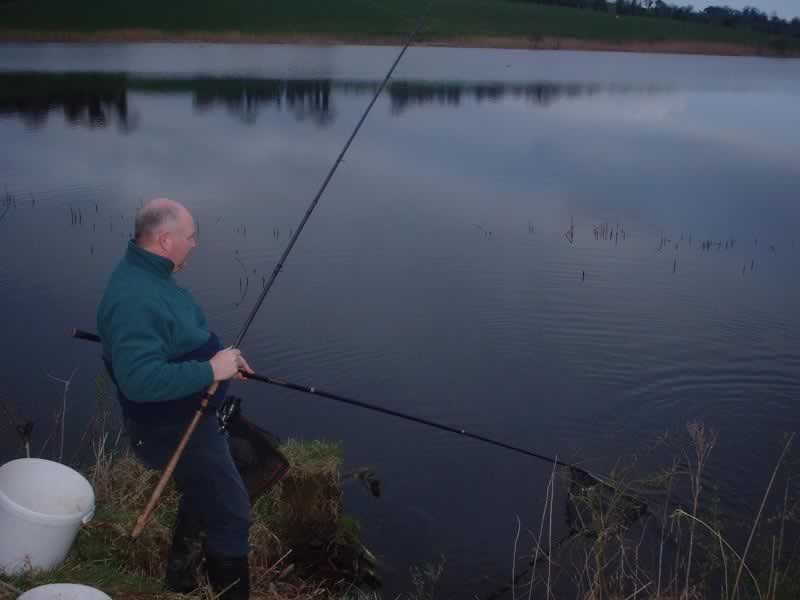 Davy finds a good stamp of fish by late afternoon

Once I had settled back in, I mixed up a dozen balls of ground bait and dropped them out over the float, and stepped up the pace with the loose feed. Within ten minutes, the roach put in an appearance. Whether this was due to the extra feed I had just put in, or perhaps just coincidence, I cannot say, but I was extremely grateful to see a few fish show up at long last.
The Roach in this small lough tend to average around the twelve-ounce size, with the occasional larger specimen about, and it wasn't long before I hooked into one of the bigger beasts. After a few tense moments as it fought hard and headed for every weed stem in the swim, I was relieved to see it safely in the landing net. Large Roach are an awesome looking fish and this one was no exception. I was delighted to see it nudge the scales towards the two and a half pound mark and into the specimen league. Through my specimen hunting ventures I have seen quite a few large Roach, but I still get the same buzz from an adrenaline rush when I land a two-pound fish.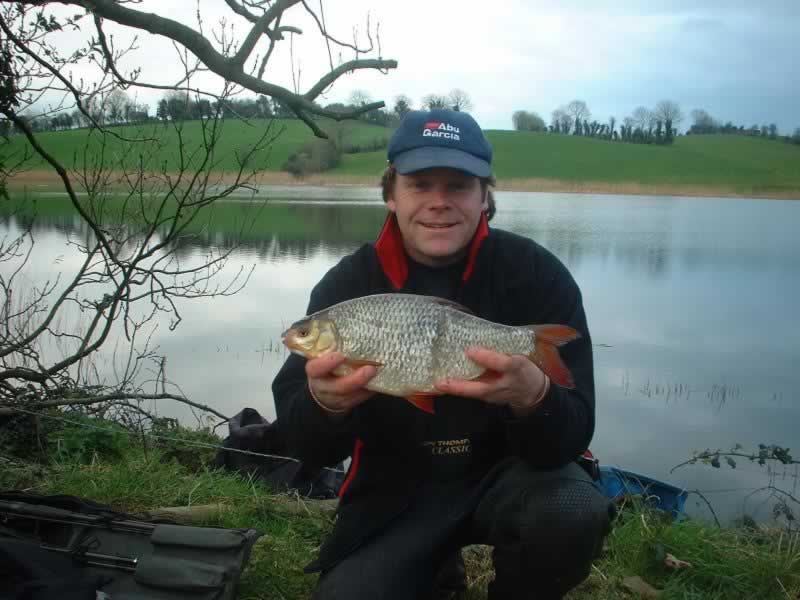 This specimen Roach topped 2lbs 13oz
I called over to see how Davy was getting on, and he too had just landed a two-pound Roach and was grinning from ear to ear with his first specimen of the year. He mentioned that a Pike had disrupted his swim from time to time, swirling on the surface and attacking the occasional fish. This can happen quite a lot in a mixed species water. Once a decent head of Roach are present, and pre-occupied on feeding, Pike cannot resist the commotion and move in for an attack. This usually results in the shoal temporarily scattering and can be frustrating after spending many hours "nursing" a swim. Dave had brought his pike-fly rod with him but had forgotten his reel, which was handy as I had brought a reel but had left my rod at home. We quickly combined the two and attached a home tied fly creation, and Dave wasted no time in casting out between the reed stems where the predator had been seen last. A few casts later and he hooked into a spirited jack of about five pounds, that he then released a hundred yards away. A handy way to clear small "nuisance" Pike from your Roach swim.
Returning to my own fishing spot, the sun began to ease down behind the hills and the bites had slowed away dramatically. I managed to pluck out several more Roach and another two-pounder before it was time to concede to packing up and heading home. Both Dave and myself had ended the day with over twenty pounds of Roach each, including a few fine specimens, not a bad result from a day that had been cancelled due to the weather.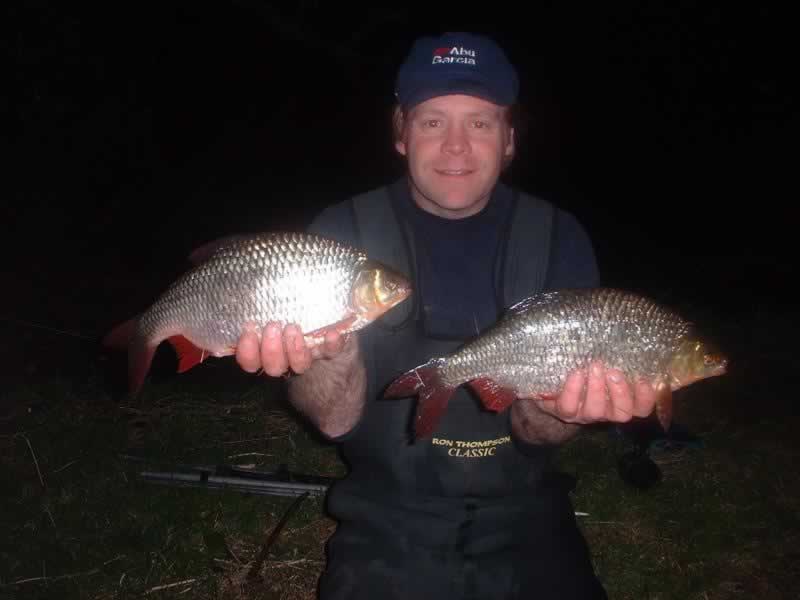 A brace of two-pounders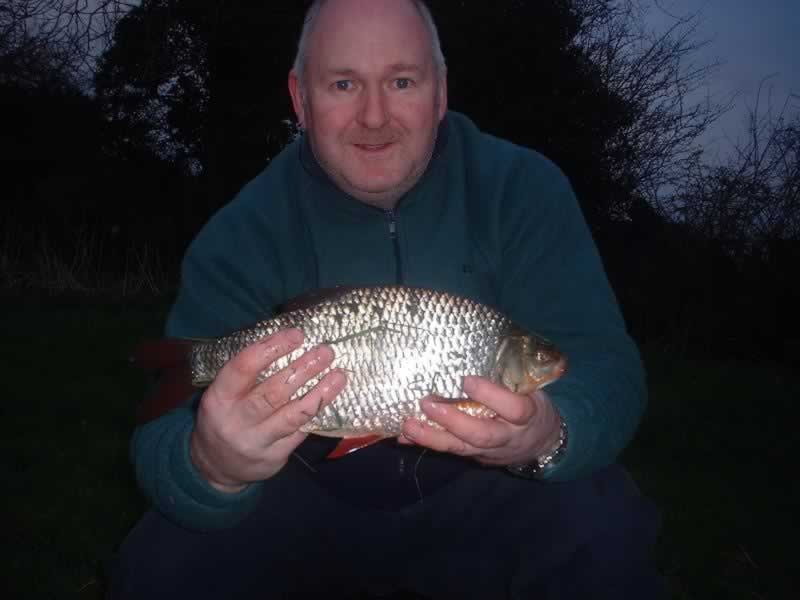 Back