Tench and the Greys Prodigy VX
Tench and the Greys Prodigy VX
It has been a strange season for Tench in 2015! Fair enough, I didn't put a huge effort into targeting them, but they are normally a little more willing than my results would suggest.
Tench angling has been well covered, but hopefully there may be a few tips in this article to take away with you.
I made a huge mistake, thinking that my specimens taken last year were in mid-June, and basically relaxed, imagining I had plenty of time. When I actually bothered to look, I realised that it was May when I found the larger girls! With the cool spring this year, and living in the North of Ireland, I still believed I had time for a Tench mini-campaign but the crafty beggars had begun the change.
They were in spawning mode, but with temperatures far from consistent, I'm sure they didn't know where they were. This revealed itself in the finicky mood they seemed to be in, and it lasted for several weeks. They were present on the usual marks but stubbornly refusing to feed. I finally managed to tempt one bruiser, a smashing female of 6.5lbs, and such a battle on the Shakespeare Super-Team match rod, something I will not forget for a long time.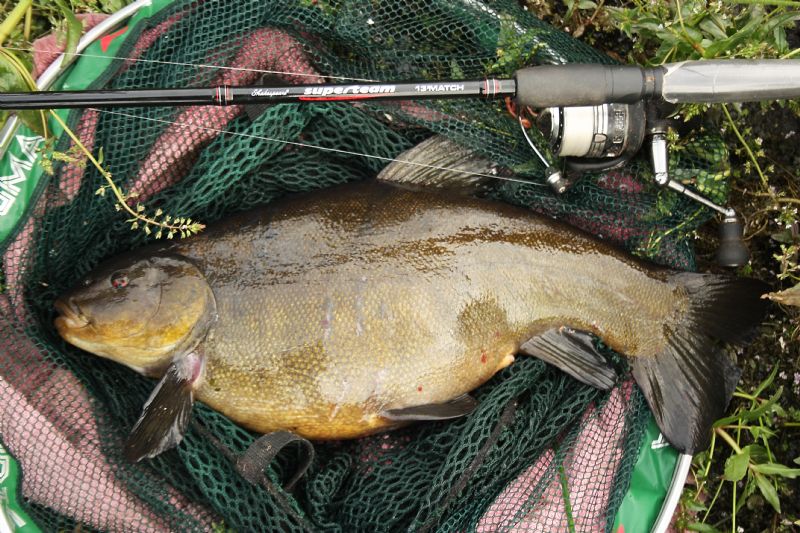 Fat as butter, she still managed a fight I will never forget, on the Shakespeare Super-Team
Well, basically I missed my pre-spawning big girls by a couple of weeks, a lesson learnt, and maybe Gods way of telling me to leave them alone at this delicate time. However, I had just received a new rod to play with, and when I had ordered it, I had two target species in mind, Tench and Mullet. I allowed the Tench a couple of weeks to get over their amorous period, and took the new rod (Greys Prodigy Specialist VX Float Rod) out for a test drive.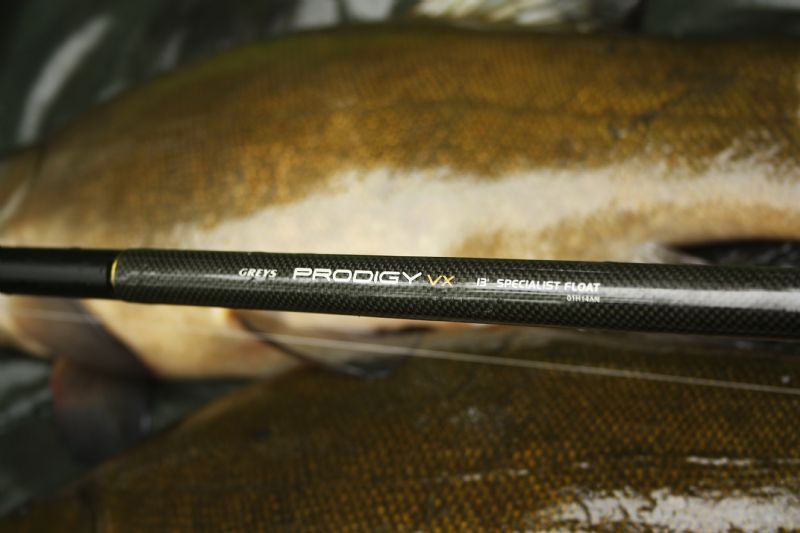 Greys Prodigy VX, ideal float rod for large Tench
Simon Gibson was kind enough to put me on a mark, and on arrival, the large, individual patches of tiny bubbles were an absolute give-away! Ok, so they've spawned and will be a lot lighter, but on a positive note, they had their minds back on feeding, and I knew that the Prodigy VX and I would find some action.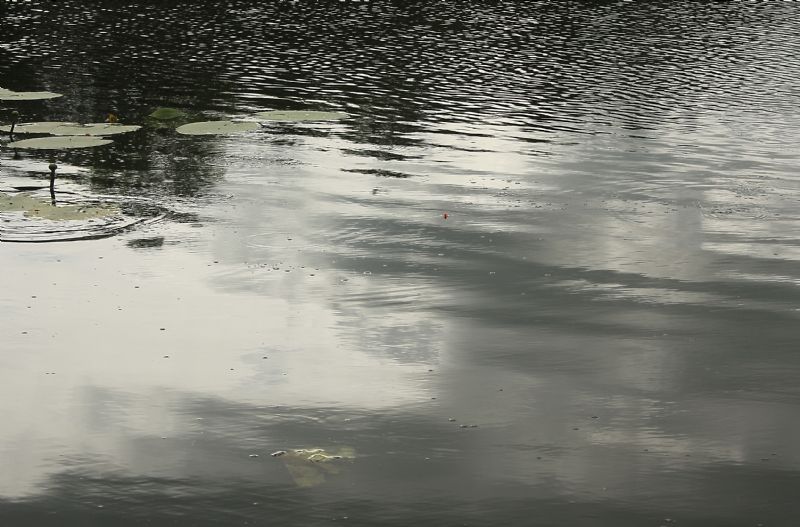 Float (red dot in middle) surrounded by Tench bubbles
When it is obvious Tench are sitting in your swim, happily grazing on whatever's below; it makes sense to go down the stealthy route. You could put a large amount of feed over their heads, and they may turn their attention to it, but I find this a risky business. They are in the swim; try not to spook them out of it! With this in mind, I quietly catapulted some maggots and boiled hempseed, to gently fall over their heads. Hopefully this would keep any large fish busy while I set-up the float rod.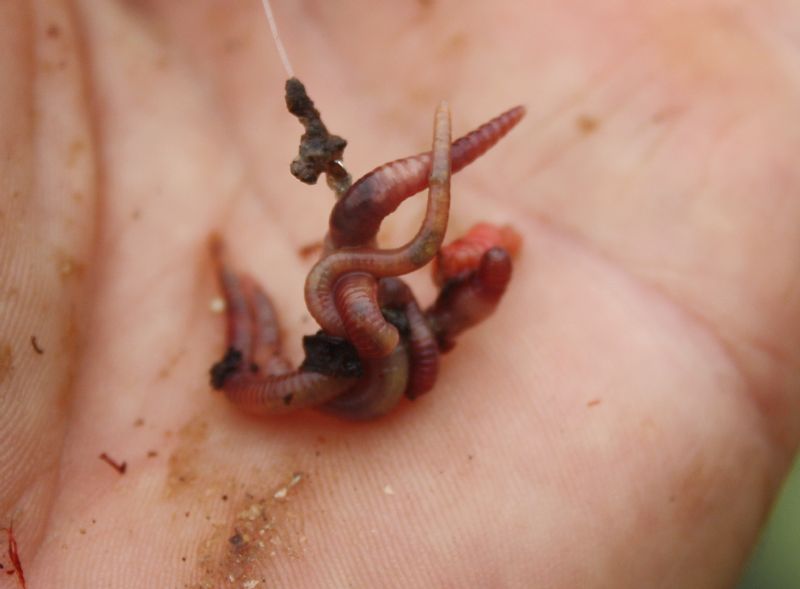 Opted for worm baits, tipped with maggot over a bed of chopped worm
With the VX ready to go, and having quietly plumbed the depth using a swan shot on the hook (large plummet leads would cause too much disturbance in this case), I was almost ready to go. A good handful of worms were chopped, and added to a small amount of soft-mixed ground-bait, and carefully catapulted into the area. There is nothing like chopped worm to entice and fool a Tench.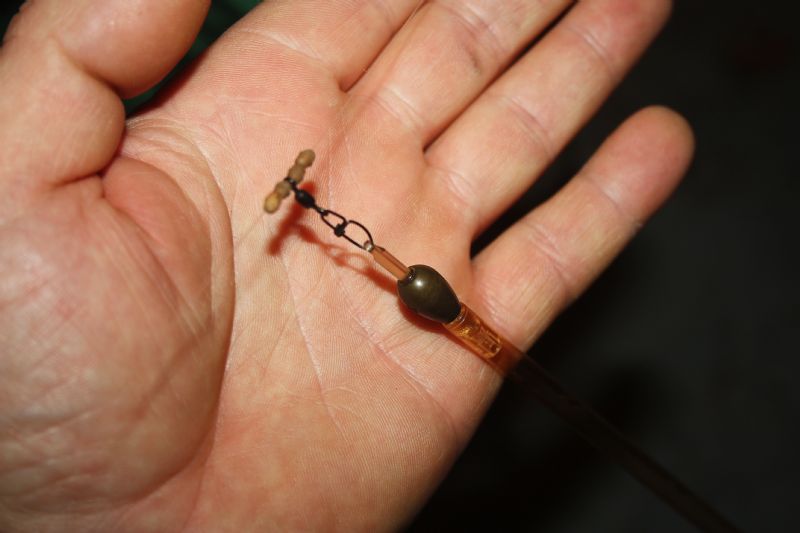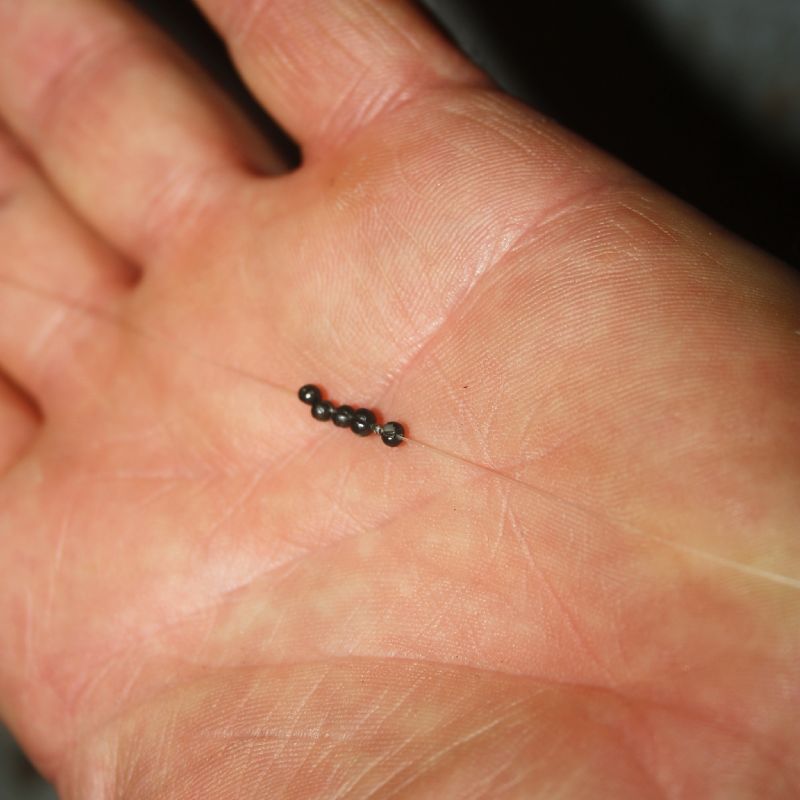 A row of split shot to sit on the bottom, two inches from the hook. Float locked in place with float stops
Two small worms on a size ten, tipped with maggot or caster to prevent them "wiggling" off the hook, depth set at two inches over depth, with the bulk shot two inches from the hook. In this case, the bulk shot is a string of size six shot. It sits on the bed in a line, and helps prevent false bites, a common problem when feeding hempseed. Another great tip is to lock the waggler float with float rubbers. With so many lily pads about, a float locked with split shot can catch on a lily and snap the main-line in a heartbeat. The float rubbers allow the float to slide if it catches a lily pad offering a greater opportunity to land the fish. (Before this occurs, mark your depth against a rod ring, i.e., from rod butt to second ring, to quickly re-set the depth if you need to).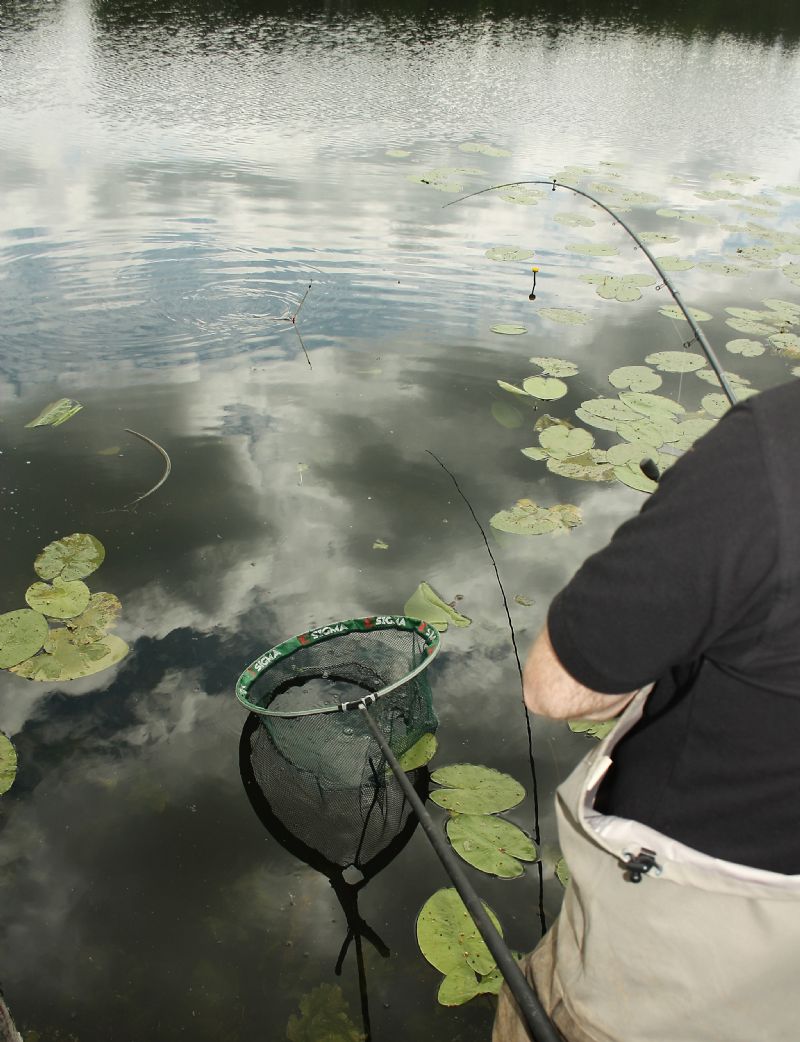 Applying side strain to keep the fish away from the lilies, "no you dont Tinca"!
For an angler, there is absolutely nothing as exciting as dropping a baited hook amongst a feeding shoal, and none better than hard-fighting Tench. Bubbles were bursting on the surface directly above and around my previously introduced chopped worm and hempseed, and an over-cast with gentle retrieve into the area placed my hook-bait among the disturbance.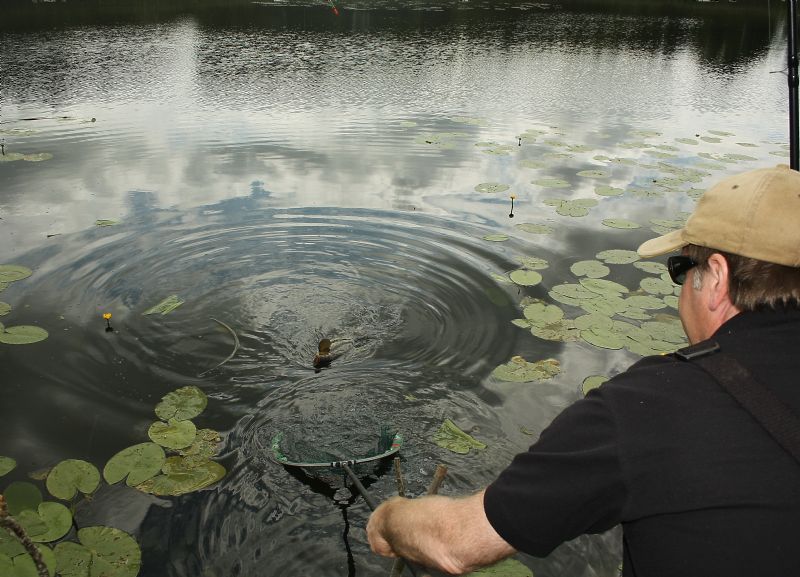 And safely in the net!
A quick check, drag set adequately, landing net to hand, some maggots and boiled hemp fed sparingly, little but often and the anticipation killing me. The float sat perfect, with five number 6's sitting on the bed, two inches from the hook. A dip in the float, and another, then a rise of over an inch and "lift"!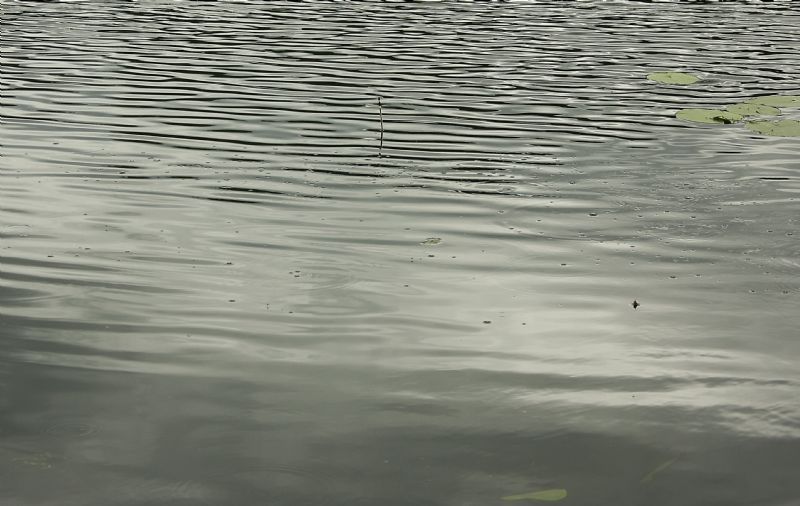 Float, top-centre, can be seen lifting high as the string of shot are lifted by a Tench, amongst bubbles!
The wall of resistance followed by the powerful dive for cover makes this species so addictive, and reminds me why this is without doubt, my favourite Irish coarse fish. Once hooked, a crescendo of bubbles breaks the surface, and you can instantly tell the direction she is heading. Side strain is advised, but even the power of the Prodigy VX is un-able to fully stop this missile, although it certainly slowed its pace somewhat. Nothing will keep a large Tench from finding its bolt hole, but a powerful float rod will slow it down and bully it through the weeds. The Greys rod performed perfectly.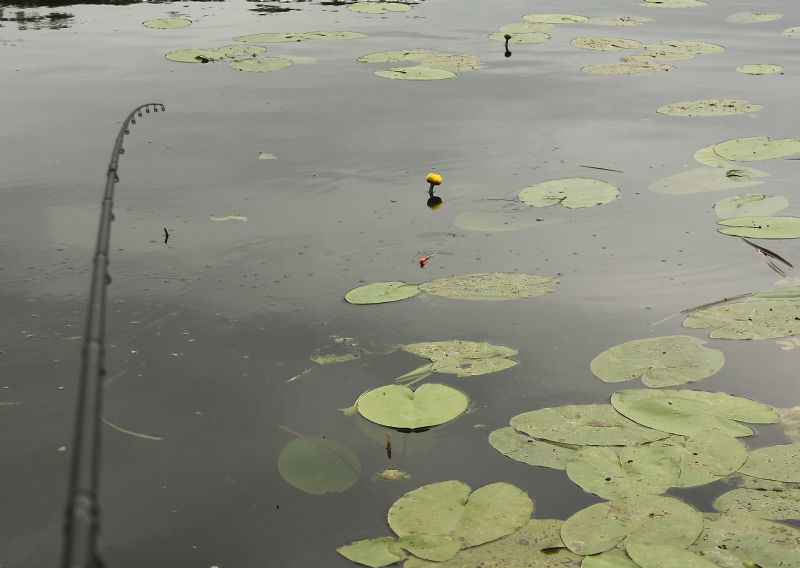 Fish has wrapped around lily stems, keep the pressure on, its a short waiting game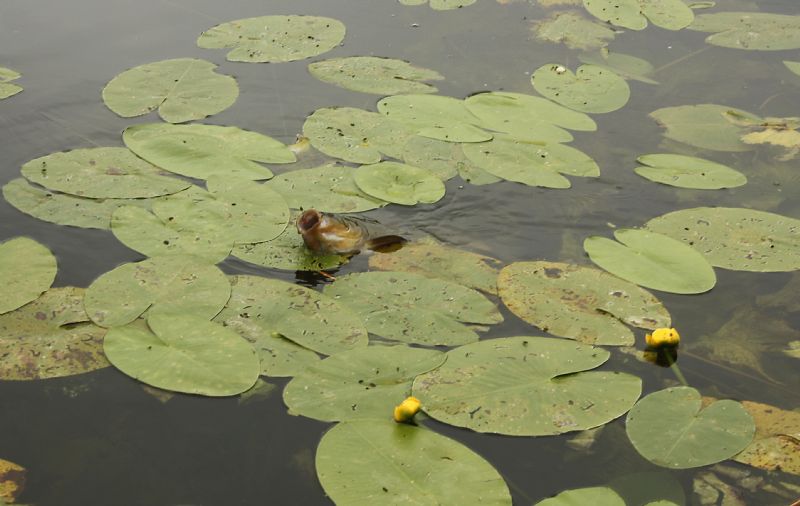 She's free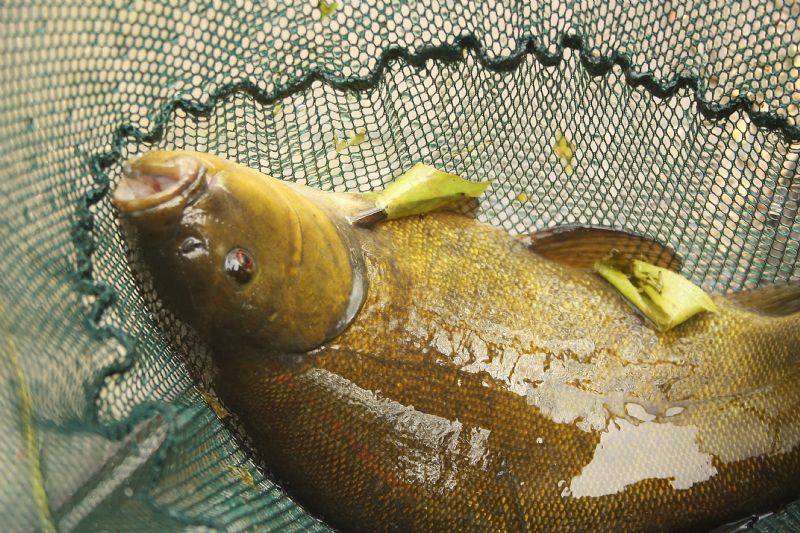 And the reward, safely netted. The Prodigy made life a little easier in this respect
Happily, as I slid my catch over the lip of the landing net, I could still see Tench bubbles appearing in and around the feeding area. They were content to continue feeding despite the obvious disturbance. I knew for now that at least one more fish would fall to my tactics. With fish un-hooked and still in the landing net, safely in the water, a re-cast to the same spot left ample time to photograph and release my first Tench from this water.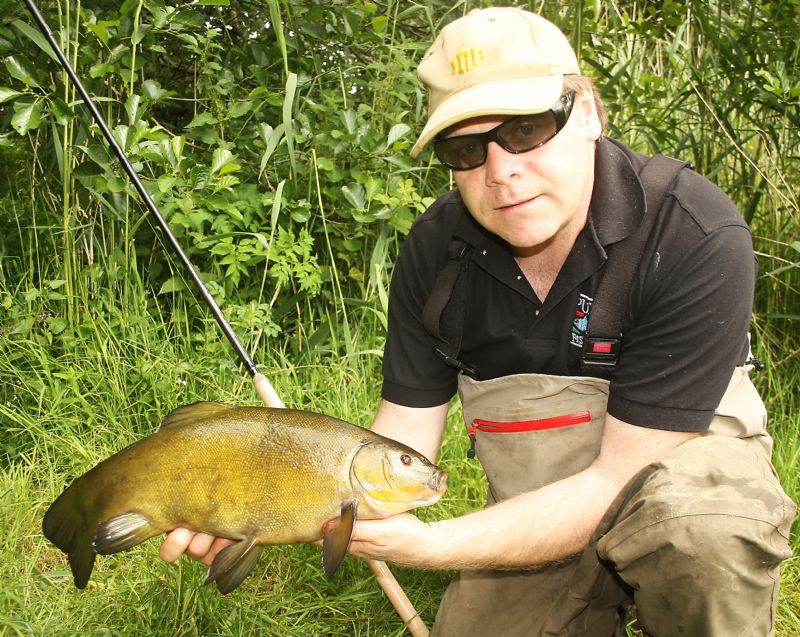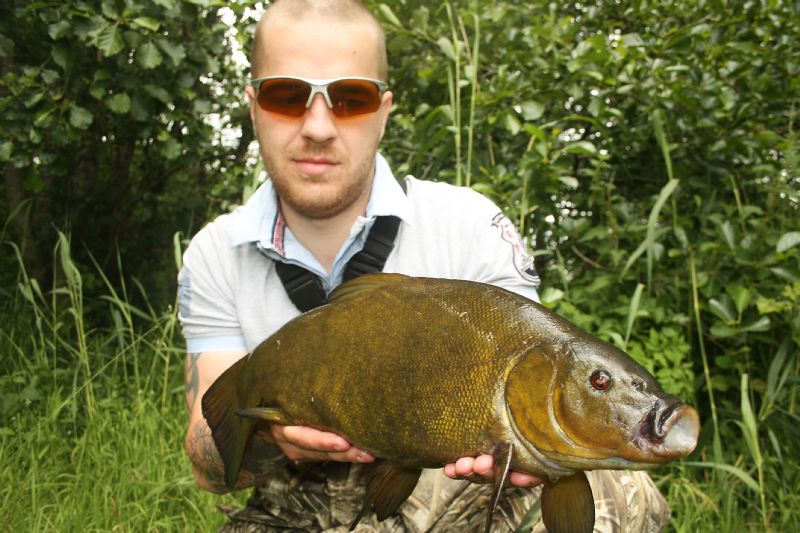 Posing with our first Tench of the session
Once released, I realised that I had a few carp sacks with me. If I was lucky enough to find any more sizeable fish, they could be safely "sacked-up" for an end of session photo-shoot. (This was always going to be a short session). This time, my float dipped and slid away, the lift method doesn't always go according to plan, but in again, and another healthy fish by the feel of it. By this stage I was settling in well with the new rod, and it was proving to be a wonderful Tench tamer. Side strain prevented it going too far through the lilies, and with gentle pressure, I eased this five-pounder back through the maze of weeds and into the waiting net. This was a female, over 55cms in length and obviously spent out, having spawned within the previous two weeks. I am quite sure she would have topped the specimen barrier had I caught her earlier.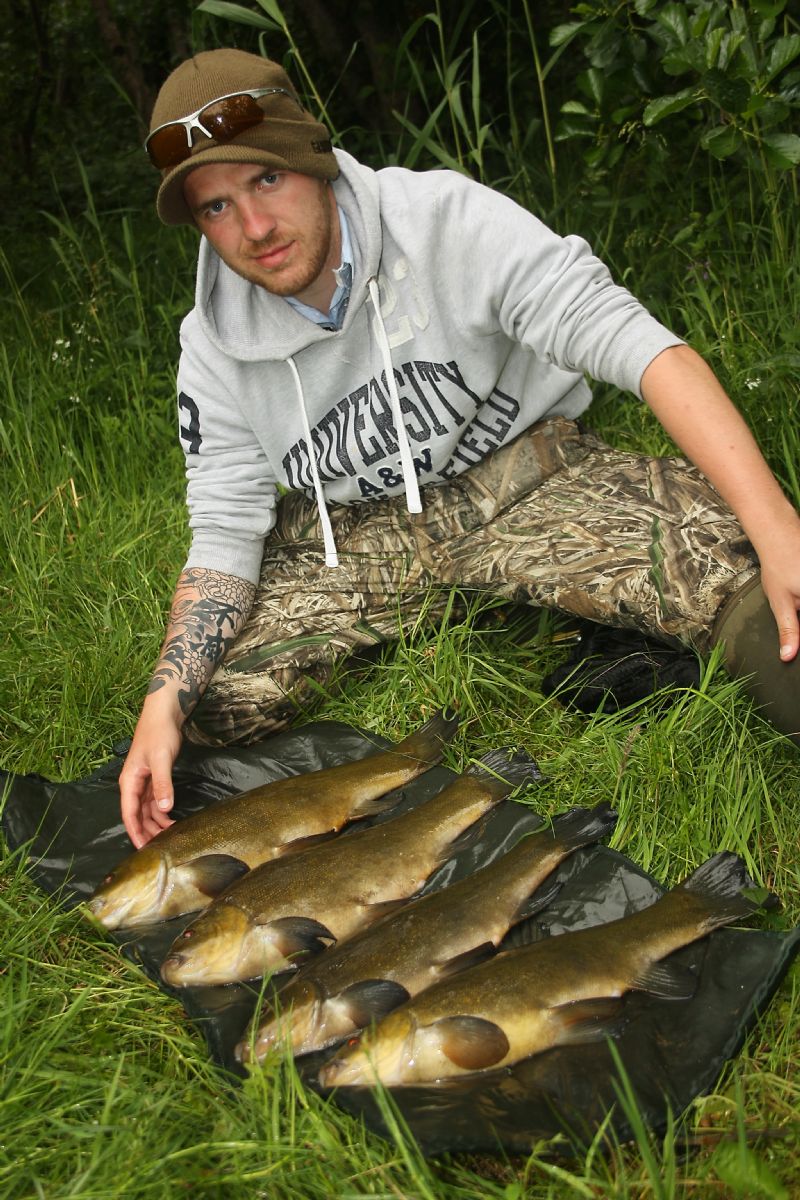 Simon with four of his larger fish from our session
Meanwhile, Simon was having greater success in numbers of fish, but losing a few through hook pulls in the dense lilies, maybe I can tempt him into buying a "Greys Tench Tamer"! I ended the short session with another two fish of similar size, and failed to lose any on this superbly balanced tackle. Greys have combined tip sensitivity and power with the VX and have come up with a winner.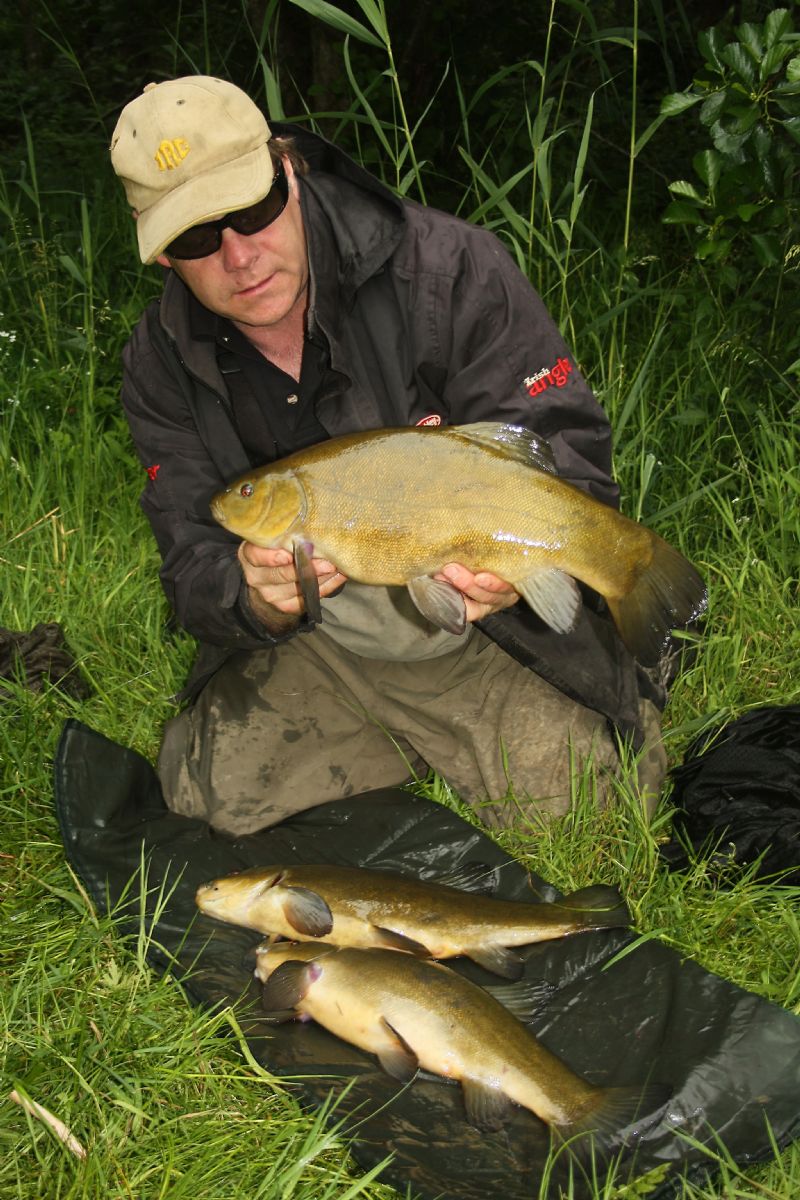 The best of all Irish Coarse fish, but thats only my opinion
The carp sacks held our catch safe and well, and we were able to have a quick photo-shoot of our larger fish before careful release. I know I only tempted a handful of what was in front of me, they were still feeding as we packed up, and I can't wait for another invite to this productive water. There are definitely larger specimens waiting for the Prodigy VX to conquer.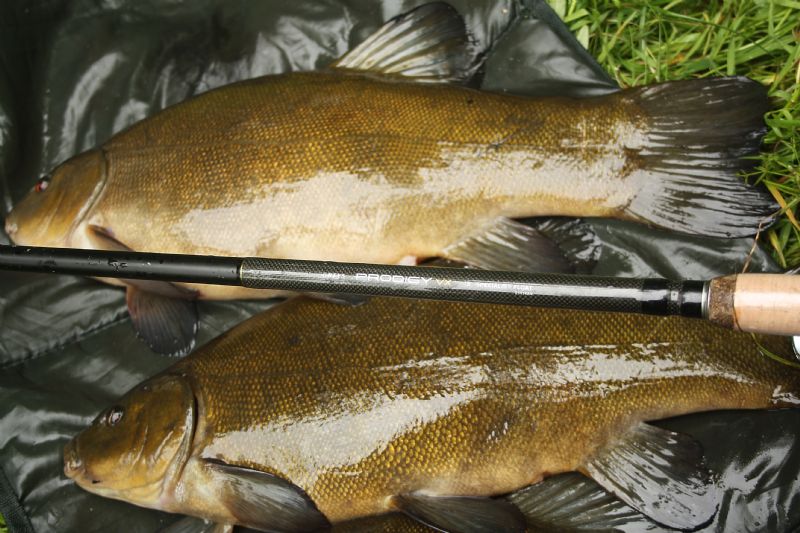 Great company, top range tackle and fantastic fish, what more can an angler wish for!
Back