Tench, and the hand of fate
Tench and the hand of fate.
I have mentioned this before in several previous articles, about how the hand of fate often intervenes when it comes to angling, and no more so than when targeting individual larger species.
In many cases, fate will deal the cards against your desired plan or outcome, but on the odd occasion, it can also throw you a winning combination.
One such combination came my way on a recent adventure in search of specimen Rudd. I spent several hours raking a likely looking swim, a clear patch amongst dense lily pads, thinking it to be around four to six feet deep, but made the mistake of failing to check it properly. Following three evenings of careful pre-baiting, I approached the potential "hot-spot" armed with a pint of maggots, a tin of sweet-corn and a crusty loaf. This would be enough of a selection to tempt two or three large, butter-bronze specimens, or so I thought.
When it actually came to dropping a float accurately over the mark, I was disgusted to find I had less than two feet of water, and about four feet of silt! What a daft mistake to make! The rake had sunk into the soft silt giving the illusion of depth. I persevered for an hour, but knew deep down that little would show. Deciding on walk-about in search of slightly deeper water, I eventually managed to catch a pristine little Rudd of around eight ounces or so. My sum total for four evenings work! However, as I packed away the tackle, something caught my eye, a dark shape "porpoised" out in the middle of the lough. "Probably a Coot" I thought, but the bird failed to re-appear. As I focused on the area of disturbed water, another broke the surface. There was no mistaking, definitely a fish, and very similar to a large Tench! The hand of fate.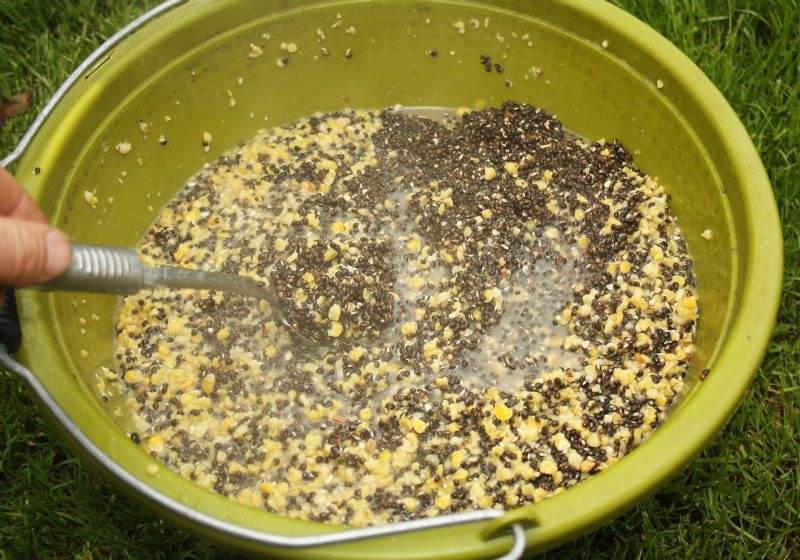 Soaked cut-corn and boiled hempseed preperation
This new discovery and accompanying burst of adrenaline immediately pushed my Rudd target species onto the back-burner. There was no way that my float rod could punch a baited hook anywhere near the distance required, even a quiver-tip, feeder set-up would struggle. This called for a different approach, and the big guns would need to be brought out! As I drove home, a plan formed in my mind, and the imaginary list was itemised. My JRC "Classic" carp rods were light enough to suit Tench angling, and coupled with the Penn Affinity reels, were able to drop a bait at distance. I decided against the spod for putting a bed of particles into the area, as I also wanted to ground-bait a fair amount, and this was well out of catapult range, so I came up with a new solution.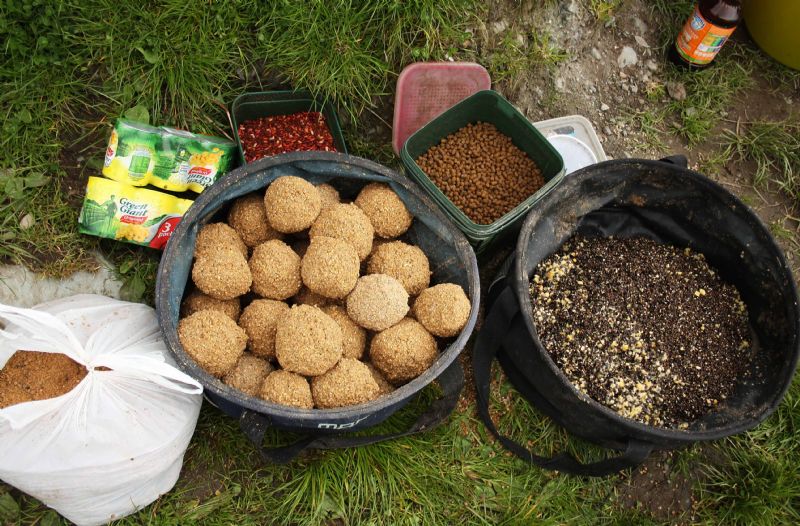 Almost ready for the "pre-bait onslaught"
A few nights later and I found myself lake-side again, this time with the full carp-bivvy-bait armoury beside me. This consisted of my short-term camping equipment, rods, pod, alarms, landing net, scales and so forth. As for bait, I had two pints of maggots, a gallon of boiled hemp, a gallon of stewed "cut-corn", ground-bait in the form of standard crumb and some continental mix, layers mash and a tub of worms. No messing around here!
I had triangulated the "Tenchy" area at the time using sight-lines and had a good idea of exactly where the Tench seemed happy to show themselves on the surface. With the layers mash and ground-bait mixed, adding an amount of liquid molasses to flavour and darken the mix, it equated to fifty seven large balls of feed, or "babies heads" as I like to call them. I cast to the desired area and "clipped-up", gathered up the bait, and brought out the secret weapon. This was my trusty float tube, which also works extremely well as a bait-boat, I might add!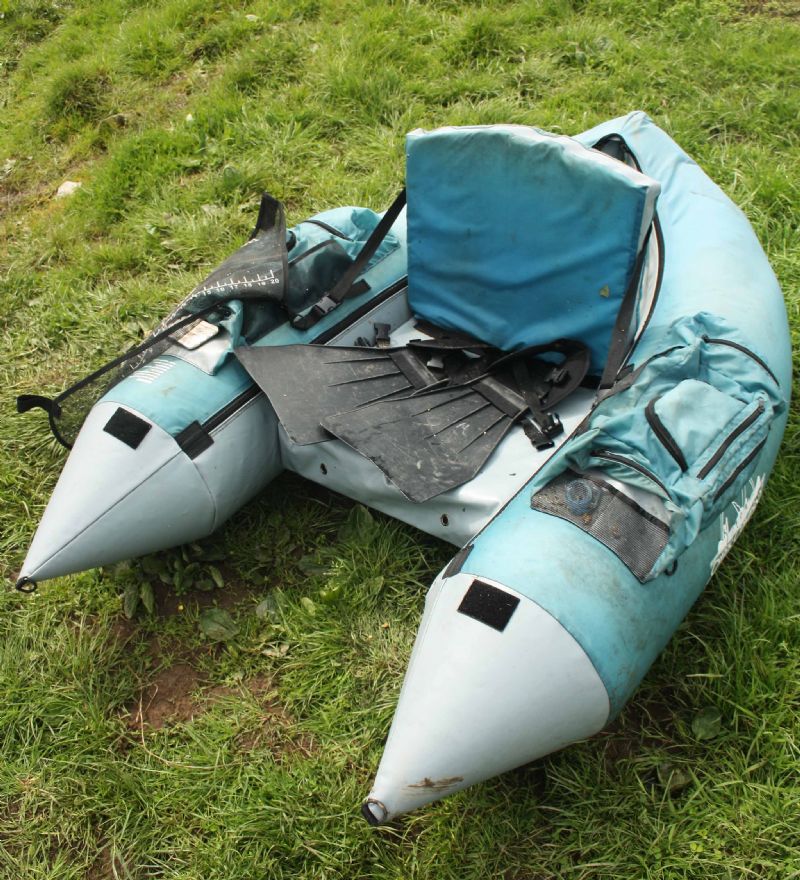 Accurate bulk feeding made easy!
I now had the task of paddling out to the centre of the lough, "Chod-Rig" in one hand (attached to the rod on free spool) and a huge bowl of bait on my lap. As I reached as far as the line clip allowed, I threw in the marker float and accurately baited an area approximately twenty feet square. This proved to be an easy and extremely accurate means of pre-baiting, job done.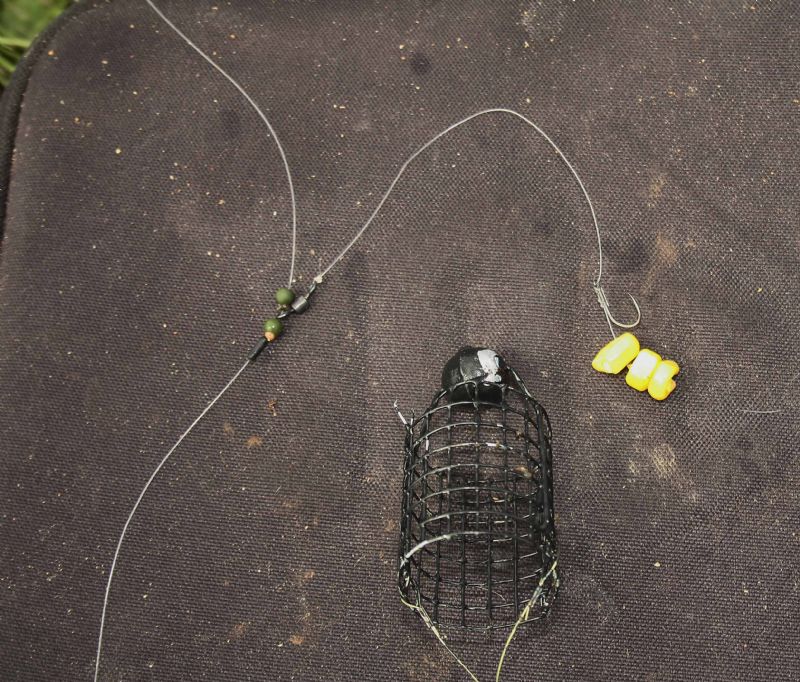 Chod rig, "popped up" corn and home-made feeder system
Each rod had a "Chod-rig" attached; I prefer this rig for distance fishing as well as its design purpose of fishing over silt or weed without obscuring the hook-bait. For variety, each rig was baited differently, one with hair-rigged natural and "popped-up" corn, one with worm and popped-up corn and the other with hair-rigged maggot ring. This should cover most variations on the Tench-angling menu. I hadn't retired to the bivvy any more than ten minutes before a violent "run" had me sprinting to the rod-pod. A fish had taken the maggot ring, but didn't feel Tench or Rudd-like. I was extremely surprised to see a small Pike break the surface, luckily with the hook neatly in the scissors, and no tooth damage to the main-line or hook-length. Hopefully this was just a freak catch, and with mini-esox released, dropped the rig back into the baited area.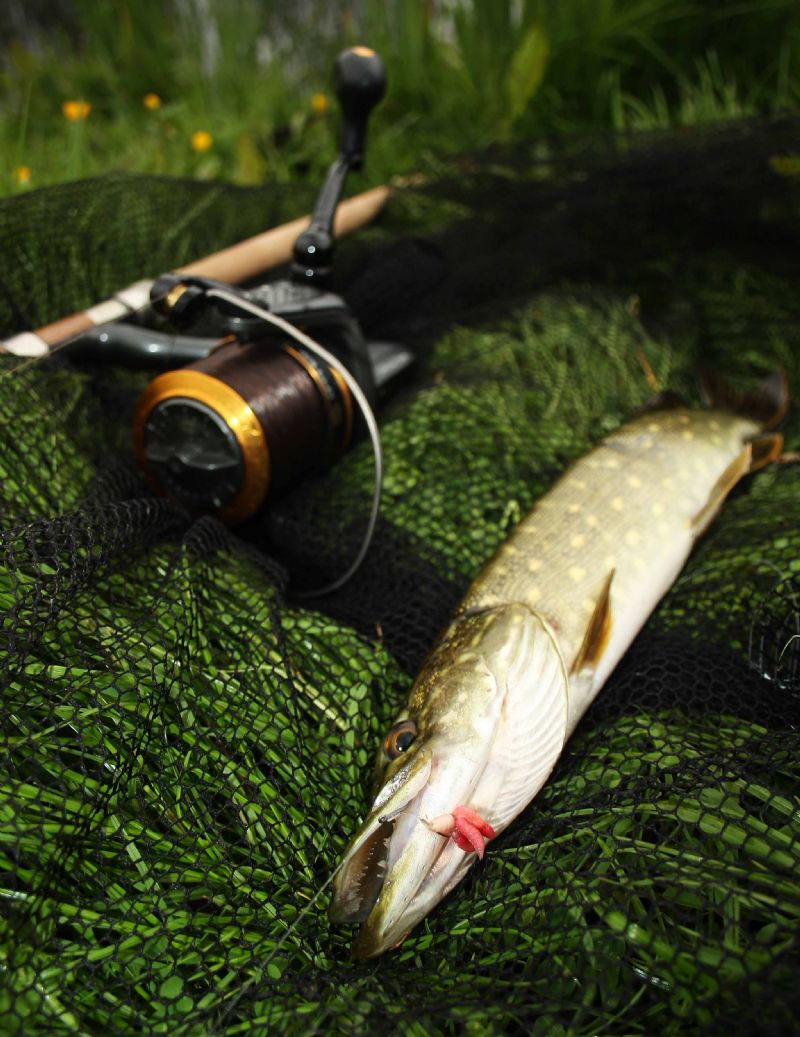 Dissapointing first fish of the evening!
An hour passed, and the Radar DSi signalled some interest. The swinger lowered, indicating a drop-back and I quickly lifted into something a little meatier than the Jack-Pike earlier! What a fabulous fight, even on the carp rod. As the fish neared the net, it veered towards and eventually straight through the mass of lily pads to my right. I was un-able to stop it, but some gentle coaxing eased it out of trouble and over the waiting net. This was exactly what I had hoped to see, a very plump Tinca and well worth weighing. It pushed the scales round to a respectable five and a half pounds, not the six pound specimen we all hope to catch, but no-less worthy, and what an exhilarating scrap! More importantly, it meant that the fish I had previously seen on the surface were indeed Tench, and appeared to be much larger than the one I had just caught!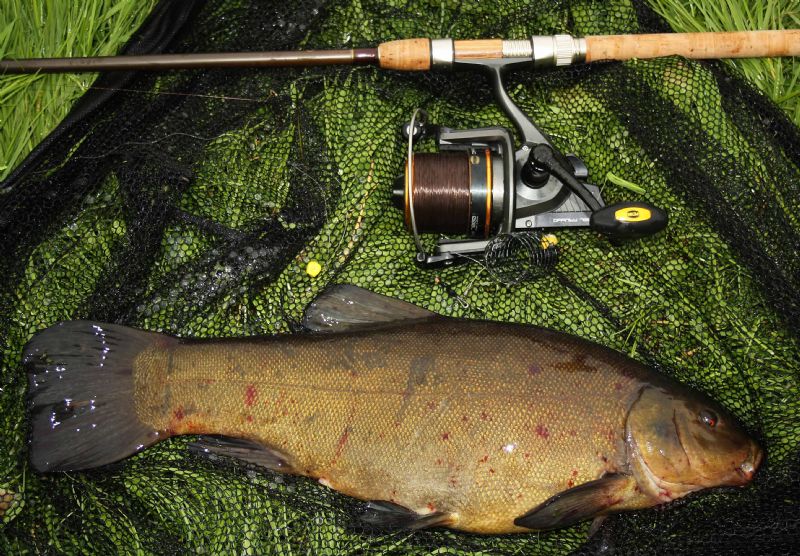 A great start to the session, my favourite coarse fish
I carefully "sacked" the fish for a moment, in the hope of finding another for a "brace" photo-shot and was not disappointed. Within minutes, a second alarm sung out, and I was back in the driving seat, with another powerful fish attached. Only days ago, I hadn't realised Tench existed in this water, and now I was happily into a second in quick succession! Safely in the net, this big girl pushed the scales an ounce over the six-pound barrier, what a fabulous result, a specimen wild Irish Tench. I always carry plenty of carp sacks in the holdall, as they are superior and safer than keep-nets when storing larger specimens. With Tench number two carefully "sacked-up", it gave me the chance to re-assess, bait up and re-position the rod.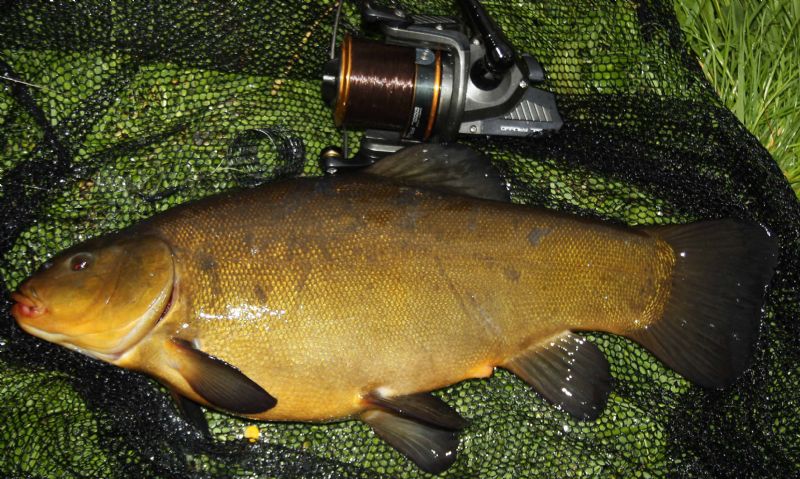 A cracking specimen over the six pound barrier
With two large fish in the space of ten minutes or so, my tinca plan was beginning to shape up nicely. A celebratory cuppa was called for, but before the water had boiled, Tench number three made an appearance. It's a terrible situation when you can't get time for a mug of tea! At five pounds on the button, I was now feeling cocky enough to release this fish at the water's edge, without even taking a photograph!
Half an hour passed, before the right hand alarm let me know I was back in action. Lifting into this fish immediately conveyed it was something special. I remember thinking "was this one of the monsters I had seen on the surface a few nights ago?" It gave a superb account in the battle stakes, and just when I thought I had won the fight, my potential specimen surged towards an isolated group of lily pads and exchanged itself for a lily leaf! No broken hook-lengths or such-like, just a large lily pad and stem on my hook where a monster Tench used to be! It is always difficult to deal with the loss of a large fish, but how could I be dejected with three bonus tincas including one specimen safely landed.
As the chilly north wind increased, it brought with it intermittent rain showers, enough to force me to retreat back into the bivvy. The poor weather had been predicted, and the drop in temperature is normally a bad forecast for Tench angling. I had "chanced my arm" as they say, and managed to land a couple of nice fish just in time. I had already made the commitment for an all-nighter, so back to the bed chair and think about what may have been if my last escapee hadn't found that bed of lilies.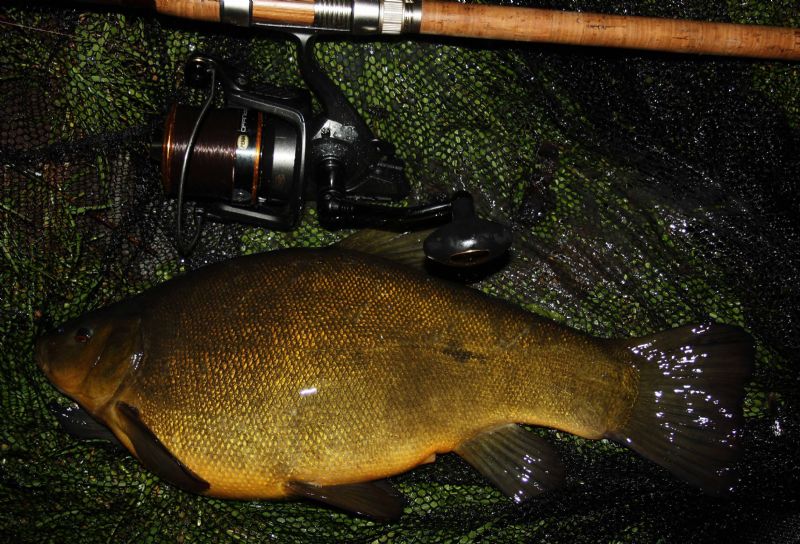 As fat as butter, awesome
I was completely surprised when the receiver told me my middle rod had some attention, which I could plainly see as I clambered out and into the down-pour. Another good fish and one that I was damn sure wouldn't be heading for those lilies! As she slid over the waiting net, this was another cracker. At approximately fifty two centimetres, these Tench weren't exceptionally long fish, but almost barrel-like in appearance, as fat as butter and obviously full of spawn. Tipping the Reuben Heaton's past the six and a quarter mark, I was ecstatic to land specimen number two. With the cold wind persisting, it would be too much to ask for one more specimen before the swim died. I have only landed three specimens in a single session once before, occasions such as this do not present themselves too often in an angling life-time.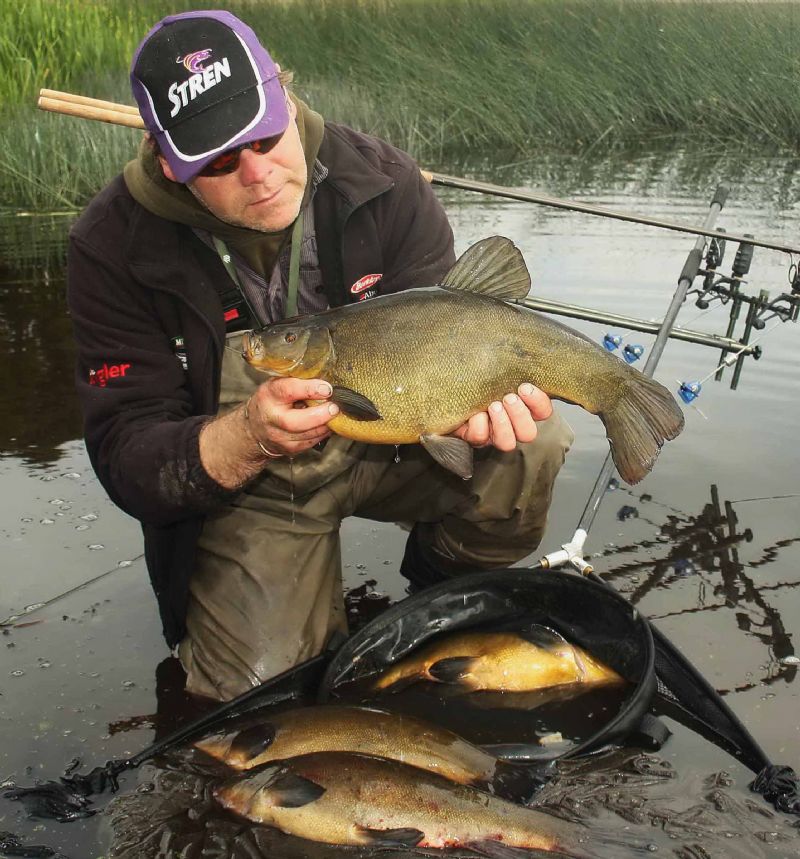 Sessions such as this are ones to treasure
My final run of the evening came from a Tench tempted on double worm and "popped-up" artificial corn, and it was another sizeable fish. I know that I didn't take a breath until the scales were zeroed to the weigh-sling, fish slipped in, and the dial finally settled on six pounds and three ounces. Its short angling sessions such as these that every angler dreams of, that keep you searching and persevering, and when they pay off, it's a shot in the arm, an addictive drug that ensures many more potential trips of a life-time. With specimen number three safely tucked up in its own personal carp-sack, in deep water between the rushes, I retired to the bivvy and waiting sleeping bag. The rods fished on, with alarm receiver on the pillow beside me, but as suspected, the biting northerly breeze and cool rain put paid to any further Tench activity.
Early the following morning, the tincas were all fighting fit and no worse-off after their short night in gentle captivity. I was able to have a relaxed photo-shoot, with each fish carefully returned to face the rigors of the natural environment. Pollution, Cormorants, Pike, Otters and immigrant fish eaters are all potential dangers, and it is extremely heartening to see that this generation of Tench seem to have managed to survive thus far. However, I wish my tincas, my favourites of all coarse fish, a safe passage until I get the chance to fish for them again. It just shows that sometimes the hand of fate, on occasion, is willing to deal a fair hand now and then.
Back