The hunt for a Specimen Skate
Specimen Skate
This particular species has been off the target list since 1972 in a bid to show support for its necessary conservation.
However, new thinking by the Irish Specimen Fish Committee has allowed length-based measurements to be accepted, with certain Shark, Skate and Ray species.
This is excellent news as much needed data can now be collected on habitat, size and population around inshore waters of Ireland, all within the protection of the fish themselves. As an added bonus, it gives specimen hunters such as I another challenge to achieve!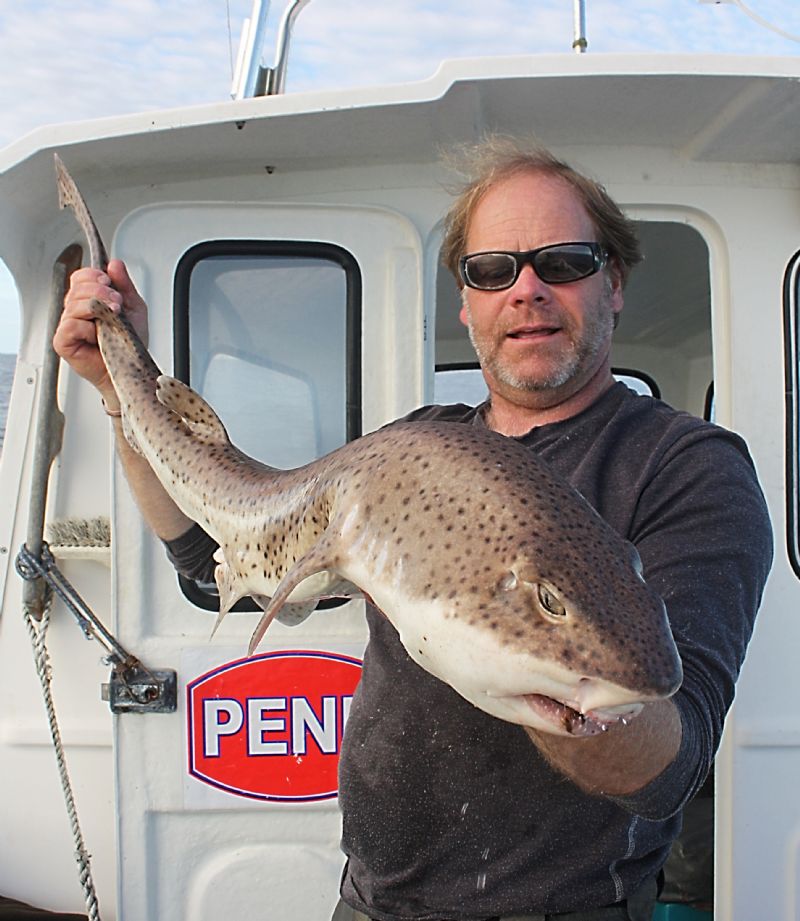 Awesome Bull-Huss, just over 15lbs
My last adventure at sea saw me and my ship mates trying a new deep-water mark in search of Common Skate. (See previous articles). Although extremely successful in numbers to the boat on this occasion, (we landed seven fish in total), none were over 50lbs. This is quite unusual, but fabulous to see all the same. It seemed like a nursery area, but during the session, Glenn lost a sizeable fish on the surface and I had a powerful Skate "shake" the hook before I could prise it off the sea-bed! In other words, this new mark had potential.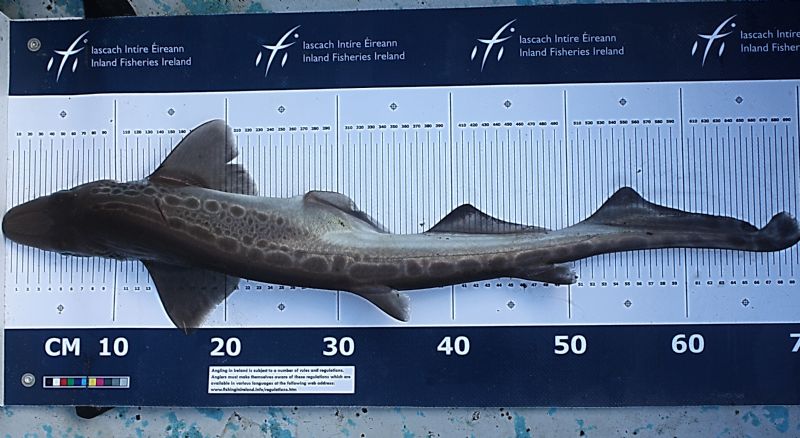 My first specimen Black-mouth Dogfish of 2016
A break in the inclement weather finally coincided with neap tides that gave us a rare opportunity to get off-shore and over the deeps. Glenn couldn't make this trip so it was down to regular crew mate Andrew Wolsey and myself to further investigate my new mark. With prevailing easterlies the sea had "lumped" up a bit and made life a little un-comfortable at first, weather windows have been rare for sea fishing and we haven't managed to find our "sea legs" this year!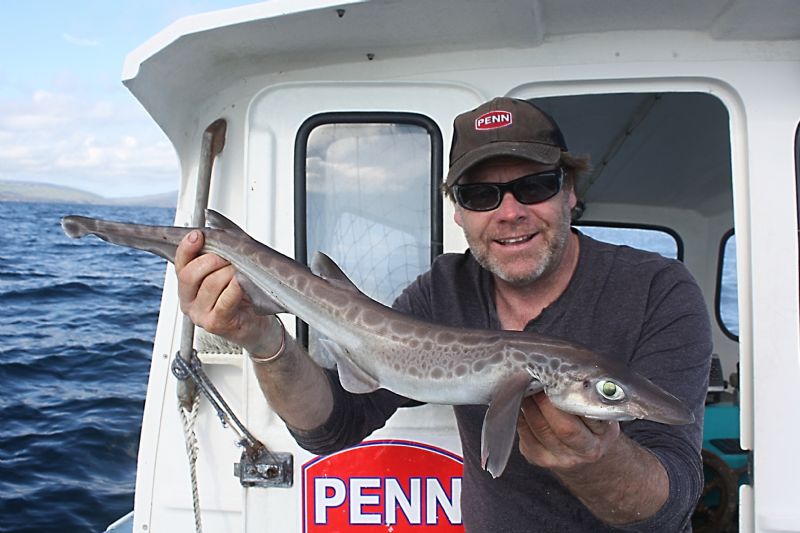 Always a delight to land this interesting, deep-water Catshark
Thankfully, by the time we had found a few Mackerel in-shore, the sea had flattened off enough and we pounded out to the hot-spot. Within minutes, Dogfish obliged, but happily not in plague proportions. Then a bonus Black-mouth Dogfish over the gunnels and at 1.1 kilos she was well over the magical specimen barrier. Any specimen landed for a specimen hunter makes the day a success, and we had only just started!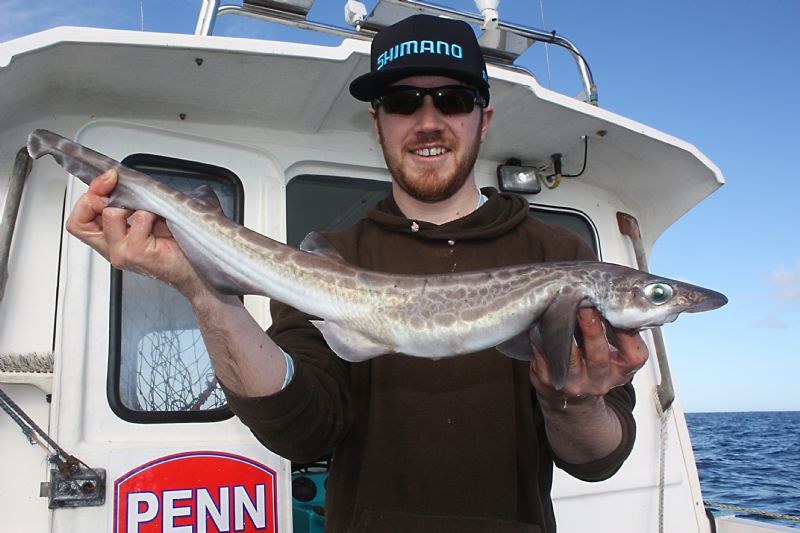 Andrew's first ever specimen Black-mouth
Andrew joined in with another Black-mouth and again, well over specimen weight. It seemed we had found a mark for large females, as very soon, Andrew had his second specimen! I broke the Dogfish routine with a double figure Huss and our last minute trip was fast becoming a red letter day at sea.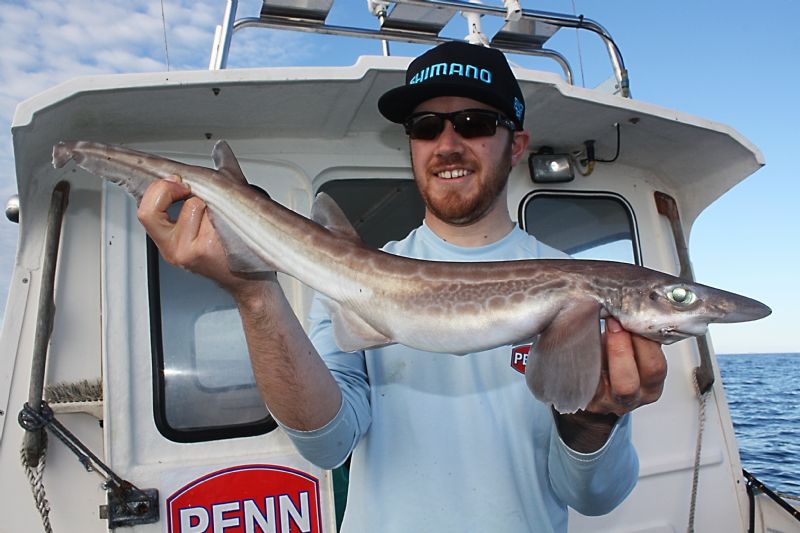 And another specimen! He definitely found the method for this species
For whatever reason and I could not distinguish, Andrew seemed to attract Black-mouths and I Huss. Both rigs were similar, both using fresh Mackerel. I landed seven Huss to 15lbs, so close to specimen size, but what awesome sharks to catch. Powerful, and with an attitude and look about them I never grow tired of enjoying. Congers now showed, with fish to 25lbs or so, and a Lesser Spotted Dogfish one ounce under specimen.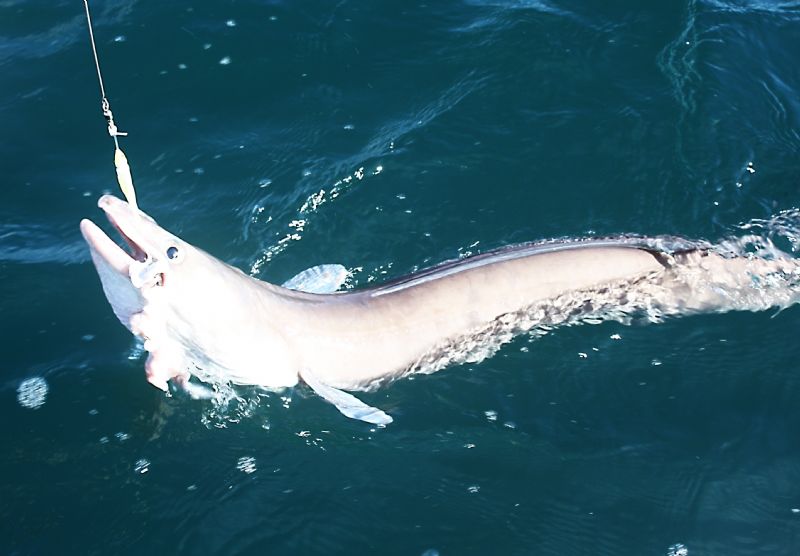 A few Conger to 25lb also made an appearance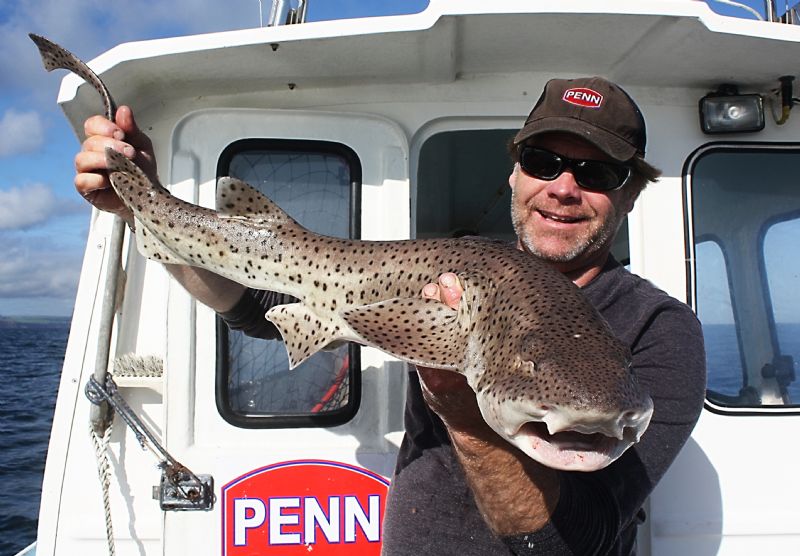 Fish with attitude, you've gotta love 'em!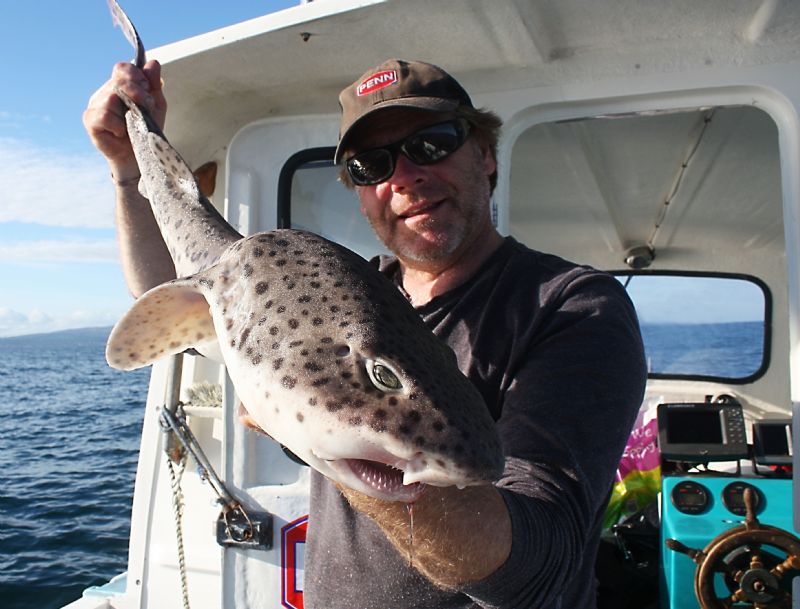 Andrew continued with his new-found favourite species throughout the session and amazingly found a third specimen over the kilo barrier. This was a new species category for Andy and he was obviously over the moon. I connected into something a tad larger than the Huss, which kicked back a bit and ripped line against the clutch. It stopped me in my tracks mid-water in a stale-mate situation and felt distinctly "Topey".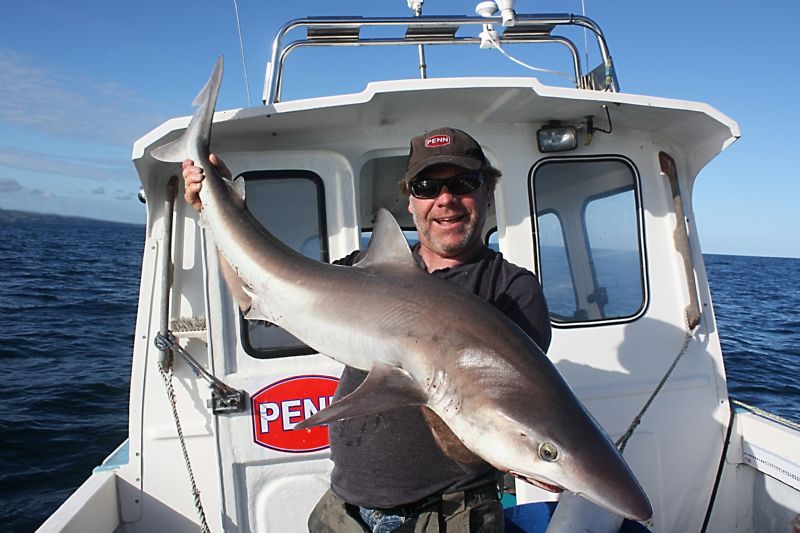 Just under specimen, but what a stunner, and brilliant fight in deep water
Sure enough, eventually a gleaming angry female broke the surface some four hundred feet from the sea bed and the wrestling match began! She was just short of the 1.6 metre specimen length, but the fabulous fight both in the water and on-board was something to cherish. A quick photograph and safely back no worse for her encounter.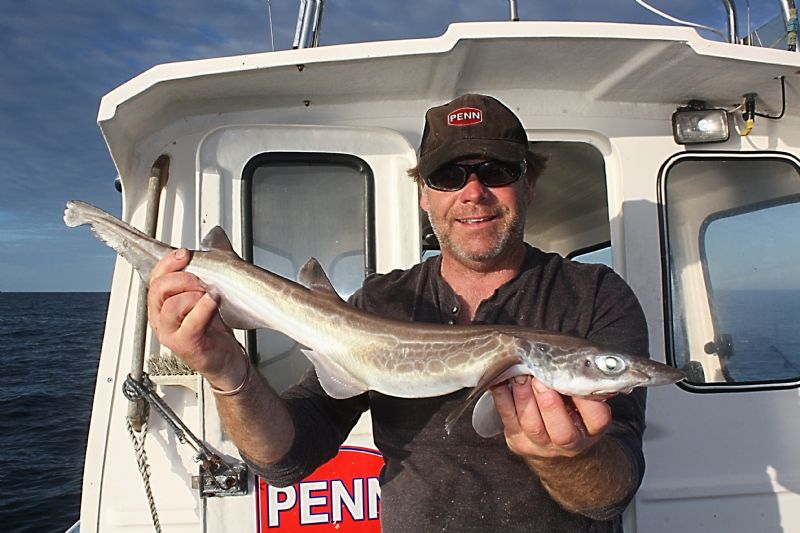 Specimen number two for me, and the fifth specimen of the day, we were going well.
I was now playing catch-up with Andy on the specimen stakes, and the tell-tale dramatic thump on the rod-tip followed by little resistance was the clue that another Black-mouth had been tempted. Again, another specimen, what a hot-spot! While going through the motions of weighing and photographing, finally the "skate rod" buckled with line peeling off the reel under heavy pressure.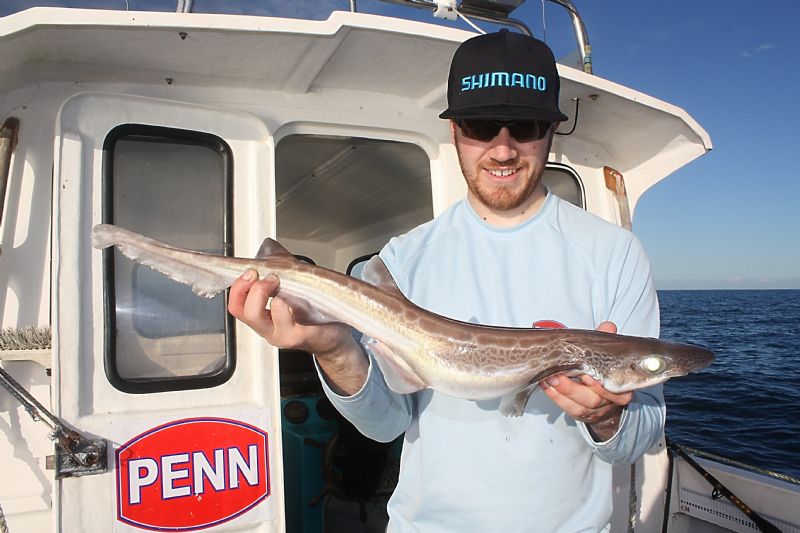 Andy was un-stoppable, landing his third specimen of the session!
Lifting to set the hook, we had found our target species, and it seemed like a decent size this time, and for the first time in a long time, I had a Skate on sensible balanced gear! This time, I was in charge of the battle. Saying that, she still put up an admiral fight with long runs along the sea bed, stale mate lulls mid-water and powerful lunges in a bid to find the safety of the sea-bed, but I refused to allow that!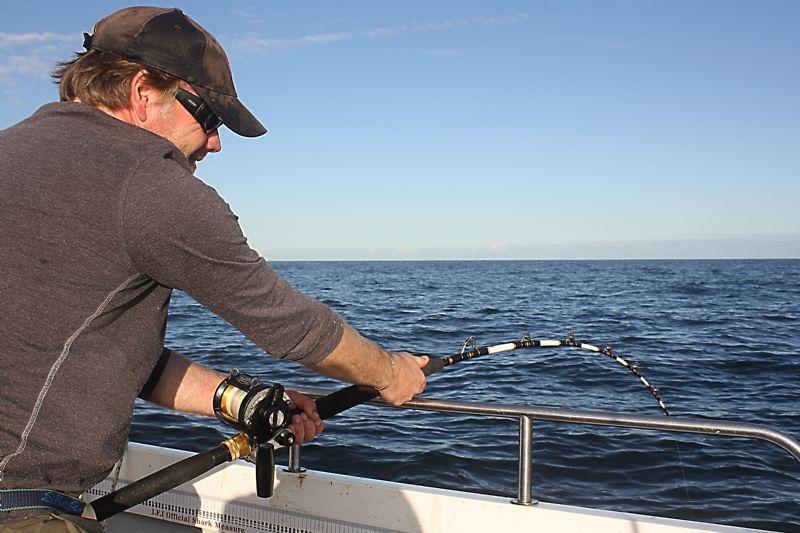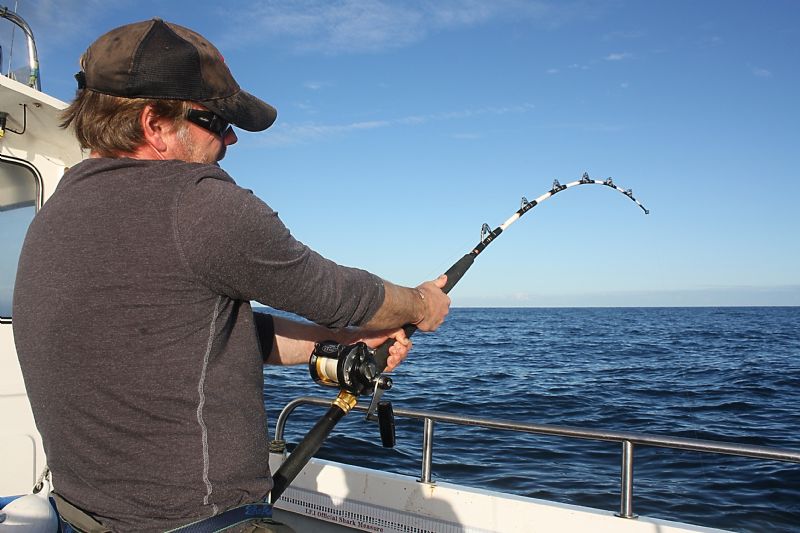 Once safely on the deck of the Fast Fisher we could get her to the measure board. With a length of two metres and twenty centimetres she was well over the specimen length, and a delighted skipper is an under-statement! Interestingly, my Mackerel "flapper" bait had first tempted a large Black-mouth Dogfish. It had hooked itself on the Pennell rig, and the Skate decided that a Mackerel-Black-mouth cocktail was a morsel too tasty to turn down. I felt sorry for the Cat-shark; it would almost have made specimen size only the Skate had squashed it flat! I wonder where that would stand had it made the weight?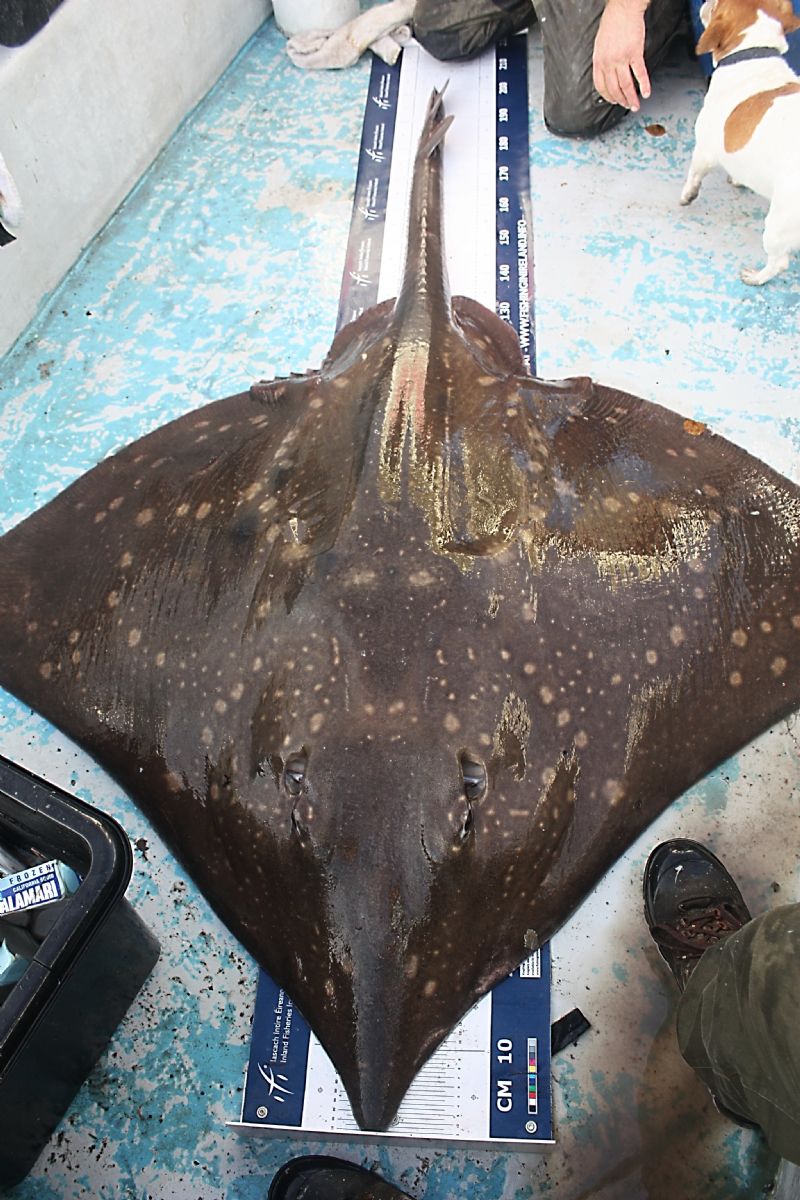 Easily qualifying for specimen at over 2m length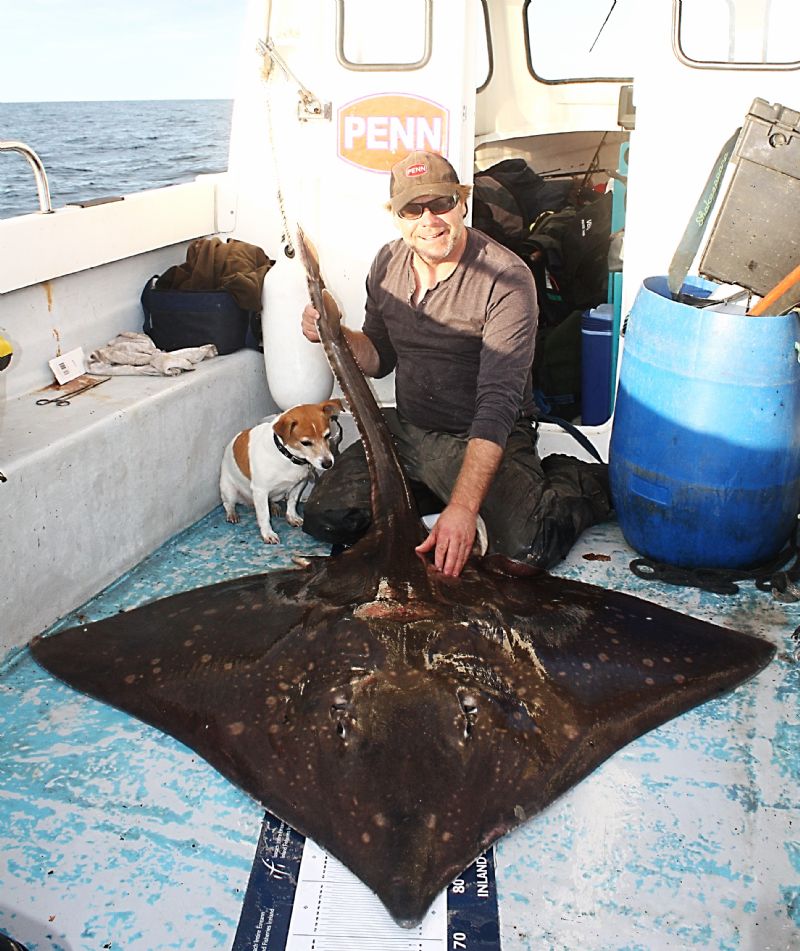 Estimated weight based on measurement of length and girth, 166lbs
As our busy day drew to a close, (the nights are drawing in and days much shorter now), we tallied up. Amongst the Dog-fish, Conger, Huss, Black-mouths, Tope and Skate we had five specimen Black-mouths and a specimen Common Skate, with extremely near misses of Tope, Dogfish and Huss. Days like these are few and far between, but when they show, they live in the mind eternally. Protect our seas, and our stocks, let our children experience the wonder of angling.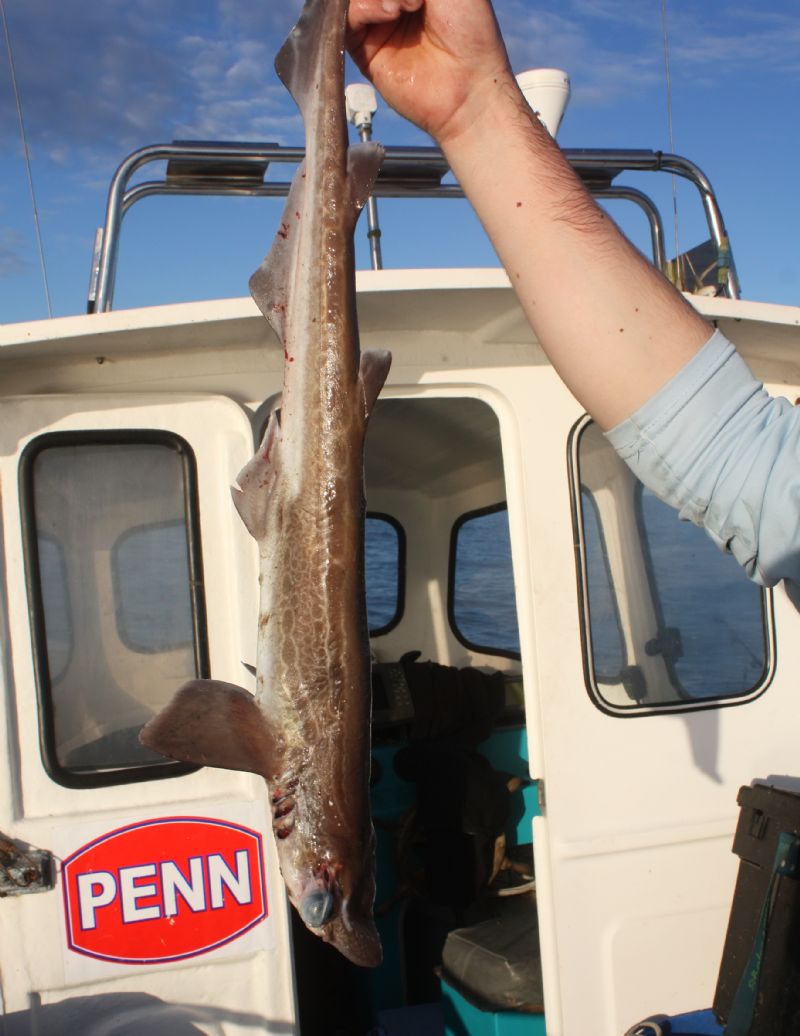 Poor little Black-mouth, happened to be in the wrong place, wrong time, munched by a hungry female!
Info
For more information on Common Skate, check out these articles
http://www.angling-ireland.com/common_skate
http://www.angling-ireland.com/common_skate_a_new_specimen_category
http://www.angling-ireland.com/an_old_mate_and_a_big_skate
http://www.angling-ireland.com/specimen_hunting
Useful related website
http://www.catchalot.co.uk/tagging/skate.htm
Back