The hunt for large Perch
In pursuit of large Perch
2015 has been a slow year for me as a specimen hunter. Commitments at home have been such that time spent on the water has been somewhat limited.
Obviously, when you aren't fishing, you won't catch and this is the problem.
A few weeks previous, James Robbins from Shakespeare UK kindly sent over an Agility Drop Shot Rod to have a play with, and with a selection of Berkley lures, new and old, I had no excuses not to get out and wet a line. So, with angling opportunities finally presenting themselves, I soon found myself targeting a very tough venue in search of large Perch. There is no doubt that specimens are present here, but after two reasonably unsuccessful trips, it was time for a change in tactics. I have said it before, I enjoy a challenge!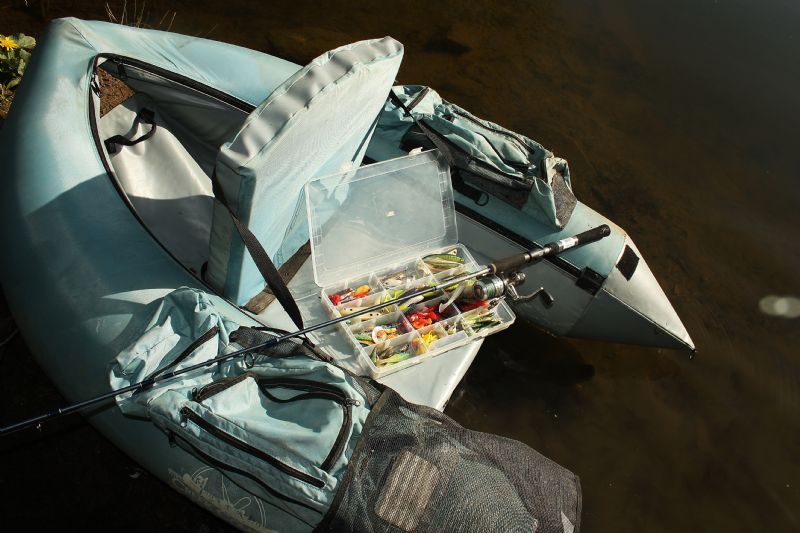 Armed with float tube, Shakespeare Agility Drop Shot Rod and a selection of Berkley soft baits
Although this is a reasonably large water, there are relatively few places for bank access with over ninety percent of the perimeter remaining un-touched by angling activity. It was my belief that the larger and more cautious specimens normally choose to stay away from these busy areas, as catch rates of the bigger fish are few and far between. Large Perch are wary creatures and definitely do not appreciate being disturbed.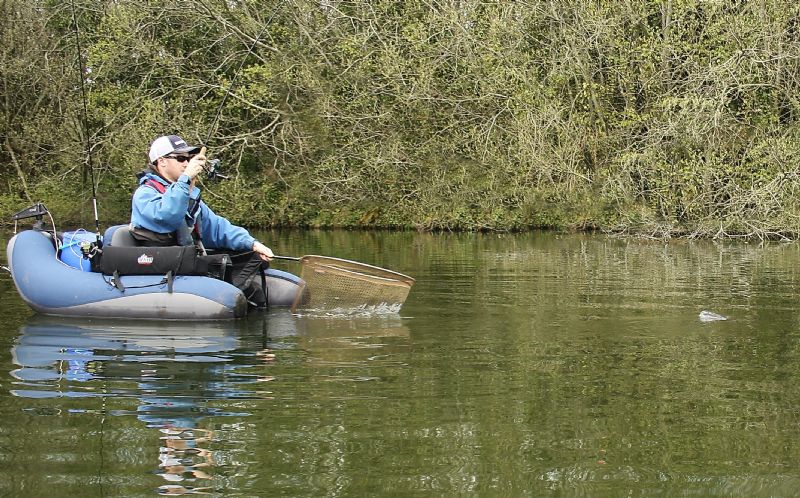 Andrew guiding his first Perch of the day towards the landing net
In order to search further, I thought it was time to bring the float tube out of retirement, and spend a day in search of hidden features and likely hot spots. It is quite possible that no angler has ever been afloat on this water. The thought of exploring virgin territory on a known Perch venue was extremely enticing to say the least.
Andrew Wolsey was also up for the adventure and agreed to join me on this particular Perch mission. He is fully focused on finding that sacred Irish Specimen Perch that breaks the 1.2 kilo barrier, and I know that it is only a matter of time before he achieves this! There is safety in numbers, especially when afloat on a belly boat, but I also find it a great deal more satisfying to share an angling experience with a friend (also handy for taking photographs if you strike lucky!)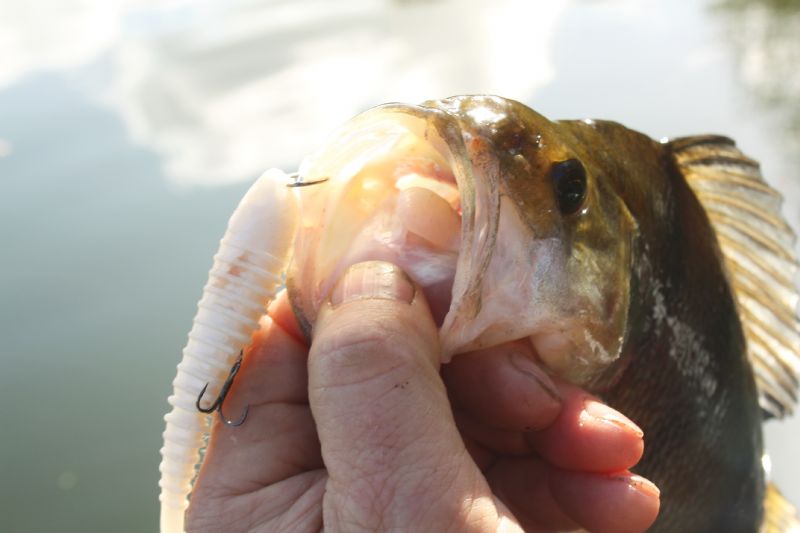 After missing my first "take" I added an Owner treble as a "stinger" which solved the problem
Once we had beat our way through the dense undergrowth, and were finally "tubed up" we were on our way, and our first drift into "no-man's land" proved positive, as I "bumped" a take on the Berkley lure flicked under over-hanging branches. It hit as the lure dropped over the obvious ledge, which gave the impression that Perch were cruising along this feature in search of an opportunistic snack. I hastily added a "stinger" in the form of a size 12 Owner treble, not wishing to be outwitted by a "stripey".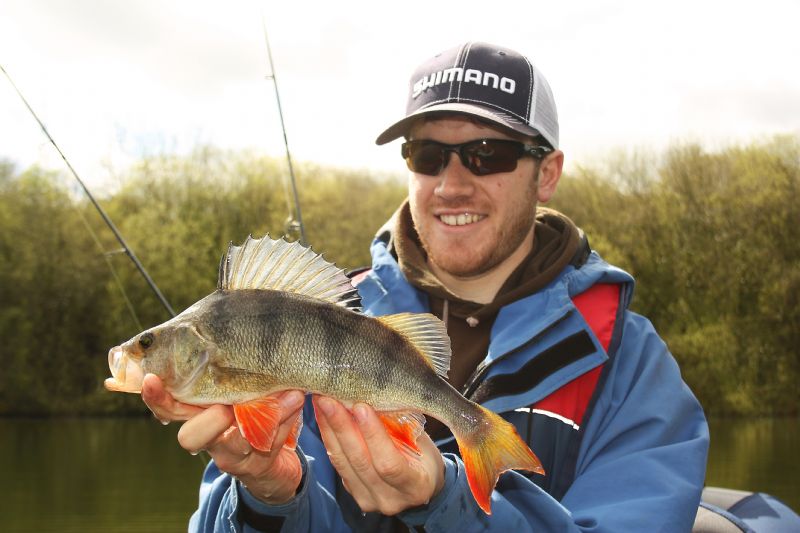 Andrew looking pleased with his catch. The Perch averaged this size all day
Naturally, we spent some time here, eventually resulting in a decent fish of over a pound coming to the net, with Andrew tempting a further brace of fish, both breaking the pound barrier. My little "stinger" prevented any further missed takes! With three fish caught and released in the first thirty minutes, this was a fabulous start to the session, bearing in mind that any previous visits had only produced three fish in total. Could we have un-locked a secret?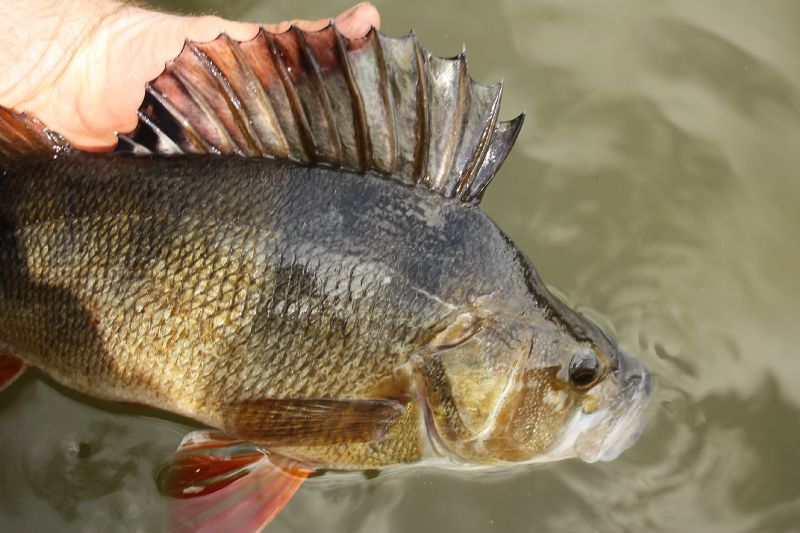 Important to carefully release all fish these days
With this spot fished out, or possibly the patrolling shoal had moved on, it was also time for us to paddle further, soon finding another enclave of large fish. It seemed sensible that our tactics were to slowly search out holding spots and target them until they either switched off or moved on. Once they moved on then we would do the same.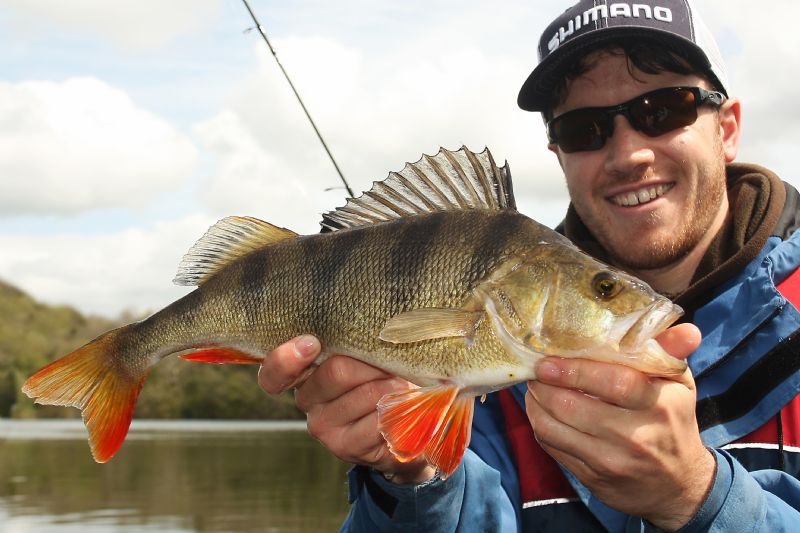 Getting bigger! Close to two pounds
By lunch time, it was time to paddle back to base camp for a pee-break and a tea-break in that order. But also a chance to stretch the legs, get some grub and importantly, some heat back into the body! Although we are now into the month of May, the water we were fishing was still dangerously cold. Some time out of the water and on dry land was definitely a wise choice.
With my legs now working again, and flippers attached, we were back out to resume the search. This is where we happened upon the angling equivalent of the Holy Grail! I hooked into a decent fish and after a feisty scrap had a fine example of a Perch topping a pound and a half at a guess. Keeping it safely in the small landing net while Andy paddled over for a photograph, I flicked the lure out again which was instantly "smacked" by another powerful fish.
A plump three pounder, smaller fish are sweet but this is what its all about!
After a fabulous adrenaline pumping tussle I slid a fine looking fish over the lip of the net to join the previous catch, but this one made the pound plus Perch look like a baby! Paddling to shore for an accurate weigh in, she tipped the measurement a millimetre short of 45 centimetres, and bang on three pounds on the scales. What a fantastic sight this species is at that size!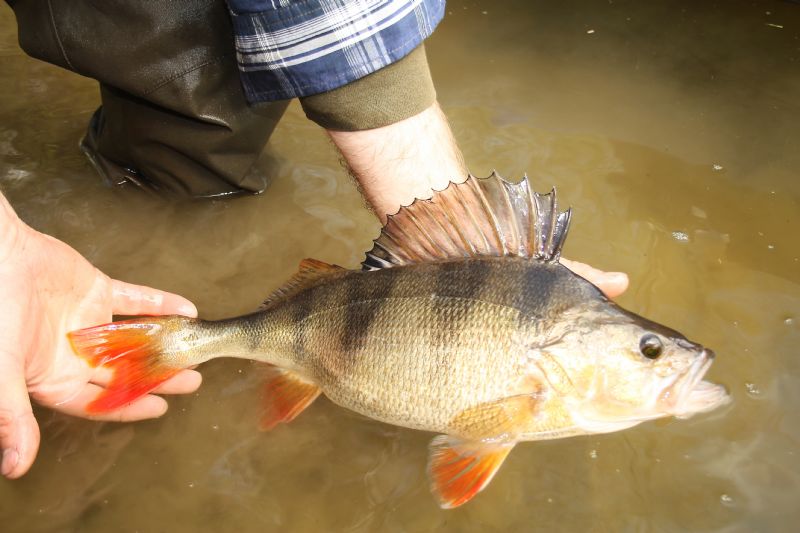 Keeping the fish comfortable during photo shots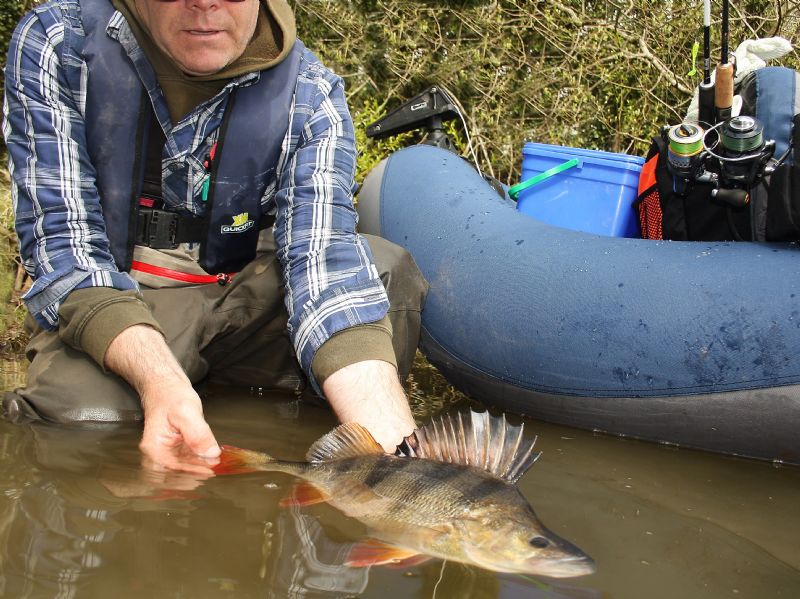 Then safe and careful release
I left Andrew to hit the same mark while I sat back and bathed in the feeling of achievement, it is always good to hit a target and this feeling never changes no matter what species are involved. Andrew was straight in with another large Perch, pushing the scales round to 2lbs 6oz, a near miss but spectacular all the same. I couldn't hold back after that and soon had the ducks feet on again, paddling for all I was worth to our new found mark!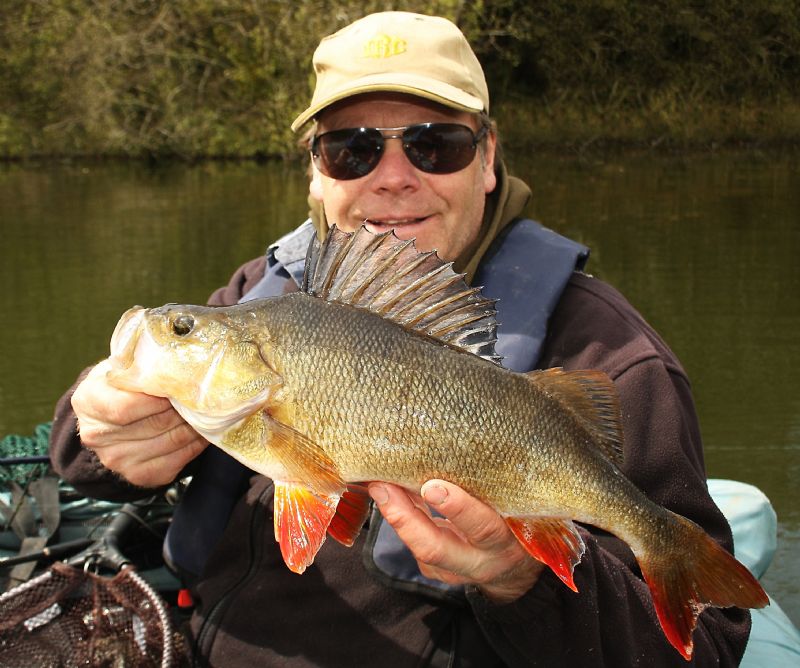 Nudged the cross-bar with this fish at 2lbs 9oz
A couple of "small" pound and a half Perch followed until another "thump" sent the Agility curving fiercely, and another fine fish that needed weighing on shore. This one sent the scales to 2lbs 9oz, just shy of specimen size, but it is impossible to be disappointed when nature allows you the chance to land such a spectacular looking creature. Admire its beauty, capture it on film, and safely return it. The joy this fish gave me must be given the chance to pass on to another angler, this is how it should be in Ireland.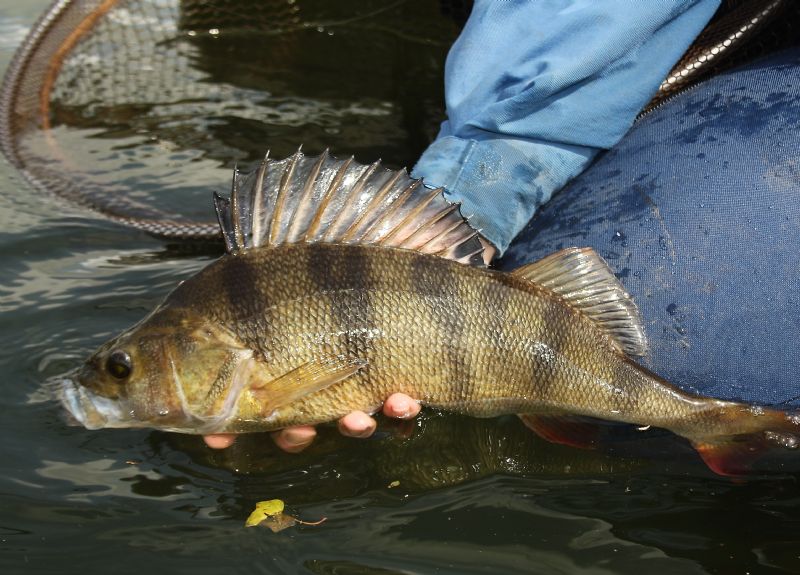 In these times of fish killing and dwindling stocks, it is important to enjoy the moment, then return the fish
We managed a few more pound plus'ers before our last hot spot quietened, and a tally up showed we had landed twenty four Perch between us, most between 1-2 lbs with a brace of two pounders and a fabulous fish clipping the three pound barrier, all safely released. I have had many red letter days over the years, with many different species; this was our first with Perch. Busting to get back!
Back