The Lough Cork - Winter Carp Angling
In pursuit of a specimen Carp
Whilst recovering from the excesses of Christmas, and only one day into the New Year, I received a phone call from well-known carp nut, Mark McGivern. "Remember that promise I made you all those years ago?" he stated. "When I told you I would help you get that big carp, well now's the time to do it."
Looking out of my living room window at the bitter howling wind and lashing rain, I questioned his logic. Apparently the wind and rain has created a mild spell, and the carp should be feeding. Not being the kind of man to back out of an angling invitation, I agreed to tag along, if somewhat apprehensively, on another fishy adventure.

The following night, Mark arrived at my door, and once the mountain of tackle had been squeezed into his car, we set off on the two hundred and seventy mile journey to Cork. We planned to fish "the Lough"; a large shallow lake situated in a housing estate in Cork City, made famous by its potential for producing Irish record carp. This is one of Mark's favourite Irish carp venues and one that he knows quite well. Travelling to Cork is excellent now with superb roads and timesaving bypasses, and we made great time arriving at the lough-side by four o'clock in the morning.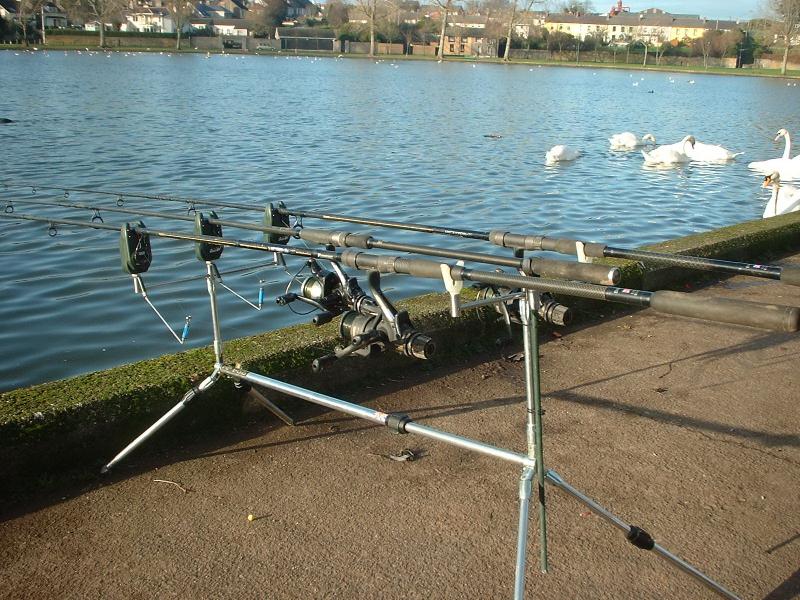 My make-shift Carp set-up!

We wasted no time in setting up the bivvies, deciding it would be prudent to grab a few hours sleep before tackling up. After all, the plan was to spend four days here. Although a cool breeze hampered our efforts, it was noticeably warmer than the weather up north. We were awake by ten o'clock that morning and went through the motions of building our rod-pods. These are a necessity here, due to the concrete path that runs around the perimeter of the lough, allowing limited access for conventional style bank sticks. The buzz-bars were attached, armed with bite alarms and indicators, and the attention now focused on the rods, and more importantly, the end tackle.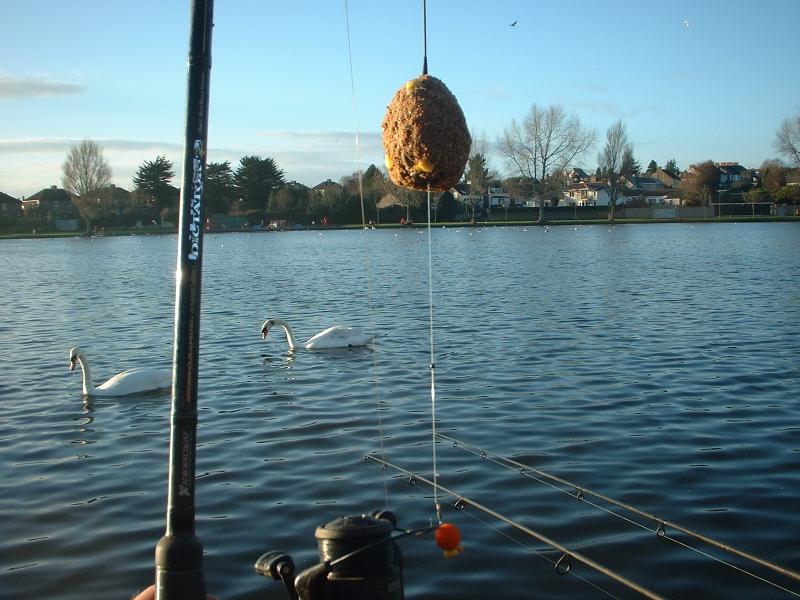 Getting to grips with fishing the "method"

After some advice from Mark, I tackled up using the method feeder. This is similar to a swim feeder, but consists of a frame that allows ground bait to be tightly squeezed around the outside, forming a large ball or egg-shape. The main line is fed through the centre of the feeder onto a rubber impact bead and a swivel, and offers no resistance, allowing a carp to pick up and "run" with a bait. The hook length is kept short and effectively places a baited hook amongst the ground bait and free offerings.
Once the ground bait had been mixed, and a few particles such as trout pellets and sweet corn added, we were finally ready to go. It is a good idea when using a number of rods, to try a variety of baits, as this can speed up the process of discovering exactly which bait the carp are prepared to accept on the day. With each rod baited differently, it was time to cast in.
A top tip when fishing a new water is to cast a plain lead about, and as you retrieve, try to build a mental picture of the lough bed. In this way, it is possible to determine depths, find gullies or ledges; weed clumps and gravel or silt beds, all of which could be a fish holding feature. An un-necessary task on this occasion as Mark knew the water quite well. The story with "the lough", as I was told, is that originally it was considerably smaller, and had been extended some time later. This can be demonstrated using the method described. By casting a lead fifty or sixty yards and slowly retrieving, you gain an impression of dragging through soft mud or silt. This is the bed of the original lough. Approximately thirty yards from the bank, the lead tends to bump, suggesting a stony or gravel bottom, possibly where the lake was extended. I asked Mark why he thought this should attract fish and he thinks it might be due to the silt being shallower over the gravel bed making bloodworm and other aquatic food easier to locate. Whatever the reason, it is a well-known fact that carp patrol and feed along this hard edge.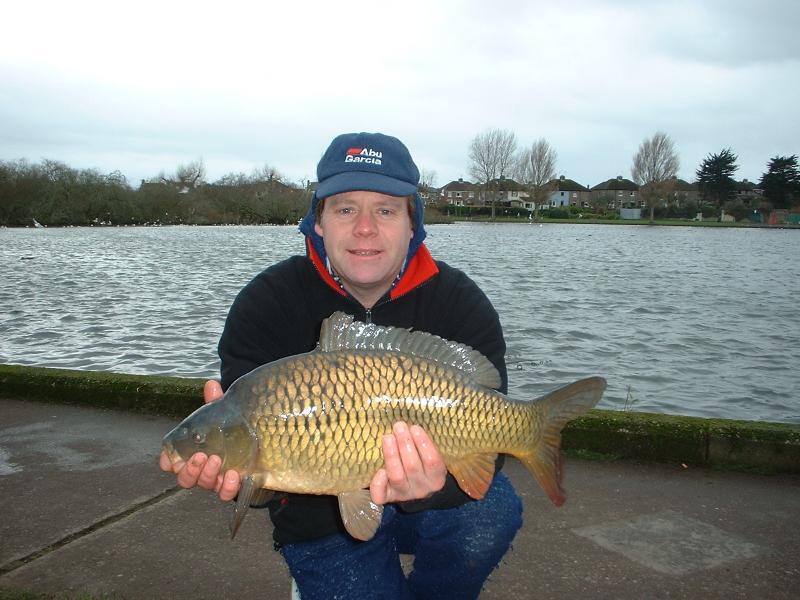 My first Irish Carp, and you can tell I'm bloody freezing!

So the baits were cast to the thirty-yard line, set in the pods, with alarms and indicators attached. Another good tip on this venue is to attach a back lead. This is a lead that can be clipped onto the main line after casting and allowed to slide down the line onto the lakebed, close to the rod tip. It keeps the line taught and protects from breezes and surface drift, but more importantly on this venue, it keeps the main line submerged and away from the many water birds present.
Being a novice at the carp angling game, I volunteered to get the Ulster fry on the go, but was stunned to hear one of Mark's alarms screaming out after literally ten minutes in the water. After a short but spirited scrap, I duly slid the specimen net under a fine common carp estimated at eight pounds, and immediately noticed it had ignored all the flavoured boilies and had opted instead for several grains of sweet corn.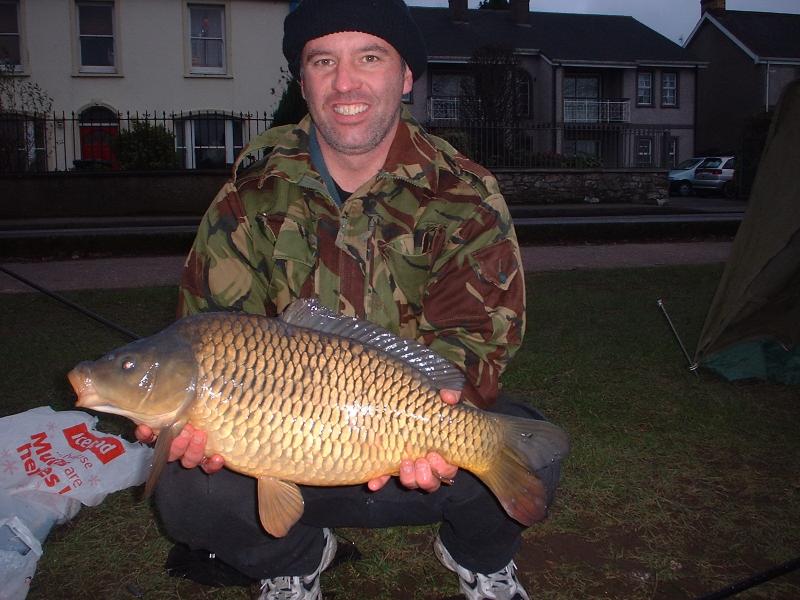 Mark shows me how it's done

I quickly reeled in my three rods and replaced each in turn with four grains of sweet corn on a hair rig; squeezed on a large handful of ground bait and dropped the baits back out on the thirty-yard line. Within a few minutes, I found myself playing my first Cork City carp, and looked up to see Mark into his second fish. Although my carp angling experiences are limited, I had not expected this, and could see that even Mark was surprised by just how quickly these fish had responded.
The carp fed steadily and by two o'clock in the afternoon we had landed fifteen fish, ranging from seven pounds through to ten pounds, with Mark taking the largest at eleven pounds. The bites began to ease, allowing us time to finally eat our overcooked breakfast. By eight o'clock that evening, the bites stopped completely and the tally for the day was an amazing twenty-two fish, all fair sized commons. A great result by summer standards but certainly not typical carping in the depths of winter.
Chatting into the evening over cups of tea and the odd slug of red wine left over from the New Year's festivities, we reflected on the fabulous day we had, and decided to fish boilies through the night, as they have a stronger scent trail and offer the best chance of sorting out a specimen fish. Fresh boilies were put on, this time pop-up versions, and the baits were cast into the darkness. We retired to the bivvies contented, ready for a much needed sleep.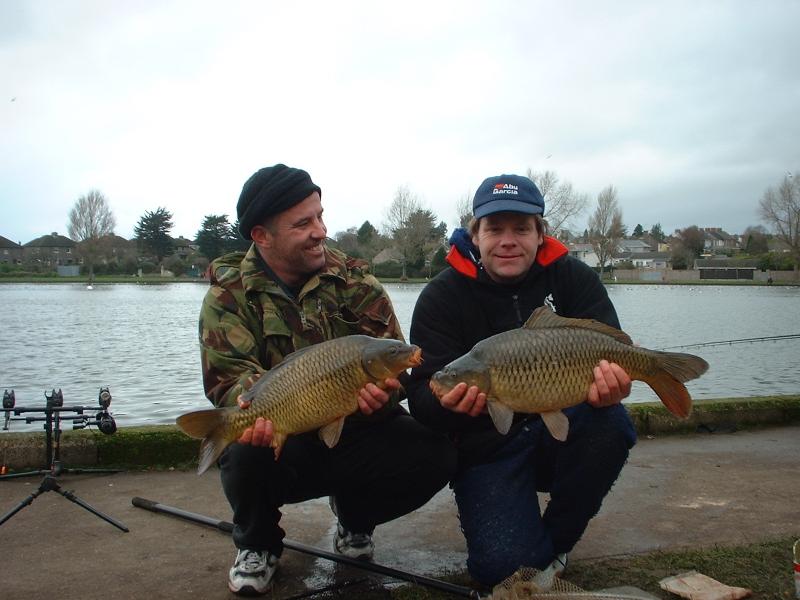 A double shot of Commons, talking about the fish!

I awoke somewhat groggy at exactly six in the morning, disorientated, but with the unmistakeable scream of my bite alarm in the background. I lifted into what felt like a decent fish and after a powerful fight, slid the net under a fat common carp. It tipped the scales at just less than six kilos, breaking the thirteen-pound barrier and my first specimen carp. As I carefully slipped the fish into a carp sack for a daylight photograph, another alarm sounded, resulting in yet another common, this time around the nine pounds mark. The bites ended as quickly as they appeared, and as the sun rose and the wind eased, I could feel the temperature plummet. At lunchtime, and with only one more carp landed, we realised that the cold snap had done its damage and bites would now be few and far between. With more cold weather approaching and a forecast of minus one for that night, we packed up early and headed for home. An early end to the planned trip but none the less, one that proved more successful than either of us could have imagined for winter fishing. Not all trips pan out according to plan, but when they do, they more than make up for the bad days. We left Cork with high spirits, I had my long awaited specimen carp for the diary, and Mark had fulfilled his promise.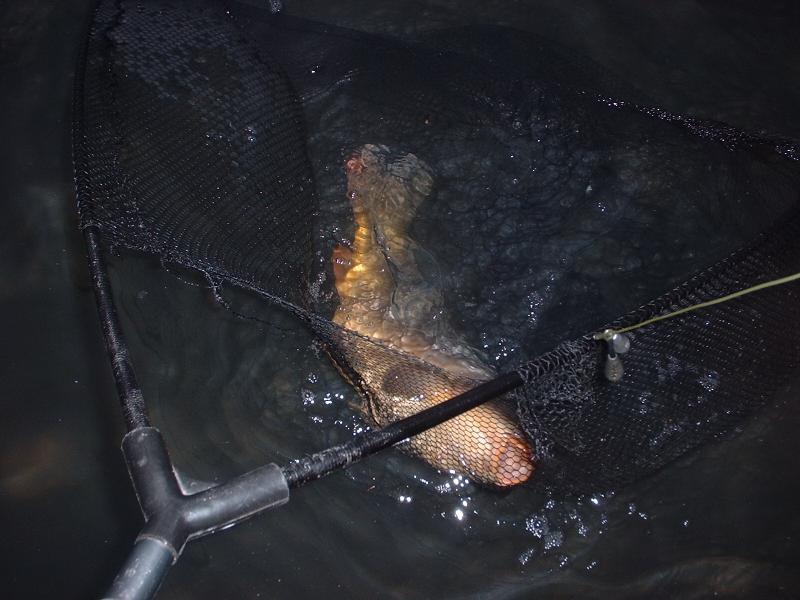 I would like to take this opportunity to thank Mark for sharing his carp angling knowledge with me, and also the three local carp anglers, Paul, Tom and Pat who were more than helpful with advice, tackle and bait donations, thanks lads.
I would also wish to apologise to a certain local nun who, for some strange reason decided to peer inside my bivvy just as I was attempting to pee into an empty kiora orange bottle. She left in quite a hurry and I can only imagine the mental scars that poor woman must now have. I later found out that local pubs will allow anglers to use their toilet facilities.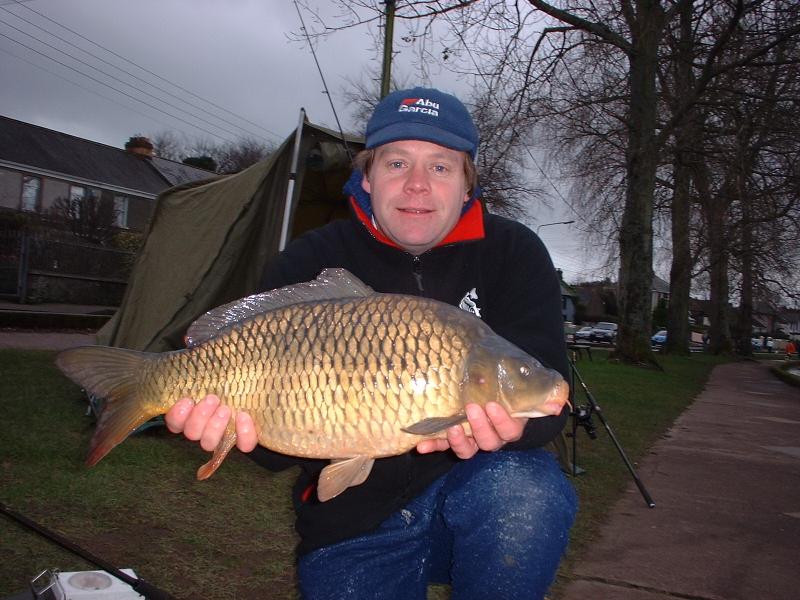 Back