The Mecca Of Irish Carp Fishing by Andrew Michaelides
The Mecca of Irish Carp fishing:
I think the title of this article does "The Lough" in cork justice.
It was around 5 years ago when I was lucky enough to be taken down to the lough in Cork.
Ever since I have been dying to go back independently. So for me this was more than a fishing trip.
It was a journey, so many things had to fall into place for it to happen and they finally did! The driving test was passed, the tackle was eventually acquired, I finally managed to get the time off work and most importantly I found someone else mad enough to spend 100s of £s to drive to a lake, camp out, catch a fish and then put it back.
I phoned my mate Niall and we agreed it was time to go to Cork Carp fishing! We started preparing by borrowing rods from friends, buying bite alarm batteries, getting food sorted and watching every carp video on You-tube. Before we knew it we were embarking on the 257 mile journey to the lough. Everyone we spoke to about the trip had high hopes for us. We learned that the fish had recently spawned and would be keen to feed. 30-40 fish we were told, you might even get a 20 or one of the original fish (beautiful carp from the original stocking easily 30-40yrs old). As good as it sounded it didn't sound realistic to us two pike anglers who were absolute novices when it came to carp angling.
The long drive flew in! My little Renault Clio was skilfully packed to the gills with a mass of gear, including tow bivvies and two bed-chairs, rod pods, rods, food, spare clothes, unhooking mats, everything possible bar the kitchen sink! We arrived at the lough by around 6pm and after what seemed like hundreds of runs to and from the car the gear was all unloaded and piled by our chosen spot ready to get started. Thankfully Sid Kennedy the Irish carp record holder and general lough God was on hand to supply our bait as soon as we arrived. He soon had us set up with rigs and a vast amount of tasty bait options to keep us going.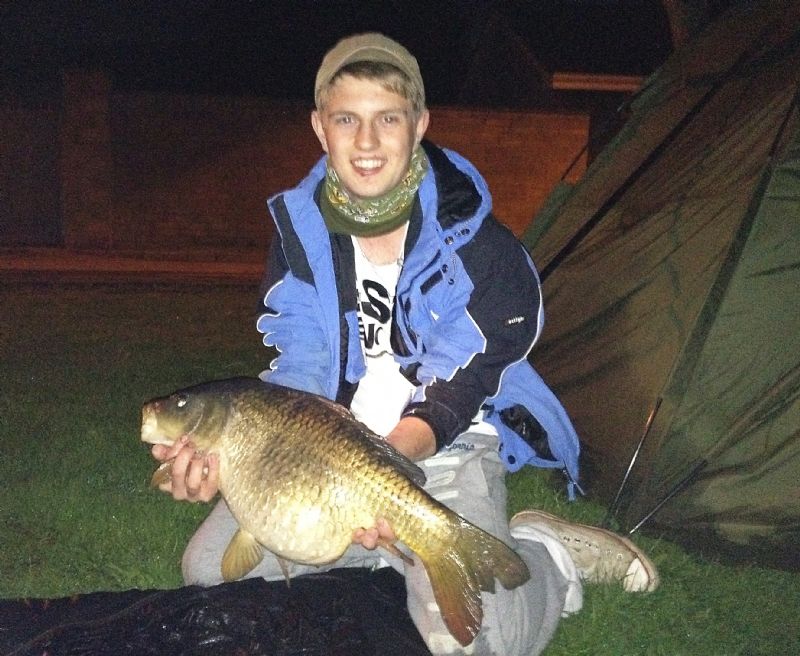 Andy is delighted with this Common
The first problem we encountered was the swarm of 13/14 year old kids that took an interest in us trying to set up our bivvies. A bribe of 3 packets of McCoys crisps is what it took to get them to leave for a while so we could set up. Sid left us to it after a good briefing on what to do. Pop ups were the way to go apparently fished with small PVA bags of chopped and crushed boilies. By 10pm I had the first run. A nice fish that I cleverly allowed to shake the hook as the tension on the third reel I borrowed hadn't been adjusted. School boy error! However at around 11pm I was granted a second chance and the net was soon slipped under a beautiful 11lb common that looked like a football!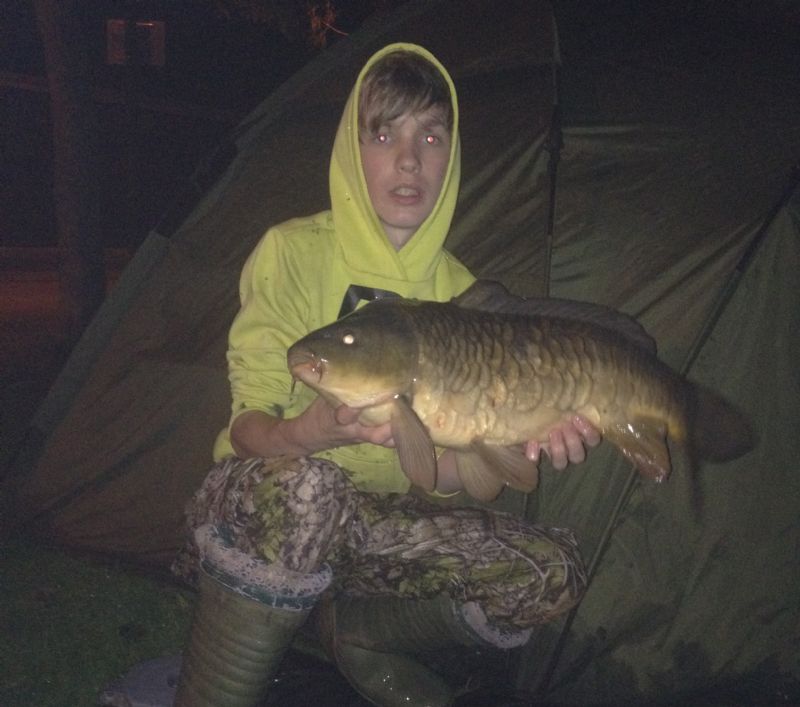 Niall with a small double
That night saw Niall get in on the action too with a solid common carp around the 12 lb mark making it an Irish specimen. Result! Niall started to creep ahead of me with another fish during the night. This time a lovely Mirror Carp! I must add here that we did weigh every double we caught however we made the mistake of not writing down as we went along, simply because we didn't expect to catch so many that we would forget! The next fish fell to Niall again, an unreal 17lb common smashing his previous personal best and we joked, bigger than his personal best pike too. This was watched at 5am by an astonished taxi driver who seen the commotion and had to come over for a look! He definately brought a bit of luck because as soon as the 17 lb fish was slipped back, my middle rod screamed off and I was into a hard fighting Carp which unfortunately the taxi driver didn't get to see landed as he got a call for a job.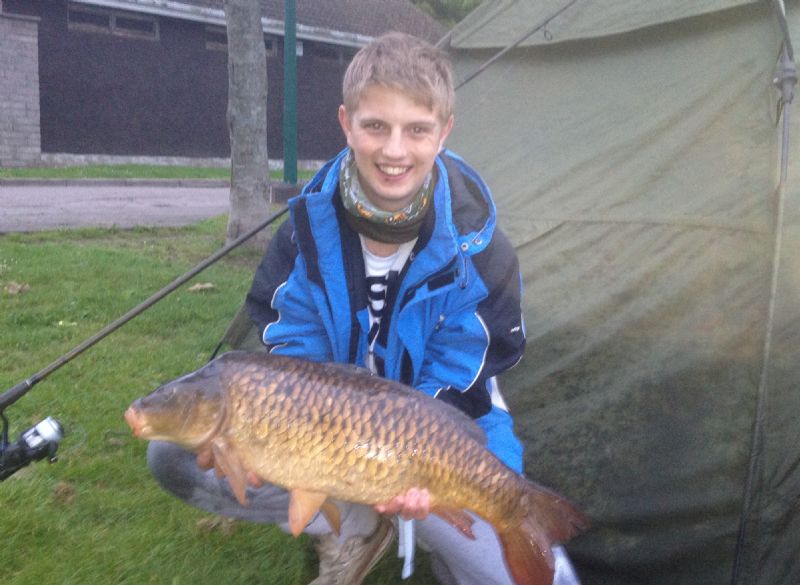 Niall went for a walk around the lake at about 9am and as he was exactly half way round the 1 mile circumference of the lake he had a run on his middle rod, being the good friend I am I played and landed it for him, shouting to him as loud as I could the whole time, I promise. This was another beauty and reached the specimen weight. The rest of Tuesday was fairly slow with me picking up the odd "small fella" as the locals call them, 3-5lb fish. Sid kindly came down to visit us at a time when the fishing was slow, he waved his magic wand and recast our rods for us. That's a fish he said as he cast Niall's rod, and sure enough it was, and a specimen at that as it weighed 14lb. Niall picked up another low double and then that night the fishing was very slow with only two runs going to Niall in the middle of the night, one that he missed and another being a small fish. So far all the fish were taking white, yellow and purple pop-ups.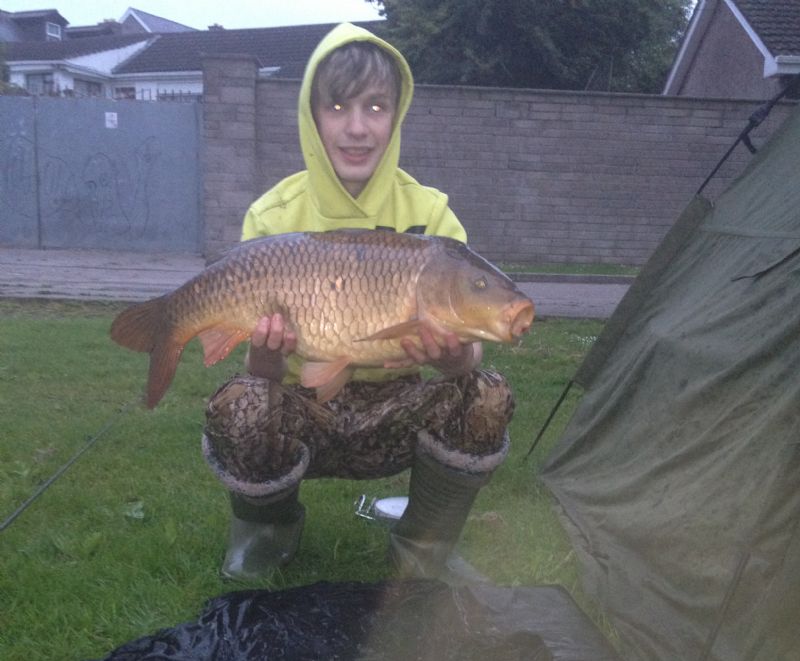 Feeling fresh at 5am the next morning after a good night's sleep I set off round the lake with a float rod to try a bit of stalking. It was a success! I spotted a beautiful Mirror Carp lying up at the very edge of the lake, I was able to identify it as an original fish with its very long body and the appearance of a real old warrior. I carefully lowered 2 grains of fake corn with a split shot to sink them to within millimetres of its mouth and then waited nervously. I saw her mouth move ever so slightly and watched the corn waft under her lip. I struck and set the hook. Unfortunately the fish was very lethargic perhaps after recently spawning and plodded away powerfully giving a fight that was solid but nowhere near its capabilities. I called over a passer-by to take one photograph for me and had her returned in a matter of seconds. Little did I know that this was the start of a good day for me. I crashed back in the bivvy for a sleep and was soon woken by a young lad that we had become friendly with over the trip. He was holding my left hand rod doubled over with a nice fish on the end. I was that tired I didn't hear the alarm so I let him bring the fish in and netted it for him. It was the nicest looking fish yet, a specimen Mirror Carp. My good deed was noticed by the carp gods as the next run went to me and was a beautiful 16lb common.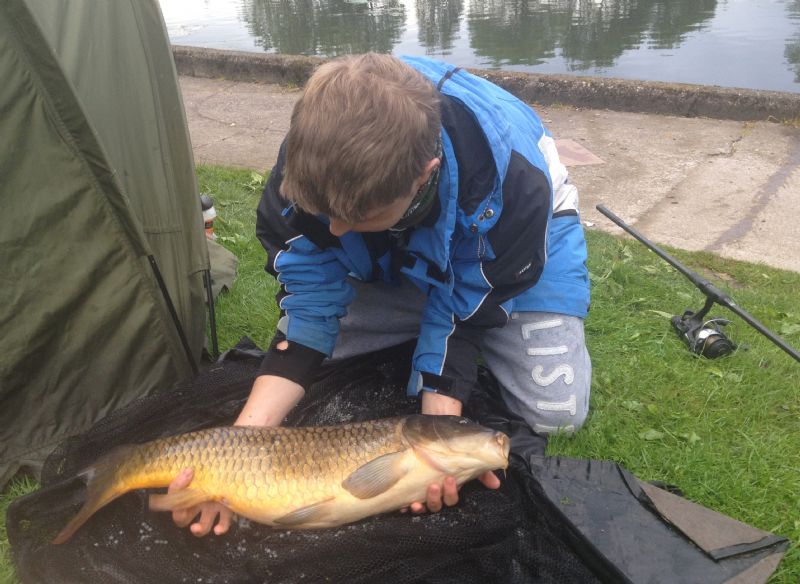 The rest of the day saw several more small carp, a 9.15 to Niall a decent fish to me and another 17lb to Niall. The last night came and we finished in real style. From getting interrupted by runs eating our chippy at 8pm the runs didn't stop until around 2.30am. To say we were wrecked was an understatement. Niall was like a zombie, two of his rods went at once at one stage. We had a fish each on the bank that night too at 9lb12 and 12lb. Eventually once we managed to get all of our rods back in the water the wind completely changed, we collapsed into the bivvies exhausted and woke up to torrential rain all morning. This was the end of our Carp adventure in Cork, can't wait until we get the chance of a return trip!
Back