The Shakespeare XPS Strikes Again
Terry's Travels
Put your money where your mouth is!
The Shakespeare Agility strikes again.
I recently received a phone call from an angler I hadn't heard from in a long time, and he was looking for some tackle advice. He had read a few of my "Pike on the Fly" blogs and it's fair to say, they had whet his appetite somewhat.
He wanted to give it a go.
The angler in question was Mark McGivern, of "Angling First" angling charity based in Dromore. I was a tad gobsmacked that he had hung up the Carp rods for now and wanted to do some real fishing (just kidding) but genuinely wanted some advice and tackle recommendations.
Of course, any regular readers will know, I've been raving on about the Agility range from Shakespeare for several seasons now. From fly rods to beach, spinning to drop shot, this range is fabulous quality at a sensible budget price. I had no hesitation in suggesting he should take a look at the Agility 2 XPS.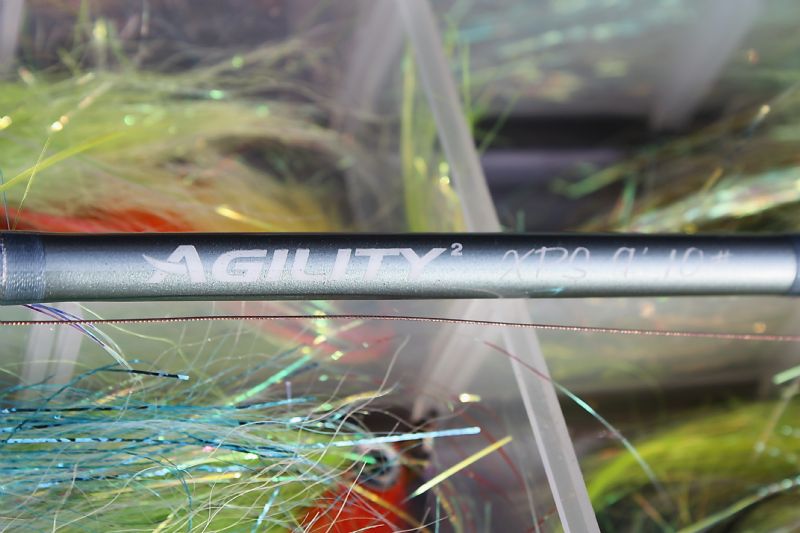 It is a nine foot four-piece travel version, very handy for transport or store in the boat cuddy etc. Although this rod comes with its own travel tube, there is a storage tube you can purchase with room for a reel attached, so I can leave the rod "set up and ready". It comes in two casting weights, and deciding between the eight-weight and the ten-weight, the latter is ideally suited to casting heavier flies and handling large Pike, as proved and can be seen on many occasions in previous blogs.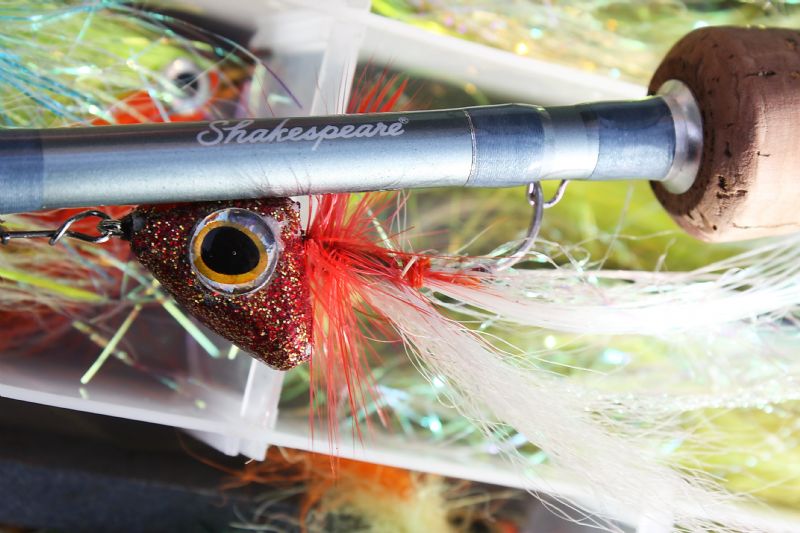 The XPS in question is light, powerful, extremely user-friendly when it comes to casting, and the best bit.....retails for under £70!! Its predecessors, the Atlantic and the original Agility were excellent wee rods receiving great reviews, and the Agility 2 version is even better. I said to Mark that not only do I thoroughly recommend the Agility, but if he purchased one, I would give him some practical pointers, casting instruction and maybe even a secret killer fly to use!
So, after our chat over the phone, and armed with a list of requirements, Mark headed to Jim's impressively stocked shop, "Lagan-side Tackle", Lisburn, who supplied the afore-mentioned rod, plus reel, line, backing line, leader, wire traces and any other bits and bobs needed to dip his toe into the "Pike on the Fly" discipline.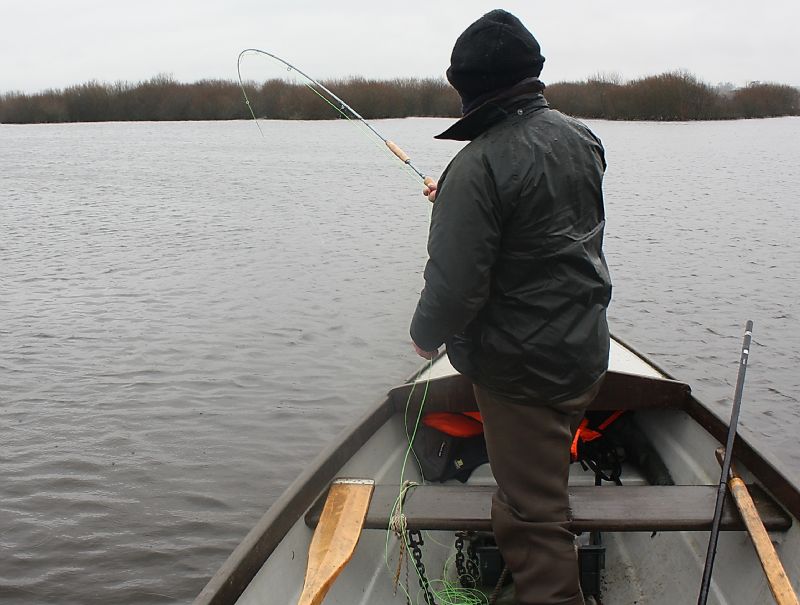 First "hit" of the day, the Agility XPS showing what its capable of
It was no surprise when a week or so later, we ended up on a local venue to put the gear, and Mark through their paces. The only downside to this particular adventure was dealing with the relentless storms currently tearing across Ireland, and we were slap in the middle of yet another! Extremely uncomfortable, but not quite dangerous, we persevered and managed to find some shelter and reasonably quiet waters here and there to cast a creation and see what was lurking below.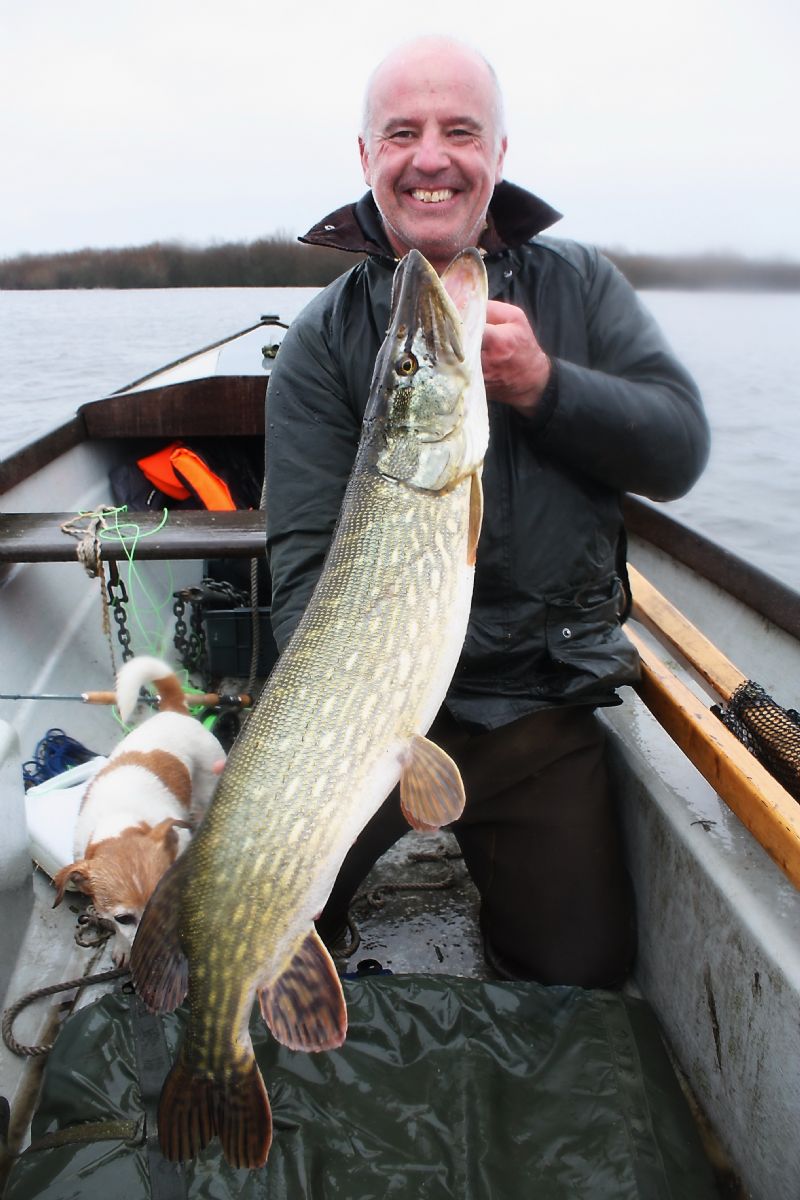 Setting the bar at a decent height, a fit eighteen pound personal best
A few words of advice and Mark was putting the fly out far enough to tempt a fish. The best advice for casting a Pike fly is learn to "double haul". "Hauling" speeds the line, compresses the rod effectively, and puts a large fly out reasonable distance with ease. With this method perfected, a large fly can be cast with only two or three false casts. Believe me, it makes life easy! Simple maths....a hundred casts in the day requiring eight false casts equals eight hundred, two false casts equals two hundred!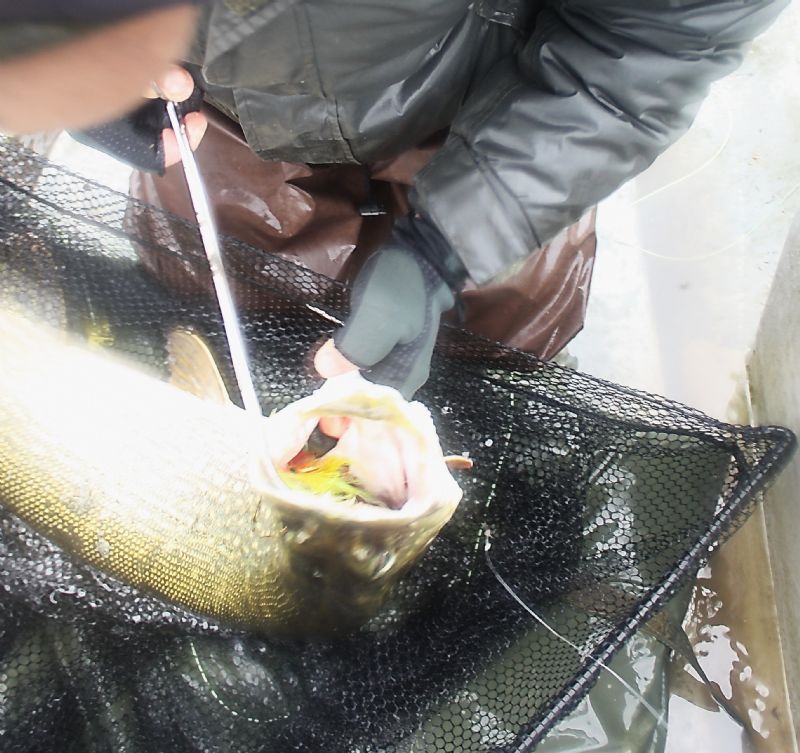 Safely in the net, and on a padded mat until the fish settles
Within a few minutes he was into a fish, third cast if I remember correctly, talk about beginners luck! Of course, I put it down to the expertise of the guide! I think he was more shocked than the Pike, and it seemed like a reasonable fish too. She put up a typical tough scrap on the balanced tackle, but was soon subdued and over the waiting net. Mark was stunned, and his first words were "what have I been doing all my life?" Followed by a permanent smile that lasted throughout the day!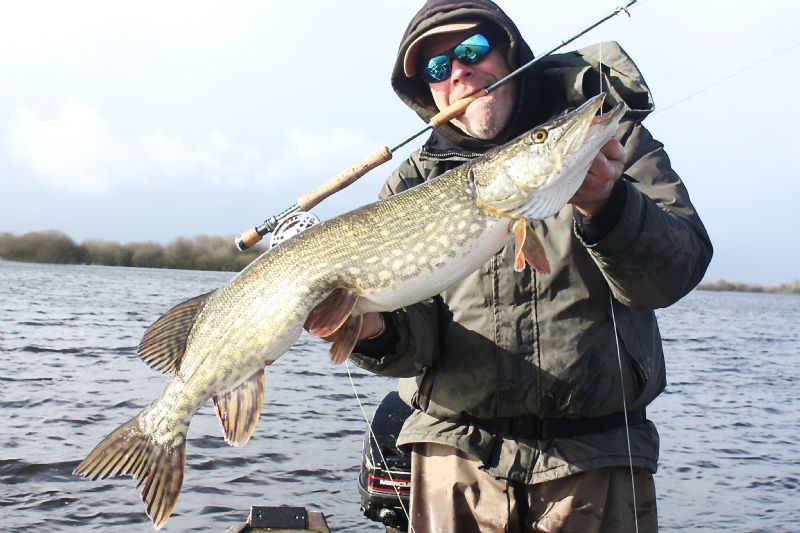 A mid double, enough to pump adrenaline and warm numb fingers on the coldest of days
Such is the effect of targeting Pike on the fly, it can quite easily blinker an angler and trap him forever, be warned! Quickly to the sling, she weighed eighteen pounds in old money, a lovely way for Mark to start a new angling direction!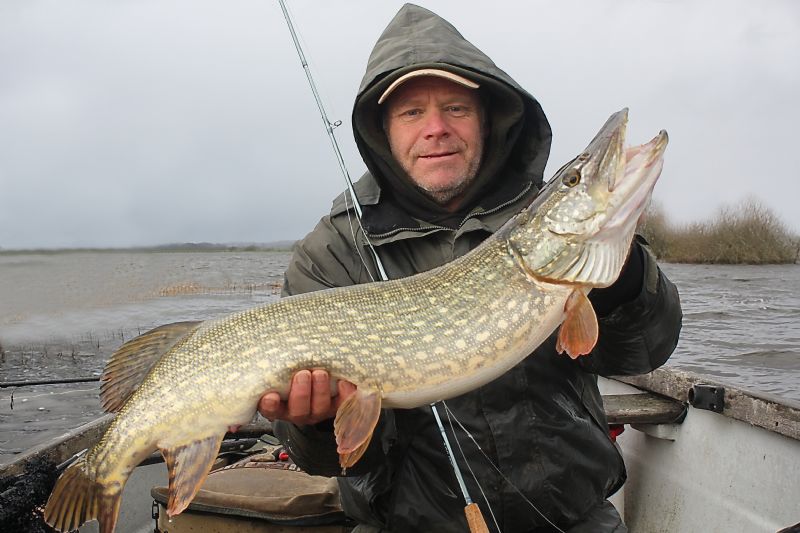 Another nice "double" as the weather starts to deteriorate
Breezes grew stronger. We managed to stay within the lee of the land to make casting a fly even remotely possible, but the weather was deteriorating rapidly. The day would be short it seemed. Despite that, I hit my first fish, soon followed by another. Three fish landed and so far, all doubles.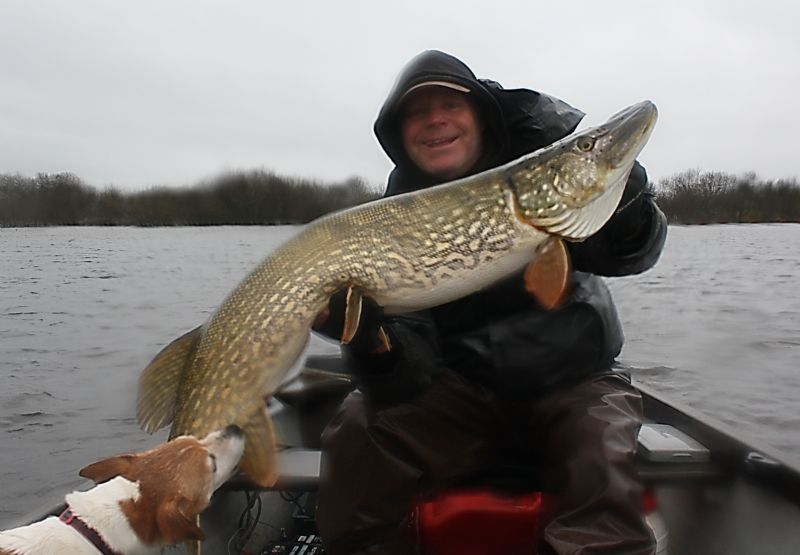 A cracking twenty, apologies for the poor photo quality. Skips developing a taste for Pike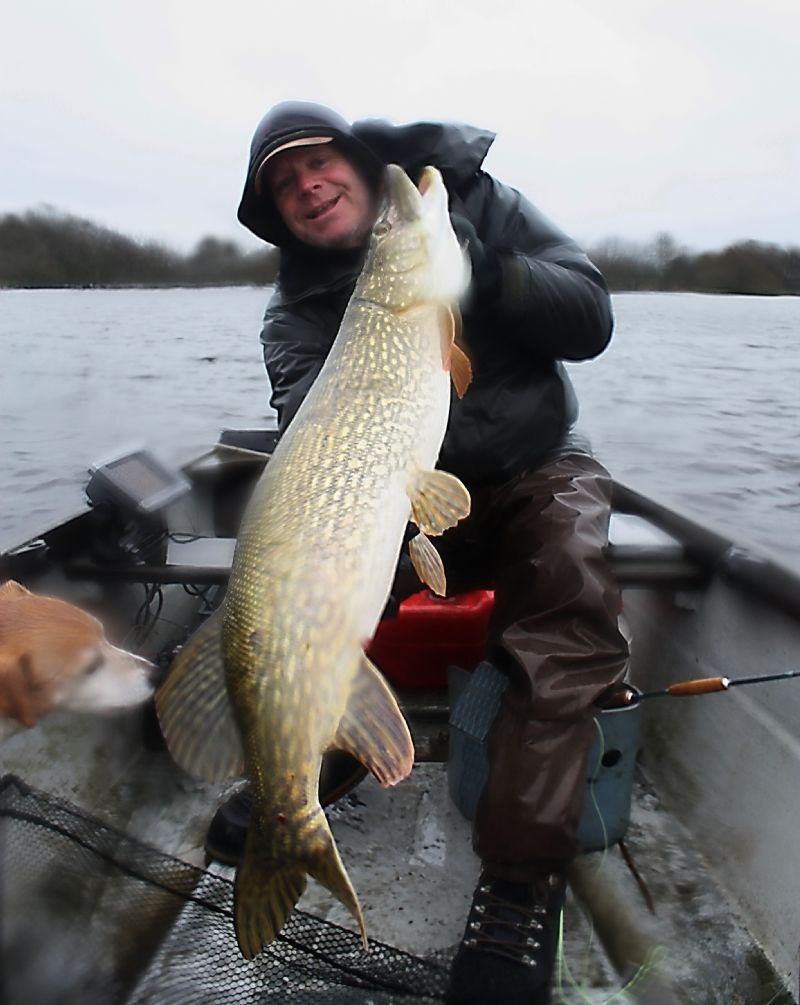 Luckily enough, the wintery breezes spared us for most of the day, and we rattled up an impressive seventeen fish between us, before she increased and swung West offering no shelter whatsoever, and with a distinct drop in temperature, the drizzle soon became a snowy blizzard.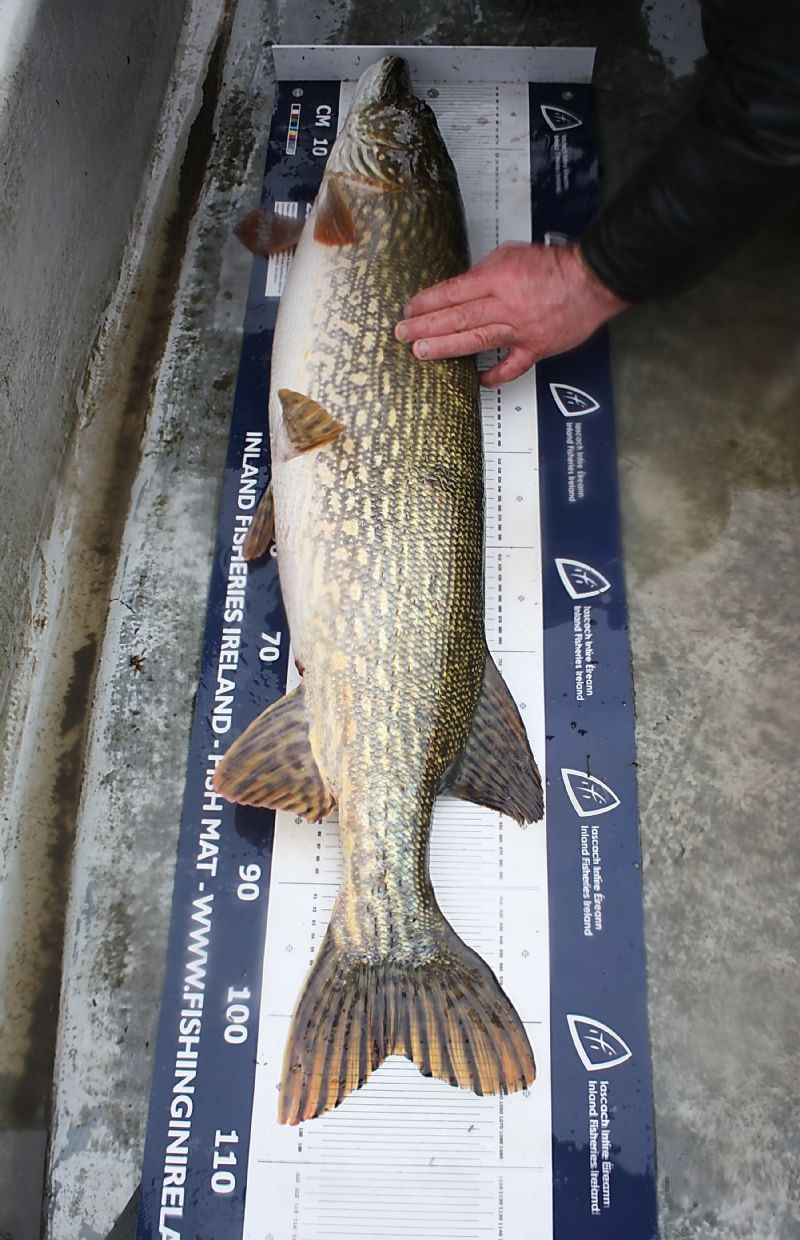 The Inland Fisheries Ireland mats for fast accurate measurement if required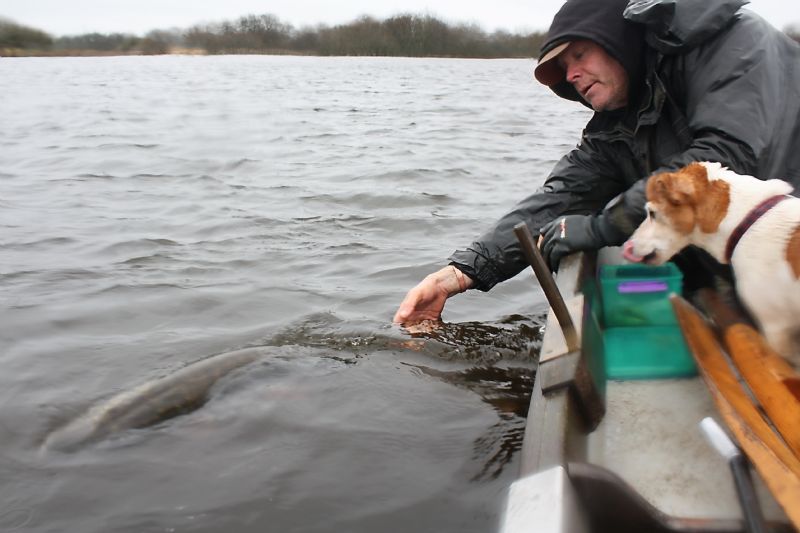 And safe release, hope to see you again
Having a final few casts before getting the heck out of there, I latched into something a little more solid. It is always interesting when you hook a larger fish that seems simply unconcerned! It's almost like she shrugs her shoulders and says, so what, is that all you've got!
But the Agility is deceiving in its power, not only for hook-ups but also if a little bullying is required. Second time to the net and she was safely over the lip. What a fine fish and no better way to get the adrenaline surging once again, and warm the ice-cold fingertips. Tipping the scales at twenty two pounds, what a fantastic fish to end the tough day. Apologies for the poor quality of some of the photographs, storm Dennis was relentless with gales, rain and sleet. Uncomfortable, but not beaten!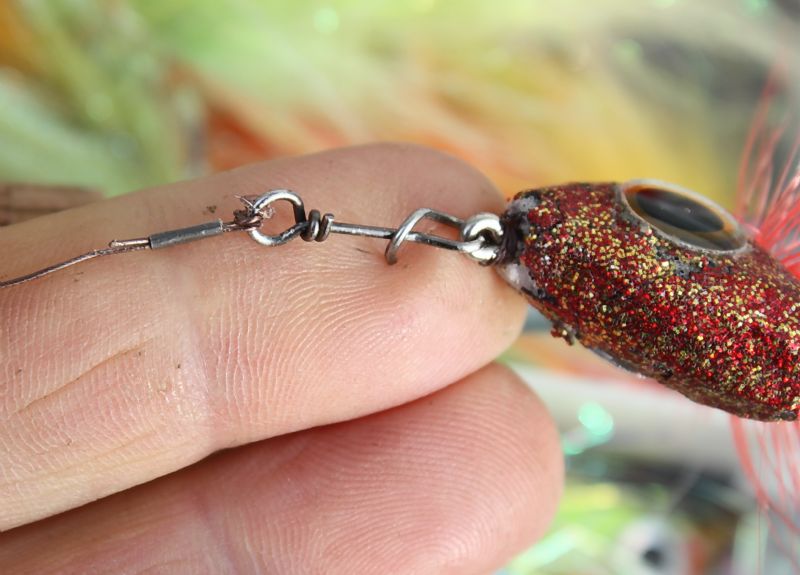 These Fastach Clips from Mustad are excellent for presentation and strength. Florian of "Fishing Tackle Ireland" down in County Clare introduced me to them
Check out your local tackle shops for the Agility Pike Fly Rods and tackle range.
More info..
Shakespeare Agility 2 XPS Fly Rod 9ft 10
Mustad Fastach Clip Fishing Terminal Tackle (12 Pack), Black, Size 2
Snowbee Lightweight Anti-Crack Hard Plastic Fly Line Stripping Basket with Adjustable Webbing Waist Belt - Grey, One Size
Previous blogs on the Agility XPS
http://www.angling-ireland.com/pure_pike_adrenaline
http://www.angling-ireland.com/shakespeare_agility_2_xps_9_10
http://www.angling-ireland.com/shakespeare_agility_96_ten_weight
Back