Thornback Ray in Loch Leven by Peter Foster
Thornback Ray – Loch Leven
By Peter Foster
Throughout the winter months in Scotland, the angling action centres around the East Coast cod run and if we are very lucky, some monster gut bucket action from the Solway Firth and not a lot else - unless you head for the deep water sea lochs of the western coast to seek out some thornback action.
One place that springs to mind is the stunningly scenic Loch Leven. Such is the majesty of this place, right in heart of Glen Coe, that if the fishing is poor or even, heaven forbid, we suffer a blank, the surroundings more then compensate.
The expedition was to be a four-man affair to a "secret" mark known and used regularly by one of the top rods from the International stable but we ended up a two man band when one guy's wife was rushed into hospital the day before the off (what some girls do to keep their men at home), and the top rod who was to take us to the mark, decided to pull out.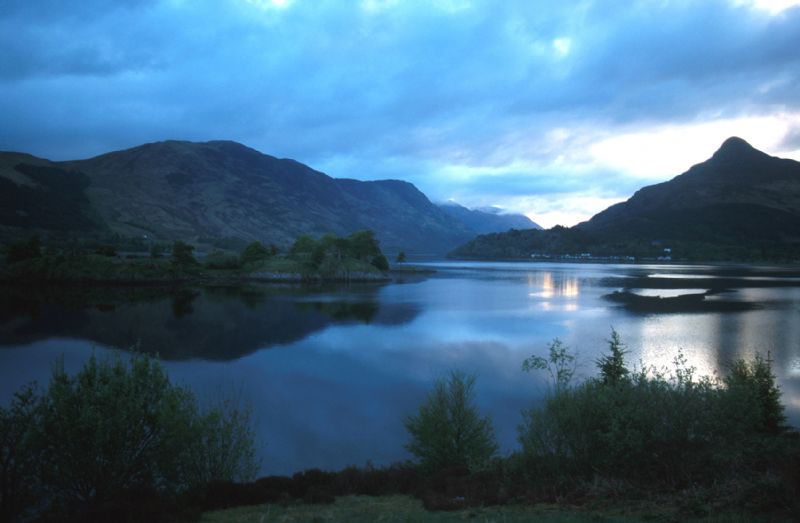 First light on Loch Leven
With everything ready to go and a good chance of pulling a few ray, there was no way that this opportunity to get up in the "High Country" was going to get away so fishing buddy Lindsay Wilson and I headed for a favourite mark on Leven, the far bank to the right of the salmon farm stopping off along the way to get some stunning snaps of dawn coming up over Loch Leven.
Diplomatic Approach
This stretch was zoned and pegged in last year's Home Nations, it didn't let the cream of the crop down then, and we hoped it wouldn't let us down now. Access is through the entrance to the salmon farm along to the right but it doesn't do to plough through mob handed, these are business premises and as such, the workers are a little sensitive when it comes to the safe keeping of their salmon. The diplomatic approach asking if we could use the access to reach the ray grounds paid dividends. Keeping to the shore for about a hundred yards until we were clear of the farm put us onto a pebble beach and ahead of us, our destination, the large "open plan" rock platforms.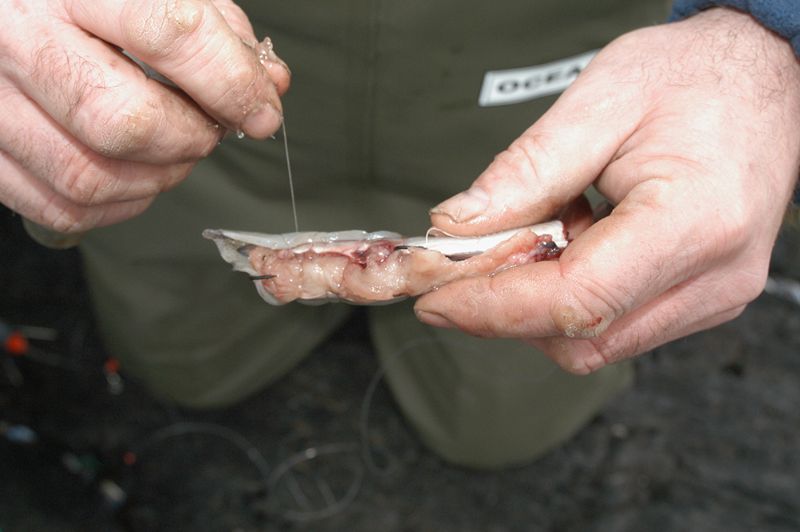 Mackerel and sandeel cocktail, secured with elastic thread
This area gives a great, solid base to set up camp. Fishing Leven invariably puts you into very deep water with a shelf fairly close in that will give rise to problems if you use light gear. Itching to get into the fish, we set up with a simple up and over 1/0 pennel rig with fish baits, either sandeel or mackerel or both as a cocktail. A 30lb mainline to a 60lb leader is essential to combat the shelf. Rod choice isn't too much of a problem and can come down to personal preference, for my part I used a couple of Zzippy's with 525 mags.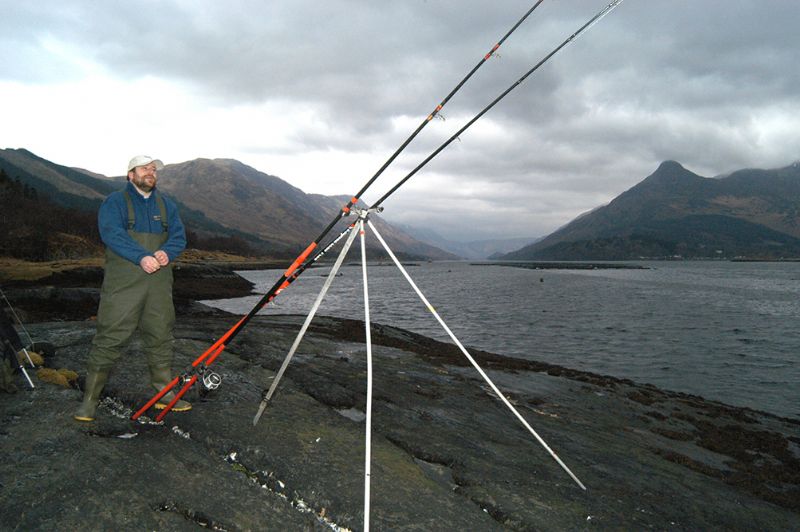 A stunning back-drop whilst waiting for a nod on the rod-tip
Lindsay hit a fish 10 minutes into the session, not a monster at a shade over 3lb but who cares, a fish first up will do whatever the size. I followed suit with a ray of my own on the first cast and all was well with the world.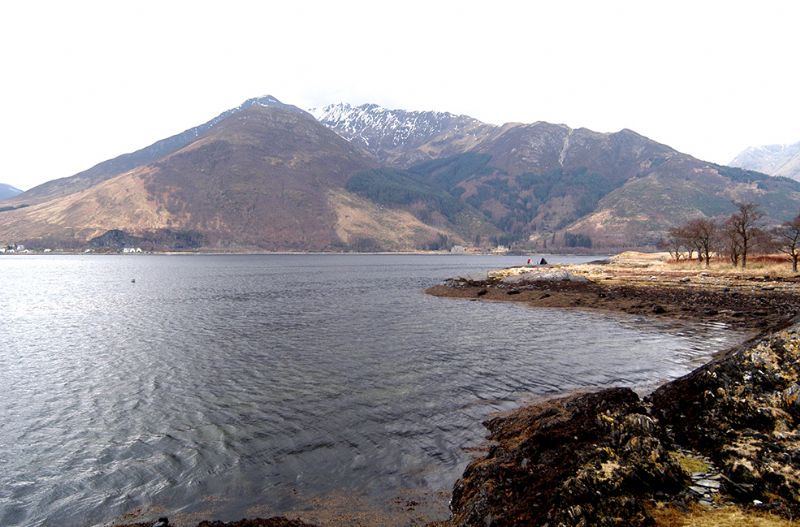 Stunning Loch Leven, you would be forgiven for thinking it was the shores of Mask here in Ireland
The Rod Tip Nodded and Dipped
The weather forecast wasn't too good, grey leaden skies, high winds and the promise of torrential rain reaching the region sometime during the afternoon, hopefully we would be able to have a good day and get away before it arrived.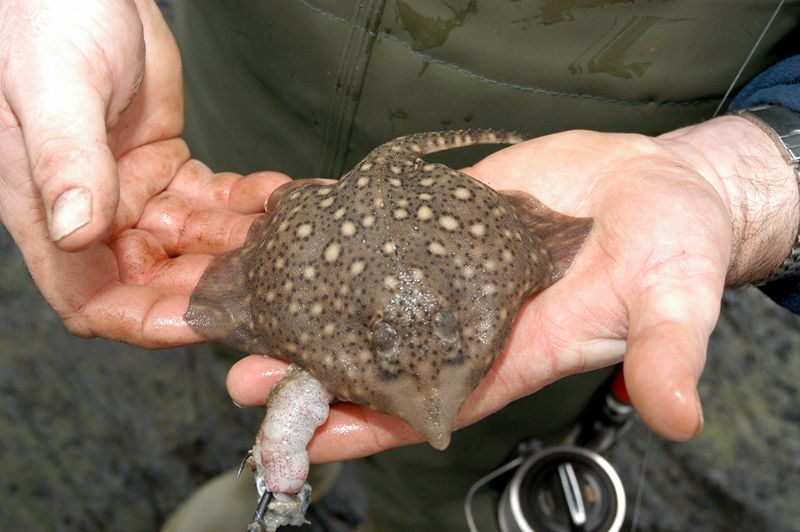 They don't come much smaller than this on rod and line!
For the next couple of hours, with our backs to the wind, we had thornback on a regular basis, all small fish with the best falling to Lindsay at around 4lb plus a very small one that in all reality didn't seem old enough to be out on it's own but was quite happy to show off in the palm of your hand. At the bottom of the tide things slowed down to a standstill and the wind began to pick up. Baits were changed on a regular basis but for some reason the fish stayed away which was a little strange because the start of the flood can usually be relied on to bring them back to the feed after slack water.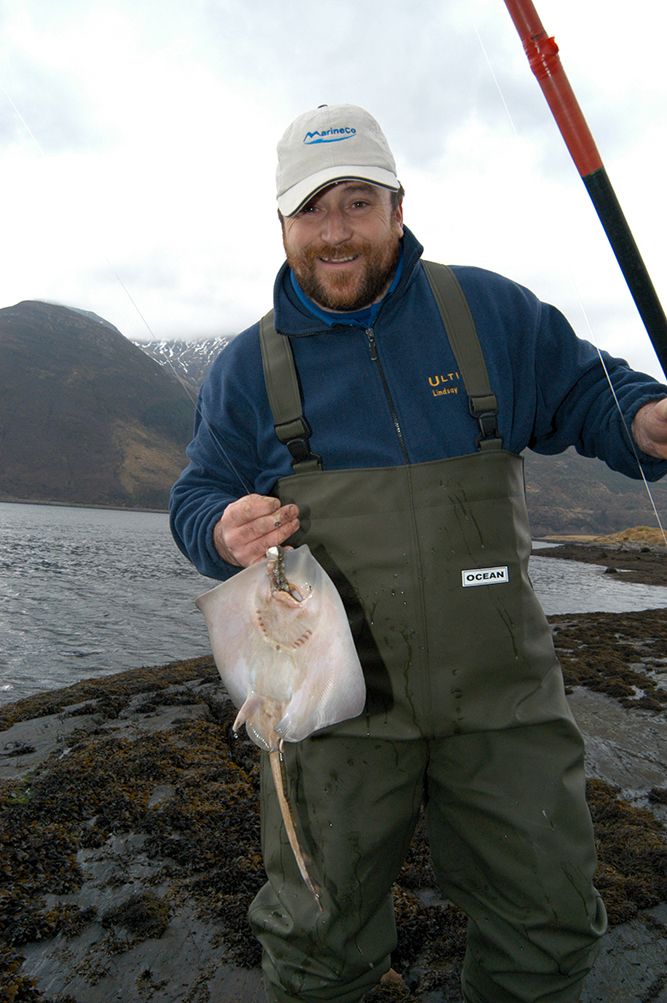 Lindsay with a typical "Thornie" from the session
After a couple of fishless hours, the latest bait change, half a sandeel and fillet of mackerel seemed to do the trick, the rod tip nodded and dipped against the rhythm of the wind, winding down followed by a long sweeping strike resulted in a satisfyingly heavy weight on the end. Easily the best of the day but this fish wasn't for coming in, it chose to stay deep and by doing so, found a couple of snags. The first one wasn't too bad, it felt like a kelp bed and the fish could be pulled through in a fashion but then all went solid. After trying constant pressure and then flicking the reel into free spool, nothing happened and 20 minutes later I was forced to pull for a break. There has always been this feeling that Leven could be capable of producing a record sized fish, granted there are masses of small ones around with a few showing up into double figures but the depth and inaccessibility of vast areas of this water coupled with the high protein food that finds it's way into the system via the fish farm feeders, let my imagination go into overdrive. I will probably never come close to nicking a 20lb plus fish but isn't it great to think "maybe this cast".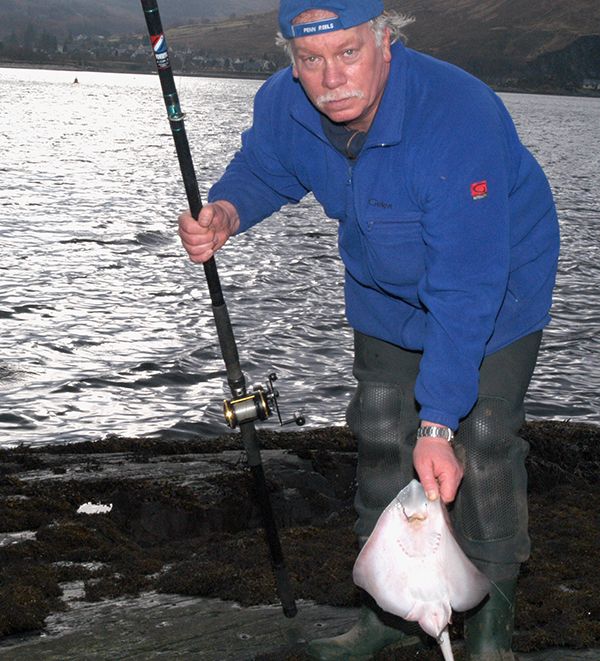 Peter, with a small Ray, soon released
No Monsters
We gave it another half an hour before we decided on a move. Retracing our steps, we settled on the stony beach about 80 yards away from the salmon nets. We were straight into the fish again but the shelf made life difficult, with both of us losing gear but it was worth it to be catching again. The stamp of the fish seemed to be fairly uniform, all in the 3-4lb class, again no monsters but 2lb or 20lb, it's still a fish and that's what we all love to catch.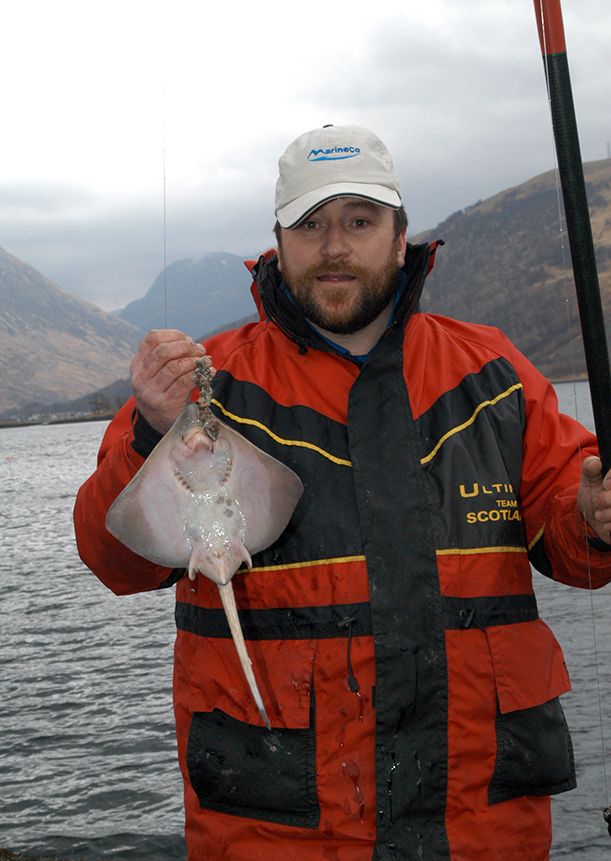 With the onset of the rain a little before 5pm, we decided to call it a day and head off home and the start of a four and a half hour drive. On the face of it, not a bad days fishing at all, around a dozen ray for both of us made up for the appalling weather and once again, the breathtaking scenery which this time round was a little miserable, was once again a sight worth seeing that would make any trip worthwhile.
Careful catch and release, always preferred practice with our stocks so low
Back