Three-Bearded Rockling, In pursuit of a new species
In pursuit of a new species
As we struggled through the depths of winter last year, I decided to set my sights on a new target species at or above specimen weight.
As a dedicated specimen hunter for all Irish fish species, this would offer the challenge of a complete change in tact, methodology and approach.
By applying a "reasonably new" technique, generally known these days as "light-rock fishing" or LRF, I could scale down the tackle requirements necessary to target smaller species. I say "reasonably new" because targeting shore species on light tackle has been going on for years, and it can be extremely good fun. However, I personally feel that it has recently grown in popularity mainly because many of our larger species are now so thin on the ground that the smaller species are all that is left on many venues!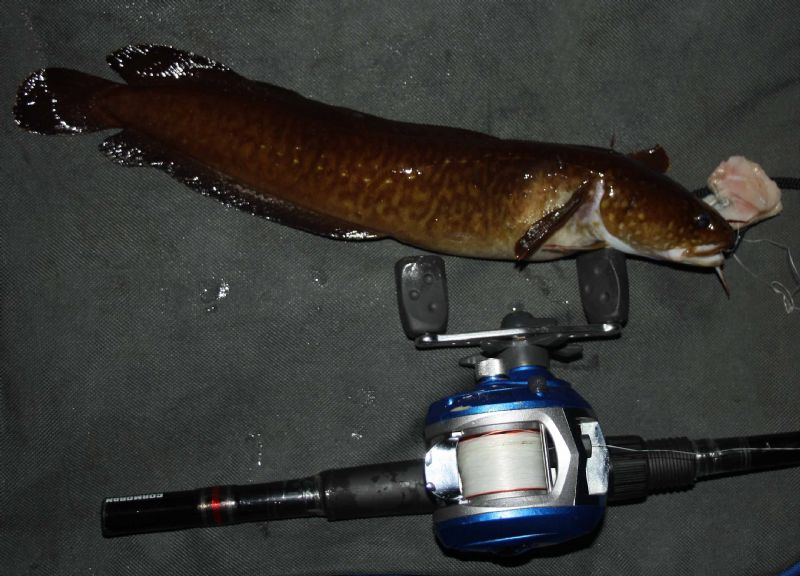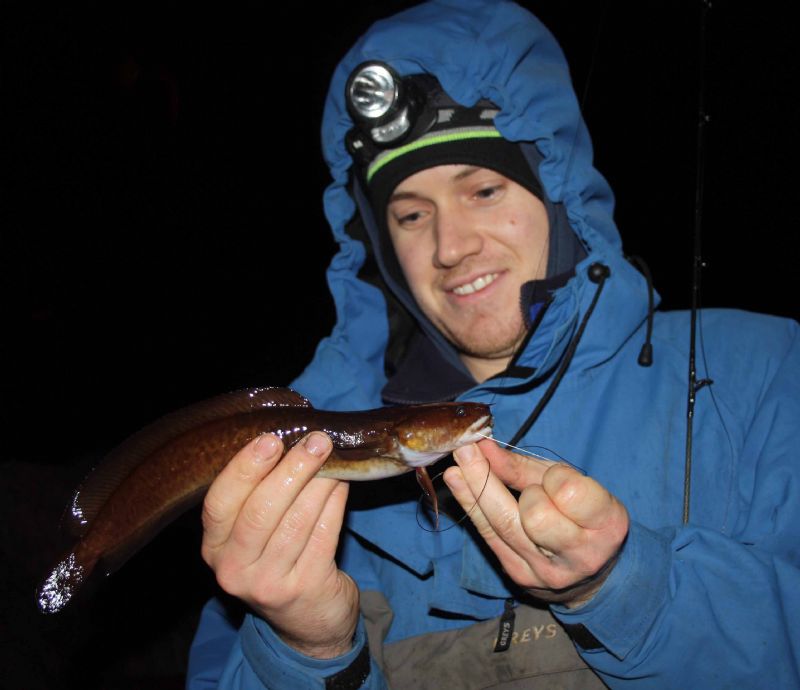 My new target species is the Three-Bearded Rockling. The smaller varieties are extremely common around most shore marks, particularly rough-ground venues containing boulders, kelp-beds and "reefy" areas, also affectionately known as "tackle grave yards!" Although Rockling can be targeted over sand to some extent, it must border rough or broken ground where you can draw this species out from its natural habitat. Man-made structures such as piers, break-waters and sea-defences are excellent places to begin the hunt.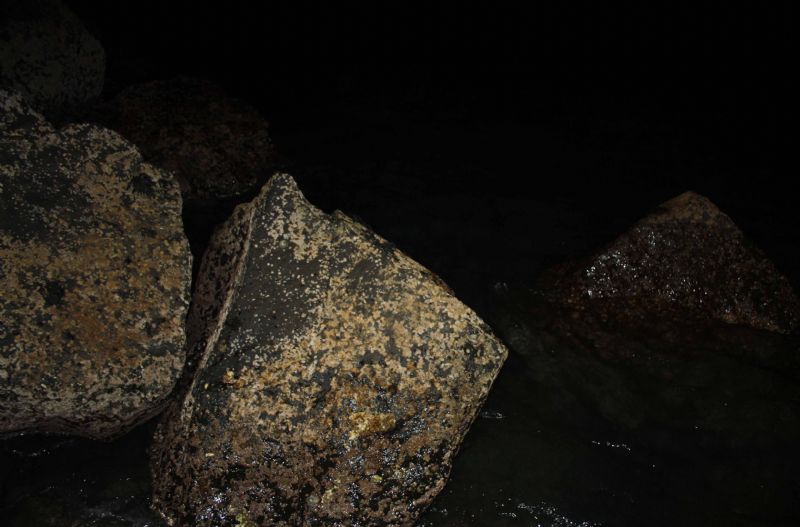 The gaps between rock and boulder are typical Rockling haunts
It is always a good idea to have company when clambering over rocks and weed on a dark wintery night, health and safety are priority. On these occasions I was joined by my brother Mark and my angling buddy, Andrew Wolsey. I had previously picked a few likely-looking shore marks and surveyed the areas during the day at low water. This gave a great insight into the lay-out of the sea bed, and you could almost imagine these mini-predators holding up in ambush areas ahead of gullies or behind a strategic weed-covered boulder! It also gave the opportunity to scan the area for possible "snags", identifying gullies and marks where tackle losses will be at a minimum.
Satisfied that my low water hide-outs were potential Rockling marks over a high water night session, I began a pre-baiting regime to give maximum chance of success. I have yet to meet a fishy predator that is not drawn in and eventually fooled by the scent of finely chopped Mackerel, oil and bran! Our first few sorties were reasonably successful, finding Pouting, Whiting, Coalfish and fantastically camouflaged Scorpion fish, with numerous mini-Rockling up to twelve ounces or so, but we needed monster versions to break the 1lb 12oz specimen barrier. Try as we might, the larger beast's eluded capture.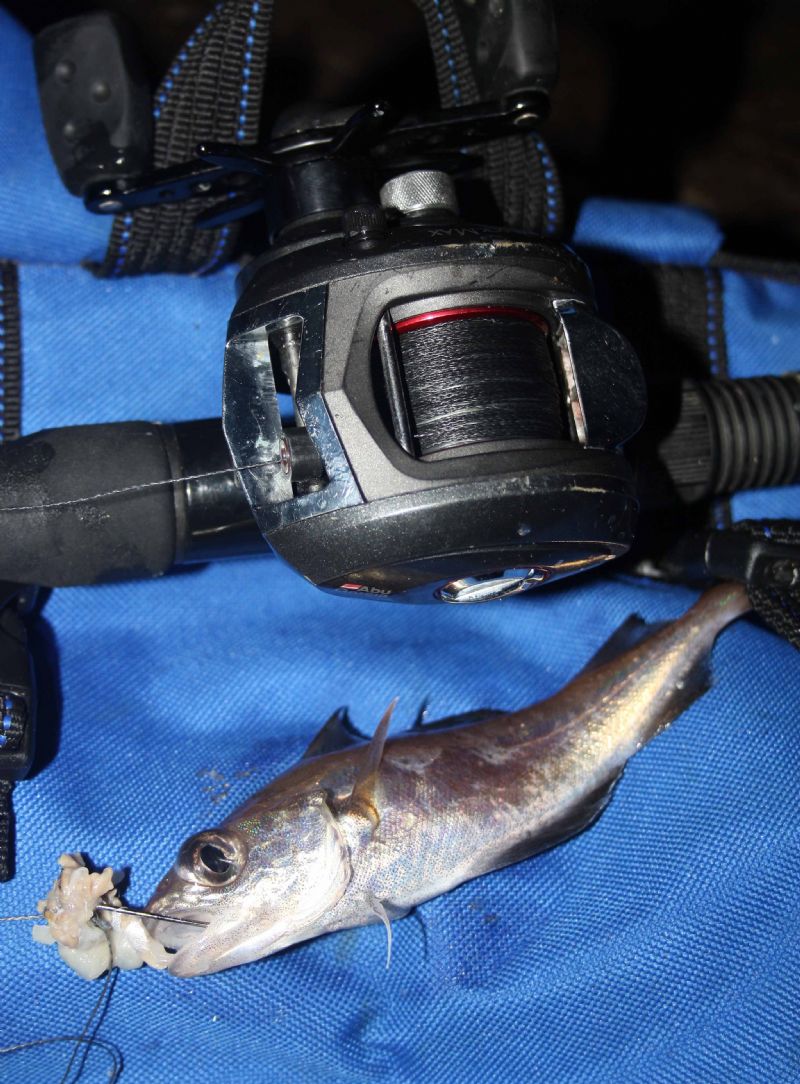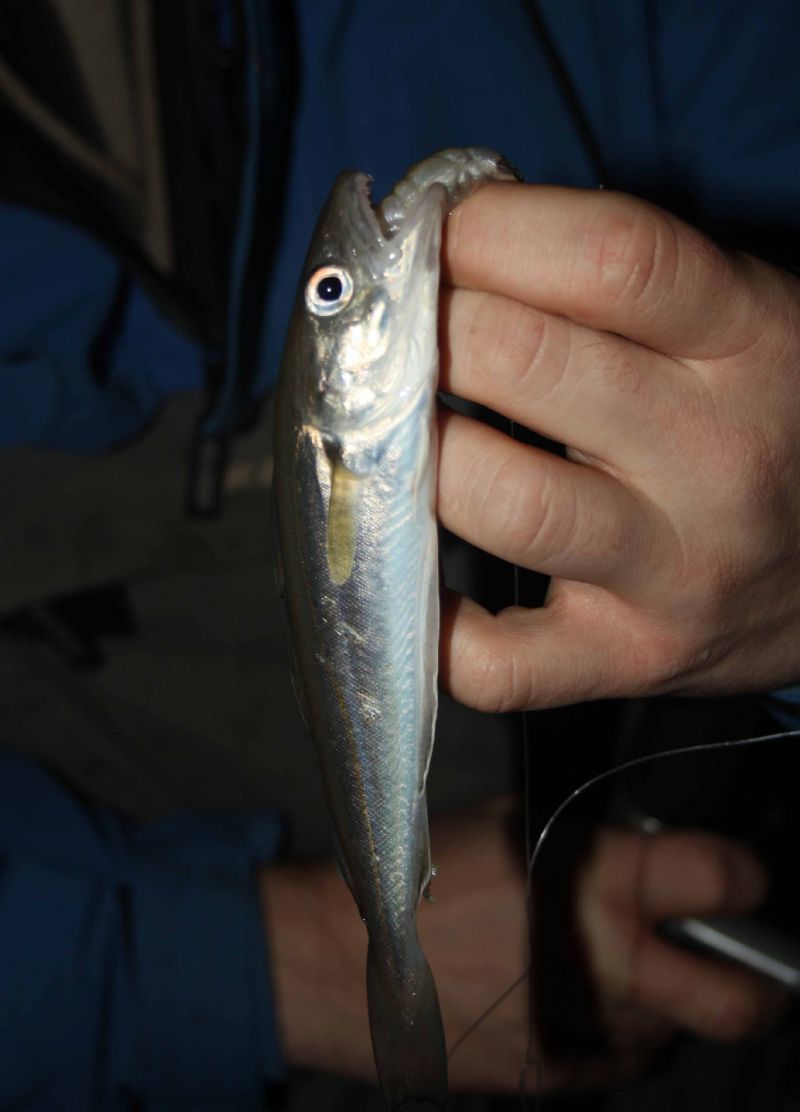 After four sessions, and with my confidence dented somewhat, I made a call to Davy Murdoch, fellow specimen hunter and previous catcher of large Rockling! From his generous information, I could see that we were on the right track, and just required a little more patience and persistence. Davy put my mind at ease that the approach I was following was correct, and with fresh confidence, I vowed to continue the quest. The following week, and chancing a trip on my own, (my angling buddies were busy), I hooked into a huge Rockling that was not only above specimen size, it stood a chance of nudging the Irish Record! As it neared the landing net, it spat my baited hook back at me and calmly turned, cruising to the safety of the kelp beds and boulders below! My heart sank, it has to be said. However, even with failure there is always some light to be found at the end of the tunnel. I had tempted and almost landed a huge Rockling. They were there, and I was definitely on the right track. With this much-needed adrenaline shot, I persevered into the night.
An hour or so later, I took a strange bite, almost a gentle pull. Slowly lifting the bait to the surface, a white glow followed it up some way, before returning to the depths. I thought it may have been an edible crab, but couldn't quite make it out in the poor light. This occurred several times before a positive thump bent my home-made LRF rod over in a steady arc. "Maybe a small Conger?" I thought, but was amazed to see a squat, bulbous little black fish break the surface. Its cream-coloured cavernous mouth was the white glow I had seen in the dark, following the bait to the surface! There was no mistaking; I had found and caught my first Tadpole Fish! Fair enough, not a Rockling on this occasion, but this was a new species for me, and definitely an exciting bonus catch to my list of species. After checking on-line later, my Tadpole Fish was amongst the top ten heaviest ever recorded throughout Europe. Not a bad result, pity they weren't included on the Irish species list!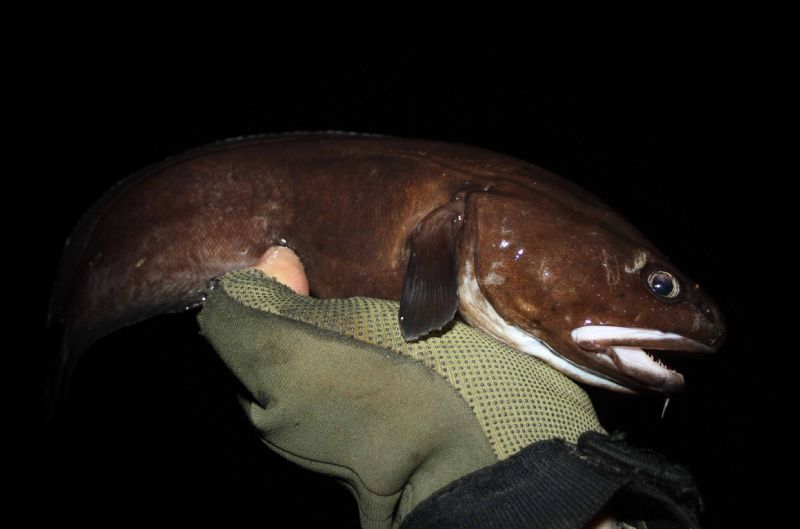 Tadpole Fish, fabulous looking mini-predator
The following night brought with it a violent, on-shore storm, and a shore session was definitely out of the question. I could only imagine where my lost Rockling was now hiding, was it still in the same spot, or had its previous encounter with me forced it to move on? Hopefully it hadn't become a snack for an otter or Conger, or ended up in a Lobster pot!
Once the storm had subsided later in the week, it was time for another attempt and my brother Mark joined me on this mini-species session. We fished the same gullies that had been religiously pre-baited on each visit. Smaller Rockling showed well, always capable of devouring a mouthful of bait designed for much larger quarry. As we chatted about calling it quits for another night, a "last cast" drop in a gulley between several huge boulders produced a violent "take" and an exciting struggle for my home-made quiver-tip rod. In the glare of the head-lamp, I safely netted a sizeable Rockling. This was no-where near the previous lost monster, but definitely worth weighing. She nudged the needle a millimetre over the 1lb 12oz mark on the scales, and I was absolutely delighted to land species number thirty-three over specimen weight.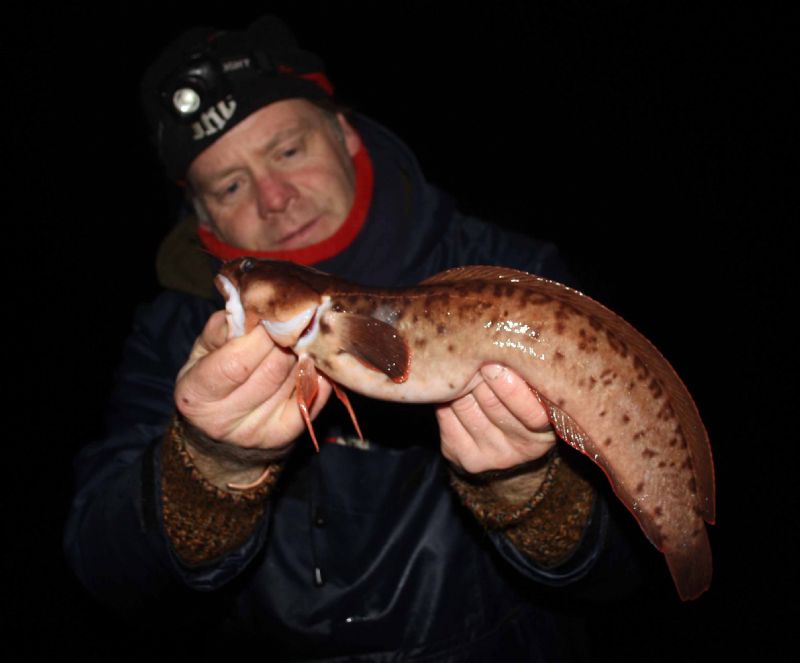 Challenge met! A specimen sized Rockling
Several further night sessions proved fruitless, and Andrew and I decided to fall back on another venue that we had quietly pre-baited. This time it was Andy's shot at glory, when he dropped into a deep gulley and hooked into a fish that ripped line from the reel. Can mini-species actually do that? Absolutely, these larger Rockling are surprisingly powerful. I slipped the net under a stunning, almost "fire-tiger" specimen that pushed the scales past the 2lb 8oz mark. What a fantastic fish, the second pre-baited hot-spot really paid dividends. I don't think I have seen Andy smile as much since his brace of 10lb Bream last year!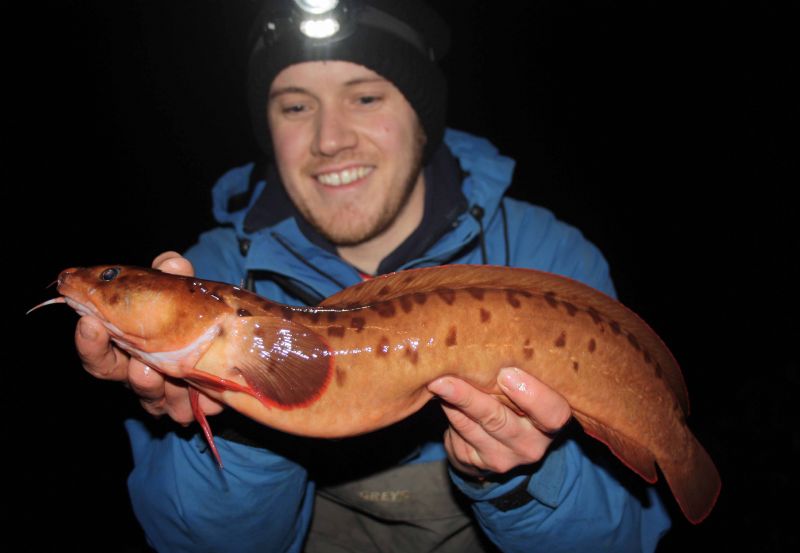 Stunning colours, almost fire-tiger
With a quick photo-shoot, this stunning creature was safely returned to its habitat. Our approach and tactics were spot on, and before we had the chance to fully bask in the glory, Andy was into another large fish. I just managed to safely slip the net under this specimen when the hook fell out. It's always nice when lady-luck smiles down on a fishing trip! This stunning Rockling was really "chunky" with a massive head, and the scales pushed round even further than with the previous fish! Just a couple of ounces shy of the three-pound barrier, our new mark was definitely producing the goods.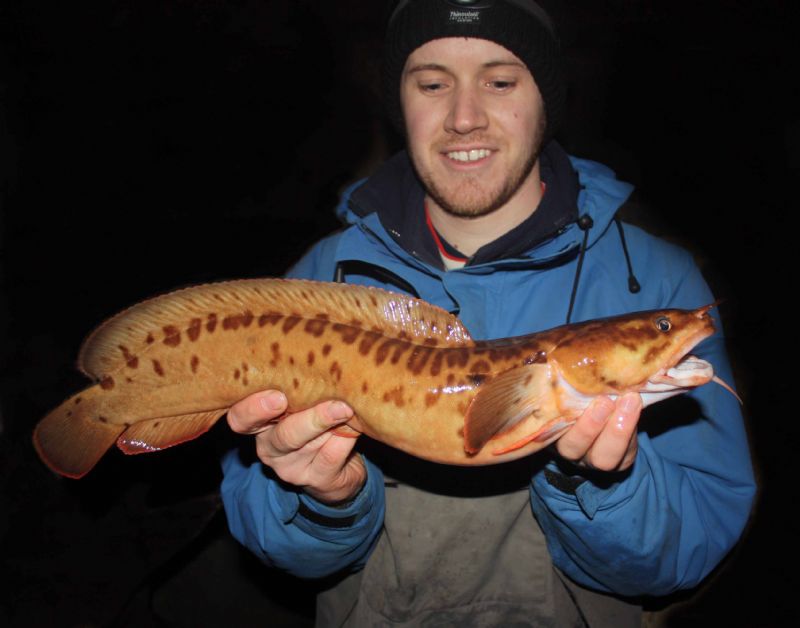 A second specimen within minutes!
Over the next few weeks, weather conditions deteriorated and hopping about slippery weed-covered rocks was just not worth the risk. Under these conditions, we were prevented from a return trip to the new mark, I'm sad to say, but there are always other venues to explore and species to seek. By the time the storms had sub-sided, the sea temperatures had risen slightly with the arrival of the New Year, and we decided to let the venues rest for now. Hopefully towards the end of 2014, we will have another chance at chasing this small, but extremely addictive mini-species.
It appears that these larger Rockling prefer the colder winter temperatures, and move in-shore, targeting shallow areas to feed, sometimes only feet from the shore. As the sea temperatures slowly rise over the first few months of the year, they migrate to deeper, off-shore marks. With this in mind, it is through the winter months that the shore angler stands a greater chance of running into this spectacular species.
Tackle
The nature of the habitat determines the tackle requirements. I built a couple of rods from old broken rods, one was a salmon rod, shortened with a reel seat and quiver tip added, the other was the top section of a very old Shakespeare "Ugly Stik" spinning rod, rings re-positioned and a real seat added. This is a nice set-up as it is practically un-breakable should a larger fish show up. I used small Abu bait-caster reels loaded with 50lb braid. The reason to keep the rod short, three/four feet, is simply to be able to drop a baited hook between boulders and gullies at your feet, a little bit like ice-fishing in some respects. Longer rods can be un-wieldy and awkward. some of the kayak rods look suitable.
A single snood swivel was trapped on the braid between float stops and a simple clip attached to the bottom for the weight. If the hook catches on a "snag", the float stops will slip, and on most occasions, the hook will free itself. A 20lb b/s snood and a 10lb b/s weak-link to the lead meant that the main-line always remained in-tact. It is a simple task to re-tie a snood or add another lead. Specimen Rockling have a huge mouth, so bait was kept large to put off smaller fish, and whipped in place with bait elastic on size 1-1/0 hook, mainly to stop nuisance crabs stripping the hook too quick.
Cheap home-made "sacrificial" lead weights
I made a few "sacrificial" lead weights, using one half of a 2oz lead-mould. With a weak-link of nylon between clip and lead, it was simple to "snap" it off and attach a new one, should it become caught on an underwater obstruction. Using these procedures allows more angling time and less on-site rig-construction, important when the angling window of opportunity can be narrow when fishing over particular states of the tide.
Bait
At this time of year (winter), fresh bait is scarce. We relied upon previously frozen Mackerel supplies. However, a trip to the local supermarket found plenty of fresh Spratt. These went down particularly well. I took little fillets off the Spratt and stored them in salt to preserve them throughout the winter months. Calamari Squid produced little, which surprised me, but the handful of frozen peeler crab that we had in reserve were eagerly attacked by the smaller Shore Rockling.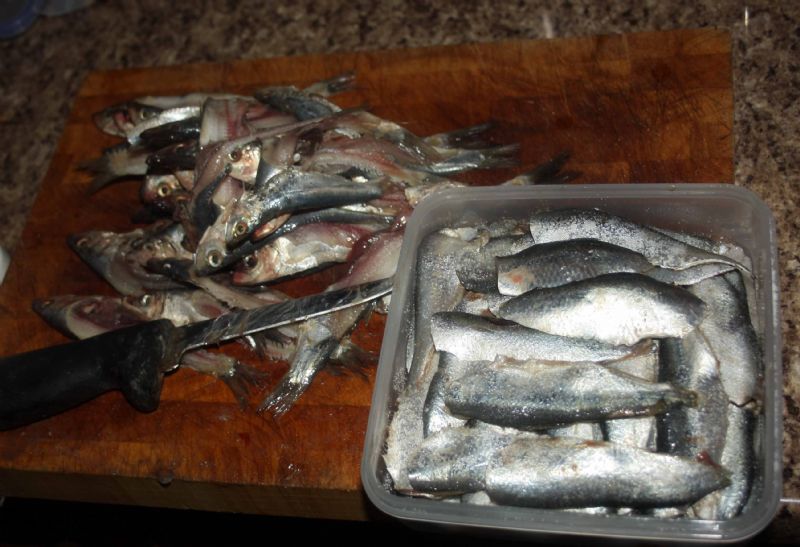 Large Rockling are voracious predators. If you are not adverse to using live-bait, I am sure there are a multitude of options to try. Small Blennies, Butterfish, Gobies, Pipe-fish, Prawns and Scorpion Fish are all favourite delicacies on the Rockling's menu.
Back