Ticking_the_specimen_box
Terry's Travels
Help a buddy out!
Ross Macklin wanted a new specimen to target, to tick another box in the specimen hunters category, it's nice to be nice.
With my boat purged of winter algae, battery fully charged, functioning electronics and serviced engine running sweet, I contemplated my next saltwater adventure. A timely call from my good angling bud, Ross Macklin set the wheels in motion once again. Ross explained he would be attending a conference in Dundalk, and could travel on up to my neck' o the woods for a day on the water, if weather, tides and work commitments suited. Work commitments?....... On the work versus fishing balancing scales, work rarely wins the battle I'm afraid. You're a long time dead!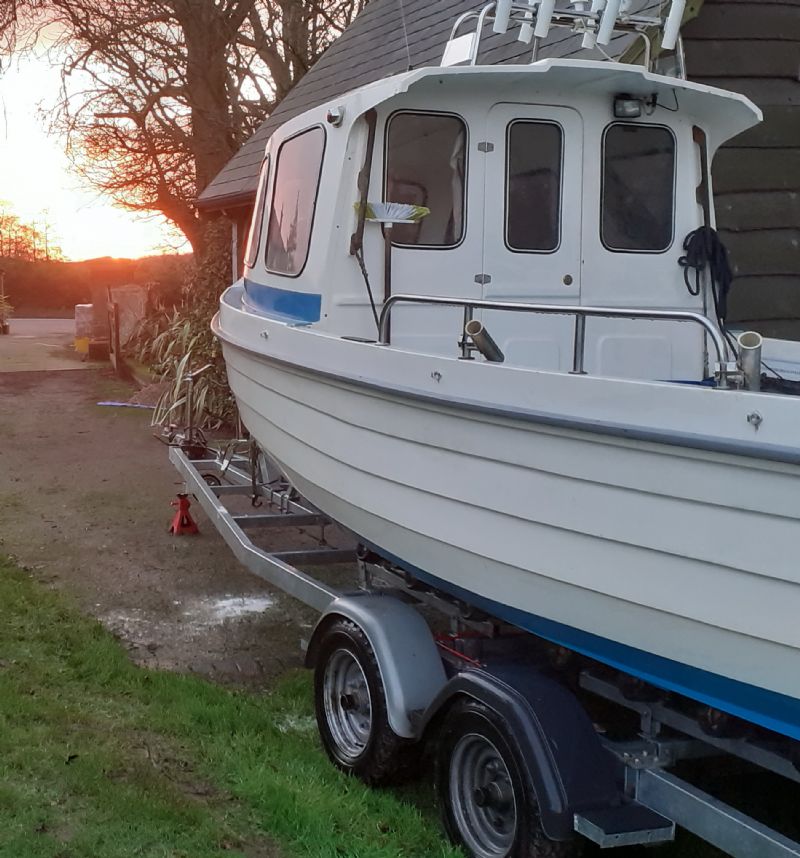 Ready to go....but where to go?
There are a few Irish species over specimen weight that Ross is currently seeking, to "tick the box" so to speak, and I can probably help with some, Common Skate and Spurdog would be two at this time of year. So we geared the tackle, the bait and the mentality towards these in the hope of finding one or maybe both.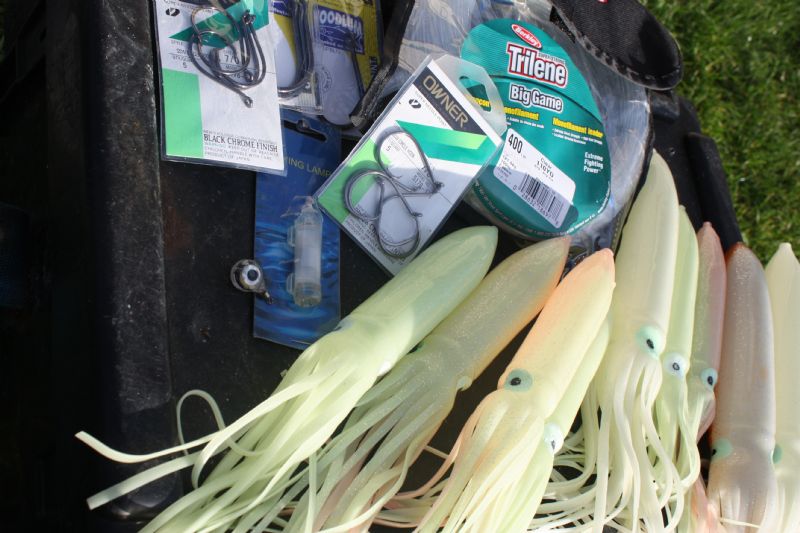 Glow in the dark attractors, flashing lights, dont seem to do any harm. Quality hooks and line are a must!
Unusually for our standard Irish Winter, weather conditions were perfect with light westerlies, and although tides were a little strong, it was certainly worth a shot. Ross made it to mine late in the evening for a bowl of home-made stew, a glass of red and a nights rest, then up first thing and on the road, to hitch the boat and head for harbour.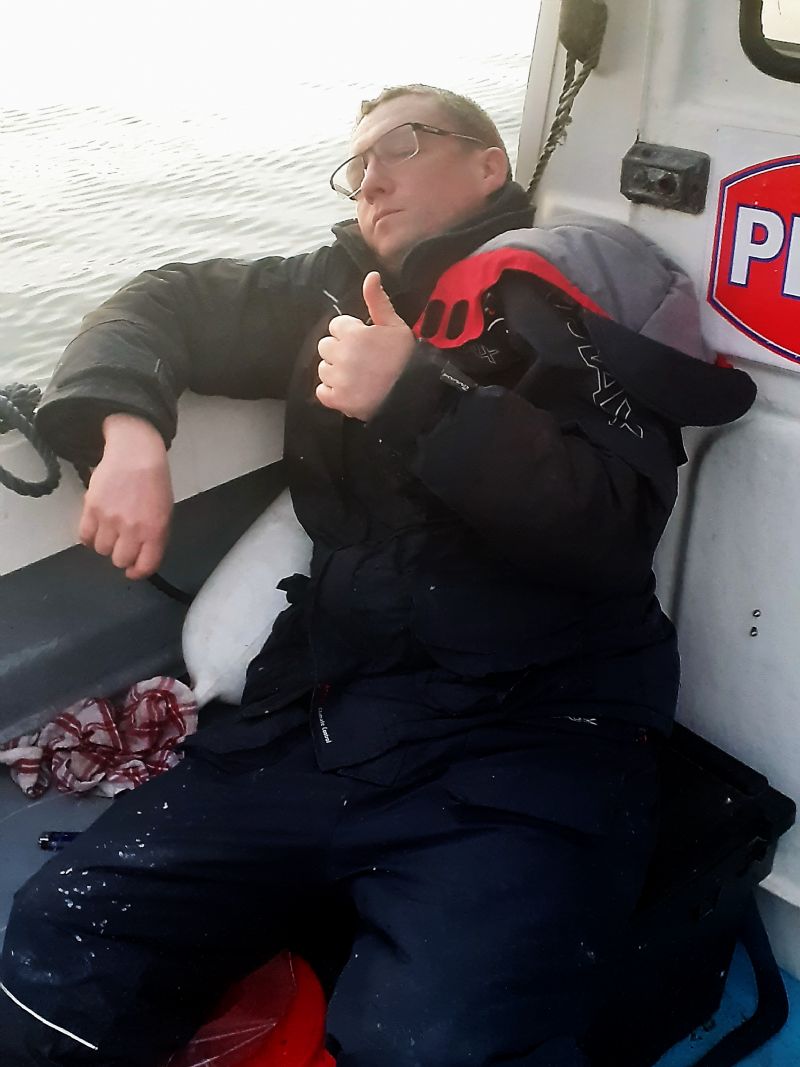 Ross making up for lost time until the tides are right!
Flat seas greeted us, not many days like this it has to be said, and we were soon afloat in search of bait fish, preferably Coalfish or Mackerel. I didn't expect much, and was not disappointed, managing to find absolutely nothing on the herring rigs, despite extensive searching for an hour or so. It would have to be the emergency back-up frozen Mackerel etc in the cooler box!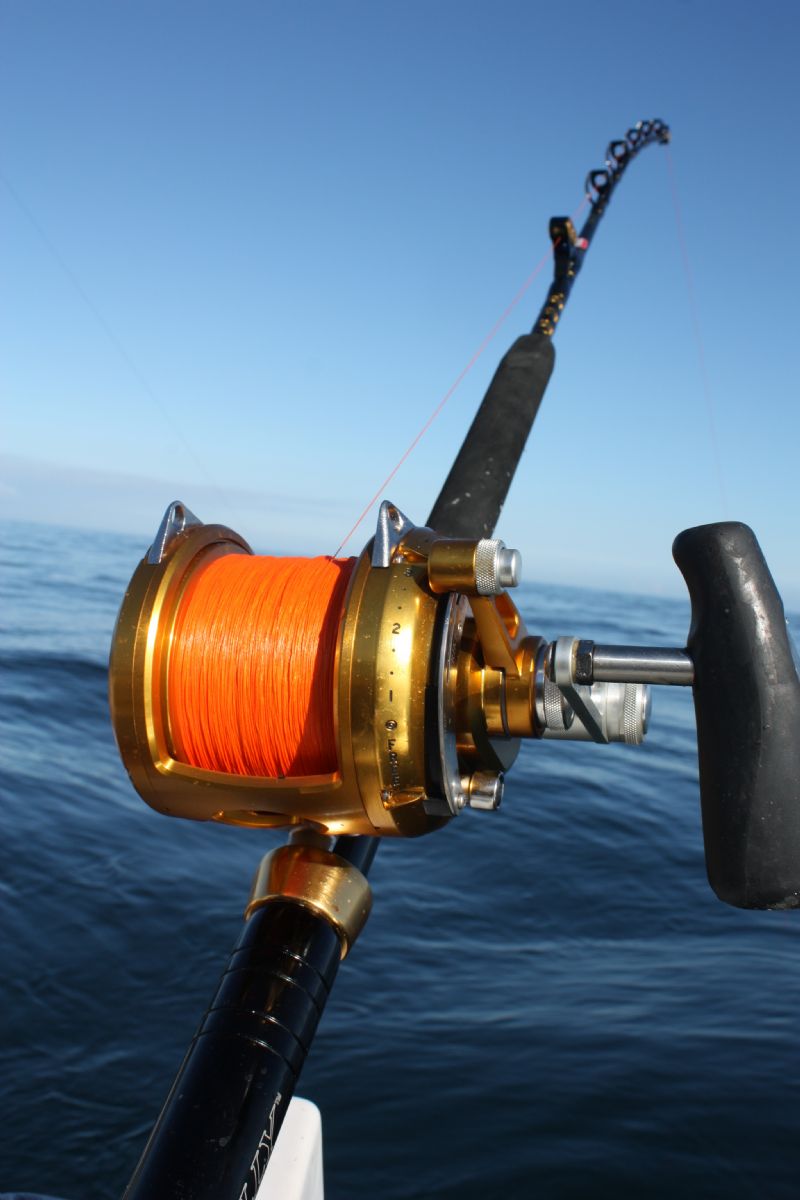 Top draw equipment for this type of deep-water angling, Penn Ally and Penn International 50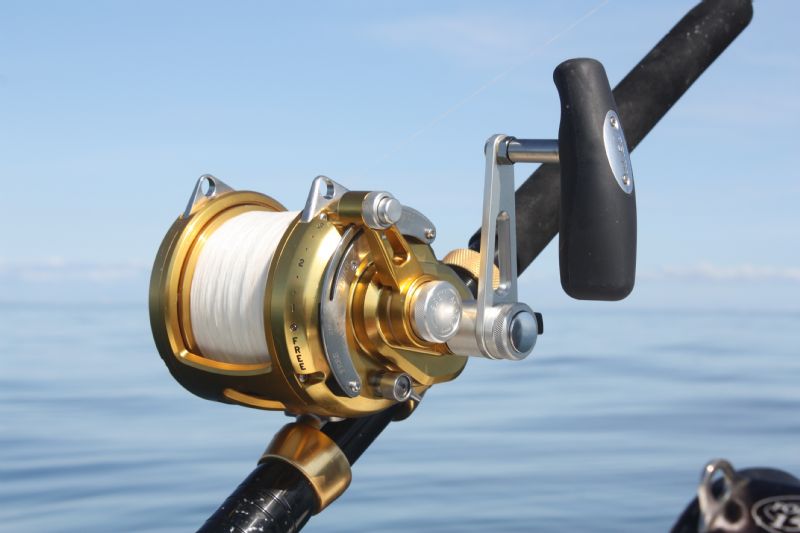 Twin speed handles deep water and large fish with ease
At anchor, fears of a powerful spring tide were soon realised, with anchor rope resonating under the pressure and a minimum of two kilos of lead to stay in contact with the sea bed! The day proved tough with nothing but small Dogfish making an appearance, but with the best of the tide running into and beyond sunset, we were prepared to give it a shot into nightfall.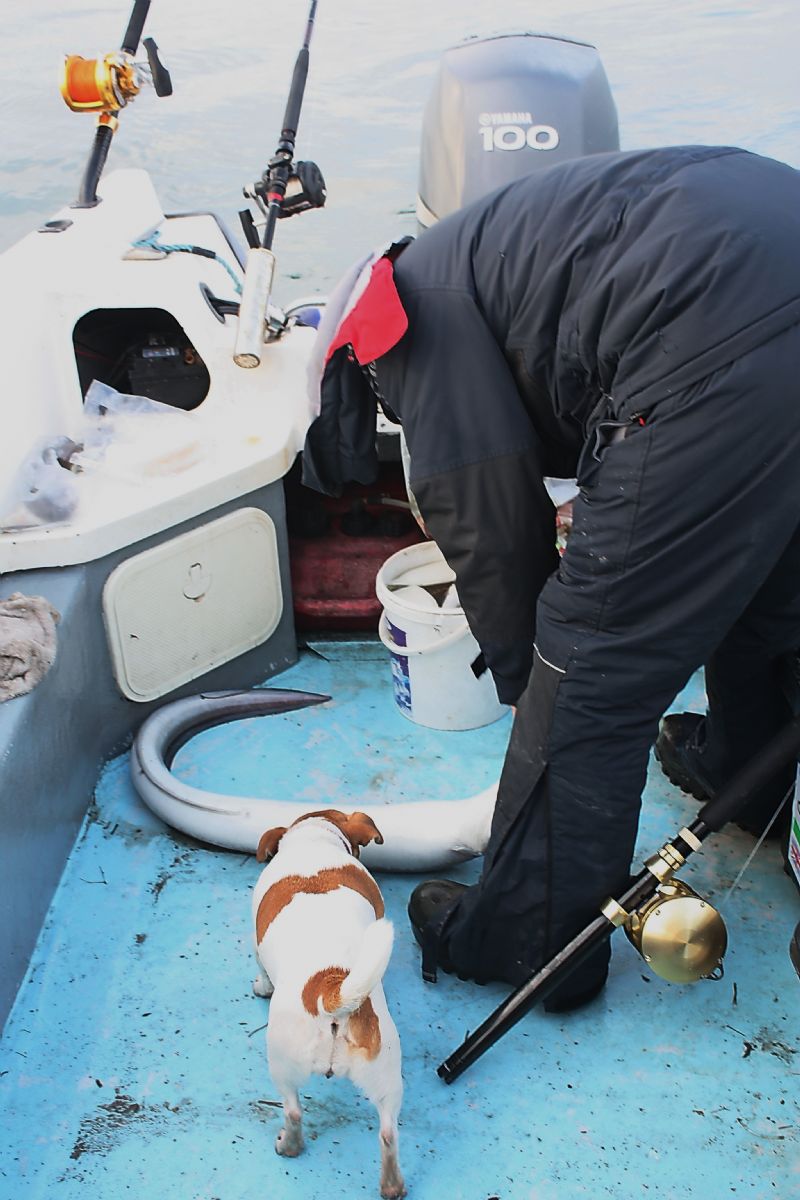 Good to see some Conger Eels during these winter months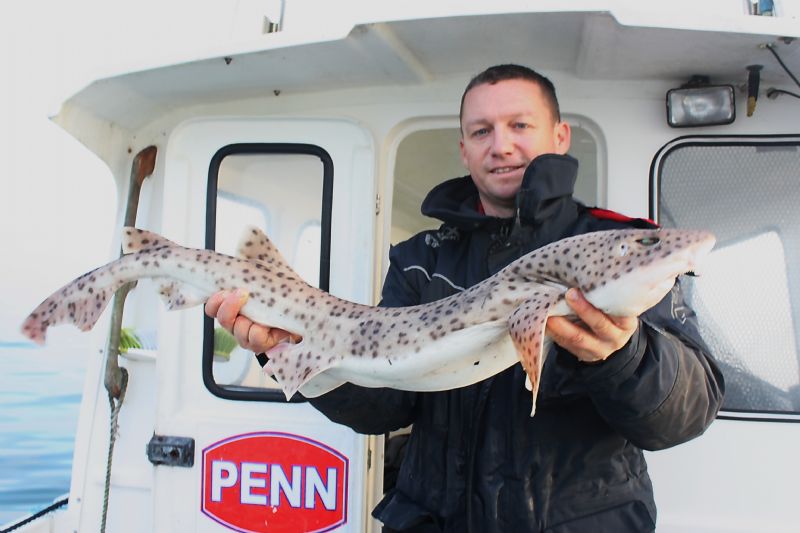 Stunning leopard style markings on Bull Huss, always a welcome sight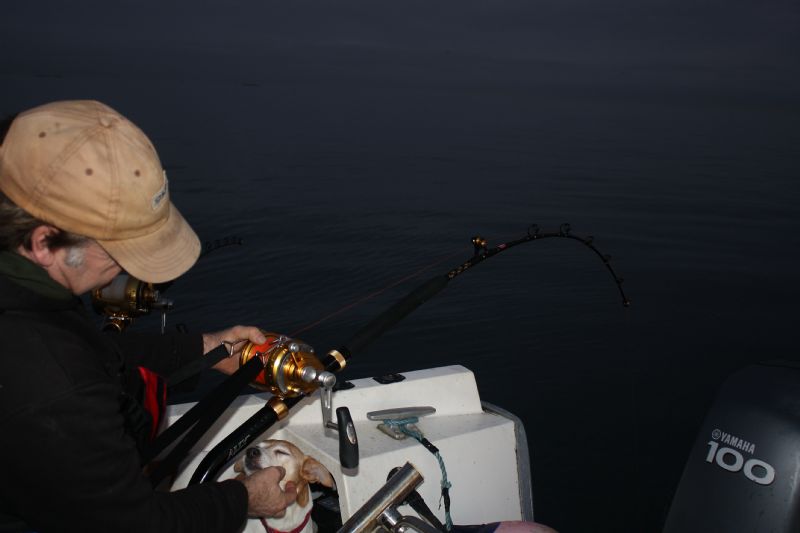 As the light fades, a sizeable Skate, but wasn't to be! Skip enjoying a chin scratch.
Eventually a few quality fish moved in on the scent trail with Huss to double figures and small Conger Eel to 15lbs or so. The tip of the Penn Ally nodded and buckled over, signalling a Common Skate had taken the double Mackerel bait, but the powerful fight was all wrong. She quickly surfaced, but I could make no headway in the tide, and we concluded she was wrapped up a bit in the braid. This is rarely successful, and so it proved. After a "cagey" effort at retrieving line an inch at a time, we parted company with me ending up on my back. Obviously she had wrapped the line past the two metres of "rubbing leader" I add, and to lose a fish this way was a disappointing first for me! But with the home made booms used, she won't be dragging two kilos of lead around with her, and soon shake off the hook. The only harm done was to my ego and possibly my sciatica!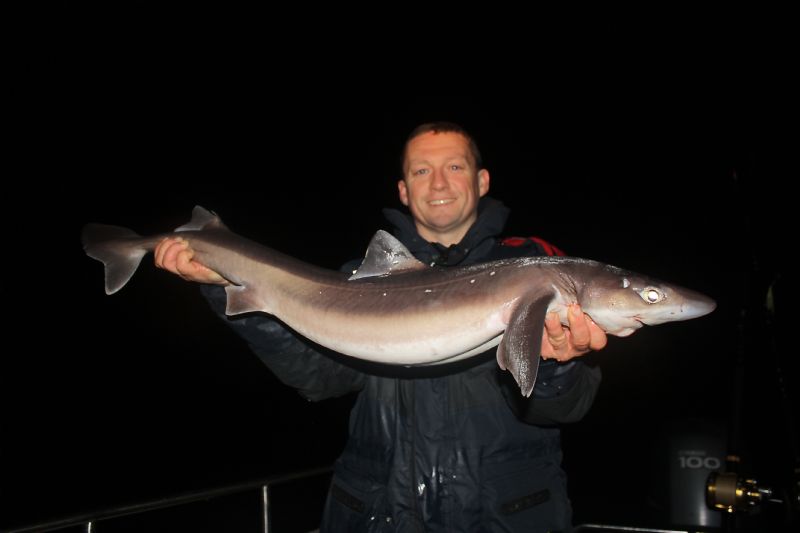 Always a great feeling to achieve an angling challenge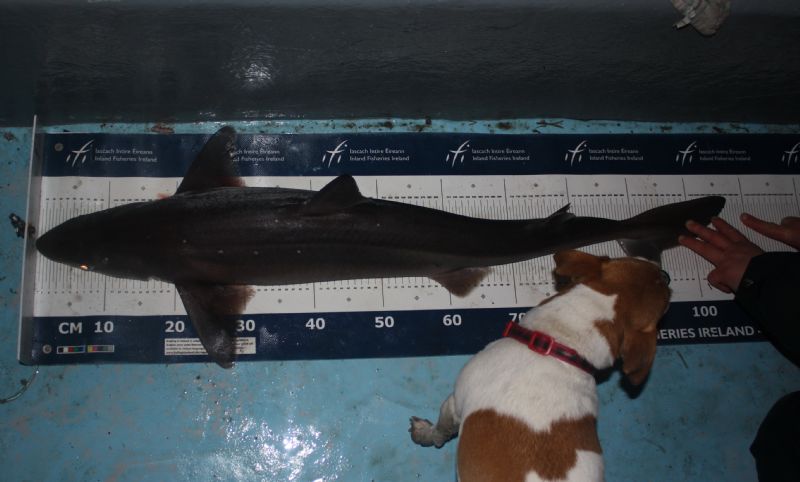 The official IFI measure mat leaves no room for arguments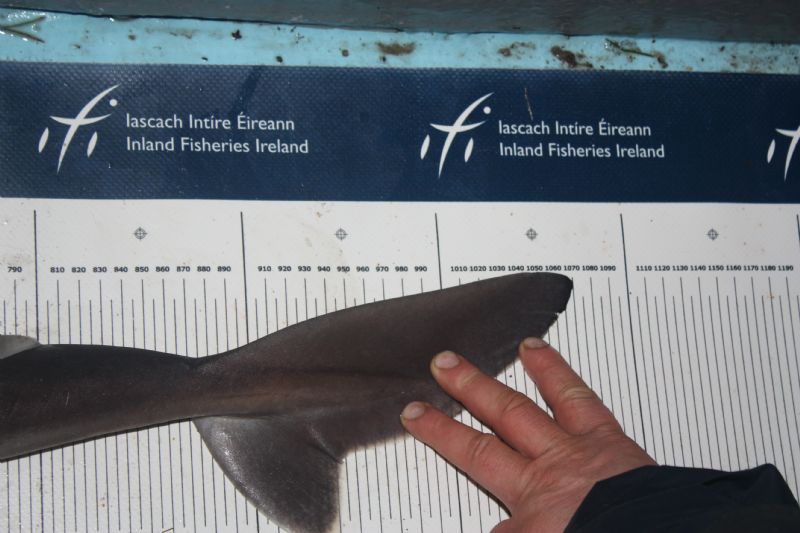 Catch, photo, release. Usually with a data tag for good measure! That's number 784 tagged to date.
In pitch darkness, and seemingly with no further action, we opted to call it quits. However, Ross had a reasonable fish during the "last cast" scenario, and thinking it was another Conger in the poor light, swung a decent Spurdog over the gunnels! On the measure mat she was two centimetres over the required 105 CM length and Ross' first specimen Spur. Over the years, I've managed to find a few Irish Specimens for Ross, and he always chooses to celebrate with this trade mark Irish Jig, tonight was no exception!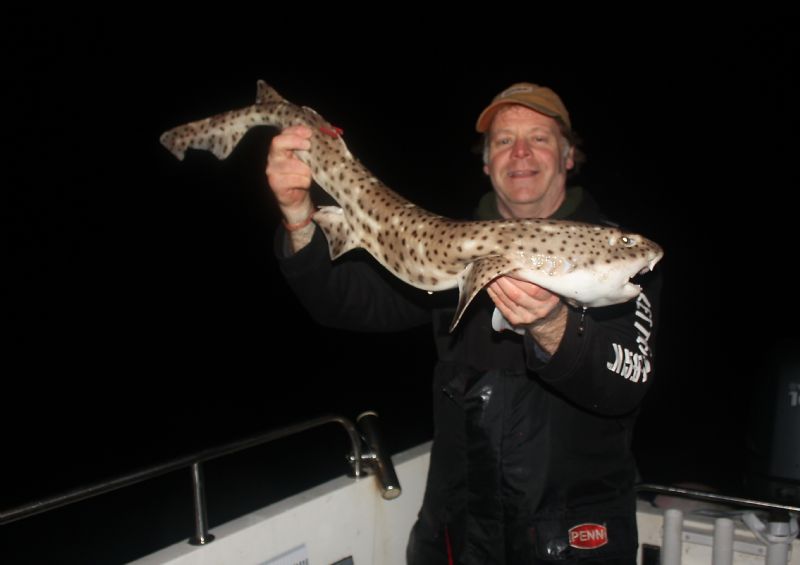 Having already packed my rods away, and with a hasty decision to give it another half an hour or so, rods were re-assembled, and fresh baits dropped to the depths. A good call as it transpired, with another five Spurs tempted, including three into the specimen bracket and the largest over sixteen pounds. This softened the blow from the earlier loss, and got the ball rolling once again in the yearly hunt for Irish Specimens. Tides eased, and it was late in the evening. Time to lift anchor and head for shore. "Box ticked".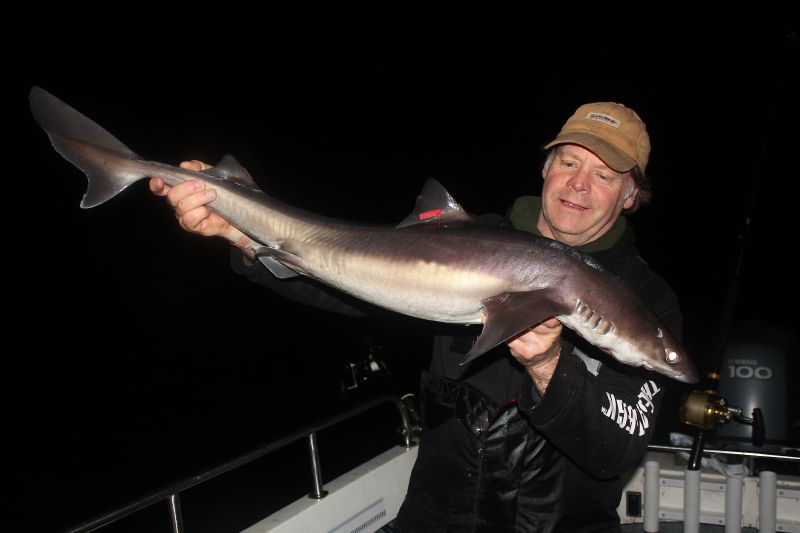 One of four decent specimens, tagged and released. Careful handling required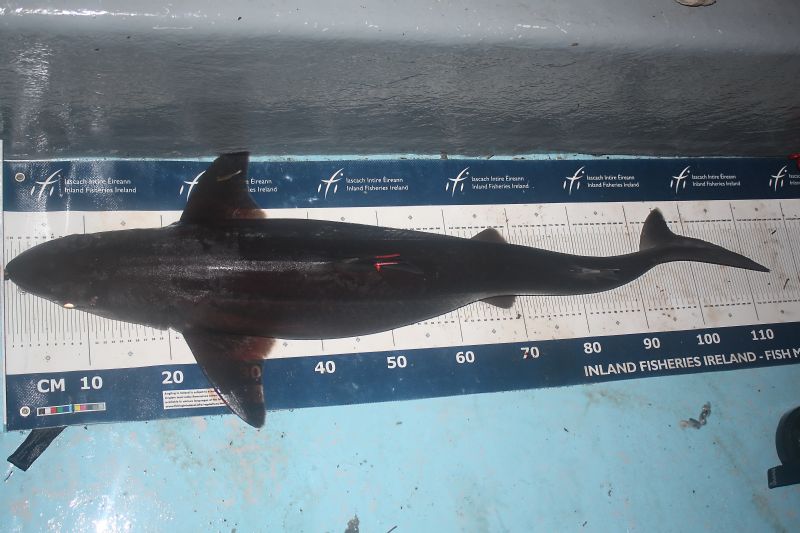 A chunky lady, big females always a winner!
Strong winds forecast yet again, so confined to land for now, but with this recent adventure, it's like an injection of fishing drugs that gives a high, and I'm counting down the days until Mother Nature lets me out to play again. Tight Lines all.
Tackle used
Penn Unisex's 1366233, Ally Boat Casting, 6' Length, 2 Piece Rod, 50-100 lb Line Rate, Heavy Power, Moderate Fast Action, black, Heavy-2pcs-50-100lbs
Penn INTERNATIONAL VIS 2 SPEED Reel
Berkley Whiplash Braided Line - Blaze Orange, 80 lb / 220m
Mustad Hoodlum Hooks - size 11/0 - qty 3
Owner American Super Mutu Circle Ringed Hook (3-Pack), 10/0
Berkley® Trilene® Big Game™ Mono Leaders
Fladen Luminous Muppets 9cm
Back