Trigger Happy by Craig Murphy
"Trigger happy"
I recently spent a week in Kerry on the picturesque island of Valentia.
We rented a house on the Portmagee side of the island, close to the island bridge.
We were in an idyllic spot to see what the island had to offer and to travel around the mainland sightseeing.
Having never been to Kerry before I did a lot of scouting around marks I had found on the net and worthwhile hotspots given by fellow anglers. In order to keep the peace with the other half, I kept the fishing to a minimum, favouring short sessions at the right times over day-long excursions. Rising early and getting back for breakfast proved worthwhile, targeting Wrasse on the float for my first few sessions and I caught from the first drop to the last. Heading out on my own I steered clear of the more dangerous rock marks and played it relatively safe. I wore my inflatable PFD just in case a rogue wave caught me off guard. It's worth noting that there have been several fatalities over the years fishing off the rocks on this side of the country. Seek local advice if you are unsure or hire a local guide, they will know if it's safe to fish or not on the day by studying the swell for a few minutes.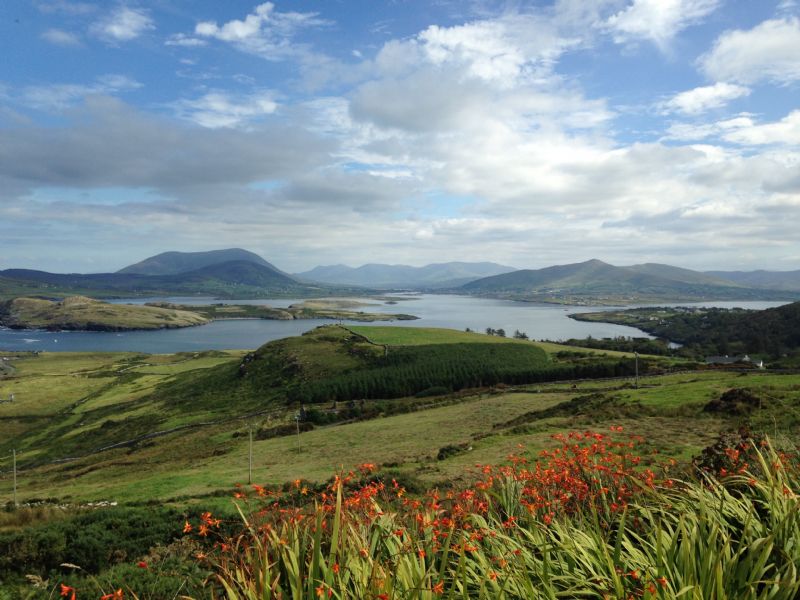 Stunning scenery and a life-time of shore marks to explore
I fished low water up for the first few days catching Wrasse after Wrasse averaging 30 plus fish per session with the best fish going 3.8 lbs. Rag and limpet were my baits of choice. Bringing 200 plus rag with me was a good idea as the nearest bait supplier was over an hour away. I also collected limpet from a boat slip nearby on low water, they kept perfect in a bait tub with a little sea-water. I had another top up on my bait supply when my folks came down for two days. During which time I got a chance to fish one of the more dangerous marks with my dad, the man who started me off on my angling journey at a young age.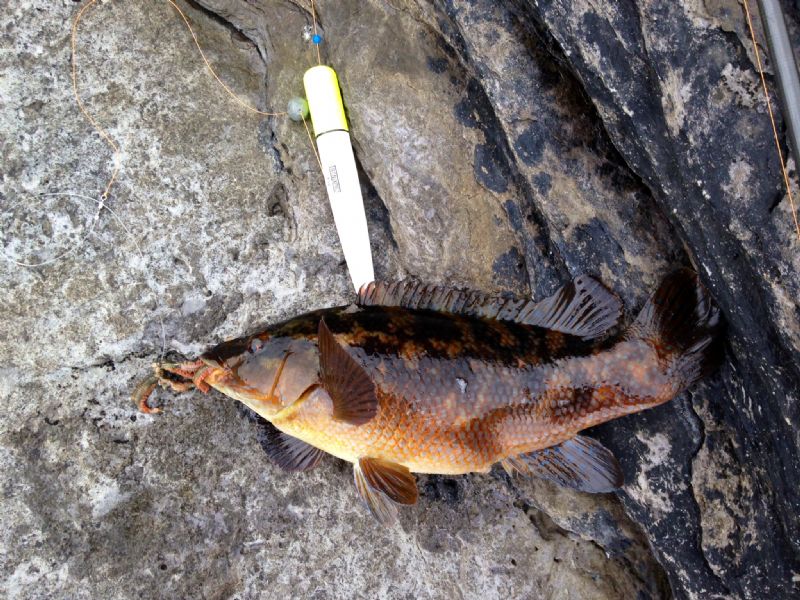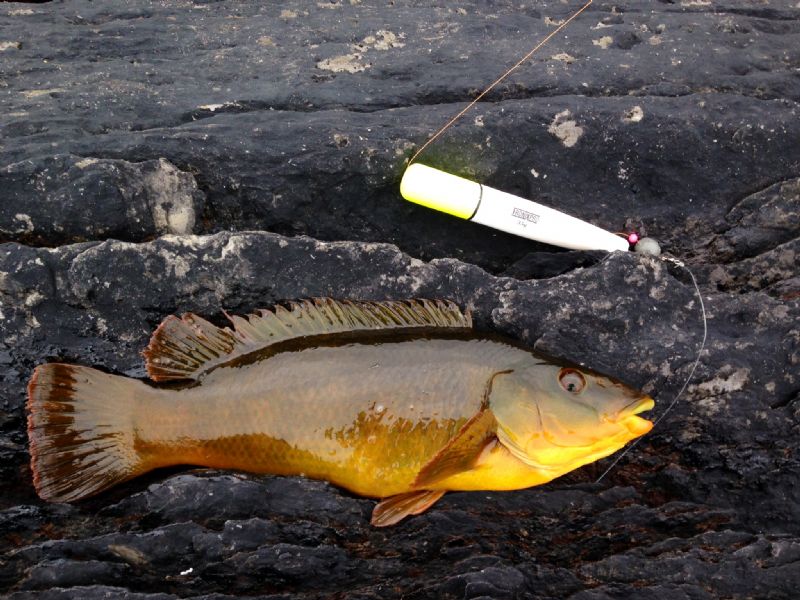 Ballan Wrasse in abundance on float tactics
We tried our best on one of the well-known rock marks, enjoying the hard fighting Wrasse and the nervous excitement felt while fishing on such precarious marks, landing fish after fish on our pike rods and cigar float setup, but alas the specimen fish eluded us. However I did lose a bigger fish trying to hoist it up the rocks, my line must have suffered a nick on the barnacle encrusted rocks prior to hooking it and the weight of the fish found the flaw and it slipped back into the wash. Shortly after this a big wave crashed off the rocks, soaking us both from head to toe! We took this as a sign that it was time to leave, if we had left it any later, and with the rising tide, such a wave could easily have swept us in. Soaked but happy it was a session to remember.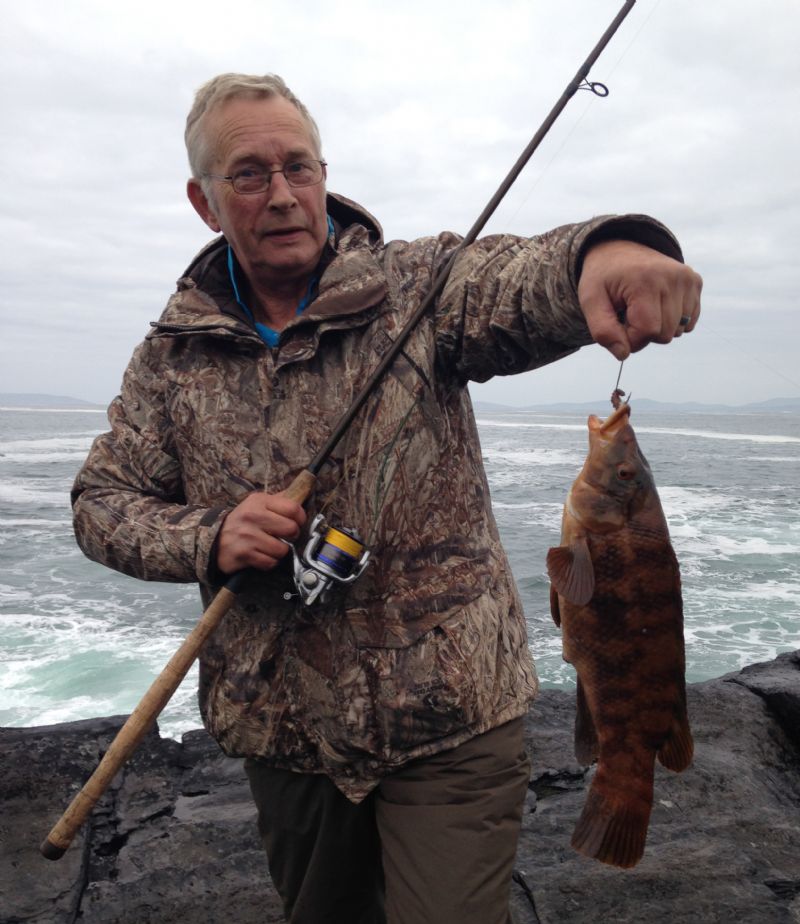 My dad with a typical ballan from this area
The same evening we tried our hand at some Conger fishing on a nearby harbour, seeing as my dad was only around for the two days, I had to take advantage. I spent an hour "feathering" for Mackerel before dark and thankfully they turned up in numbers leaving me with enough for the week. We sent half mac's or mac heads down the harbour walls on a rig comprising of a 5/0 meat hook , 100lbs snood, 130lbs rubbing leader and a 2oz or 3oz running-lead .
This was fished on a 20/30 lbs class boat rod with 40lbs braid on a multiplier reel. Sadly, only strap Conger showed up from the start until the very end when I got a good run which upon striking, came to the surface with relative ease showing itself in the light of my head torch for a few seconds but long enough for me to see the profile of a big Huss, which then turned and spat the bait. Sickened I swore to return the next night and hopefully hook another Huss of the same calibre.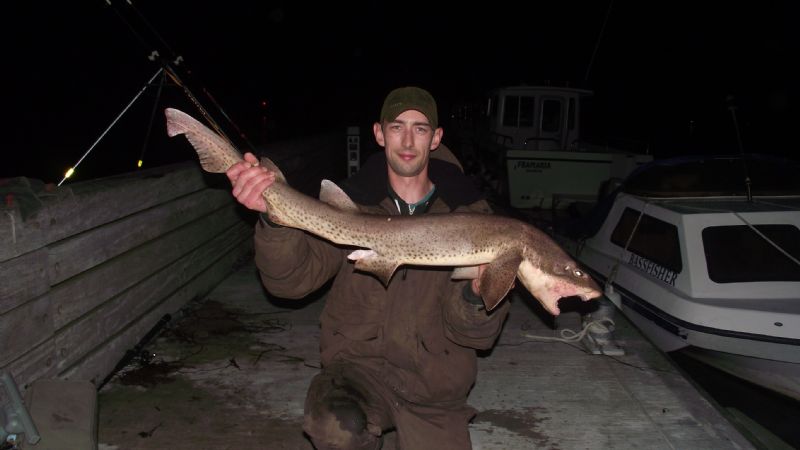 A cracking double figure Huss from the shore
Sure enough after a day of sight-seeing and a trip to the Skellig chocolate factory I was back on the pier that evening. I couldn't get on the same spot as a trawler was moored up there, so I fished from the floating pontoons. Dropping straight down, I was straight into really deep water. At a guess it was 20 to 30ft deep. Surf rods were also cast into the channel and bites came quick, mostly small Huss and Pollock came to our mac and rag baits. It wasn't long before the boat reel's ratchet started to signal some interest on the Conger rod.
The first run I struck into failed to get a hook hold and then lodged into a support rope for the jetties. I played that rope for a good 2 minutes before realising what had happened, much to the amusement of my dad I might add! A new rig was sent down without delay, and shortly afterwards I had a more confident take, striking into what I first thought was a Conger but soon realised was a beast of a different nature. After a short battle, up surfaced what seemed to be the fish I lost the night previous, a big Bull Huss! At 12.6 lbs it was a new PB for me...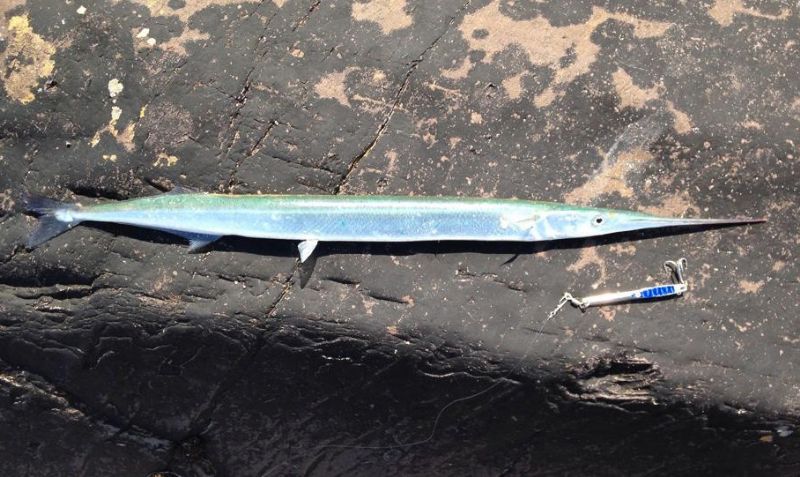 Garfish, another species falls to the "Deadly Dick" lures
Next on my list of things to do was some lure fishing. I had a selection of lures and plugs I had recently acquired with the "Deadly Dick" lures proving the best on the days in question. I had tried them on a deep rock mark earlier in the week, producing a few quality Pollock to 4.5 lbs (new PB) but I fancied giving them a go on a beach where Bass are often caught.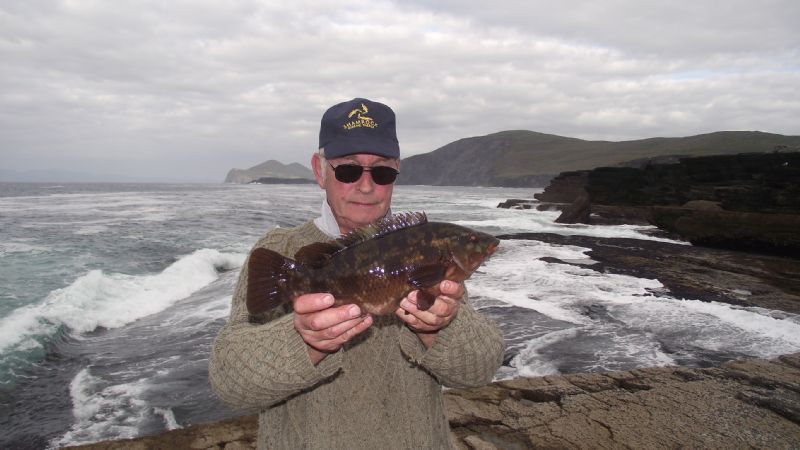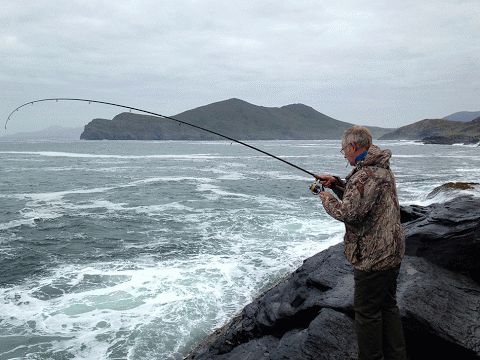 Casting along rocky out-crops on a rising tide I unfortunately didn't encounter any Bass but caught countless numbers of Garfish which kept me interested for a few hours. Seemingly Bass fishing hadn't been great the week I was down and I was advised to try another spot later that evening. This turned out to be another Bass blank for me, but it's hard to be disappointed when you're fishing in such a breath-taking backdrop as Kerry. I've yet to have one on the lure but I'm sure my persistence will soon pay off.
The rest of the week played out with only the odd Wrasse session and more sightseeing, dining out and scouting potential fishing spots. I had received word the week before our holiday that Trigger fish had been sighted in the Valentia area. So it was always in the back of my mind to scout around for them whenever I was near the waterside. On the last day we decided to head to the picturesque cove we had been told about. Upon arrival I was amazed at how clear the water was. There were aquarium-like views straight to the bottom in relativity deep water. I quickly set up a surf rod and cast a 3-hook flapper baited with rag into a sandy patch I could see just off a crop of rocks. Bites came instantly with good Wrasse coming one after the other.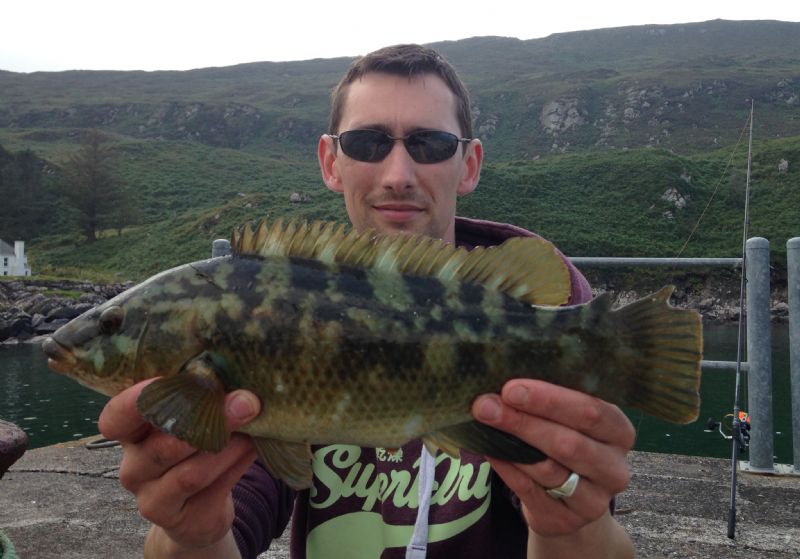 Plenty of Wrasse all around the Kerry coast-line
A half hour into the session I noticed a shoal of fish on the top of the water. I figured it could be a shoal of Thick-Lipped Mullet or even Golden-Grey Mullet, so I set up a Bombarda float on my spinning rod and baited up with rag. Casting beyond the shoal and slowly retrieving through them I spooked them every time with no interest or follows. Pausing and static fishing didn't make a difference so I changed to a golden- grey type rig which in this case was a Mepps spinner with treble hook removed and replaced with a very short snood and small hook baited with small rag, but still no takers. Then out of the corner of my eye I spotted a few fish swimming close in, just below the surface. A group of Triggerfish!
It only dawned on me then that the shoal on the surface was in-fact Triggerfish. I quickly filleted a Mackerel and cut it into strips. Not thinking of the advice and info I had on Triggers and fearful I might miss my chance, I just baited up the rig I was using and dropped it down in front of them. Instantly they started picking at the bait until one took it down, I struck and as the fish ran it bit me straight off! Quickly, I tackled up again with a 30lbs amnesia snood and mini Manta hook. Second drop I noticed one fish was considerably larger than the rest, so I twitched the bait away from the smaller fish until the larger fish had a go. Sure enough it took the bait and I struck into the fish. Lisa was on hand to get the end of the fight on video.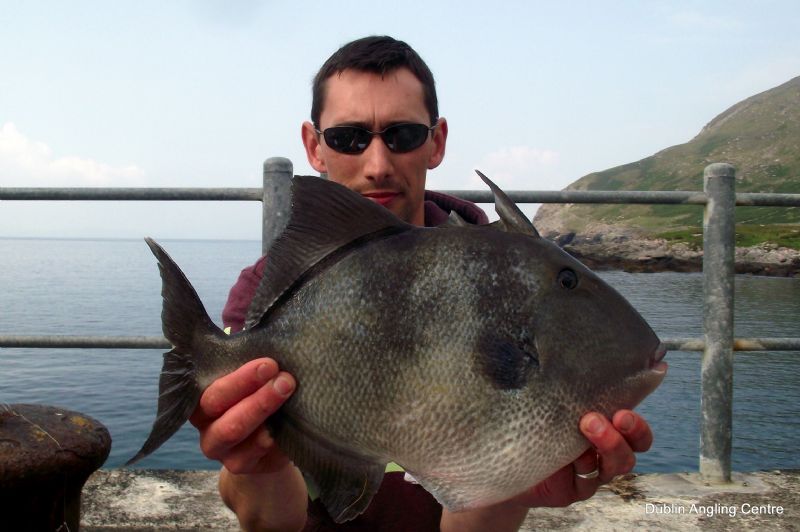 Fantastic end to the holiday with this specimen Trigger Fish
They put up a strange kiting fight which wasn't helped by the fact that I had to negotiate two ropes floating by a set of steps to land the fish. Quickly weighed, measured and photographed, I was over-joyed when the zeroed scales tipped 3.6lbs. My first Kerry specimen and what a way to end a fantastic week, I will definitely be back!
Tight lines
Craig Murphy
Back