Uptiding for Undulates
Uptiding for Undulates
With a matching pair of new Greys Toreon GR75 Uptide rods to put a bend in, I was on the look-out for a suitable venue to play with them, and it wasn't long until I found one.
I was thinking of towing the Fast Fisher down to Kerry in search of Stingray and Undulates, a great test for the rods, and I happened to mention this to my good buddy Sid Kennedy based in County Cork. He had already decided to tow his Quicksilver across to Fenit in Tralee Bay and to moor it in the marina for a few months, and he happily extended an invite to join him for a couple of days. Nice one, that saved me the trouble of a three hundred mile tow!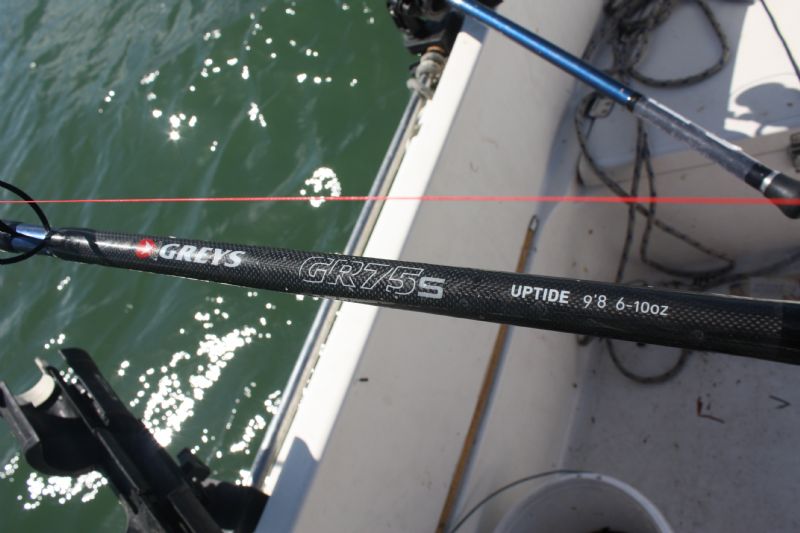 Greys "Toreon" Uptide rods on their trial run
The marina is excellent at Fenit, with pre-summer mooring fees a fraction of the summer costs, also offering electric and water supplies, toilet and shower facilities. We were onto a winner right there. I was able to bring my counter-top mini-freezer stocked with frozen Mackerel and squid which gave us top class bait for the three day duration.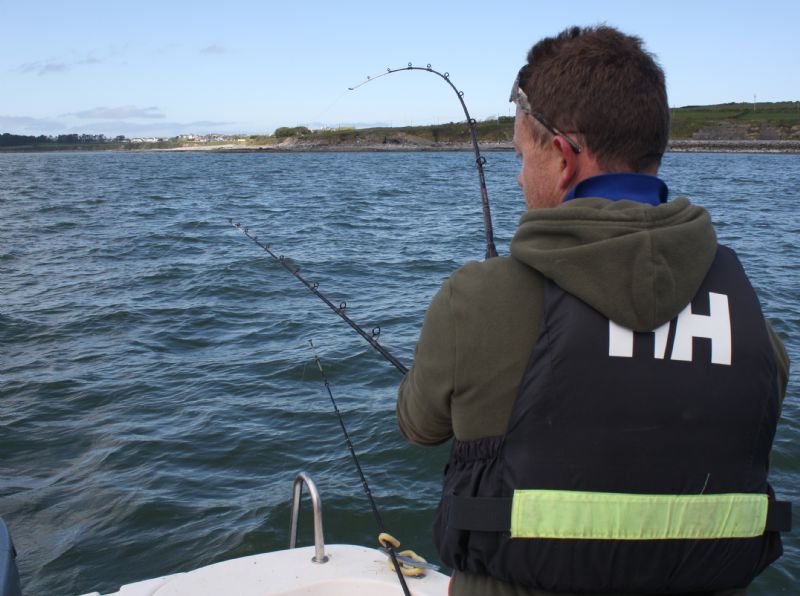 Sidney Kennedy finds the first Ray of the day
The only thing that didn't fall into plan was, you've guessed it, the weather forecast! Winds were to be south-west and relatively light, a maximum of 10 mph. The reality was 20-30 mph for an uncomfortable three-day session on the water. Looking across the bay each morning at rows of "white horses", we knew we were up against the odds. The problem is, unless conditions are extremely dangerous, you simply have to go for it having spent so much money on bait and travel costs. Suck it up buttercup as a good friend often tells me! And besides, I really needed to put a bend in the Toreon Uptiders.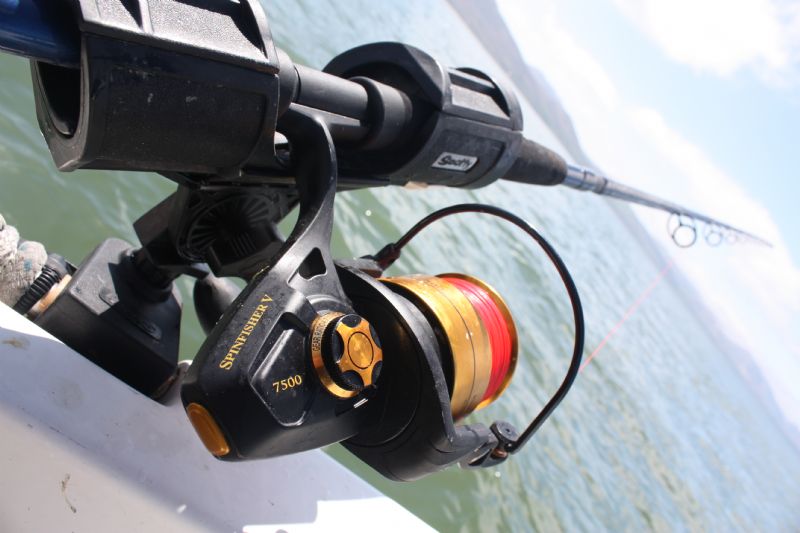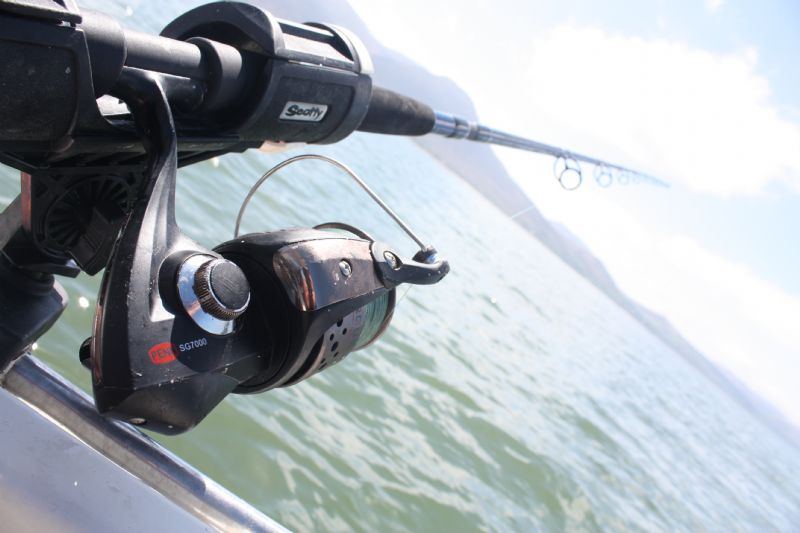 Our first venture out, and with anchor set, I teamed the Greys Uptiders with fixed spool reels, old reliable favourites that I have used many times over the years. A Penn Sargus and a Penn Spin-fisher, tough reels that withstand abuse and the pull of a powerful fish. Uptide tactics were with Gemini Grip leads to keep the baits in place on the sea bed. This was the rods first outing, they looked useful and felt sweet during the cast. I opted for the heavier tips of the two available at 6-10oz. The problem with the strong side-winds was that the boat was pushed all over the place, and away from the hot-spot, making life difficult to say the least.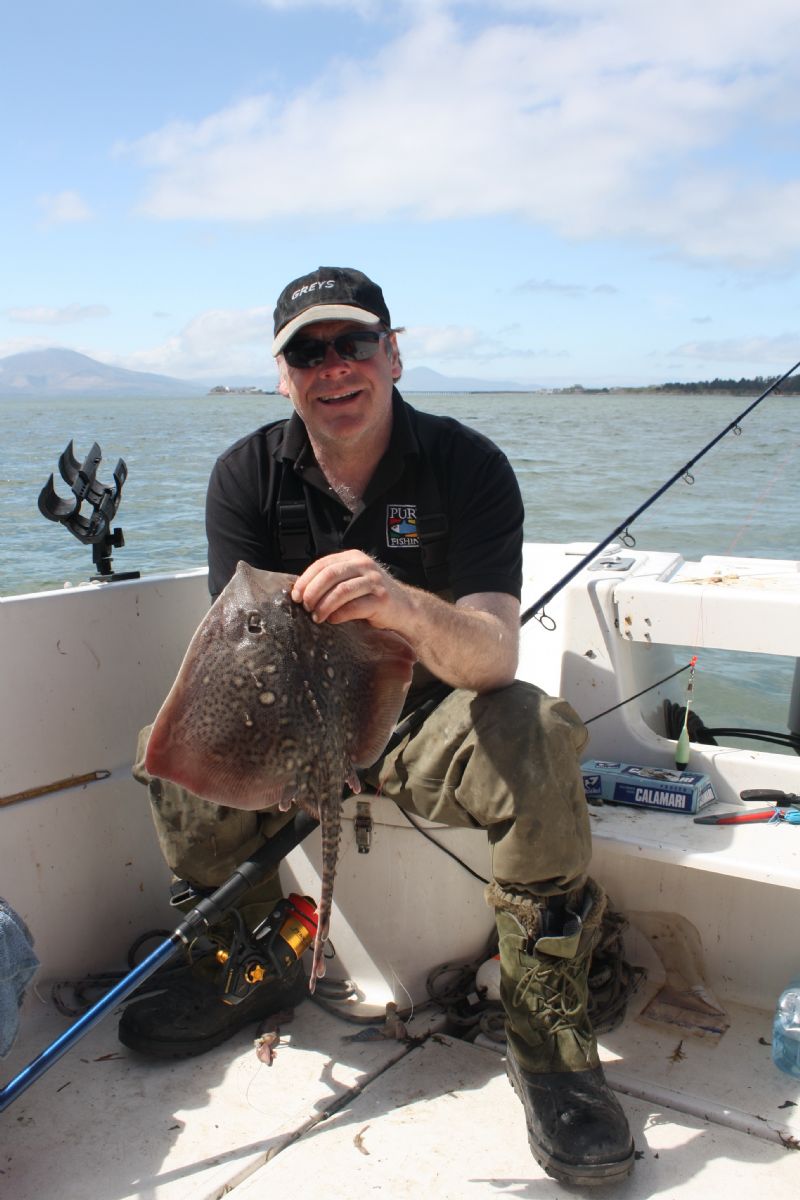 A small Thornback ray breaks the "duck".
It had been a couple of years since I last targeted this venue but Sid advised that fish were currently difficult to find. This was his fifth weekend trying. Having said that, within minutes, a rod buckled with line ripping through the rings, but bitten off just as quick. Then another, as a medium sized Tope upwards of thirty pounds crashed on the surface and smashed the hook-link like cotton. Tope will show here on occasion but not that often to particularly expect them, especially on small mackerel-peeler crab baits. We weren't geared up for toothy critters, and as we discussed whether or not to make the switch to wire traces, another two rods buckled over!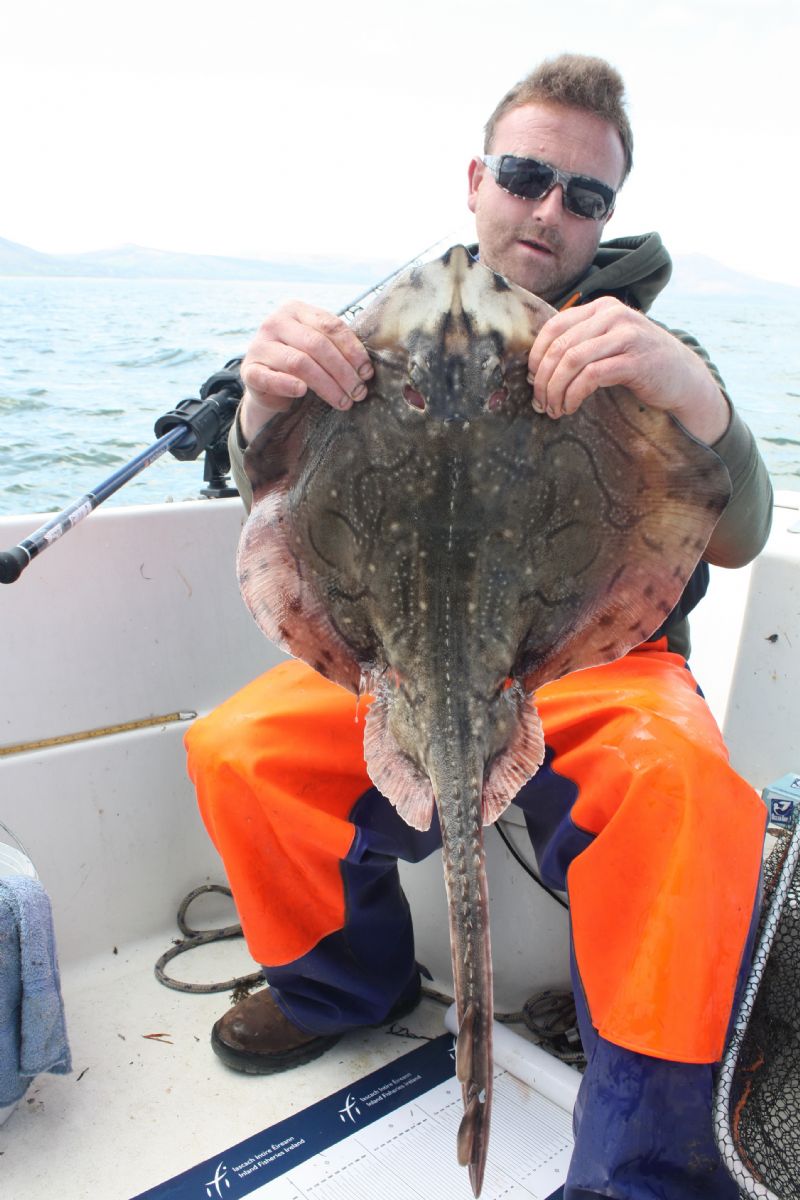 A fine Undulate Ray, but no-where near specimen size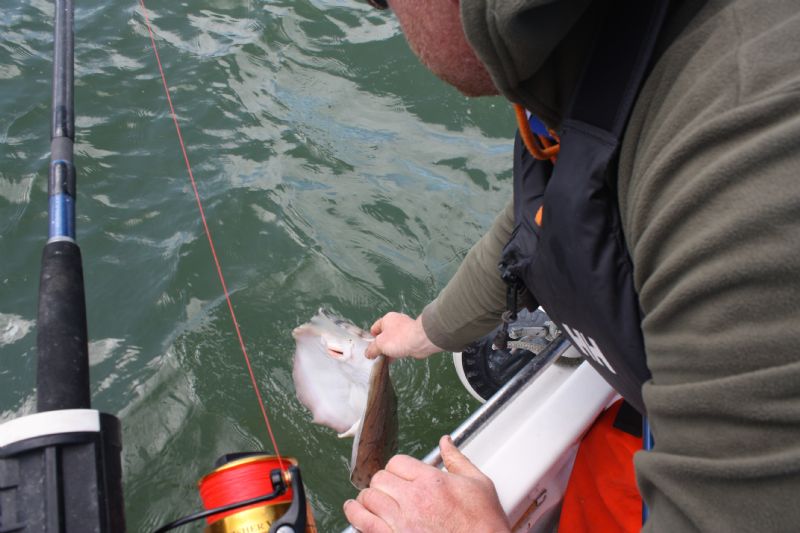 Quickly and carefully released
I managed to play my fish a little longer as it screamed off down-tide, but before the inevitable happened and the leader parted, I had a great insight into how the rod could perform with a powerful predator attached, lovely. The Tope took our hooks, but they were comparatively small and would soon corrode, so no harm done, only to our self esteem! We both dived into the tackle boxes for wire leaders, but as is usually the case, now we were ready for them, the Tope vanished. They had their fun and left us in tatters.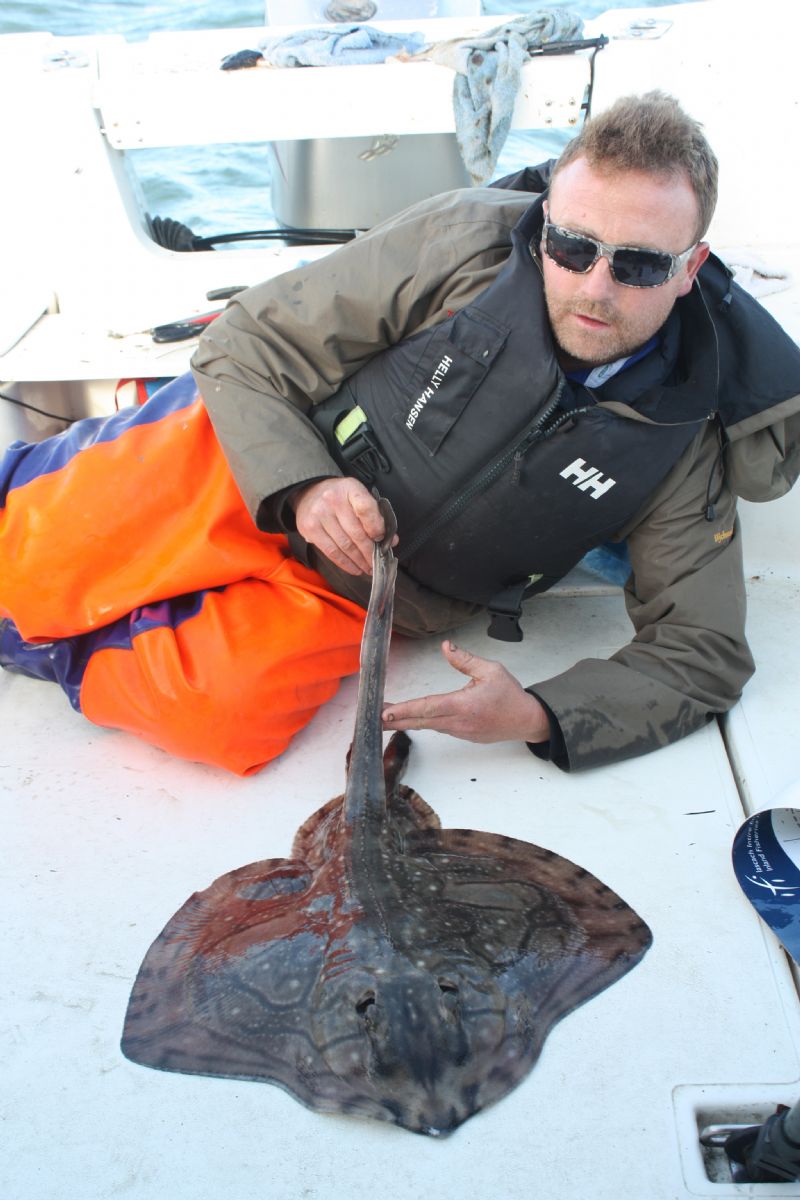 Sid was right, apart from the short Tope excitement, the session was slow with little showing. One option we chose was to explore some other marks in the area, possibly marks that were less pressurised. This had varying degrees of success moving from place to place, with plenty of dogfish, a couple of small Thornback and Undulate Rays, but little else over two days. The final option was a night session, and hopefully the forecast of lighter winds would prove accurate this time, and allow us a decent chance to present baits naturally and find some quality fish!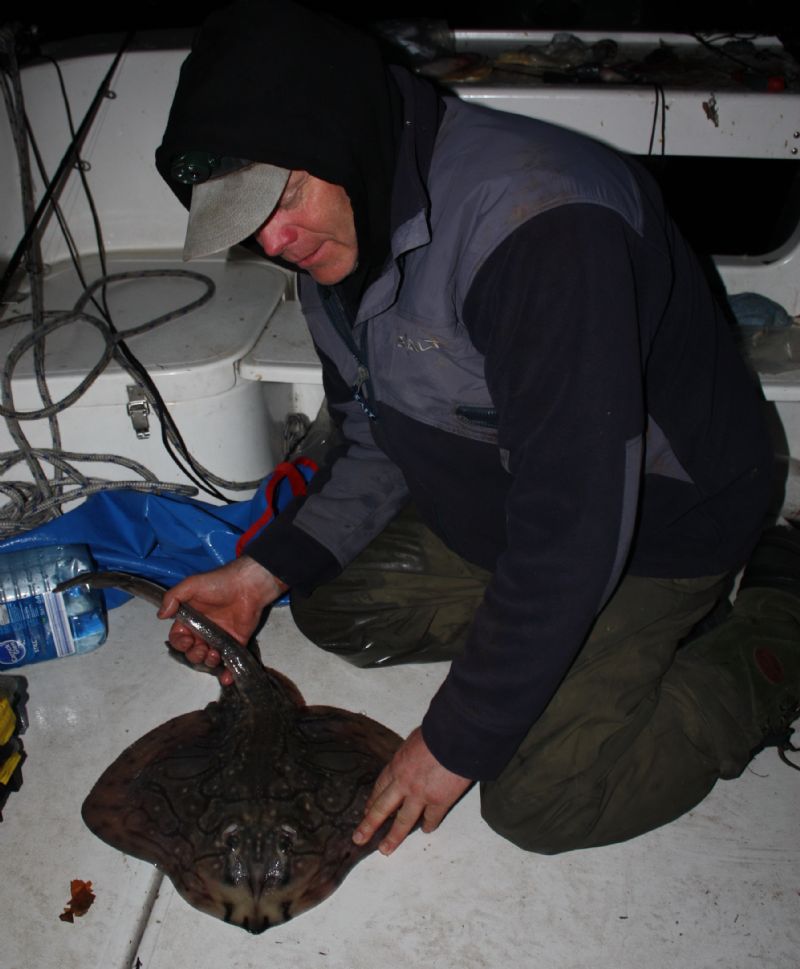 At long last, with wind speed easing, we began to get into the groove.
The wind speed remained high and we were knocked about all evening. Bites were few and far between, temperatures and spirits were low, and I was beginning to regret my long journey south! By 2am, finally, our torturous wind abated, altered direction and the sea state settled. I'm not sure if the planets aligned or maybe the fish gods took pity on us, but it was like a different venue, as the surface finally calmed. We could even see shoals of small Garfish around the boat by light of the headlamps, they looked like green-grey pencils breaking the surface.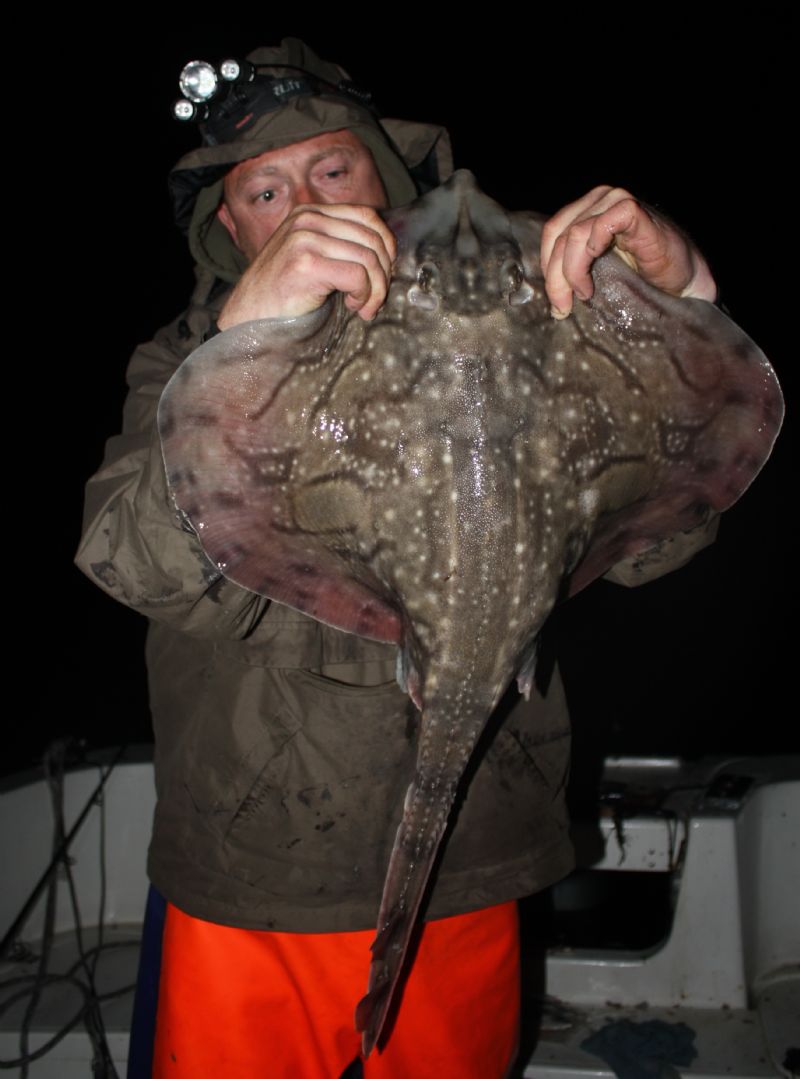 When searching for a specimen ray, it's a numbers game, but that's ok when they are queueing up!
Temperatures were suddenly noticeably warmer, pleasant in fact. Angling actually became pleasurable once again. The boat ran in a straight line with the tide, our chum trail began to work in our favour rather than against us, and fish soon queued to be caught. Small Conger were probably the most abundant species, with sporadic appearances from Dogfish, although Sid had a decent Bull Huss as a bonus, something different from normal. The tell-tale thump and steady bend of the rod-tip heralded the arrival of some Undulate Ray and the uptiders worked very well indeed, light yet powerful, this seems to be a trait for the new Greys Toreon range.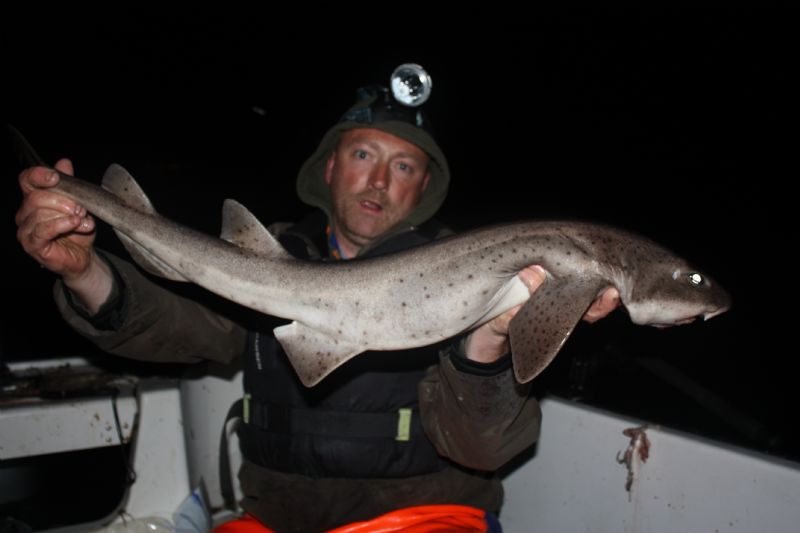 A bonus Huss for something different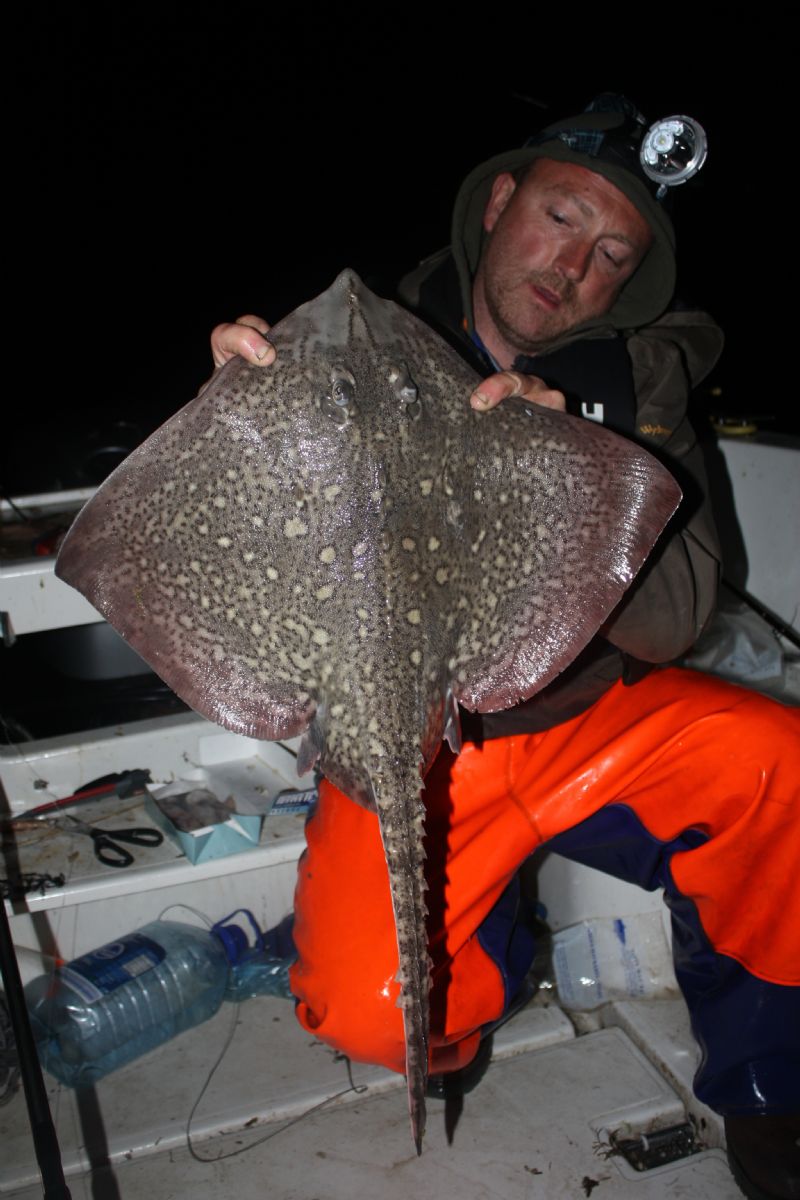 Sid tempts a fine Thornback Ray
It was now a numbers game, and after many were caught and released I eventually had my first Irish Specimen Undulate Ray. The Irish Specimen Fish Committee have amended the category to length-based rather than weight, and my fish exceeded the 85 cm qualifying length. As we fished through the early morning hours, I managed another specimen. Sid landed just as many fish but couldn't find one over the required 85 cms. Tide and time waits for no man, and with minutes to spare before the turn of the tide and end of the feeding spell, Sid lifted into a sizeable Ray and also landed his first specimen Undulate. As he released it, the tide turned and the feeding spell was over. Talk about leaving it to the final whistle!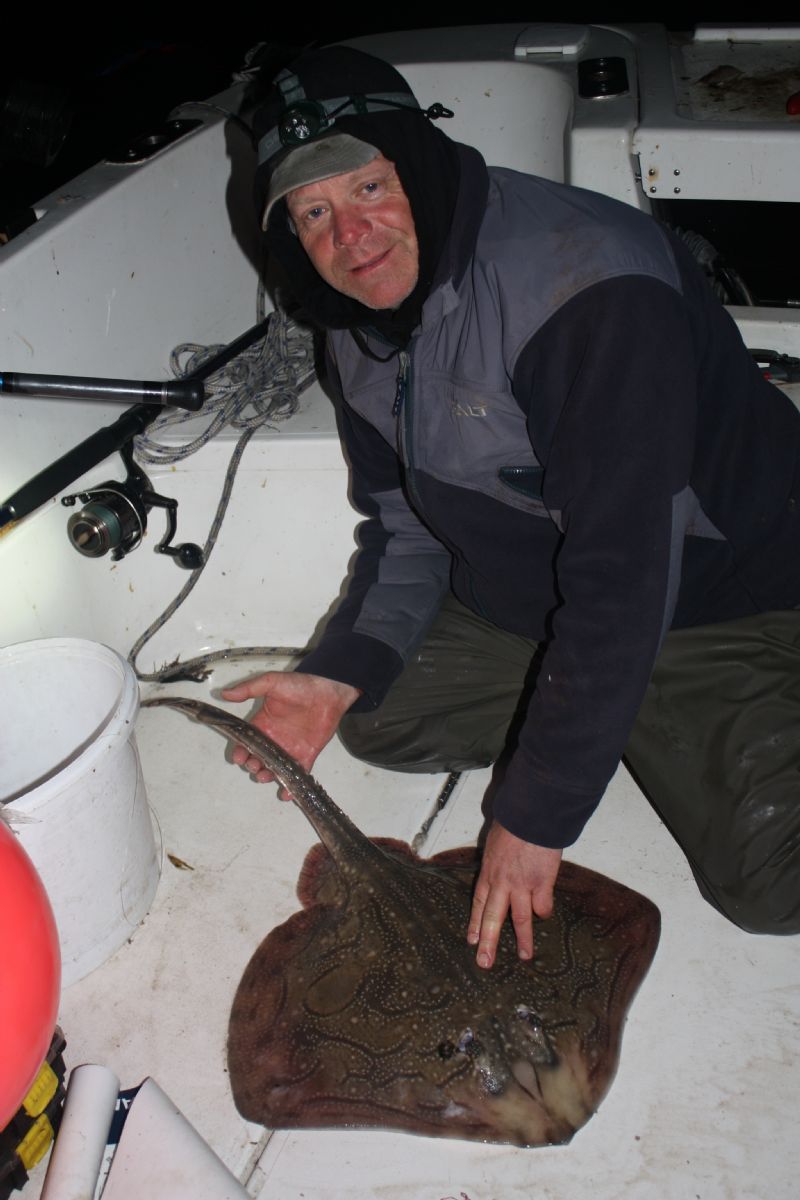 Stunning markings on these beautiful creatures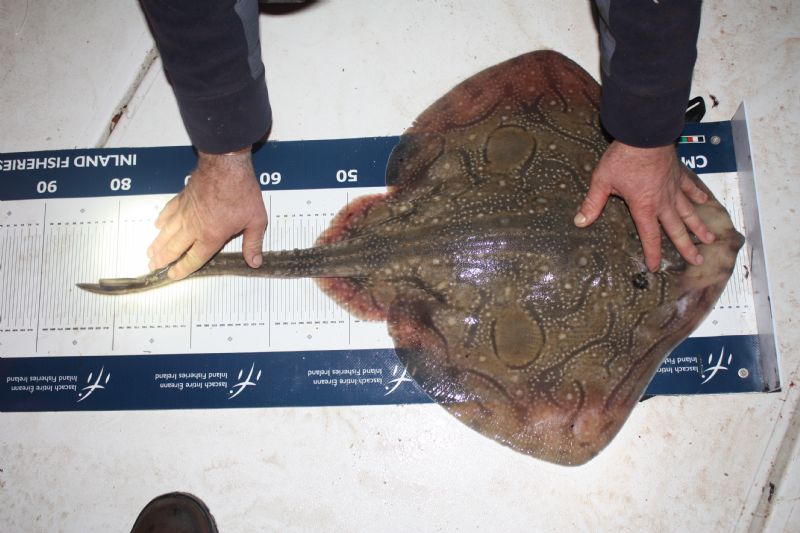 Proof of the pudding is in the eating, as they say! At 85 cms, my first specimen Undulate
To round up, we ended our three day session with twenty plus Dogfish, over thirty small Conger Eels, nineteen Undulate Ray, Three Thornback Ray and a Bull Huss. No Stingray, but at this stage of spring, the sea temperature still feels too cool, time yet if we get some heat. Most fish were taken on the last busy night session. It proves the fact that when conditions allow, and everything falls into place, there can still be great angling found in Irish waters. Tough but extremely enjoyable and a lovely way to christen two new and very usable uptide rods from the Greys Tackle stable.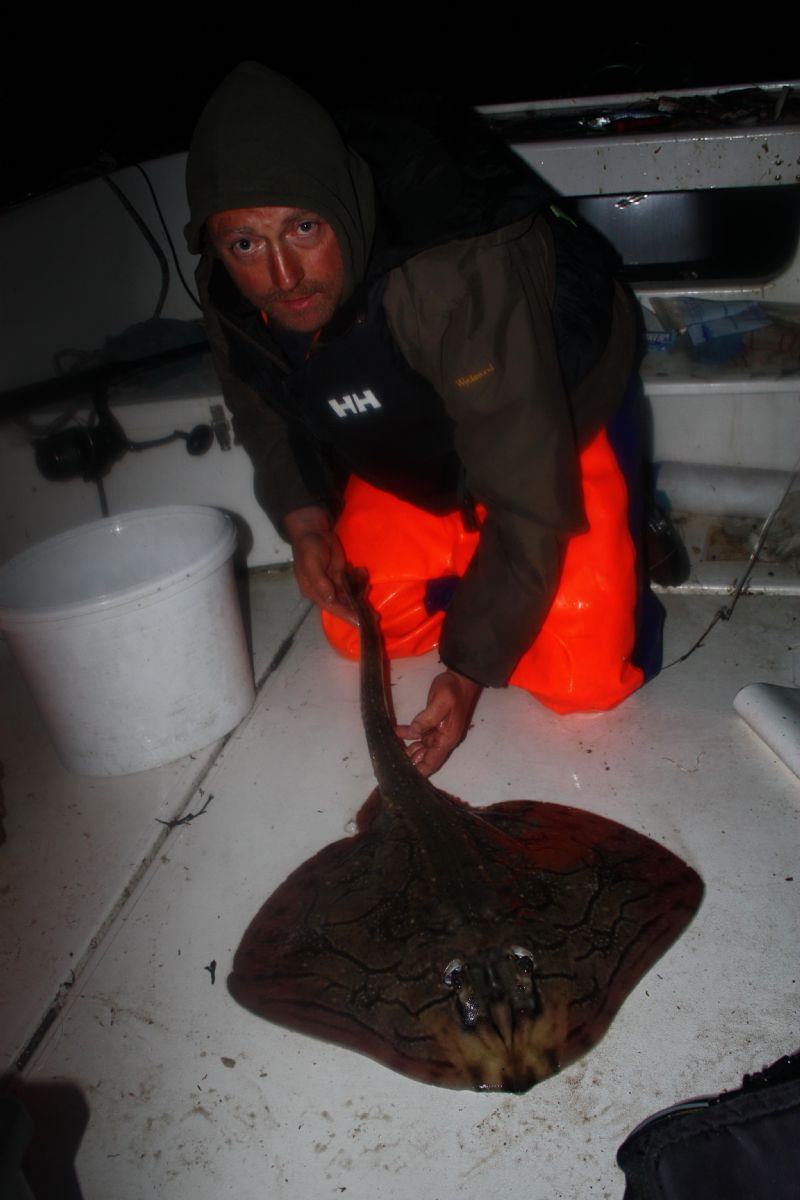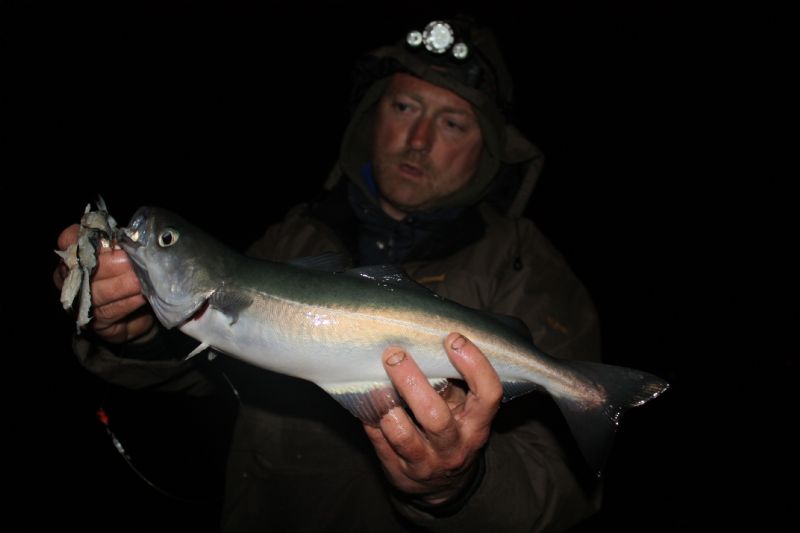 Plenty of Coalfish (bait snatchers) about
For those interested, the Toreon GR75s is 9'8" nano-carbon construction and comes with twin tip options, a 1-4 oz tip and a 6- 10 oz tip. It is slim diameter, light-weight blank, long tip short butt. Fuji rings and Fuji reel seat and is compatible with both mono or braid. Finished in an attractive cobalt and graphite scheme and retails around £149.99. Beautifully put together rods straight off the shelf and value for money. Thanks to Sid for the invite and companionship for this adventure, whenever we fish together we always seem to hit the target species, a good team.
The Toreon Uptiders from Greys, available from all good tackle shops.
Further info on these superb rods...Greys GR75S Boat & Uptide Rods 7ft9in 20-30lb
Back