Wearing my guiding hat for a day
Wearing my guiding hat for a day
Although having been sponsored by Pure Fishing, one of the largest tackle companies in the world, for many years, I have never had the opportunity to fish with its main agent in Ireland, David Wilson.
I have known David for a long time, and we have often talked about the merits of a day out on the water, but for one reason or another, it just never got off the ground. However, a recent phone call from him offered the possibility to rectify this.
With a spare day on his hands, he asked if I had any angling adventures in the pipeline. All I had been doing recently was stalking some Grey Mullet locally. After a short chat he confessed that he had never caught a Mullet, never even seen one in fact, and harboured a life-long wish to experience a day in search of them. Having heard so much about their fighting prowess over the years (probably listening to me wax lyrical about them on so many occasions) he wanted to see what all the fuss was about.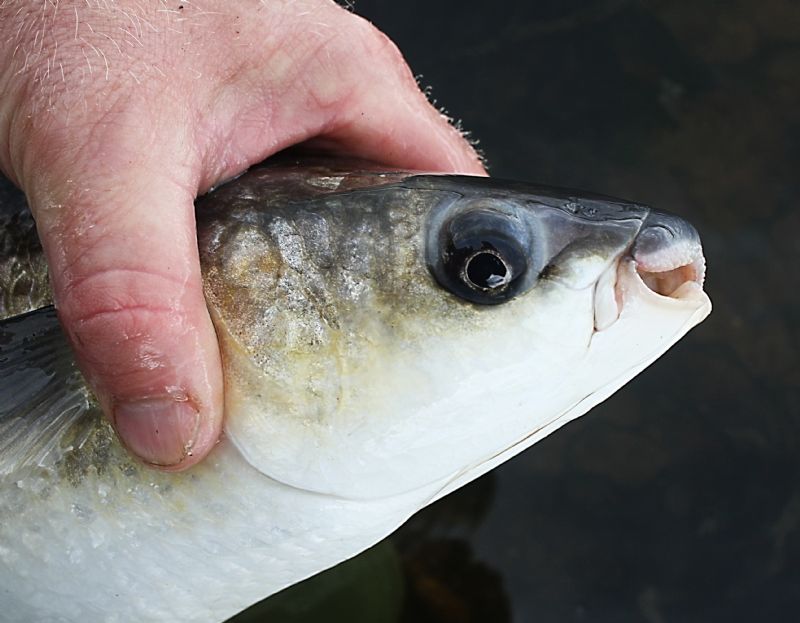 Like most anglers, I prefer gentle breezes, or ideally none at all when stalking Mullet. A chance lull, all be it briefly, in the strong westerlies gave us the green light to see if we could track down an old fish favourite for me, a new specie for David. After some tackle advice, he rounded up the gear required and met me on the shore-line.
David opted for the Mach 3 Commercial Quiver-tip rod from Shakespeare. It has decent back-bone to handle a powerful fish and looked up to the job. I stuck with the Greys Prodigy TXL Specialist float rod. I have been using this since last year, and it's the best "Mullet" rod I have used yet, if there is such a thing! Delicate bait presentation, accurate casting, forgiving tip section yet plenty of power for fish control, perfect.
Although conditions were far from ideal, with the wrong tidal phases and annoying on-shore breezes, I still felt quietly confident of finding a fish or two. Spying a small shoal of fish over the first hot-spot, and stealthily moving into position, I managed to tempt some stragglers into picking the odd freebie off the surface. Within minutes David was into his first ever feisty Mullet.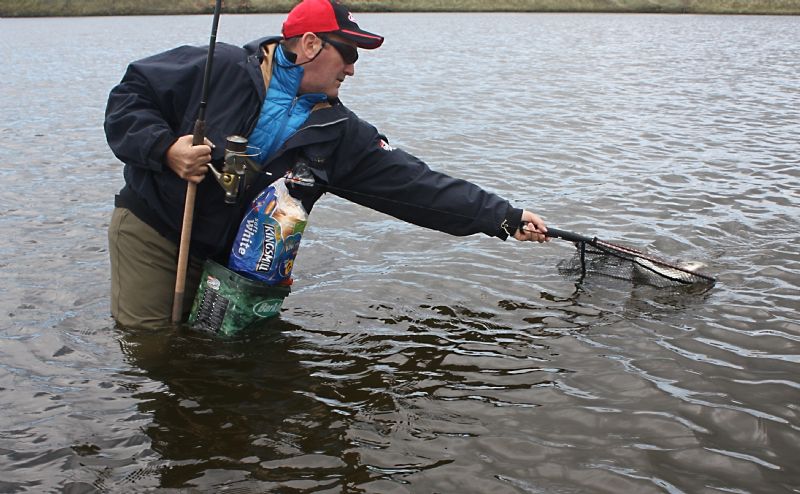 David Wilson, slipping the net under his first ever Grey Mullet
As we would be stalking small "pods" of fish, it is important to travel light, always on the move. All gear should be easily carried, with the ability to feed free samples, cast a line, hook and land a fish while wading thigh deep in water. Obviously any larger fish encountered could be taken ashore for accurate weighing-photographs etc if needs be.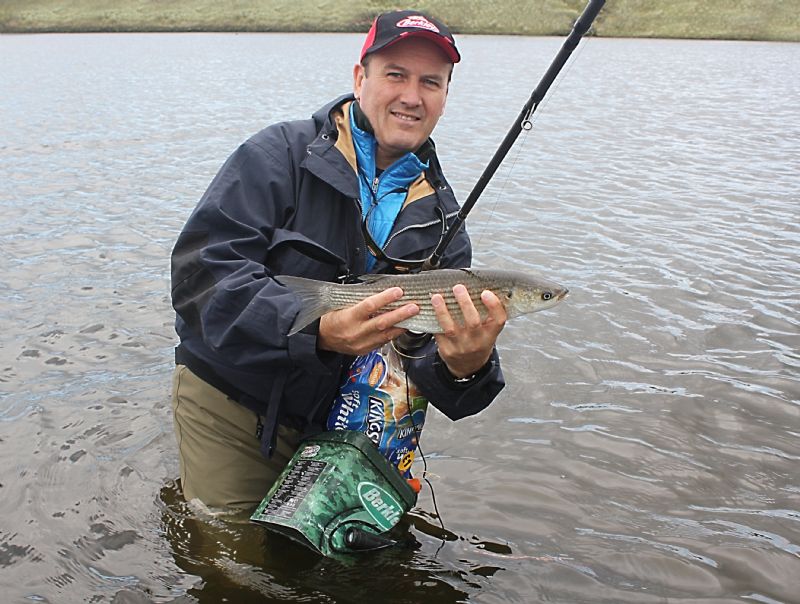 A new species landed, a happy angler, guiding job done!
Only a small fish at a couple of pounds, but any day you land a Mullet is a good day, especially if it's your first ever! Persevering, it seemed the shoal had moved on and time for us to do the same. There just doesn't seem to be the numbers about this year. Where wave after wave of small "pods" would once pass through, now it's only a couple of small shoals and that's it!
The hundreds of tonnes recently taken commercially around the Cork area are beginning to take their toll on stocks yet again. I was also told that ten thousand fish were taken off the Isle of Man this year, I don't know how accurate that is but if so, probably part of the stock I normally target! I despair at the lack of control and complete lack of interest from the authorities on these over-fishing issues. These fish belong to all of us, but we seem to have absolutely no say in the matter, despite the fact that angling generates more money than the commercial sector and in a SUSTAINABLE manner.
Anyway…… a move to hot-spot number two was in order, and although a couple of fish could be seen, they soon sauntered off as we approached. Hot-spot number three was next, a lagoon further along the shore-line (I was rapidly running out of hot-spots!) but we were a little early with the tide. Steady feeding, little and often kept the gulls happy for an hour while the tide rose, until a tell-tale break in the surface ripple alerted the presence of a fish or two.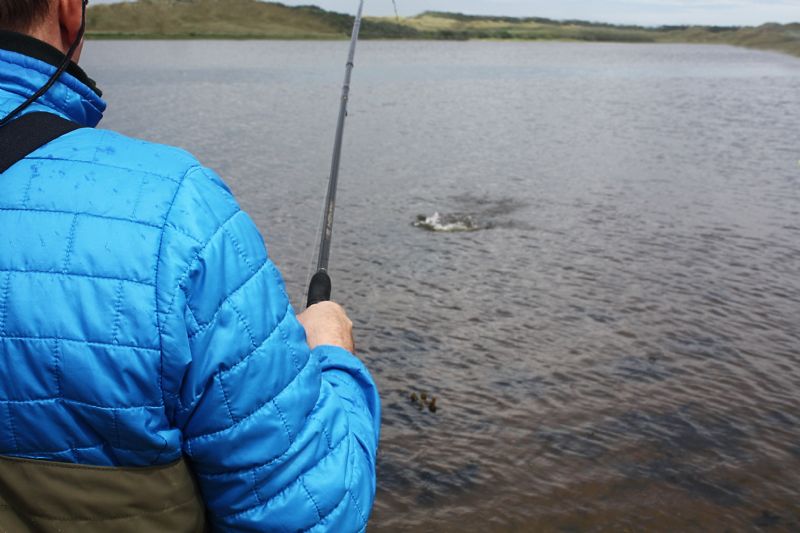 David hooks into a better fish, the Shakespeare Mach 3 put through its paces
Maximum stealth required now, the Northern-Irish Mullet are extremely wary creatures; David intentionally over-cast the feeding fish and slowly drew the bread-flake into the arena. Bread gone, float shoots sideways, missed take! The tension becomes palpable as you reel in, bait up again, re-cast and slowly retrieve into the feeding zone. Will they stay a little longer? Please give us another chance, I asked the fish gods! Again, float buries, missed take! This is text book frustration that Mullet easily generate. Sometimes they will hammer any bait put in front of them, sometimes they will completely ignore it, and on other occasions, they will tentatively nose the bread flake until it falls away from the hook, then sip it in.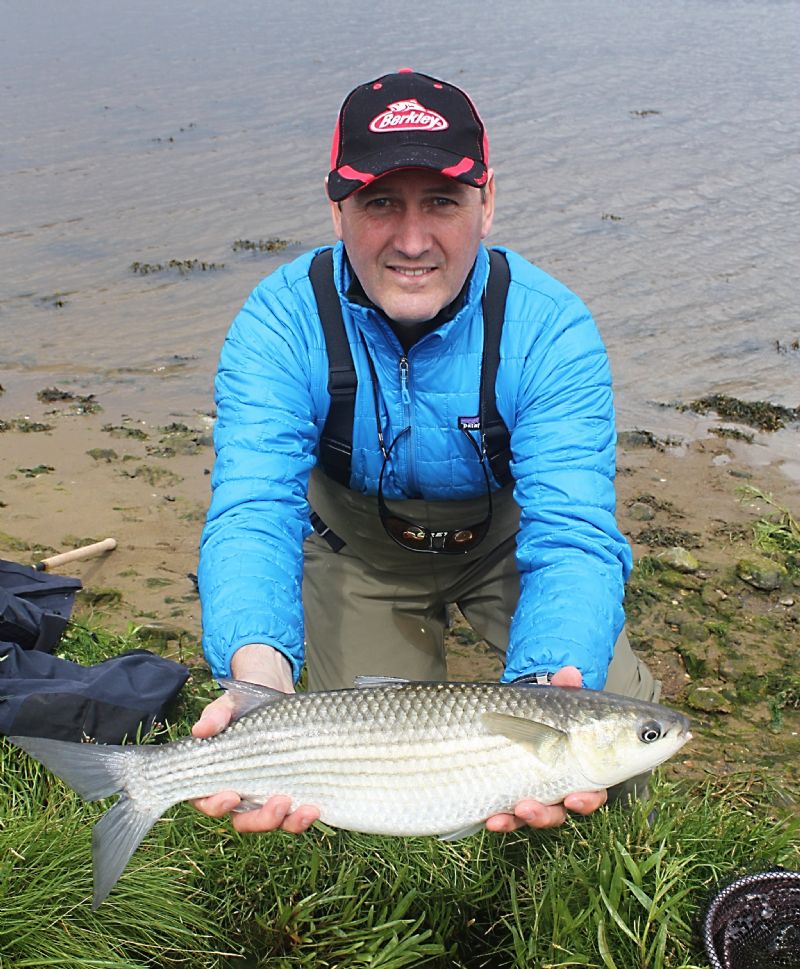 Delighted with a better fish just under five pounds
I didn't fish through this feeding spell and left the rod on the bank-side, positively willing David to get a hook-up. Third time lucky I thought, it has to happen any-time now. There was at least a dozen Mullet sipping bread off the surface. It's amazing how fish have this ability to kick-start the body's adrenaline machine and push it into over-drive!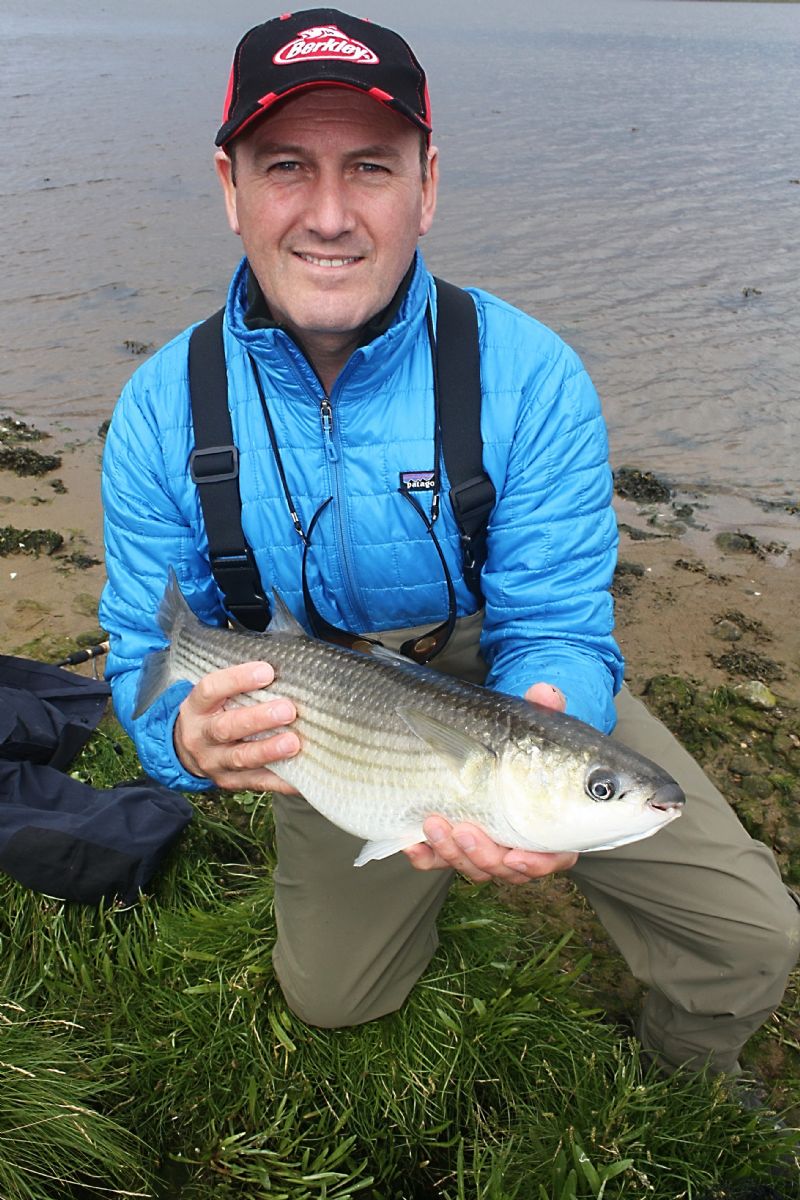 Another cast beyond the shoal to avoid spooking the quarry. Retrieve slowly amongst the fish, and wait. This was driving me crazy and I was only the spectator, catapulting tiny amounts of bread, trying to walk the fine line between keeping them interested but not over-feeding. Finally, float buries in an eruption of surface water and we're in!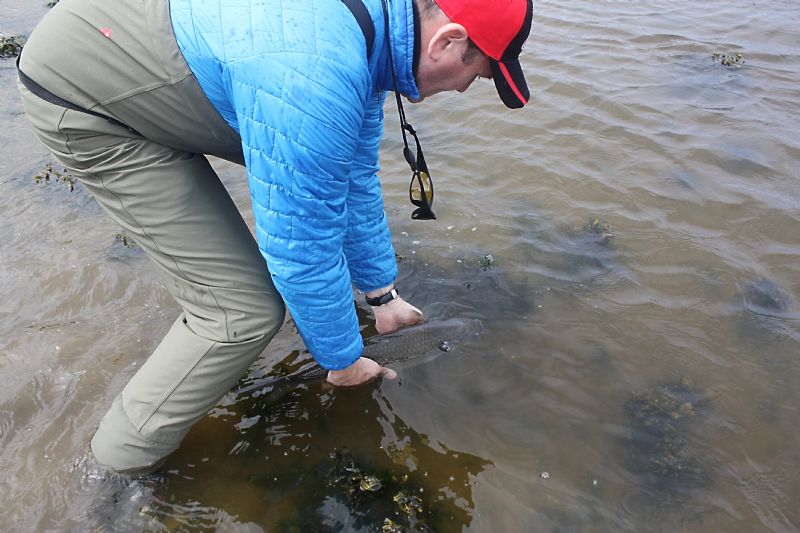 Careful release is always neccessary for these impressive sport fish
With the rod buckled over, and line peeling off the reel, I could now relax; it was in David's hands as he enjoyed the ensuing battle. He grinned through the whole thing from start to finish! Finally to the net, this one would be close to specimen, but fell short of the five-pound barrier by two ounces. It didn't matter at all, a superb fish in peak fighting condition that was quickly weighed, photographed and carefully released.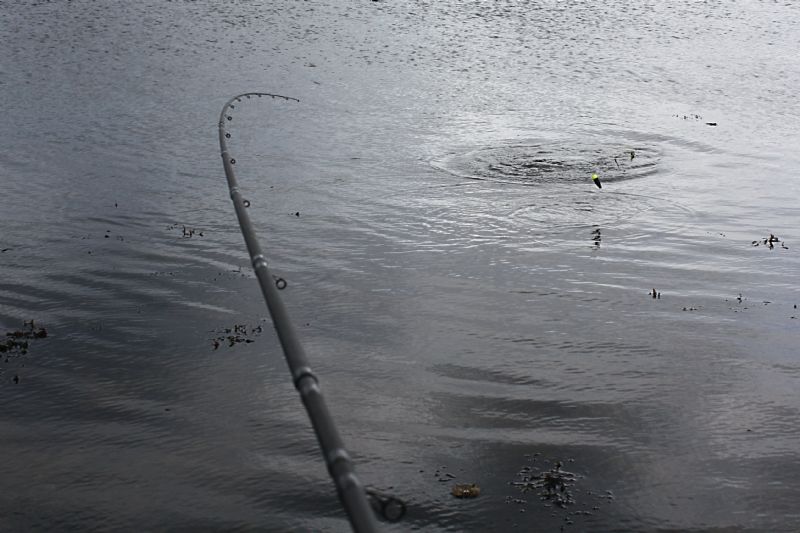 My turn to put a bend in the Greys Prodigy, top class Mullet rod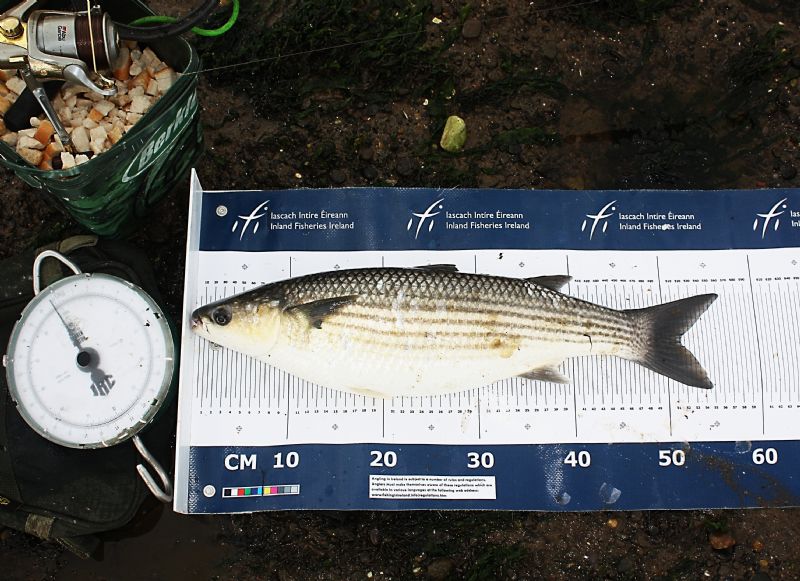 Just over five pounds and 56.5 cms on the measure mat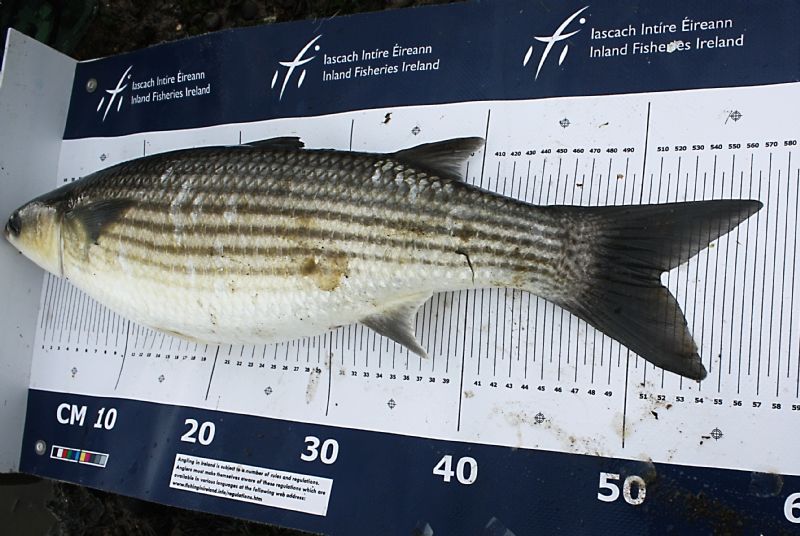 The small pod remained just long enough for me to squeeze another from the shoal, a hard-hitting five pounder to put a healthy bend in the Greys Prodigy once again.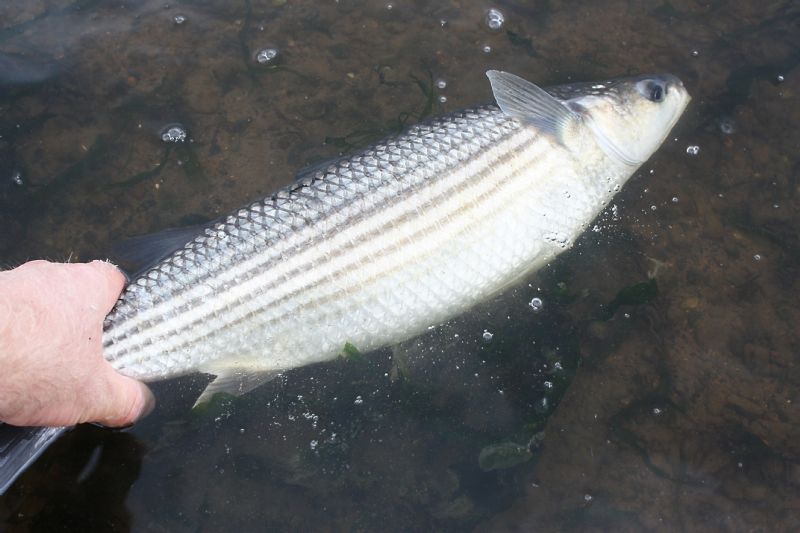 Off you go, avoid the gill-netters if you can and I will see you next year!
This was our last fish of the day. Normally there would be plenty of opportunities to ambush passing shoals, but the numbers just aren't there anymore. With the wind strengthening it would be a lost cause to continue, and we made the decision to pack up and head back. A large part of guiding is knowing when to start, but also when to stop. We managed to get what we came for and David was absolutely delighted to land his first "Irish Bone Fish", an experience he will never forget, and one he wishes to repeat at the earliest opportunity.
Some tackle to help you target Mullet-
Reccommended Mullet Rods
Greys Prodigy TX Specialist Float Rods 13ft 3-10lb
Shakespeare Mach3 XT Match Rod - Black, 13 Ft
Shakespeare Mach3 XT 2 Piece Feeder Rod - Black, 12 Ft
Reccommended Reels
Abu Garcia Revo 2 Inshore 30 Reel - Blue/Black
Abu Garcia Cardinal STX30 FD fixed spool reel
Abu Garcia Orra 2 INS35 Inshore Front Drag Reel - Silver/Blue
Reccommended Line
Berkley XTS Brown Monofilament Fishing Line 300m Spool Carp Coarse Game Fishing (8LB)
Berkley Nanofil ENF12510-22 0.10mm Lo Vis Fishing Line - Green, 125 m
Berkley Trilene Fluorocarbon Clear Line 6 lb, 0.25mm, 110yds
Berkley Trilene Professional Grade 100% Fluorocarbon Line - 6lbs 0.25mm 200yds
Hooks
Kamasan B611 Hooks (10)
Middy Hook Tyer Original Matchman Quality (844)
Floats
Dinsmores Carp Controller Float - Green, Size 4
Premier Windbeater Carp Controller Fishing Float. Set of 3. (sizes 50-60-70 metres)
Premier Surface Carp Controller Fishing Float. Set of 3 (sizes 20-30- 40 metres)
Controller Float 10g
Float stops
Preston Float Stops Standard
10 Pcs 6 in 1 Black Rubber Oval Stop Bead Ring Fishing Bobber Stopper
Bait Pouch
ESP Stalker Bait Pouch
Catapult
ESP Mega Pult Catapult
Back