Weather or not! by Mark Corps
Weather or not!
It is likely that most people if asked would understand what was meant by a wind force of 8 - a gale.
The fact that it is part of a scale, the Beaufort scale, would, I suspect also be a concept recognised by most of the general public and certainly anyone who had ever taken part in water sports.
However few would have any great understanding of the scale and certainly know nothing of the man who gave his name to the scale (and to be honest not care!).
The Beaufort scale had a long, complex evolution. No doubt the ideas of such a scale were first planted in Beaufort's psyche by the likes of Daniel Defoe. In 1704, after witnessing the 'Great Storm of 1703,' Defoe suggested a scale of winds comprising 11 points and using words normally used in the English language. Even before that and certainly during the late 17th century sailors were using standard sets of names to describe winds. In a book written in 1697 after a circum-navigation, it is clear that William Dampier, the Privateer, was using the same general words to describe winds.
By the early 19th century naval officers made regular weather observations but the problem with this was that there was no standard scale, so all readings were subjective. One man's 'stiff breeze' might be another's 'soft breeze.' Beaufort's key success was to get things standardised, initially in the British Navy and eventually worldwide.
But who was Beaufort?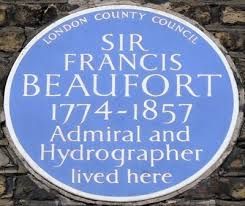 Rear Admiral Sir Francis Beaufort(1774 - 1857) was an Irish-British (not sure where the British comes from!) hydrographer. Born in Navan, Co. Meath his father was a cleric of Huguenot origin. The Reverend Daniel Augustus Beaufort took an active interest in geography and topography, publishing in 1792 one of the earliest detailed maps of Ireland.
Beaufort started his nautical career at the tender age of 13 as a cabin boy in the British Navy. After just three years at sea, Beaufort recognised the value of being weather wise and began keeping a meteorological journal in the form of brief comments on the general weather scene. This was a practice that he would continue until his death.
By the age of 22 Beaufort had risen to the position of lieutenant serving aboard the H.M.S. Phaeton. In 1805, he was given his first command, the H.M.S. Woolwich and assigned to conduct a hydrographic survey of the Rio de la Plata region of South America. During these early years of command, he developed his first version of the Wind Force Scale and Weather Notation coding.
The original Beaufort scale - 1806

0

Calm

1

Faint breeze or just not a calm

2

Light air

3

Light breeze

4

Gentle breeze

5

Moderate breeze

6

Fresh breeze

7

Gentle, steady gale

8

Moderate gale

9

Brisk gale

10

Fresh gale

11

Hard gale

12

Hard gale with heavy gusts

13

Storm
This he was to use in his journals for the remainder of his life. In his journal for January 1806, Beaufort wrote,
'From now on I shall evaluate the force of the wind in accordance with the following scale, since nothing gives a more indefinite representation of the wind and the weather than the previously used expressions like moderate wind or cloudy weather.'
This scale was an objective one as you can see ranging from calm (0) up to storm (13) in which wind strength was correlated with the amount of sail a full-rigged ship would carry appropriate to the wind conditions. The first five states (forces 0 - 4) described a ship's speed with all sails set and clean full, in smooth water.
The next five (forces 5 - 9) concerned the ship's mission, the chase as well as its sail-carrying ability. For example, in a fresh gale (force 8), a well-conditioned man-of-war could carry in chase, full and by, treble-reefed topsails, et cetera. The final three forces (10 - 12) referred to a ship's ability to survive gale, storm, or hurricane.
In 1811 Beaufort was assigned to the Eastern Mediterranean for a combined hydrographic study and patrol mission against pirates operating out of the Levant. June 1812 Beaufort sent a survey party ashore to make astronomical observations.
The party encountered armed hostilities and Beaufort led the rescue. Rowing back to his ship (the H.M.S. Fredrikssteen), Beaufort was shot by a sniper fracturing his hip. He subsequently spent several months convalescing aboard ship before being called back to England. At this point Beaufort's career changed direction, he was never to return to active duty though remaining in the Navy until he was 81.
1829 Beaufort was appointed Hydrographer to the Admiralty. From this post, he outlined the hydrographic studies for many British expeditions including that of the famed 'Beagle,' (the ship and expedition that carried Darwin) commanded by his protégé Robert Fitzroy.
In 1838, Beaufort's 'Wind Force Scale' was introduced for use by all of the British fleet for all log entries, joining his Weather Notation, which had been prescribed for use five years earlier.
1846 and Beaufort was promoted to the rank of Rear Admiral being bestowed Knight Commander of the Bath two years later. And finally in 1855 after an extraordinary 68 years of service, Beaufort retired. He died just two years later in 1857, but his life's work continued to receive recognition and honour.
As time went on, the frigate was no longer the dominant ship at sea, a new indicator was necessary to determine wind force. The original Beaufort force numbers were changed to refer to states of the sea or degrees of motion of trees instead of the sails on a frigate.
Ambiguities soon arose, as the state of the sea also depends upon swell, fetch and depth. Also different species of tree vary in response to the wind. During the 1850's the scale was first adapted for use in non naval situations. The scale was adapted to correspond with anemometer cup rotations.
By 1906, to accommodate both the development and growth of steam power the descriptors were changed to how the sea, (not the sails) behaved and this was extended to land observations.
Rotations to scale numbers were standardised in 1923 by George Simpson (Director of the UK Meteorological Office). Not only was he responsible for this but he also added the land based descriptors. Today many countries have abandoned the scale using SI based units (m/s or Km/h) instead.
Finally, the scale was extended in 1946, when Forces 13 to 17 were added. Forces 13 to 17 were intended to apply only to special cases, such as tropical cyclones. Nowadays the extended scale is only used in Taiwan and mainland China, which are often affected by typhoons.
Wind speed on the 1946 Beaufort scale is now based on an empirical formula. In the United States winds of force 6 or 7 result in small craft advisory warnings, (it is advised that no water sport activities should continue in force 7 or above) force 8 or 9 a gale warning, 10 or 11 a storm warning and 12 a hurricane warning.
The scale is now a standard part of all weather forecasting and so of value to those who take part in activities that can be impinged on by weather. The scale is used in all 'shipping forecasts' broadcast on BBC Radio 4 in the UK as well as in the 'Sea Area Forecast' from Met Éireann.
Met Éireann issues a 'Small Craft Warning' if winds of force 6 (mean wind speed exceeding 22 knots) are expected up to 10 nautical miles offshore. Other warnings are issued by Met Éireann for Irish coastal waters, (regarded as extending 30 miles out from the coastline) and the Irish Sea or parts thereof.
'Gale Warnings' are issued if winds of Beaufort force 8 are expected, 'Strong Gale Warnings' - Beaufort Force 9 or frequent gusts of at least 52 knots are expected
'Storm Force Warnings' if Beaufort force 10 or frequent gusts of at least 61 knots are expected
'Violent Storm Force Warnings' if Beaufort force 11 or frequent gusts of at least 69 knots and
'Hurricane Force Warnings' for winds of greater than 64 knots!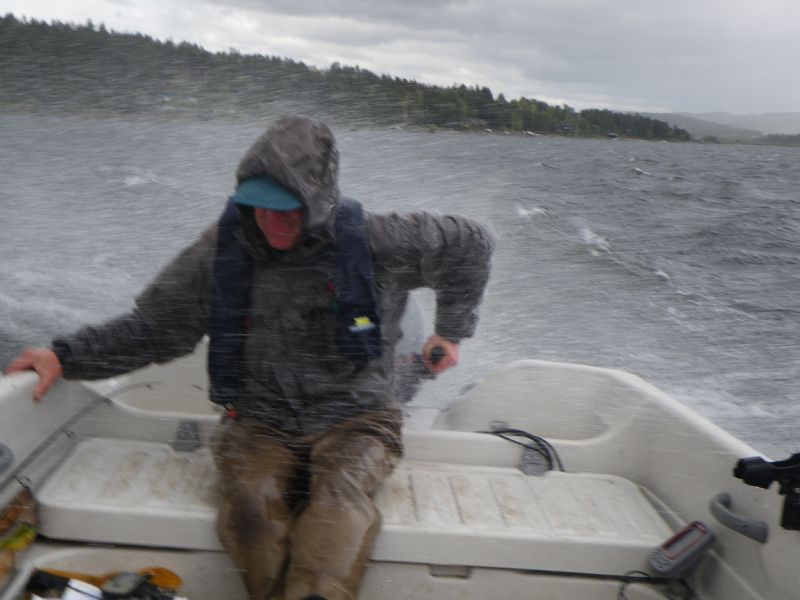 Terry competing in Norway Predator Tour, starting to become un-comfortable!
Mark's "revised" scale
However when one reads the scale the descriptors do not easily relate to angling. So with apologies to Defoe, Beaufort and many others I would like to put forward a revised scale with a new set of descriptors. I hope the angler finds this of use.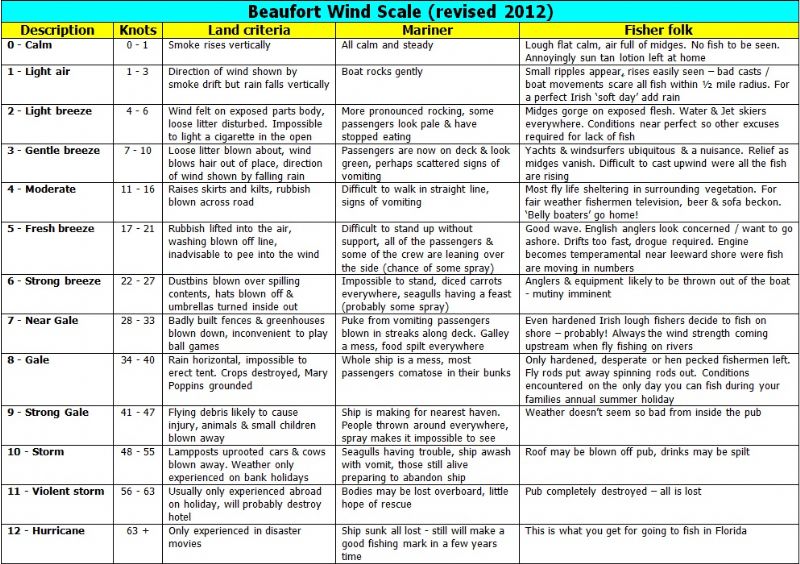 Back