What's New 2017. Two new reels from Penn
The Penn Rival rrp £49.99
The Penn Rival was engineered to be an extremely versatile all-round reel at an affordable price.
It features a light-weight graphite frame and side-plates with aluminium frame rings for improved rigidity to prevent frame-flex.
HT-100 drag washers provide smooth drag under heavy loads. Line capacity marker rings eliminate the question of how much line you have left when fighting a large fish.
Available in three sizes
Level wind 15 320yds/15lb rrp £49.99
Level wind 20 315yds/20lb rrp £54.99
Level wind 30 370yds/30lb rrp £59.99
Features
Light-weight graphite frame and side-plates
Auto-engaging gears
Marine-grade bronze alloy main gear
Machine cut brass pinion gear
HT-100 carbon fibre drag washers
2 shielded stainless steel ball bearings
The Penn Slammer III
The Penn Slammer III is back by popular demand. Built for heavy-duty fishing from either boat or shore, and trusted by charter captains all over the world.
The Slammer III reels feature the new IP67 Sealed System which keeps water out of the gear box and drag system.
Also with updated Slammer Drag System which now utilizes the proprietary Dura-Drag material.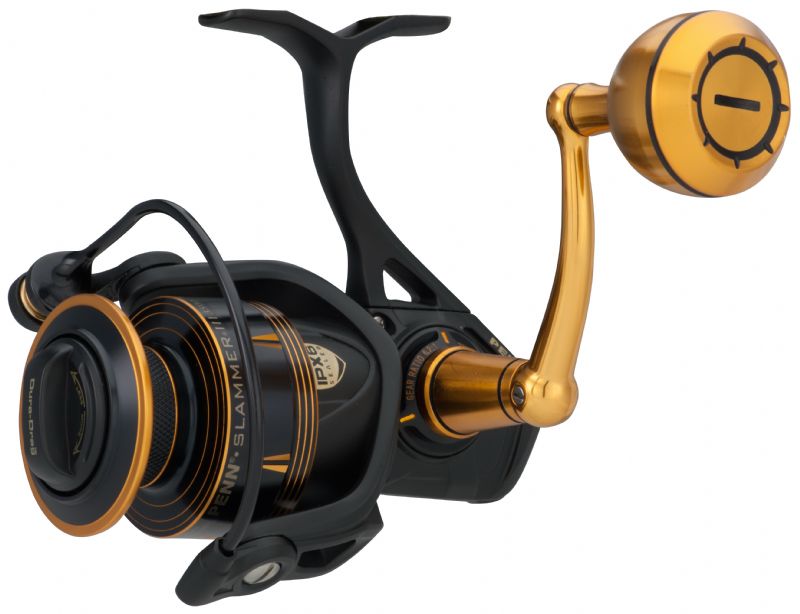 Features
Full metal body, side-plate and rotor
CNC Gear technology
IP67 Sealed body and spool design
Sealed Slammer drag system with Dura-Drag
HT-100 carbon fibre drag washers
6+1 stainless steel bearing system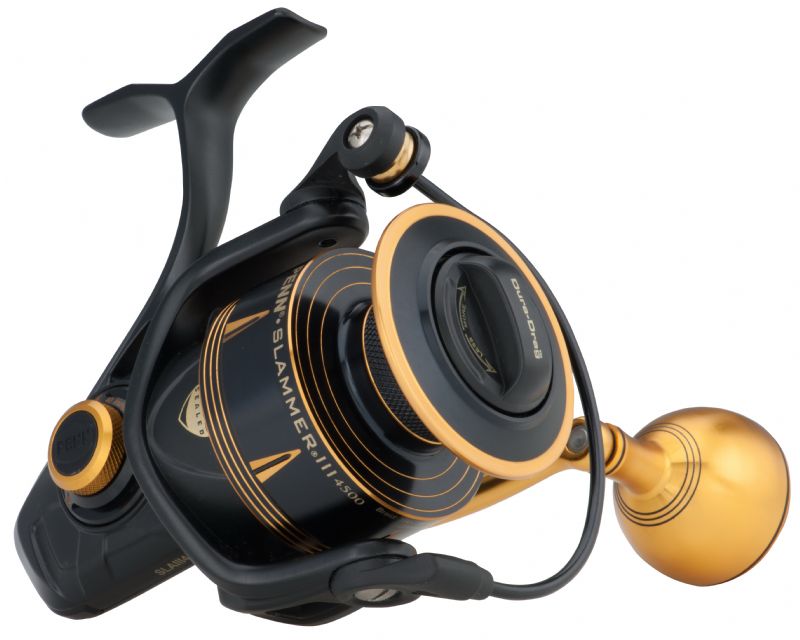 Available sizes
3500 360yds/6lbs rrp £179.99
4500 320yds/10lbs rrp £189.99
5500 330yds/12lbs rrp £199.99
6500 345yds/15lbs rrp £209.99
7500 330yds/20lbs rrp £219.99
8500 310yds/30lbs rrp £229.99
9500 300yds/40lbs rrp £239.99
10500 360yds/40lbs rrp £249.99
Top of the range, reliable spinning reels with serious drag power and large fish capabilities.
Check out some great deals on last years models....
Penn Slammer 260
Penn 460 Slammer Reel - 320yds, 10 lb
Penn 760 Slammer Reel - 310yds, 20 lb
Back