Whats new, Agility saltwater range 2017
SHAKESPEARE SALTWATER AGILITY RANGE 2017
For a full video feature on this great range of rods, click here...VIDEO BLOG
Further to previous "whats new" blogs regarding the Agility Range from Shakespeare, here are some more additions covering all salt-water disciplines. The Agility range has proven to be un-beatable over the past few years for quality, performance and value for money. These are new for 2017.
Both the Agility 2 Bass (retails approx £79.99) and the Beach (retails approx £89.99) are EXP versions (five-piece travel rods). The strength of these rods is exceptional and the action has not been avdversly effected by the addition of extra spigots. The reduced transport length of the rods will help the travelling angler but also allow them to be safely stored and hidden in the boot of the car. The Bass rod is 11 ft and the Beach 11 ft 6.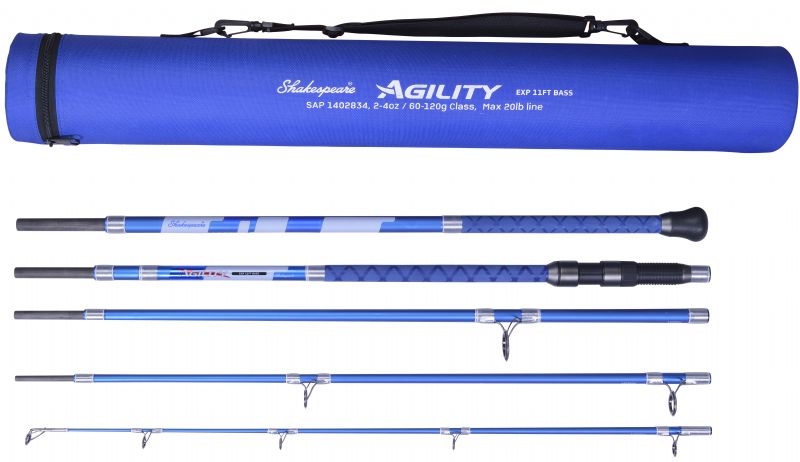 Agility 2 EXP Travel Bass Shakespeare Unisex Agility 2 Expedition Bass (5 Piece), Blue, 11 Ft

Agility 2 EXP Travel Beach Shakespeare Unisex Agility 2 Expedition Beach (5 Piece), Blue, 11.6 Ft
The Agility 2 Uptide (retails approx £74.99) is rated to cast 5-10ozs with a length of 9 ft 6 inches. This rod is capable ofcasting heavy weights and big baits well away from the boat for summer Rays, Bass and Tope, also for big winter Cod. The supple tip sets over well into the tide, but reacts quickly to drop-back bites, and the rapid transfer of power in the lower mid-section and butt gives the power to fight big fish back to the boat against a fast tide run.

Agility 2 Uptide Shakespeare Agility 2 Uptide 9ft 6.6in 5-10oz (1402840)
The Agility 2 MPV (retails approx £59.99) is a 10' rod designed to be fully versatile for the angler that needs just one rod to cover a multitude of opportunities. It's action is fast taper, but with progressive transfer of power in the upper tip and mid-section allowing the rod to be used for float fishing from rocks and piers, and for spinning in search of Pollack, Bass and Mackerel. It also doubles up as a light ledger rod for surf and estuary work. Supplied in a 3-piece section format, with a protective tube for safe transportation.

Agility 2 MPV
The Agility 2 Bass (retails approx £69.99) is a fast taper, light-weight blank made from high grade carbon and designed to be held for long periods when feeling for Bass bites. It's power flow offers a fast interpretation of a developing bite allowing the angler to react and strike quicker to achieve a higher hook up ratio. At a length of 11 ft 6 inches, it is rated 2-4 ozs and can be used for all estuary, surf and rough ground bass situations. There is also a 10 ft 6 inch "Flattie" version, exceptional value (retails £49.99).

Agility 2 Bass Shakespeare Agility 2 Bass Rod 11'6''

Agility 2 Flattie Shakespeare Agility 2 Flattie 10'6'' Rod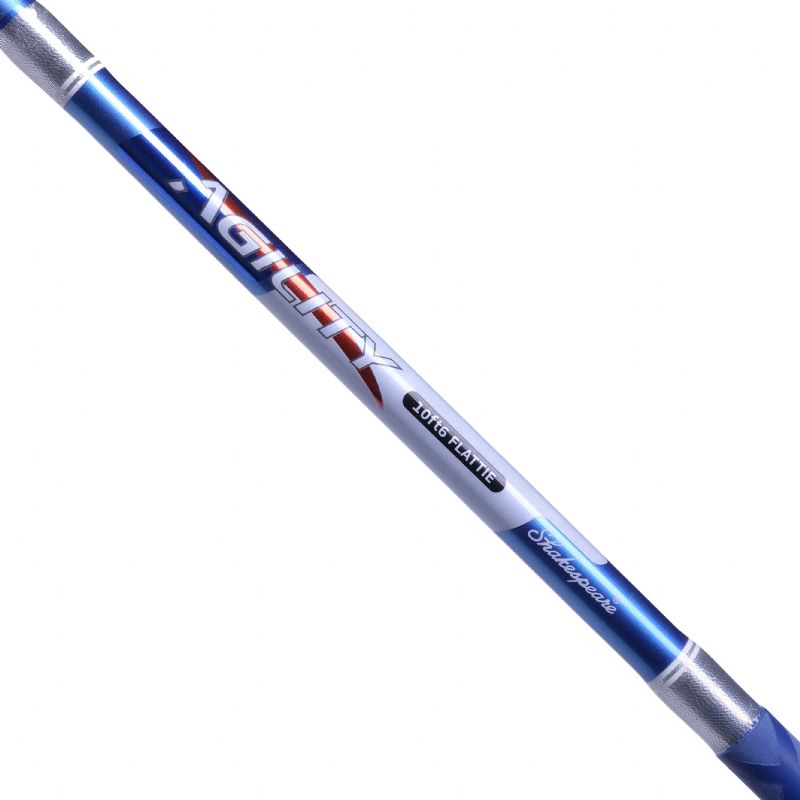 There are three new Agility Boat rods out this year, a 20lb and a 30lb class, both retailing around £34.99! and an 8-12lb class retailing approx £54.99. The 20lb version at 7ft can target big Rays, Turbot and Tope in deeper water, but is also perfect for general reef fishing and can be used for light wreck fishing for Conger, Ling and Cod. It sports a supple tip for fun with smaller fish but a fast transfer of power from the mid-section into the butt gives the rod a lock-up point from which big fish can be bullied.
The Agility 30lb Boat also at 7 ft is designed for deep-water, fast tides and big fish. With a fast taper blank and real power in the lower mid-section and butt, its an ideal choice for deep water wreck fishing for Conger, Cod and Ling. It's long fore grip allows both hands to sit above the reel to fully pressurise a large fish.

Agility 2 Boat Shakespeare Agility 2 Boat 7ft Rod 30lb Class Sea Fishing
The Agility 8-12lb has a length of 8 ft 6 inches and features a long EVA fore grip, plus tough Zirconium Oxide rings. It is designed with a progressively powerful action utilizing a supple tip feeding quickly into a powerful mid-section and stiff butt. This provides a rod with exceptional bite detection, but also the power to pressure big fish, and importantly set hooks when fishing at long range. Ideal for light drift fishing over sand for Plaice, Bass, Turbot and Brill. This rod also excels when working lures over shallow water reefs and inshore wrecks targeting Bass and Pollack.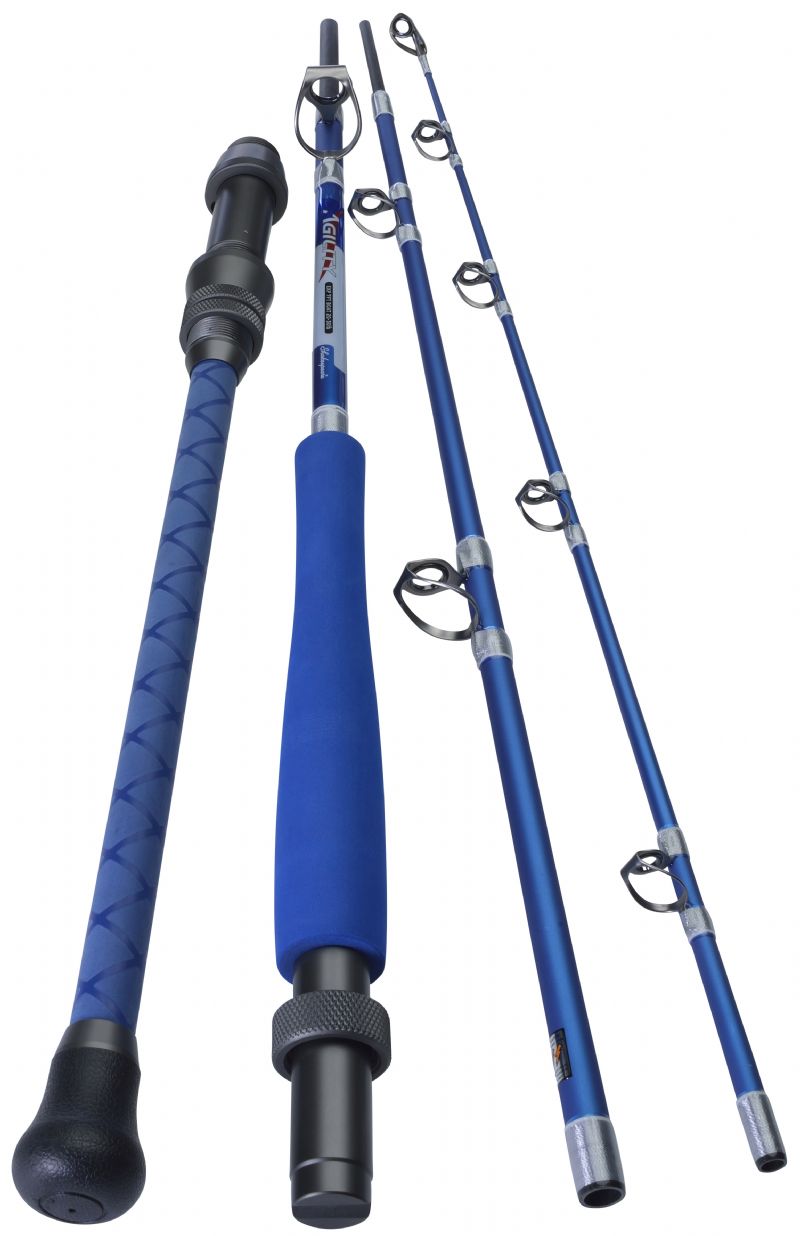 The Agility EXP Travel Boat Shakespeare Agility 2 EXP Travel Boat 7ft Rod 20-50lb Class Sea Fishing
The final selection are the Agility Braid Boat and HRF rods. The Braid Boat comes in three versions, the 6-12lb class, 12-20lbs class and 20-30lbs class all retailing in and around £49.99. They feature a supple tip designed speciffically for braid and are ideal for general drift fishing or working lures over reefs and wrecks. There is also an EXP 4-piece travel range in 12-20lb class, 20-30 and 20-50lbs class that all retail at £59.99.

Agility 2 Braid Boat Shakespeare Agility 2 Braid Boat Rod 8ft 8-12lb (1381087)
Finally for 2017, there are two HRF rods available. The HRF 20-40g is a new concept rod designed to work small lures and jig heads up to 40g from boats, targeting smaller ground dwelling species such as Wrasse, small Pollack, Cod, Coalfish, Gurnards, Bream, Plaice, Haddock and Whiting. Also used from the shore for Wrasse, small Bass and Pollack.

Shakespeare Unisex Agility 2 Hrf Rod (2 Piece), Blue, 8.6 Ft/20-40 g
The Agility 2 HRF 10-20g is a fast action blank with a supple tip for bite detection and is ideal for working lighter jig heads with small lures over inshore reefs in light tide conditions, also mixed rough ground for smaller fish including Bream, Pollack, Wrasse, Gurnards, Pout, Codling and Plaice. Both these rods retail at an incredible £39.99!

Shakespeare have managed to combine exceptional quality tried and tested rods through the Agility 2 range, at exceptionally low prices. They cover practically all salt-water disciplines, so there really is no excuse not to get fully kitted out and start catching. Available through all good tackle shops throughout the country.
Back