When is a salmon not a salmon? by Mark Corps
When is a salmon not a salmon?
Glancing at Facebook the other night I was somewhat surprised at the avalanche of abuse flying around over the capture of the first Irish salmon of the year.
Gerry Looney was the lucky chap to have landed the fish on the 17th of January at 8.35 a.m. from the Long Range in Killarney, a stretch of water between the lower and upper lakes. The salmon weighed in at 10lb. Apparently the fish was confirmed by Inland Fisheries Ireland staff that were in the area as being clean, having run the river in the last couple of weeks.
The abuse?
The picture of the fish was not the best. The fish pictured was not a traditional bright silver fish with that purple sheen. The general consensus was the fish was in fact not a springer but a baggot. To be honest it didn't look like a fresh fish to me either.
Fishing the river Coquet (a river that used to be a very prolific Northumbrian salmon river) one spring some years ago I hooked a fish down on the tidal water almost under the walls of Warkworth castle. It was one of those early bright spring days and as such there were plenty of people out for a late afternoon Sunday walk. As such I was quickly the centre of interest of a group of onlookers.
The fish fought well and I thought I had my first fish of the year. On finally seeing the fish I realised I was attached to a Kelt. To a round of applause I netted the fish. In the net the fish (in the low teens of pounds) was silver, though very much on the thin side - definitely well mended. Returning it, I had to explain to the rather surprised group why it was going back. I am sure a number of them thought me mad!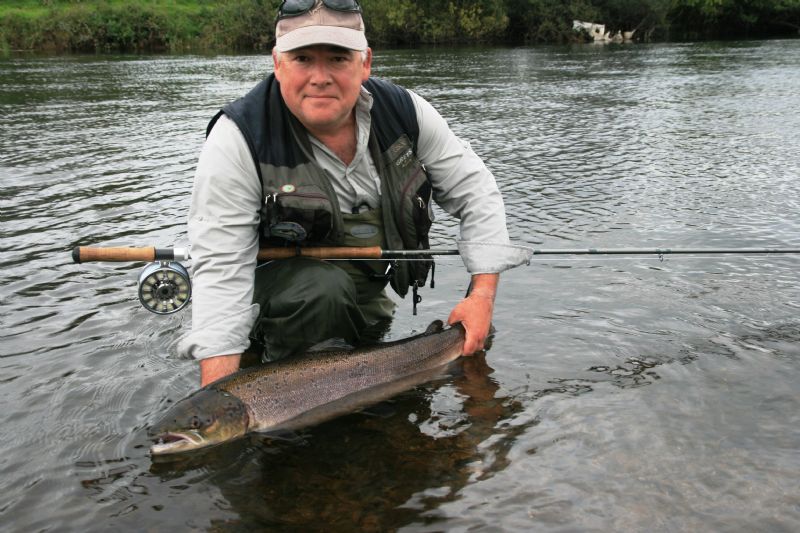 Me with a nice 18lb River Suir backend fish
Unfortunately numerous unseasonal salmon are mistakenly killed by rods every year. Let's be honest due to the pressure on spring salmon these days I am not sure anyone who has any real wish to conserve or catch salmon in the future should be taking any. But for anyone who calls themselves an angler to kill an unseasonable fish - not only is it illegal - but I think morally unforgivable. Surely the watch word must be that if you are not sure, or have any doubt put the fish back!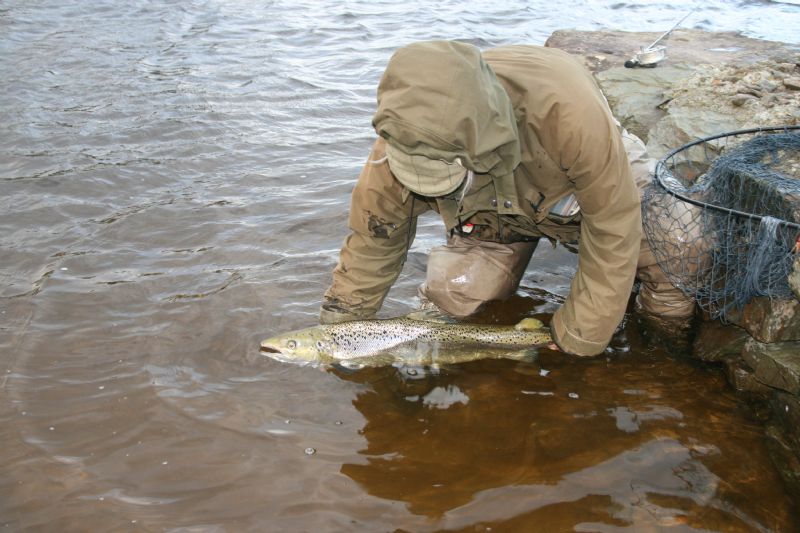 Mike Shortt carefully returning a fish
So what is a Kelt?
A Kelt is any salmon / sea trout that has spawned. A kelt can be coloured and occasionally fully silvered but with a bit of a blue hue. When silver they can sometimes be mistaken for 'clean' fish (one that has recently entered the river and yet to spawn). Kelts are usually easily identified as they are in poor condition. Most are usually thin / lanky in appearance with a flat or hollow belly and often with distended vents. The fins (and particularly the tail) may be damaged or torn. If one has a look in the gills they may on the red gill filaments also have gill maggots*
In early spring the Kelt start to drop downstream and it appears they can begin to eat to start to recover their condition. As such they can be aggressive feeders. Female fish are the most likely to survive spawning because they head downstream immediately after laying their eggs. Males remain on the redds looking for more females.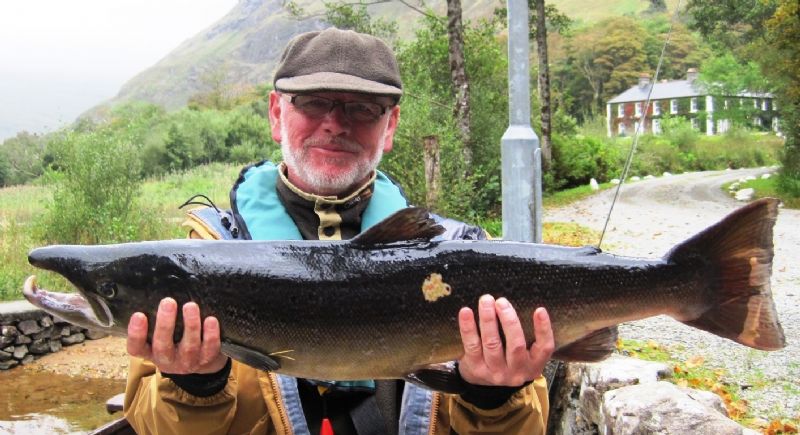 In the past I have, when fishing through certain pools caught large numbers of Kelt. They usually give themselves away by the short fight. I remember being told when finding numbers of Kelts to keep fishing through them. Some ghillies believe salmon like to lie in amongst other fish. They say springers will lie in with Kelts. However it has to be borne in mind that it is illegal to intentionally try to catch Kelts!
Some kelts do however fight as well as any fresh fish. A friend of mine, off the same beat on the river Tay has had two kelt over 30lbs. When he hooked the first he always felt it did not fight right… though it took 40 minutes to land. The second several years later had him convinced he was into a fish of a lifetime. If he had hooked it 4 months earlier it would have been!!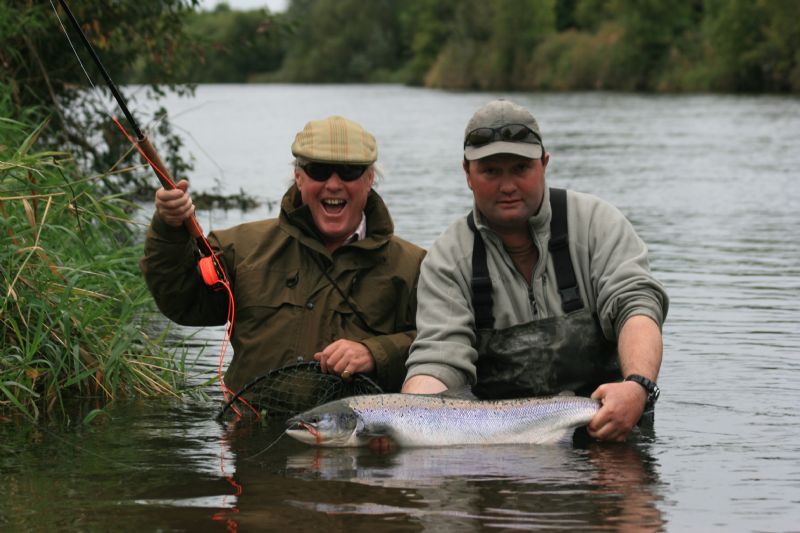 Mike Shortt and Phillip Maher with a nice 10lb
Along with the kelt we also have some other classifications of salmon to be aware of when fishing in the early spring. The baggot or 'baggit fish' is a female salmon which is still full of mature eggs. They get their name as their bodies are plump, soft and 'baggy' with the spawn in them.
There are two possible explanations of baggots
1) they are fish which for some reason have failed to spawn at the appropriate time. In such cases the eggs may be degenerating and as such no longer viable.
2) they may just be very late spawners which have still to spawn.
True 'baggots' have (in the past) been thought of in terms of the first type. Baggots are generally well proportioned though slightly dark coloured, not dissimilar in appearance to coloured hens but their bellies are flabby. However, baggots can be distinguished from coloured hens by their soft flesh, distended bellies and sometimes open vents.
There are also the 'Kipper' or 'Rawner'? This is the name for a mature male salmon caught in the spring which has not spawned or may possibly be just part spent. Apparently if these fish are cut open they have mature testes, hence the name rawn.

And just remember to keep yourselves in the good books with Inland Fisheries Ireland, all salmon caught (or sea trout over 40cm) have to be recorded in your logbook. This is both as a legal requirement and also for gathering scientific data.
Also remember it is also illegal to keep any of the following - Baggots, Kippers, Rawners and Kelts.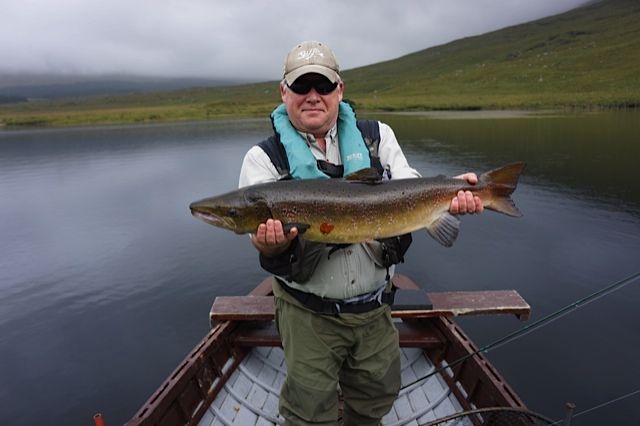 Me with a slightly coloured 12lb fish from Delphi (Fin Lough)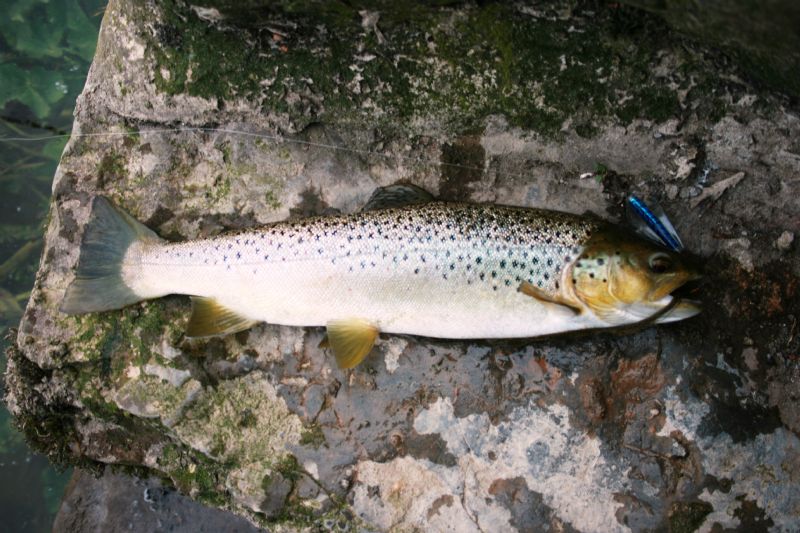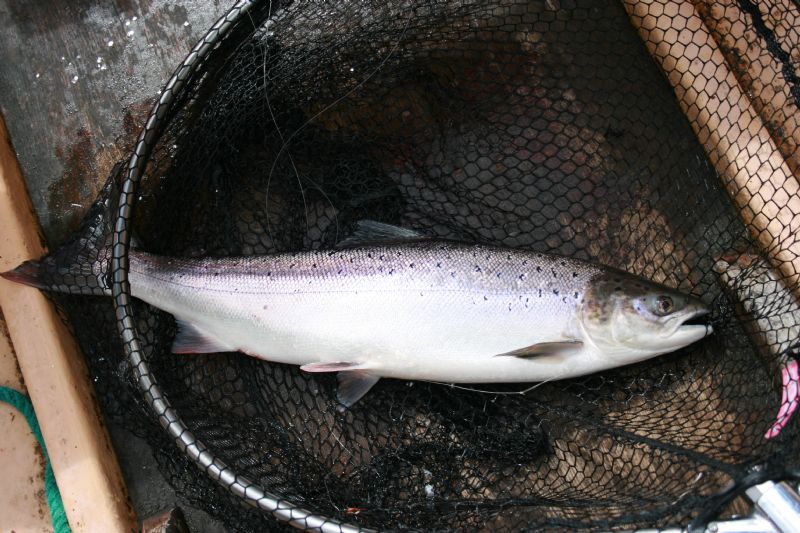 A 7lb Carrowmore Lake springer and a River Suir sea trout
* A couple of seasons ago, whilst fishing the Galway weir a friend of mine landed a sea liced summer salmon. He was somewhat surprised looking in the gills to see gill maggots. Unlike sea lice the change in salinity apparently does not kill Gill maggot. This fish had obviously spawned the previous autumn. It had then returned to sea, recovered its condition and was again running the river to spawn only a few months later!
Back